No matter how successful your marketing efforts have been, there comes a time to review and fine-tune your strategy for the future. Of course, the new year is the perfect time to take stock of what worked, what didn't, and what to expect moving forward.
In particular, TikTok, with its trends, algorithms, and features that seem to change in the blink of an eye, demands extra attention. Despite its reputation for being a difficult platform to master, having a solid TikTok marketing strategy can help you see the results you want.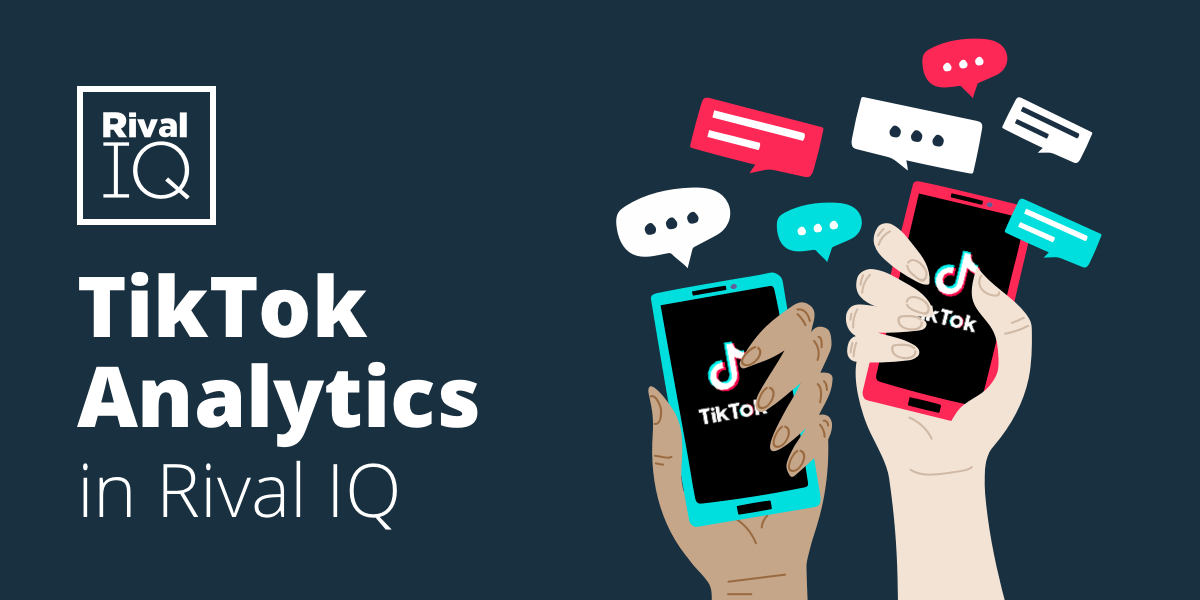 To help you craft a successful TikTok strategy for your business, we're covering four trends to get in on and four best practices to keep doing in 2023. Let's go.
Get ahead of the competition by leveraging these 4 TikTok trends
Trend #1: More local content
In late August 2022, news came out that TikTok was testing a "Nearby" feed in Southeast Asia, which allowed users to switch over to videos posted by creators and businesses in their surrounding area.
The (potential) new feature indicates TikTok's growing prioritization of local content, with the social media giant seeing it as an opportunity to deliver extra value to its community. Imagine being able to find trending local restaurants, events, and more by simply swiping over to your local TikTok feed.
If this new feature takes off, it could change how people discover local offerings, with users shifting away from brands like Yelp or Maps in their search. For brands, this is a good time to start thinking about ways to incorporate local elements into your TikTok videos, whether it's through the use of geolocation tags or by creating videos catered to a local audience.
Trend #2: TikTok as a search engine
With a plethora of useful content, TikTok has risen to become a search competitor, especially among the younger generation. An NBC news report found that 40% of Gen Zers prefer using TikTok or Instagram over Google Search or Google Maps.
In light of this, the video platform rolled out an update where keyphrases within comments could become searchable buttons. Essentially, this made it easy for users to search topics based on the videos they were watching. For the example below, "Body Butter Recipe" came up as a searchable button on a TikTok addressing the best body butter solution for dry skin.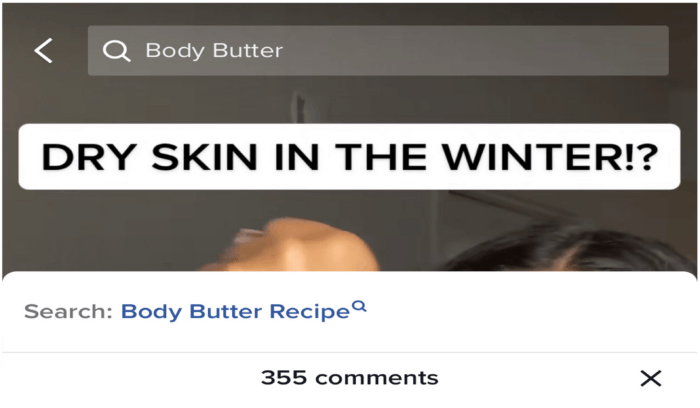 Over time, we expect the platform to continue to roll out features that strengthen its role as an alternative search engine. Now is a great opportunity to start incorporating traditional SEO practices into your brand's TikTok strategy. By doing keyword research and creating TikToks that align with your audience's searches, you can boost your brand's chances of being discovered.
Trend #3: Micro-influencers continue to dominate
There's no doubt that TikTok has solidified itself as one of the biggest social media platforms out there. In fact, in 2021, it surpassed Facebook and Google to become the most visited website. In reaching the top, though, oversaturation inevitably becomes an issue.
As more and more creators flock to the app, it's going to be harder to amass the huge followings that early adopters gained. Mega-influencers that found fame on TikTok like Charli D'Amelio (148.9M followers at the time of writing) and Khabane Lame (152M followers) are expected to be a rare occurrence moving forward as competition increases.
Instead, micro-influencers — or influencers with a smaller but often more engaged following — will dominate the space. Already, micro-influencers seem to be the preferred kind of creators among younger generations, who value down-to-earth and relatable figures over mega-influencers who may seem untouchable.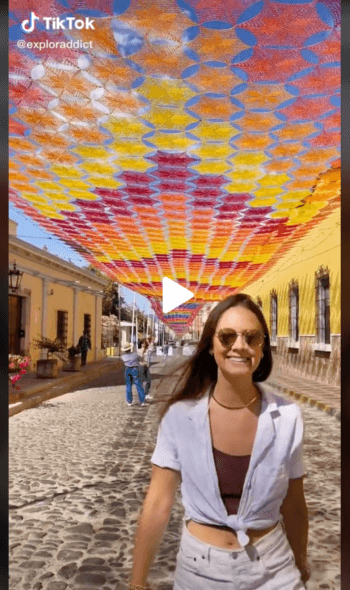 This is good news for brands looking to incorporate influencer marketing into their TikTok strategy. Micro-influencers tend to be more affordable than mega-influencers, making them great partners for brands with limited budgets. Plus, with a close-knit community of followers, micro-influencers are great at delivering the kind of meaningful engagement that brands want. When done right, a micro-influencer marketing strategy can be the approach your brand needs to get in front of a highly engaged audience, increase credibility, and build a loyal customer base.
Trend #4: Increased demand for TikTok ads
As TikTok's user base continues to expand, it's a no-brainer that brands have rushed to the app as an advertising channel. According to Insider Intelligence, TikTok's net ad revenue will grow significantly in the next few years, with ad spend expected to more than double from 2022 to 2024.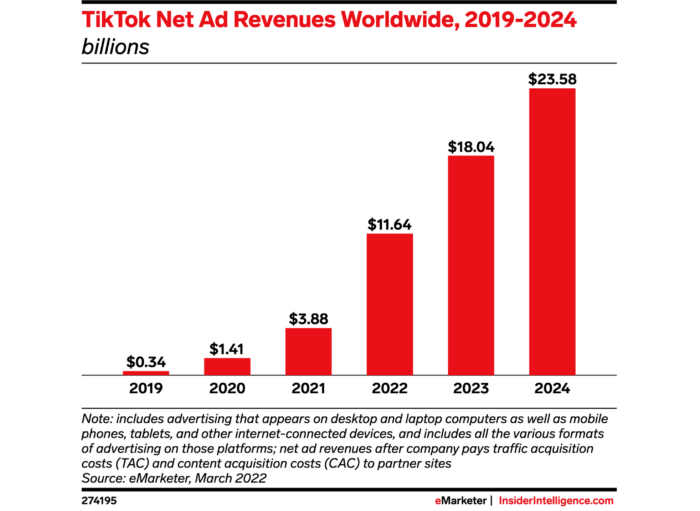 Of course, as demand for TikTok ads increases, we can reasonably predict that ad prices will go up, as well. If you've hesitant about jumping on the TikTok ad train, consider the possibility that waiting too long could result in higher costs. Stay ahead of the reluctant competition by taking advantage of advertising opportunities now.
Luckily, creating TikTok ads isn't nearly as complicated as ads on other platforms. The ads that perform best on the video platform are the ones that look just like any other TikTok. They blend seamlessly into users' viewing experience rather than stick out as professionally-produced ads.
If your page already has popular TikToks, those videos are great contenders for ads. Another popular tactic is to have influencers create sponsored posts that still have the appearance of an organic TikTok. Repurposing user-generated content (UGC) is also highly effective, with TikTok UGC videos often outperforming other ad formats in driving attention on mobile.
Strengthen your TikTok strategy by keeping these 4 best practices
Best practice #1: Target niche audiences
As any marketer knows, identifying and targeting specific audiences is key to any successful strategy. This is especially true for TikTok. Why? Because of its highly personalized and curated For You page. On an app where everyone expects their feed to reflect their unique individual tastes, it is niche — not generic — content that thrives.
Moving forward, you'll want to continue to have niche audiences in mind as you produce your videos. At the same time, don't limit yourself to just one single type of viewer. Because the algorithm is designed to automatically deliver relevant TikToks to users, brands and creators have more flexibility in picking the audiences they'd like to target.
For instance, if you're a vegan food company, you don't have to only create TikToks targeted at established vegans. You can also address those who are curious about the lifestyle or even those who aren't strictly vegan but enjoy vegan products for the health benefits.
With the algorithm at work, you can expect that each TikTok you post will make its way to the intended audience. So long as your audiences complement each other and your videos are on-brand, this approach can be a super effective way for your company to reach more people.
Best practice #2: Keep up with TikTok trends
These days, it's hard to name a social media platform that's as fast-paced as TikTok. It seems like every week, there are a handful of new trends taking over the app. Miss just a few days on TikTok and you may find yourself totally lost over the jokes and stories that everyone is referencing!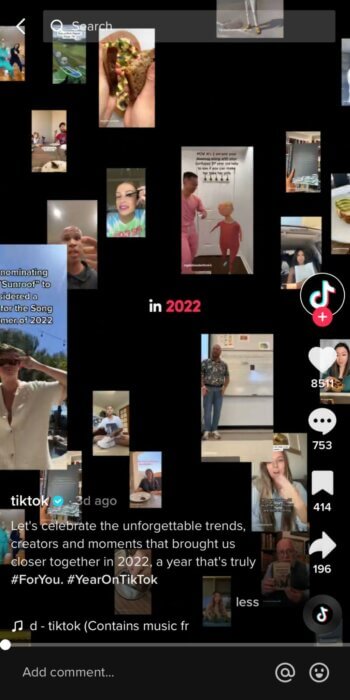 In 2023, keeping up with the latest trends should continue to be a priority. Each trend, which could be a viral audio, filter, challenge, and so on, is an opportunity to be on a bigger stage where you'll be seen by and get to engage with loads of people. Partaking in a trend can not only do wonders for exposure and brand awareness, but it also shows an understanding of the TikTok subculture and endears users to your brand.
As such, brands should have a streamlined process for creating on-trend TikToks. There's often only a small window of opportunity before the trend is old news. If your team fails to act fast or is bogged down by the approval process, then your efforts may prove fruitless. Developing a time-efficient process will make all the difference in your brand's future on TikTok.
Best practice #3: Stick to TikTok's content style
Whether it's TikTok, Twitter, or Instagram, adapting to the content style of each social media platform is always a good idea. As you craft your future strategy, make sure you take note of the essential elements that TikTok content requires.
For instance, rather than being overly produced, most TikTok creators' videos have an "amateur" filming style to them. Don't stress about having the perfect camera, lighting, staging, and so on. TikTok users have embraced the casual and relatable vibe that comes with simply whipping out your phone and filming something.
Being strategic and intentional with your descriptions is also important. Despite TikTok increasing the character limit of descriptions to 2,200 characters, brands should resist the urge to overload descriptions in hopes of going viral. Instead, stick to descriptions with meaningful information and keywords that can help your target audience discover or be shown your post.
A final posting tip? Use hashtags sparingly. Hashtags can improve the discoverability of your TikToks, but using too many can actually work against you. A TikTok stuffed with hashtags can come across as spamming, especially if you use ones that are irrelevant or overused. For that reason, avoid adding generic hashtags like #fyp or #viral. Picking a few relevant ones that accurately reflect your content will be much more effective.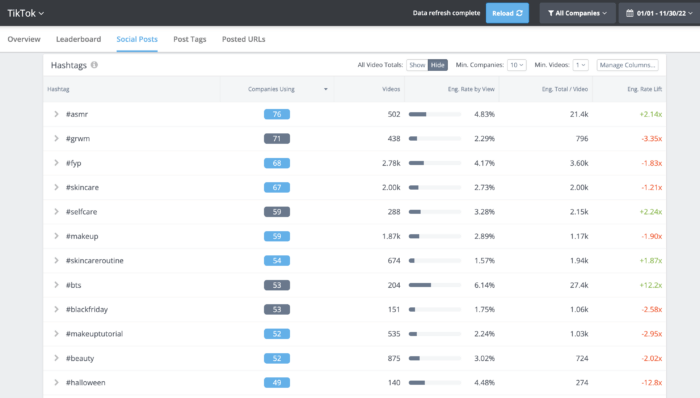 Make sense of your TikTok hashtags.
Best practice #4: Analyze and benchmark your performance
One of the most important parts of any marketing strategy or campaign is looking back at its performance. This involves analyzing how well you did in comparison to your past efforts and the competition, as well as identifying opportunities for improvement.
To analyze and benchmark your TikTok performance, you can refer to the app's native analytics. or use a third-party analytics tool like Rival IQ that makes it easy to keep track of your metrics along with your competitors'. We even offer free head-to-head reports so you can see exactly how you compare to your main competition!
As with any platform, there are vanity metrics and there are actionable metrics. Vanity metrics like total views or followers are great on a surface level, but they don't really tell you much about how your audience feels about you and whether a view or follow will lead to a conversion.
On the other hand, engagement metrics like total engagement and engagement rate, as well as likes, comments, shares, and saves, are more meaningful. These give you a better idea of how interested users are and reveal whether the sentiment behind each interaction is positive or negative. Want to learn more? Check out our blog 8 TikTok Metrics Marketers Need to Know.
Wrapping It Up
Although there's no one-size-fits-all strategy, we hope this guide helps you navigate the competitive landscape of TikTok. There are some exciting trends ahead, so we encourage keen marketers to take a closer look at them. As for the best practices, they'll help you stay on top of what's worked in the past, positioning you to create a TikTok marketing strategy that has you ready for what the future may bring.