We recently conducted primary research on the key challenges, metrics and priorities facing marketers worldwide, focused primarily on social media and related disciplines. Over 450 global marketers from 49 countries participated in this Social Media Trends 2015 research, most of those mid-to-senior level marketing leaders. The results both validate what we hear regularly from many marketers and offer a few surprises.
Download a Complimentary Copy of Social Media Trends 2015 Research
Biggest Surprises
Whenever conducting primary research, I try to keep an open mind about the potential results. But I've learned that, in spite of your best hypotheses, the data can always reveal a few surprises. For this research, here were a few results that weren't necessarily shocking but did illustrate that marketing is a hard job:
Facebook and Twitter remain the most business critical social channels, in spite of many newcomers and a lot of noise about other networks.
Marketers really struggle with building a content machine, and feeling understaffed and needing to be too many places online appears to be part of the challenge.
Marketing metrics are multiple and broad – no one marketing metric of success stands out.
Marketers are using a ton of different tools, but all depend heavily on Google Analytics.
Top Six Research Findings
While the research results uncovered many interesting nuggets about what marketers are thinking, doing and struggling with, there were a few insights that stood out for me.
#1: Content Marketing Biggest Challenge
We asked marketers to identify their top 3 marketing challenges for 2015. The first clear insight is marketers continue to be overwhelmed with multiple challenges and conflicting priorities. However, a couple challenges easily bubbled to the top:  Content Marketing and Staffing Issues. In fact, content marketing is the top challenge for marketers of all levels, organizational size and industry.
ContentMarketing is top challenge for marketers in 2015 per @RivalIQ research
Tweet This!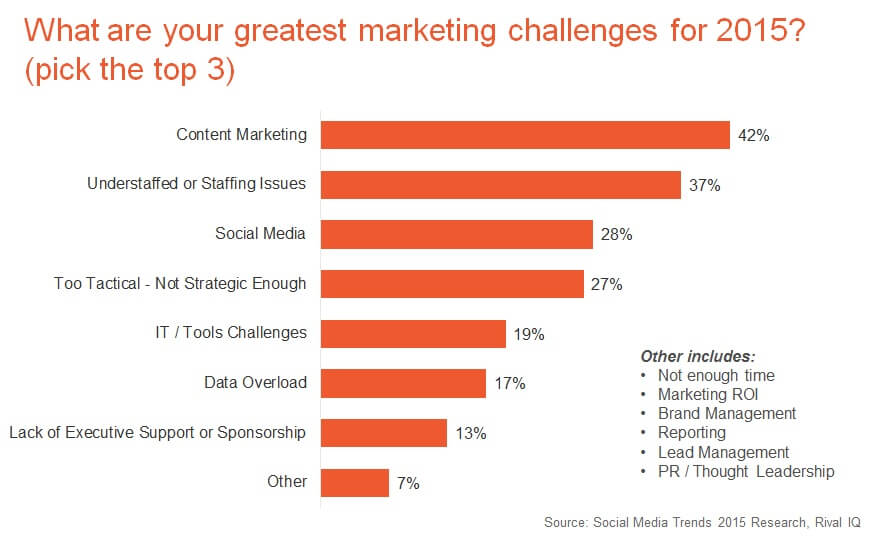 Coming in at a close second is marketing staffing issues. Many respondents added comments about this, talking about how it's not only an issue of not having enough people to do the work required, it's also challenging to find the right people and skill sets. As marketing has become more data-driven, business oriented and technical, we have not done enough to evolve our curriculum or training. Being a great writer or communicator is no longer enough to be a great marketer, and this talent gap is creating a lot of pain for marketing leaders.
#2: Top Marketing Metrics are Conversion to Revenue and Social Media Engagement
All marketers are faced with having to clearly show the impact marketing has on a business or organization. We asked participants to identify the one, most important metric that the marketing team measures and reports. They were only able to choose one, even though marketers tend to track and report on many different metrics. 20% of the respondents said "Conversion to Revenue" was the most important metric.
Conversion to Revenue & SocialMedia Engagement top marketing metrics per @RivalIQ 2015 research
Tweet This!
These results validate that the connection between marketing and revenue is not just hyperbole, but a reality for many marketers. The days of marketing being responsible for just top of funnel activity and metrics is over. Now, marketers must show how their efforts, budget and results are leading to conversion all the way through the end of the funnel.  Also scoring high was Conversion to Qualified Lead, and the number of Qualified Leads.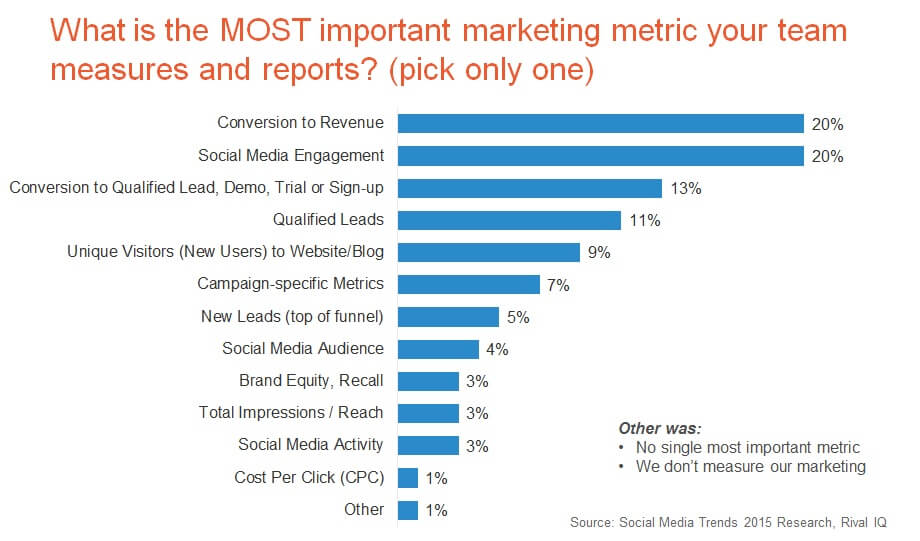 Tied for first place as the most important metric is Social Media Engagement. I have been hearing this increasingly from marketers I work with. It's great to see that social media is being recognized as a key channel for community engagement, and that marketers are measuring and reporting on engagement as a critical measure of success. While audience and activity are important metrics for social media, at the end of the day, it's engagement with those followers and your content that moves the needle.
#3: Gap Between Social Media Profile and "Active" Presence
We asked marketers to state how many social media channels their organization has a presence on today – defined as having a valid social profile. We then followed up by asking how many of those social networks they are actually active on – meaning posting on a regular basis, working to add followers, etc. The gap was telling. While well over half of the respondents had an organizational presence on 4 to 5 social media networks, nearly the same amount are active on 2 to 3 channels.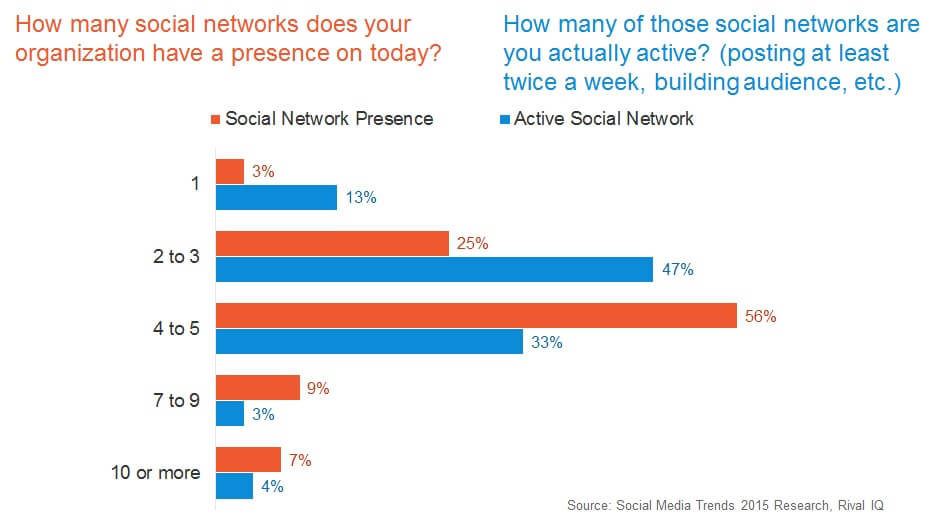 Clearly, there is an expectation or assumption that we need to be everywhere, so they are setting up profiles on multiple channels. This speaks to a recommendation we make to our clients, which is to clearly prioritize the key social media networks where you MUST have a presence based on your customers, competitors and industry, and let the others go. It's better to do a great job on two social media channels than a mediocre job on five.
Most companies have a presence on 4 to 5 SocialMedia networks but are only active on 2 to 3 via @RivalIQ
Tweet This!
Part of the issue of maintaining multiple networks could have to do with resource issues. The research also shows that the vast majority of companies surveyed have one person managing social media for their organization.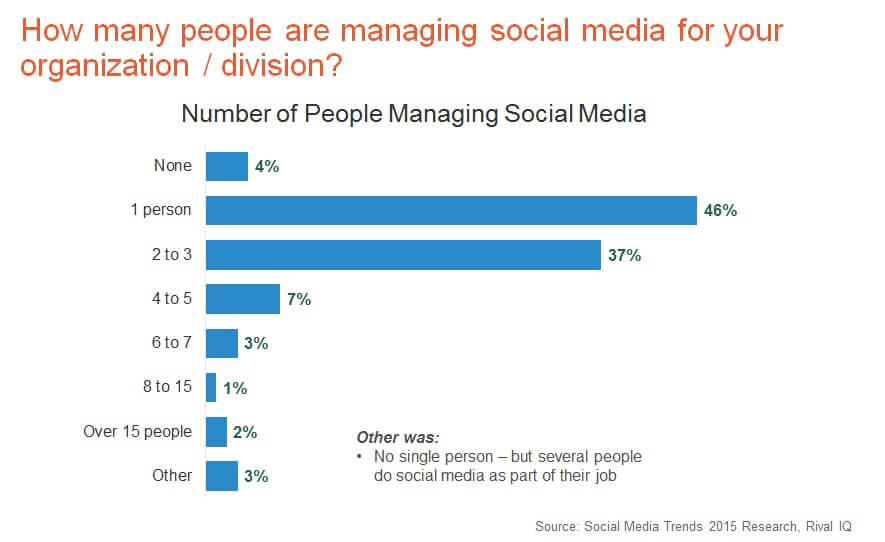 #4: Facebook and Twitter are by far the most important social media networks
One of the reasons it's so hard for marketers to prioritize social networks is because there are so many of them. Here at Rival IQ, we get requests every day to add more social channels to our competitive analytics tool.  But when faced with the question of which social networks are critical for your organization, the priorities are crystal clear.
In spite of all the newcomers, Facebook and Twitter reign, with more than 62% and 65% respondents saying Facebook and Twitter respectively were Critical or Very Important to their marketing and organizations.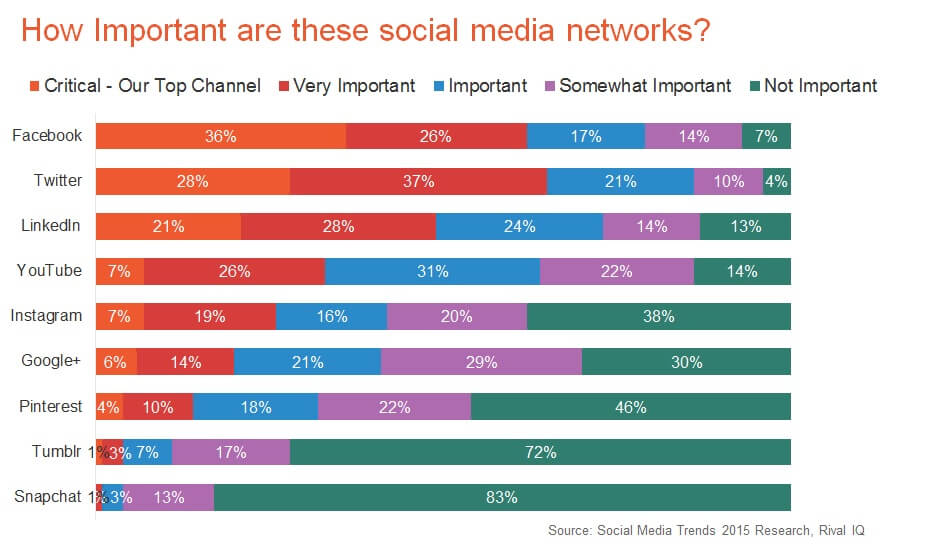 Facebook & Twitter remain the most critical SocialMedia networks per @RivalIQ research
Tweet This!
The top two networks did vary slightly when filtering responses based on business-to-business (B2B) or business-to-consumer (B2C) marketing.  For B2C marketers, it's all about Facebook, with 57% of B2C respondents calling it Critical, and another 23% ranking Facebook as Very Important.  After Facebook, B2C marketers ranked Twitter, Instagram and YouTube as the most important channels for their marketing.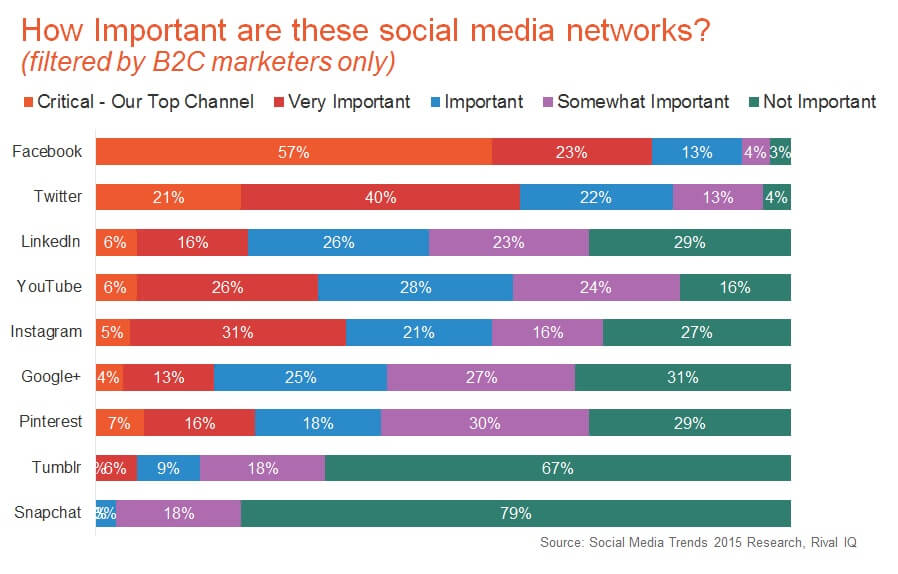 For B2B, Twitter and LinkedIn should be your top priorities, with these two channels running almost neck-to-neck in terms of importance to the business. Facebook and YouTube followed these two, with Google+ coming in a weak fifth place.  Of course, I always tell marketers that Google+ is a bit of an anomaly, because there is benefit of keeping your presence updated there for Google search alone. But for those B2B marketers wondering about Instagram, Pinterest, Tumblr and Snapchat? Let it go.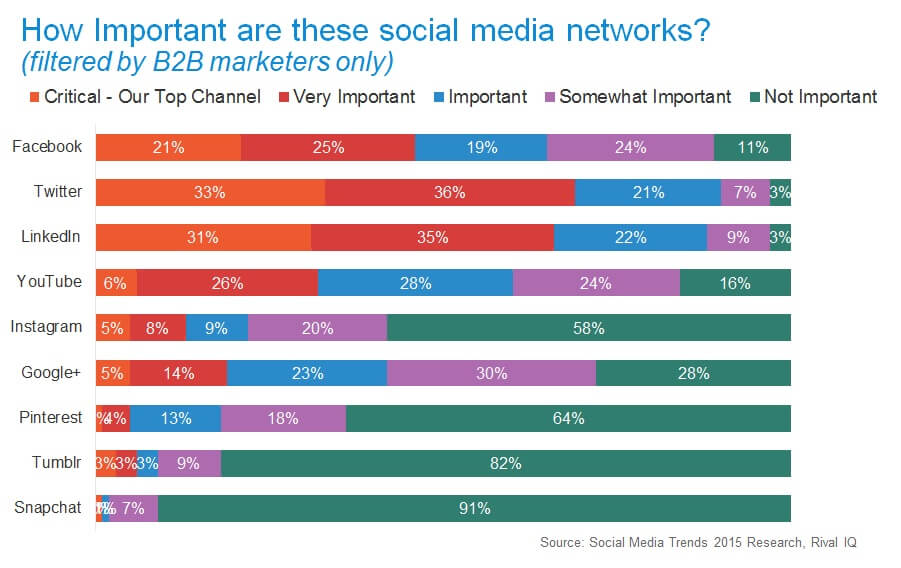 For B2B marketers Twitter & LinkedIn are only Critical SocialMedia networks via @RivalIQ research
Tweet This!
#5: Social Media Investment is on the Rise
Social media spend is growing as a percentage of marketing budgets in 2015 compared to 2014. Last year, most marketers spent less than 10% on their budget on social media initiatives. In 2015, budgets are creeping higher, with a significant increase in the percentage of marketers spending 10 to 20% and 21 to 30% of their marketing budgets on social media. We asked respondents to include all social media initiatives, including paid social.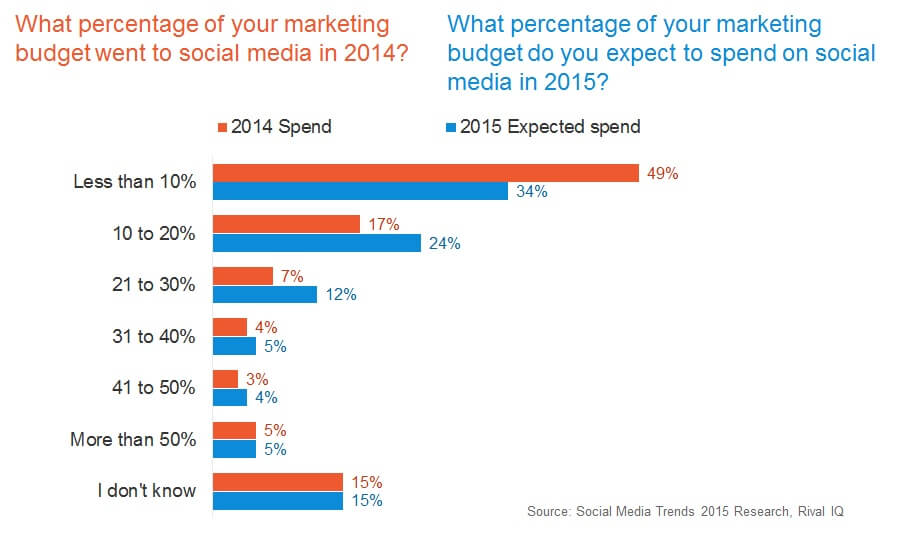 SocialMedia investment increasing in 2015 vs 2014 per @RivalIQ research
Tweet This!
#6: Google Analytics, Facebook Insights, and Twitter Analytics Most Used Tools
We know marketers are overwhelmed with data, but they also have a plethora of tools to help them manage, measure and report. More than 40 different tools were identified by respondents as helping them create, manage, measure or publish social media and related content.  Google Analytics was by far the most frequently used tool, followed by Facebook Insights and Twitter Analytics. I believe this also speaks to the increasingly blurred lines between organic and paid social and web content.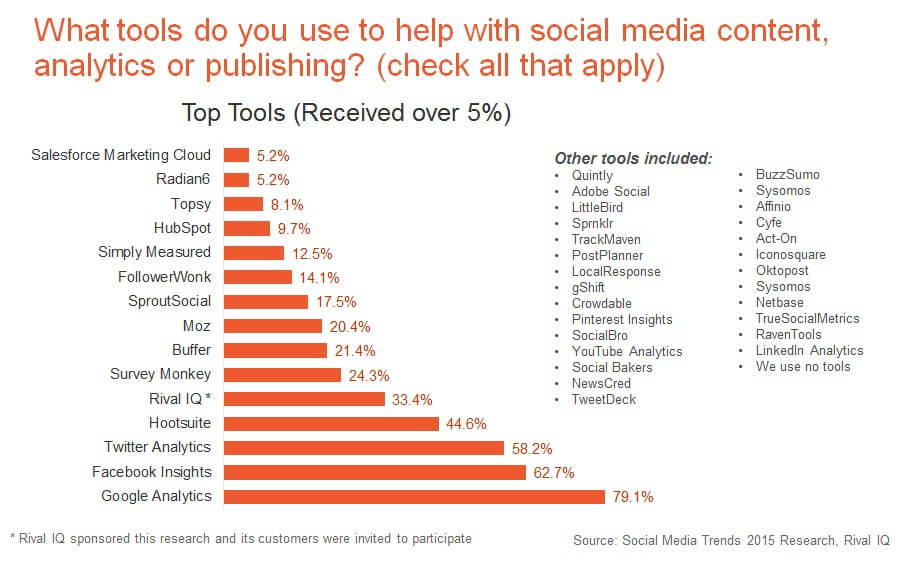 Download the Complete Report
You can download the full report here.  And please let me know your thoughts and comments on what you're experiencing that differs from these results or validates them.