What can SEO do for your social media strategy? Make it better.
MozCon 2019, an SEO conference which takes place in Seattle every July, was filled with speakers and attendees from all over the world focusing on the importance of SERPs (Search Engine Results Page) for your organic traffic, brand recognition, and conversion rates. Check out MozCon's day-by-day breakdowns if you're ready for a whirlwind of live tweets, or read below some standouts from the conference as they relate to social media.
I was joining in this conversation wearing multiple hats: part of my Digital Marketing role means I'm an SEO always looking to drive up my metrics in Google Analytics, and I'm also an in-house marketer for a social media analytics tool. Since we live and breathe social media metrics at Rival IQ we care a lot about what's working for our customers, the latest marketing trends, and algorithm updates.
My frame of mind wasn't solely in the "SEO first and forever" camp at last week's MozCon like the cheering data scientists around me. But luckily, the philosophy behind SEO is widely applicable to any type of digital marketing, social media in particular.
Social media wins can help your SEO
Before we dive into the glories of SEO as a subset of digital marketing, it's important to shout out the power of social media as it relates to SEO. SEOs can forget that social sharing gets more eyes, links, and engagement to your content and website, which can in turn up your SEO value (including backlinks and traffic) significantly.
Social media marketing is sometimes treated as the "little brother" in digital marketing, often an afterthought or assigned to the rotating class of interns, so it doesn't always get the technical treatment SEO is known for. Ideally, following these latest SEO "rules" for your content on social media will bring in the organic traffic gains across the board.
Expertise matters to the algorithms
Google's E-A-T (Expertise, Authoritativeness, Trustworthiness) update last August left marketers reeling from ranking drops, but the intention behind the mega search mogul's move was to protect searchers from bad information that happens to have good SEO. Google's algorithm doesn't like spammy sites with fake backlinks because they make the trust in the content appear higher regardless of quality. Marketing consultant Marie Haynes had an excellent and actionable piece of advice on the subject:
Marie insists: An author bio seriously ups your content's E-A-T. 
Adding an author bio to an article tells the reader (and Google) the article can be trusted because it was written by an expert. If your article doesn't contain expert-level advice, it probably doesn't deserve to rank #1.
This same strategy can be applied to social media. For example, brands frequently struggle with the "voice" of their company on LinkedIn. Some companies use individuals as brand advocates, like a CEO, while others use the company page as the source of authority on their brand. Most LinkedIn experts agree that LinkedIn is a people-to-people platform and content there generally performs better from an individual than from a company page. That's not to say that some brand pages aren't killin' it on LinkedIn (Bumble and Social Chain to name two), but it's one place where authorship stands out.
Your audience is tired of keyword-driven content
Ross Simmonds of Foundation Marketing asked marketers to do more with content than boring listicles one-upping the old SERP. At MozCon, he provided lots of great ideas for fresher content in his full slide presentation, and a few really jumped out at me.
1. Using Quora Ads Manager as a topic generation tool.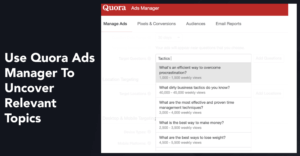 Now as marketers, we know that Q&A forums like Quora can be a great place to get ideas, or swipe some interesting anecdotes (we're looking at you, Buzzfeed). But Ross takes this a step further by illustrating that keywords in Quora's ad platform include top questions with average weekly view data. That's some valuable data to use in your content strategy when you're choosing topics and headlines.
2. Another data-backed example Ross outlined is that links are more prevalent on Reddit than on any other social platform. Knowing this channel-specific use case should be part of each of your social strategy as well as SEO. Find what works everywhere you're posting advertising and use it to determine what you're sharing on that platform.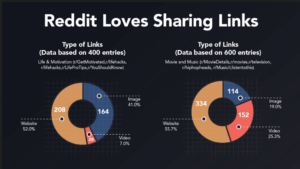 Throughout his presentation, Ross underlined the need for channel-user fit, which means sussing out the behavior of your audience on a particular platform, understanding what they want, and giving it to them.
Ross' protip for Reddit is to search subreddits for a competitor's site name or URL so that you can see what's getting buzz in the forum. Off Reddit, you can check your Rival IQ landscape for sites or URLs to see what your competition is sharing with our Posted URLs feature.
Reactive Content is Valuable on Social Media
Aira's Head of PR and Content Shannon McGurik perfectly summarized why her title is so important for SEO.  Varied content is important to successful SEO strategy that can survive algorithm updates and trending topics alike. McGruick separates journalism-style content into three buckets.
1. Planned Content: Content on your calendar, including product updates, strategized articles based on keyword research, rewrites of older content, etc.
Example: You write a blog post about the top 10 things to vlog on your road trip.
Return: When a user searches "Top 10 things to vlog on your road trip" your piece of content outranks the previous SERP "Top 9 things to vlog on your road trip."
2. Reactive Content: Your content is a response to an event in real time.
Example: Google changes its algorithm and you tweet about it as soon as you find out.
Return: Your tweet goes viral.
3. Planned Reactive Content: An update to an existing piece of content or data set or planning content around a particular event.
Example: Every fall your website releases a campaign about the outlook of apple crops in Eastern Washington and how it might affect Thanksgiving pie recipes.
Return: When citing the research on apples this year, your article is linked to as a source. Your brand following can expect this content to get refreshed.
Reactive content in particular stood out to me because it emulates all of the best parts of PR. In the way that PR is fresh and relevant to the conversation, reactive content is quick to respond to trends in search, new data, news, and more, with thoughtful insight. Different from news, reactive content gives way to opinion or response by the author. All three variations are great strategies to employ in your content, not only for engaged readers but to create content that journalists and other bloggers want to link back to.
McGurik later went on to explain that while planned content is necessary, oftentimes being "first" in a trending topic is more likely to rank than what you think people want. Sound familiar? Reactive content can stretch beyond SEO into social media. We all know the faster the tweet, the more relevance it has. Roughly 1/3rd of your on-site content should emulate that PR timeliness and be the first to document findings and boost authoritativeness.
Putting on your SEO diving helmet
Overall, MozCon was much more than just an SEO conference. The principles of quality, ingenuity, and resourcefulness that good SEO is based on are overarching themes for strong marketing in general. SEO has always been my favorite part of digital marketing (shh! Don't tell email), so it's exciting to shift my frame of mind and apply the best tips from MozCon to social media marketing. After all, whether you're marketing on Facebook or Google, you're still playing by their rules.
Content, whether it's a blog post, a tweet, or SERP, wins out online when it's the very best. This is why search and social algorithms alike generate new rules every day to challenge marketers to be better. Hopefully you're inspired to give it a shot with these top takeaways from MozCon 2019.
A few other notable mentions from MozCon 2019
They aren't social media specific but these presentations were  standouts at the 2019 conference. Take a look at the slide decks if you're ready for more expert insights.