In this world of faster-than-ever communications, even your favorite company can be just one slip away from a PR crisis.
There are two types of PR crisis responders in this world:
Those who tend to think of business as evil and corrupt.
Those who choose to view companies through a human lens.
I'm definitely the second type, and every brand hopes the vast majority of its customers and followers are too.
Right or wrong, I usually assume brands employ hard-working human beings who care about doing a good job at the end of the day. Call me naive, but even when I'm the disgruntled customer, I have deep empathy for the people behind the scenes taking my complaint. (Editor's Note: This is probably because I've been the poor person on the receiving end of one too many vicious customer service tweets over the years.)
That said, I'm also a very curious person. As a long-time content and messaging strategist, few instances pique my interest quite like a brand making headlines for something scandalous. I can't wait to jump on Twitter and see how they choose to respond (or not respond) to the PR crisis at hand. What can I say? I'm here for the drama to learn.
Whether a bad customer experience goes viral, a company leader gets too controversial, or serious accusations about a brand hits newsstands, crisis is always lurking right around the corner. This is true even if the brand has a historically good reputation. Let's take a look at the tactics LaCroix, a well-loved brand, recently used during a PR crisis. You might be surprised how this approach helped them emerge on the other side relatively unscathed.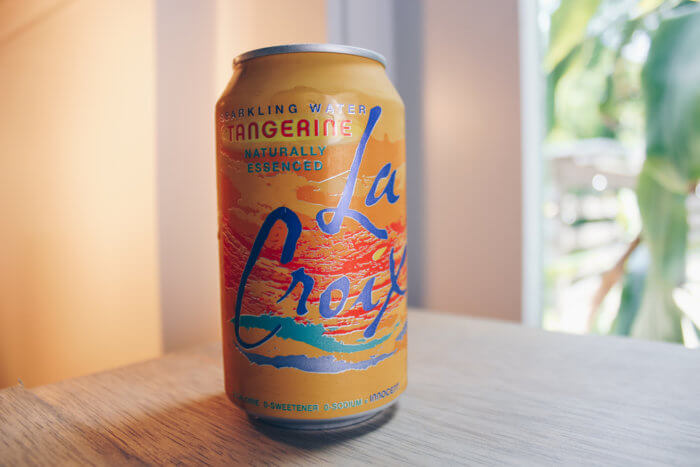 Your PR Crisis Options
A PR crisis always seems worse when it's happening to you. It doesn't matter if you get one negative comment or one million negative comments, it can feel like the world as you know it is ending.
However, the way you respond can either help or hurt your brand. It all boils down to quickly assessing the situation and making the right decision in the moment.
As a crisis unfolds, a brand marketer typically has the following choices:
Continue business as usual:

This option means you've seen this issue before, expect the issue to die down on its own, and you do not plan to publicly address it.
Action item: Note the problem internally, but do not change your communications strategy and tactics.

Plan behind the scenes, wait to release a statement if necessary:

This option means you are in caution mode, hoping for the best (that the issue will resolve itself) but preparing for the worst (drafting an official statement and a special communications plan to roll out if the issue continues escalating).
Action item: To avoid drawing more attention to the brand during this sensitive time, place a hold on all publicity (pause social media, marketing emails, advertising, media interviews, etc.), or at least review and approve on a case-by-case basis until you're sure the issue is resolved.

Directly address the issue:

This option means you are acting to avoid further reputation damage. This may mean admitting fault and apologizing, or if you have enough evidence to defend your position of innocence, correcting the record.
Action item: Issue an official statement, maintain a pulse on the public's response and resume normal communications efforts.
As you can see, all options share one common denominator: data. In order to choose the right path, you must monitor the public's response to determine if the news is coming to an end, or picking up steam. A sophisticated monitoring system is your best friend to identify public sentiment and understand the audience point of view. Only careful analysis will give you enough information to make an informed decision. If a brand attempts to make a decision without data, that's just a recipe for disaster.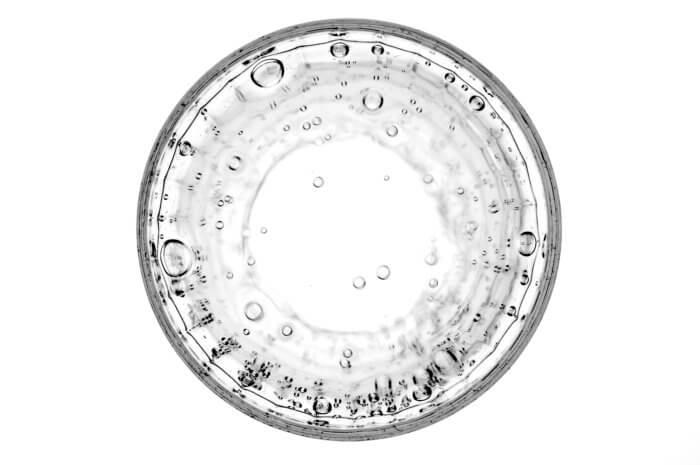 LaCroix Under the Microscope
It doesn't happen often, but sometimes my favorite brands find themselves in the hot seat. I find it particularly heart-wrenching when a brand with a good reputation suddenly gets thrown in the deep end of crisis communications.
Last month, LaCroix found itself in PR crisis mode after word got out about a class-action lawsuit. The suit claimed the "natural" water (the way it is marketed) was not-so-natural after all. In fact, rumor had it that cockroach insecticide was found to be an ingredient! Since I consume at least one LaCroix beverage per day, I was genuinely concerned.
Believing strongly in their position, LaCroix and its parent company, National Beverage Corp., chose option three: directly address the issue. They immediately set out to correct the record by calling for an independent lab test and criticizing the allegations in a press release.
Unsurprisingly, many customers felt like I did, concerned that their go-to sparkling water may not be so trustworthy after all. After observing a swell of worried and even horrified reactions online, LaCroix swiftly addressed the rumors on social media and asked for continued support from their loyal customer base, at least until the lab results came back. Timing was everything in this moment, as we know bad news does not get better with age. In fact, the longer the public has to wait for a response from a company after a PR crisis, the harder it is to convince your followers that you're paying attention.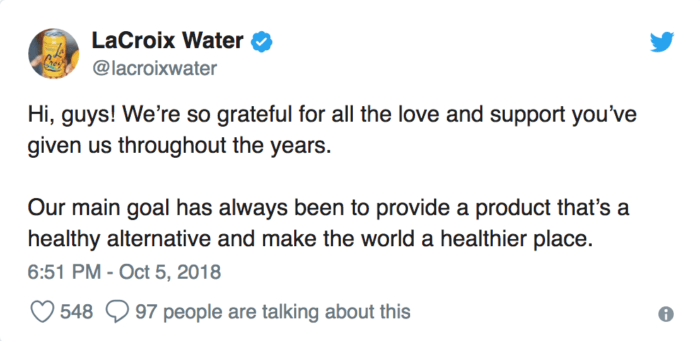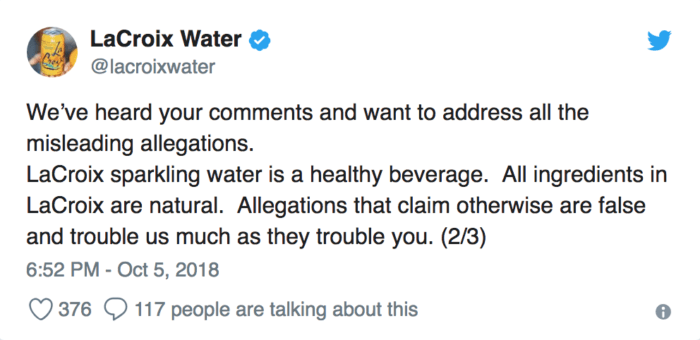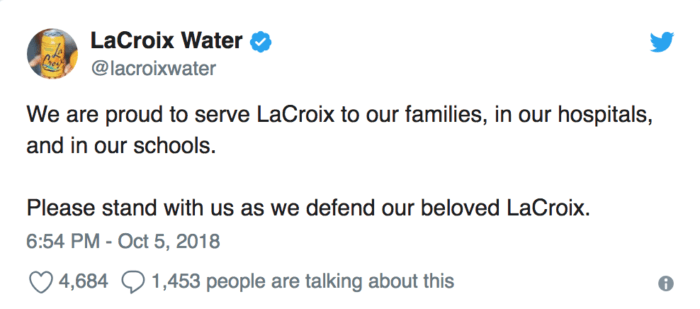 LaCroix's rallying cry worked. As supportive messages poured in, LaCroix shared key audience posts and quotes on their own social media accounts. By sprinkling some user-generated content into their regular editorial calendar, LaCroix was able to demonstrate third-party support, keep the conversation positive, and not dwell too much on the issue du jour.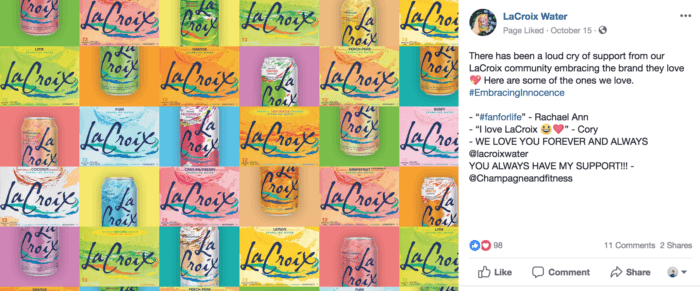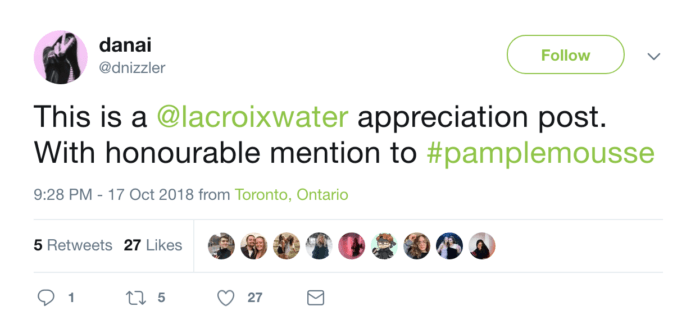 Along the way, LaCroix also shared factual articles weighing in on the issue.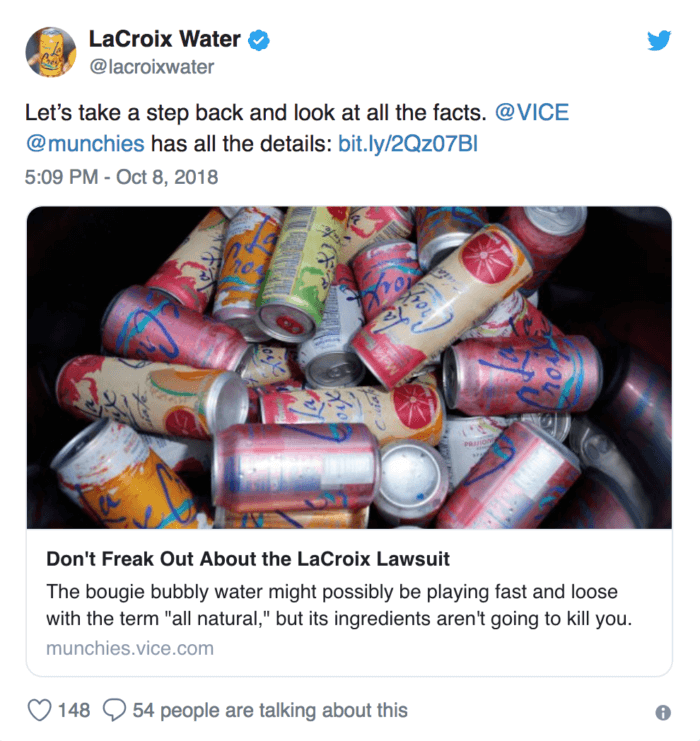 The lab report came back in favor of LaCroix, and the brand celebrated by sharing the results far and wide.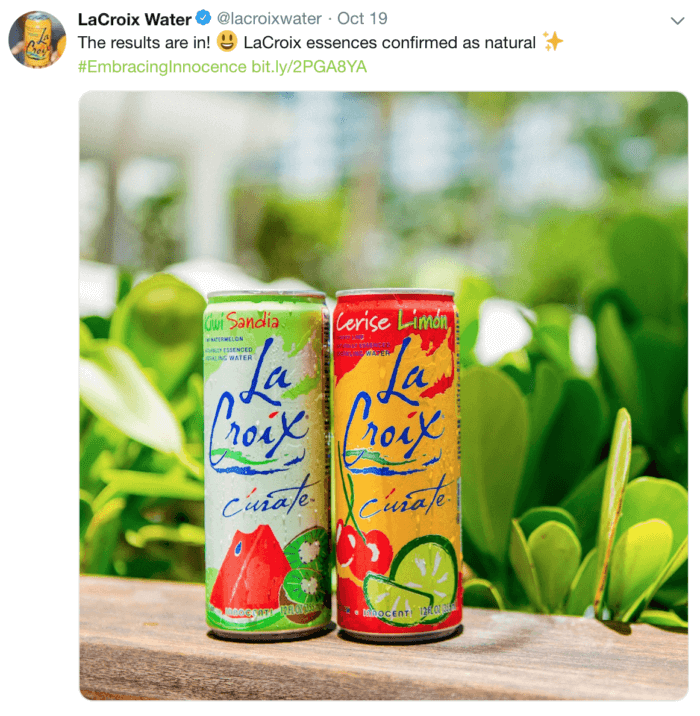 Ultimately, the harmful chemicals cited in the suit turned out to be bioavailable in plants such as lavender and citrus fruits, commonly used as flavors and fragrances, and do not pose any danger. Essentially, LaCroix took it on the chin for all sparkling water companies who use the exact same ingredients.
With excellent test results in hand, LaCroix resumed normal communications, continuing to fill their feeds with on-brand, fun-loving, colorful content. After a few weeks, most of the buzz had died down. As I polish off a Key Lime LaCroix while writing this post, I think it's safe to say the brand will be just fine after this temporary PR crisis.
What can we learn from LaCroix?
If your brand is being accused of something you know to be false, lean heavily on the facts and fight back.
While it's tempting to be dramatic, set emotions aside to keep the situation calm and under control.
Have monitoring systems in place during good times, so you can lean heavily on them during bad times.
Data is essential to accurately gauge your audience at all times, but is especially telling about how well your brand recovers over time by measuring changes in sentiment.
Above all else, know and prioritize your audience. Listen to what they're saying and respond accordingly. Stay true to your brand as you ride out the storm.
Keep these best practices in mind in the event of a crisis. Remember: it's always a good idea to proactively prepare, because a PR crisis really can happen to any of us.