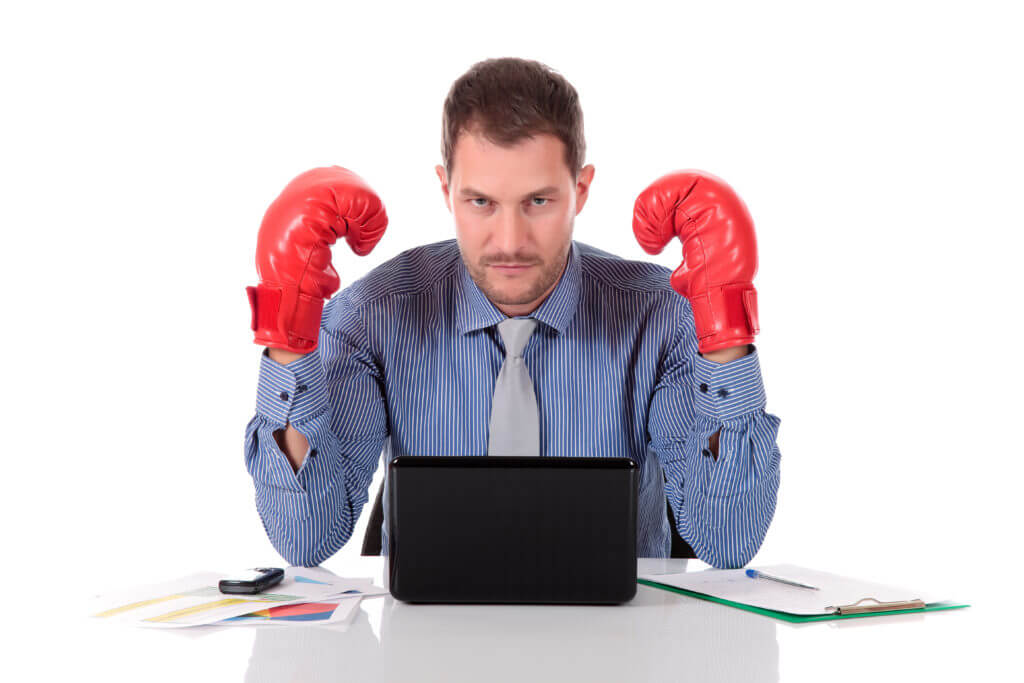 Whether you deliver marketing insights to clients or internally within your organization, you need a quick way to identify, analyze, strategize and report on your top competitors. I know you're saying, wait? I have to be an expert on my competition, too? Yep, marketing competitive analysis is not just a nice to have. Your clients and executives want and need competitive context, and your marketing needs to not only be great for your focus company, product or brand, but also great when compared to the market overall.
But what about when you are launching a new product or entering a new market or pitching a brand new client if you're an agency?
This is the perfect time to start early identifying, benchmarking and tracking your competition.
Luckily, there are two easy tools to help: Rival IQ and Google. Think of Google as your research arm, and Rival IQ as your strategy hub, where you create your competitive Market Landscape and start building your strategy for social media, SEO, content marketing and more.
How do you define your Top Competitors?
I'm sure you know some of your competitors already. However, at a time when companies are springing up right and left, it is easy to miss a few. Fortunately, we have mastered an easy trick to help you find competitors you might have missed using Google Search and Rival IQ. Let's get started!
Step 1: Select a "featured company", probably you or your client. Let's assume we are building a landscape for Email Marketing companies, and your focus company is MailChimp.
Step 2: Search for your selected company within Google. In this case, MailChimp.

The secret weapon here is a feature you may have seen within Google Search and not used in a systematic way: the display of related websites based on what other  people have searched when they tried to find your focus company.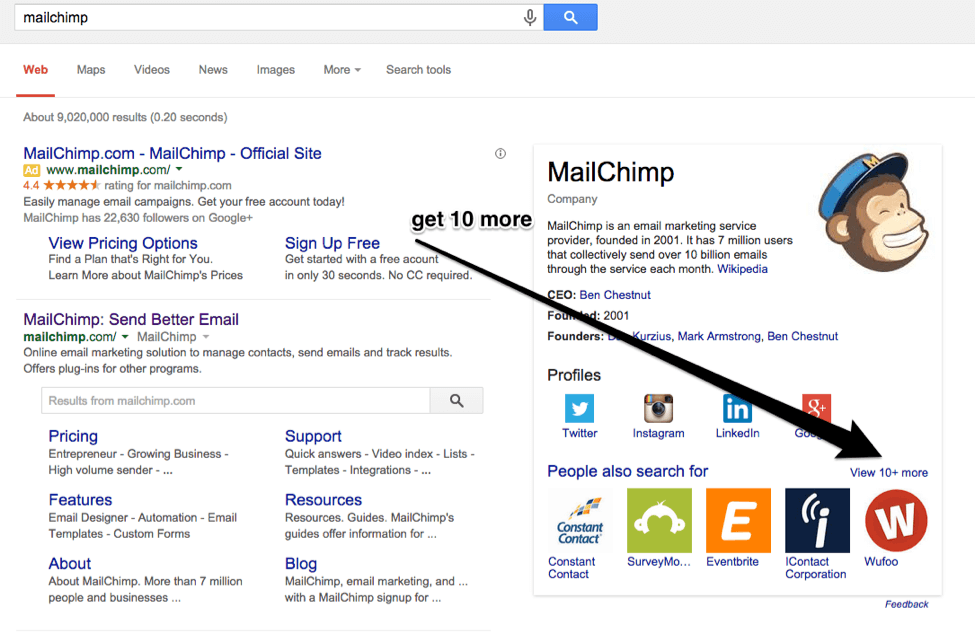 Step 3: Many companies will have a "View 10+ more" link created by Google. Go ahead and click it! It should yield you this view.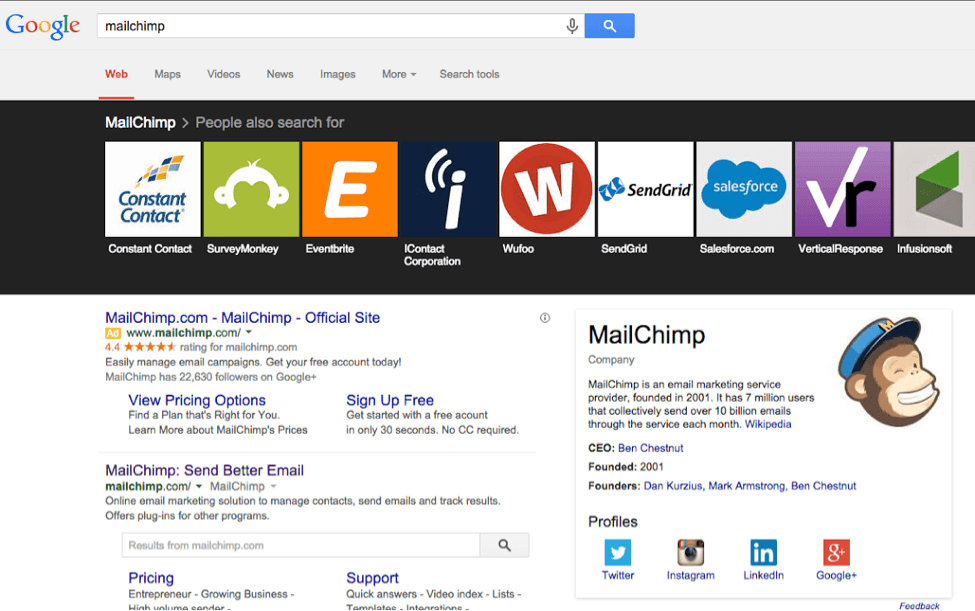 Our working assumption is that if people search in Google, the results in Google should show us companies based on how much they are searched — in the order of most to least searched. Therefore, using Google Search gives us a filter or proxy for brand awareness.
Step 4: Start adding these companies to your Rival IQ Landscape.
Step 5: Back on Google, click on the first company's link. In this case, the first company listed is Constant Contact. Once you do so, you will see other related companies. Cheers to more competitors!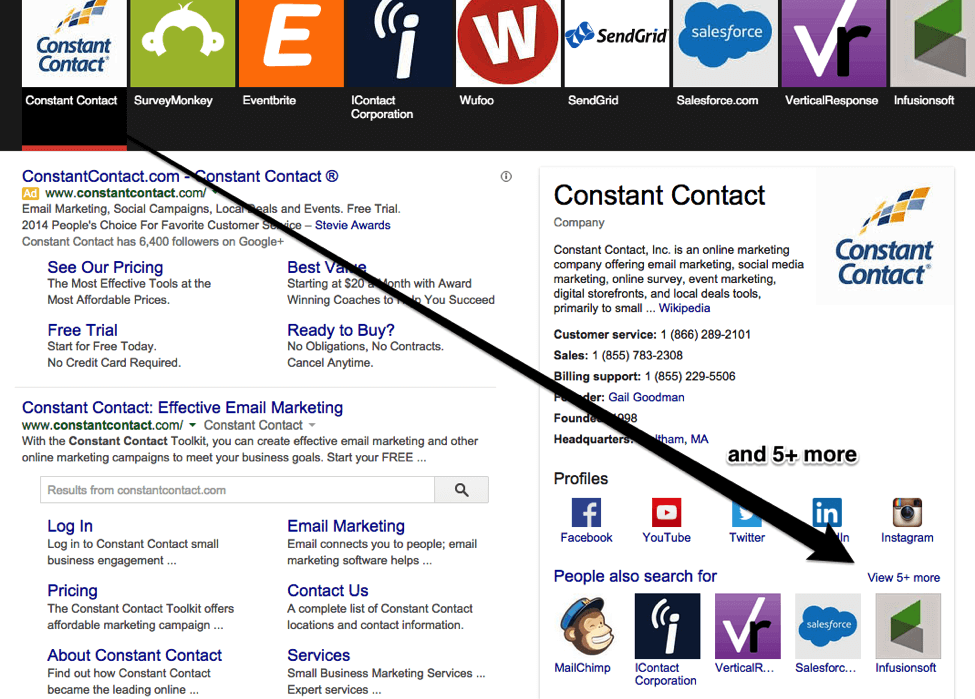 Step 6: Add these companies to your Landscape. Once done, visit SEO Keywords in Common within Rival IQ. This will show you what keywords these companies are ranking on.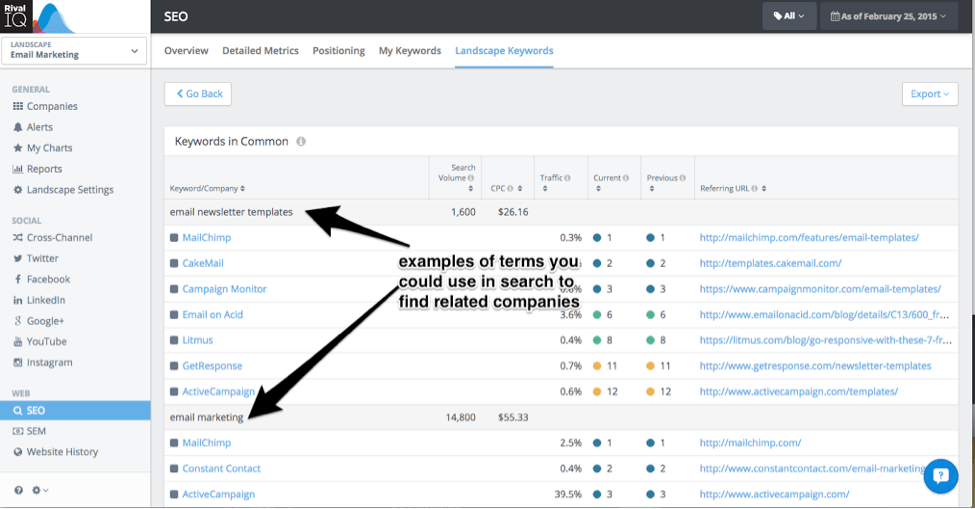 Using SEO keywords within Rival IQ,  I found a few terms I hadn't thought of before. I used "email newsletter templates" and found a few more competitors in Email marketing that were new to me (Email on Acid, Litmus, and Cakemail).
Step 7: Once you have identified your keywords, search for them in Google. This will help you find other relevant companies to track in your landscape. (As a bonus, this should also be showing you what keywords you need to optimize for as you build out content for this new product or brand!)
Organize Your Competitors
This technique can leave you with a large list of 20 to 30 potential competitors. It is important to filter. I recommend tagging each company within Rival IQ. Tagging will allow you to manage your close competitors and your more distant competitors right within your landscape.
If you work for an agency or as a consultant, you might also consider using this method to define a market landscape for prospective clients – it should take you only about 15-20 minutes to create and will result in a rich landscape of competitive information and easy to export reports you can use to pitch new business.
Start Analyzing and Sharing!
Review social channels and company information for each company added to your landscape. Analyze the overall social metrics in the landscape: Here you can answer key questions, such as who has the most social fans, who is most active and where is the greatest engagement?
Finally, let us know if you've built an amazing landscape – we'd love to take a look. Also, you can use this link to get the landscape I built for email marketing companies.