Many years ago when I was a PR consultant, I created a competitive communication audit as part of our services to clients.  This was typically one of the first things we would do either before we pitched a prospect or as part of our initial work for a new client.  The goal was primarily to show whether the company's positioning and messaging were consistent across channels and how they compared or contrasted to their competitors' positioning.
This was a vital step and always illuminating.  It also set the foundation for our priorities and the overall messaging framework we would build for our client.
Competitive Research Doesn't Have to be Hard
This was also extremely time-consuming, not only because it was the early days of the Internet, but because the information I gathered lived in many different places.  I would go to each company's Website and explore the pages, search the blogosphere, search multiple online media and news sites, etc.
This remains a vital step when I am updating or creating positioning and messaging for a company and a product.  However, having just done a new competitive communication audit in the past two weeks, the time involved in the gathering was minimal, leaving me more time to analyze, strategize and develop my recommendations for our new positioning and messaging.  This is where you want your marketing leaders spending their energy – not in searching the Internet.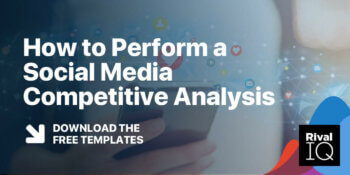 Free social media competitive analysis template
Download now
How to do a Competitive Communication Audit
I did it by using our product.  Let me walk you through what I did, and the document I created from this process that I then presented to the leadership team with my recommendations.
For this example, I'm going to use the B2B Integration market, a market in which I worked for several years previously.  My competitive landscape set up in Rival IQ has seven companies across the integration market.  For my competitive communication audit, I chose to focus on four I used to know well in this space (Liaison, E2open, Axway, and Pervasive).
Rather than having to go out to multiple sites, I simply went into the Company Profile section and selected one of the companies, and immediately received detailed content of their positioning and messaging across each social channel presence as well as their Website.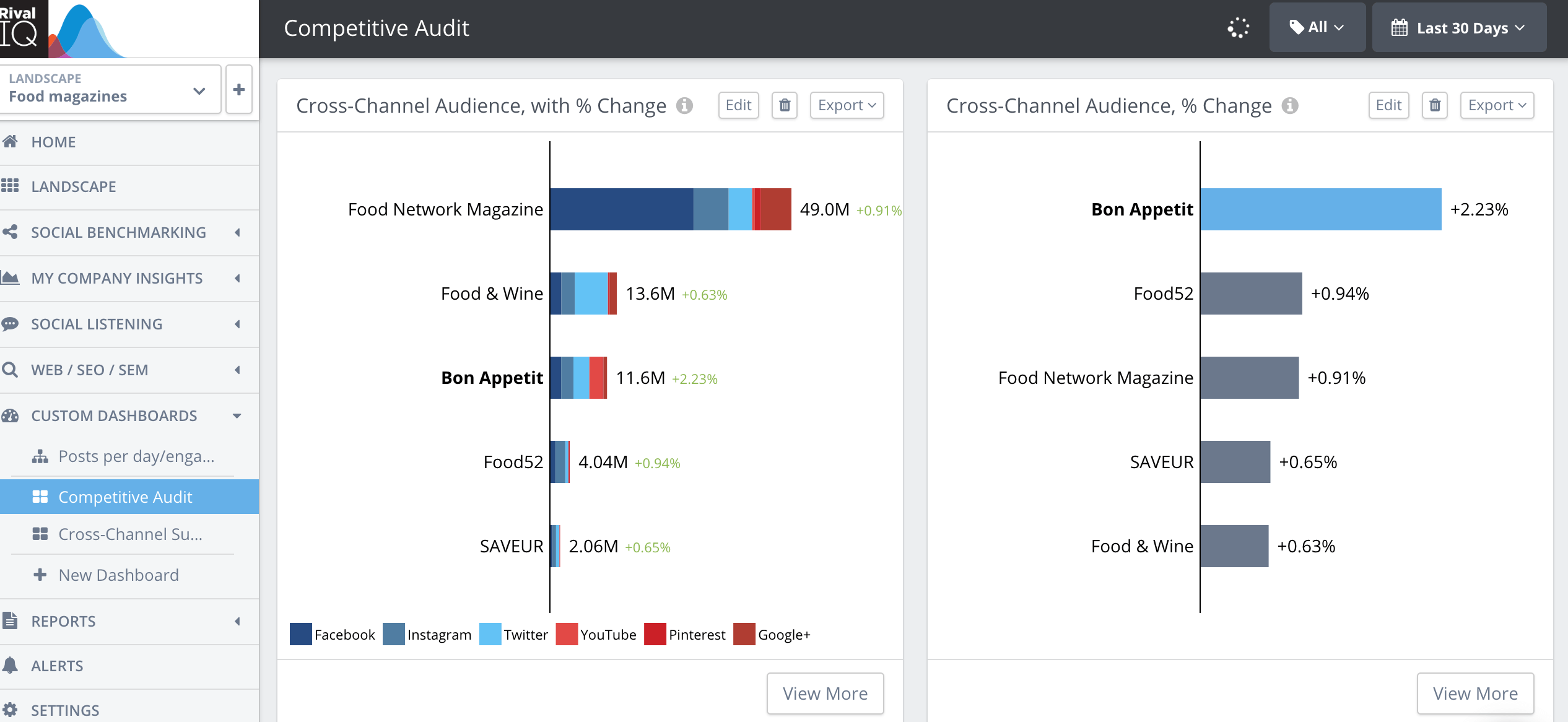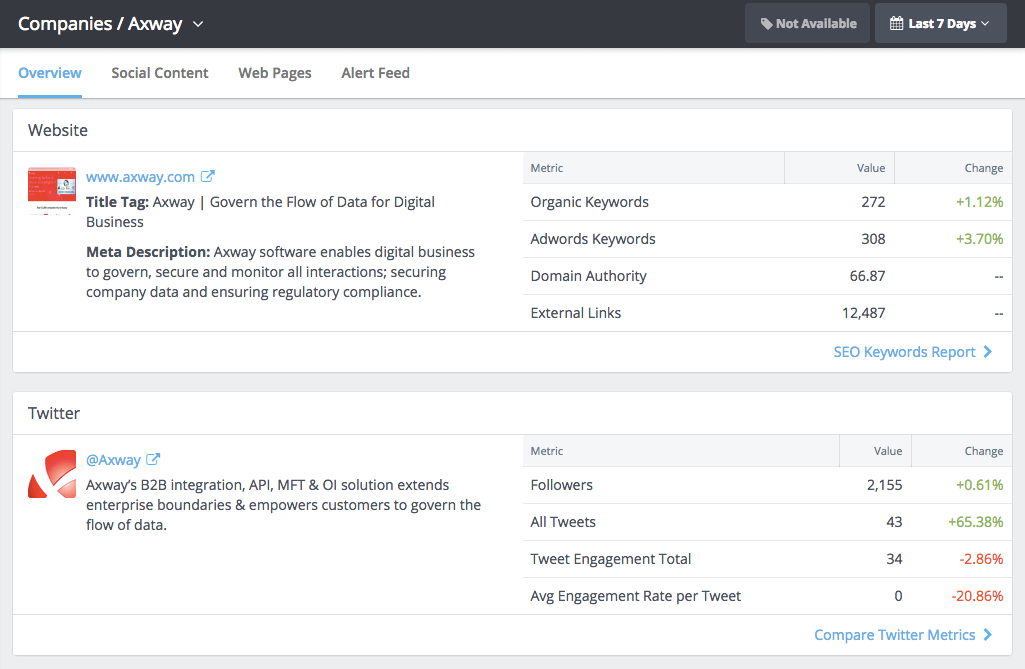 For my audit document, I was using a basic table in Microsoft Word, so I simply copied and pasted each area into my table.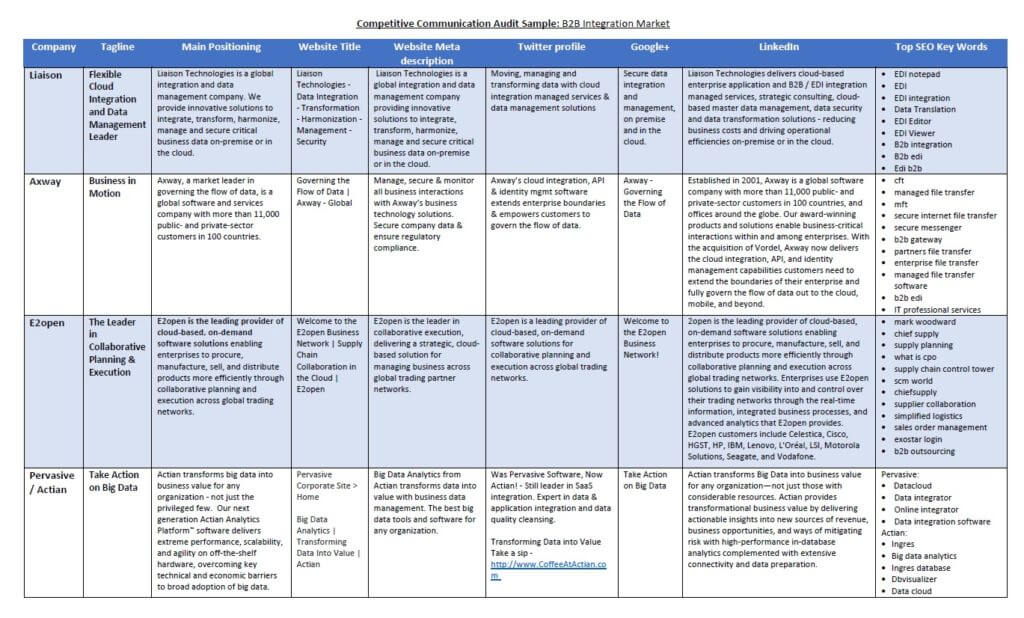 After copying the Website title and meta description, I clicked on the company Website URL in that same section, and on the home page looked for their tagline or main "what is it" copy.  I then went into the "About Us" or Company section and copied the first paragraph that always says "what is . . . " xyz company.
I did this same process for each company in my competitive communication audit.  It took me 1 to 2 minutes per company, so a total of no more than 10 minutes to capture all of their positioning and messaging information across key social channels and Web.
SEO Keyword Analysis and Popular Topics
To identify which key terms and keywords I'm directly fighting with my competition for, I need to do a quick SEO keyword analysis. First, I went into the SEO Keyword section of the application. Under 'top keywords' for each company, I captured that data. Then, I skimmed it to identify which keywords we're both ranking for.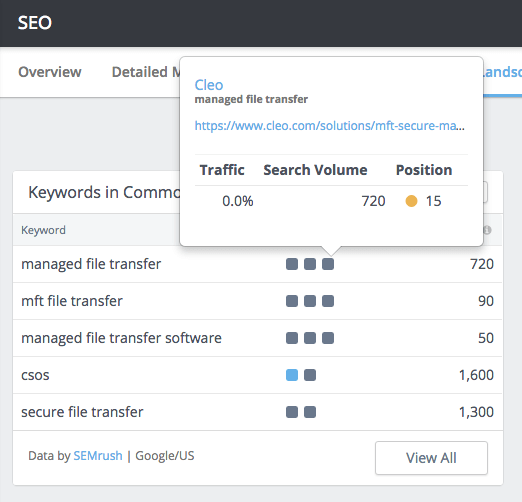 If this was for my company, I would also review the keywords for which my company doesn't rank but the competition does, as these might be areas we need to invest in, so we start showing up in search.
Popular Topics in Rival IQ can also help you spot key messaging areas your competition is focusing on.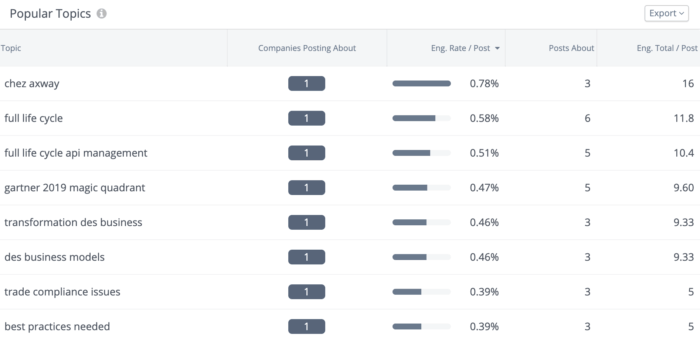 Using our natural language processing, you can automatically find notable phrases and topics your competitors are talking about in their social posts. Easily sort by engagement and frequency so you can prioritize the most impactful phrases in future communication strategies and content planning.
Message Consistency is Key
Each company definitely has a unique way of describing itself.  Some companies are better than others in the consistency of those messages.
One aspect of positioning that is VERY important is making sure your topline messages are consistently communicated, meaning who you are and what you do are clear and consistent across all digital channels.  This is also true for visual branding, which should be consistently employed.
Let's evaluate each company's main positioning focus:
Liaison:  From a positioning standpoint, Liaison is clearly focused on global cloud integration and data management.  However, there are a lot of other terms used inconsistently, including secure, data integration, transformation, enterprise, EDI and managed services.  And when it comes to SEO, it is almost all EDI related, showing how search optimization is not aligned with positioning.
Axway:  Governing the flow of data and business in motion are key positioning statements for Axway.  My first response with this was I have no idea what either of those really means or the value it brings me – and neither uses the word "integration".  Remember, your positioning needs to say what you do quickly and easily.  Also, I see a lot of inconsistency and confusion around the terms cloud, identity management, software, services, secure, and integration.  When it comes to SEO, it's all about file transfer and a little b2b gateway or EDI.  Clearly, this company is trying to make file transfer sound sexier with a flow of data, but is it working?
E2Open:  Collaborative execution, cloud and on-demand software reign for E2open.  Again, I have no idea what this solution does from these terms.  My guess is they are trying to evolve the term b2b integration to collaboration.  And when you look at what's driving traffic to their site, it's about supply chain management, b2b outsourcing, and sales order management.  There is, however, a supplier collaboration key term ranking fairly high.  I think the longer messaging, such as in LinkedIn, tells the story about real-time, integrated business processes, but that clarity is buried.
Pervasive / Actian:  Now this one was interesting, because Actian acquired Pervasive, so messaging went through a recent transition.  If this company's competitors had been using Rival IQ, they would have received an alert telling them about this messaging change!  What I clearly see here is a shift from SaaS Integration, data integration and data management to a Big Data positioning focus. Clearly, Actian's market position is Big Data for the "rest of us" and bringing value to data.  Before the acquisition, Pervasive had been driving traffic from strong keywords like Datacloud, data integrator, online integrator and data integration software.  Actian, in contrast, ranks high for big data and database related phrases.  Although the new company is still ranking for data cloud, just lower than Pervasive did.  I also find Actian's twitter description too short and a bit bizarre, as it brings in a whole new concept of coffee sipping (but maybe it's working to drive traffic to this landing page?).  Overall I would now wonder if this company was still my competitor.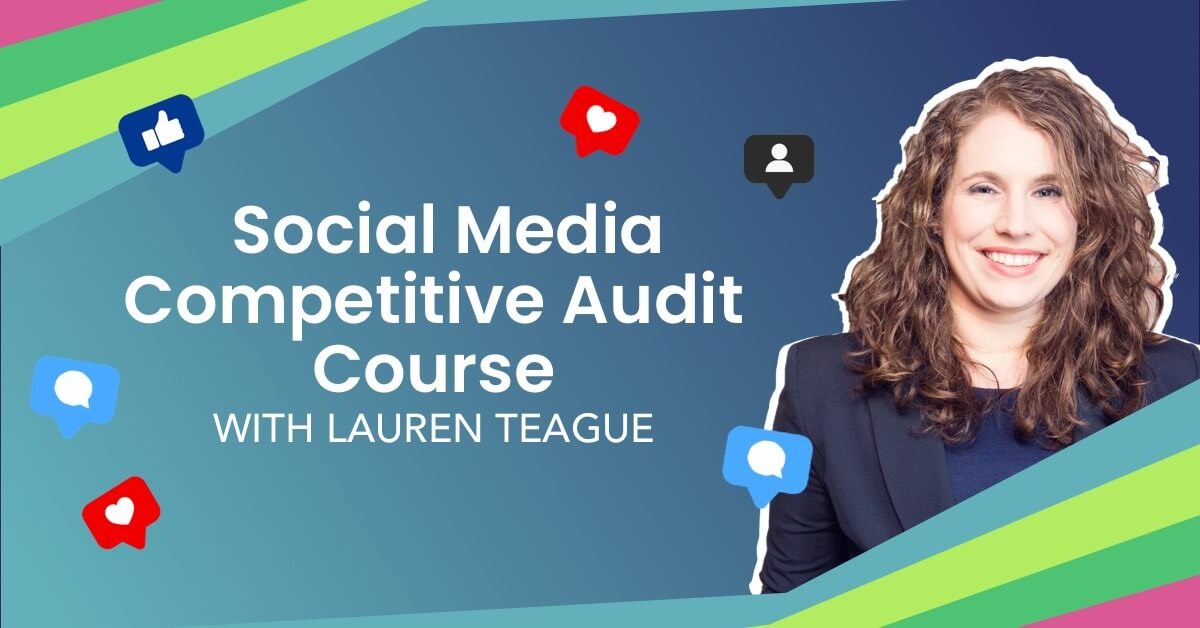 How Do I Clarify My Market Position?
Since my data gathering has only taken a short time, I would now work at identifying where in this market I want to stand out and how to clarify my messaging so it's distinctive but still relative to the space.
In updating my positioning and messaging, I need to make sure what my company does and our differentiation is clear.  Sometimes marketers try to be too clever with messaging, leaving nothing but confusion on the part of the reader, which can quickly translate into lost leads and lost revenue.
I also want to make sure I'm not losing the authority I've built up so far, so if I am receiving strong awareness and web traffic with a few key terms, and there is strong search volume still for those terms, I need to maintain relevance in those areas.
Sometimes we think we can redefine a category or create a new market terminology, but if we do this too far ahead of our customer base, we can hurt our company's topline results and even reputation.
1. Make sure your positioning is a real market category
In reviewing this competitive communication audit, there is clearly a move away from the word "integration".   With all this rich content at hand, my next step might be heading over to the Gartner research site and finding out what the heck the industry analysts are calling this now.  So I did that.
There, I see the company is still holding its annual Gartner Application Architecture, Development & Integration Summit.  So there must still be a market for application integration.
And when I look up my old buddy Benoit Lheureux, I see he is still working on all things b2b integration and eCommerce, as well as the evolution of EDI and supply chain management. In fact, not long ago, Gartner released its Magic Quadrant for Integration Brokerage (speaking of I didn't see anyone using integration cloud broker in this audit).
2. Create a strong positioning statement
I would, therefore, make sure my updated positioning and messaging both maintained a clear connection to what market categories existed, what my customers were searching for, and what my solution actually did – with a little bit of vision or future added if I felt we needed to start evolving.
So perhaps positioning the company as business integration that bridges your data to the future (okay, not the exact words but the right concept).
Typically, I write down all the words or areas I'm trying to communicate and then start playing with combinations and sentences that make sense, are simple to understand, and tell the story of who I am, what I do, and why you should care.
Putting together the complete messaging framework is a topic for another blog in the future!
3. Keep an ongoing audit of your competitors' positioning
Outside of this strategic exercise, I recommend checking your competitors' positioning on a monthly basis across key digital channels to make sure nothing surprises you.
For this, we provide a fast and easy per channel view of positioning statements across all companies in a landscape.  Below is an example of twitter for this integration landscape.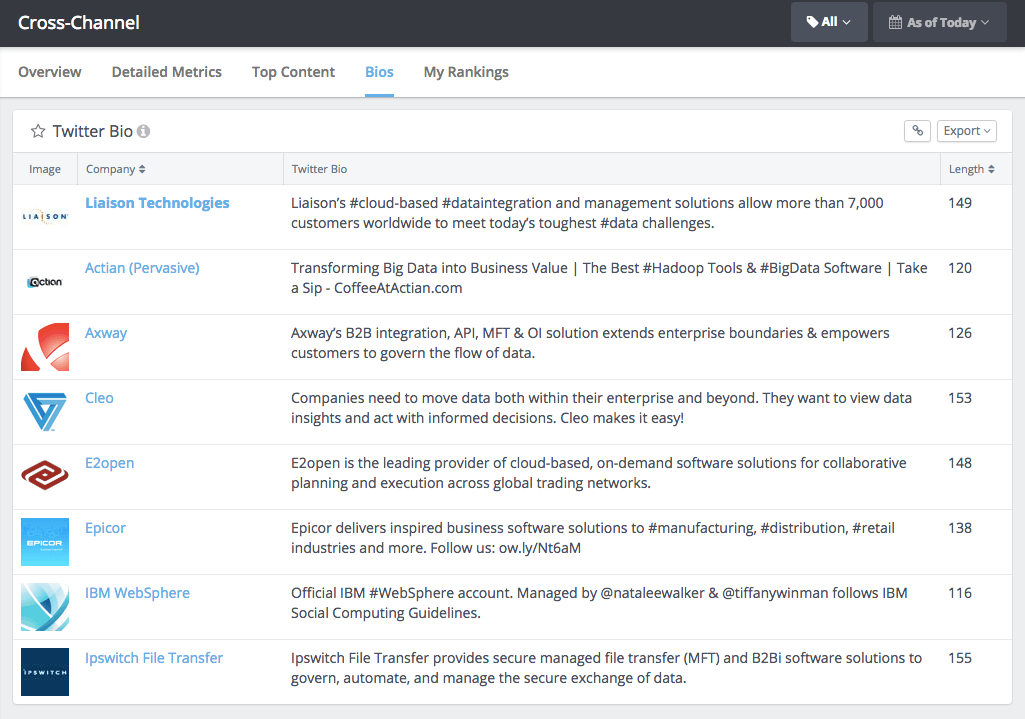 Strategic Messaging is a Priority
In this fast-moving digital market, it's still important to step back as marketing leaders and analyze the competitive landscape.
The good news we can now do this with minimal headache or time with the help of a competitive communication audit, so we can use our time to focus on making strategic recommendations, updating our communication messages, and winning more customers.
This article was originally published on July 25th, 2014. We've refreshed some of the details and screenshots to give you the most up-to-date information possible.