With so many social media platforms out there, why should companies be on LinkedIn? Perhaps it's the fact that LinkedIn has over 875 million members. Or maybe it's because 52 million people use LinkedIn to look for work every week or that 101 job applications are submitted through LinkedIn every second, according to Hootsuite's roundup of LinkedIn's most recent statistics.
But LinkedIn isn't just for recruiting. Marketers see up to 2x higher conversion rates on LinkedIn, according to LinkedIn's research. It's no wonder that their surveys also found that 40% of B2B marketers say LinkedIn is the most effective channel for finding high-quality leads. Those leads can help you convert followers to customers, making LinkedIn just as crucial for your sales team.
Whether you're looking to help your company find new employees, generate more leads, or simply build your brand awareness, your LinkedIn marketing strategy matters. Let's get into how you can leverage LinkedIn and help every facet of your company.
6 Tips for Your 2023 LinkedIn Marketing Strategy
1. Solidify your goals
How you use LinkedIn may vary depending on what your goals are, so it's crucial to know what you're striving for before trying to configure your LinkedIn presence. Some of the main reasons for using LinkedIn include building brand awareness, making sales in a B2B industry, or recruiting new potential hires.
Once you name your goals, you should then further determine the steps you want to take to reach those objectives. For instance, if your aim is brand awareness, what might that look like for your company? Some LinkedIn metrics you may want to look at include your posts' reach, your page's following, or your overall engagement rate. But if your goal were recruitment, you may be more concerned with the rate of your messages being opened when sent to potential hires.
Ready to start analyzing your LinkedIn metrics?
LinkedIn is a highly versatile social media platform, which is both helpful and sometimes overwhelming. Breaking down and addressing your goals is the best way to ensure you're using it in the way that's most beneficial to your company.
Disney Park, Experiences and Products, the division of The Walt Disney Company dedicated to its theme parks and licensing products, optimized its company page for recruitment. The majority of the division's posts revolve around promoting working at the Disney Parks and often share information about the benefits of working with The Walt Disney Company. By setting a goal of recruitment, the company can focus on reaching the right target audience with their LinkedIn posts and boosting attendance at their job fairs.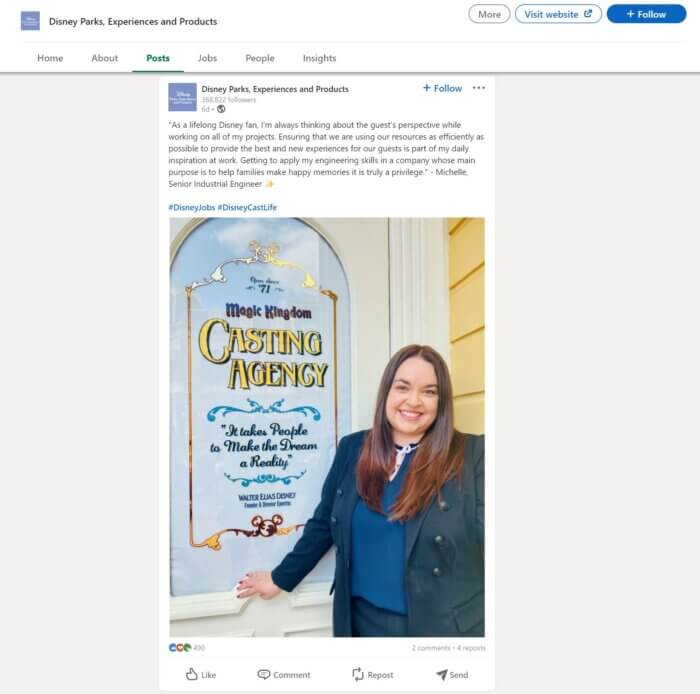 2. Complete your LinkedIn Page
Your company's LinkedIn Page is your home base. When LinkedIn users see your posts and click to view your page, you want them to get a full picture of your company. Regardless of what your goals are, it's essential to have this page filled out with all the information someone might need or want about your company. What's your company's mission? What do you do? What's your history?
Having a LinkedIn company page with all tabs completed can up your weekly views by 30 percent, according to LinkedIn research. On your home page, you should have crucial branding details, like your company logo, a cover photo that fits your brand, an overview of your company, and a call-to-action button, which is often connected to the company's website. In the About section, dive deeper into your biography with more information like your origin, industry, company size, and headquarters location. In the Jobs section, you can share recruitment information, while in the People section, you can connect with your coworkers and give LinkedIn users an idea of their potential colleagues.
LinkedIn offers a way to go further with Showcase Pages. While you can build your company's LinkedIn Page, you can also create additional pages that branch off of the parent company. Showcase Pages, which appear under the main business page's Affiliated Pages section, allow you to highlight unique aspects of your brand. You can build Showcase Pages to show off sections of your company, brand initiatives, nonprofit work, and much more.
Penguin Random House uses their Showcase Pages to show off the different aspects of the parent company. The Showcase Pages were built around the several imprints that Penguin Random House has, including Doubleday, which has published Rudyard Kipling, Dan Brown, and John Grisham, among many others. The imprint's Showcase Page shares additional information about this subsection of Penguin Random House, including its history, location, and company size. As a Showcase Page, you can find Penguin Random House listed in their Affiliated Pages, labeled "Parent."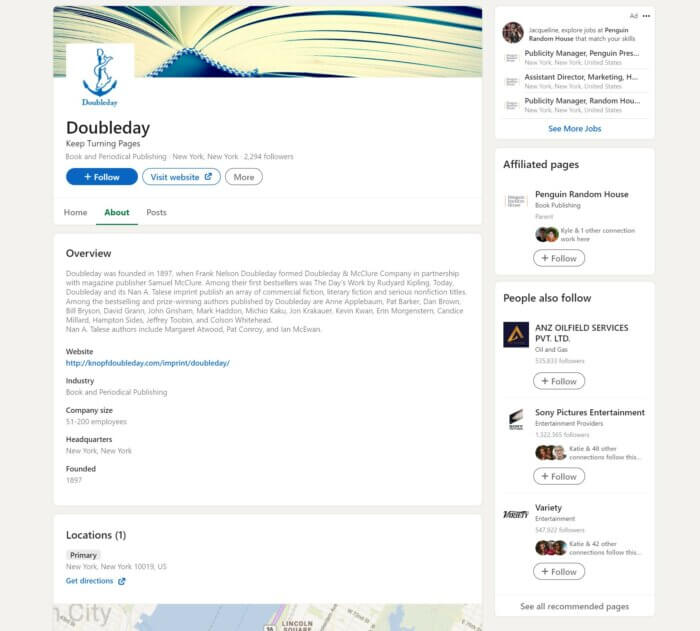 3. Plan high-quality content
Now that your LinkedIn Page and Showcase Pages are all up and running, it's time to start posting. Posting content is a vital way to engage your audience, whether that audience be potential customers or hopeful new hires. According to LinkedIn's research, companies that post to their pages weekly grow their following 7x faster than those who only post monthly. But those who post daily grow 8x faster than those who post weekly.
It's clear that developing a schedule that allows you to post more frequently can boost your following and build your brand on LinkedIn. But if you do decide to post as often as daily, you may find it difficult to keep up with the demand of making and posting high-quality content every day. Many social media managers find it beneficial to use a tool where they can schedule their LinkedIn posts for the week or even month in advance. Some tools can even help you create content in-app, making it even easier to stick to a schedule of well-made posts.
An application like Sprout Social, which allows you to both make and analyze posts on LinkedIn, can help you schedule posts in advance. You can even use audience targeting to control who you want to see the post. Through the tool, you can keep up with your engagement by responding to comments. An all-in-one tool that keeps your content in one place can help you feel less overwhelmed by the demand of posting more frequently and allow you to maintain your standards for high-quality content.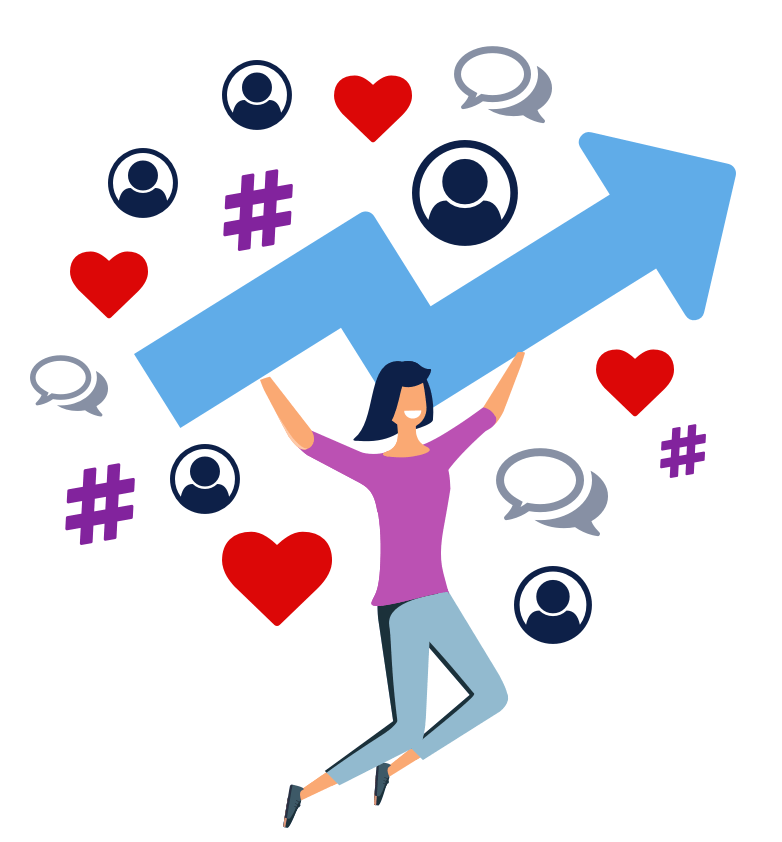 4. Utilize employee advocacy
When you share a post, your hope is likely that it will have a significant reach. But the reality is that an employee's network is 10x larger than their company's follower base on average. That discrepancy is a major reason why employee advocacy is so crucial. But it's not just about reach. It's also about authenticity. When an employee shares a post, LinkedIn found that it's viewed as 3x more authentic than a company's post.
Through LinkedIn's research, they uncovered that employee-shared posts are responsible for a 30% increase in total engagement for their company. However, they also discovered that only 3% of employees share content about their company. Depending on your goals, you should work with your employees and coworkers to engage in employee advocacy. If your goal is brand awareness, you might ask your coworkers to share or reshare posts regarding what's new at the company, significant events coming up, or blog posts from your company's website. Or, if the goal is recruitment, you may want them to share information about upcoming job fairs, post details about what makes their job worthwhile, or talk about the perks that come from working at the company.
Pinterest has a strong employee advocacy network. Jeana Kim-Timmons, the social platform's Strategic Partner Lead for Agencies and Public Figures, often posts about what's happening at the company, from ticketing information on the Pinterest Creators Festival to new in-app features. She also reshares content from Pinterest's website, such as in this timely post about the Pinterest board that inspired a celebrity stylist for her client's Met Gala look. Posts like these boost brand awareness and give greater insight into what the company does.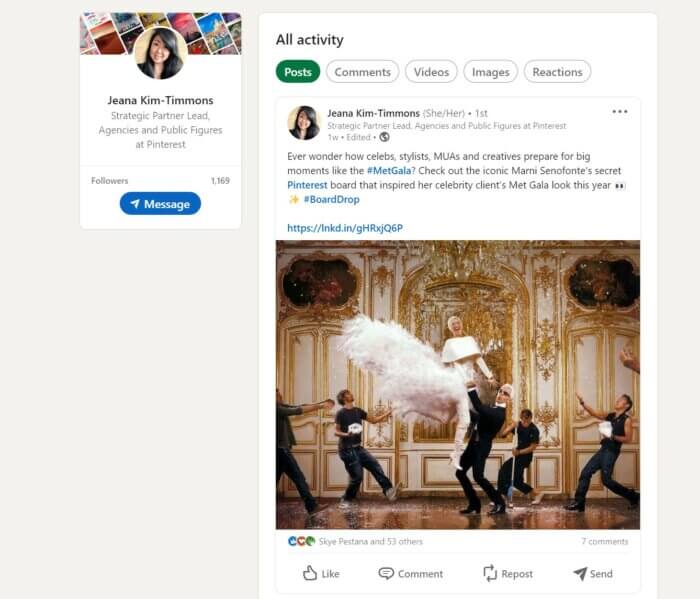 5. Optimize your InMail
Sending a message on LinkedIn only works if you're already connected to the person. Unfortunately, you won't be connected in many cases, which is why LinkedIn has InMail. InMail is a Premium feature of LinkedIn. You'll receive a number of InMail credits per month with your subscription, allowing you to message someone outside of your connections.
With a limited number of credits per cycle, you must make sure that every InMail message you send is optimized for your audience. There are many steps you can take to improve your response rate. First, pick the right people, especially if you're recruiting. LinkedIn found that people with "Open to Work" in their profile or who fall in your category of "Recommended Matches" are about 35% more likely to respond.
Don't send messages in bulk. LinkedIn's data shows personalized InMail messages tend to perform about 15% better. When you do write your message, stick to under 400 characters. The data also proves messages under 400 characters have a response rate 22% higher than the average response rate. Staying under this number can give you a leg up on your competitors, as LinkedIn found 90% of all InMail messages are over 400 characters. The below example message from LinkedIn is just 345 characters and has a personalized approach.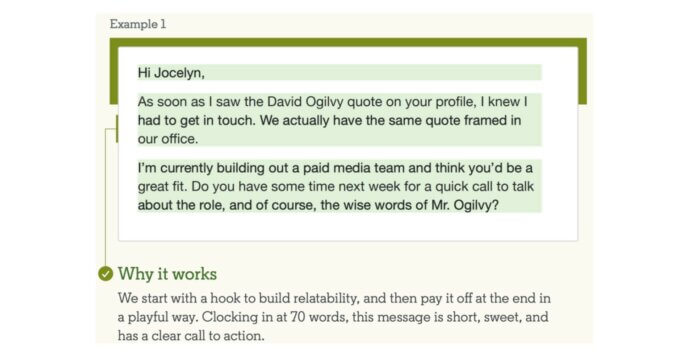 For the most part, timing isn't particularly important when it comes to sending InMail. But there is one thing to keep in mind: Avoid sending messages on Fridays and Saturdays. According to LinkedIn's research, these two days receive the lowest response rates. Messages sent on Thursdays also receive a slightly lower-than-average response rate, which suggests that sending InMail earlier in the week is your best bet, regardless of what time it's sent.
6. Test and reinvest
As with any social media network, analytics play a crucial role in building your online presence. LinkedIn gives businesses the ability to see certain metrics. Through LinkedIn Analytics, you can see who is looking at your LinkedIn Page, who followed you, how people are engaging with your content, and how your competitors are doing. These metrics help you determine what's working and what isn't. By staying on top of your analytics, you can eliminate what isn't helping you reach your goal and spend more time and resources on what is.
LinkedIn analytics tools, like Rival IQ, can help you dive even deeper. By using such a tool, you can create custom dashboards that help you visualize what you should be reinvesting in. Get insight into who your followers are, what types of posts perform best, what the best time of day to post is, and much more. These additional insights are crucial to building a successful LinkedIn marketing strategy that works for your company.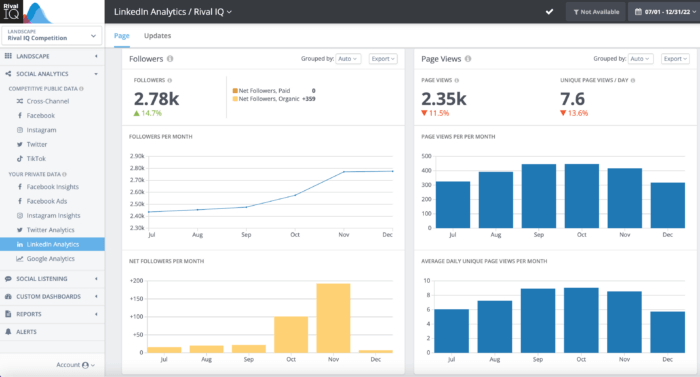 Wrapping Up Your LinkedIn Marketing Strategy
A well-planned and well-executed LinkedIn marketing strategy helps many different parts of your company, from your recruiting to your sales team, allowing you to reach your social media marketing goals. By taking steps like completing your LinkedIn page, scheduling your posts, and utilizing your employee advocacy, you can target new audiences and boost your online presence. And by optimizing your InMail, you can help develop relationships online, resulting in company or sales growth.
But most often, finding an effective LinkedIn marketing strategy takes being willing to try and try again. By keeping on top of your LinkedIn analytics through tools like Rival IQ, you can see what isn't working, allowing you to run tests to determine what's worth reinvesting in.
Already a Rival IQ user? Check out how to set up your LinkedIn analytics on your Rival IQ dashboard to learn how to get more out of your LinkedIn strategy.