Finally, our favorite thing to talk about: our favorite social media analytics tools!
It's no secret that we're total social media geeks around here, so we're thrilled to roll out the final piece in our Top Social Media Tools series all about social media analytics tools.
If you've been reading along with our social media management and social media listening tools pieces, you'll see some familiar faces alongside some new contenders. Read on for our favorite social media analytics tools for brands and agencies of any and every size and budget.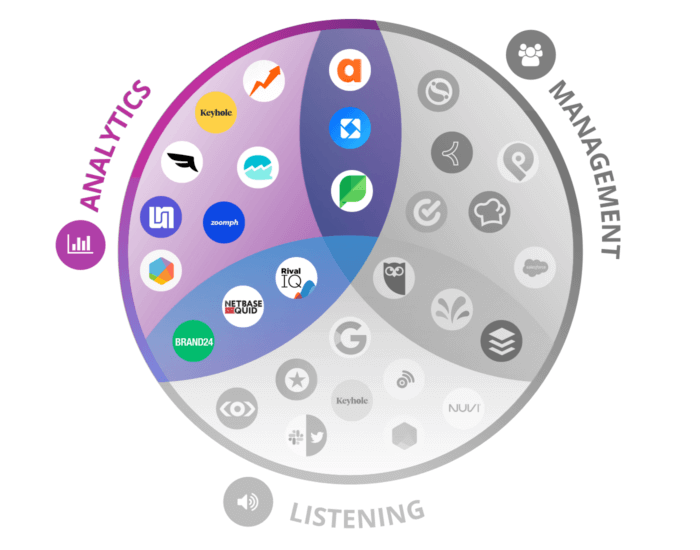 What is social media analytics
Social media analytics is what we do all day, every day.😎 And since you're here, you probably enjoy slicing and dicing your social media activity as well. If we had to formally define the term, we'd say that social media analytics is the process of collecting all your social data in one place, understanding what's worked for your brand and what hasn't, and benchmarking your performance against the competition to help shape your future social strategy.
If you ever need a refresher, we've got a handy list of the top online social media analytics courses to pick from. Now that we have the basics out of the way, let's dig in further to find the perfect social media analytics tool for your team.
How to pick the right social media analytics tool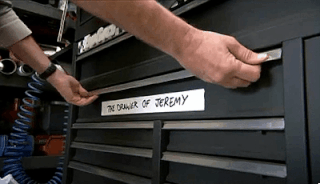 Start with a few key questions like:
How big is my brand or agency?
What are my social media goals?
How many competitors do I want to keep an eye on?
What's my social media budget?
How big is my social media team?
How much time do I plan to devote to social analytics?
We wouldn't expect, say, a small brand with one marketer to devote tons of time, energy, and budget to days of social media analytics reporting every month: those marketers should stick with free or low-cost tools. On the other hand, if your brand or agency has marketers dedicated to doing nothing but social media analysis, a heftier enterprise tool might be right for you. And, of course, there are plenty of options for mid-market brands and agencies whose needs fall in between a little and a lot on the analytics spectrum.
Free and low-cost social media analytics tools
Our favorite:

How it works: SoTrender is a dedicated analytics tool that helps brands analyze, benchmark, and export their social media analytics data. With support for Facebook, Instagram, Twitter, and YouTube, many brands and agencies will find the high-level analytics they need in this low-cost tool.
Pros: No matter your social media experience level, input from experts is always helpful, and SoTrender works to include social media tips with your analytics so you know what to do (and what not to do) with all that data.
Cons: Users will want to combine SoTrender with listening and management tools for full social media domination–no all-in-one tool here.
Pricing (monthly): $69, $129, $229, $389 depending on the number of brands. Free 14-day trial available.
Best for: Small brands and agencies, small teams
Runners-up: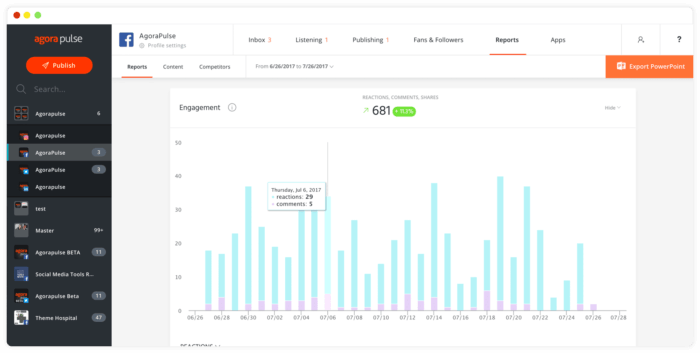 How it works: Agorapulse works to provide mid-market brands and agencies with an all-in-one social platform, with analytics riding alongside management, listening, and even a CRM.
Pros: View your metrics in their easy-to-use dashboard, or export them to slice and dice to your heart's content in formats like Excel and .CSV. Agorapulse offers a wide variety of social media analytics, from private data to competitor stats to customer service response times.
Cons: As we noted in our social media management tools round-up, Agorapulse doesn't support Pinterest at all and doesn't make listening available on LinkedIn, so users looking for a true all-in-one platform might need to go elsewhere.
Pricing (monthly): $99, $199, $299, $499 depending on the number of social profiles and users. Free 15-day trial available.
Best for: Small and mid-sized agencies and brands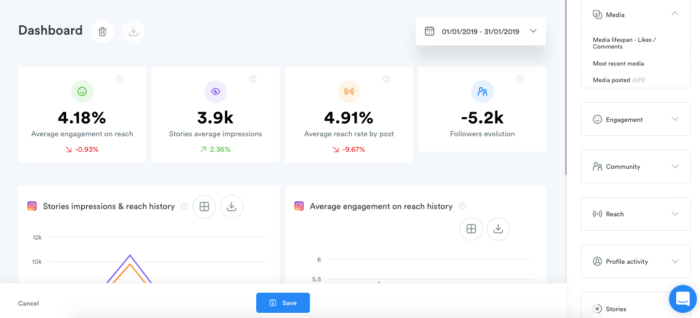 How it works: Iconosquare aims to be an all-in-one analytics, listening, and management platform for mid-sized brands and agencies that focus their social muscle on Facebook and Instagram. Iconosquare offers benchmarking, competitor analysis, hashtag tracking, and more.
Pros: Since we're all about competitor tracking too, we really dig Iconosquare's focus on setting context for your social performance with competitor stats. Their Instagram Stories analytics help brands and agencies stay ahead with this increasingly important (and competitive!) tool.
Cons: If your social strategy includes channels like Twitter, LinkedIn, or Pinterest, this app probably isn't for you.
Pricing (monthly): $59, $99 depending on social profiles, users, competitors, and more. Free 30-day trial available.
Best for: Facebook- and Instagram-focused brands and agencies
Worth noting: For those looking to expand their martech (that's marketing technology) stack, Iconosquare has a great directory of apps that can help.
How it works: As we mentioned in our social media listening tools round-up, Brand24 is a powerful monitoring and listening tool that savvy marketers can use to peek behind the data too. Marketers will love the in-depth analytics that cover brand mentions, hashtag tracking, influencers, and more.
Pros: This top-of-the-line listening tool is available without the top-of-the-line price tag, and will satisfy the analytics needs of many marketers, especially if they're focused on keeping an ear to the social media ground. We like bonus features like a strong mobile app and Slack integration to keep brand mentions at top of mind anytime.
Cons: Brand24 lacks the analytics focus that other tools on our list have, so marketers looking for more advanced social analytics might need to pair Brand24 with another tool.
Pricing (monthly): $59, $119, $179, $299 depending on keywords, mentions, users, and more. Free 14-day trial available.
Best for: Listening-focused brands and agencies
Mid-market social media analytics tools
Our favorite:
How it works: Okay, we're a little biased! Rival IQ features loads of social stats from Facebook, Instagram, Twitter, YouTube, LinkedIn, and TikTok, plus some nice bonus features like social listening and automated reporting. Our tool has a serious focus on competitive benchmarking, i.e. understanding your social stats within the context of your competitors.
Pros: You can get a 1,000,000 likes on your social posts, but if your biggest competition is getting 2,000,000, it's really not saying much. Having competitor metrics built right into the app makes the comparison a no-brainer, and will help you strengthen your content, hashtags, post types, and more with data. Also, Instagram Insights are especially awesome, with tons of support for Instagram Stories and Reels. Other features like custom dashboards, alerts, and the ability to detect likely boosted posts from your competitors are handy for marketers too.
Cons: Sadly, private Twitter metrics (like impressions) aren't available in the app at this time.
Price (monthly): $239, $329, $519 depending on the number of companies, data history, API access, and more, with a discount available for nonprofits.
Ready to start your analysis?
Best for: Mid-market and enterprise-level brands and agencies
Worth noting: We have a pretty burly set of free tools for comparing yourself against a single competitor on TikTok, Facebook, Twitter, and Instagram without dropping a dime.
Runners-up: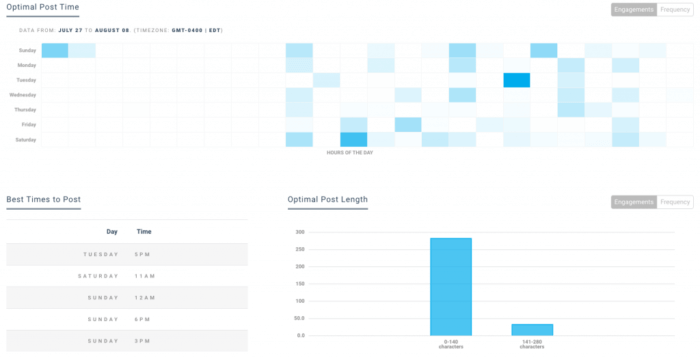 How it works: Keyhole is primarily a listening tool that's branching out into analytics with its Advanced Suite social metrics product. It moves beyond keeping an ear to the ground with features like campaign tracking, competitor analysis, influencer management, and more.
Pros: Brands and agencies will love how seamlessly listening is integrated into this management platform, with a lot of emphasis on sentiment, brand monitoring, hashtag analysis, and more in addition to social campaign tracking.
Cons: Keyhole bills itself across the web as a listening-first platform, so users might hunger for more analytics than what are available within the app.
Pricing (monthly): $199, $599, $999 depending on accounts, number of posts, influencers, and more. Free 7-day trial available.
Best for: Listening-focused mid-market brands and agencies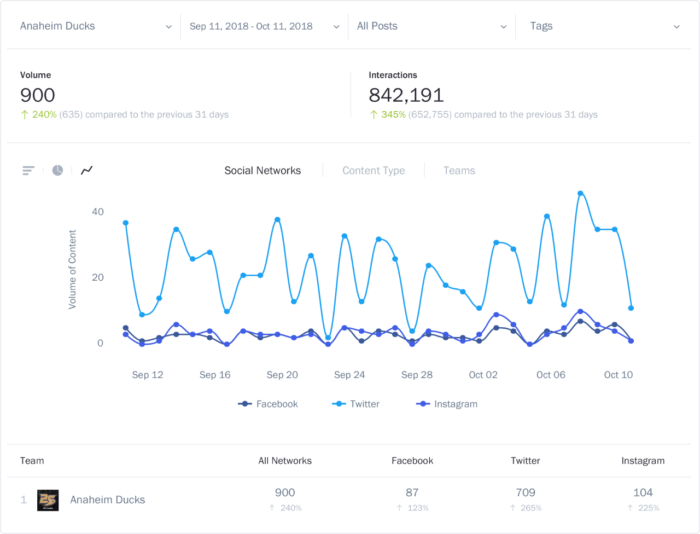 How it works: UnMetric is three products in one: a free brand mentions mobile app, an inexpensive content ideas service, and an enterprise-level social media analytics tool. With such disparate functionality and pricing, there's something for everyone with UnMetric.
Pros: Savvy brands will like UnMetric's promoted post detection and reach analysis, and benefit from UnMetric's competitive benchmarking and automated reporting. Agencies will like that there are no user or audience size restrictions.
Cons: Some users want more visibility into UnMetric's numbers, from how they calculate engagement rate to their pricing.
Pricing (monthly): Not listed.
Best for: Agencies who need a dedicated social media analytics tool
Enterprise-level social media analytics tools
Our favorite: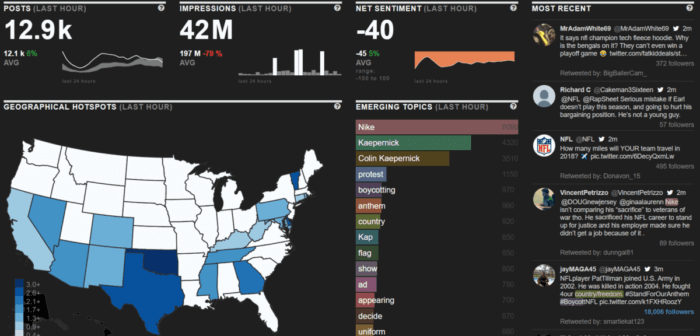 How it works: Netbase Quid seeks to centralize listening, customer engagement, and analytics in one big social media analytics tool. It's a comprehensive analytics tool that keeps its finger on the social media pulse with handy features like machine learning and location-based social post capture.
Pros: Fans of post tagging (and robots 🤖) will love Netbase Quid's image recognition AI to help monitor and categorize photos of your brand and UGC across the web. Netbase Quid also puts a strong emphasis on customer experience and care to help brands better understand their customers.
Cons: Some agencies struggle with Netbase Quid's seat limit, which can be a tough pill to swallow with enterprise-level pricing.
Best for: Big brands who focus a lot on customer experience
Worth noting: We dig Netbase Quid's trend-focused and sometimes-sassy blog.
Runners-up: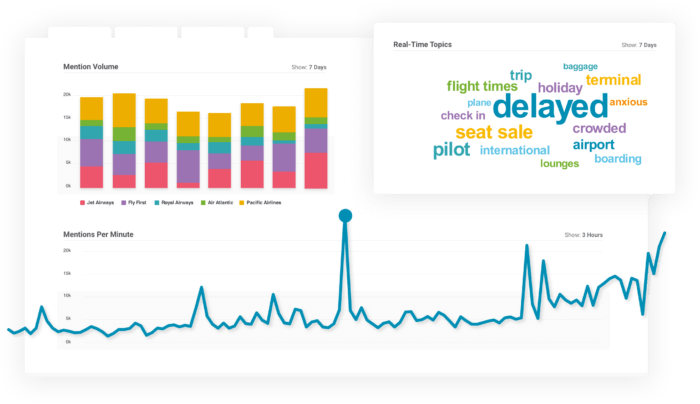 How it works: Brandwatch combines analytics and listening in one colorful, easy-to-use package, and bundles it with solid data visualization and audience insights aimed at enterprise-level brands and agencies.
Pros: Agencies will love Brandwatch's focus on agency training, support, and needs, while brands will appreciate the ability to filter and segment the heck out of their data.
Cons: Brandwatch's analytics definitely focus on listening stats like mentions, sentiment, and conversations, so brands on the hunt for traditional analytics like competitor metrics and engagement data will have to really dig into the app.
Best for: Brands and agencies that are all about social listening
Worth noting: Brandwatch also offers Vizia, which is a solid data visualization option for displaying and reporting on complex social and digital marketing data.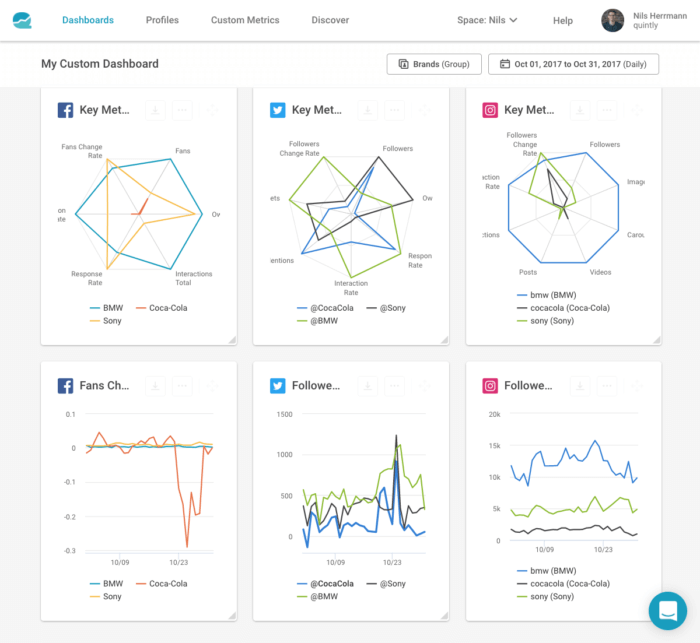 How it works: quintly (yes, that's a lowercase "q") offers comprehensive Facebook, Twitter, Instagram, LinkedIn, YouTube, and Pinterest analytics and plentiful customization options with tons of metrics and reports. In case you need to aggregate your social media analytics outside of quintly's hub, the app also plays nicely with other services like Tableau.
Pros: quintly is all about the tailoring, with seemingly endless dashboards, metrics, and API integrations to choose from. It's also comprehensive, flexible, and easy to use.
Cons: Some users are left wanting more listening functionality.
Best for: Enterprise brands and agencies in need of a dedicated social media analytics tool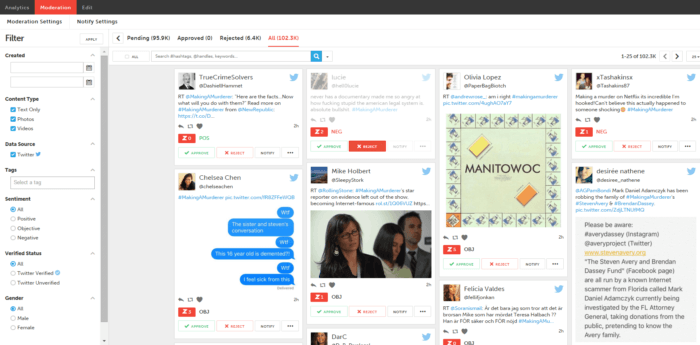 How it works: Zoomph is primarily an audience and sponsorship measurement tool for big-budget sports teams and agencies where social media metrics play a backseat (but still important) role. The tool is geared towards helping these companies understand the value of sponsoring a team or event, including information about target demographics, social media conversations and reactions, and more.
Pros: Zoomph can really help big sports teams or events by monitoring and capturing conversations or purchases that start as a result of showing a logo or commercial onscreen during the big game. Because Zoomph has to dive so deep into these conversations to prove ROI, they have a strong social media monitoring and analytics game as part of their full package.
Cons: If you aren't looking to track sponsorships, a lot of Zoomph's core functionality won't feel relevant to your brand or agency. You'll be better off looking for a tool that's more dedicated to social media analytics.
Best for: Big-budget sports teams and the agencies that market for them
Worth noting: Zoomph offers some free tools around audience insights and social media value that can help brands and agencies of any size.
Methodology
Who needs social media analytics? Me, you, and everyone we know. If you're spending the time to come up with, design, write, and post on social media, you should be measuring your efforts to see if they're paying off against your KPIs.
You want to measure your social efforts so you can see which channels, post types, content, and more resonate with your current and potential customers so you can do more of it. More insight into what's working on social=more engaging social content=more customers and more $$$=world domination.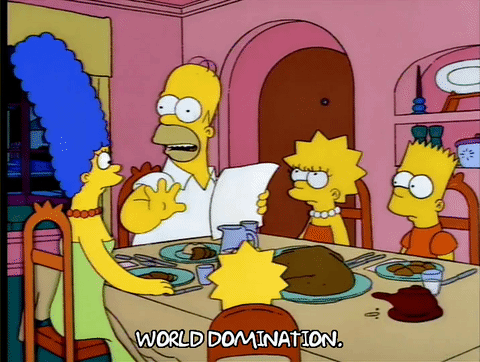 A strong social media analytics tool should support every channel you post on, and include a wide variety of metrics on both your public data (engagement, impressions, likes, etc.) and your private data (reach, ad performance, Instagram Stories, etc.). We like tools that are chock full of social media metrics for maximum flexibility and insight.
It's no secret that we heart competitive analysis, which means going beyond your own social performance to see how it stacks up against others.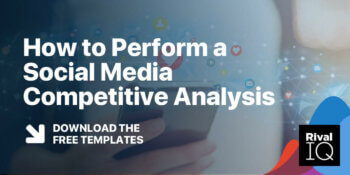 Free social media competitive analysis template
Download now
Our favorite tools on the list below all offer this additional insight because focusing on the competition is critically important for a strong social media analytics tool. As usual, we grouped all our tools by size and budget and made sure to call out tools that could be right for brands and agencies of many different sizes.
We evaluated tons of social media analytics tools, but these were our favorites:
Agorapulse
Brand24
BrandWatch
Falcon.io
Iconosquare
Keyhole
Netbase
Quintly
Rival IQ
SoTrender
UnMetric
Zoomph
In case you're curious, here are the other tools we looked at before choosing our finalists: Awario, BrandMentions, BuzzSumo, Crayon, Digimind, Google Analytics, Octopost, Raven,  SalesForce Social Studio, Social Bakers, Spredfast, Sprout Social, SumAll, and TailWind.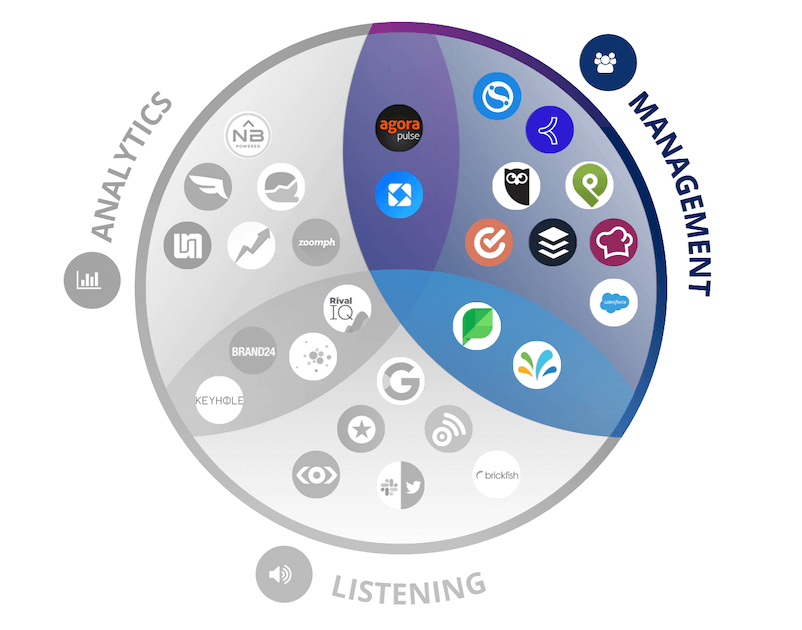 Don't miss our Top Social Media Management tool reviews!
Read now
Wrapping it up
We've had a blast profiling different social media marketing tools in our three-piece round-up series, and hope you've had fun reading it too!
In case you were curious, our team currently uses Sprout Social for social media management, a little tool named Rival IQ for analytics, and a mix of BuzzSumo and our tool for listening. After reviewing 36 (!) of our favorite tools, we think it's pretty safe to say that there's no one tool to rule them all (much as we wish there were).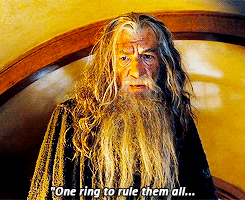 Has this series caused you to eye a new tool for your martech stack, or jump ship to an app you'd never heard of? We want to know what you're using and loving, so please drop us a line on Twitter.