When using any kind of social media, looking at analytics is crucial to learn what's working and what's not, and LinkedIn is no exception.
Although LinkedIn often gets described as just another place for an online resume, it has become a major player in the B2B marketing world and not a social media site to be ignored if you're looking to establish your brand online.
Over 774 million members are on LinkedIn, and those members are interacting with company pages more than 1 billion times per month. A Nielson study found that brands who use LinkedIn have been perceived as "higher quality," "more respectable," and "more professional" than brands spotted on other social media platforms. When you create a LinkedIn presence, you're introducing yourself to new audiences and creating high quality leads.
Just like any social media platform, it's essential to understand how to use LinkedIn. Simply posting once in a while is not enough to make your company stand out. You need to optimize your LinkedIn use, and the best way to do that is by using a LinkedIn analytics tool that can show you what you need to keep doing and what you need to change. With these tools, you'll set your LinkedIn on a path to success.
Best LinkedIn Analytics Tools for Startups
Startups face many unique challenges because of their position as new companies. They're struggling against competition that may already have brand awareness, so their goal must be to break out as the next big thing. Other startups end up dedicating too much time and too many resources to a marketing strategy that's not working. But if startups invest in analytics tools, they'll be able to keep track of how their marketing plans are working, so they can pivot accordingly to attract new audiences and keep them engaged. If a startup wants to develop a following on LinkedIn, a LinkedIn analytics tool is crucial for them to create the right strategy for the social media platform.
LinkedIn Analytics

How it works: If you're a LinkedIn user with a company page, this option is a free LinkedIn analytics tool that comes with your account. LinkedIn provides you with select metrics on who is visiting your page, how they are interacting with it, and how many followers you've acquired.
Pros: Because LinkedIn Analytics is a free tool, it's a great place for startups who are just beginning to understand and enact their LinkedIn strategy. It saves them from investing in more costly options which they may not need yet.
Cons: The information in LinkedIn Analytics is fairly basic in comparison to other LinkedIn analytics tools. It shows your visitors, followers, and how people are engaging with your content, but you won't find competitive analytics or information on essential metrics for better posting, like when your best time to post is. If you're looking for more in-depth information about how posts are performing, you may want to use a different platform. You can also only access this option if you have a Company Page, so if you're an individual influencer, you'll have even less information available to you than a company would.
Cost: Free
Hootsuite

How it works: Hootsuite is an all-in-one social media tool that includes planning your posts, managing your engagements, and analyzing your accounts. In addition to a dashboard monitoring your performance, you'll also get actionable insights to help you achieve your goals, such as the best time to post.
Pros: Hootsuite does more than analyze for LinkedIn. You can also plan LinkedIn posts, engage with LinkedIn messages through Hootsuite's dashboard, and create sponsored posts in Hootsuite. For a startup, it may be beneficial to have a tool that does it all for LinkedIn rather than invest in multiple applications, especially if you have a one-person marketing team.
Cons: If you're only looking to use this tool for LinkedIn analytics, you may become overwhelmed by everything Hootsuite offers. You may also feel you're spending too much for how much you intend to use Hootsuite. According to most user reviews, Hootsuite's biggest con is that the tool doesn't integrate new features nearly as quickly as its competitors, and the dashboard is out of date as a result.
Cost: $49, $249, or $739 per month, depending on the number of users and social accounts
DrumUp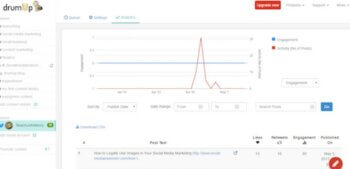 How it works: DrumUp is a social media management and content curation tool. It helps you find content that will engage your followers, analyze your performance, and give you recommendations to improve your social media presence.
Pros: DrumUp ultimately enables you to optimize your posts, both through giving you in-depth information on your analytics and through offering recommendations, to bolster your online performance. If you're a startup and just developing your social strategy, you'll appreciate how this tool helps guide you in your planning process.
Cons: User reviews report that because DrumUp encourages reposts, your feed and analytics can become bogged down with redundant information. If you intend to use DrumUp for multiple social media platforms, you may be disappointed that it only works with Twitter, Facebook, and LinkedIn.
Cost: Free, $15, $39, or $79 per month, depending on the number of social accounts, the number of posts per day, and access to additional features
Best LinkedIn Analytics Tools for Mid-Sized Companies
Mid-sized companies may have more funding and resources than a startup. But these companies are competing with giants like Amazon, which accounts for 6.5% of all retail spending in the U.S. Considering there are over 8 million companies in the U.S., the fact that Amazon and other giants like it control so much commerce puts mid-level companies in a challenging spot. These businesses need to stand out online and grab some of the focus that is usually on these giants, or they may not last.
Rival IQ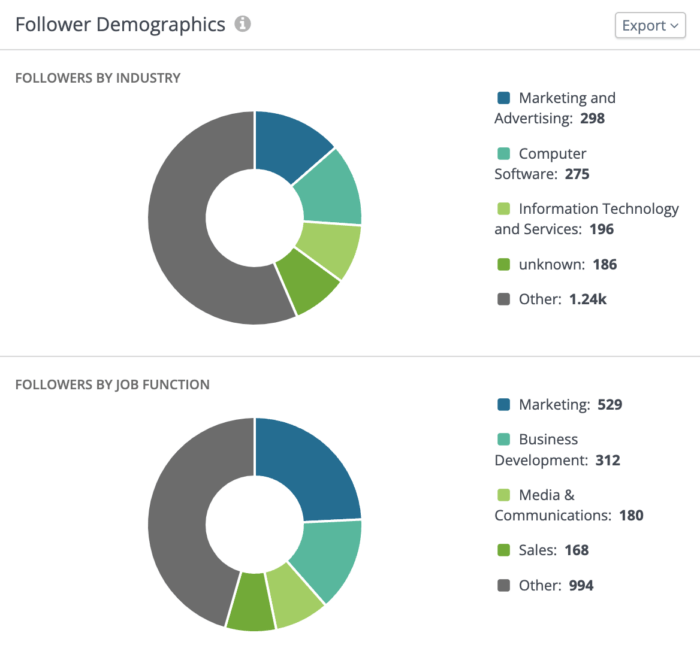 How it works: Rival IQ provides you with comprehensive reporting across all of your social media channels, including LinkedIn. With Rival IQ, you can easily track your social media presence and create customized reports in seconds, enabling you to understand how you're performing and make changes to better engage your audience.
Pros: Custom reports are easy to create and share with your team. Users report that Rival IQ is simple to learn how to use, and you can pick and choose what you want to see, preventing you from getting overwhelmed by a cluttered dashboard.
Cons: Due to a limitation with LinkedIn, the social media platform is not available with Rival IQ's Social Listening tool, which allows you to see who's talking about you online, and the Competitor Analysis tool, which enables you to track your competitors' social media presence.
Cost: $239, $329, or $519 per month, depending on the number of tracked companies, user accounts, and months of user history
Social Pilot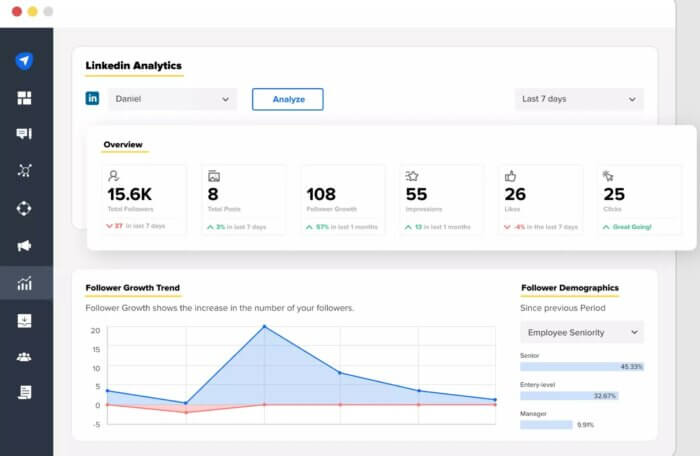 How it works: Social Pilot is a social media marketing tool that allows you to schedule posts, engage with your audience, and track your performance across all your social channels. In addition to comprehensive analytics, you'll also get insights into your audience and even reshare your best posts right from the Social Pilot post performance tab.
Pros: Social Pilot makes it easy to visualize your data, as well as share it. You can download your reports, but you can also email them to your team right from Social Pilot's dashboard.
Cons: The analytics for LinkedIn are limited in comparison to other social media sites Social Pilot monitors, like Facebook, Instagram, and Twitter. Users also report that they receive limited recommendations on how to improve their strategies, which can make it challenging to learn from the analytics themselves.
Cost: $25.50, $42.50, $85, or $170 per month, depending on the number of users and social media accounts
Iconosquare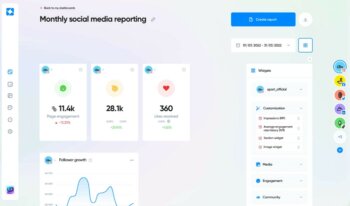 How it works: Iconosquare is a social media marketing tool that allows you to handle all your social media needs in one place. In addition to scheduling content and engaging with your audience, the application helps you turn advanced analytics into actionable insights that boost your account's online presence.
Pros: Iconosquare's platform is easy to use. You can also create visual reports, which will be generated automatically for you based on your specifications.
Cons: Iconosquare users say that reports can take up to 24 hours to create, which can cause a bottleneck and mean that you won't have the documents you need for your higher-ups or clients in a timely manner.
Cost: 59€, 99€, or 179€ per month, depending on the number of users and social profiles
Best LinkedIn Analytics Tools for Enterprise Companies
When a company reaches enterprise status, it's time to scale up marketing. Your company now has more resources to spend, but that may mean that you end up allocating a significant amount of money to the wrong strategy. Before you enact any marketing plans, you need to use analytics to better segment and target your growing audience.
Unmetric


How it works: Unmetric is an AI-driven platform that helps you compare, benchmark, and analyze your social media performance. Through these benchmarks, you can see where you stand in your industry and make choices that put you ahead of your competitors.
Pros: Unmetric is all about helping you get ahead of the pack. With this platform, you'll be able to see what kind of content is working for your competitors and see how your campaigns stack up. As an enterprise company, the goal is to stay ahead. By knowing what's working for your competition, you're able to adapt new strategies that are taking over the LinkedIn space.
Cons: Users report that Unmetric's database is rather limited. So, you may not be able to track as many competitors as you'd like.
Cost: Plans start at $1,000 per month. You must email team@unmetric.com for your customized pricing plan.
PowerMetrics by Klipfolio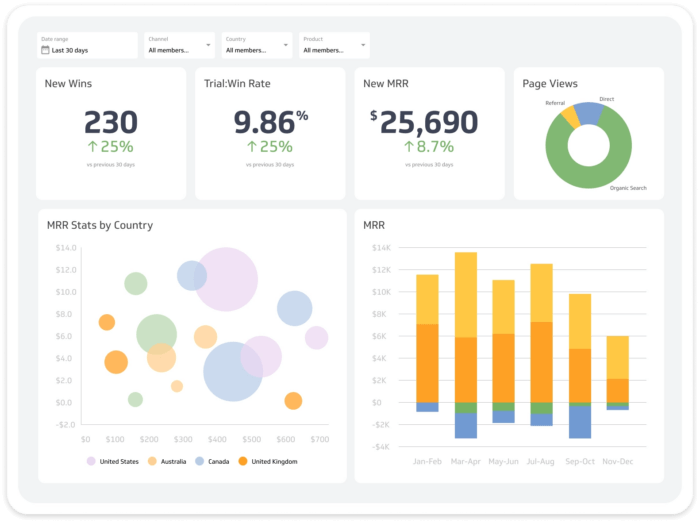 How it works: Klipfolio offers PowerMetrics, which gives you instant, custom, and calculated metrics that you can easily visualize and share with your team. By turning raw data into helpful recommendations, PowerMetrics helps you create analytics-driven marketing efforts.
Pros: Klipfolio is known for its flexibility. When you use PowerMetrics for LinkedIn, you can create a custom dashboard where you can build visualizations designed the way you want them. Or, if you'd rather not build it yourself, you can use the pre-built LinkedIn dashboard.
Cons: Klipfolio and PowerMetrics users report that the biggest issue with the platforms is that they tend to load very slowly because there's so much to look at on the analytics. If you intend to use these platforms for more basic and less customized use, it might not be worth the hefty price tag and high load time.
Cost: $0, $99, $229, or $799 per month, depending on the number of users and additional features
Sprout Social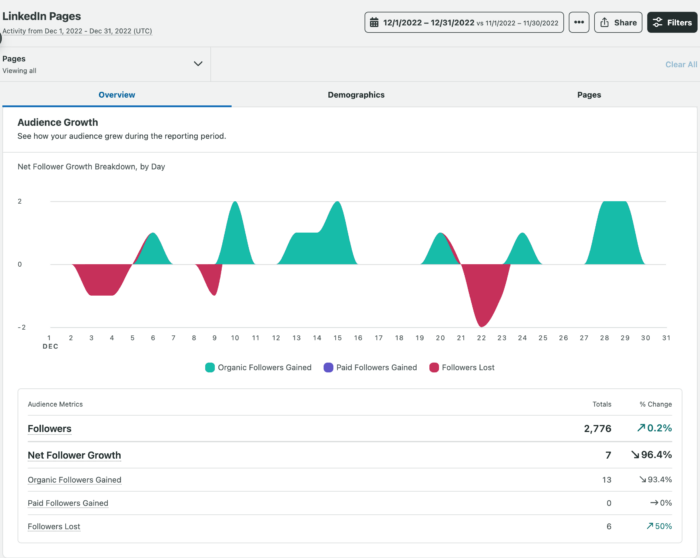 How it works: Sprout Social is designed for all of your company's social media needs. From publishing your content to analyzing your and your competitors' performances, Sprout Social is meant to boost your performance and help you stay ahead of the rest.
Pros: Sprout Social's LinkedIn integration allows you to plan your content and engage with your network, as well as analyze your posts. With this application, you can even calculate the ROI of your sponsored content and compare it to your organic engagement. As an enterprise company, it's essential to understand if you're spending in the right places.
Cons: Although Sprout Social does have competitive analytics, this offering does not work with LinkedIn.
Cost: $249, $399, $499, or custom pricing, depending on access to features and the number of social profiles
Best LinkedIn Analytics Tools for Influencers
Since LinkedIn Analytics is for company pages, influencers without a company page need to rely on the more simplistic personal analytics that the platform provides for individual accounts. If you're a LinkedIn influencer, that may mean you miss out on tons of important data that could help your account grow. But with the right LinkedIn analytics tool, you can ensure you're on track to increase your following.
Shield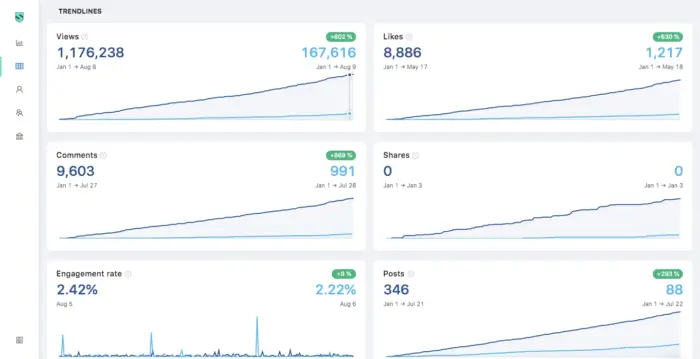 How it works: Shield is a dedicated LinkedIn analytics tool that's meant specifically for creators and influencers. Their in-depth analytics will help you track real-time data and better target your audience through comprehensive demographic information.
Pros: This application was created specifically with LinkedIn influencers in mind, so everything is tailored to content creators' needs. You won't be bogged down with additional features you don't require.
Cons: Because this tool is still new, users report that the interface is a little clunky and underdeveloped. Insights into how to better your performance are also lacking.
Cost: $8, $16, or $25 per month, depending on access to features
Inlytics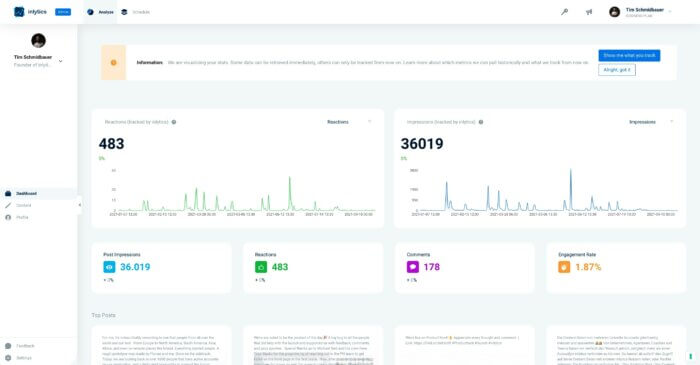 How it works: Inlytics offers you real-time analytics for your LinkedIn accounts. This application gives you all your information at a glance on its comprehensive dashboard and provides insights to improve your performance.
Pros: Inlytics is dedicated to LinkedIn, which means that you can just focus on building up your presence on the social media platform and not get overwhelmed by information you don't need. Inlytics highlights the areas where you need improvement so you can focus your resources on where you need them most.
Cons: Inlytics is still new and developing its services.
Cost: Individuals pay $0, $14.99, or $44.99 per month, depending on access to features. Businesses must contact Inlytics for pricing.
Buffer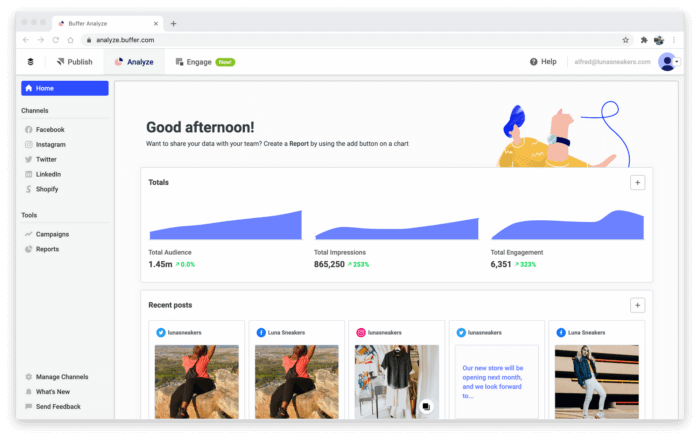 How it works: Buffer allows you to plan, publish, engage with, and analyze posts throughout all your social media platforms. You can easily customize reports that show you what's working and what's not with your LinkedIn strategy.
Pros: If you're an influencer across multiple platforms, you'll appreciate that Buffer is a one-stop shop for your social media strategy. If you have a team behind you that's helping you develop your presence, this application will give your team the ability to run reports for you, so that you can stay up to date on your social media presence.
Cons: Users report that the LinkedIn analytics feature can be glitchy, and the application often experiences slow load times.
Cost: $0, $6, $12, or $120 per month, depending on the number of channels and access to features
Wrapping It Up
When it comes to choosing the right LinkedIn analytics tool, it all depends on your needs. While it's important for everyone trying to build a LinkedIn presence to keep track of what's working and what isn't, what works for an influencer may not be what works for a startup company.
When picking a LinkedIn analytics tool, consider what kinds of features you'd use, how you can use the tool to stay ahead of your competition, and how the tool will work with your team. For more ideas on how to boost your LinkedIn performance, check out our LinkedIn best practices for 2023.