Way back in 2016, Instagram launched Instagram Stories, a feature that allows users to post videos and images to one collective "Story" that disappears after 24 hours. These days, nearly 87% of Instagram users post Stories every day. For brands, it's a great way to connect with their fans, offering chances to post links, quizzes, polls, and much more.
Looking for ways to up your Story game? Our 2023 Instagram Stories Benchmark Report provides key takeaways for how brands use Instagram Stories today. Before you dive into the report, let's check out how you can measure your own success using Instagram Stories and how you can get your engagement rates to climb.
How Can You Measure Your Instagram Story Engagement?
Instagram offers Story Insights directly on its app. But one thing to keep in mind is that you'll need a Creator or Business Account to access these Insights.
Once you have your Creator or Business Account set up, tap your profile picture on the top of your feed or profile highlighted here in yellow.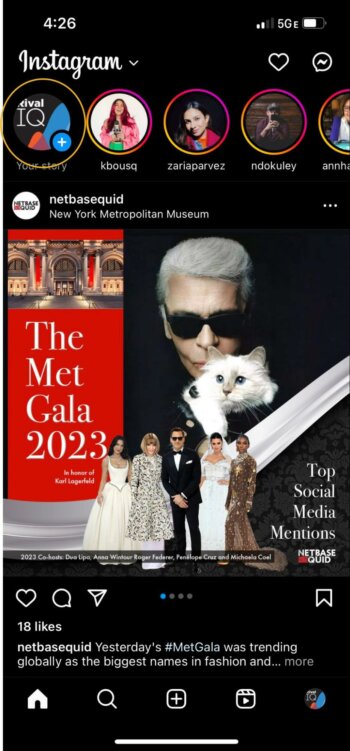 Swipe up on your Story. You'll now be able to see Engagement and Post Interaction metrics, like how many accounts you reached with your Story.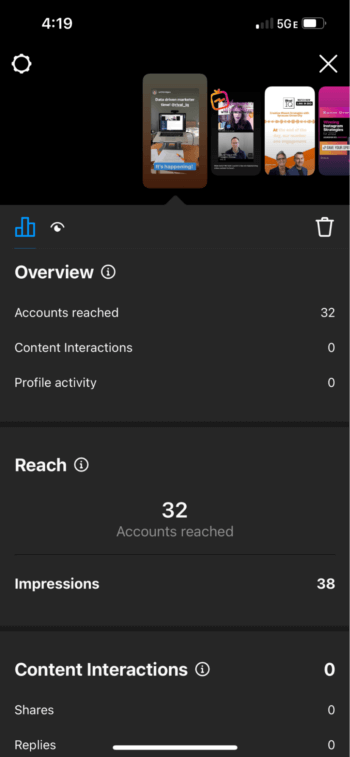 There's also another way to see how your Stories are performing, particularly if you want to know how a past Story did. Tap the three horizontal lines in the upper-right-hand corner of your feed or profile page.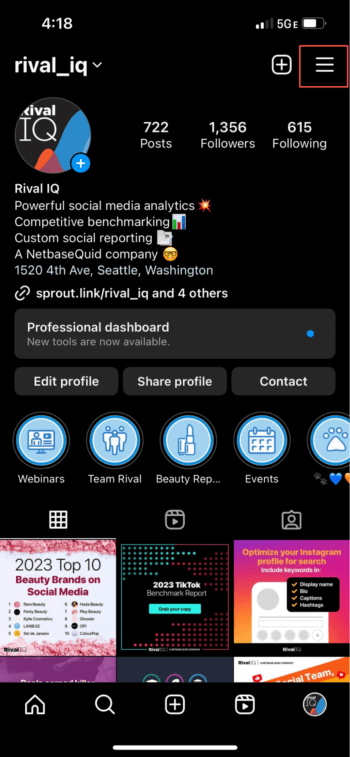 A menu should pop up. Tap where it says "Insights."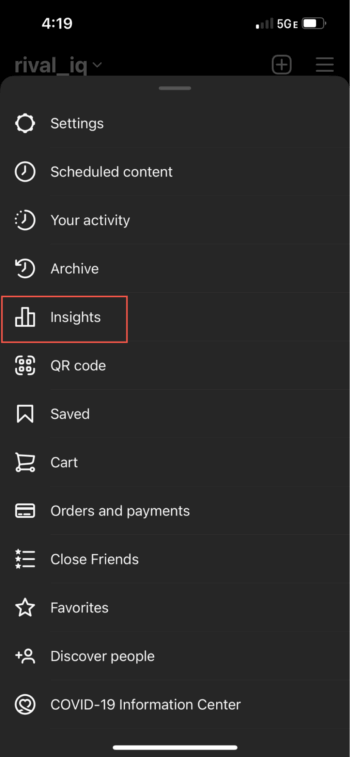 Scroll down to where it says "Content You Shared" and find the Story you want Insights for.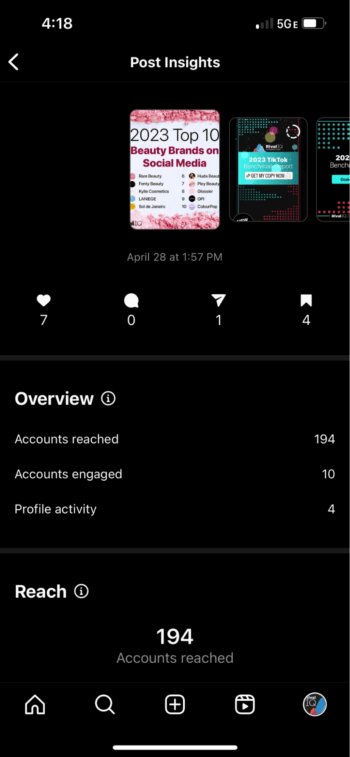 Rival IQ can also give you in-depth details on your Instagram Stories. If you have an Instagram Business Account, you can connect it to Rival IQ, where you'll be able to get data on your Stories under "Instagram Insights" in the "Your Private Data" section in the left-hand column.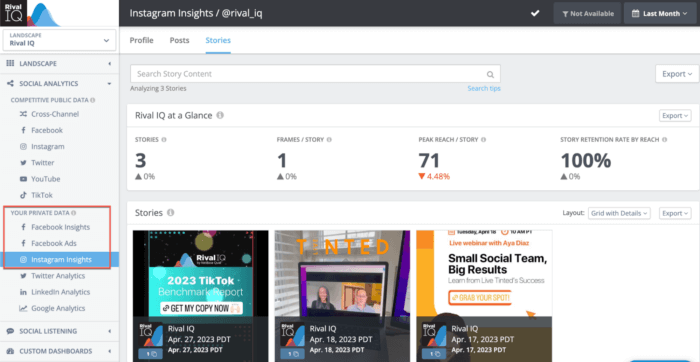 In your Instagram Insights section of Rival IQ, you can see data on how your Stories posted within a designated time period are performing. Tap "Stories" on the top of your page. One thing to keep in mind is that Instagram does not give access to historical Stories data. You'll be able to start accumulating data once you connect your Business Account. For more information on how to connect your Instagram Business Account to get access to this data, check out this help article.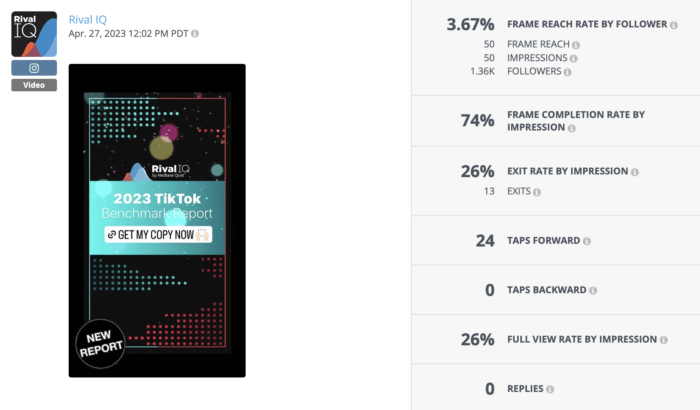 What's a Good Engagement Rate on Instagram Stories?
It's difficult to determine a good engagement rate on Instagram Stories because there are unique metrics to consider. Some of these metrics are positive, others negative, and some vary. Regarding Instagram posts, we generally consolidate engagement metrics into one engagement rate. We count things like the number of likes, comments, and shares. Then, we divide either by follower count or by impressions.
Instagram Stories work differently because there are different metrics to consider. Two of the biggest metrics we'll discuss here are the reach rate and retention rate.
The reach rate refers to the percentage of followers who are seeing your Stories. Reach rates are generally on the decline for Instagram Stories. All types of brands studied in our Instagram Stories report, from enterprise to small businesses, saw a decrease in reach between 2021 and 2022.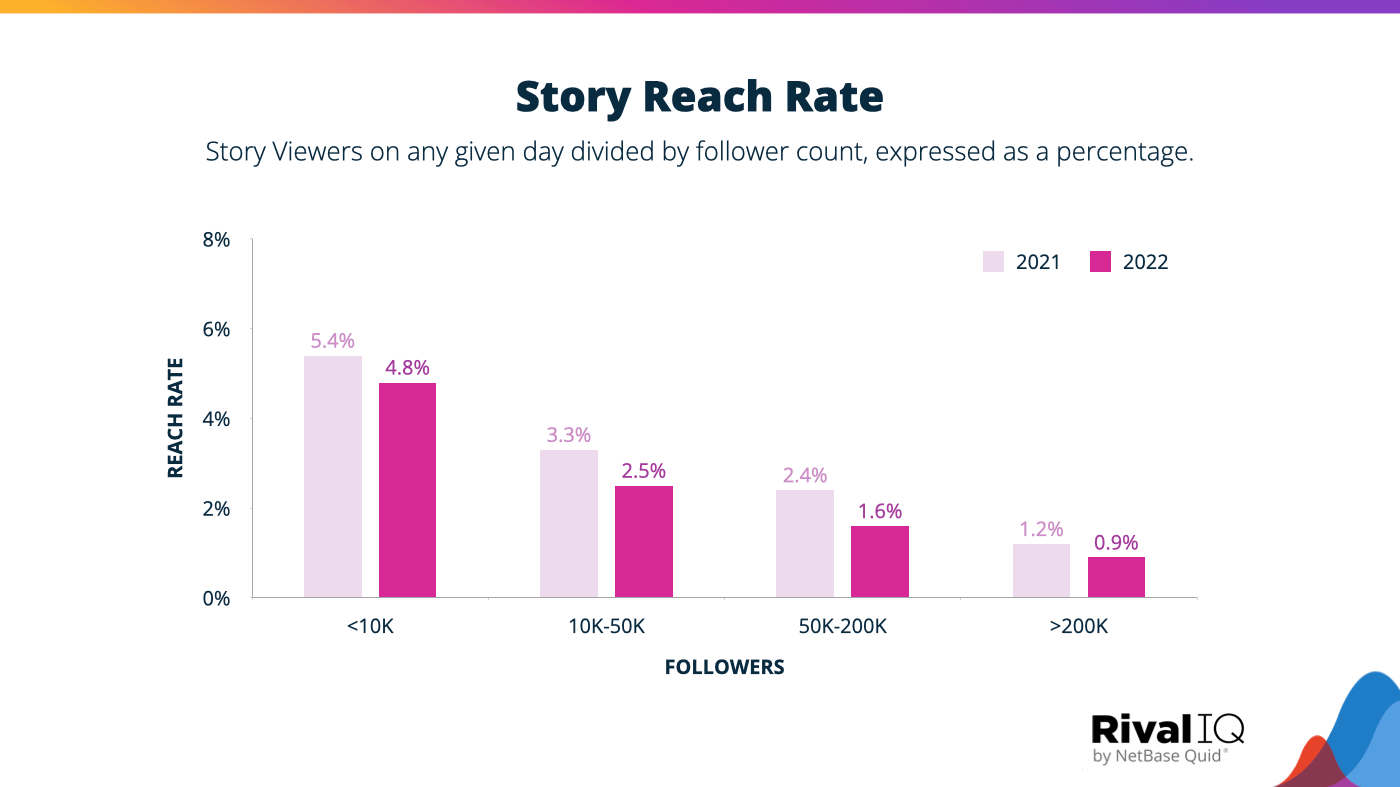 The retention rate goes beyond just who is viewing your Story. This metric tells you who is sticking around to watch your full Story rather than exiting after a certain number of frames. According to our Instagram Stories report, the more frames you publish, the lower your retention rate. However, the most significant dropoff tends to be between the first and second frames.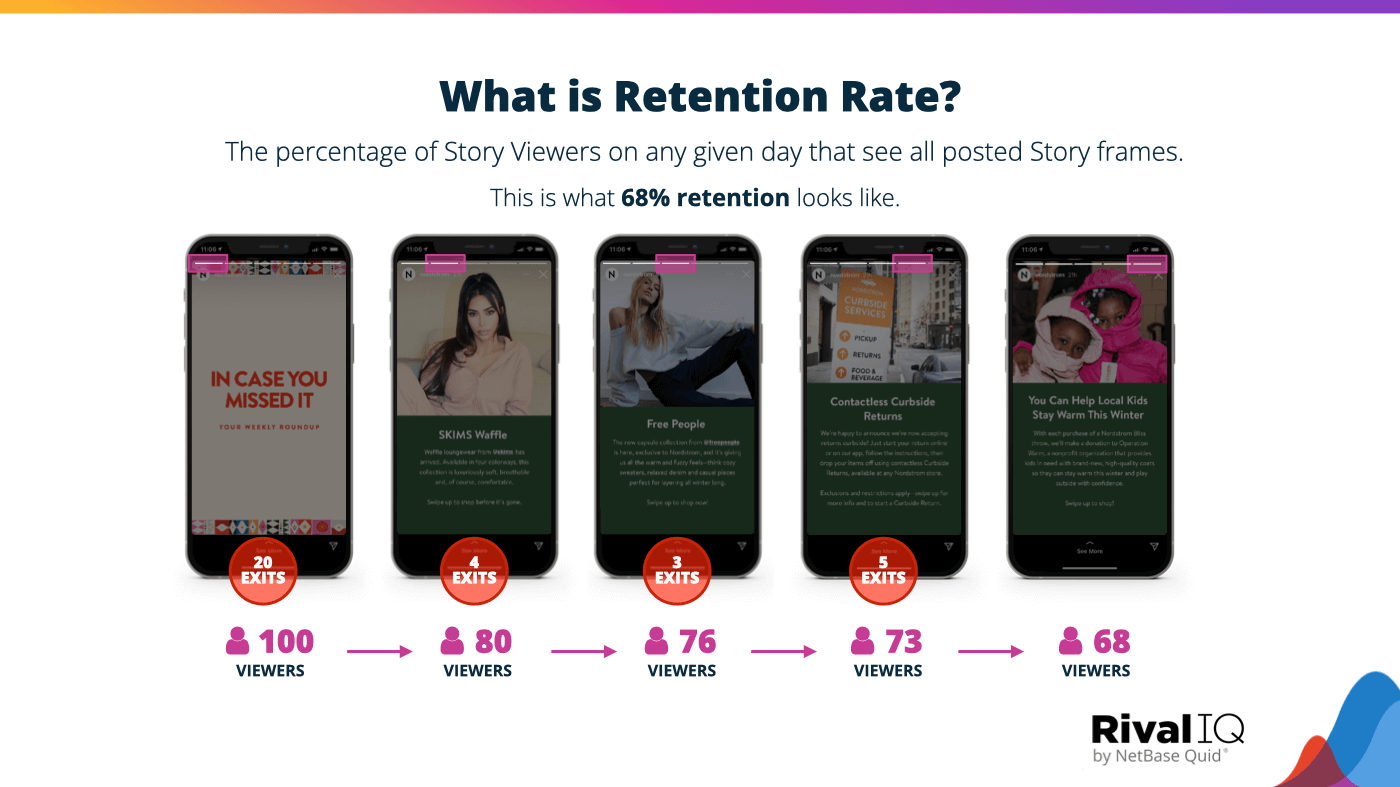 Additional types of engagement include the tap-back rate and the reply rate, determined by dividing the count by the number of impressions.
The tap-back rate indicates that the viewer wanted to take a closer look at the content or re-engage with it. A high tap-back rate is generally positive. According to our benchmark data, the median tap-back rate is 4.8%, but the top 25% of brands see rates closer to 7%.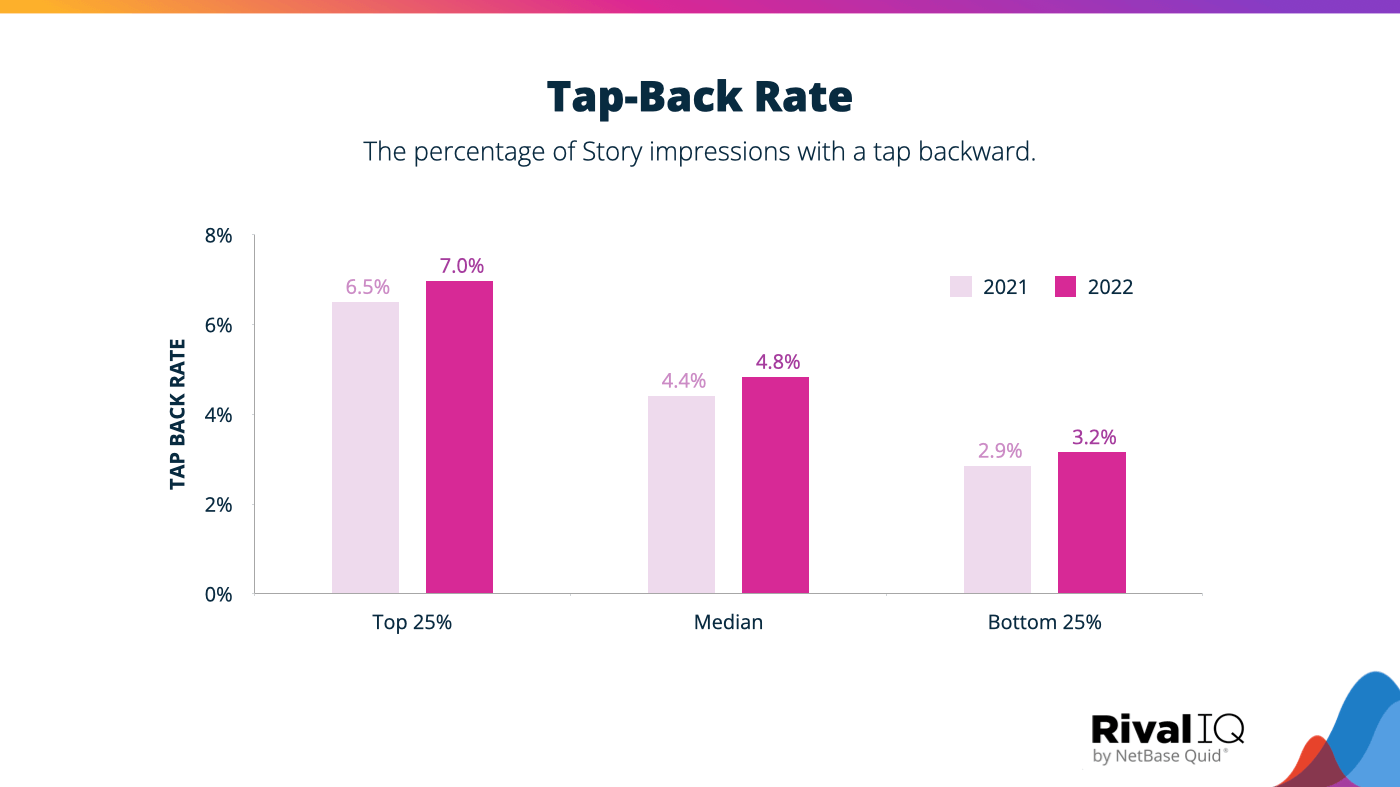 The reply rate is generally the lowest engagement rate brands have. Replies are uncommon on Instagram Stories. Getting a reply is challenging, but it indicates you may have some seriously dedicated fans. According to our benchmark data, the median reply rate was just 0.48 per 1,000 impressions. The top 25% of brands did a bit better, with 1.35 for every 1,000 impressions.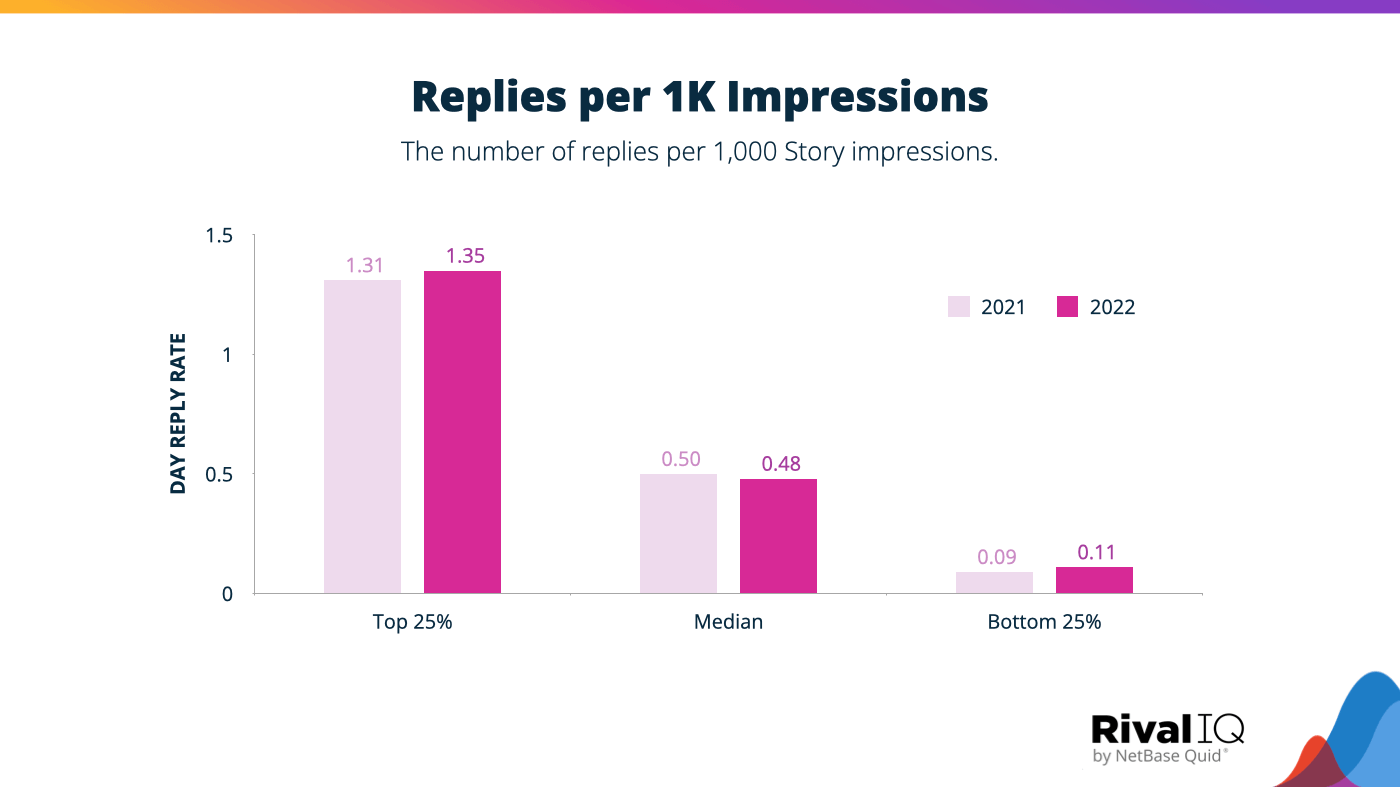 To see more engagement metrics for Instagram Stories, check out the Instagram Stories Benchmark Report.
Tips for Raising Your Engagement on Instagram Stories
1. Save your Stories with Highlights.
Stories are gone within a 24-hour time period. After that point, they're no longer accessible to your audience and therefore stop garnering engagement. But Instagram has a way to make it so your Stories can stick around indefinitely.
With Instagram Highlights, you can pin a Story to the top of your Instagram profile. You can create multiple categories in which you save your Stories. Basically, a Highlight functions as one big Story. Your audience can tap the Highlight to look through previous Stories that fit within the Highlight's theme.
You can also create eye-catching covers for your Highlights to help your audience navigate through Highlights they want to see. Sandals Resorts has Highlights for all of the brand's most prominent destinations, with the Highlight covers matching the company's branding. For more information on how to use Highlights, check out our guide to Highlight use.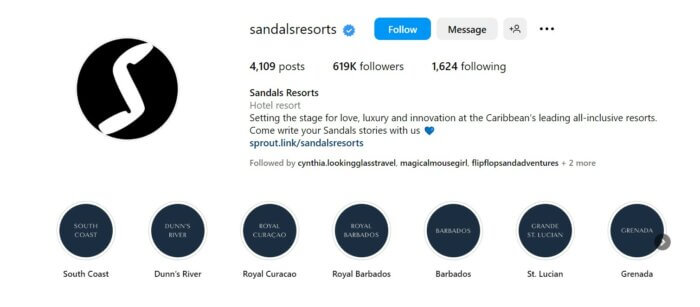 2. Use interactive stickers on your Stories.
Want to encourage more interaction directly on each frame of your Story? One way to do it is through the use of interactive stickers. When you create a frame of your Story, you have the option to add stickers as a way to add more information and pizzazz. There are many stickers to choose from, including stickers that tell a location, link out to another place, poll your audience, ask a question to boost your reply rate, and much more. You can post a multiple-choice quiz on your Story like Arhaus did when asking their audience what type of home decor content they want to see most.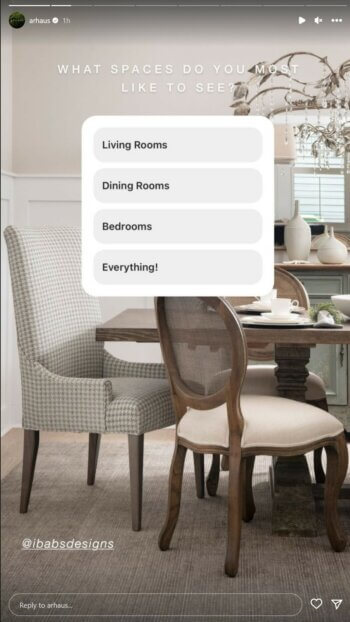 Instagram's API does not measure the effects of quizzes, polls, and other stickers on engagement, but statistics show that they do make a difference. In a recap of brands' ads on Instagram Stories, Instagram found that the use of interactive stickers resulted in higher engagement, higher retention, and lower cost-per-video-view.
3. Use video and go lo-fi.
Video has been shown to increase retention rate, but not all video content is created equal. Lo-fi content outperforms studio content by 63%. This type of video is generally shot on the phone, requires minimal production, and is often made on the go. This trend became especially popular on TikTok, but it has since spread to Instagram, where it's most apparent in Instagram Stories.
It's also essential to consider your video's orientation. Stories are built for vertical viewing. Although it's possible to see Stories on a desktop, statistics show that most people aren't viewing them this way. About 83% of social media usage is on a mobile device, compared to just 15% on desktops or laptops. It's best to keep the mobile users in mind when creating Instagram Stories. Halo Top kept it vertical and lo-fi when posting behind-the-scenes content of influencers checking out the Halo Top pop-up in New York City.
4. Choose quick cuts over longer scenes.
Instagram lets you post a video in your Stories for up to 15 seconds, but that doesn't mean you have to focus the entire 15 seconds on one thing. You can include multiple scenes in those 15 seconds. Research indicates that doing so will boost your engagement and retention rates higher than if you just had a 15-second-long scene.
According to Facebook Blueprint Insights, the optimal length for a scene is 2.8 seconds. Make the most of your Story by sharing videos with quick cuts close to 2.8 seconds instead of the full 15 being on one scene. While promoting the Halo Top pop-up, influencer @khadijahsfablife managed to fit in seven short scenes in the span of 11 seconds, which averages out to a new scene every 1.6 seconds.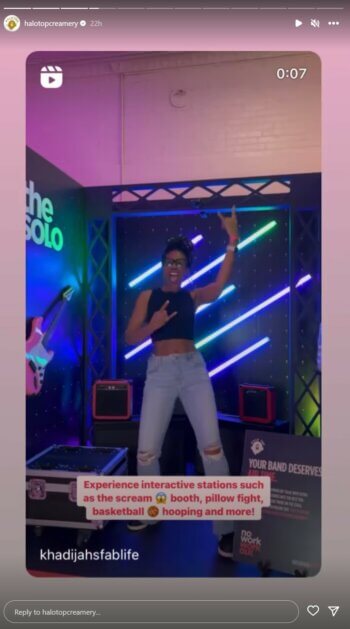 5. Make your first frame eye-catching.
According to our benchmark data, exits most often happen after the first frame. By frame four, your viewer is more likely to stick around for the whole Story. It's essential, then, that your first frame is attractive enough to make your viewer want to keep going into the proceeding frames.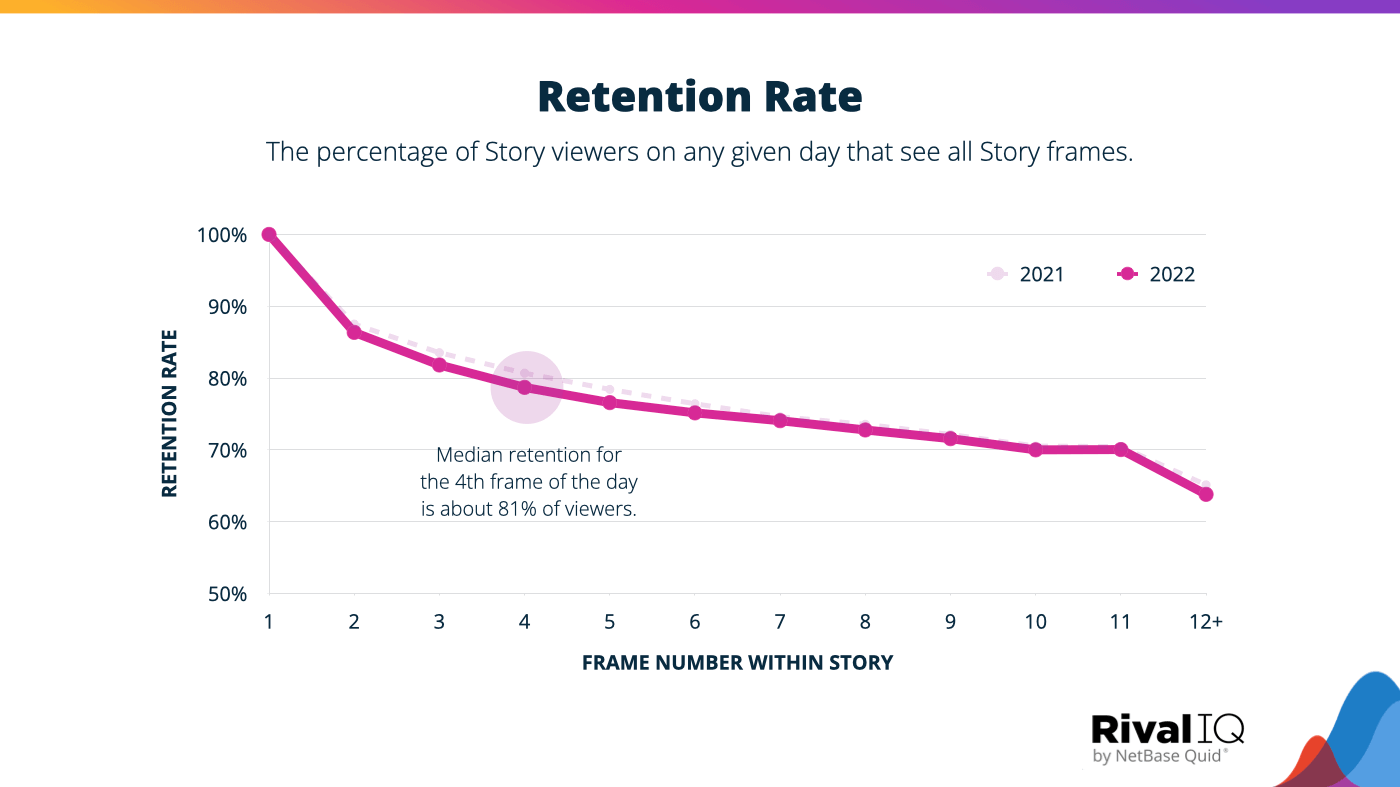 Think of your first frame as a book cover. If the book cover wouldn't entice you, you're most likely not going to want to read what's inside. Many brands have seen success with using the first frame to essentially tell what the rest of the Story will be about. If you can get someone's attention with the first frame, you'll likely get them to tap forward into the next frame. Go for eye-catching graphics on the first frame that point your viewer in the direction of the next frame, like this Rare Beauty Story that asks viewers to "tap to get started" to see a #RareRoutine makeup look being created.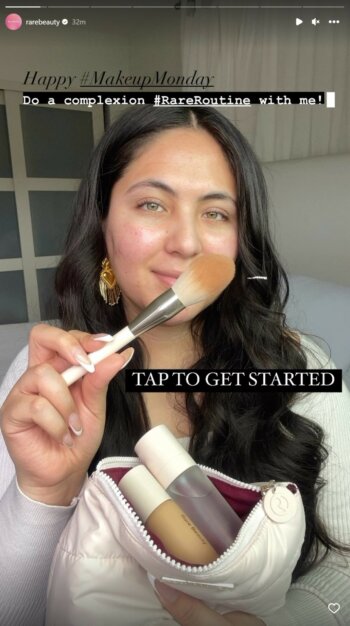 6. Use hashtags and location tags to expand your reach.
Reach rates have been declining for Instagram Stories year after year, according to our benchmark data, and 2022 was no exception. Lower reach means lower potential for engagement. So, how can you get reach rates back up?
Back in 2019, Instagram Stories were added to the Instagram Explore page for the first time. With the Instagram Explore page, someone could search for something they were interested in, particularly a hashtag or location tag, and see posts and Stories that fit what they're looking for. Instagram Explore has become broader, allowing for someone to simply search a word and see images and Stories that fit that aesthetic.
However, using hashtags and location tags is still a surefire way to make sure your Story is categorized properly. When someone searches a word related to your hashtag or location tag, they'll be more likely to see your Story on their Instagram Explore page than if you hadn't tagged it at all. Revolve used the branded hashtag #RevolveFestival for their Revolve Festival during 2023 Coachella to promote their festival, collect and repurpose content from others using the hashtag, and ultimately boost their brand.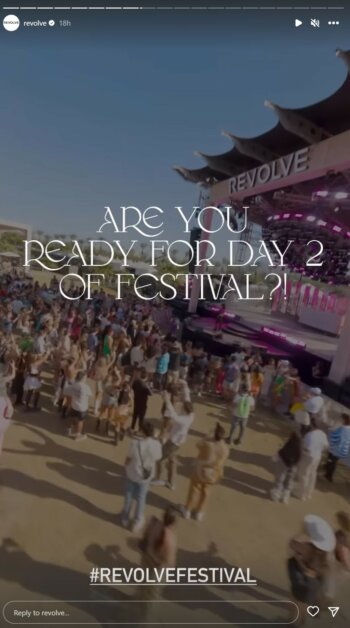 7. Publish Stories often.
Since Stories disappear in 24 hours, it's essential to post Stories often to get back to the top of your followers' pages. While Highlights can help you keep your Stories and gain more engagement over time, it's still worthwhile to be posting Stories consistently.
According to our benchmark report, the top 25% of brands post a Story about every other day on average. The bottom 25% of brands posted only about 6.6 times per month.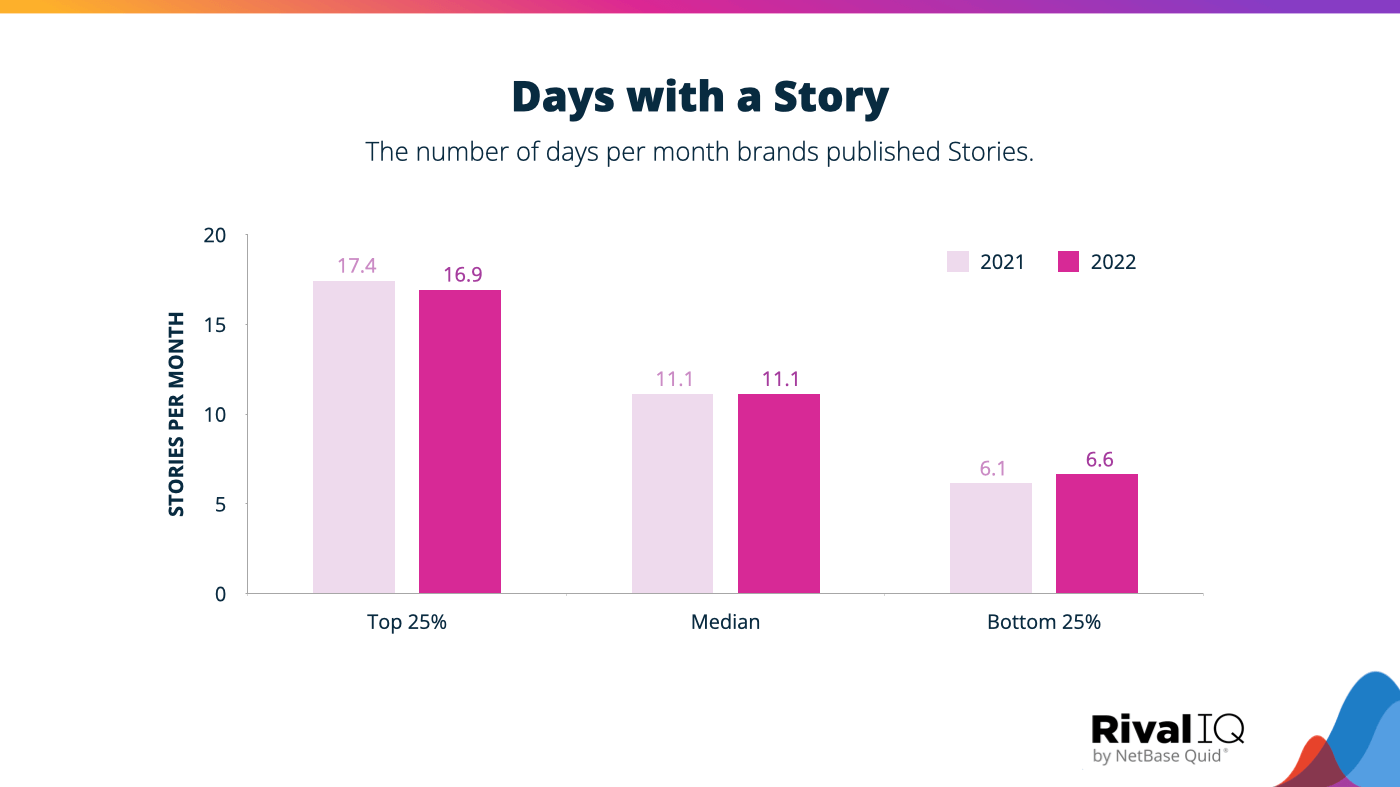 Wrapping Up the Story on Stories
Instagram makes it easy to measure how your Stories are doing, and using Rival IQ makes getting even more in-depth information easier still. Measuring your Stories' performance is essential to make sure that you're optimizing your content, which will boost your reach and your engagement.
While every company's content differs because every customer base is unique, these strategic tips can give you a helping hand. Consistency matters, which is why posting Stories more often is better. But Highlights can boost your Story's longevity. Hashtags and location tags can get more eyes on your Story, while interactive stickers can help you turn those audience members into engagement. Going for quick cuts and lo-fi content with eye-catching first frames can all help you get your audience to stick around and engage with your content.