Using hashtags on Twitter, now called X, is an effective way to reach new followers, start a conversation, or participate in a trending topic. 
The right hashtags can help you not only land on users' For You feed and join in on relevant trends, but they can also help establish brand awareness and be used to generate buzz around campaigns. And when you only have 280 characters to get your message across, it's even more important to be selective about which hashtags you choose to include and why.
Below, let's go over the benefits of using Twitter hashtags, the different ways brands can use them, and how to find the best hashtags to include in your Twitter hashtag strategy.
Why You Should Use Twitter Hashtags
On a platform as fast-paced as Twitter, staying on top of the trends and hashtags will always be one of the top best practices to follow. But it's not enough to simply tack a trendy hashtag onto your tweets every now and then. If you really want to create engaging tweets that speak to your audience and increase your reach on the platform, then you need a solid Twitter hashtag strategy. Here are a few benefits of using Twitter hashtags.
Increases engagement
One of the biggest reasons to use hashtags in your tweets is that they can help boost engagement. The median engagement rate on Twitter across industries is 0.035%. Adding a hashtag can improve this rate in a couple of ways. First, your tweet can have greater reach when you use a popular or trending hashtag that people are already searching for (we'll cover this more below). Second, hashtags can help start a conversation or show support which will earn your tweet more likes, comments, and retweets from followers and non-followers alike.
Here's an example to put that into perspective. Sports Teams have an average Twitter engagement rate of 0.078% (higher than any other industry on Twitter). But when teams used the hashtags #NewProfilePic, they earned an average engagement rate of 2.33% which is nearly 30 times higher than average.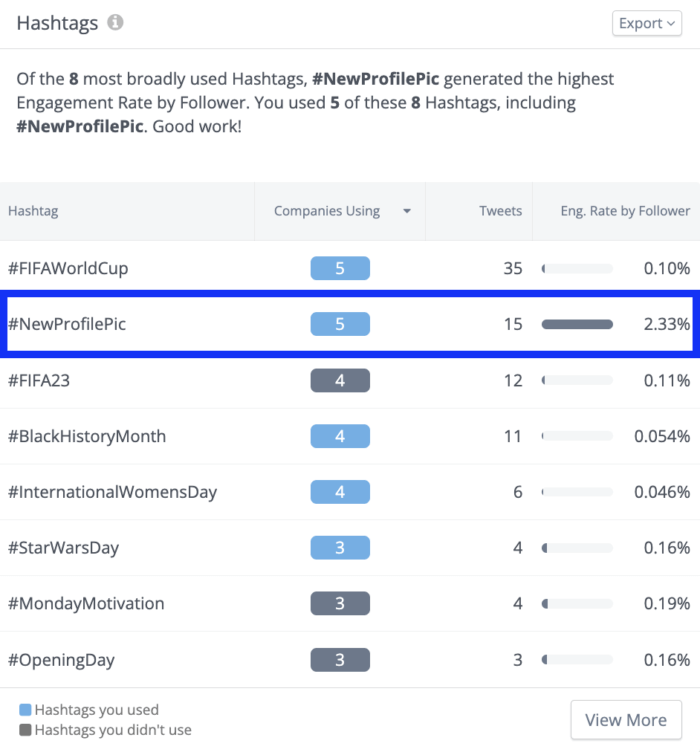 The Buffalo Bills earned high engagement rates when the team changed its profile picture and used the hashtag to show their support for injured player Damar Hamlin. This tweet received an engagement rate of 12.7%, a whopping 162 times higher than the average rate.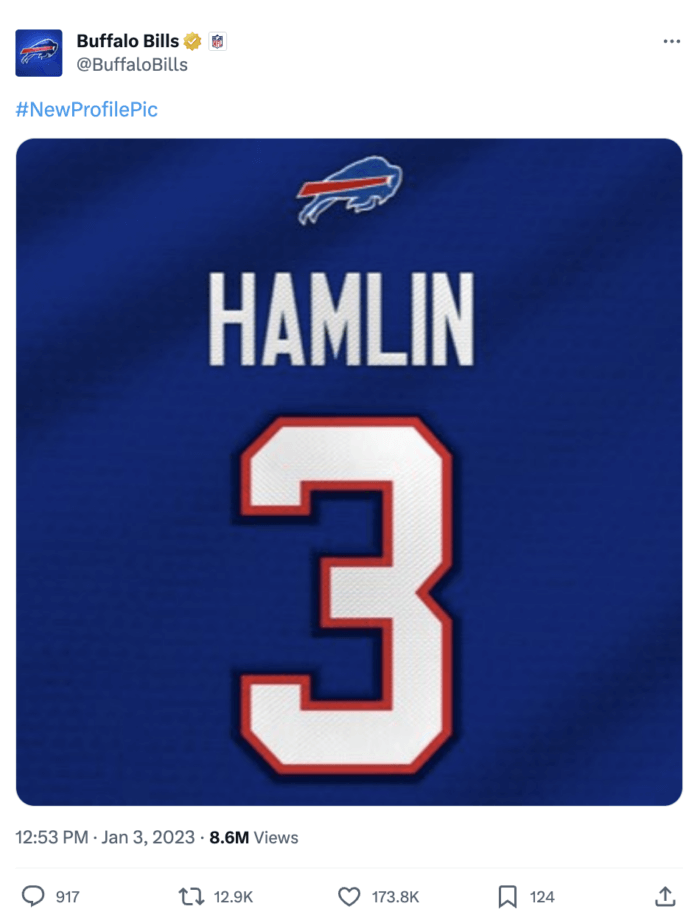 Builds brand awareness
Another reason to incorporate hashtags into your Twitter strategy is to build brand awareness by using a branded hashtag. A branded hashtag is an original hashtag that represents your company. It can be similar to a tagline, or you can create one for a specific campaign. Branded hashtags are a great way to communicate your message to people who may be interacting with your brand or content for the first time.
For instance, The National Park Service launched the Find Your Park campaign in 2016 to celebrate its 100th birthday. The campaign name has continued beyond the anniversary and is now used as a conversation starter and branded hashtag on the organization's Twitter profile.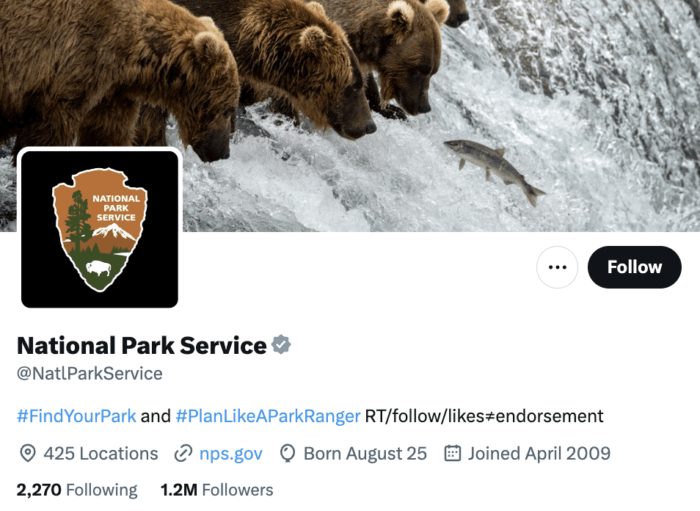 Makes your brand discoverable
Hashtags can also be used to get in front of your target audience. Twitter hashtags help your target audience find you organically if they're searching for a hashtag or topic that you used.
To make your brand more discoverable, use hashtags that your target audience is searching for. You can do this by tapping into trending hashtags or conversations, especially when there's a major event happening that you know a ton of people are paying attention to, like the Super Bowl or the Oscars, for instance.
Elle Singapore, the Singapore arm of the fashion media brand Elle Magazine, tapped into several timely hashtags during Paris Fashion Week. Paris Fashion Week is a global event that brings together the high fashion community, designers, and celebrities from around the world. Elle Singapore leveraged the event's reach and momentum to get in front of a wider audience beyond its current followers.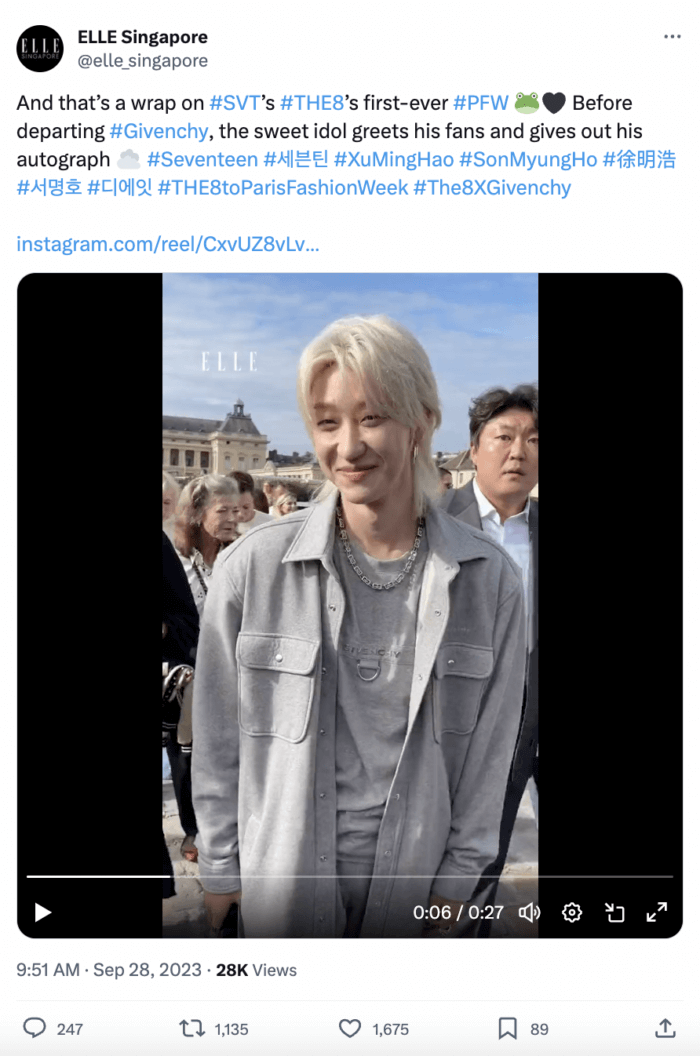 Not only did the brand live-tweet runway shows and celebrity sightings using the hashtag #PFW, but it also included hashtags of designer and celebrity names in case anyone was searching for those individuals during the festivities.
This is a great example of how to tap into a popular conversation or timely event to help more people discover your content on Twitter.
4 Ways to Use Hashtags on Twitter
There's no question that hashtags can help you improve your reach and impressions (among other key metrics on Twitter). If you're looking for inspiration for your Twitter hashtag strategy, here are a few different ways you can use hashtags on the platform to increase your reach, boost engagement, and make your content more discoverable.
Branded hashtags
As mentioned earlier, branded hashtags are a great way to increase brand awareness. You can create a branded hashtag that you want people to use when tweeting about your brand, or as a way to join in on a conversation. You can also create a branded hashtag to generate buzz around a specific campaign or promotion.
One example of a branded hashtag campaign comes from Slim Jim. The snack brand has been engaged in a partnership of sorts with fellow food brand, Cinnabon for nearly a year. The two brands have been "in a relationship" on Twitter, regularly interacting with each other through flirty tweets and using the aptly named couple name, "Slimabon" to commemorate the relationship.
Recently, the two brands decided to officially tie the knot (yes, really). Slim Jim and Cinnabon involved their followers throughout the wedding planning process by using the hashtag #SlimabonWedding. Using this branded hashtag helped followers keep track of the wedding updates and get involved. And it wasn't all for naught as the brands sent party favors to dedicated fans in the form of gift cards and merch.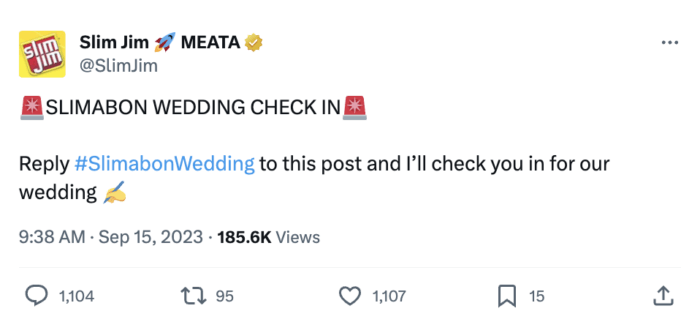 Branded hashtags can also be useful if you're running a contest or giveaway, are hosting a live event, or for real-time game updates.
Holiday hashtags
Holiday-related hashtags continue to earn high engagement rates across all industries. When we talk about holidays, they aren't limited to the traditional ones we think of on a seasonal basis. These days, there's a holiday, event, or dedicated day for nearly everything — and there's also a supporting hashtag.
To stay on top of national days worth adding to your content calendar, check out National Today Calendar. The website curates thousands of holidays from federal to food-related to special interest. Identify the hashtags relevant to your industry and search Twitter to see how those hashtags were used in previous years.
You can also use a social media analysis tool to see which hashtags your competitors are using. Here's a glimpse at Rival IQ's hashtag analysis tool that curates the most used and most engaging hashtags for your industry. The example below is an analysis of hashtags used by schools and universities. The hashtag that earned the highest engagement was #NationalChampionship, but you'll also notice that holidays like #NationalDogDay and #NationalMascotDay performed well, too.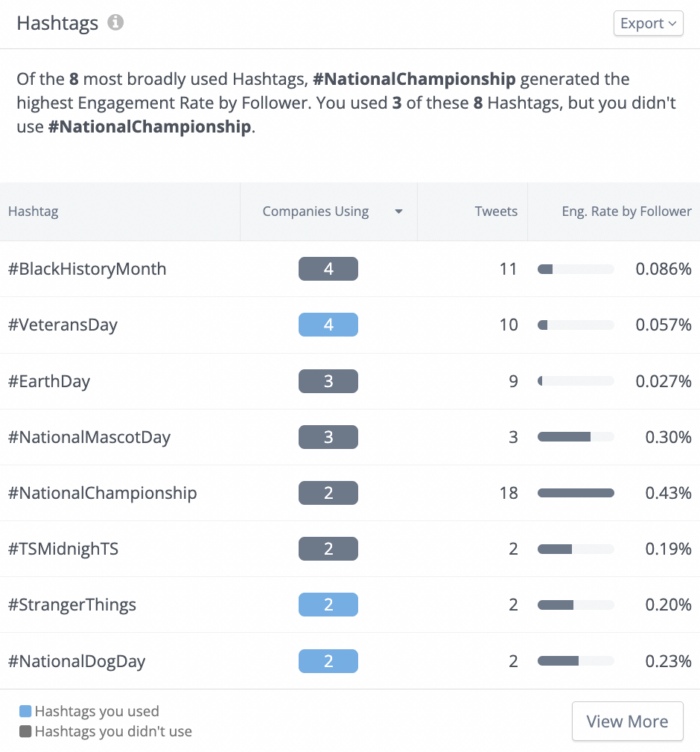 Bowling Green State University took advantage of #NationalMascotDay by sharing a handful of photos of the school's pair of mascots. The tweet below earned an engagement rate of 0.30%, which is over eight times higher than the average engagement rate on Twitter.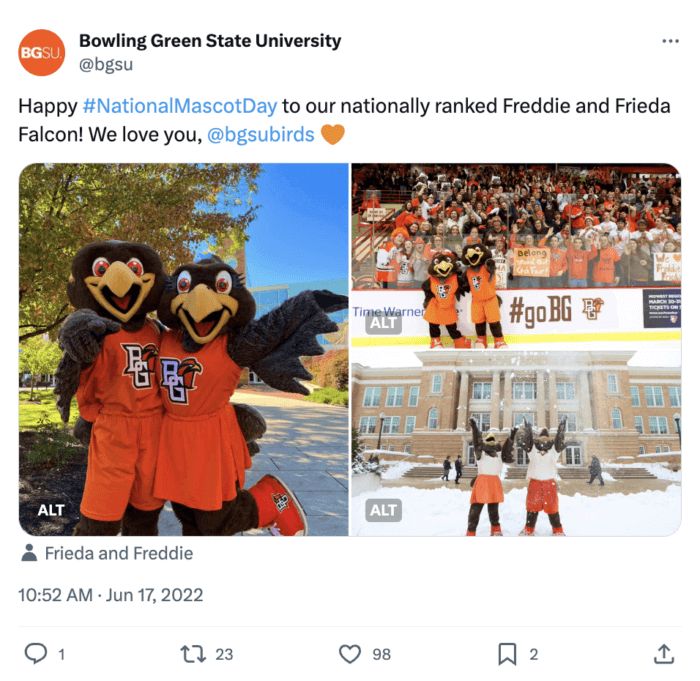 Start or join a conversation
Hashtags can be a powerful way to let your followers know what you stand for. For example, there are many social movements and causes that have dedicated hashtags such as #BlackLivesMatter and #StopAsianHate. Nike proudly displays both of these hashtags in its Twitter bio as a way to let its followers know what's important to them.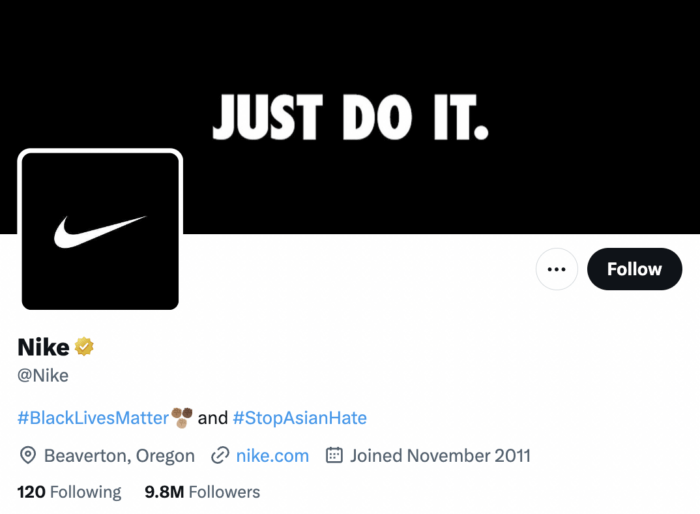 You can also use hashtags to start your own conversations around timely topics. The Institute for Justice, a nonprofit that protects civil liberties, regularly does this by using the hashtag #SCOTUS to bring attention to certain Supreme Court cases that its audience might want to learn more about. The tweet below earned an engagement rate of 0.51% which is over 14 times higher than the average rate on Twitter.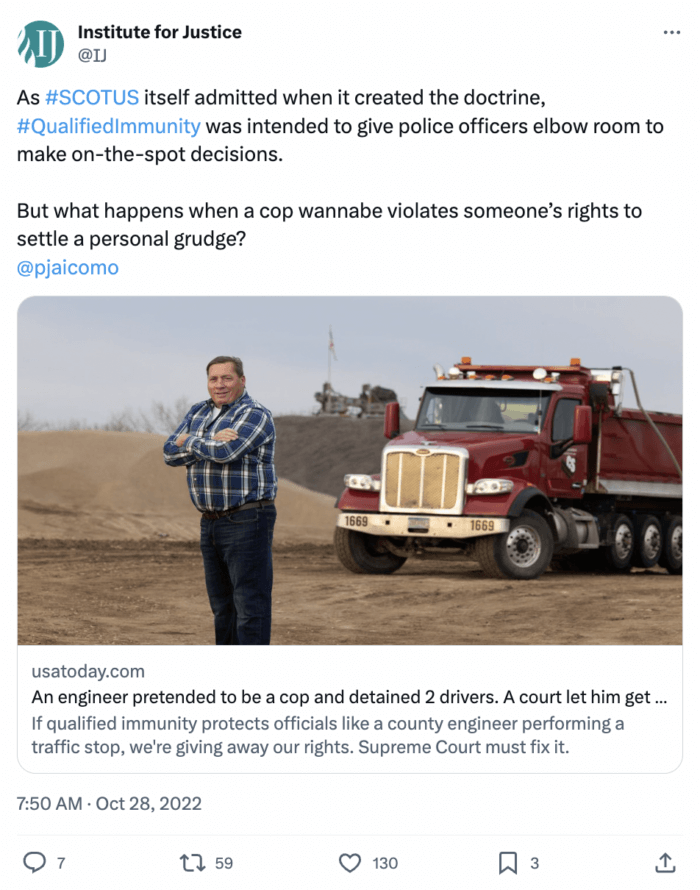 Tap into trending hashtags
Like holidays, there are plenty of topics and hashtags that come up that may or may not be relevant to your brand. If there is one that's relevant to you, it's important to jump on the trend as soon as possible to participate in the conversation before it becomes yesterday's news.
You can use Twitter's Explore tab to stay on top of breakout topics and trending hashtags that have popped up organically. However, doing this can take time and resources that social media managers just don't have. If you don't want to be glued to your screen and refreshing your Twitter Explore tab all day, use a social media tool to keep an eye on the trends.
For example, our live benchmarks track social media posts shared by brands across industries in real-time. Below are some popular hashtags for civil rights nonprofits.

How to Find Trending Hashtags on Twitter
Figuring out which hashtags to use for your tweets can be challenging if you're starting from scratch. A good place to start is by turning to the platform itself to see what's currently trending. Doing an organic search can help you see what's trending across all Twitter users. If you want to get more specific and reach your target audience, use a tool like Rival IQ to find hashtags that are trending in your industry.
Let's go over how to find hashtags on Twitter (X) organically and using Rival IQ.
How to search for hashtags organically
The first step is to visit the Explore tab. From there, you'll see which topics the algorithm has curated for you based on types of tweets and people you typically interact with. You'll also see a tab dedicated to trending topics and hashtags. These are the conversations that people are having *right now* so this tab is as close to real-time as you can get.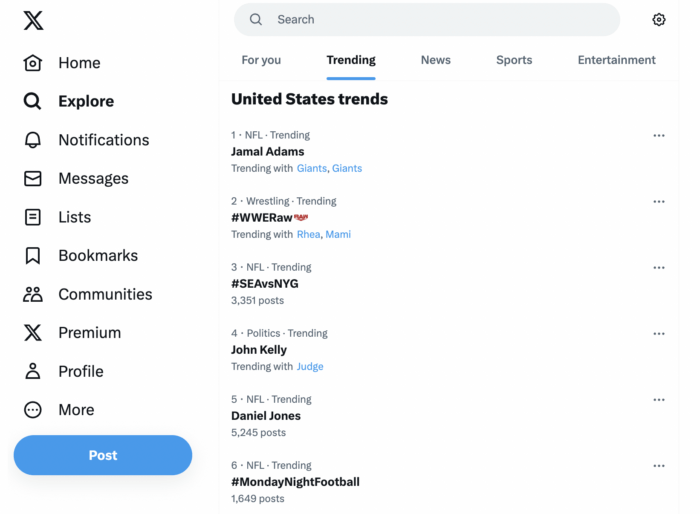 You can also search for a hashtag to see what types of tweets people are sharing about the topic — and who is using the hashtag. Not only is this a good way to identify the topics and hashtags you should be using, but it's also helpful for conducting competitor research. Below are the search results for #InternationalPodcastDay, for example. If you have a podcast and want to learn more about other podcasts out there, this could be a good way to discover some popular ones.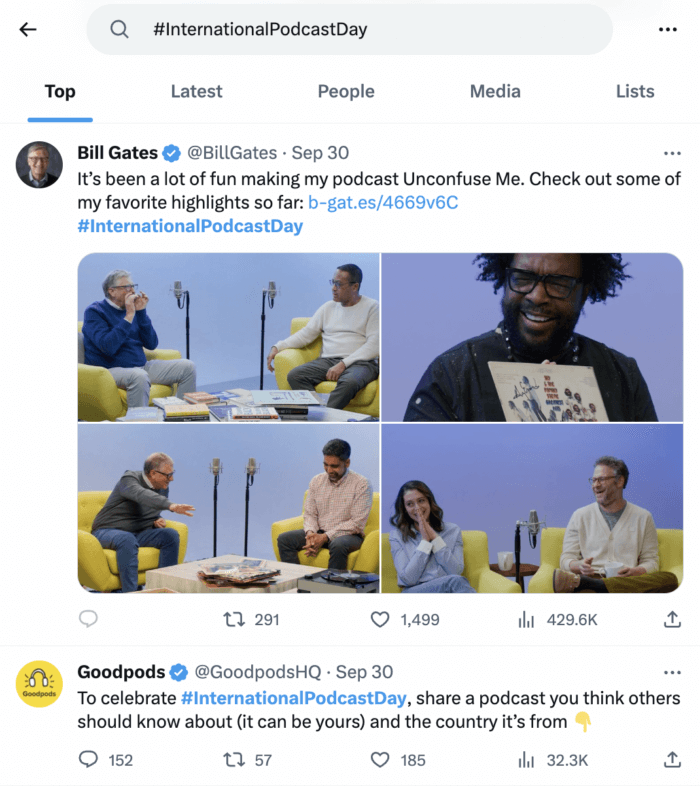 How to find trending hashtags on Rival IQ
If you have a Rival IQ account, you can use the hashtag analysis tool to find trending hashtags for your industry. If you don't have an account, you can sign up for a free trial to take advantage of the hashtag tool and more.
With Rival IQ, you can create a landscape with a group of companies, like your competitors, that you want to analyze. Once you have your landscape created, you can compare your social performance to the competition and see what type of content — in this case, tweets — similar brands are sharing and what kind of engagement they're getting.
Once you're in your dashboard, head to the Social Analytics drop-down menu and select Twitter. Once there, go to the Social Posts tab and scroll down until you see Popular Topics and Hashtags. These lists display the most frequently used topics and hashtags among the companies in your landscape as well as which ones earned the most engagement.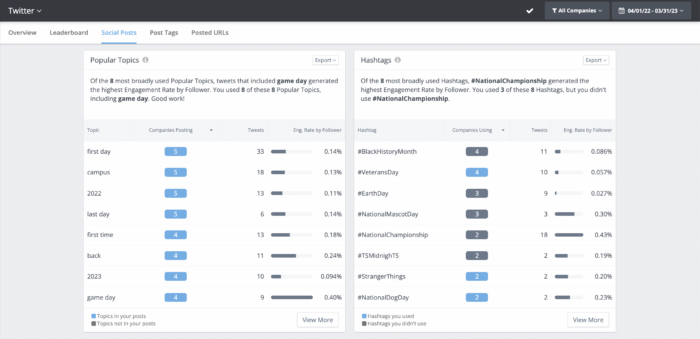 You can also see how many of the companies in your landscape used the trending hashtags, and whether or not you did. Seeing this competitive data can help you discover relevant hashtags to use on Twitter as well as identify opportunities to join conversations that your competitors haven't participated in yet.
Wrapping it Up
Using hashtags on Twitter is a smart way to break through the noise and reach your target audience. Twitter continues to be a lively channel where a stream of conversations come and go on a daily basis. Hashtags are a helpful way to tap into those conversations before it's too late.
Twitter hashtags can also help your brand be more discoverable and engaging to both existing and potential followers. When you use the right hashtags — ones that are relevant to your brand and audience — you increase your chances of getting in front of more people, tapping into relevant conversations, and improving your overall Twitter engagement.