5 Ways to Use Competitive Data in Social Media Marketing
I love working with early-stage startups and non-profits because I get to make a real impact on their business. Marketing is much more challenging when you are bootstrapping, but it is also a lot more fun and rewarding! Small budgets and teams mean utilizing inexpensive mediums to drive growth, and social media is often a great fit. The problem is, collecting the competitive data you need to build a sound strategy is time consuming. In order to be efficient, we have to enlist killer software to streamline everything from onboarding to reporting; otherwise, our social media marketing business can't scale without sacrificing quality.
I build my social media strategies based on competitive social media analytics. Instead of taking a 'stab in the dark' or referencing social media best practices alone, using competitor data provides an industry-specific starting point. It reveals key insights about my clients' industry and target audience. Competitive insights provide evidence that gives my marketing initiatives a backbone. It just really allows me to hit the ground running for clients – saving valuable time and resources. Luckily there is software out there that makes this process of compiling competitive social media analytics pretty easy: Rival IQ!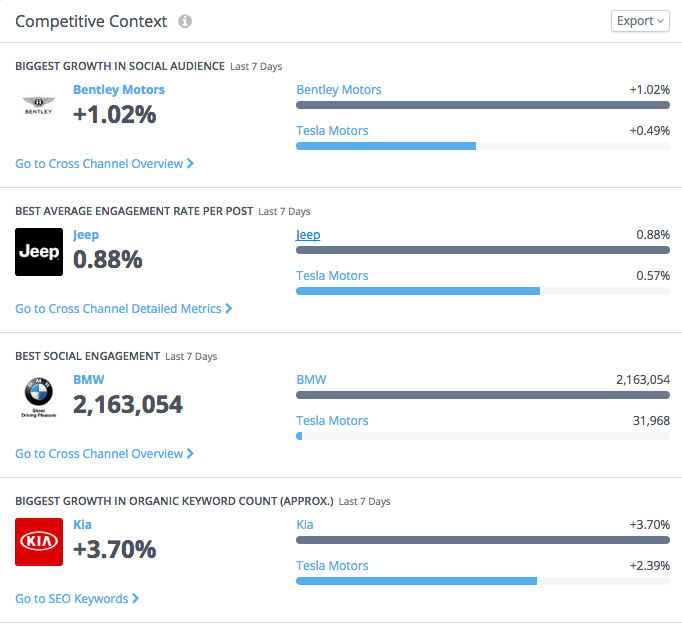 1. Identify Competitors
You can't build a social strategy based on competitive insights without knowing who the competition is. After asking my clients who their competitors are, I do my own research using a couple of my favorite social media marketing tools and of course, Google. Check out this awesome step by step on finding competitors using Google.
I also find competitors by using my top keywords to run a search on Followerwonk. If you haven't researched your key terms, HubSpot has a great blog post that provides a 6-step process.
Once I have my list of 5 to 10 qualified competitors, I pop them into Rival IQ for a competitive social analysis. Part of my initial review in Rival IQ is to validate which competitors are relevant, eliminating those that don't perform or speak to a different buyer persona. It's important to compare clients to pure competitors, including one to two far more influential than them.
2. Prioritize Social Channels
Not every social channel is appropriate for every company. To help me prioritize, I use engagement rates to decide where to focus my energy because it tells me where the audience is most receptive to content. Highly engaged users are far more likely to convert. A recent study on over 450 mid-to-senior level marketing leaders showed social media engagement as the most important metric they track.
I find my clients' competitors' engagement rates by using Rival IQ. I use the Cross Channel Detailed Metrics to see what social channels to focus on. I am trying to find out the clients' competitions audience size, their growth rates, activity and audience engagement. Focusing your efforts on the social channels that have active, engaged users will help you to prioritize your resources.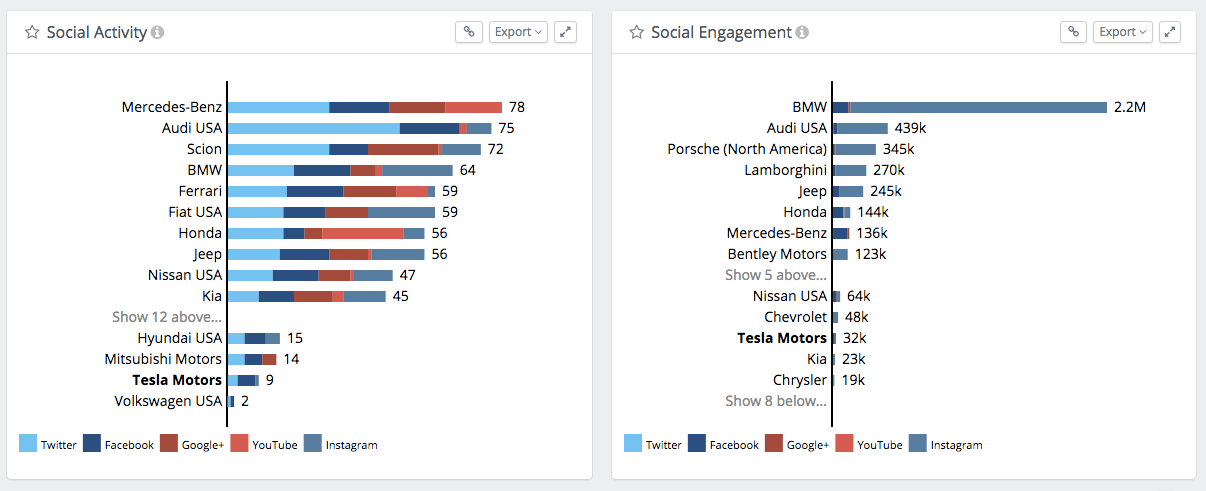 3. Validate Marketing Initiatives
It can take a little convincing to try new things to fill a clients' social media gaps. I don't have to simply rely on my persuasiveness; I can rely on hard data. Having the power to identify and present gaps in a client's content marketing strategy using competitive social media analytics makes it much easier to validate my social strategy.
A current client, Positive Performance Training is a perfect example of how competitive insights can help validate a strategy. While sorting through their assets, I realized they had over 100 well-written blog posts, and about 20 super useful ebooks, white papers, and case studies — it was a content marketing gold mine!
There was a big problem though. The founders were resistant to me using their lead generation content for marketing because they feared it being too "sales-y" for social media. Using Rival IQ, I showed them how lead generation content was yielding positive results for their competitors on social. Now that we've been using our lead generation content on Facebook and Twitter, we've increased both traffic (600% in 30 days) and referrals (285% in the same period) from our social efforts.
4. Create Compelling Content
The ideation stage of content creation is the most time-consuming part for me. I can't be an expert in everything so I have to spend quite a bit of time researching my clients vertical in order to make useful content. Luckily there are great tools available to track what is trending to help spark inspiration. I like to use Buffer Feeds to aggregate industry news for clients when appropriate. Buzzsumo is great for tracking top content trends.
I rely on Rival IQ to alert me to my competitors' top content. Competitive analysis is perfect for discovering new opportunities. It's often really simple to recreate something that received high engagement rates. For example, one of my past clients had a co-working space for early stage startups. Our target market was responding really well to a competitor's post on where to find free stock photos. As a marketer, I already had a database of 10 sites I often used for free stock photos so it was fast and easy to put together our own post on the same topic and we got great results.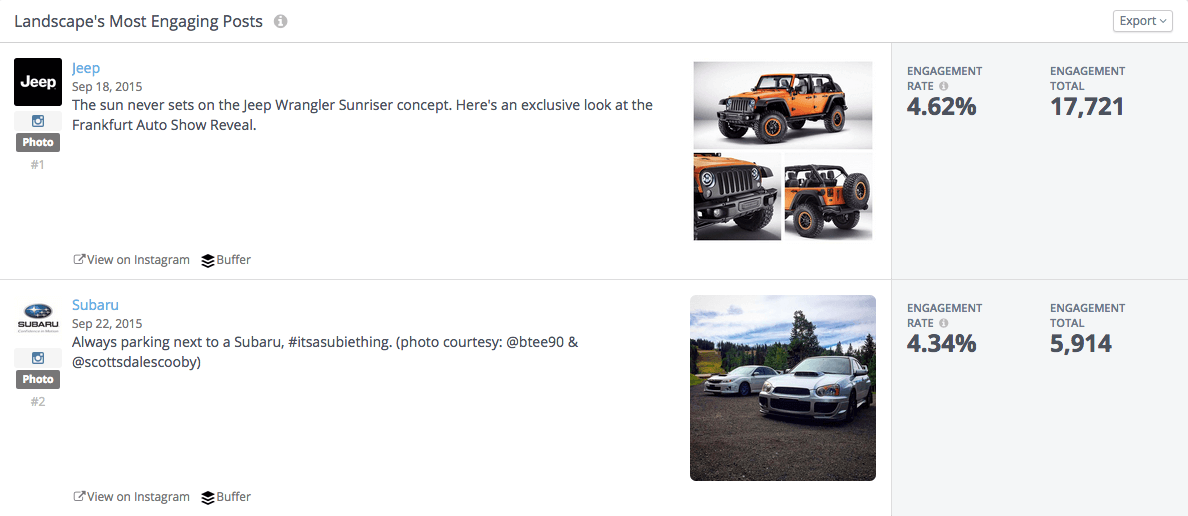 5. Assess and Pivot
Just as with all good strategies, you have to continually measure success and adjust based on real-world results. Competitive analytics is a great way to set social media benchmarks by basing them on companies you aspire to beat. If you aren't beating the competition, it might be time to go back to the drawing board.
I use Rival IQ to assess if my social strategy is truly working. I do this by looking at my clients' Top Cross-Channel Social Content sorted by engagement total. I use Rival IQ instead of going to each channel and compiling the data because it is faster and presented in an easily digestible format. I simply set reporting parameters and let Rival IQ auto-generate the necessary reports and send them to my inbox. Rival IQ provides great insights into my clients' engagement and I really haven't found a simpler reporting process.
Competitive Social Media Analytics Make Me a Smarter Marketer
My clients rely on me to be effective and efficient with their budgets. Having tools that make social media marketing easier and more effective helps me create growth faster without sacrificing the quality of my work. I don't have to stand behind "I think-s" and "maybe this will work-s." because I approach my strategy creation fully informed without the fuss of data collection.
When it comes to social media strategy, where do you start and why? What tools help you get started? I would love to hear from you in the comments below.