Back-to-school can only mean one thing besides endless Target runs and twin extra-long sheets: our annual Higher Education social media rankings!
Find out how your alma mater (or employer–we see you, obsessive Higher Education social media professionals) performed on Instagram, Facebook, and Twitter. Did you move up in the ranks this year, or at least defeat your biggest rival?
We've got every D1 school ranked plus tons of examples of top-performing posts and trends taken directly from the highest-ranking universities. Don't miss the free report download for the full rankings.
Sharpen your pencils and let's start studying the top schools and universities on social for 2021!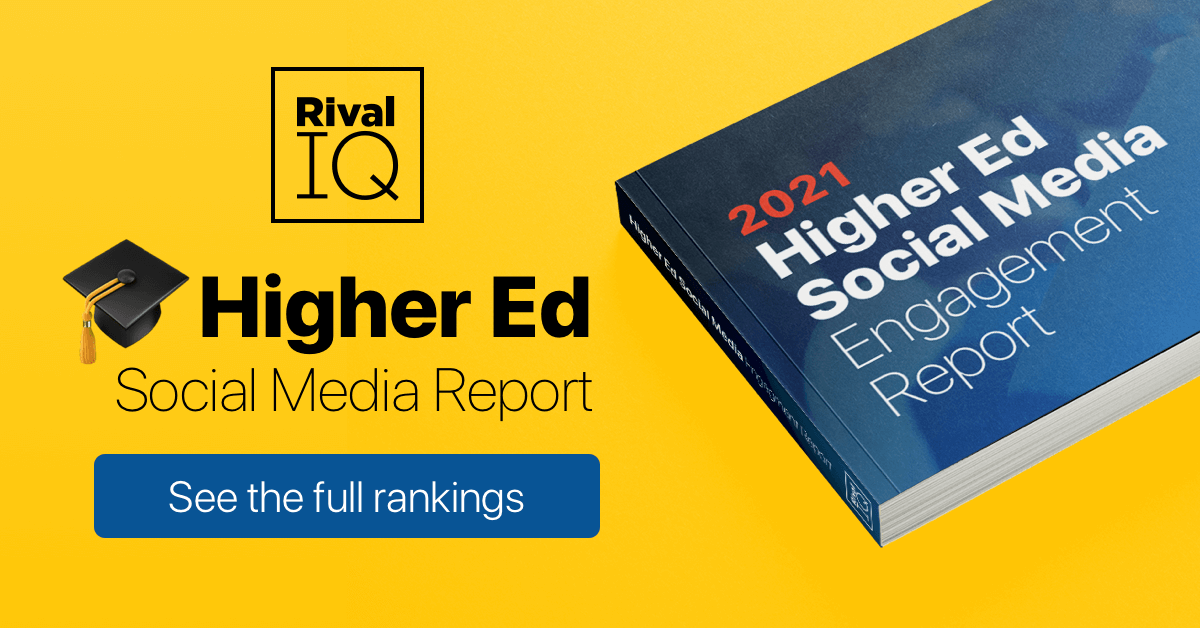 Top Overall Higher Education Institutions on Social
Colleges and universities really had their work cut out for them this year, so the top 10 deserve extra credit for creating engaging social posts through campus closures, COVID fluctuations, online classes, and so much more. University of Iowa is the D1 🐐 for the third year in a row, so good luck catching the Hawkeyes. James Madison University, Ohio University, Georgia Institute of Technology, Brigham Young University, Texas A&M, and Utah State University all managed to hang onto top 10 slots again this year as well.
| University | Overall Rank | Rank | Rank | Rank |
| --- | --- | --- | --- | --- |
| University of Iowa | 1 | 9 | 1 | 13 |
| Utah State University | 2 | 19 | 13 | 5 |
| Texas A&M University | 3 | 7 | 8 | 27 |
| Ohio University | 4 | 43 | 6 | 4 |
| Georgia Tech | 5 | 25 | 3 | 30 |
| Abilene Christian University | 6 | 35 | 5 | 25 |
| Syracuse University | 7 | 7 | 47 | 20 |
| Brigham Young University | 8 | 14 | 62 | 1 |
| James Madison University | 9 | 1 | 21 | 57 |
| Michigan State University | 10 | 61 | 9 | 10 |
But who doesn't love a good rookie story? Welcome to the top 10, Abilene Christian University, Michigan State University, and Syracuse University. You're in excellent company.
Is there one common thing all these schools have incorporated into their strategy to ace social media this year? Not exactly, but you can bet they're all dialed into what their followers want, even if that means diversifying content between channels. And yes, many of them also saw epic success by employing some or all of the Higher Education social media trends below.
Top Trend 1: Campus glamour shots
The most surefire way to inspire campus nostalgia for alumni, parents, and students suffering through online classes? Eye-catching shots of your school's campus at its very best. From sunsets to snow and so far beyond, this is an evergreen trend you need to jump on if you want to maximize your school's engagement on social. Bonus points if you enlist your on-campus population to help with these shots in the form of user-generated content (UGC).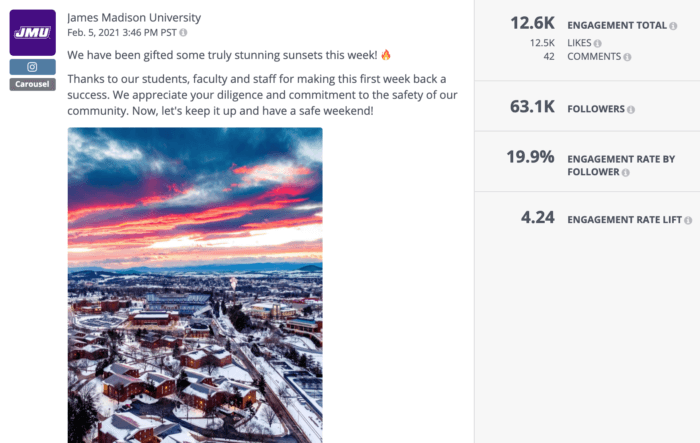 The school to beat for campus glamour shots is undeniably James Madison University, whose Instagram top posts are just one giant ode to their breathtaking campus. From snowy sunset shots like the post above to portraits of on-campus buildings looking their best, James Madison University knows just how to engage its followers. This post rocked a 19.9% engagement rate on Instagram, which is more than 5x the D1 school Instagram average.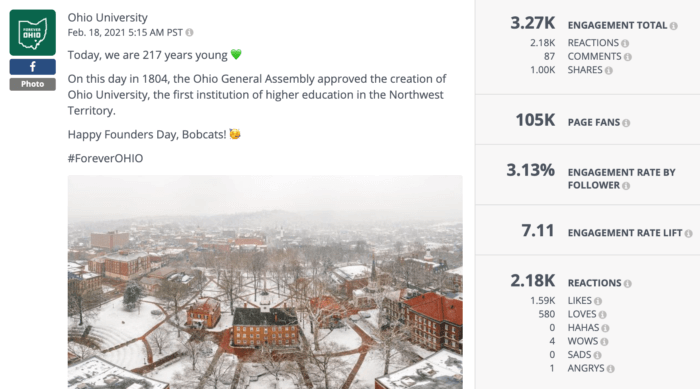 Ohio University also landed itself in the overall top 10 thanks to gorgeous campus glamour shots like this. This post earned a 3.13% engagement rate with more than 1,000 shares, suggesting students and alumni fell over themselves for the chance to share a snapshot of the Bobcat campus alongside this Ohio University birthday announcement.
Colleges and universities work so hard to make campus life meaningful for students, so it makes total sense to use social media to remind anyone with a tie to the campus about what a special and memorable place it can be.
Top Trend 2: Contests and giveaways
Social media marketers in every industry from beauty to outdoor retail and beyond know that contests are a surefire way to gin up engagement on any channel. Some of the top posts from D1 colleges and universities featured giveaways by encouraging followers to like, comment, tag, and share. Contests are a great strategy for increasing engagement on a single post while also increasing follower counts.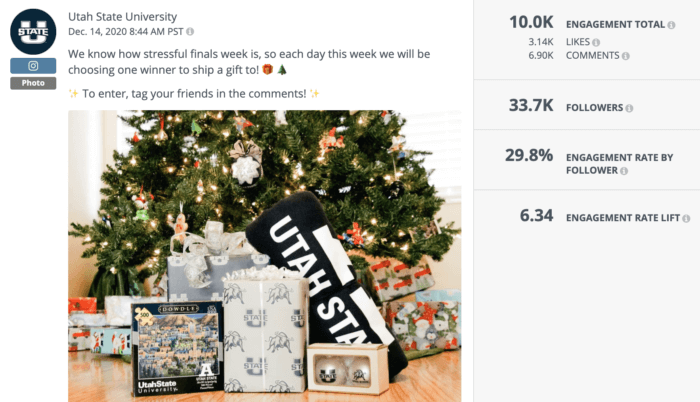 Utah State's holiday giveaway post was the university's most engaging social post on Instagram last year with more than 10,000 engagements and a 29.8% engagement rate. The school made it extremely easy for followers to enter by requiring nothing more than a comment with a tagged friend. Add in a little Aggie swag and you've got yourself a seriously compelling Instagram post.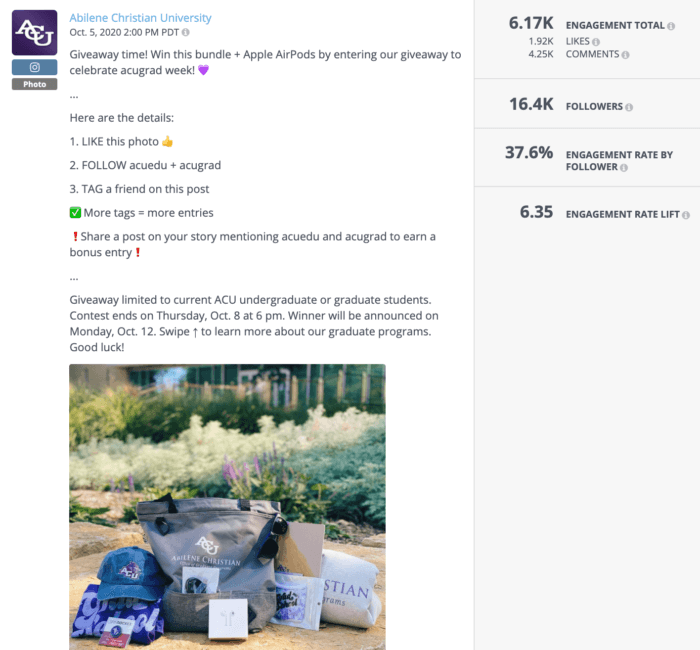 Abilene Christian University ran an Instagram contest in the spring that required a little more investment up front from followers but offered an epic payoff in the form of a swag bundle and AirPods. This post grabbed thousands of entries and a whopping 37.6% engagement rate while boosting follower counts for ACU and ACU graduate program accounts. Requiring entrants to follow related accounts is a smart outcome for contests and giveaways even if it means they need to take an extra step or two to win big.
Top Trend 3: Student, alumni, and school wins
Who doesn't love a win? Schools weren't afraid to shout the accomplishments of students and alumni, and of course also worked hard to feature campus achievements. Bragging about school-related achievements is another easy way to stir up school spirit, so it's no wonder this tactic is tried and true.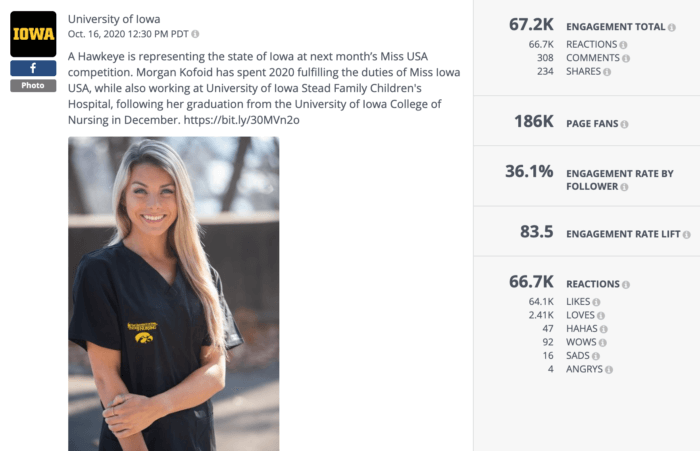 Overall and Facebook winner University of Iowa wasn't afraid to keep the win ball rolling with a flex about Hawkeye grad and nurse Morgan Kofold's quest for the Miss Iowa USA crown. This Instagram post was the Hawkeyes' most engaging post of the year (with a little help from boosting) with more than 67,000 engagements and a 36.1% engagement rate. Followers turned out in droves to wish her well on her quest for the gold, but knew that her time as a Hawkeye set her up for success no matter the outcome of the pageant.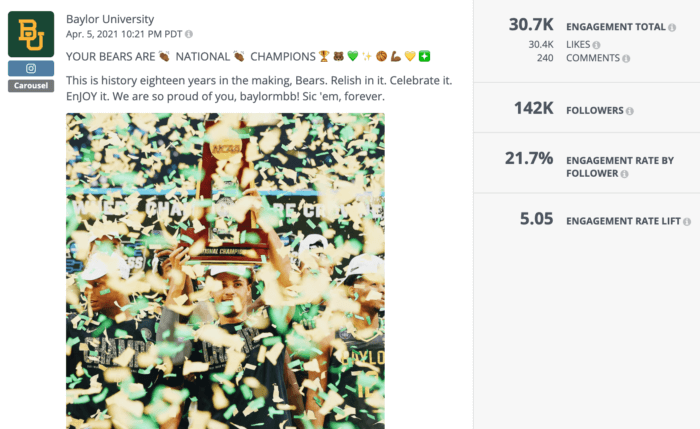 Baylor University ranked 11th overall thanks in part to engaging Instagram posts like this one celebrating their NCAA championship win this year. Can every college replicate these killer engagement stats by winning March Madness? Sadly no, but that shouldn't stop you from celebrating every student and alumni achievement on campus you can find, especially when paired with gorgeous photography like in this post. Congrats on your winning basketball team and social, Bears.
Top Overall University: University of Iowa
Hawkeye pride is a force to be reckoned with on the playing field, in academic buildings, and on social. In case you've been living under a Higher Education social media rock, the University of Iowa is the school to beat thanks to universally stellar engagement rates and totals across all three major social channels. With a first place finish on Facebook, and 9th and 13th place finishes respectively on Instagram and Twitter, the Hawkeyes prove you really can be good at everything if you put your mind to it.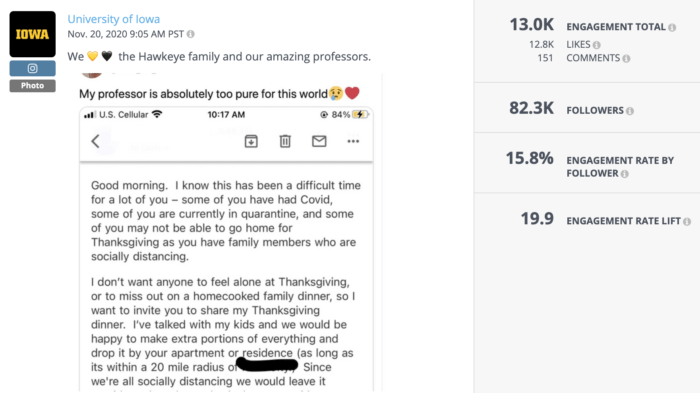 Instagram's engagement rates are many times higher than those on Facebook or Twitter, so it's an important channel to get right. Does the University of Iowa come out swinging with a showstopping image or video? Nope. The university's best post by engagement rate is a flippin' screenshot, indicating this school's confidence knows no bounds. This adorable and heartfelt UGC screenshot from a Hawkeye student about a professor's generosity over the holidays is too pure for this world, and Iowa's followers ate it up.
"Number one, our audience comes first. We believe in creating content that they value–it's not just about what we want to say. Next, we try to pay attention to every detail of a post. The specific time it's shared, the channel, the text, the images, descriptions, video length, video dimensions… it all matters." –Michael Benning, Director of Digital Marketing, University of Iowa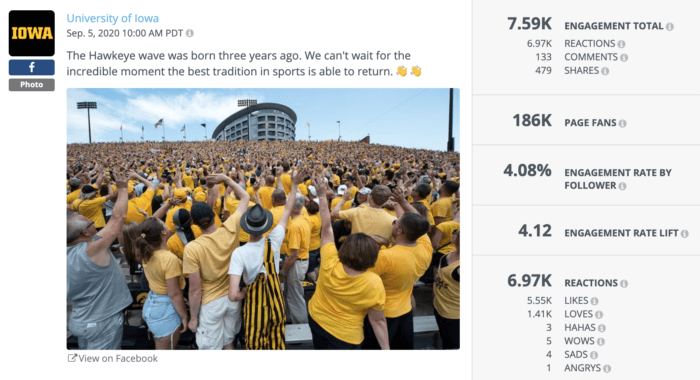 You can't talk about University of Iowa social media without talking about the #HawkeyeWave. This sports tradition started back in 2017 involves a stadium full of Hawkeye fans turning to the children's hospital that overlooks the field and waving at the kids and families watching from within. It's absolutely guaranteed to bring a tear to your eye while also garnering some serious social media engagement, and is a common theme running throughout University of Iowa's top posts on every channel. This Facebook post saw a 4.08% engagement rate, which was the third highest of the school year for the Hawkeyes.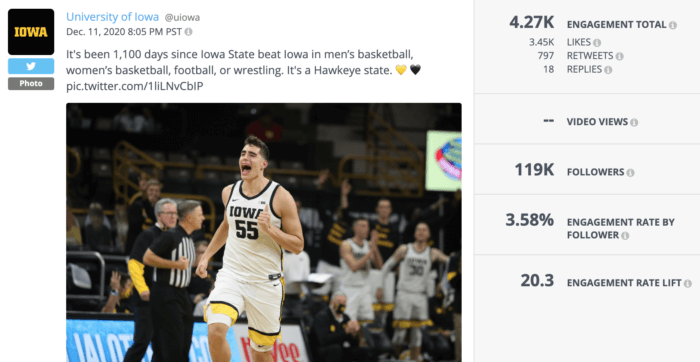 For the Hawkeyes, Twitter is for sports wins, and in the case of the tweet above, sports taunts. Nearly all of the University of Iowa's top tweets by engagement rates feature Hawkeyes dominating on the basketball court, wrestling mat, or football stadium, and fans and followers are here for it. This tweet pokes fun at arch-nemesis Iowa State with a little Hawkeye heart thrown in for good measure. With an engagement rate of 3.58%, or about 20x University of Iowa's annual average, this tweet topped the University of Iowa charts. While the tweet likes and retweets speak for themselves, a number of the replies were less sunny, reminding everyone that good engagement isn't the only way for a tweet to grab attention on social.
Top Higher Education Institutions on Instagram
Instagram is a serious battleground for colleges and universities on social media since it's one of the most engaging social channels for their key 18-24 target audience. With such high stakes, schools fight hard for a piece of the Instagram pie, and as such we see less movement in the top 10 on this channel than on Facebook and Twitter. James Madison University and Virginia Tech repeated their 1-2 finish again this year, while University of Iowa, University of Vermont, and University of Pittsburgh were also able to hold onto top spots in the top 10 again.
Rank
University
Total Engagement
Engagement Rate
1
James Madison University
703,819
7.26%
2
Virginia Tech
835,377
5.51%
3
University of Vermont
497,649
7.05%
4
University of Pittsburgh
605,396
5.98%
5
University of Connecticut
1,009,304
4.89%
6
Northern Arizona University
886,730
4.94%
7
Texas A&M University
2,482,177
4.48%
7
Syracuse University
670,311
5.43%
9
University of Iowa
822,674
4.89%
10
University of Dayton
333,179
6.84%
University of Dayton ascended 20 spots on the Instagram ranking to break into the top 10 but actually lost some ground in the overall rankings, suggesting that Instagram isn't everything after all.
These top schools performed well above the median engagement rate for D1 schools of 3.56%, while keeping pace with or exceeding the median posts per week of 3.6. Top schools also carved out a lead by emulating the trends laid out above, and even setting a few of their own. Let's get into how Virginia Tech clinched the silver medal on Instagram for the second year in a row.
Top University on Instagram: Virginia Polytechnic Institute and State University
Virginia Tech has been an Instagram powerhouse for a number of years thanks to a consistently high follower count compared to other top universities and engagement rates about 50% higher than the average college or university on this channel. Virginia Tech saw finishes in 50th place on Facebook and 41st place on Twitter, suggesting ​​Instagram is clearly an area of focus for the Hokie social media team.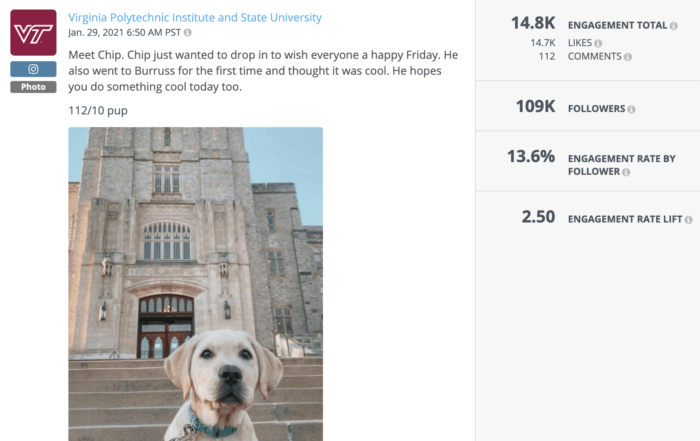 Every savvy social media marketer knows puppies are the real secret to engaging content on social (kidding–sorta). Chip's adorable mug in front of this Virginia Tech landmark delighted followers to the tune of a 13.6% engagement rate, which is more than 2.5x the school's average on Instagram. A We Rate Dogs-style post with a campus tie-in is a simple but effective way to drive engagement that we're frankly all for. Now, what's stopping your college or university from showing off the best and the cutest of your own dog brigade?
"While last year was especially challenging because of the pandemic, we were able to feature the joy of campus student life while also showing how the university was working to keep everyone safe. We also dipped our toe back into having fun and engaging non-COVID posts, and our audiences really seemed to love that respite." –Susan Gill, Director of New Media, Virginia Tech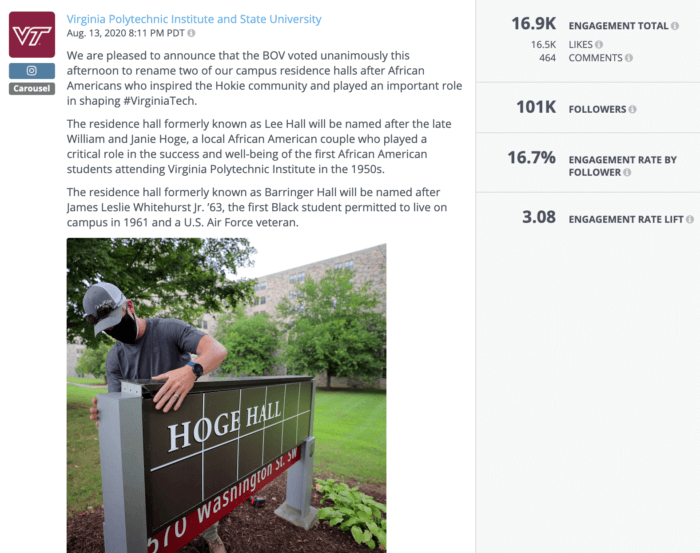 A trend we approve of even more than puppies is universities taking a critical lens to how Black students and employees experience campus life in the past, present, and future. Thanks to the leadership of POC students and community members, we saw many universities stepping up last year in the wake of George Floyd's murder to right past wrongs and make campuses more inclusive, and Virginia Tech is no exception.
This carousel post about the university's decision to rename residence halls after influential Black Virginia Tech community members was Virginia Tech's second most engaging Instagram post of the last school year. While the majority of the community engagement on this post was positive, it would be unfair to say that the decision to rename the residence halls was unilaterally supported. Taking a stand for what's right on social media isn't always easy, but Virginia Tech sent a powerful message to its community with this post about its priorities.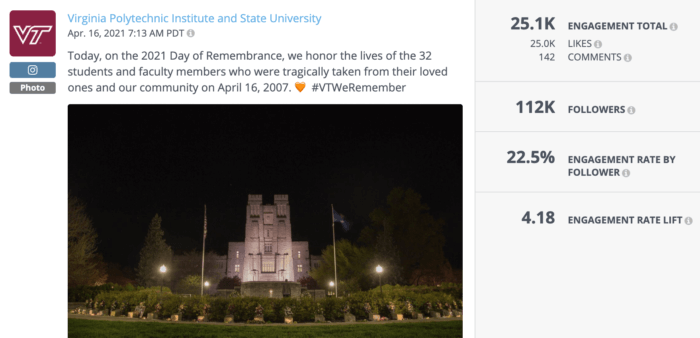 While many universities have the easy job of posting about move-in day, campus life, or even puppies, Virginia Tech faces the monumental challenge each year of remembering those lost in the campus shooting in 2007. Year after year, the Hokie community turns out in force to remember the 32 victims on campus and on social media, and this simple post is no exception. With more than 25,000 engagements and a whopping 22.5% engagement rate, this post serves to galvanize the campus and memorialize those lost in the shooting. This post was Virginia Tech's most engaging Instagram post of the year by a mile, reminding us that remembering campus history is a lot more important than sidestepping it.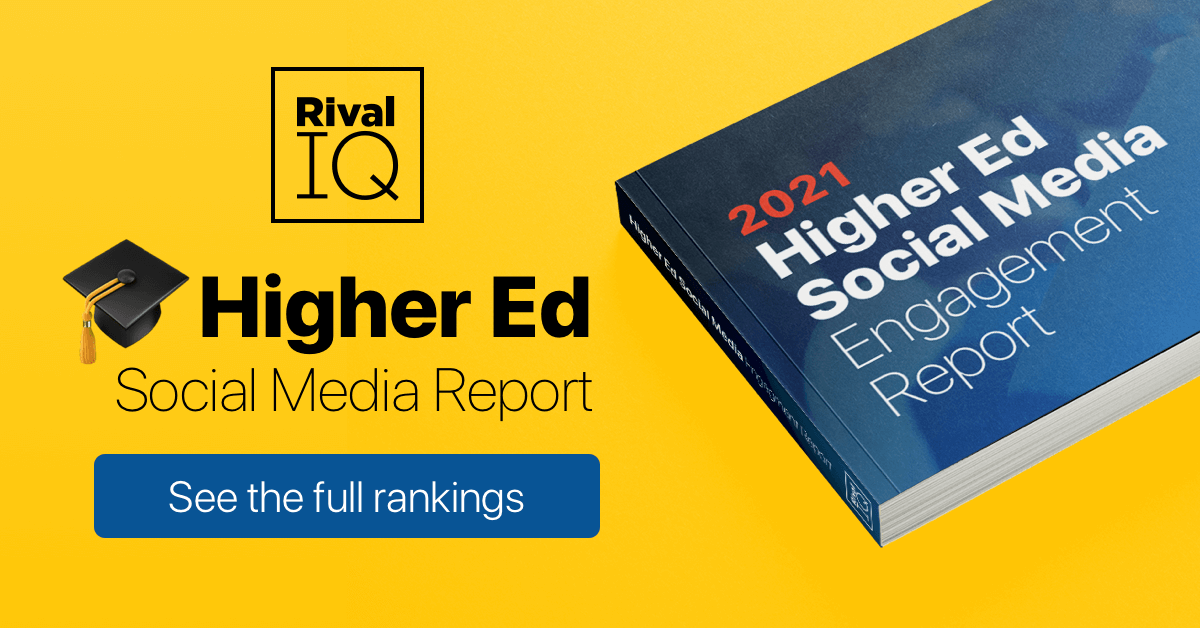 Top Higher Education Institutions on Facebook
D1 colleges and universities saw a 20% decrease in Facebook engagement this year from 0.27% to 0.22% while posting frequency stayed quite flat at around one post per day. If you're feeling glum about that engagement rate decrease, just remember that Higher Ed is still one of the best-performing industries on Facebook year after year.
Rank
University
Total Engagement
Engagement Rate
1
University of Iowa
681,913
1.00%
2
U.S. Military Academy
931,155
0.55%
3
Georgia Tech
278,760
0.69%
4
Jackson State University
351,587
0.59%
5
Abilene Christian University
183,181
0.60%
6
Ohio University
329,582
0.46%
7
The Citadel
153,760
0.84%
8
Texas A&M University
1,177,632
0.39%
9
Michigan State University
405,211
0.41%
10
Virginia Military Institute
128,373
0.97%
As for Facebook rankings, University of Iowa absolutely dominated with an average engagement rate nearly double what second place finisher U.S. Military Academy (West Point) managed. University of Iowa used this killer engagement rate to repeat its first place finish on this channel for the third year in a row. Georgia Institute of Technology, Texas A&M University, Michigan State University, and The Citadel held onto their spots in the top 10 again this year, while newcomers Virginia Military Institute, Ohio University, Jackson State University, and Abilene Christian University climbed the ranks to finish in the top 10 for the first time.
Let's get into how Georgia Institute of Technology finds success on Facebook year after year.
Top University on Facebook: Georgia Institute of Technology
Georgia Institute of Technology is embodying the adage "work smarter, not harder" when it comes to Facebook. Georgia Tech rocks an extremely competitive average engagement rate of 0.69% while posting about half as often as the average D1 school with just 4.76 posts per week. We always encourage schools and brands to focus on high quality content rather than posting for the sake of posting, and this university definitely exemplifies that philosophy.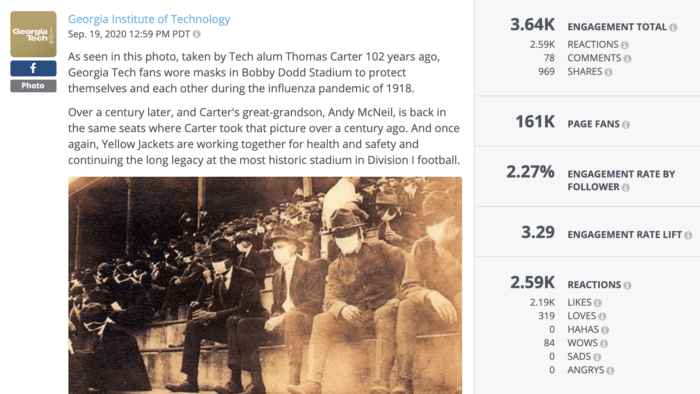 The backbone to Georgia Tech's winning social strategy? Taking what works on one channel and repeating that success on another. Georgia Tech posted this eerily reminiscent photo on Facebook shortly after posting it on Instagram and Twitter, and it grabbed 3.3x the average engagement on Facebook and fared even better on other channels. A timely message about coronavirus paired with this dynamic photo clearly resonated with Georgia Tech's followers no matter the channel. This post is one of many that can be seen ranking well on all three channels, suggesting Georgia Tech knows what their audiences want and see a fair amount of overlap in those desires between Facebook, Instagram, and Twitter. Diversifying your content makes sense only if your followers call for it, and that doesn't seem to be the case for Georgia Tech.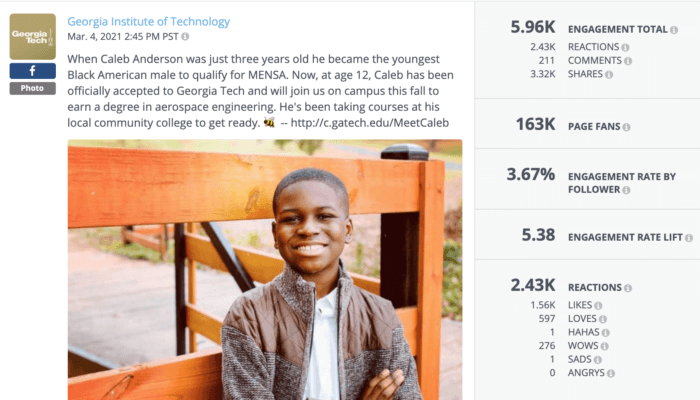 Not many universities can claim a 12-year-old MENSA freshman, but Georgia Tech can and took the opportunity to shout this Yellow Jacket's accomplishments from the social media rooftops. Georgia Tech's most engaging Facebook post of the year rocked a 3.67% engagement rate, which is more than 5x the university's already outstanding average engagement rate. This post grabbed tons of attention including oodles of positive reactions and comments. (And yes, this post also saw great engagement on Georgia Tech's Instagram and Twitter.) Celebrating the accomplishments of incoming and current students as well as alumni is a surefire engagement strategy for Higher Education social media.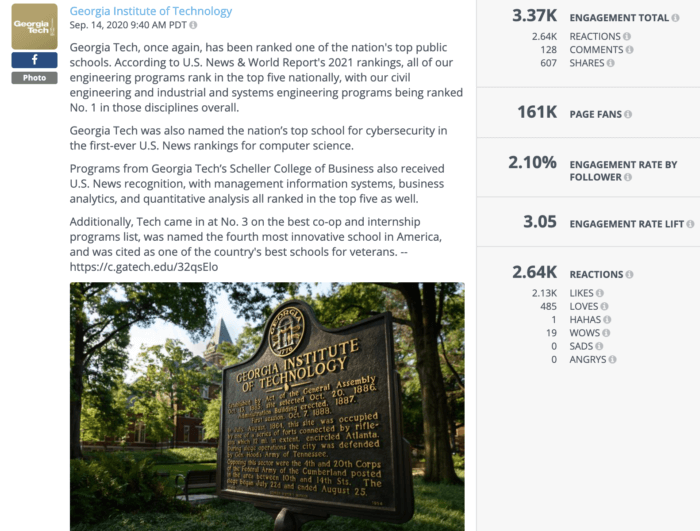 Who doesn't love celebrating a big win on social? From numerous top finishes in the coveted annual U.S. News & World Report's rankings to winning the ACC championship, the Yellow Jackets turned out in force to celebrate together on social. This post saw more than 3x the engagement of the average Georgia Tech post, with lots of excited comments further galvanizing school spirit. It's no surprise that Higher Ed social media is all about the accolades, but your school doesn't necessarily need a March Madness win to celebrate big wins for students and alums on and off campus.
Top Higher Education Institutions on Twitter
D1 schools saw a slight engagement dip on Twitter this year from 0.14% to 0.11% while still remaining miles ahead of other industries on this channel. Does Higher Ed's tweet frequency of 9.5 tweets per week (which is more than 2x the all-industry average) help explain this engagement bump? It certainly doesn't hurt.
Rank
University
Total Engagement
Engagement Rate
1
Brigham Young University
110,872
0.41%
2
Indiana State University
388,734
2.14%
3
Prairie View A&M University
80,060
0.35%
4
Ohio University
105,324
0.22%
5
Utah State University
49,100
0.35%
6
North Carolina A&T State University
71,980
0.27%
7
Oregon State University
53,315
0.34%
8
University of Florida
242,220
0.19%
9
University of Houston
123,966
0.21%
10
Michigan State University
157,047
0.19%
The top-ranked colleges and universities on Twitter this year featured a few repeat winners like Brigham Young University, Ohio University, and Utah State University, while Indiana State University and Prairie View A&M University outdid themselves with epic growth on Twitter from 2020 to 2021.
There's no one thing that makes a university shine on Twitter, but a great place to start when evaluating the Twitter greats is to look at tweet frequency. Top universities in this study on Twitter tweeted about 27x per week, or about triple the industry average. "More is more" isn't a one-size-fits-all adage, but giving people more opportunities to engage with your tweets a few times a day works great as long as the quality is high.
Top University on Twitter: Utah State University
The Utah State University Aggies are consistently stellar performers on social across all three channels year over year. The Aggies ranked second overall by squeezing into fifth place for the second year in a row on Twitter while bringing up both Facebook and Twitter rankings. Like so many universities, the Aggies benefitted from having a beautiful campus to show off in photo posts and tweets, but this university had a few other tricks up its sleeve that helped it stand out on social, and especially on Twitter.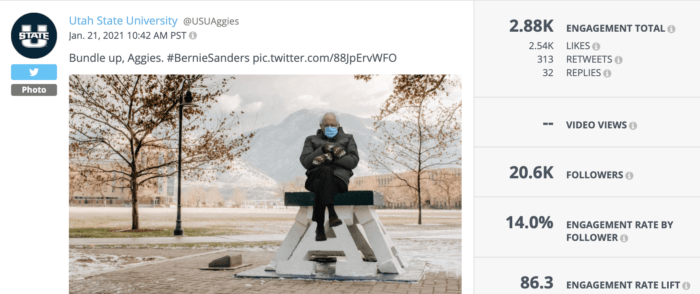 This January tweet from USU was one of the most engaging tweets of the year with a whopping 14% engagement rate. This simple tweet is a good reminder for social media marketers that you can plan your content calendar to death, but the best posts and tweets are often reactive instead of proactive. USU managed to entertain and engage followers by uniting a campus glamour shot with the meme of the moment to earn 86x their average engagement on Twitter.
"Twitter is our favorite channel for humanizing the USU brand, so humor and memes are a big part of our strategy there. It keeps our audiences engaged with us, so when we actually have something important to say, we know they are paying attention. The shorter shelf life of Twitter content also gives us flexibility to experiment and get extra mileage out of content we originally created for other platforms, such as our super popular Instagram campus beauty shots." –Matthew Gerrish, Director of Social Media, Utah State University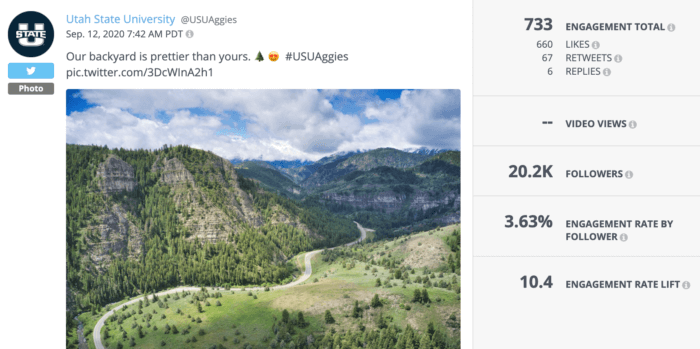 Repurposing content is a tried and true strategy that has really benefited USU on Twitter, with many of the university's top tweets looking an awful lot like their Instagram feed of campus glamour shots, like this shot of a winding road and epic cliffs in Logan, Utah. This tweet performed about 10x better than USU's average tweet with a 3.63% engagement rate. This photo and caption also killed it on Instagram just a few hours after this tweet was posted, suggesting that USU's social media team isn't just posting and forgetting, but is paying attention to top performers and repurposing content.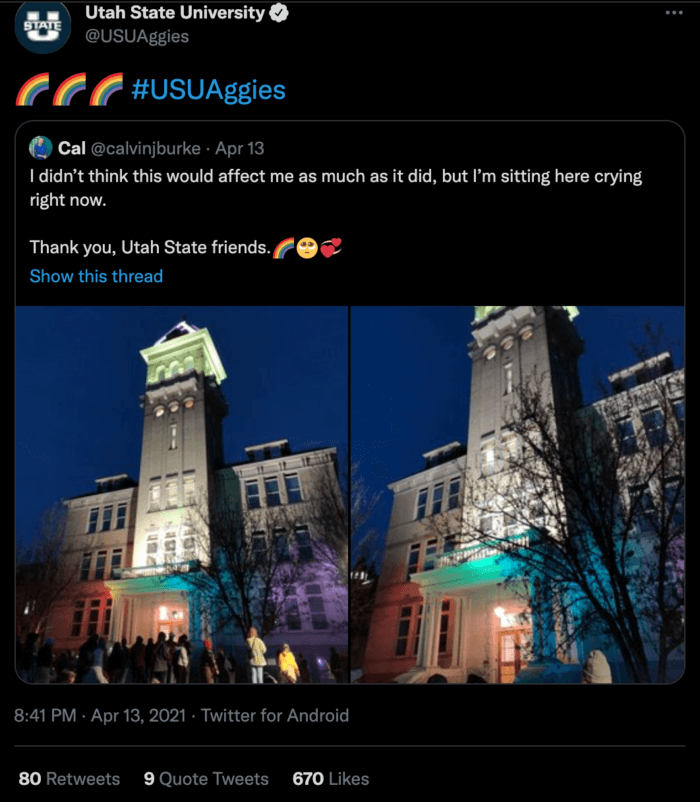 This Pride-themed tweet combined two of everyone's favorite things: campus glamour shots and love. This UGC retweet grabbed USU's third-highest engagement rate of the school year, which is more than 10x higher than the school's average tweet engagement. The Aggies posted about Pride and love for all on every channel, but saw the most success posting about this on Twitter, with a second Pride tweet breaking into the top 15 for the university. This tweet reminds us that even in a more conservative state, it's okay for universities to take a stand for causes that matter to their students, alumni, and parents.
Live Higher Education Social Media Benchmarks
Comparing your school's social performance has never been easier. Browse our Live Higher Education Social Media Benchmarks for a real-time look at top Higher Education posts, engagement rates, high-performing hashtags, and tons more. You can even add these benchmarks directly into your Rival IQ account for always-on monitoring of these top brands.
Need even more competitive analytics? Go head-to-head with a free report on Facebook, Instagram, or Twitter to see how you stack up against your top competition. See what makes your competitors tick with key insights and actionable advice you can start using now to come out on top.
If you're hungry for even more stats, start a free 14-day trial with Rival IQ.
Methodology
We surveyed all 353 D1 colleges and universities on social media between June 1, 2020 and May 31, 2021 on Facebook, Instagram, and Twitter. Using this data and a weighted formula, we generated an overall engagement ranking for each school. The top-ranked colleges and universities on social media have high engagement rates with average or better audience size and posting volumes.
We define engagement as measurable interaction on social media posts, including likes, comments, favorites, retweets, shares, and reactions. Engagement rate is defined as the total engagement divided by the number of followers.
The Case for Benchmarking
Why benchmark instead of just measuring how your school's individual performance changes over time? Because social success is relative. Benchmarking means figuring out what's working (and what isn't) in your industry and measuring your success against that.
It's crucial to go beyond likes and favorites because audience size is hugely important: 100 likes is great engagement for a college or university with 1,000 followers but is a drop in the bucket to a school with 100,000 followers. Engagement rate helps us take audience size into account to see who's really reaching the highest percentage of their fans and followers with their social posts, which are the schools you need to beat.
Wrapping It Up
Congratulations to all the top finishers–especially to those who were able to hold onto dynamite leads or break into the top 10 for the first time.
We're wishing colleges and universities around the country a safe and happy return to school this fall. Between writing this report and being glued to #rushtok, we feel like we're right back to Move-In Day 🎓.
Want to proclaim your school's success or argue with our rankings? Don't hesitate to drop us a line on Twitter.