Just in time for the new school year, we're releasing our latest report on all things Higher Education social media!
Read on for the definitive report on what D1 colleges and universities are up to on social for tons of #inspo. Don't forget to download the full rankings to see exactly how your school measures up. We're also excited this year to roll out a new bonus feature showing the best of social media from Historically Black Colleges and Universities (HBCUs).
This year has been one of the most interesting and challenging for Higher Education, and we're impressed and amazed by all these schools have done to roll with the punches. Read on for everything that made Higher Education social media awesome this year.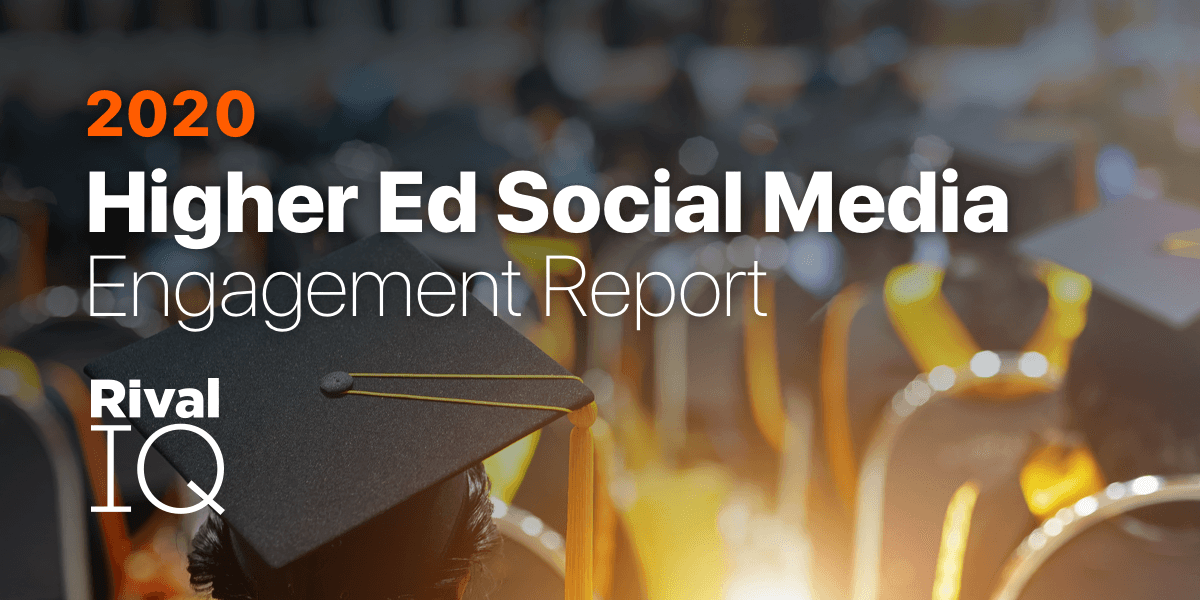 Top Overall Higher Education Institutions on Social
Congrats to the University of Iowa for grabbing the Higher Education social media gold for the second year in a row! James Madison University also managed to stay firmly within the top 5, while the U.S. Air Force Academy and Ohio University deserve epic props for scaling the ranks by dozens of positions. We love a good underdog story, especially when it comes to undergraduate institutions.
| University | Overall Rank | Rank | Rank | Rank |
| --- | --- | --- | --- | --- |
| University of Iowa | 1 | 1 | 4 | 9 |
| James Madison University | 2 | 8 | 1 | 16 |
| U.S. Air Force Academy | 3 | 7 | 23 | 1 |
| Virginia Tech | 4 | 24 | 2 | 7 |
| U.S. Naval Academy | 5 | 28 | 6 | 5 |
| Ohio University | 6 | 12 | 31 | 4 |
| Texas A&M University | 7 | 9 | 43 | 19 |
| Utah State University | 7 | 25 | 22 | 5 |
| University of Dayton | 8 | 20 | 30 | 25 |
| Georgia Institute of Technology | 9 | 2 | 37 | 38 |
| Brigham Young University | 10 | 75 | 3 | 3 |
Some top performers like the University of Iowa and the University of Dayton performed consistently across Facebook, Instagram, and Twitter. Others like Brigham Young University and Texas A&M University stood out on one or two channels and lagged behind on others. We love studying these standout schools each year because of how success on social media evolves over time. Let's jump into what success on social looks like for Higher Education this year.
Top Overall University: University of Iowa
We can't exactly say we're surprised to see the Hawkeyes dominating our rankings for the second year in a row because this university knows its way around social. Clinching a first-place win on Facebook and 4th and 9th places on Instagram and Twitter respectively, U of I's win is easy to explain: this school puts considerable time and effort into knowing what makes their followers tick on every channel. The Hawkeyes further stand out by varying their content between channels, curating dynamic experiences for followers even if they're following their beloved U of I on multiple platforms.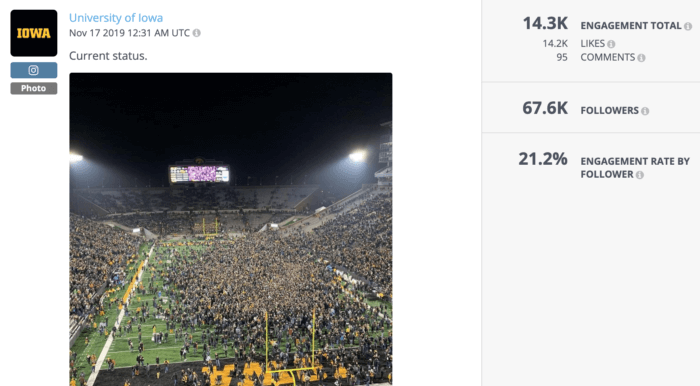 U of I often uses Instagram to report on big wins on and off the football field, to the wild delight of their followers. This post about a big win for the Hawkeyes' didn't need anything besides a short caption and a photo that says it all to grab a 21.2% engagement rate, which is some of the highest engagement we saw all year. U of I's Instagram feed deals lots of easily double-tappable content and saves links and other content that requires a deeper dive for Facebook or Twitter, which is a strategy that has worked well for other colleges and universities this year. We can't stress enough the importance of tailoring your content to your followers, and those looking for some instruction can definitely take a page out of U of I's book.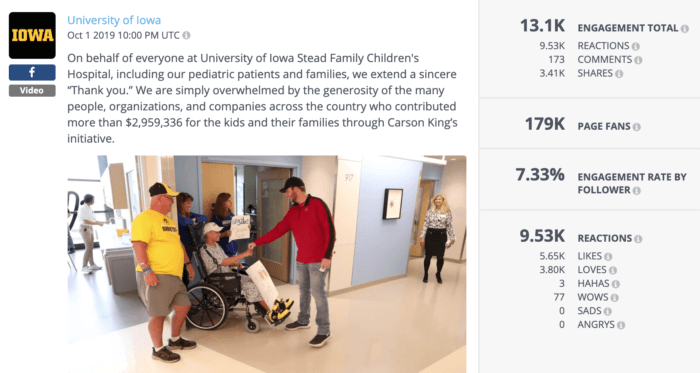 U of I used Facebook to get a little more serious with their followers this year, like in this post about raising money for their world-renowned children's hospital. With an engagement rate 27 times higher than the Higher Education median this year, it's clear that U of I loved seeing so much support for their pediatricians saving lives. This simple post didn't even feature so much as a link to donate or learn more, reminding us that a little gratitude can go a long way.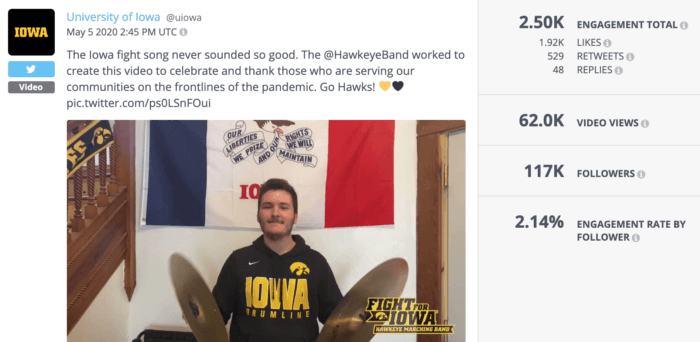 Of course, it's hard to talk about social media in 2020 without referencing coronavirus, and U of I was no exception. This top-performing tweet featured the Hawkeye marching band making music for a cause, which in this case was honoring healthcare workers and others on the front lines of the coronavirus pandemic. This adorable video (go watch, we'll wait) is a simple tribute that's overflowing with campus pride, offering a fun take on content while everyone is stuck at home.
The University of Iowa shows us year after year that they have a large and very engaged fanbase that's ready to grab whatever slice of Hawkeye life they can on social. Some of their secret sauce is about being good at sports or a popular place to go to college, but they also employ strategies that even small schools without a sports focus can steal, like tailoring content to each channel and simplifying instead of overcomplicating.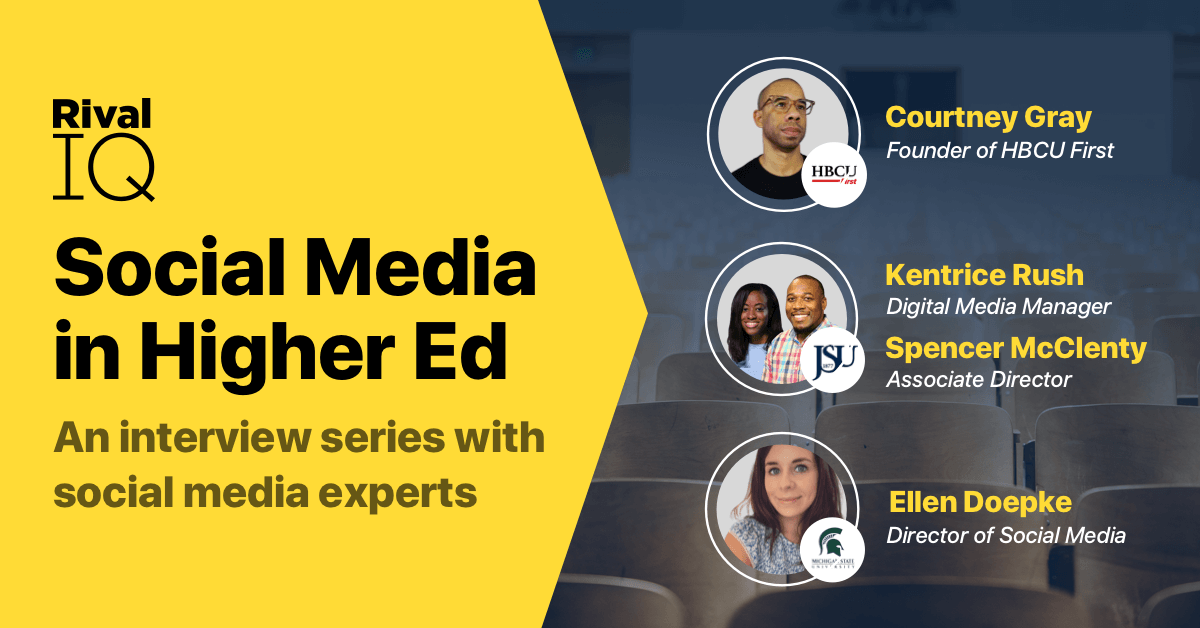 Register for the 3-part webinar series on Higher Ed Social Media
Save your spot
Top Trend 1: User-Generated Content and Glamour Shots
Higher Education social media has two key advantages over other industries: stunning campuses to show off, and thousands of people wandering around said beautiful campus every day snapping beautiful photos. Colleges and universities are able to tap into the engaging world of UGC and glamour shots in a way that, ahem, a SaaS company just can't, and these posts perform at the top of the class in an already high-engagement industry.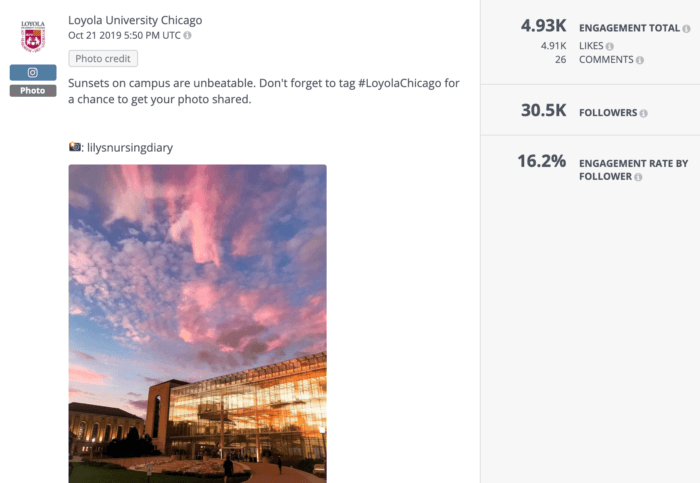 Loyola University Chicago engaged a whopping 16.2% of their Instagram followers with this stunning shot that combines the best of a campus glamour shot with UGC. And their caption encouraging followers to use the #LoyolaChicago hashtag to submit even more UGC? The perfect way to keep the UGC machine moving. Loyola grabbed 39th overall and 57th on Instagram, but this beautiful post scored their third-highest engagement rate of the year, suggesting they should do more of this type of posting.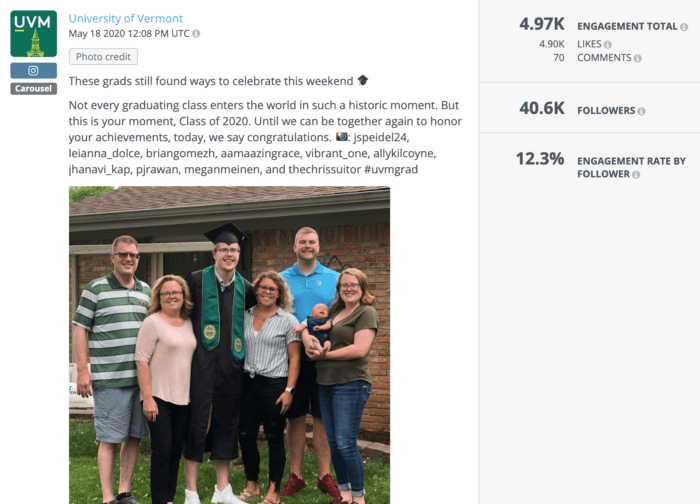 UGC has never been handier than during the coronavirus pandemic, and is a great way to feature the campus experience at home. Schools like the University of Vermont celebrated graduation with their followers thanks to this UGC snap from a member of the class of 2020 celebrating graduation at home with his family. Higher Education social media marketers everywhere are adapting to the new world we find ourselves in, and colleges and universities did a great job of showing what it means to extend the campus experience all around the world.
Top Trend 2: Coronavirus/COVID-19
It just wouldn't be social media in 2020 if we didn't talk about the enormous impact coronavirus has had on schools and lives all around the world. With so many students and parents looking for answers to tough questions about attendance this spring, many colleges and universities saw a big boost in engagement in March before trending downward again.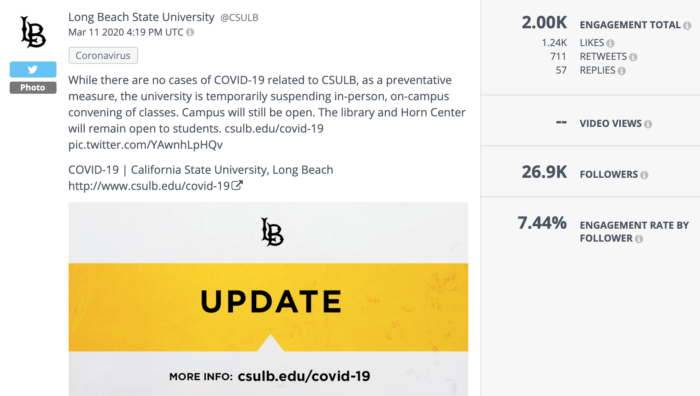 Engagement during coronavirus also showed how dependent schools are on campus events like sports wins, graduations, and reunions for content. With the exception of update posts like this one, Higher Education really took an engagement hit second semester this year without these fun events that inspire campus pride.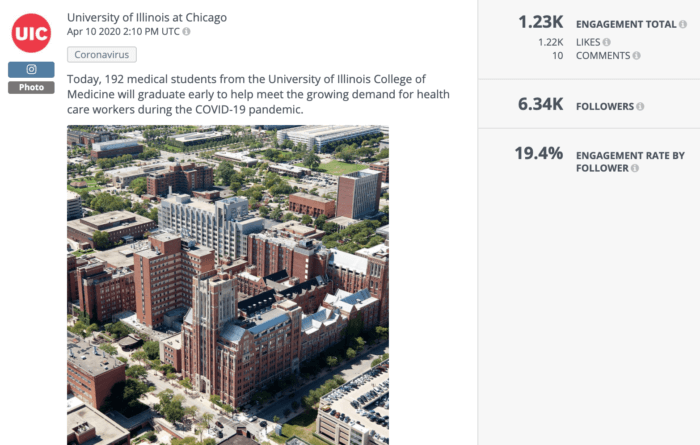 While students and parents were glued to their school's Twitter feeds for news about going back, there were a few other kinds of coronavirus-related posts that really resonated with followers. This post from the University of Illinois at Chicago exemplified successful coronavirus content by telling followers what they're doing to fight the virus, which inspired a lot of engagement. Many colleges and universities with hospitals or research programs saw similar success when they posted about their efforts to stop the spread of coronavirus.
Posting about coronavirus is a necessary evil in 2020, and we should expect to see more of the same for the rest of the year (and beyond). Colleges and universities did their best to make lemonade by balancing their coronavirus content between being informative and inspiring.
Top Trend 3: #Winning
From contests and giveaways to sports wins to top spots in Higher Education social media reports (like this one), colleges and universities were the first to sing their own praises on social this year, and their followers ate it up.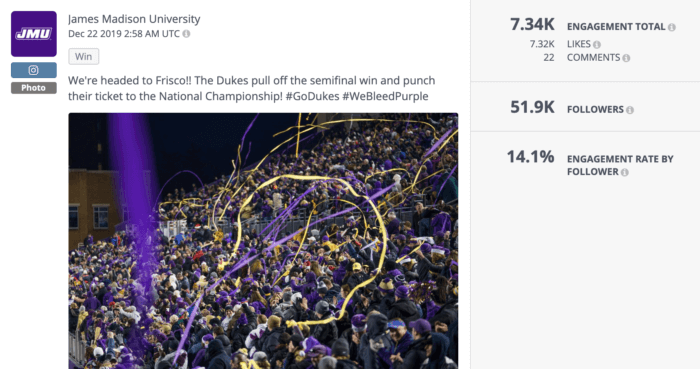 James Madison University topped our Instagram charts this year thanks to posts like this about their semifinal win last winter. This photo isn't exactly artfully framed or perfectly composed, but it captures the energy and excitement of the big win for all Dukes that couldn't be there in person.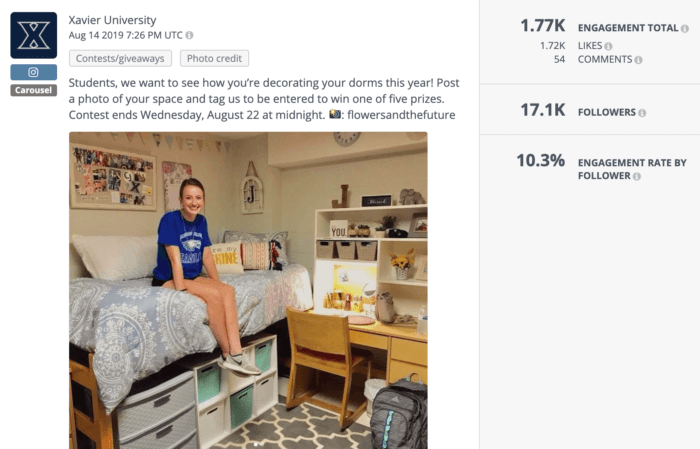 Everybody loves the chance to win some campus swag, so schools saw lots of follows, comments, and replies to contests and giveaways this year. Schools like Xavier University made the most out of these contests by using them to solicit UGC that they can easily use throughout the school year to show off campus through the eyes of their students.
One theme that ran through many of the top Higher Education social media posts this year was campus pride, and posts across every channel that grabbed the highest engagement rates helped inspire campus pride in students, parents, and alumni.
Top Higher Education Institutions on Instagram
Higher education is always a top-performing industry, and their performance is especially noteworthy on engagement juggernaut Instagram. Colleges and universities saw a median 4.14% engagement rate on Instagram this year, which is almost 4x the industry median.
Rank
University
Total Engagement
Engagement Rate
1
James Madison University
750,669
8.99%
2
Virginia Tech
962,418
6.85%
3
Brigham Young University
623,693
8.13%
4
University of Iowa
1,096,715
6.05%
5
University of Vermont
684,656
6.86%
6
U.S. Naval Academy
2,195,721
5.40%
7
Holy Cross
350,208
9.17%
7
University of Pittsburgh
450,352
7.36%
9
University of Massachusetts, Amherst
755,857
6.12%
10
Binghamton University
607,175
6.50%
This astounding engagement is multifaceted, but can be at least partially explained thanks to the fact that a whopping 67% of 18-29-year-olds are on Instagram. Higher Education is benefitting from a serious Instagram boost because the channel is so densely populated with its target demographic. Of course, this success goes beyond lucking into the attention of college students: these savvy institutions are also making the most of the trends we outlined above to maximize engagement on Instagram.
Top University on Instagram: James Madison University
Three cheers to James Madison University for clinching the coveted top spot on Instagram this year thanks to truly stellar engagement. This Virginia university didn't even break into our top 10 on Instagram last year, so we commend this higher education institution for doing its homework and studying up for top marks this year.
JMU scored second in our overall rankings with an 8th place Facebook rank and 16th on Twitter, suggesting this university knows how to flex its social muscles far beyond the confines of Instagram. Since JMU won the highest score on the world's most engaging social channel, let's focus our study on Instagram for now.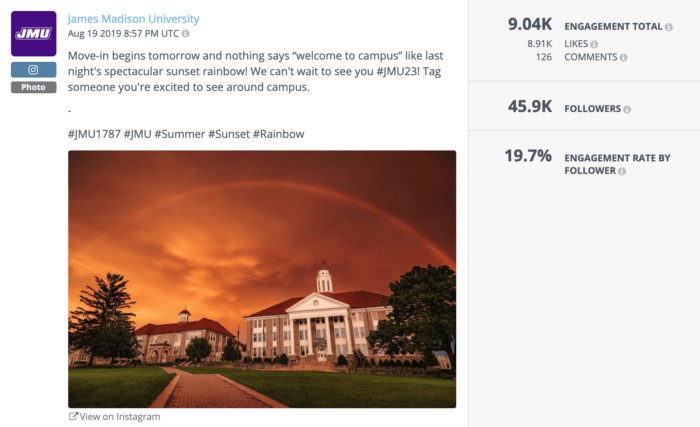 One of JMU's highest-performing Instagram posts of the year featured this gorgeous glamour shot of their campus, complete with a sunset rainbow. This epic shot scored 19.7% engagement rate by follower, which is almost 5x the median engagement rate for higher education social media this year. Four of JMU's top posts by engagement rate on Instagram this year featured gorgeous shots of campus, suggesting their followers really appreciate the chance to see the campus in a new (and scenic) light.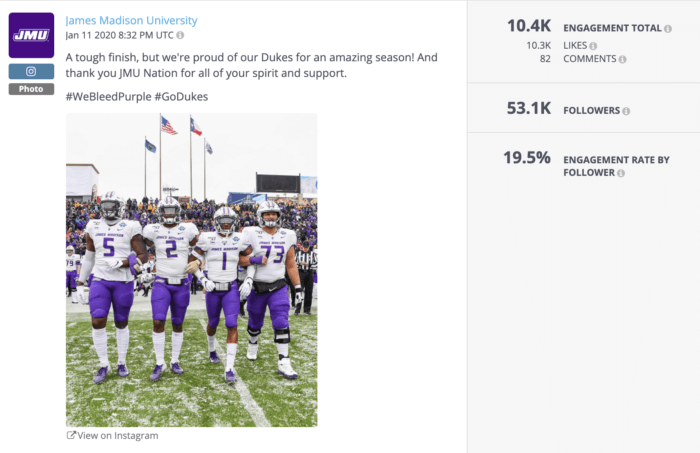 It's almost hard to remember a time with college sports in the wake of coronavirus, but some of JMU's top posts featured major wins from their fighting Dukes on the football field and basketball court. Interestingly, JMU's top-performing Instagram post about sports commemorated the end of Duke season instead of a major win. We're used to seeing high-engagement sports posts be all about the win, but JMU's fans were eager to engage with their beloved Dukes even with a loss. JMU earned so much engagement on Instagram because their fans were willing to stick with the university through thick and thin: from coronavirus campus closures to crushing sports defeats, JMU could do no wrong on Instagram this year.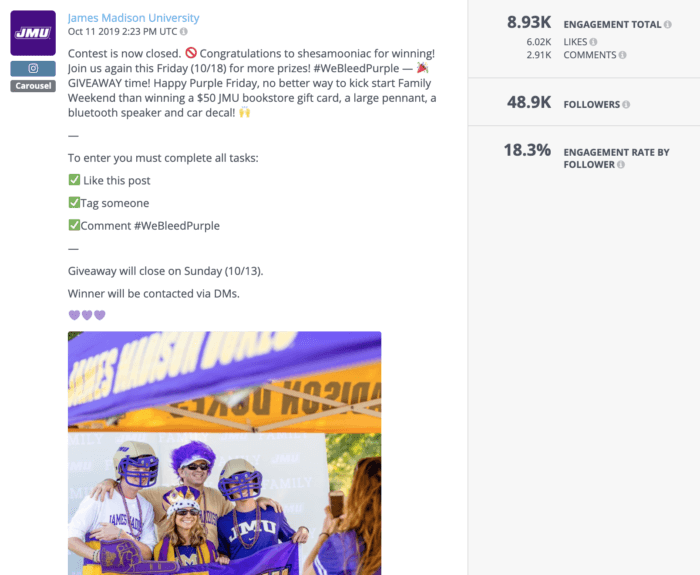 JMU hopped on the contest bandwagon this year to great success. With a prize package featuring some low-cost campus swag, JMU was able to encourage almost 3,000 comments with this post thanks to swag-hungry followers, which landed this Instagram post squarely in JMU's top 10 for the year.
This post had more than 2x the comments of JMU's second most-commented-upon post for the year, so it serves as a great reminder that encouraging comments, especially with a simple giveaway, can have really positive results. This giveaway gets extra credit for calling out the winner in a post update, because this strategy encourages entrants to check back on the post regularly, thereby increasing impressions and potentially engagement even more. Contests and giveaways are a tried and true engagement strategy across any industry, but this example from JMU is a cut above.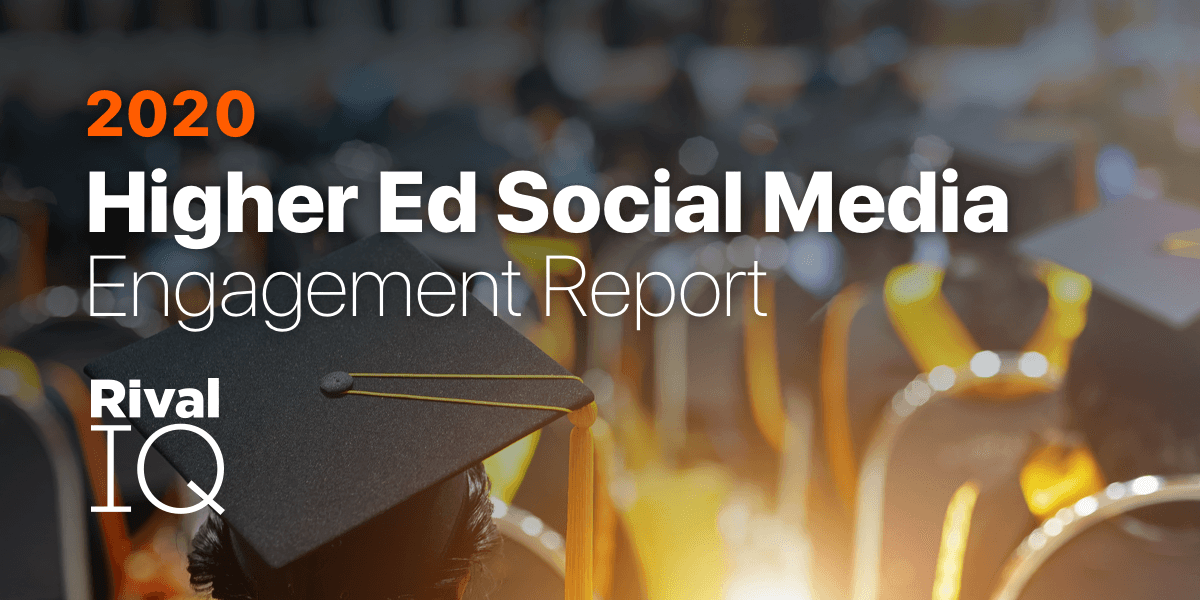 Top Higher Education Institutions on Facebook
Colleges and universities were able to hang onto their comparatively high Facebook engagement rates from last year, slipping down to 0.27% from 0.31%. Not too shabby, especially during such a tumultuous year. Higher education institutions leveraged these high engagement rates by averaging more than one post per day on Facebook.
Rank
University
Total Engagement
Engagement Rate
1
University of Iowa
1,151,196
1.64%
2
Georgia Institute of Technology
351,555
0.89%
3
Michigan State University
645,664
0.60%
4
West Virginia University
793,668
0.55%
5
Clemson University
301,183
0.57%
6
Colorado State University
263,674
0.55%
7
U.S. Air Force Academy
1,259,521
0.44%
8
James Madison University
226,228
0.56%
9
Texas A&M University
1,146,535
0.44%
10
The Citadel
141,361
1.02%
Our overall winner, University of Iowa, scored gold on Facebook this year, but it's interesting to note that some of the highest-performing colleges and universities on Facebook like Colorado State University and Clemson University didn't stand out at all on Instagram or Twitter. These universities' Facebook success in the face of lagging engagement on Instagram and Twitter is a good reminder for all of us that we don't have to be good at everything to be successful on social. It's important to identify where your followers are and their favorite places to interact with you so you can focus your social energy accordingly.
Top University on Facebook: Michigan State University
Michigan State University scored third on Facebook this year and 18th place overall–they're seriously climbing the ranks after ranked 75th overall in 2019 and 128th in 2018! We love a university on the rise.
We also love a university that knows its game: MSU ranked 36th on Twitter and 96th on Instagram this year, so their bronze on Facebook demonstrates that this university knows exactly where to focus their energy to maximize their impact on social.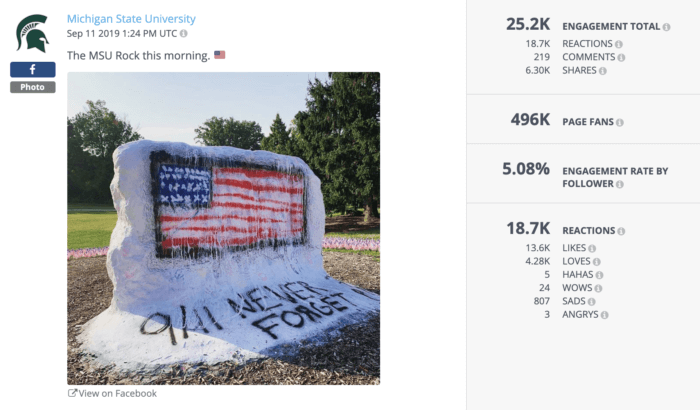 MSU's top Facebook post of the year was a simple illustration of patriotism on campus. This post saw a whopping 5.08% engagement rate (more than 18x the Facebook median!) with just a few words in the caption and an evocative image. This top performer is a good reminder that universities don't need influencers or big names to succeed on social.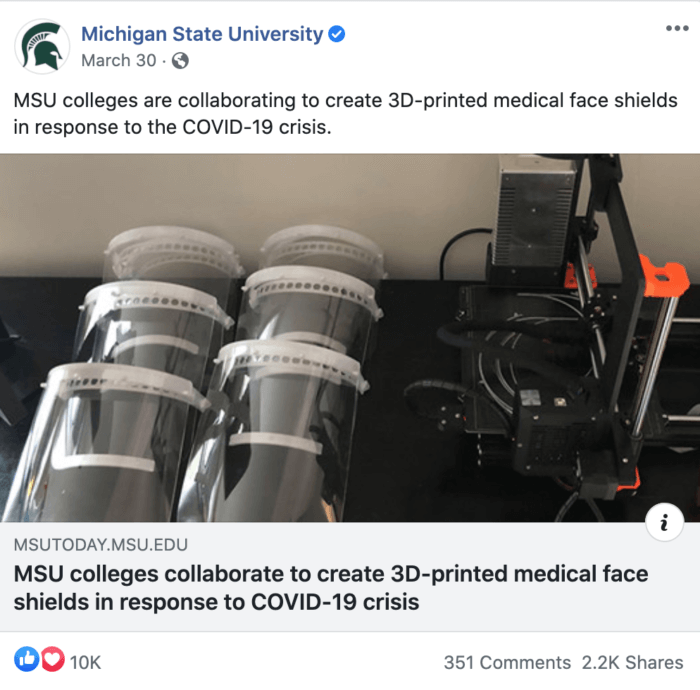 Like many higher education institutions we studied on social this year, MSU jumped right into the fight against coronavirus this spring. This post about printing face shields for doctors and nurses on the MSU campus drew a lot of attention. MSU's post is a great example of colleges and universities seeking creative ways to inspire pride and engagement without the ability to feature campus events, sports, or fresh-faced co-eds.
Top Higher Education Institutions on Twitter
Universities really stood out on Twitter this year, clinching our award for most engaging industry on Twitter in our Social Media Industry Benchmark Report. The D1 schools we studied rocked a 0.14% engagement rate on Twitter, which is about 50% better than the average college or university this year, which scored a 0.09% median engagement rate.
Rank
University
Total Engagement
Engagement Rate
1
U.S. Air Force Academy
258,470
0.38%
2
University of Florida
388,734
0.27%
3
Brigham Young University
98,177
0.37%
4
Ohio University
113,952
0.30%
5
U.S. Naval Academy
48,326
0.54%
5
University of Louisville
74,039
0.36%
5
Utah State University
49,124
0.50%
7
Virginia Tech
129,548
0.25%
8
University of South Carolina
146,901
0.23%
9
University of Iowa
355,939
0.22%
10
The University of Tennessee Knoxville
210,522
0.22%
What makes D1 schools stand out so much on Twitter, even against their other Higher Education counterparts? As we saw above, sports and sports wins are a major theme on social for many of the schools we looked at in this study, so it makes sense that sports-focused D1 schools would perform above the average college or university which might not have fielded a March Madness or College Football Playoff this year. D1 schools also often boast larger class sizes, which can exponentially increase follower counts year over year in ways a small liberal arts college just can't.
There's plenty to learn here for universities of any size, so let's jump into what makes our Twitter silver medalist so successful.
Top University on Twitter: University of Florida
University of Florida's Gators were all about the W this year, which included a second-place finish on Twitter in our study. Nine out of their ten top tweets featured a not-so-humble brag of some sort, along with serious shade for their competitors on the football field or basketball court. This lighthearted posting inspired epic pride in their followers, and was definitely saltier than the other top universities we studied this year.
It's worth noting that UF ran away with some serious Twitter success this year while lagging on Facebook. We'll never get tired of advising social media marketers to experiment and find what works best for its followers rather than trying to be good at everything. UF has clearly invested considerable effort into their Twitter feed, which has really paid off.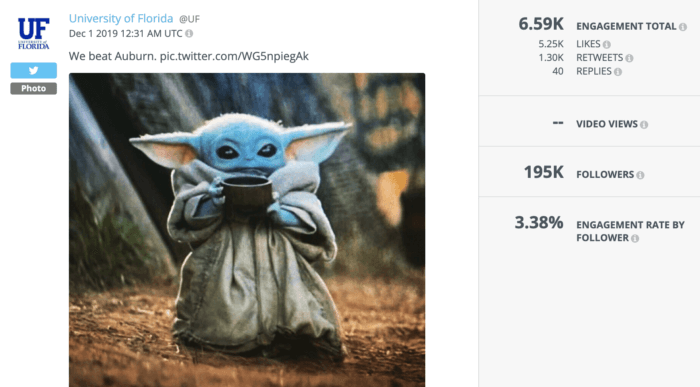 This tweet from December 2019 really tapped into the cultural zeitgeist by combining UF's favorite thing (winning) with 2019's favorite thing (Baby Yoda), and earned a 3.38% engagement rate as a result. UF paired the image with a simple caption without so much as an exclamation point, reminding us that more words aren't always better, especially on character-conscious Twitter. This tweet's success is totally repeatable by other colleges and universities, and represents the power of simplicity and timeliness on Twitter.
Interestingly, this top tweet from UF didn't even break into the top 10 for top tweets across Higher Education, which reminds us that slow and steady wins the race. UF didn't stand out this year because of one viral tweet: rather, they performed well consistently on Twitter and engaged followers all year long.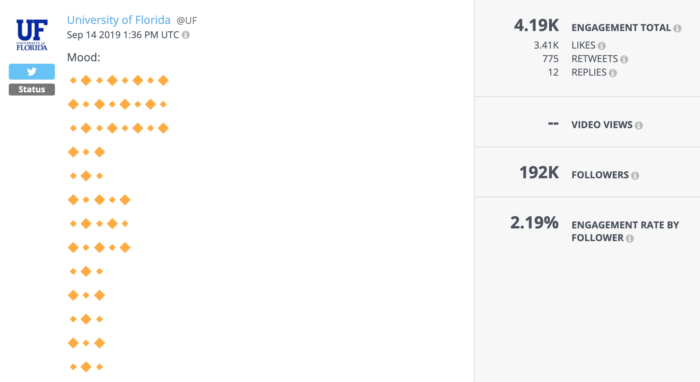 You thought things couldn't get any simpler on Twitter than a three-word caption? UF invites us to think again with this tweet featuring nothing but artfully-arranged orange diamonds. (And yes, the top reply was indeed a bunch of blue diamonds adding up to a "U." Can't beat college humor.) It may not make sense to a non-Gator how this ultra-simple tweet managed to grab more than four thousand engagements, but that's the beauty of social media: the only people it needs to make sense to are UF's followers, and they went wild for this display of campus pride.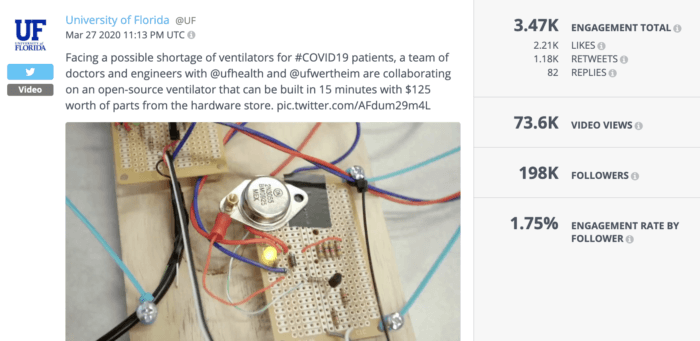 Lest we leave you with the impression that UF was only about goofing off this year, it's important to highlight UF's tweet with the highest engagement rate in the post-COVID era. This post scored UF's ninth highest engagement rate this school year, and reminds us that sports aren't the only way for colleges and universities to win the day. Followers loved this alternate representation of campus pride, and were hungry for their university or alma mater to engage with the pandemic in a meaningful way.
Campus pride is a no-brainer for any college or university looking for meaningful engagement with their fans or followers, and UF's performance on Twitter this school year is a great place to look for inspiration.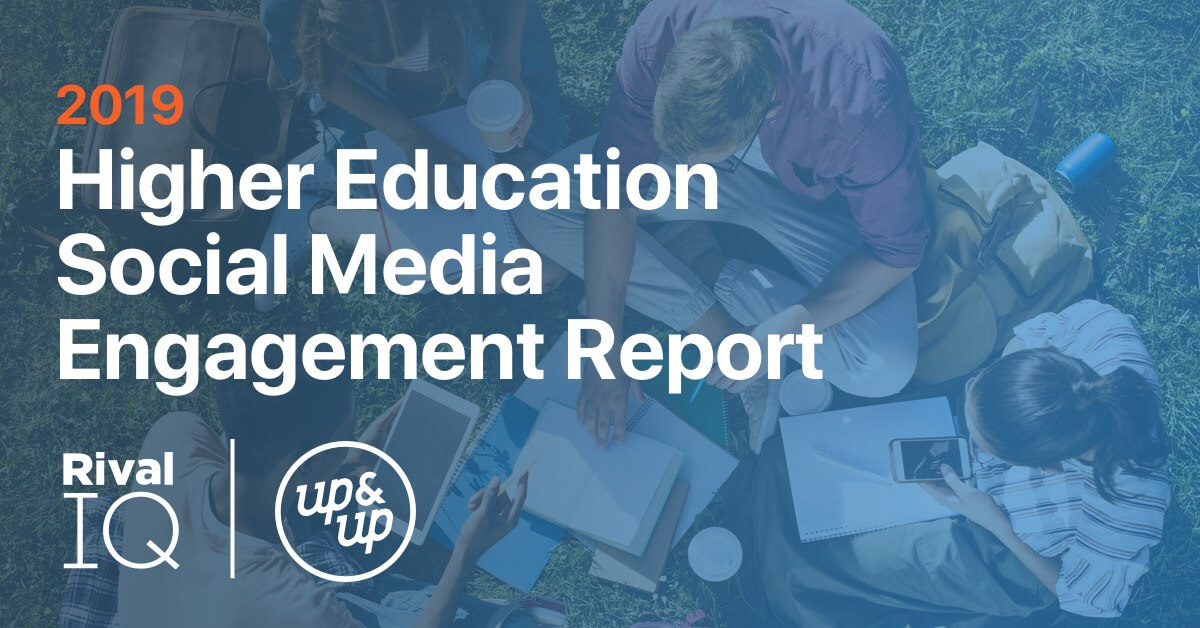 Historically Black Colleges and Universities on Social
We looked at the Historically Black Colleges and Universities (HBCUs) on social who deserve a special look for campaign and strategy inspiration.
We shined a spotlight on some of the highest-performing D1 HBCUs on social this year, like North Carolina A&T State University. N.C. A&T saw great social engagement this year thanks to dynamic posts featuring big wins for the university, its students, and alumni. N.C. A&T had a lot to celebrate this year and weren't shy about doing so on social, from record enrollment to a powerful reminder of the vital role students played during the Civil Rights Movement.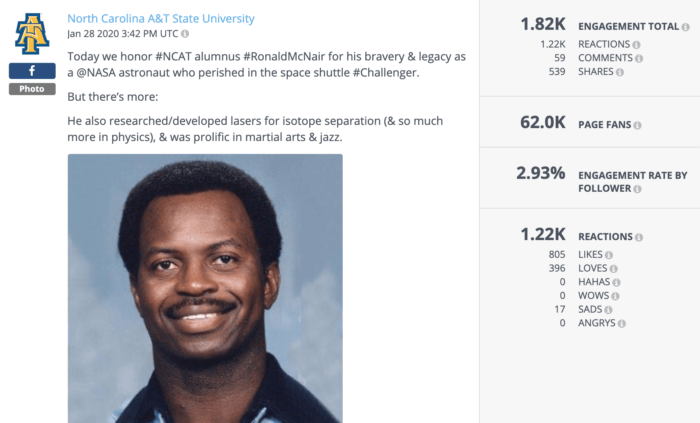 N.C. A&T's followers really engaged with this post memorializing alumnus Ronald McNair to the tune of a 2.93% engagement rate, which is more than 10x the Higher Education Facebook median.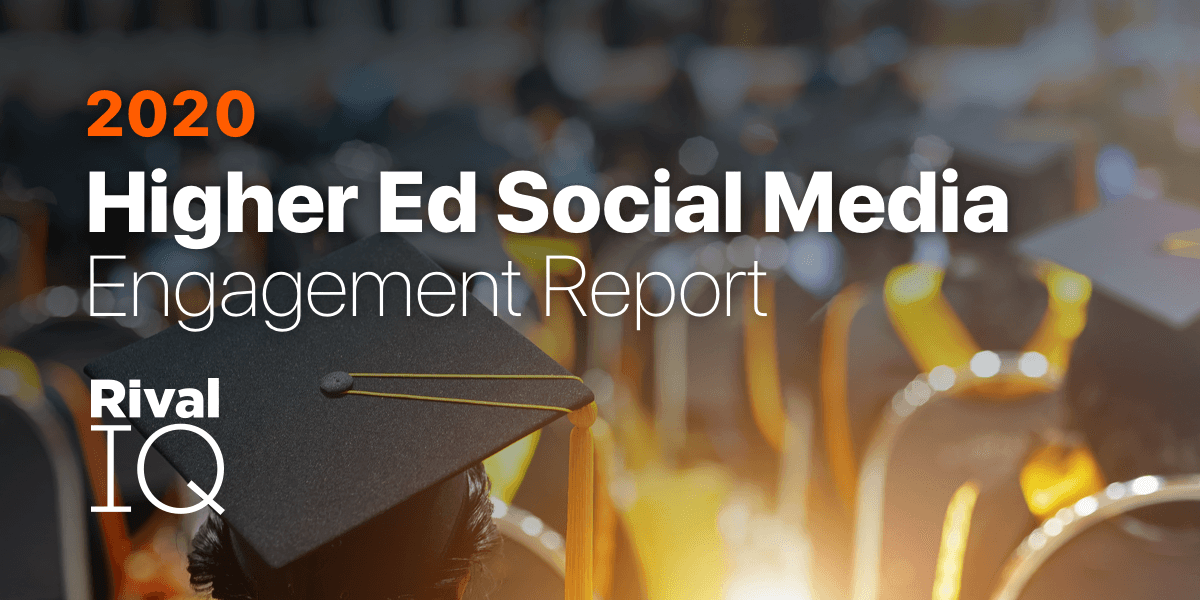 Live Higher Education Social Media Benchmarks
Comparing your school's social performance has never been easier.
Browse our Live Higher Education Social Media Benchmarks for a real-time look at top Higher Education posts, engagement rates, high-performing hashtags, and tons more. You can even add these benchmarks directly into your Rival IQ account for always-on monitoring of these top brands.
Need even more competitive analytics? Go head-to-head with a free report on Facebook, Instagram, or Twitter to see how you stack up against your top competition. See what makes your competitors tick with key insights and actionable advice you can start using now to come out on top.
If you're hungry for even more stats, start a free 14-day trial with Rival IQ.
Methodology
We surveyed all 357 D1 colleges and universities on social media between June 1, 2019 and May 31, 2020 on Facebook, Instagram, and Twitter. Using this data and a weighted formula, we generated an overall engagement ranking for each school. The top-ranked colleges and universities on social media have high engagement rates with average or better audience size and posting volumes.
We define engagement as measurable interaction on social media posts, including likes, comments, favorites, retweets, shares, and reactions. Engagement rate is defined as the total engagement divided by the number of followers.
Due to Instagram API limitations, we're able to pull accurate Instagram engagement numbers only for verified and/or Instagram business accounts.
September 21, 2020 update: It was brought to our attention that the D1 school list has expanded in the last few years, so we updated our rankings to include any schools we had missed the first time around.
The Case for Benchmarking
Why benchmark instead of just measuring how your school's individual performance changes over time? Because social success is relative. Benchmarking means figuring out what's working (and what isn't) in your industry and measuring your success against that.
It's crucial to go beyond likes and favorites because audience size is hugely important: 100 likes is great engagement for a college or university with 1,000 followers but is a drop in the bucket to a school with 100,000 followers. Engagement rate helps us take audience size into account to see who's really reaching the highest percentage of their fans and followers with their social posts, which are the schools you need to beat.
Wrapping It Up
Congratulations to all the colleges and universities who were able to win big on social media during one of the hardest years they've probably ever experienced. We applaud your flexibility, creativity, and ability to connect with your students, parents, and alumni on everything from major wins to major changes to campus life.
Did we miss a school you want us to include next time around? Want to share your thoughts about Higher Education social media with us? Think you should be higher in the rankings? Don't hesitate to reach out to us on Twitter!