This continually-updated piece details how coronavirus is affecting social media engagement rates. Find the most current updates at the top, and then scroll down for our complete coronavirus coverage.
We're all adjusting to life during this pandemic, whether it's marketing during a time when people are buying less, working from home, or homeschooling, and we know that one of the most powerful tools available to us is data. We're committing to updating this piece regularly to help you understand exactly what's happening to social media engagement rates for coronavirus.
Coronavirus and social media update, May 7
Social media engagement rates during coronavirus continue to shift as brands and agencies respond to the pandemic. Let's check in on the latest coronavirus social media engagement rate impacts.
After last month's bump in engagement rates, channels and industries are trending down again.
Posting frequency is starting to rebound as brands adjust to the new normal, which helps explain a decrease in engagement rates.
Higher Ed and Alcohol brands continue seeing increased engagement rates while Sports Teams and Food & Beverage struggle to turn their engagement rates around.
When we last checked in, brands were rebounding from the initial dip they took when coronavirus really picked up steam around the globe in early March. A decrease in posting frequency coupled with more intentional and resonant posts towards the end of March led to some of the highest engagement rates brands had seen all year across Facebook, Instagram, and Twitter.
As brands adjust to the "new normal" and get back to posting more frequently during the pandemic, it makes good sense that consumers may not be quite ready to engage on social in the same ways they did pre-coronavirus.
Now let's break things down channel by channel. Even at its 2020 low, Instagram's average engagement rate per post is 20x Twitter and Facebook's lowest engagement rates of the year. We know that Instagram is a top-performing channel because it delivers content that's attractive to consumers like photos and videos, while Facebook and Twitter trend more towards news and links. With that in mind, it's not too surprising that Instagram is weathering the coronavirus storm with a little more resilience.
As for posting frequency, brands have been posting most steadily on Facebook throughout coronavirus, while decreasing posting on Twitter and Instagram as the pandemic picked up steam around the globe. More recently, we're seeing brands increase posting frequencies on Facebook and Instagram to pre-March levels, which may not be the right call for every industry. On Twitter, posting volumes by brands are still about 17% lower than they were in January and February.
What can brands do to increase social media engagement rates during coronavirus?
Our advice remains the same: focus on the quality of your posts and delivering value to your followers. It can be tempting to fill up your queue with the same old product-focused posts, but crafting posts that resonate with your followers will help cut through the noise on social. During our recent Data-Driven Marketer webinar with Jay Baer, he recommends ensuring your content "angers, inspires, or makes people laugh. If it's not doing one of those things, why are you posting it?"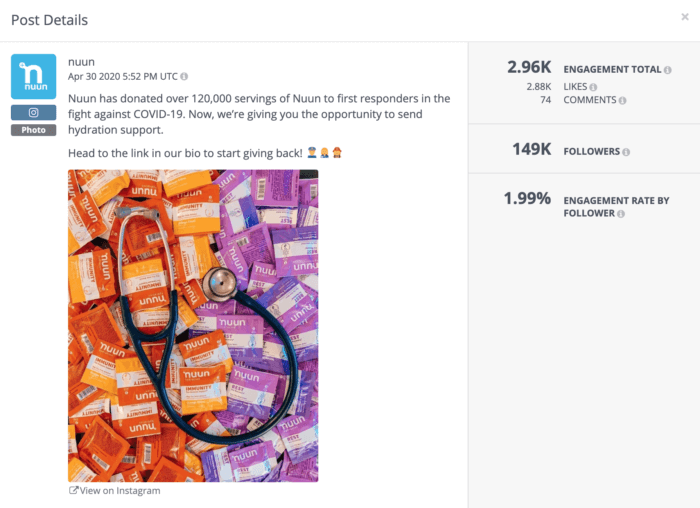 Posts like this one from Nuun are a good example of brands tailoring their social media to the times and seeing positive results. This post about how their followers can help first responders stay hydrated performed 30% better than the average Food & Beverage Instagram post before coronavirus took hold. The post performed well with followers because it's topical and empathetic instead of just blowing past coronavirus in hopes of selling a few more hydration tablets.
Brands that pay attention to the news and consumers' needs continue to win the day in terms of social media engagement rates.
Coronavirus engagement on social media by channel
Let's break down how 14 top industries are performing on Instagram, Facebook, and Twitter.
Instagram
As we saw above, Instagram is still winning the engagement game on social, but this channel is starting to see some of its lowest engagement rates of the year as coronavirus rages on.
Alcohol has managed to take its increase in engagement rates and run with it as the pandemic continues.
Food and Beverage brands have really taken a dive after an initial flurry of attention.
Higher Ed has bounced around a lot, but is averaging much higher engagement in March and April than in January and February.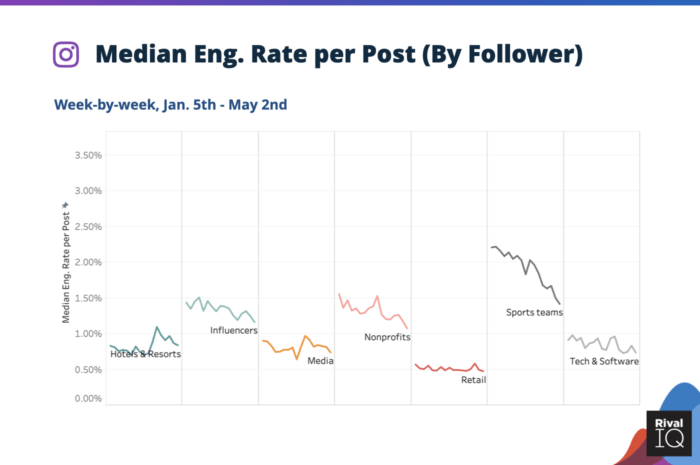 Influencers and Nonprofits have seen a steady decline since the pandemic hit the States.
Sports Teams continue to nosedive, but it's worth mentioning that even their lowest engagement rates are still higher than every other industry except Higher Ed.
Facebook
Facebook engagement rates officially hit their 2020 low in late April with an average engagement rate per post across all industries of 0.053%.
Like on Instagram, Alcohol brands have managed to build on increased engagement rates on Facebook.
Financial Services and Higher Ed saw some of the most dramatic spikes of engagement in the middle of March but have returned to pre-pandemic engagement rates.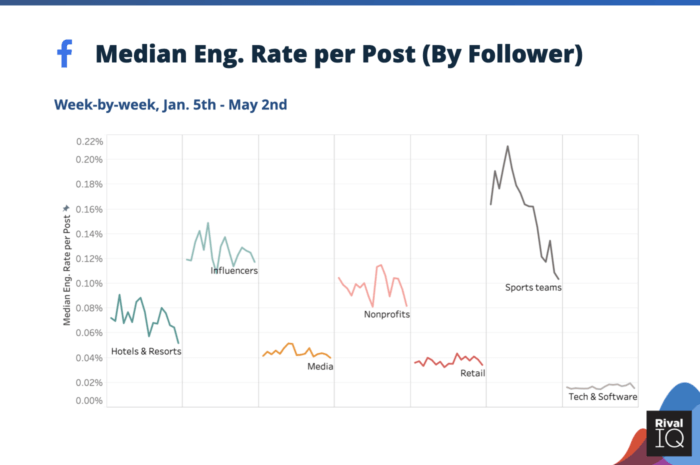 Influencers and Nonprofits are managing to hold their own on Facebook.
Sports Teams are really suffering on Facebook as well.
Twitter
Tweet frequency decreased much more dramatically than on Facebook or Instagram, so brands have a long way to go before restoring their frequency to pre-coronavirus levels.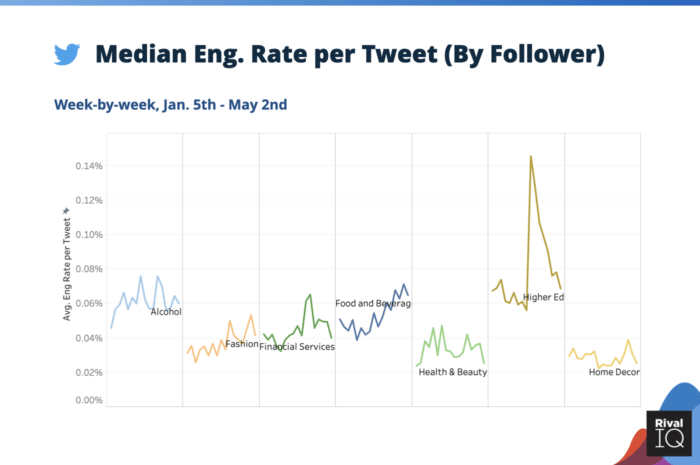 Fashion brands have seen a gradual increase in Twitter engagement since mid-March.
Food and Beverage brands are seeing steadier success on Twitter than on Instagram and Facebook.
Higher Ed saw an enormous spike in late March but is now leveling out closer to pre-pandemic engagement rates.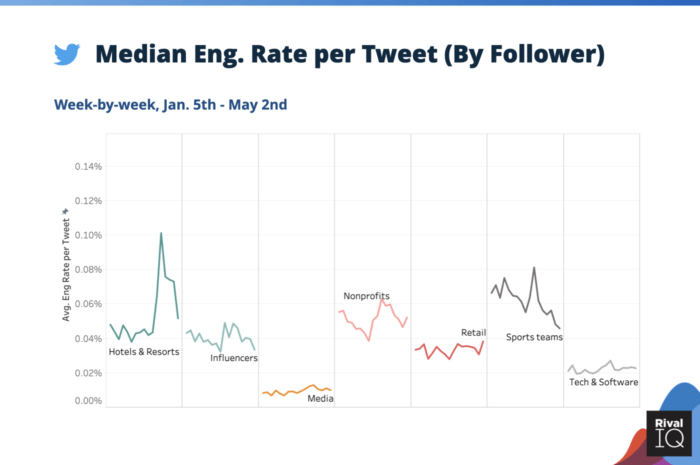 Hotels & Resorts saw an epic spike in Twitter engagement in early March but are returning to their pre-pandemic engagement rates.
Nonprofits saw a sharp dropoff in mid-March followed by an excellent rebound in early April, but restoring to their average 2020 engagement rates.
Conclusion (for now)
We hope this research gives you a better understanding of what your brand and industry can expect on social media during coronavirus while also demonstrating that what will happen next is anyone's guess. We'll keep bringing you the numbers and the analysis, and please don't hesitate to reach out with questions or your own experiences on Twitter.
Coronavirus and social media update, April 13
Coronavirus was adversely impacting social media engagement rates at the beginning of March when we first ran the numbers.
To recap where we were a month ago:
Engagement rates were down across all 14 major industries we surveyed
Facebook and Instagram were hit especially hard while Twitter helped brands stay current and connected
Industries like Higher Ed and Nonprofits stayed afloat while Fashion and Hotels & Resorts took a huge hit
Things have changed since our last update:
Engagement rates are rising to some of the highest rates we've seen all year (for reasons you may not expect)
Posting frequency is down across almost every industry
Some industries like Alcohol and Hotels & Resorts are bouncing back, while Sports Teams continue to struggle
We'll dive into why your brand or industry might be experiencing a lift in per-post performance and exactly what's happening channel by channel for each of our top 14 industries.
Less posting leads to higher engagement rates
We looked at the social performance of over 2,000 companies between January and April 2020 on Facebook, Instagram, and Twitter to see exactly how coronavirus was impacting social media engagement rates.
After an initial dip in early March, engagement rates have reached a 2020 high across all three channels in the last few weeks thanks to decreased posting frequency.
In this graphic, we can see that social media engagement across all three channels was pretty flat for the first three months of 2020. Many brands experienced a sharp drop in engagement in the first two weeks of March, but rebounded to new heights in the latter half of the month. Time will tell if engagement rates will flatten back out or not.
As for posting frequency, median posts per week across all industries has been rock solid at 4 posts/week all year, but dipped a full 25% to 3 posts/week the week of March 15 and correlated with higher engagement rates.
Why does posting less often lead to higher engagement rates? The first reason is that posting less frequently means that the Facebook, Instagram, and Twitter algorithms are more likely to serve the same set of posts to its users. When a company posts less frequently, each post they create has a better chance of earning impressions and engagement, which in turn yields higher per-post performance.
The second reason has to do with the quality of posts. When marketers focus their energy on a few great posts instead of many mediocre ones, fans and followers naturally engage more. This natural engagement increase encourages social channels to re-serve that content to other users, leading to higher engagement. As we're all trying to figure out exactly what and how to market during this time of stress and uncertainty, marketers are putting more thought and authenticity into everything they post on social, which Facebook, Instagram, and Twitter are rewarding.
Does this trend mean you should always post less frequently? Not necessarily. Take this trend more as an encouragement to focus on the quality and relevance of everything you post on social media instead of a firm recommendation on the right posting frequency for your brand. Engagement rates are just one way to measure how you're doing online. A high engagement rate is great, but ultimately what we're all striving for is lots of engagement.
Jay Baer at Convince and Convert reminds us that now is a really good time to experiment with posting frequency, type, and timing. And we here at Rival IQ would tell you that the best time to post is the time when your followers are engaged and online.
Coronavirus engagement on social media by channel
Let's jump into how coronavirus is affecting engagement rates on each of the three major channels.
Instagram
Instagram engagement rates were hit hard in the first two weeks of March, but some industries have bounced back.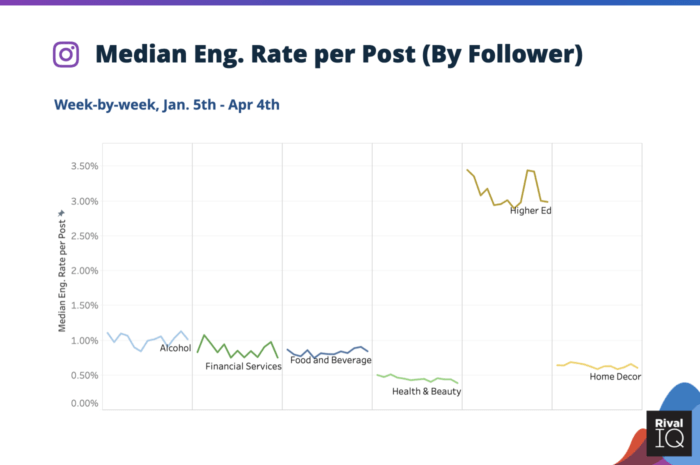 With drinking at home on the rise, Alcohol brands are seeing a slight increase in engagement on social.
Food and Beverage brands are coming back a little.
Higher Ed had a huge spike during the last two weeks but is returning back to normal.
Hotels & Resorts are bouncing back after a big dip in early March.
Influencers have seen consistently declining engagement rates since coronavirus started hitting hard in North America, and there's no current sign of improvement.
After an initial uptick while serving as a critical source for news and services in early March, Nonprofits have seen a dramatic decline in engagement rates.
Sports Teams are getting hammered across all three channels as fans struggle to engage without any games to watch, follow, or read about.
Facebook
Facebook's initial decline was similar to Instagram's, but some industries are seeing higher engagement rates than ever.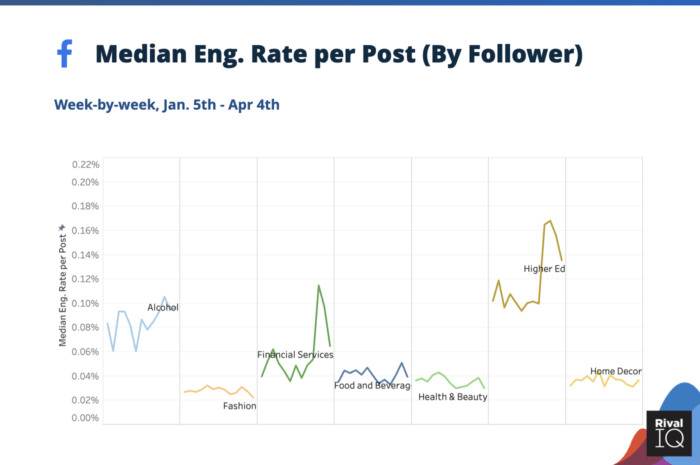 Just like on Instagram, Alcohol engagement rates are really spiking up on Facebook.
Financial Services brands are seeing a huge spike as fans and financial institutions try to decipher the stock market.
Higher Ed saw an even more dramatic increase on Facebook in the first two weeks of March, but are starting to flatten back out.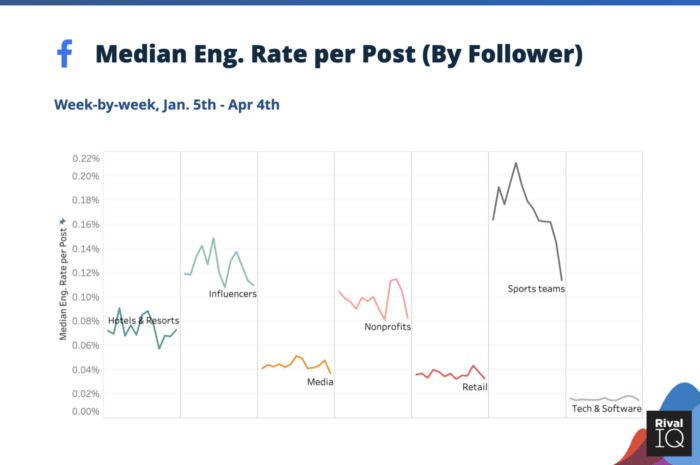 Media brands are working hard to keep up with the extra demand for news and seeing above-average engagement rates as a result.
Nonprofits and Sports Teams saw huge declines in the fight to stay relevant and top of mind to their followers on Facebook.
Twitter
Twitter's initial engagement decline was half of Facebook's and Instagram's, suggesting that people are still turning to this channel for updates and to connect with their favorite brands.
As on other channels, Financial Services brands are working hard to communicate with their followers, and their efforts really paid off in late March with high engagement.
Higher Ed saw a massive spike two weeks ago on Twitter and is still performing way above their average the rest of the year.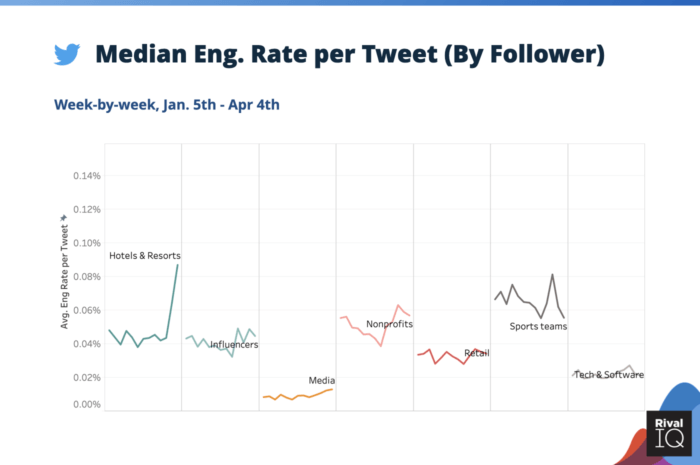 After an initial drop, Hotels & Resorts have almost doubled their peak 2020 engagement in the last two weeks on Twitter. With many brands and customers turning to Twitter for customer service, it's no surprise that brands were able to engage with followers in need of travel advice or cancellations.
Media's engagement is on the rise despite posting 25% more often on Twitter.
As on other channels, Sports Teams are seeing rock bottom engagement for 2020 on Twitter.
Coronavirus and social media update, March 13
Below is our initial analysis of the impact of coronavirus on social media engagement rates from March 13.
We've been receiving tons of questions from marketers about the impact of coronavirus on social media engagement rates, and wanted to present some data and actionable tips in this fast-changing crisis.
It's difficult to know what to do as marketers (and humans) as coronavirus continues to spread around the world. Reviewing the data is always grounding and helps inform future strategy, so we teamed up with Jason Keath, CEO and lead analyst at Social Fresh and took a look at engagement rates for 14 industries to track social performance in Q1 of 2020.
Social media is a constantly moving target, especially during a global health crisis. We recently released our 2020 Social Media Industry Benchmark Report and wanted to share more about how the situation with coronavirus is impacting social media engagement for brands. This post is intended to provide additional context for brands and marketers so they know kind of impacts to engagement rates they can expect right now on social.
Key things you should know
We acknowledge that the situation is changing day-by-day, but here are our top takeaways and tips for marketers working hard to stay sensitive and relevant during this health crisis.
Yes, engagement is down across the board. The news isn't universally bad, though. Brands and industries that are able to connect thoughtfully with their followers are weathering the storm so far.
Twitter's engagement decline is half as bad as Facebook's and Instagram's. Why? People are turning to Twitter for news and updates because it feels more instant than algorithm-heavy Facebook and Instagram. Plus, it's easier to connect 1:1 with brands and organizations to get vital information.
Higher Ed is staying high, media is holding steady, nearly everyone else is down. These industries are working extra hard right now to deliver up-to-date information to large groups of followers and stakeholders, so it makes sense that they're trending ahead of the curve for now.
The best thing you can do is stay calm and be empathetic. This advice goes for both social and IRL. "Focus on positive ways your brand can create engagement or at a minimum stay top of mind. But don't stretch beyond what is reasonable," says Keath. Post thoughtful, relevant content whenever possible, and give your followers a chance to connect with you about their questions and concerns.
Channel performance by industry during coronavirus
Instagram
Instagram took the hardest hit overall, with a 14% drop in engagement rate by follower this week versus the previous three weeks. It makes good sense that this channel would be impacted most, since it's not likely where people are going to get their news (Twitter) or connect with friends and family (Facebook). It's worth noting that Instagram's engagement rate declines have been sharp of late, suggesting this channel's engagement will keep dropping more rapidly than Facebook and Twitter.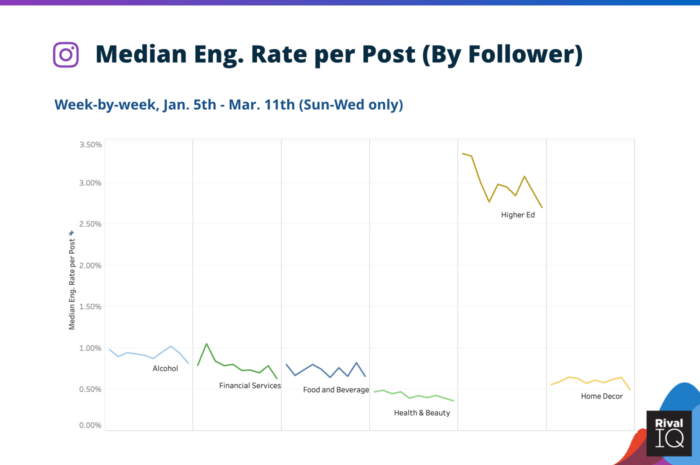 In the sparkline graphs above, we can see that Alcohol, Financial Services, Food & Beverage, Health & Beauty, Higher Ed, and Home Decor have all taken dives on Instagram this month.
It's interesting to note that all of these industries except Health & Beauty actually saw an engagement spike right before coronavirus really started to trend in early March. This (temporary) upward spike is logical for industries like Food & Beverage and Higher Ed who are having to constantly communicate with followers about the current operating status of universities and restaurants.
Our second batch of industries on Instagram is seeing similar downward trending, with the exception of Media and Nonprofits, who haven't experienced as much of a decline by staying relevant. Media brands are obviously working hard to communicate with their information-hungry followers. Nonprofits are on the front lines in working to deliver services to those affected by the virus and closures. These organizations are already starting to coordinate fundraising pleas to help bridge the gap, which is garnering attention from followers on social.
Hotels & Resorts, Sports Teams, and Tech & Software are seeing some of the sharpest Instagram falloffs of any of the industries we reviewed, but thankfully the news isn't all bad for those industries on other channels.
The bottom line: Instagram isn't the first place people are turning to for updates on the virus. With tourism, shopping, and dining out on the decline, many industries are seeing sharp declines in engagement on this channel. "Steer away from humor and focus on how you can help. Inform and support," says Keath.
Facebook
Facebook's declining average engagement rate in the last few weeks is neck-and-neck with Instagram's at 13.5%. It's worth noting that Facebook's engagement rates are declining around 2x per week, so this channel's engagement is definitely still in flux.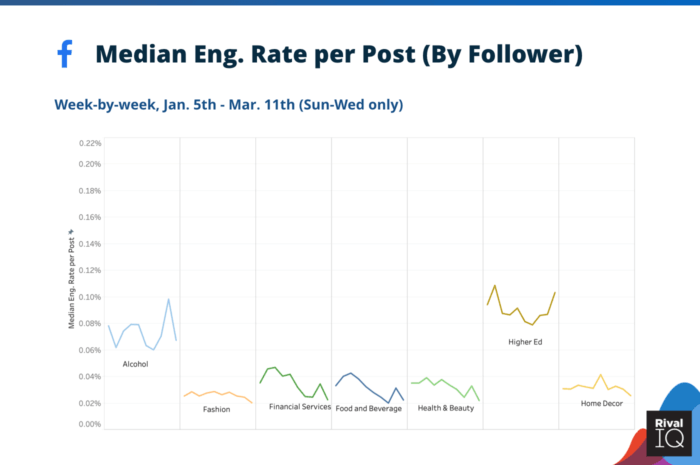 Fashion and Home Decor were seeing pretty flat engagement in 2020 until the week of March 8 when these industries started to decline more quickly.
Financial Services, Food & Beverage, and Health & Beauty saw nearly identical engagement spikes in late February and early March, and then followed the trend of other industries with a sharp decline in the last week.
Alcohol's performance brings a little levity to the chaos and heartbreak. Perhaps their sharp engagement increase a few weeks ago was from people needing a stiff drink due to election stress and the threat of coronavirus spreading. Alcohol's average engagement rates have since restored to their industry average from last year, showing they're a little ahead of the pack.
And Higher Ed is helping keep the all-industry Facebook average up with a return to their all-time high for 2020 in the last week. "Higher Education specifically is already seeing increased volatility in their engagement rate. This is a great example of what will work for brands to maintain engagement: utility. As schools delay and cancel classes, stakeholders have questions and are vocal," says Keath. With so much communicating to do about school closures and classes moving online, colleges and universities are clearly finding success on Facebook.
Hotels & Resorts and Sports Teams saw some of the sharpest relative declines on Facebook. For example, Sports Teams enjoyed a lot of engagement earlier in the year thanks to lead-up to the Super Bowl and March Madness, but are seeing a precipitous drop beginning in early March as cancellations began. Hotels & Resorts saw their engagement drop by half as more and more travel advisories and bans began in early March.
Influencers, Media, Retail, and Tech & Software are all trending down as well. Nonprofits are fighting successfully for engagement on Facebook to offer services and community connection points.
The bottom line: While it may feel like there's been a spike in Facebook activity as friends and family connect and seek out community news, brands aren't finding a lot of success on this channel unless they have something valuable to add to the coronavirus conversation.
Twitter
Finally, some more upbeat social media news: Twitter engagement rates have declined by about half as much as Facebook and Instagram (down 7%). Why aren't they feeling the burn as much? You've probably already guessed: people are turning to Twitter for critical information about how coronavirus is impacting their lives, from school and store closures to how they can get involved in their community via local nonprofits.
We noted that the engagement rate drop has been more gradual on Twitter than on Instagram and Facebook since mid-February. This gradual decline indicates that Twitter is more insulated against further engagement loss than Instagram and Facebook because of the ability to connect person to person.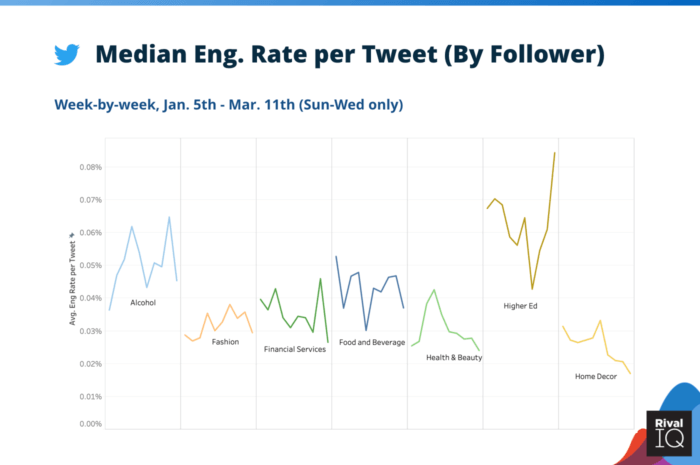 In the graph above, we can see that Alcohol, Fashion, Financial Services, and Food & Beverage had some of their highest engagement of the year in late February but took a sharp downturn as coronavirus news really picked up in early March. Health & Beauty and Home Decor have been struggling for much of the year.
Higher Ed's engagement rates are anomalous in that their highest overall engagement in 2020 has happened since coronavirus really picked up a few weeks ago. This increase makes sense as many students, parents, and alumni turn to Twitter for up-to-date news on school closures. It's worth noting that Higher Ed consistently sees high engagement on Twitter, and the fact that these schools are continuing to see high engagement is bringing up the all-industry average on this channel. Without Higher Ed, it's likely that Twitter's overall engagement decline would be more dramatic.
The engagement rates on this graph trend more steadily downward with industries like Nonprofits, Retail, and Tech & Software. Sports Teams have seen a sharp decline but are bouncing back a little as fans turn to Twitter for news on game cancellations and season suspensions.
Influencers and Media are holding steady as people look to trusted sources for more information about what's going on in the world.
It's worth calling out that Hotels & Resorts' dramatic engagement decline is very similar to their current Facebook performance, which underscores how hard-hit that industry is in this health crisis.
The bottom line: Every channel and nearly every industry has seen engagement drops across the board, but that decline is currently more gradual on Twitter than on Facebook and Instagram. If you have timely, relevant content to share on Twitter with your followers, you can continue to expect engagement (at least for now).
Tips for social media marketing during coronavirus
The best thing marketers can do is to keep calm and be as sensitive as possible when adding to the noise on social.
Here are a few of our favorite tips directly from Jason Keath's recent article from Social Fresh.
Pick a Lane: Imagine the worst coronavirus news is sitting right next to your post on Twitter or Facebook. Does your messaging sound awkward?
Scale Back and Keep a List: Adjusting the volume and type of social media content you post is probably a good instinct right now. Give some additional care to the empathy and tone of your social content. Since there is less attention to go around, don't be afraid to post less content. But don't stop coming up with ideas. Keep a running list of those ideas for when things get back to normal.
Invest In Trust Content: Consider investing in long-form projects and campaigns. Trust Content is content that allows you to spend more time and more meaningful moments with your audience. It's great for building trust in your brand. Which is a good place to spend time right now. Consider creating long-form articles, video series, podcasts, essays, entertainment, training content, and more.
Adjust Your Social Listening: While social media time-spent is likely going up around the globe, the way consumers spend that time and the types of conversations they have are different during a crisis. How are your customers, employees, and community talking about the crisis?
You can read the full article containing these and many more actionable tips on Social Fresh.
Methodology
We used Rival IQ to analyze engagement rates, posting frequency, post types, and hashtags on the top three social channels for brands: Facebook, Instagram, and Twitter. We included 14 industries in our analysis: Alcohol, Fashion, Financial Services, Food & Beverage, Health & Beauty, Higher Education, Home Decor, Hotels & Resorts, Influencers, Media, Nonprofits, Retail, Sports Teams, and Tech & Software.
We reviewed overall social engagement rates from 14 industries in Q1 of 2020. We specifically analyzed engagement rates week by week for the last four weeks from February 16 through March 8. To preserve data accuracy, we focused on engagement Sunday-Wednesday and excluded engagement from Thursdays, Fridays, and Saturdays in 2020 so we could include data from this current week (March 8-11).
We define engagement as measurable interaction on social media posts, including likes, comments, favorites, retweets, shares, replies, and reactions. Engagement rate is calculated based on all these interactions divided by total follower count.
Wrapping it up
It's a confusing and scary time for brands and consumers alike right now, and there's no one correct way to act on social. "The way consumers spend their time online over the next few months is going to be very unpredictable. Even if this means an increase in total time spent online, most brands will find it difficult to compete with breaking news, entertainment, and utility," says Keath.
The best thing marketers can do is be as sensitive as possible to the current health crisis when creating any social media posts or strategy. We also encourage you to look to data and benchmarks to lend context to what's happening on social around the globe instead of guessing.
Does the data in this post reflect your brand's experience on social media in the last few weeks? We'd love to hear from you, so don't hesitate to drop us a line on Twitter.
Jason Keath of Social Fresh, an annual social media conference, contributed to this post.