Each year, Rival IQ breaks down how the world of colleges and universities is doing on social media, and this year's Higher Education Social Media Engagement Report is a real doozy. For the first time ever, we've combined both D1 and D2 colleges into one massive report filled with findings that you can take away to spruce up your own social media.
Higher education is consistently one of the top industries in terms of social media performance, according to our annual Social Media Industry Benchmark Report. But where higher education institutions really shine is on Instagram. Higher education scored a whopping 2.58% for their average engagement rate for 2023. That's 5.5x the median engagement rate of all industries in this report and nearly twice the average engagement rate of the second-highest-performing industry, sports teams.
It's clear that college social media managers are making magic for their schools. But what can other social media managers take away for their own social media spellbooks? We've broken down the top takeaways from D1 and D2 colleges.
The Top 3 D1 Colleges on Instagram
James Madison University
What makes them stand out: Engaging with a greater conversation
When we talk about social media, we often talk about engaging with your community. In the case of higher education, your community usually means your own students, parents of students, faculty, and alumni. But James Madison University (JMU) used their social media presence to show that community doesn't have to end with your own school.
On November 13, 2022, three people were killed and two others injured in a mass shooting on the campus of the University of Virginia (UVA). In such a sorrowful time, JMU came together to send their support to UVA, both in person and over social media.
JMU's top three posts from between June 1, 2022, and May 31, 2023, shared condolences to those affected by the shooting at their fellow Virginia school. The top post was a picture of JMU's Wilson Hall illuminated in UVA's colors, orange and navy blue, with the caption: "Sending love and care to our friends and colleagues across the mountain. #DukeSupportsHoos."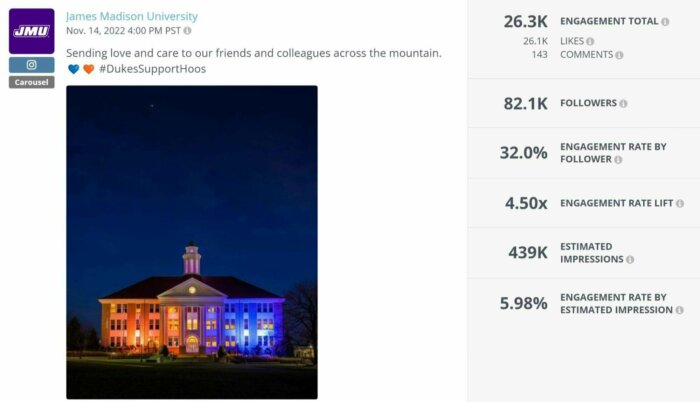 The post garnered an engagement rate of 32%, 68x the median engagement rate for higher education during this time period. The comment section was filled with people sharing words of support for UVA. This turnout of community goes to show that it's essential to engage in meaningful conversations on social media platforms, even if the topic or event didn't originate on your own campus.
It can be tempting to talk about only light topics when posting on social media. But JMU demonstrated that people appreciate when you talk about subject matters that deeply affect their community. They want to know that JMU cares about what matters to them.
Georgia Institute of Technology
What makes them stand out: Student engagement
While talking about greater conversations beyond the borders of your campus is important, many schools also found success on Instagram by talking about what's happening with their own students, staff, and alumni. One such school was the Georgia Institute of Technology (Georgia Tech).
In their top Instagram posts for this time period, you'll find students winning big and making records on shows like "Wheel of Fortune" and "Survivor." You'll also find a celebration of alumni accomplishments, like Harrison Butker, a former Georgia Tech student, winning the Super Bowl.
But Georgia Tech goes further than just talking about students and alumni. Instead, they include them in the posts themselves. The school's top post for this time period was a Reel that had an interviewer going around to ask students what they were listening to. It's a format that you often see on Instagram Reels and its competitor, TikTok. The Reel earned an engagement rate of 21.1%, about 45x the median engagement rate of higher education during the same time period.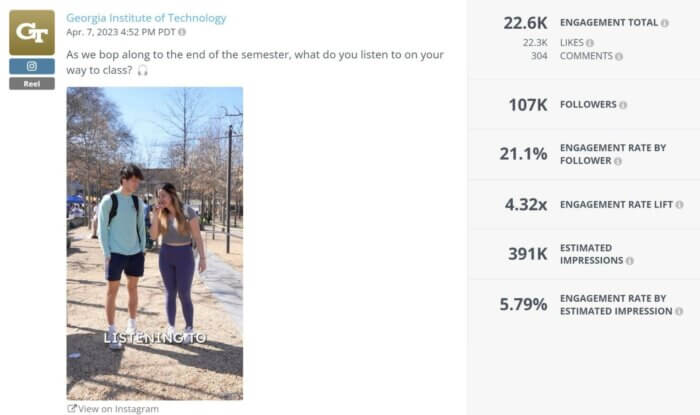 Getting the students involved in making the school's Instagram content is a perfect opportunity to boost engagement. The Georgia Tech students seem to enjoy seeing their friends on their school's social media, making them more likely to engage with the post. The content choice is also relatable, with many social media users taking to the comments to talk about their own music choices and which student's music matched up best with their own playlist.
Northern Arizona University
What makes them stand out: Repurposing content
As you scroll through the Instagram of Northern Arizona University (NAU), you might notice a trend. There are many beautiful shots of the school's campus and even Arizona in general. But those pictures aren't because NAU has a particularly impressive photographer on their staff. Instead, they seem to have a very savvy social media manager who understands the benefit of using repurposed content.
Of the top 12 posts for NAU from this time period, 10 contained images repurposed from the Instagram accounts of NAU students and Arizona-based photographers. Using user-generated content (UGC) can help you in many ways, starting with saving you time and money. You can skip hiring a photographer and scheduling photoshoots to use UGC instead.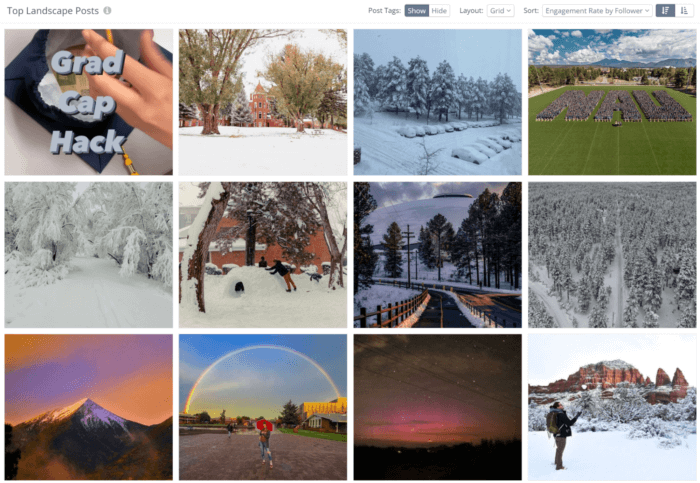 According to our higher education report, D1 colleges posted just over four times per week. To score amongst the top D1 schools, NAU needed to develop a consistent posting schedule. They actually posted much more than the average, with 10 posts per week. All this content would have been much more challenging to get if NAU didn't rely on the help of UGC.
UGC can also help your Instagram look more authentic, and authenticity creates trust and engagement. According to a survey by Stackla, only 19% of consumers view brand-created content as authentic. Influencer-generated content and stock images rank even lower. In contrast, nearly 60% of respondents reported UGC to be the most authentic.
This type of content can help students visualize themselves on campus. One of the school's top posts of this time period showed a carousel of UGC images from students having fun building igloos on the NAU campus.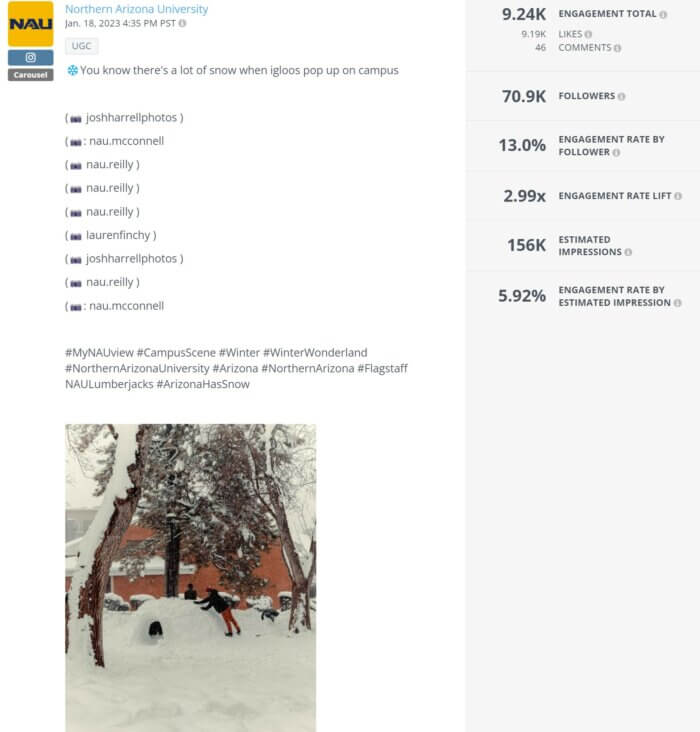 Such a post helps potential students see the school from current students' perspective, allowing them to get an idea of campus life from those actually living on campus. But the comments go to show that these types of posts can also engage other demographics. Comments include parents celebrating that their kids are enjoying life at NAU, alumni reminiscing about their own time at NAU, and soon-to-be students who have already decided they're going to NAU and are getting all the more excited thanks to the post.
The Top 3 D2 Colleges on Instagram
Lubbock Christian University
What makes them stand out: Showcasing life on campus
While Lubbock Christian University (LCU) doesn't use UGC like NAU, they do follow the same idea of wanting to use their Instagram to show off life on campus. Much of the school's top posts demonstrate what life would be like at the school, including orientation, graduation ceremonies, and other yearly festivities.
Also like NAU, LCU makes a point to show off life organically. Although there are many posts with professional-quality images demonstrating what happens at events the school plans, they also make posts about the little moments in between, like a post talking about and showing off what happens when the campus is closed due to snow. This post earned an engagement rate of 8.5%, 18x the median engagement rate for higher education during this time.
In the post, the social media manager recaps the events of the day, which saw a game of snow football take over the school. While showing off important milestone events like graduation helped LCU get attention on social media, this post also demonstrates that sometimes it's the smaller moments that matter more. Most schools have graduation ceremonies. But not every school can say that they have an annual "Ice Bowl" when the snowy season arrives.
Fayetteville State University
What makes them stand out: Utilizing Reels
While Fayetteville State University (FSU) didn't use Reels the most frequently of the schools on this list, many of their top posts were Reels, indicating that they're using the videos effectively. But before we get into why their Reels are effective, let's talk a little about what it means to use this form of content on Instagram.
First off, Instagram openly says that they prioritized video in 2022. And they also claim that they may have focused on it a bit too much. But according to CEO Adam Mosseri in a series of Instagram Stories, Reels are not being deprioritized in 2023 either. Instagram is working to shift the balance back so that neither photos nor Reels are the priority, and both will remain "an important part of what [they] do on Instagram."
Back in 2022, you might have heard that Reels were the best way to get engagement, but with this shift back to being just as much of a photo-focused platform as a video-focused one, you'll likely find that Reels on their own are not the magic answer to getting better Instagram engagement. What you put on your Reels is what really matters.
One of the best parts of using videos is that you get to inject more personality into your content. Sometimes, a picture just doesn't say enough on its own. Reels can help you tell more of a story and show off your school's unique personality.
FSU's top post for this time period was a Reel of three students dancing as they received their diplomas. The post shows off the joyous feeling of the occasion while also making a statement about the people you'll meet at FSU. It's easy to feel the happiness radiating from the Reel. The Reel clearly went viral as it received an engagement rate of 1,400%, nearly 3,000x the median engagement rate of higher education during the same time.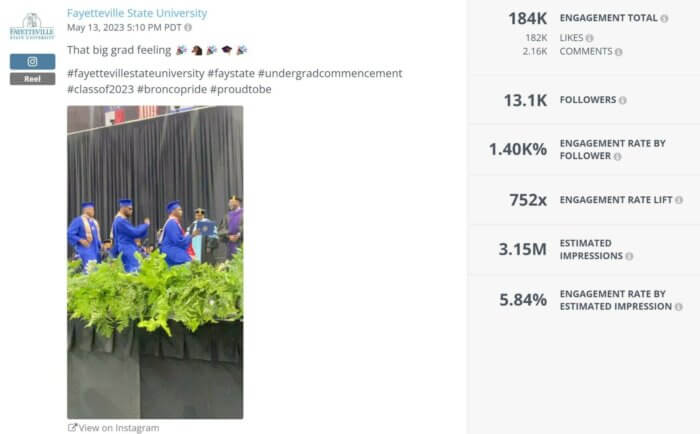 Anderson University (South Carolina)
What makes them stand out: Branded hashtag use
Many of the top D1 and D2 colleges in our higher education report utilized hashtags, but Anderson University (AU) took things a step further by making use of branded hashtags. Nine out of the school's top 10 posts for this time period used their branded hashtag #TruetoAU.
Branded hashtags can help in a multitude of ways. For one thing, they help you get noticed online. The more you and other users implement your branded hashtag, the further your school's name can spread online. You build brand awareness through the use of an easy-to-remember, clearly branded hashtag like #TruetoAU.
When we use our social listening feature Instagram Discover, we can see that the school isn't the only one using this branded hashtag. Students and alumni also use the hashtag. By using #TruetoAU, these people become ambassadors of AU. Consider this post, published by student @bonniefrick. As her graduation came to an end, she shared pictures and stories about her life at AU. Now, AU has reached beyond their audience and gained the attention of the poster's followers, who might now become prospective students themselves.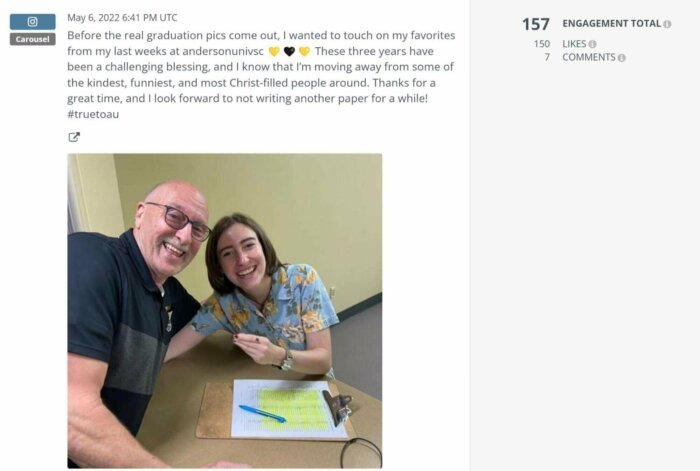 But hashtags can also help you categorize content, which is another reason you might want to use branded hashtags. When others use your hashtag, you gain a list of easy-to-find content. Now, you can use those images as UGC, which helps you build your own content database for your future posts.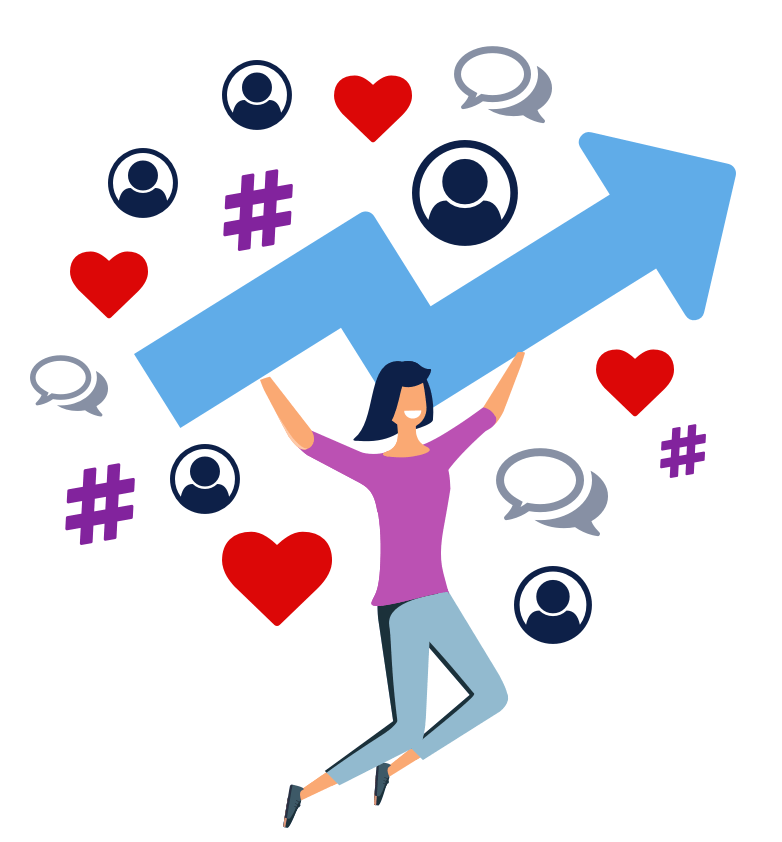 Wrapping Up the Best Colleges on Instagram
With these colleges' Instagram accounts, it's easy to see just why higher education remains one of the top industries for social media. These schools are engaging their communities, whether that means the students on their campus, their alumni, or even their state as a whole.
They're also putting authenticity first. Whether they use UGC or not, they focus on what life is like for their students. They also let current students take the reins, using Reels and other forms of content to show off the personalities of those who call their school home.
Looking to learn more about what you can take away from the top schools around the country? Watch our 2023 Higher Ed webinar series and learn from the top social media marketers in the industry.