"Don't worry about what I'm doing. Worry about why you're worried about what I'm doing."
If that sounds familiar, it's because the Internet is full of quotes encouraging people to stay in their own lane. While this message may be helpful to individuals struggling with productivity and focusing on the task at hand, it just isn't applicable in a business setting. In order to stay relevant and create the strongest content, it's imperative to keep tabs on your competitors' performance relative to your own.
In business, this comparison game is known as competitive benchmarking. Tracking a set of defined metrics helps evaluate the performance of your brand against others over time. Speed up your analysis and achieve stronger results by refining your benchmarking practice.
Of course, we're a little biased towards our own product (😇), but in this post we'll lay out the process for benchmarking competitively in any workflow.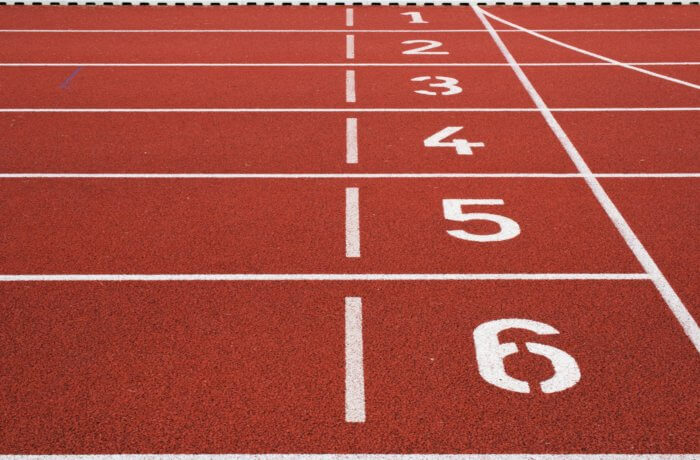 The Case for Benchmarking
Despite an increasing reliance on social media, only 24.7% of marketers say they can actually prove the impact of social activity quantitatively. 39.3% are unable to show its impact at all.
I like to think of benchmarking as a track meet. While your top priority is to focus on your individual performance and fly across the finish line, it's also a good idea to be aware of the athletes by your side. Noting if they are surging ahead, keeping pace with you, or falling behind will give you a clear picture of where you rank among the group during the race.
It's even more helpful if you take a closer look before and after the meet, analyzing the other team's approach to training, gear, coaching methods, and any other aspect that impacts their athletic prowess. By identifying the X factors at play before, during, and after the race, you can benchmark your own strategy against your competitor's, both when they're on the top of their game and when they're struggling.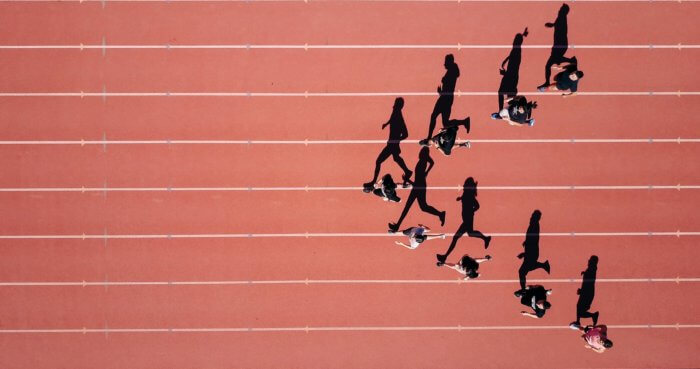 Step 1: Define the Competition
The first key to successful benchmarking is to define who you want to watch and why. Encourage your colleagues to join you for a brainstorming session. When compiling the options, I suggest making the following lists:
True Competitors. Companies you're currently competing with for your customer's business. You know these people. When your customer is looking for a specific product or service, they can choose you, or them.
Companies you simply admire. You don't even have to be in the same industry with these power players–you just have to think of them as the gold standard when it comes to social marketing. You may have a goal to match their success, or simply take pages from their playbook to apply to your efforts.
The Disruptors. It's easy for the big players to get all of the attention, but don't rule out the newbies on the scene making waves. Analyze to see if the numbers support their approach, and consider if there are aspects of your own strategy that could benefit from a different line of thinking.
After you've narrowed down who you want to watch and put them into a landscape, that's when you can begin gathering telling insights. Landscape comparison helps you draw comparisons between the focus company (your brand) and the competitors' performance. This provides several benefits, including (but certainly not limited to):
Ability to evaluate the social platforms where companies have a consistent presence.
An organized view of all the posts made by all the companies included in your landscape within a certain period of time.
Top performer data, so you can identify trends that indicate which platforms and content work best, and why.
A breakdown of social audience demographics for each brand, including when audiences are generally most active and engaging with brand content.
Discovering which channels drive the most change for each brand, indicating the platforms where you may want to direct more of your efforts.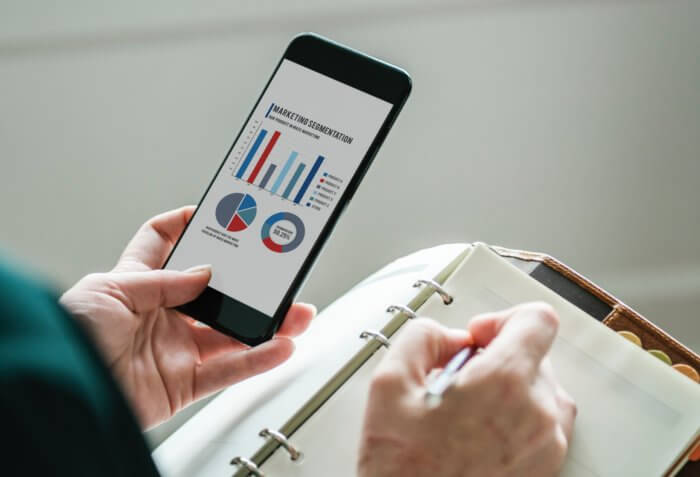 Step 2: Get an Inside View Without Privileged Access
Unless you have a seat at the company table, you certainly won't have access to internal information about a brand's strategy. However, by observing how frequently they post, the channels where they're most active, what they talk about, how they engage and best of all, how your shared audiences respond, you'll be able to glean some very valuable insights about how they operate and work.
Posted URLs analysis
You may have anecdotal information to support your theory that tweets are better with text and photos only, and that URLs and video lead to poor post performance. However, the numbers may tell a different story.
Analyze the best tweets in your landscape to count the number of times you and other brands used URLs in tweets during a defined time frame vs. other post media types.
Rival IQ distinguishes between owned URLs (a brand's own domain) or curated URLs (third-party websites) and determines how the engagement rate differs for each.
If your URL inclusion is far less often than the best performing posts by your competitors, it's probably time to reevaluate what's working best to reach your target audience and share content they're eager to consume.
Detecting Boosted Posts
A level playing field is important for a fair game in both sports and social benchmarking. Your competitor's social post might be blowing your post out of the water, but is it because of stellar content or pay-to-play? Detecting boosted posts can help answer that question for you so you can figure out the types of posts to put your own dollars behind.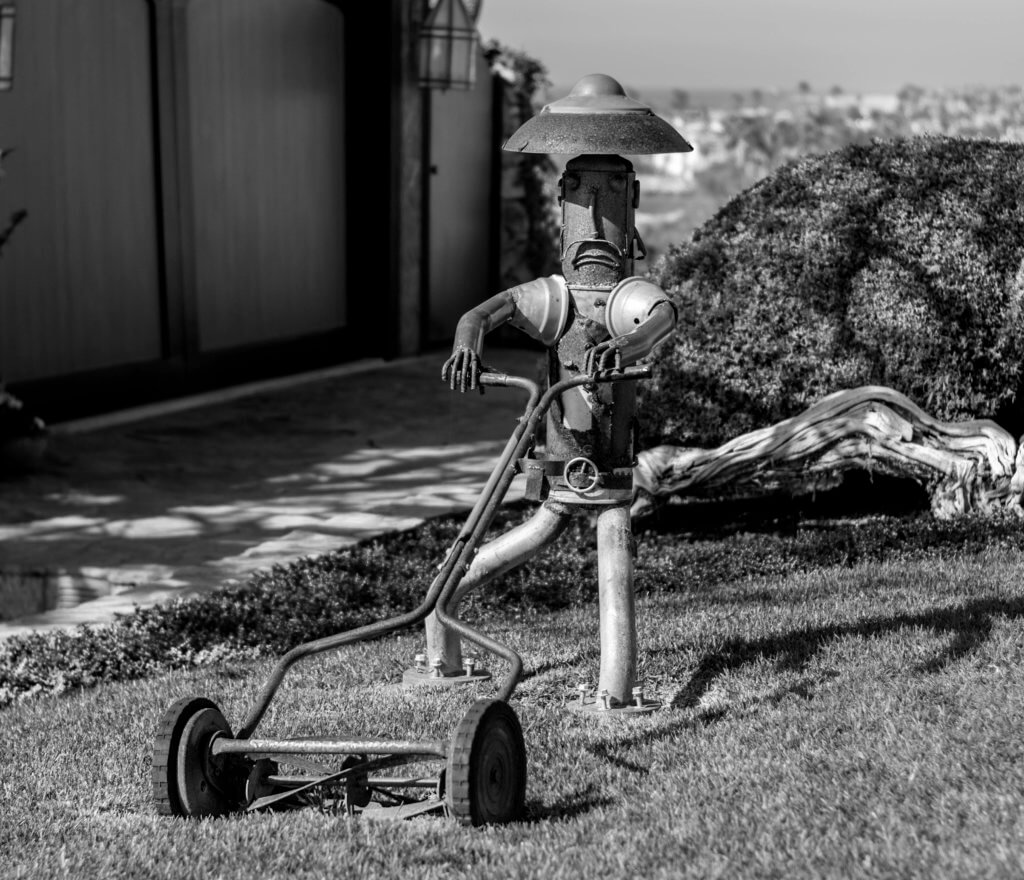 Step 3: Automate your benchmarking
Using Rival IQ, Google Data Studio, or another tool, group your competitors' social performance and slice and dice it with charts to look at audience size, engagement rates, post totals, and more.
This big-picture view, with the ability to dive deep with the click of a button, helps you quickly understand where to invest your time without having to do a ton of manual digging or analysis.
Crank out several reports in just a few minutes, and automate pulling and sending reports with a defined export schedule, sending the results right to your team's inbox.
It's never been easier to access meaningful insights and improve your marketing efforts. Implement competitive benchmarking into your strategic plan today…we promise you'll love the results.