In this episode of the Data-Driven Marketer, we took a deep dive into the 2022 Social Media Industry Benchmark Report with Rival IQ Co-founder and Head of Product Seth Bridges.
During his talk, Seth interprets the industry benchmark report, going step-by-step through nine of his key takeaways and connecting insights and data from other Rival IQ research, including the 2022 Instagram Stories Benchmark Report.
Below, you'll find the full video of Seth's talk, along with the key slides from his presentation. Watch the full episode to see Seth walk you through nine more takeaways from the report.
Watch the full video for the top takeaways
Key takeaway 1: "Low" engagement rates
Much of the chatter on social media following the publication of the 2022 Benchmark Report was about the low absolute value of the engagement rates on Instagram, Facebook, and Twitter.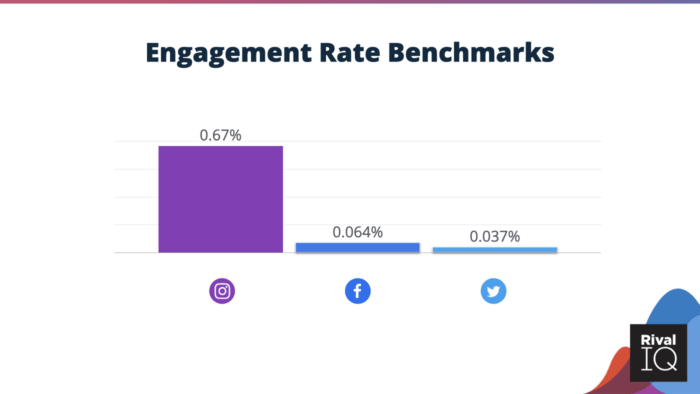 In the slide above, we see the 2022 median engagement rates for Instagram, Facebook, and Twitter. The engagement rate on Instagram is 0.67%, and that is more than ten times bigger than the average engagement rate of 0.064% on Facebook and 0.037% on Twitter.
There has been a bit of discussion around the fact that these engagement rates are relatively small. "But small compared to what?," is the question that Seth asked in his talk.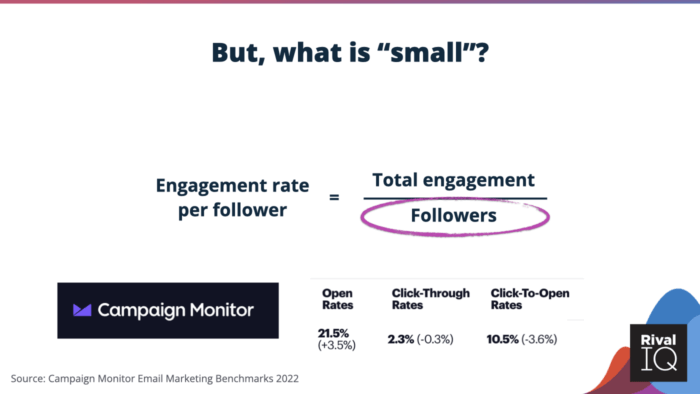 The example from the talk was click-through rates on email from the Campaign Monitor Email Marketing Benchmarks report. In the slide above, you'll see that Campaign Monitor reports click-through rates as 2.3%. Even the average engagement rate on Instagram at 0.67% is more than three times smaller than that. Facebook and Twitter? They're more than 35 times smaller. Yikes.
Key takeaway 2: Engagement rates trending down
Engagement rates by follower count on these three big social networks are trending down over time. And, the pace of decline for average engagement rates is fastest on Instagram in the last two years.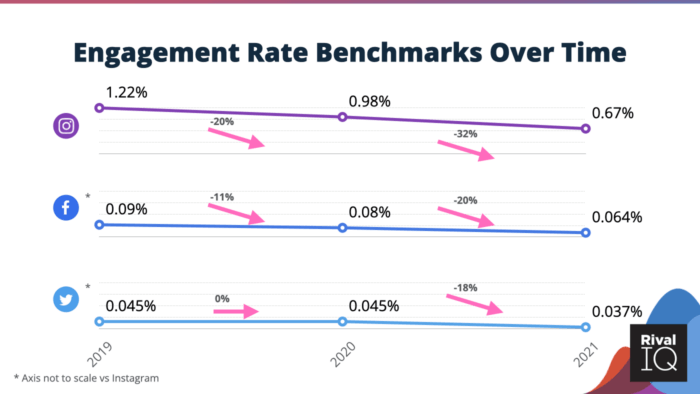 The slide above shows data from this year's study along with data from our industry benchmark reports in 2021 and 2020. Comparing this year's report to last year, we see that engagement rates are down across the board. Additionally, the decreases on each channel are larger than what we saw last year.
Key takeaway 3: Social content isn't getting worse
If you've ever wondered if engagement rates might be dropping because content quality is getting worse, we're here to help you answer the question.
To start, let me ask you a few questions about your followers since that's the denominator of our engagement rate calculation. We all know that 100% of our followers aren't going to see our posts. The answers to these questions are a big part of what determines who sees which of your posts.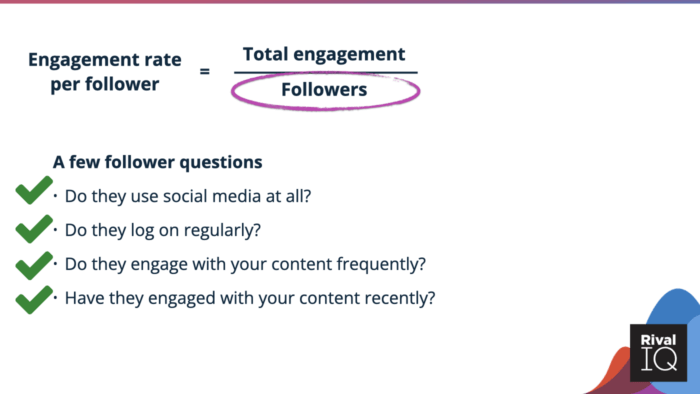 If your followers aren't logging on regularly and engaging with your content when they do, then there's a reasonable chance that the algorithms on each platform aren't serving them your content very often.
But, for those that do see your content, how is engagement looking?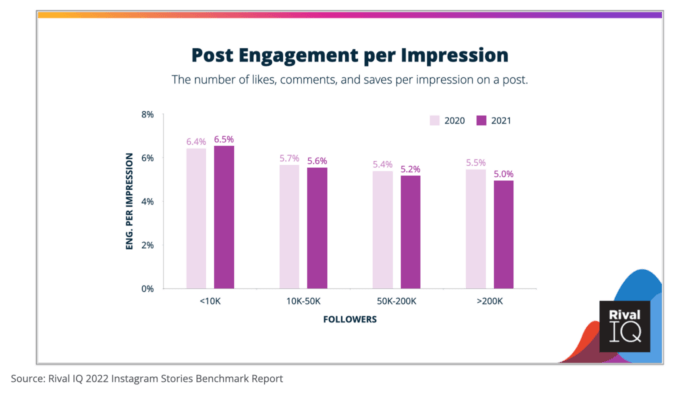 The slide above shows data from the 2022 Instagram Stories Benchmark Report from Rival IQ, and it helps us understand engagement for viewers that actually see your content. The graph shows the average engagement per impression on Instagram feed posts in 2021 vs. 2020. You can see that the average engagement per impression averages are in the 5-6% range and didn't drop much in this year's report.
As we stated above, our takeaway here is that when people see your content, it's getting engagement, and that hasn't changed much at all in the last year.
Key Takeaway 4: Engagement rate drops are mostly due to reach
If engagement rates aren't going down because of content quality, what else could it be?
Using more data from our 2022 Instagram Stories Benchmark Report, we examine the change in post reach rate on Instagram from 2020 to 2021.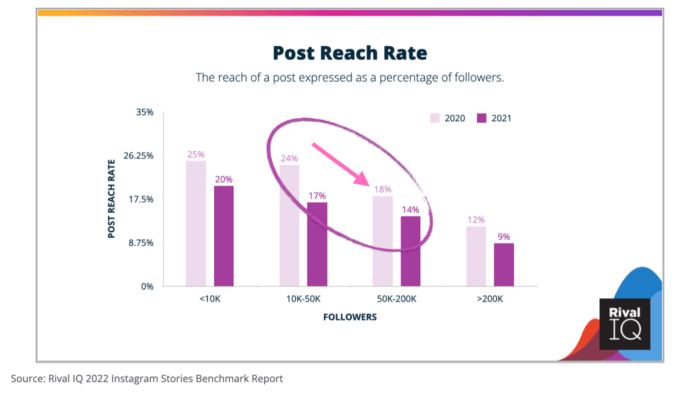 The slide above shows the post reach rate for Instagram feed posts in 2020 and 2021. Note the large decline in the organic reach of the average brand post from year to year. These double-digit changes are likely the biggest culprits in driving engagement rate change in this year's benchmark report.
If people aren't seeing your content, it's pretty hard to generate engagement.
Key Takeaway 5: Posting frequencies in 2021 returned to "normal"
Posting activity by brands did increase in 2021, although this increase was more of a return to "normal" than a trend.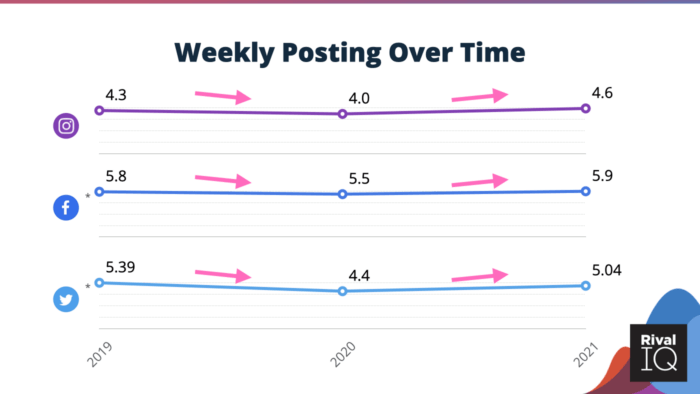 The slide above shows the average posts per week from our 2022 industry benchmark report, and across Instagram, Facebook, and Twitter, the median posts per week increased. Notably, in the previous year, posting frequencies decreased.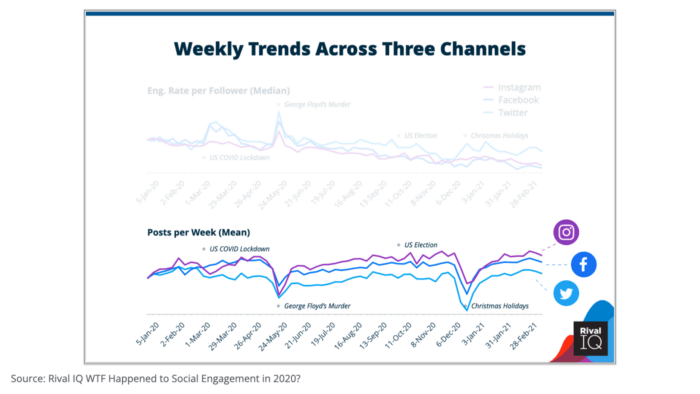 The slide above shows week-by-week posting data from our WTF happened to social media engagement in 2020 report. The highlighted portion at the bottom shows how posting frequencies dropped off in May and June 2020, as brands backed away from social media attention in the wake of the murder of George Floyd. After several weeks, brands did return to social, but not with as much volume. It took several months for posting frequencies to return to the levels of early 2020.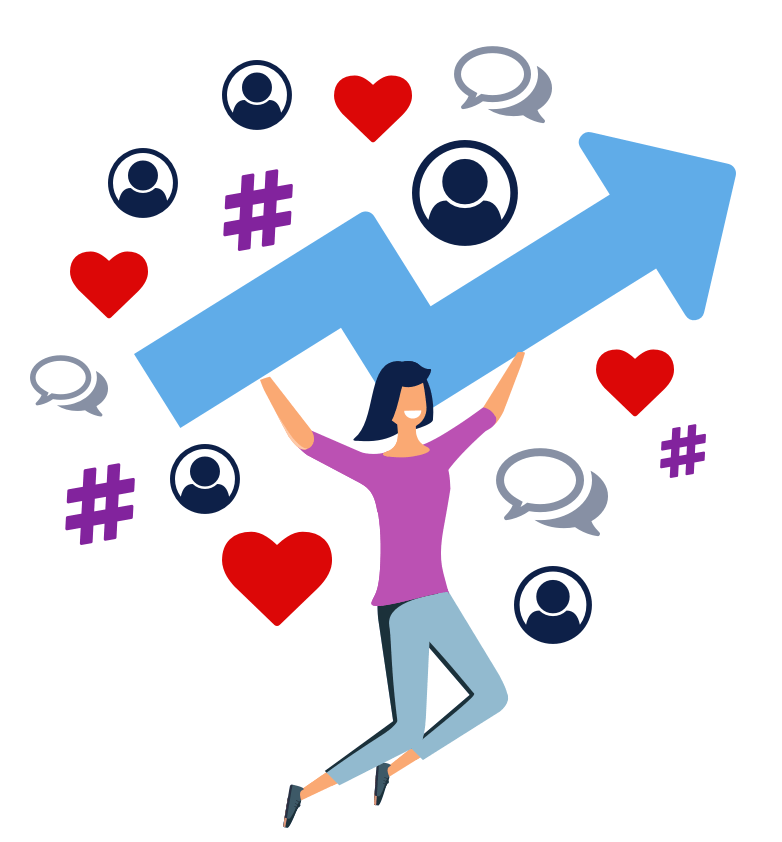 Key takeaway 6: Some industries are just better than others on social
In this section of the talk, we examined which industries rise to the top on social. What we learned was that the top industries on social are on top, regardless of channel.
Also, the top industries dramatically outperform the average, particularly on Instagram.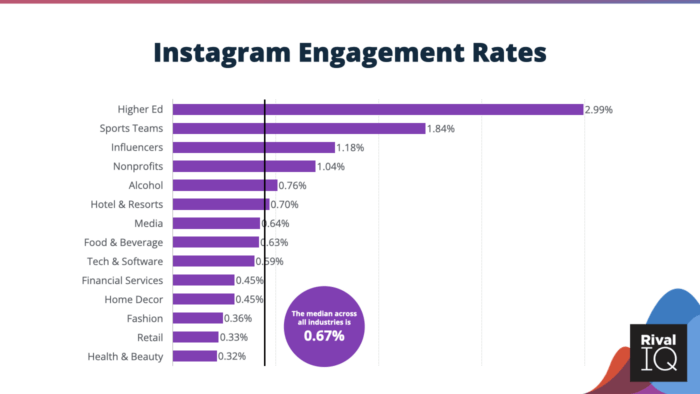 In the slide above, we see the top industries on Instagram from our 2022 industry benchmark report. Higher Education, Sports Teams, Influencers, and Nonprofits all rise to the top.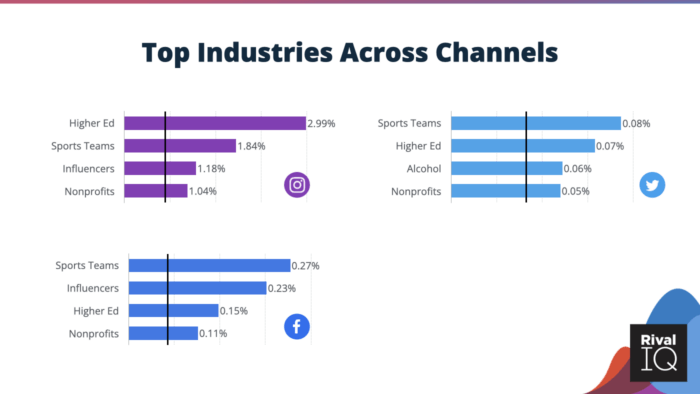 Looking at the top industries for social media on Facebook and Twitter, we see a mostly consistent set of industries across all three channels: Higher Education, Influencers, Nonprofits, and Sports Teams. On Twitter, Alcohol broke into the top four.
Key takeaway 7: Top industries fared better year-over-year
When looking at the top industries, another key takeaway is that the top performers also experienced less engagement rate decline than the cross-industry average.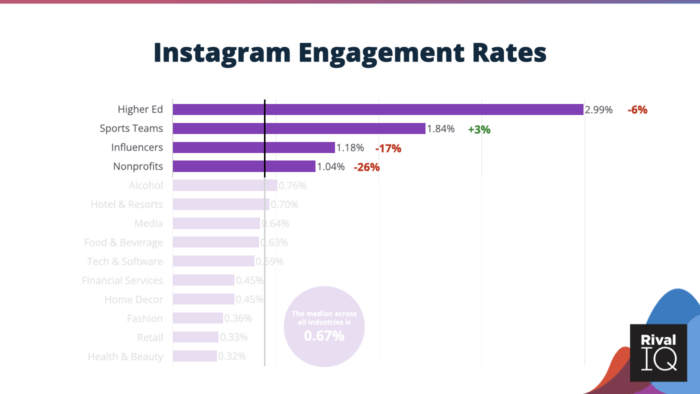 In the slide above, we see that the year-over-year change for our top four industries on Instagram all come in under the 32% drop we saw in the cross-industry average for the report. Sports Teams actually managed a year-over-year increase in engagement rate on Instagram.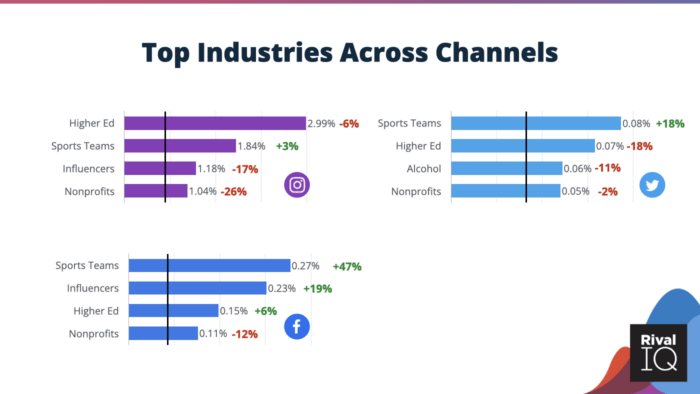 Looking at Facebook and Twitter, we see that the top industries also experienced below-average declines (or increases!) there, too.
Key takeaway 8: The top quartile of brands outperform 2x-3x
While it is useful to examine the median company performance, it's also valid to ask about benchmarks for the top performers in an industry. What we see from the brands in our study is that the top quarter of brands earns engagement rates that are 2-3x the median on Instagram, Facebook, and Twitter.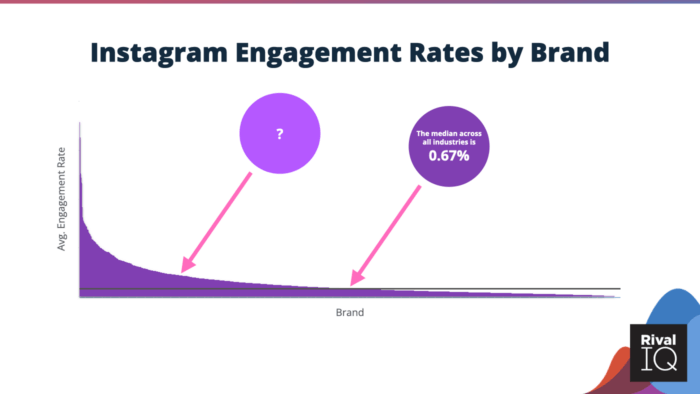 In the slide above, we show the distribution of brands and Instagram engagement rates in the 2022 industry benchmark report.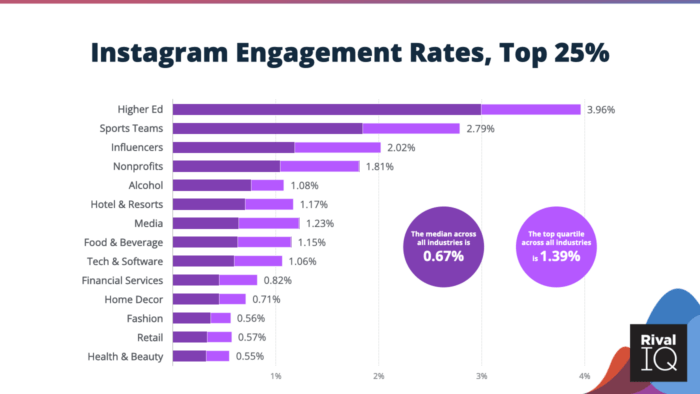 Examining the chart above, we see engagement rate benchmarks for the top quartile of brands in each industry. The top quartile for cross-industry engagement is 1.39%, more than double the median.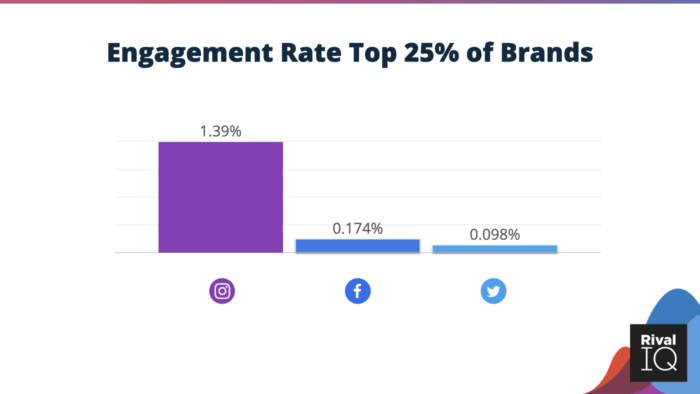 On Facebook and Twitter, we also see that the top quartile for average engagement rates is two to three times the median value, with Facebook at 0.174% and Twitter at 0.098%.
Key takeaway 9: Knowing your audience is a superpower
Knowing what creates a response from your audience—and then delivering that content consistently—will yield above-average results.
In this section of the talk, we dig into the 2021 performance of Yuengling, a popular lager brewer from Pottsville, PA.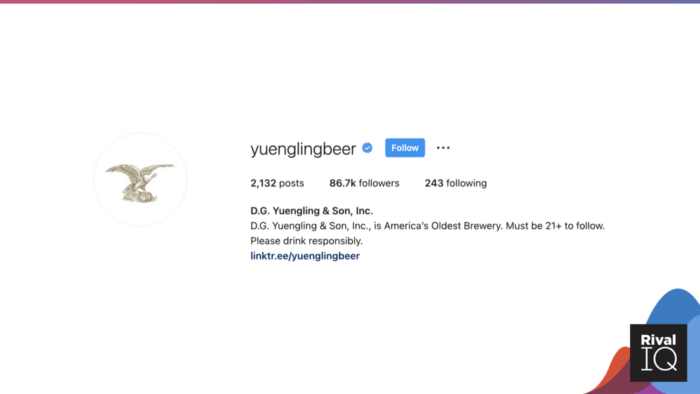 During 2021, Yuengling's Instagram performance was stellar. They posted between five and six times a week, earning more than 435 thousand likes and comments in the process. They earned an average engagement rate of almost 2%, well above the average of 0.76% for our Alcohol benchmark.
Among their top posts for the year was a series of posts featuring their distribution expansion into Texas. Four posts on this topic rose into the top nine for the year, including three videos and a picture.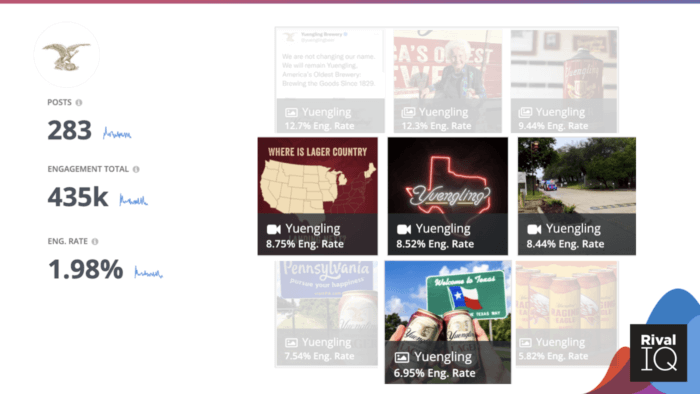 Yuengling really knows what their fans want, both in a beer and their social media, and they deliver both consistently throughout the year. (Yes, I see what I did there.)
Wrapping It Up
We hope that these key insights from our industry benchmark report will help shape your brand's marketing strategies and get you prepped for social media success in 2022 and beyond.
If you have more questions about social media metrics or how to be a guest on the Data-Driven Marketer, reach out to us on Twitter. Till then, happy benchmarking!