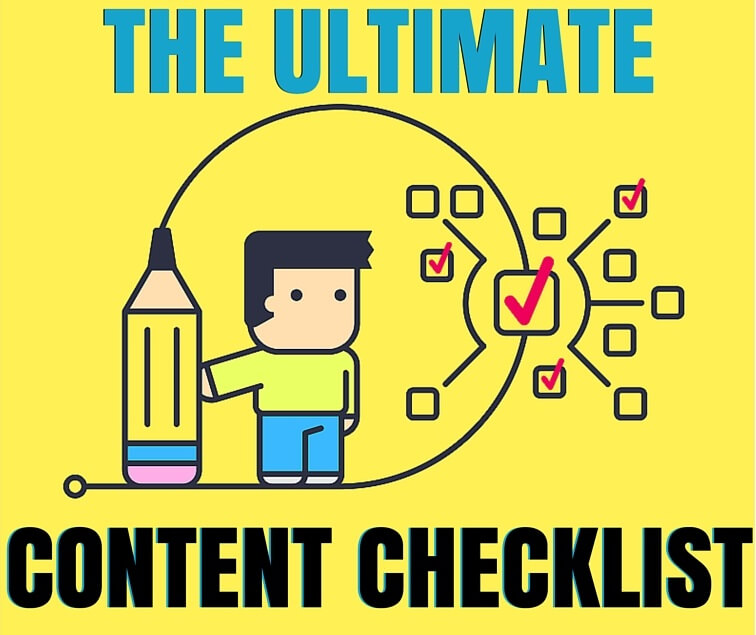 When your blogging objective is content marketing, think twice before you click publish — especially if you're working without an editor. Here's a content marketing checklist for you to use before you set your work live to ensure your words have genuine sparkle.
15 Content Marketing Checklist Items You Need to Know Before Publishing
Double-check Your Content Structure
1. Beef up the title. I probably spend as much time on title/concept than on writing the post. I do regular competitive content reports to be sure my content is in line with what my customers are interested in and rely on expert advice about writing great headlines.
2. Set the hook. The first paragraph on the page is the most important part of the post – and the point where you'll lose a lot of readers. Make sure it's compelling.
3. Draw a strong conclusion. The end of your post should be as strong as the beginning. Remember, you're trying to get people to do something (even if it's just come back for more). Summarize, ask questions, and invite them to comment.
4. Check for readability. I use AtomicWriter, a free plugin for Chrome. It'll point out potential issues and make suggestions to fix them.
5. Check the optics. Web readers prefer text that's easy to scan. Short sentences, short paragraphs, and lots of white space.
6. Let it rest. I know you want to publish it the minute it's written (HOT OFF THE PRESSES), but don't. Sleep on it and take a look the next day, or even a few days down the line. This will help you catch incorrect word use spell-check might miss (are you sure the future of your company is at steak?), to cut down on the hyperbole (see previous example), to better focus the writing where it might have drifted off point, and to cut down on repetition and fluff.
Don't Forget About Your Content Strategy
7. Make sure the post aligns with your strategy. Your blogging strategy should be laid out to accomplish several goals. Most companies shoot for a pretty good mix of objectives:
Adding to customer knowledge base / answering questions
Allowing a glimpse inside the company so customers can get to know you better
Announcing a new thing or event
Reporting news and events
Case studies
While it's perfectly acceptable to throw in some oddball humorous posts, personal news, or cover the company softball fiasco, most of your posts should stick to the plan.
8. Check for keywords. You should have a list of keywords/phrases you hope to rank for, and each post or article should contain some of them – in context, of course.
9. Verify that your CTA is clear. What do you want readers to do? Have you made the invitation clear and easy to spot?
Top-Off Your Post With On-Page Optimization
10. Write a great meta tags. Your meta description shows up under the title on a Google search. It needs to be concise, contain keywords, and accurately describe what's on the page. Meta tags help search engines categorize your pages and users find exactly what they're looking for.
11. Add optimized images. Posts with images are proven to be shared and opened more often. Find an attention-grabbing image for your header, and sprinkle in a few extra graphics to break up the text. Size your graphics properly for fast loading even on mobile devices.
12. Check your links. Make sure all links in your text are working and link to credible sources. Add some internal links to your other blog posts or web pages to help increase the time visitors spend on your site.
13. Make sure you have keywords inside header tags. If you're using section headers, use keywords. Section headers increase readability and draw the eye…so I recommend them.
Promote With a Strong Social Media Strategy
14. Prepare a few different intros for social media. You don't want to send out the same tweet 20 times over the next few weeks, but you do want to tweet it out and share it across other social networks. Get creative. Pull quotes and stick them on a visual background. Use different points made throughout, rather than just the main focus. Ask a question or pose the subject differently.
15. Schedule your posts. You can't be on social media all the time (don't you have a job to do?), and luckily, you don't have to be. There are some terrific social media scheduling tools. Pick the one that suits you best and run with it. Just be sure to monitor comments, shares, and replies.
Quality Trumps Quantity
Producing quality content is not for the faint of heart. It takes knowledge, style, and above all, dedication. It's like a golf swing. You might connect, but if you fail to follow through, the ball's not going where you want it to go.
Writing is only part of the equation, and what you do to make your writing stand out is what determines it's success. Quality is better than quantity when it comes to business blogging. Write longer, and use this checklist to make sure your effort was worth it.
Did I leave anything out of my content marketing checklist? What do you do to polish your blog posts before publishing?