Whether you're nostalgic for your favorite vacation, planning your next big adventure, or simply want a mental escape from the daily grind, travel social media is the ultimate resource to quickly discover what many bucket-list spots have to offer.
In order to stay current and top of mind among target audiences, travel brands must deliver itinerary-worthy digital content to inspire and book visitors from around the globe. Photos and videos of breathtaking scenic views, guests clinking glasses over happy hour, and detailed descriptions of iconic attractions all have the power to instantly transport viewers to the destination of their dreams. Sharing bits and pieces of what travelers can expect on location helps brands maintain relevance for prospective visitors. This way, the next time someone is contemplating making a trip, specific hotels, cities, and activities are competitive contenders in the vetting and planning process. Here's a look at how creative travel brands use the power of social media year-round to demonstrate what their distinct destinations have to offer, both virtually and in-person.
Methodology
For this assessment, we took a look at some of the most successful destination travel accounts online. We selected a number of travel and tourism destinations active on Instagram between June 1, 2019 and May 31, 2020 that outperformed the Instagram engagement rate benchmark of 1.01% for Hotels & Resorts from our 2021 Social Media Industry Benchmark Report. We also teamed up with VERB Interactive, an award-winning interactive creative agency with a strong travel and tourism portfolio, to feature a few of their most notable online case studies today.
In our analysis, four brands immediately rose to the top of the list: Cody Yellowstone and Hilton Head, both managed by VERB, as well as Visit Laramie and Tourism Ireland. After assessing their best-performing content during this yearlong period, here are some of the notable trends and best practices that emerged.
Crowdsource High Quality Photos
I'm sitting in my office in San Antonio, Texas, but suddenly I can detect a cool breeze blowing from my phone screen. As I scroll the 'gram, my real surroundings fade into the background and I'm immediately transported onto a dusty, remote road in the middle of Cody, Wyoming. I'm not hallucinating, I'm simply exploring one facet of the social media home of Cody Yellowstone: an all-encompassing destination designed to explore the rugged adventure, warmth, and charm of The Wild West.
Offering fresh air and wide-open spaces, Cody Yellowstone is a refuge for travelers to find peace while communing with nature. For many, this is a much-needed reprieve from the daily grind of never-ending responsibilities and stress. Using imagery to evoke a serious case of FOMO (fear of missing out) for online visitors, Cody Yellowstone uses Instagram to keep tourism alive and well.
The social media team behind Cody Yellowstone zeroed in on an effective tactic to dramatically enhance the aesthetic of their feed while simultaneously increasing engagement. Their secret? Sharing pictures taken by both professional and skilled amateur photographers.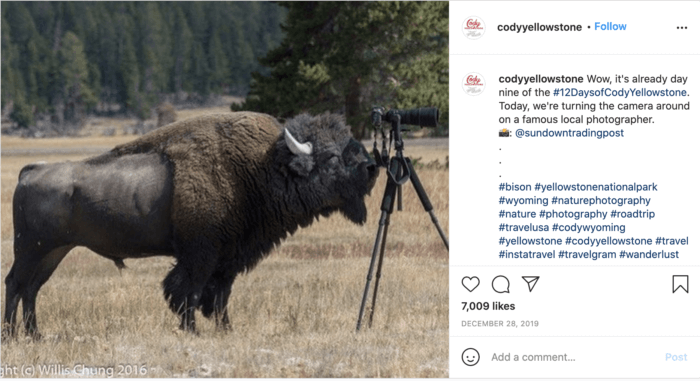 Subject or photographer? Originally posted as part of the ongoing #WildlifeWednesday campaign and reshared at the end of the year during the #12DaysofCodyYellowstone campaign, this bison steals the show with a sky-high engagement rate by follower of a whopping 25.6%.
With Yellowstone National Park as Cody Yellowstone's backyard, there is no shortage of incredibly talented photographers with a good eye and professional equipment capturing stunning imagery in the wilderness.
With the knowledge that many people who visit the region visually document their experiences, VERB created a campaign with the hashtag #WildlifeWednesday to invite photo submissions and encourage friendly competition and sharing among creatives. If chosen, the creator has a chance to be featured on Cody Yellowstone's Instagram account, broadcasting their name and good work to a predisposed willing audience.
Once selected, Cody Yellowstone confirms they have permission to share and appropriately credits the creator on each post with the corresponding campaign hashtag. As far as compensating these talented photographers, the arrangement is based on mutual exposure as opposed to a financial transaction. "These creators generously let us share their photos as long as we provide credit and amp them up a bit while also amping up Cody Yellowstone," said VERB.
According to the social media management team, they feel lucky that there are so many people who are willing to share their photos. "Plus, it's just dumb luck that the town happens to be one of the most beautiful places in the world," said VERB.
This mutually beneficial transaction is a win-win for both parties. Cody Yellowstone gets to use stunning photography without having to allocate time and budget to create it on their own, and each photographer gets brand exposure to Cody Yellowstone's large Instagram audience of 48.4K followers.
In the example above, it's not often that one sees a bison taking a photograph in the wild. While this picture is an effective engagement driver because it is a great image, it also scores major points for humor and creativity. It's no wonder it received a mind-blowing 25.6% engagement rate per follower.
Notably, Cody Yellowstone launches a countdown campaign called the #12DaysofCodyYellowstone at the end of every calendar year. A play on the 12 Days of Christmas, the series is posted over 12 days in December to highlight best-of moments and images recapping the previous year. Interestingly enough, over half of Cody Yellowstone's top ten performing social media posts from 2019 were associated with the #12DaysofCodyYellowstone campaign, and all of the posts featured photos taken by third party photographers.
While the high engagement rate speaks for itself, Cody Yellowstone also has several anecdotal examples from its audience that highlight why this series is so successful. Not only do creators like vying for the opportunity to be featured, the audience loves the content as well. This became especially apparent in 2020, as the audience made it clear that Cody Yellowstone is a bright spot for them in an otherwise impossibly difficult pandemic year. "We regularly see comments from people saying 'this is a real source of joy for me during COVID,'" said VERB.
Push Calls-to-Action to Encourage Audience Engagement and Participation
If you've ever visited Hilton Head Island, you've likely returned more than once. In fact, this South Carolina oasis is known as a premier destination for annual beach family gatherings and frequent weekend getaways (if you're lucky enough to live close by). For many folks, Hilton Head isn't just a location, it is the steady backdrop of a lifetime of happy memories. "Hilton Head Island is a destination people return to year after year for family traditions and to make memories. We've seen people share stories of how they've been going 50 years and they now bring their grandkids," said VERB.
These long-standing, generational traditions make it unsurprising that Hilton Head Island has a robust social media presence with over 55.7k Instagram followers, 21.6k Twitter followers, and over 230k likes on Facebook.
Consequently, visitors have a strong personal connection to the island, considering the "Lowcountry" to be a way of life, instead of merely a regional descriptor of the area along the South Carolina coast.
To guests and locals alike, Hilton Head Island is a sacred place and synonymous with relaxation. That is one of the reasons why VERB has tremendous success showcasing soothing sunset views over the ocean. Many of their top-performing posts have impressive engagement rates by follower that exceed the industry benchmark, like this Facebook post with a 9.6% engagement rate.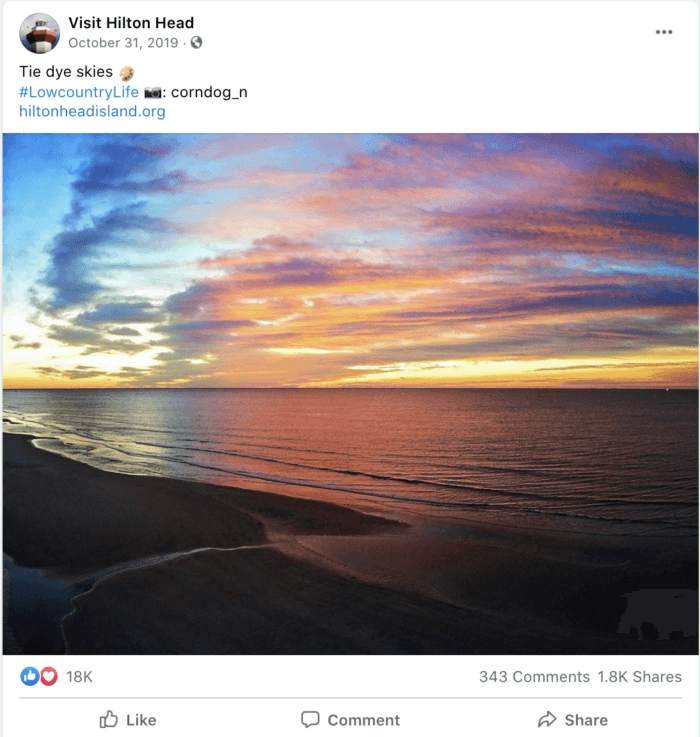 Hilton Head Island's accounts are full of imagery like this depicting the destination's natural beauty, and VERB prioritizes posting real photos over official branded content to maintain authenticity. That said, the strategy doesn't stop there. To take things up a notch, VERB designed a strong call-to-action engagement strategy so people will join the conversation. Hilton Head enthusiasts are typically strongly motivated to share their experiences with equally enthusiastic peers, and also prove that they're part of the fabric of the island.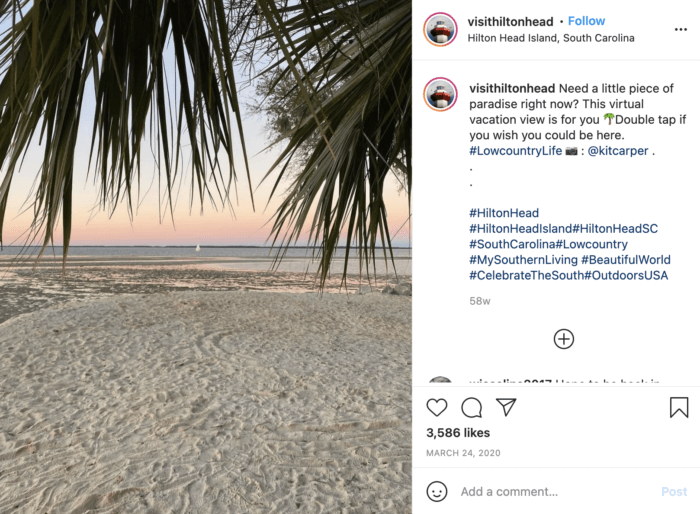 By simply putting a call-to-action in the photo caption asking followers to like, share, tag, and respond, Hilton Head Island sparks audience engagement and stories about the island begin pouring in. This approach helps boost analytics that are important to Hilton Head Island, such as tracking audience growth year over year and month over month, as well as changes to engagement rates and social referrals driving traffic to the website. In this case, the ask to "double-tap" generated an engagement rate by follower of 8.59%.
Promote Community-Specific Social and Cultural Moments
With just a few clicks of the trackpad, we head back out West. This time, stopping to explore the vast social media realm of Laramie, Wyoming.

Like its northwest neighbors in Cody, Visit Laramie posts its fair share of imagery that celebrates the region's beauty. However, by expanding their content strategy to include cultural moments that celebrate the community at large, Visit Laramie depicts a holistic picture of what it's really like to be in "Laradise."
Visit Laramie's mission is to highlight the vibrancy of this western college town with a lot to offer in terms of its rich history, culture, and abundance of activities. College football reigns supreme every fall, especially when hosting the Wyoming State Football Championship playoffs at the Jonah Field at War Memorial Stadium, the football stadium on the campus of the University of Wyoming in Laramie.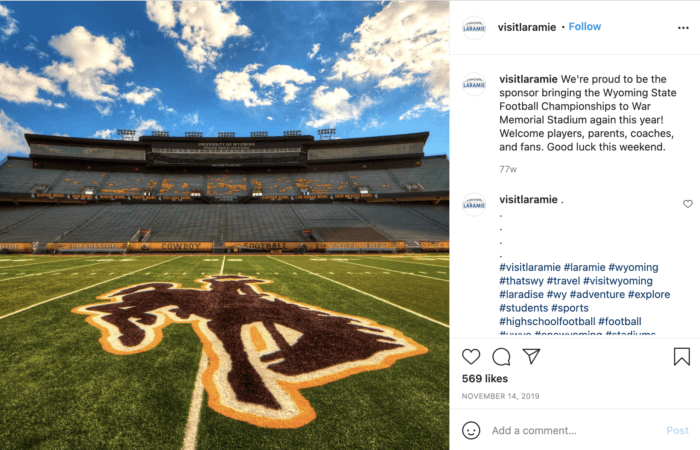 This sponsorship announcement drew the attention of players, parents, coaches, and fans while earning Visit Laramie a staggering engagement rate by follower of 29.7%.
Appeal to Fandom Subculture in a Timely Manner
From the silver screen to binge-worthy shows on streaming platforms, television and movies are known for captivating audiences. A combination of storytelling, realistic acting, and camera work has a way of drawing the viewer in, creating super fans in the process. At the turn of the century, a cultural phenomenon known as "movie-induced tourism" was born. This trend, in which the choice of the tourist destination is directly motivated and inspired by the movies, helps moviegoers and TV buffs recreate the cinematic experience in person to relive movie-driven emotions at the film's location. What was true back then is also true today. When a particular town or region serves as the backdrop for a popular show, a burst of tourism is sure to follow.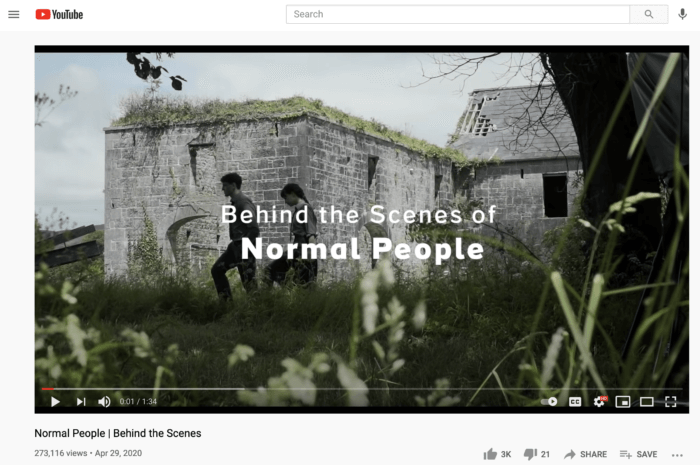 A few months into the COVID-19 pandemic in 2020, Tourism Ireland seized the opportunity to promote the wildly popular novel and Hulu/BBC drama series Normal People on their YouTube account, Discover Ireland. As worldwide lockdowns and travel restrictions brought the travel and tourism industry to a screeching halt, over 273,000 people tuned in from home for a virtual behind-the-scenes look into Normal People.
This form of video content earned Tourism Ireland an all-time high engagement rate by follower of 8.13%. The video resonated with audiences for a number of reasons, but primarily because there was a built-in audience ready to consume content aligned with their interests, and the timing was spot on. While large swaths of people binge-watched TV series, desperately yearning to see something other than the four walls of their living room, Tourism Ireland delivered behind-the-scenes footage that a large group of fans could instantly devour while hopefully waiting for a better day to come.
Wrapping It Up
With so many incredible places in the world to visit, destination travel and tourism brands have their fair share of work cut out for them on social media in order to earn their share of visitors. However, tried-and-true methods like evoking emotion, encouraging audience engagement, celebrate unique destination traits, and piggybacking on meaningful cultural moments are surefire ways to stand out in the travel social media crowd.