Throw on your jersey and pull up a seat to watch the game, it's time for the WNBA finals!
As the 2022 season comes to a close, we thought now would be a good time to spotlight this year's best teams on social media.
If you've read our benchmark reports before, you know that Sports Teams typically rack up high numbers when it comes to posting frequency and engagement rates across all social media platforms — and the teams that make up the WNBA league are no different.
From sharing behind-the-scenes moments to capturing heartfelt moments between players and fans, these teams are not only the best in the WNBA, but they're also the MVPs of social media.
Let's dive into which WNBA teams are killing it off the court and on the screens.
The Stats: Sports Teams Engagement Rates
Before we highlight the top WNBA team on each platform, let's go over the benchmarks for Sports Teams so we can see how these basketball teams stack up.
Facebook
Median engagement rate: 0.266%
Median posting frequency: 21.42 posts per week
Instagram
Median engagement rate: 1.84%
Median posting frequency: 13.64 posts per week
Twitter
Median engagement rate: 0.084%
Median posting frequency: 41.65 tweets per week
TikTok
Median engagement rate by view: 11%
Median engagement rate by follower: 7.6%
Median posting frequency: 1.63 videos per week
Top WNBA Teams on Social Media
Top WNBA team on TikTok: Seattle Storm
Sports teams are dominating TikTok. On average, these teams are racking up a 7.6% engagement rate by follower and an 11% engagement rate by view — which are both some of the highest rates across industries, according to our TikTok Benchmark Report.
WNBA teams are especially active on TikTok, posting about once per week and usually sharing impressive game plays, moments off the court, and player spotlights.
But when it comes to the winner of TikTok, Seattle Storm takes the trophy. The leading basketball team engages its 14.1K fans on TikTok by capturing moments from practice, spotlighting iconic players like Sue Bird, and tapping into the Seattle culture.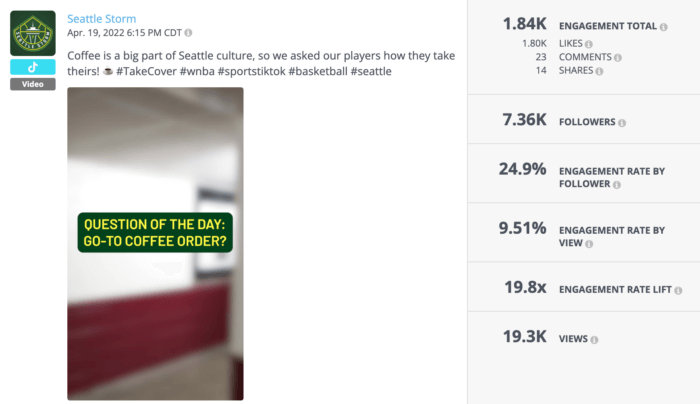 One of the top TikTok videos from Seattle, and among WNBA teams overall, is a video that shares an inside look at how the team's videography is shot on the court. The video received an engagement rate by follower of 135%, which is 17x greater than the average TikTok video for Sports Teams.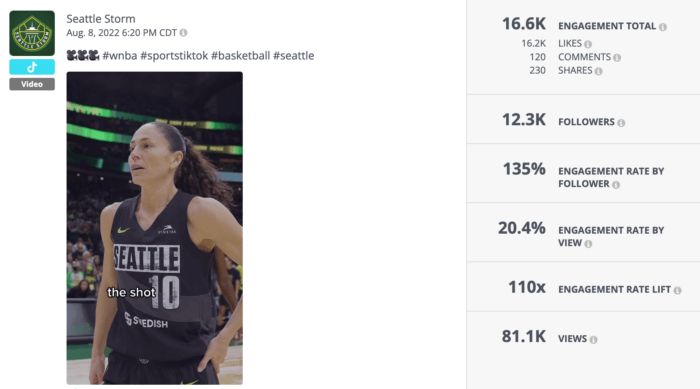 Not to mention, the star of the video is Bird who retired at the end of the 2022 season after an impressive 20-year career.
Bird's legacy and the team's fandom are both evident as this video also received a 20.4% engagement rate by view, which is well above the industry average.
As brands continue to navigate the vast world of TikTok and explore different marketing trends, Seattle Storm makes the case for creating content for a specific audience. The basketball team leans into what its Seattle fans want to see and uses that hometown spirit to drive engagement.
Top WNBA Team on Instagram: Washington Mystics
When it comes to WNBA teams on Instagram, the Washington Mystics' strategy is a slam dunk.
As any social media marketer knows, one of the top Instagram best practices is to show up consistently. Not only do the Mystics post frequently on Instagram — they post 19.8x per week, to be exact — but the content they post most often is one of the most engaging post types: carousels.
Making a sartorial entrance into an arena or stadium has become a tradition for athletes of all sports thanks to star NBA players like Lebron James and Dwayne Wade. Now, fans can't wait to see what outfit their favorite player shows up in on game day, and sports teams would be wise to capture these moments.
The Mystics took full advantage of this trend by creating a recurring series of carousels (along with a branded hashtag, #SticsFits) to feature the players' outfits as they arrive for games. Not only is this a unique way to integrate carousels into their social strategy, but the outfit shots are a fun way to humanize their players and share a glimpse of their off-the-court personalities.
However, it's also worth noting that even though the team frequently posts carousels on Instagram, the Mystics see the most engagement from Reels, as outlined in the blue box below.

Take this top-performing Reel, for example. The post received a 15.8% engagement rate, which is 8.5x greater than the average for Sports Teams and 11x better than the team's typical Instagram posts.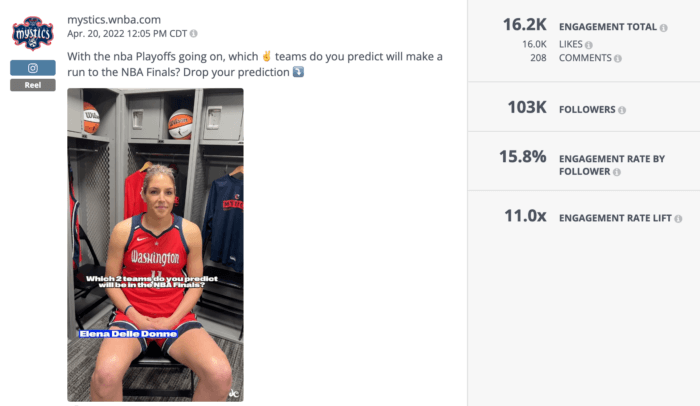 In the video, Mystics players are asked to predict who will be in the NBA finals. The post is timely and spirited, showing camaraderie between the two leagues.
The use of both carousels and Reels demonstrates how well the Mystics' social team understands what generates engagement from their Instagram followers. While it can be easy to lean into content that you know works, the Mystics prove that exploring different post types can pay off.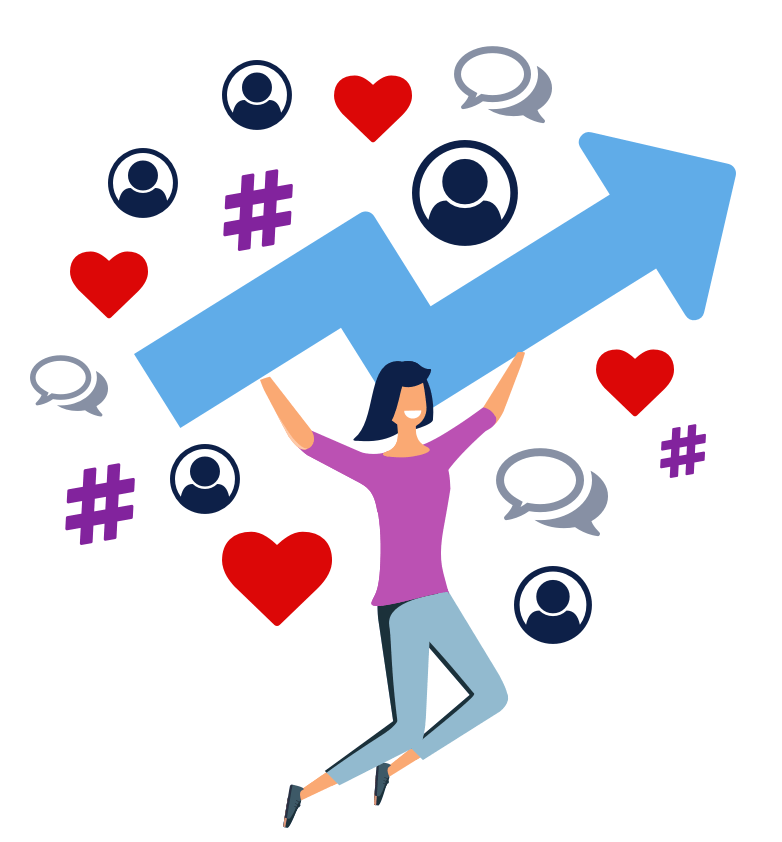 Top WNBA Team on Twitter: Phoenix Mercury
With an average engagement rate 5x higher than the median for Sports Teams, the Phoenix Mercury stands out as a top WNBA team on Twitter this season.
Mercury's tweets are people and community-driven, often sharing photos and videos of the players and their off-the-court lives. The team also gives shout-outs to players from the city's NBA team, the Phoenix Suns.
This tweet, for example, generated an engagement rate of 3.26% which is 38x higher than the average for Sports Teams on Twitter.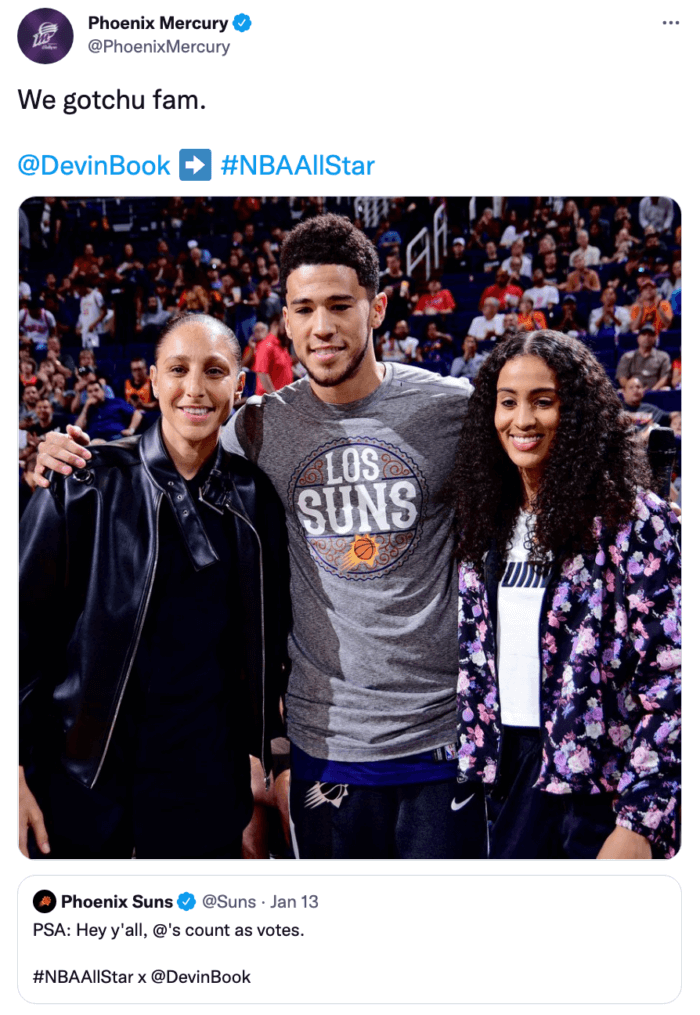 The team is also vocal about social justice, particularly when it comes to the international event surrounding one of its star players, Brittney Griner.
Earlier this year, Griner made headlines for being wrongfully detained in Russia. The team has used its platform to regularly share direct calls to action to bring her home.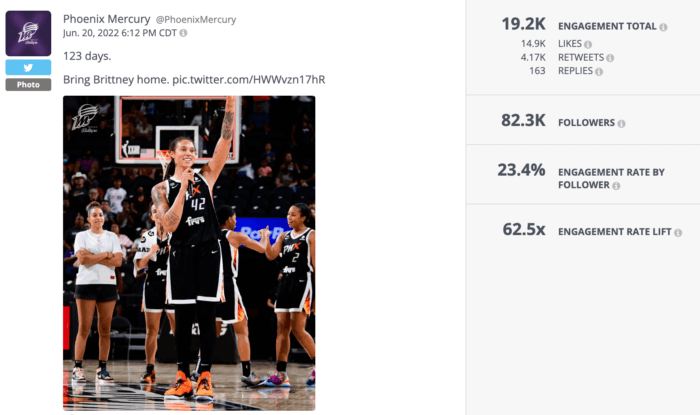 It's clear that the Mercury's fans are dedicated to bringing Griner back home, but it's also a mission that many people across the league support.
According to our hashtag analysis tool, the hashtag #WeAreBG, which was created to support Griner, was frequently used by many WNBA teams and generated the highest engagement rate across the league.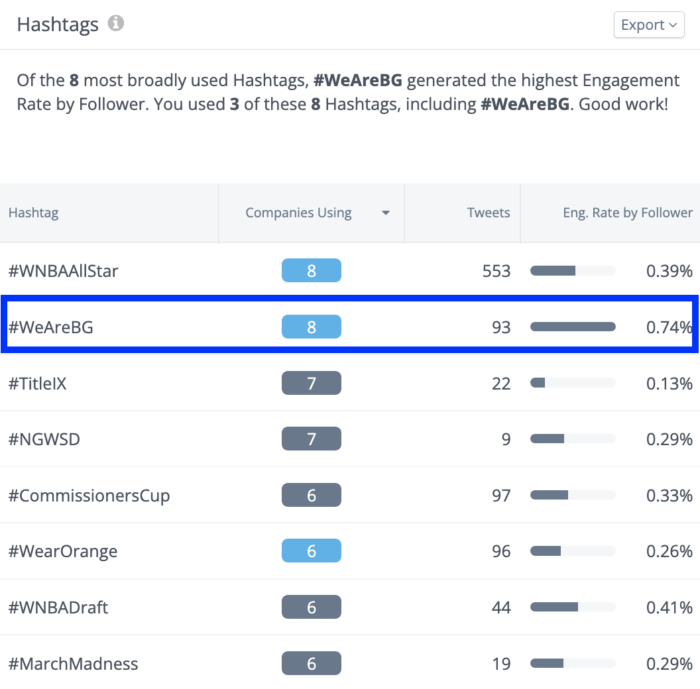 While Twitter is often viewed as a casual, conversational platform, its community-building power is an element that should be taken into consideration when developing your social media strategy.
Though the team was knocked out during this year's playoff round, Phoenix Mercury demonstrates how to use its platform to rally its community, promote social justice, and unite an entire league.
Top WNBA Team on Facebook: Las Vegas Aces
During a time when organic engagement rates on Facebook continue to decline, sports teams are one of the few industries that have actually boosted engagement this year. Sports teams also post frequently on Facebook in order to keep fans up to date and engaged in regular season highlights.
Of all the WNBA teams we analyzed, the Las Vegas Aces — one of this year's finalists — were the clear winner on Facebook.
The Aces' social strategy is thoughtfully tailored for each platform. The team's top posts on Facebook have a much different theme than its top posts on Instagram or on Twitter which demonstrates how well the team knows its audiences on each platform.
On Facebook, the Aces lean into the emotional element of the game by sharing heartfelt moments on and off the court.

One of the team's best-performing posts is a video that captures a heartwarming moment between WNBA MVP A'ja Wilson and a visibly stunned young fan meeting her for the first time.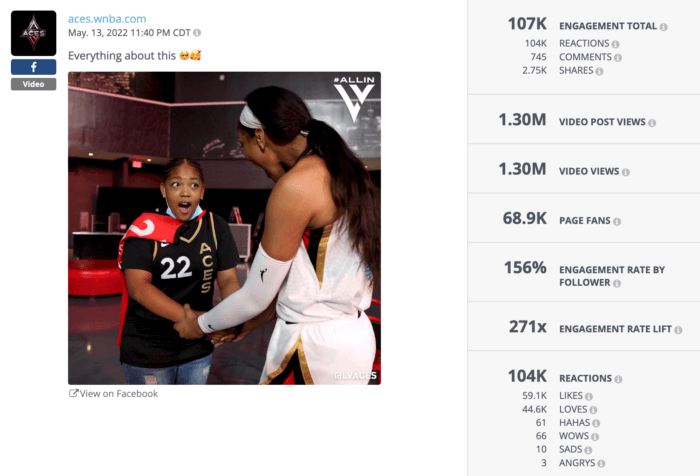 The video received a whopping 156% engagement rate and was 586x better than the average Facebook post from Sports Teams.
Fans are the spirit behind the game, so it's no wonder that these special scenes between fans and players drive so much engagement on social media.
Not only is it a good idea to spotlight fan dedication, but these moments also help people remember that their favorite players are not *just* star athletes — they're also humans.
The Aces make the case for understanding their audience and showing up for them in different ways on each platform.
Wrapping it Up
If there's one thing that's clear about WNBA teams on social media, it's that they are here to give the fans what they want.
Fans drive the engagement for Sports Teams, and these basketball teams create content that entertains, updates, and rallies their fans.
This year's WNBA finalists are not only stars on the court, but they're skilled on social media and we can't wait to see how they continue to generate engagement from their fans for many seasons to come.