TikTok trends come and go faster than you can say FYP.
On a platform that's on track to reach 1.5 billion users in 2022, it's no surprise that social media marketers are constantly tracking the latest trends and brainstorming creative ways to reach this massive audience.
But even on a lightning-paced platform like TikTok, there are still a number of reliable marketing trends that brands can use to generate the high engagement rates TikTok is known for.
In fact, our first-ever TikTok benchmark report found that TikTok is out-engaging the other platforms with an average engagement rate per follower of 4.1%.
And while there isn't a secret formula to racking up millions of views (though the mysterious algorithm certainly plays a role), these trends are worth experimenting with to get your brand in front of your target audience.
Below, we've rounded up 10 TikTok marketing trends along with examples to inspire your next video.
Top 10 TikTok Marketing Trends to Use in 2022
1. Trending sounds and dances
Trending sounds and dances are what helped TikTok explode into the platform that it is today. In fact, "entertainment" and "dance" are the two most popular categories on TikTok, so it's clear that these marketing trends aren't going away anytime soon.
Brands and creators alike can keep their content current by creating videos around the trends that your followers are already paying attention to.
If you need inspiration for incorporating the latest trends into your TikTok content, look to the higher education industry.
Schools and universities are always top performers on social media, so it's no surprise that they consistently produce highly-engaging content on TikTok. Plus, if you consider that over half of social media users between the ages of 18-24 are on TikTok, it makes sense that colleges are especially in tune with what a majority of users want to see. These accounts frequently incorporate the latest trends into their content.
James Madison University garnered an engagement rate that's more than 13x greater than the average with this TikTok video that used a trending sound.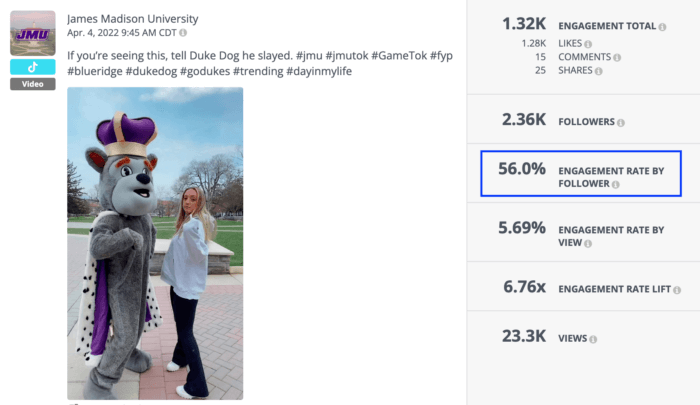 Using a trending sound, learning the latest dance, or participating in a challenge are all great ways to get started with TikTok, especially as you learn what works and what doesn't for your brand.
Plus, if you execute it well enough, there's always a chance your video could go viral which would help get your brand in front of a much wider audience.
2. How-to and educational videos
TikTok is giving Google a run for its money when it comes to being a leading search engine — TikTok is now the first place Gen Z users turn to when they have a question.
Instead of typing a question like, "how to apply false lashes" into Google, there's a good chance people are opening TikTok instead. And it's not hard to see why. TikTok has become a hub of educational content that users can rely on to get a quick and visual answer to all of their queries.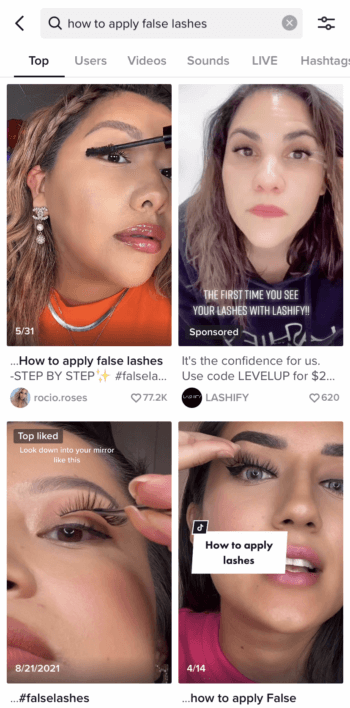 Brands have caught on and are leaning into how-to and educational content. This can play out in the form of product demos, tutorials, and even guides. And TikTok users are clearly eager to learn, as evidenced by the popularity of the #LearnOnTikTok hashtag which has over 343 billion views and counting.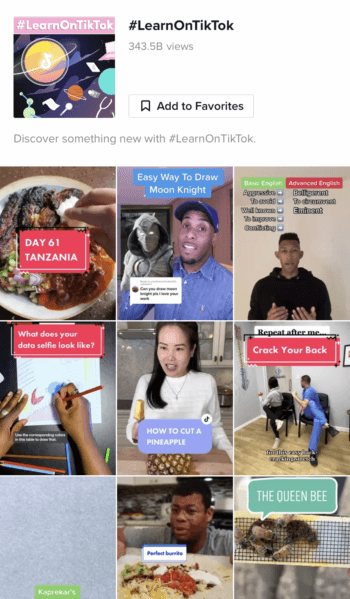 Similar to an SEO strategy, marketers can leverage this TikTok trend by creating content around topics your brand's target audience is searching for. If you're creating content for a beauty brand, you can create makeup tutorials or address frequently asked questions about your products. Or take it a step further by partnering with a creator who already creates makeup tutorials and has built a following around it.
The key is to optimize the video by using keywords in the caption, creating a clear title in the thumbnail image, and of course, addressing search intent by answering the question in a clear or creative way.
3. Niche and subcultures
If you've spent any time on TikTok then you're probably familiar with #BookTok. But do you know about #CleanTok or #CareerTok? There's even #IkeaTok which is dedicated to interesting IKEA finds and home DIYs using the brand's furniture.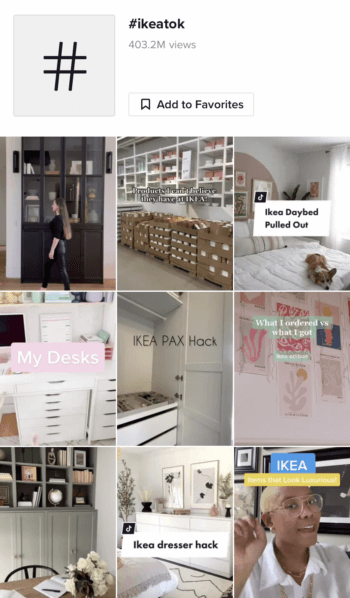 Simply put, there's a niche community — and an accompanying hashtag — for practically any topic you can think of. If you want to reach a niche audience, then brand marketers would be wise to tap into these corners of the internet.
Niche communities and subcultures tend to have a highly engaged audience. Just take #IkeaTok for example — the hashtag currently has over 400 million views. The key to creating content for a niche audience is to be authentic. Your contribution to the topic should be genuine and provide value to the audience who views it.
For example, if you're marketing a beauty brand and want to get your products in front of the #IkeaTok audience, you could create a video that showcases a DIY makeup organizer using IKEA storage products.
4. Commerce
If there's anything that #TikTokMadeMeBuyIt has shown us, it's that TikTok has tremendous influence over consumers' shopping behavior. In fact, 67% of users say that TikTok has inspired them to shop.
To keep up with the trend, TikTok has introduced commerce tools — like the ability to add product links to a video — to make it easy for users to purchase products as soon as they discover them on the app.
Retail brands can curate their products in a dedicated shopping tab on their page, as shown in the blue box below on NYX Cosmetics' TikTok.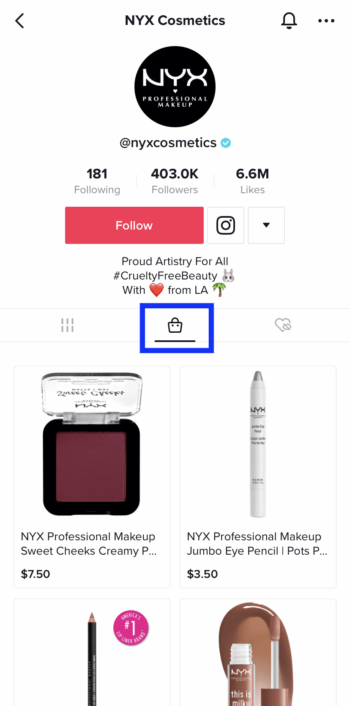 If you're a social marketer for a retail brand, lean into the commerce capabilities of TikTok as you plan your marketing content. Consider ways to make your content shoppable so you can eliminate the number of steps or decisions customers have to make before adding a product to their cart.
For example, NYX includes UGC (usually a review or makeup tutorial) on the product pages in its shoppable tab as additional social proof for anyone considering making a purchase.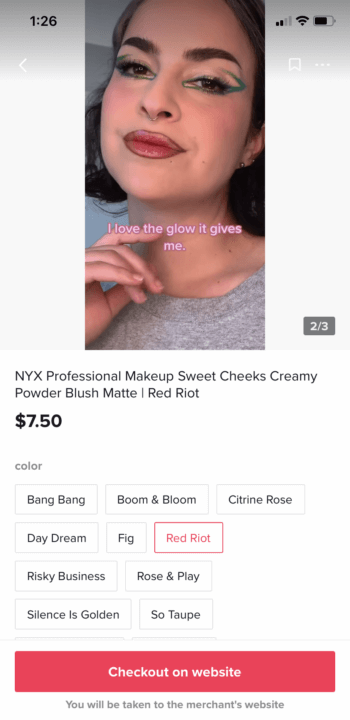 5. Creator collabs
The creator economy is what drives TikTok, and brands would be wise to tap into that influence. According to TikTok, brand collaborations with creators can improve brand recall, video view rates, and engagement with your target audience.
There are countless ways to partner with TikTok creators for your marketing strategy including through brand partnerships, ad content, and even UGC.
Beauty brand Sol de Janeiro does an excellent job of using creator content to drive awareness for its products.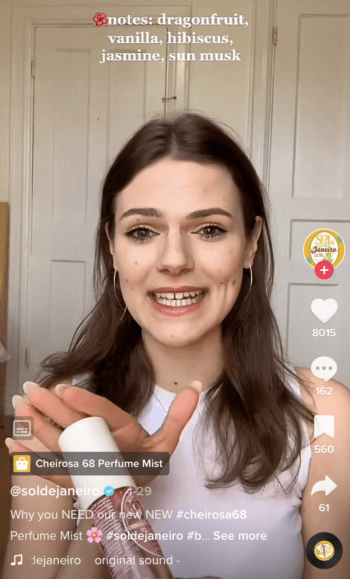 Not only do they partner with influencers to help amplify the brand, but Sol de Janeiro frequently reposts UGC that helps boost the brand's social proof. It's clear that the marketing team is keeping a pulse on brand mentions and genuine product reviews.
When partnering with a creator or reposting their content, it's essential to make sure your brand and the creator's brand align. When the creator and the brand have similar audiences, it helps create a more genuine partnership that users can trust.
6. Branded hashtag challenges
A branded hashtag is a hashtag created by a brand that encourages users to use it in their content when they mention the brand, or for a specific campaign like a contest or challenge.
Branded hashtags are a great way to get your brand trending, get your name in front of a wider audience, and encourage engagement.
Skincare brand Eucerin executed a branded hashtag challenge with its campaign, #28DaysofEucerin. Based on the idea that it takes 28 days to form a habit, the challenge encouraged TikTok users to start new habits that benefit healthy skin and share their routine for 28 days for a chance to win a year's supply of Eucerin products.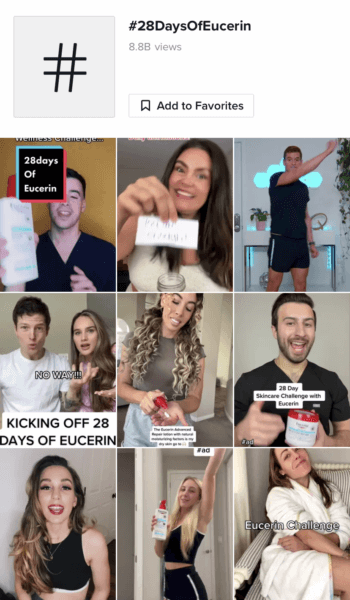 The hashtag received 8.8 billion views and was used in a majority of Eucerin's most engaging videos, as outlined in the blue box below. These videos also received 88x more engagement than the brand's other videos as you can see in the red box.

If you want to give your brand a boost of engagement, a branded hashtag challenge is worth experimenting with. The key is to make sure there's enough incentive for the users to participate, like a major prize. It also helps to partner with influencers or creators who can help generate buzz for the campaign when it kicks off.
7. Behind-the-scenes vlogs
If you were active on the internet in the early 2000s, then the word "vlog" probably brings back a lot of memories.
Well, like most cultural trends from decades past, vlog-style content is back thanks to TikTok.
This TikTok marketing trend particularly plays out through "day in the life" videos. If you browse through the #dayinthelife hashtag, there are countless roles you can get an inside look at, from "day in the life of a D1 athlete" to "day in the life of a cake decorator." (Fair warning: You may be tempted to make a career change after seeing the wide range of unique jobs out there.)
These videos tend to be popular for individual creators, but brands can leverage this trend by tapping into different POVs from internal members of the company like employees, the brand's founder, or even students.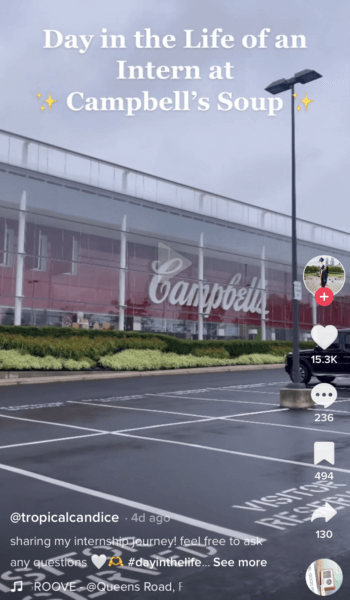 If you're going to give this trend a try, the video should give a behind-the-scenes look at the processes, people, and atmosphere of the place you're trying to promote. This could be a good strategy for brands who are using TikTok to recruit people, like universities who want to reach new students, for example.
8. Social listening
While social listening isn't a new trend, it's especially pertinent on a platform as fast-moving as TikTok.
Marketers have to pay extra attention so they don't miss out on relevant conversations happening around the platform, potential UGC opportunities, and any comments or questions that followers may have about your brand.
A great way to execute this trend is by keeping an eye on the comment section and replying to comments with another video. Not only does the comment appear overlaid on the new video, but it will also show up in the replies of the original comment thread.
DTC shoe brand Vessi offers a great example of this tactic in action. The brand replied to a question about its waterproof shoes with a video of a TikTok creator (@runningjord), who's known for running videos, running across water in a pair of Vessi shoes.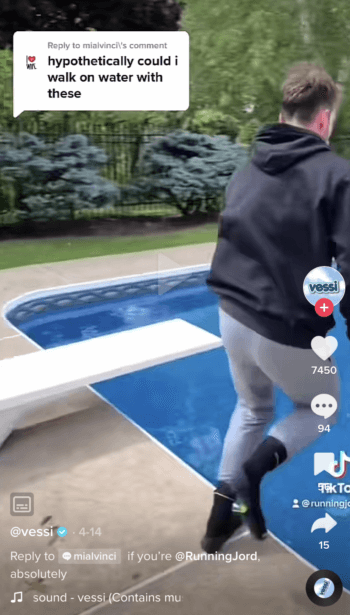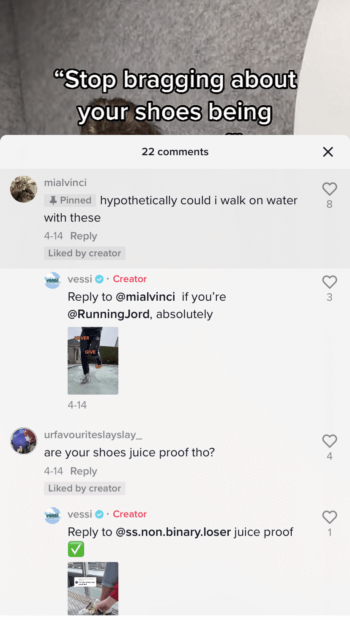 Another way to show your followers that you're listening to them is to use the reply feature when announcing new products (especially ones that have been frequently requested), like beauty brand Laneige does below.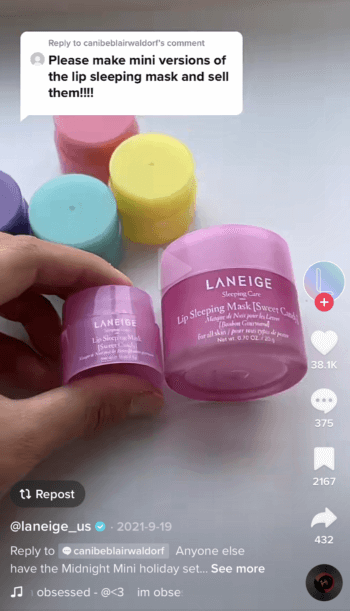 Social listening on TikTok is all about staying on top of what's being talked about on the platform, from trending topics to customer questions, so you can create content that resonates.
To make sure you never miss a conversation (as much as you may want to, you don't have time to scroll through TikTok all day!), use a TikTok analytics tool to track everything from trending topics and hashtags all from one place.
9. Long-form video
Though TikTok's foundation was built on short-form content, longer videos may eventually become the norm now that TikTok videos can be as long as 10 minutes.
A great way to incorporate this TikTok trend is through a video series. One of TikTok's own accounts, @tiktokforbusiness, offers a great example of episodic content with its #MadeForTikTok series.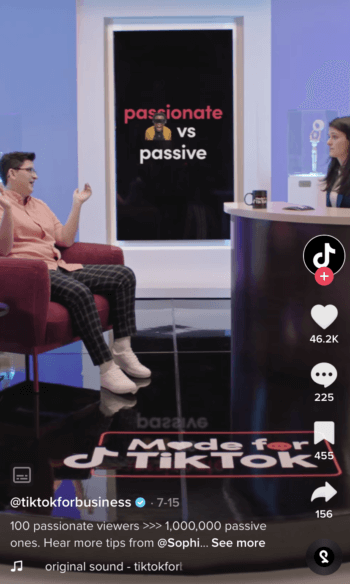 Since the account is geared toward business owners and marketers, the series interviews leaders in the ad industry who share their best marketing tips. The videos take a talk show approach but are easy to digest as they're only about five minutes long.
A video series is a great way to establish your brand as an expert or a resource and keep your audience coming back for more. Q&A-style interviews are the obvious choice for a series, but there's a lot you can do with long-form videos, from tutorials to documentary-style storytelling.
As TikTok continues to expand its video capabilities, now is the time to get ahead of the competition and test the waters with long-form video.
10. TikTok Lives
To capture real-time engagement, consider going live. Livestreaming on TikTok is another trend that has picked up a ton of steam as it gives brands and creators a chance to connect on a more personal level. And because there's an entire tab dedicated to live videos, brands can get in front of a much broader audience and capture the attention of users who may not even follow them.
While creators from all industries can take advantage of TikTok Lives, retail brands in particular can take advantage of this trend through TikTok's live shopping feature.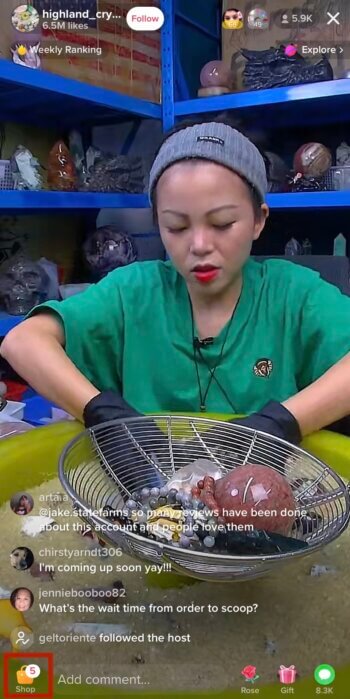 Brands that sell products can use a livestream to showcase different products through demonstrations, reviews, or even simply talking about them.
Viewers can then click on the shop tab, as shown in the red box at the bottom of the image above, to browse the products that have been mentioned during the livestream. The shop page then makes it easy for TikTok users to shop directly in the app. Think of TikTok live shopping as the modern-day QVC.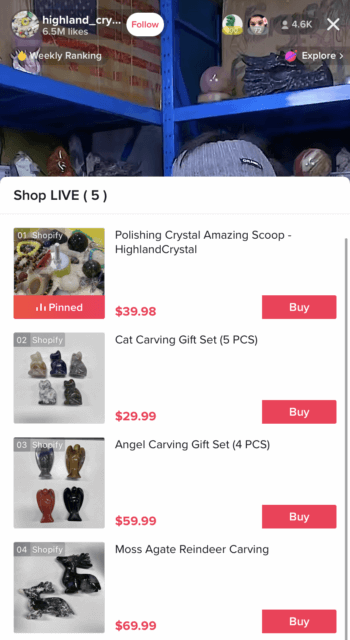 Whether for shopping, Q&As, or event streaming, TikTok Lives may be worth considering if you want to connect with your audience on a more casual level and in real-time.
The Wrap-Up
There's always something new to try on TikTok — and that's the beauty of the platform.
The key to incorporating the latest TikTok marketing trends is to make sure they align with your brand so that the content comes across as authentic to your followers. You don't have to try them all! Not every trend will be right for your brand.
But once you start experimenting with different trends and content types, always be sure to measure the right TikTok metrics so you can get an accurate analysis of your performance.
After seeing what works for your brand, you'll be sure to wind up on your target audience's FYP in no time.