We've scoured the internet for the best TikTok analytics tools to take your engagement to the next level.
We're head over heels for all things engagement here at Rival IQ, and we're always looking for ways to help brands get the most out of their social media platforms. As far as things go for the internet's trendiest app, our TikTok Benchmark Report can provide you with super helpful insight into the key metrics and stand-out practices we saw on TikTok.
If you want to take your TikTok marketing campaigns a step further this year, TikTok analytic tools are likely your best bet. The right tool will help you make sense of raw data and equip you with actionable insights to connect authentically with your followers. We know short-form videos are a must in digital marketing in 2023, so let's find what really works for your audience and run with it.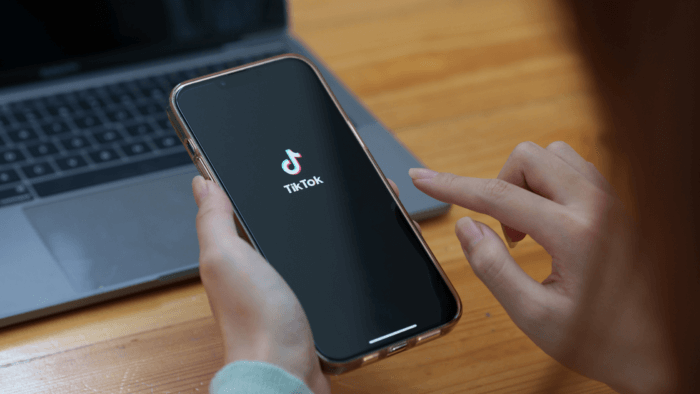 Before getting started, brush up on some important TikTok metrics marketers need to know.
Now, let's dive into the top TikTok analytics tools so you can turn your TikTok marketing strategies up a notch in 2023.
Top free TikTok analytics tool
TikTok Analytics
It wouldn't be right to start this list with anything other than TikTok's analytics tool. You can find this function of the app by heading to the "Creator tools" section on your profile. While TikTok's analytics tool is pretty bare-boned, it is a commitment-free alternative to paid tools.
Key features
Analytics overview – Measure follower growth, profile views, and video engagement during selected periods up to 60 days.
Measure content performance – Deeper video insights, including average watch time, percentage of viewers who watched the entire video, and traffic source type.
Follower insights – Read more about your audience, including demographics, times of the day they are most active, and follower growth changes compared to a previous period.
Best overall TikTok analytics tool
Rival IQ
Rival IQ is a tool-packed, full-service social media analytics platform for marketing agencies and brands across industries. We may be biased, but we think we're pretty good at what we do.
In addition to Tik Tok, Rival IQ covers Instagram, Twitter, Facebook, LinkedIn, and Youtube analytics. This could be the analytics app for you if you're looking to monitor all your social media accounts in one place easily. Rival IQ is known for its top-tier customer service, so if you need extra assistance with your social media analytics, working with our hands-on team could be a big help.

Key features
Detailed TikTok metrics reporting — In-depth post analysis covers engagement by popular topics, best times and days to post, TikTok hashtag usage, and keyword searches.
Customizable landscapes — Select the exact parameters for the TikTok metrics you want to track for your company and competitors.
Insights on competitor TikTok performance — Run free head-to-head reports to see how your TikTok engagement compares to competitors. Competitive analysis helps you gather inspiration for things like popular content and hashtags and see how your competitors are reaching your target audience.
Social media audit — Audits provide feedback on a slew of essential metrics and can help you determine which areas of your TikTok strategy need improvement.
Pricing – 14-day free trial. Plans start at $239/month.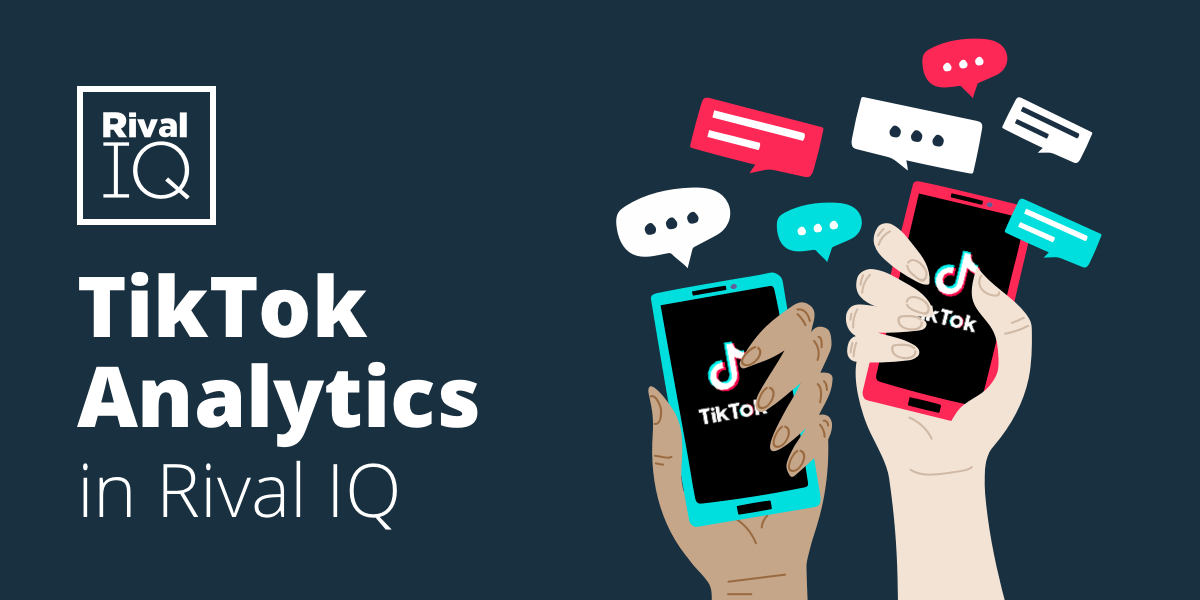 Top TikTok analytics tools for small businesses
Pentos
For a more low-budget-friendly tool that covers basic TikTok analytics, consider Pentos. The platform was designed in 2020 when TikTok began to take off to make it easier for content creators to track key metrics for themselves and their competitors. Based on your plan, you'll be able to track varying numbers of TikTok users, hashtags, and sounds, download automated CSV and Excel reports, connect to Data Studio, and receive dedicated assistance from Pentos staff.
Key features
TikTok profile analysis – Customizable dashboard can track followers and post engagement for your account and your competitors'.
Track post performance — See how your TikTok videos compare against each other on key metrics such as views, likes, and comments in real-time.
Manage sounds — Keep track of trending TikTok audio sounds and songs and monitor plays and posts.
TikTok hashtag tracking — Measure hashtag performance over time to determine the best strategies moving forward.

Pricing – Plans start at $49/month.
analisa.io
Utilized in over 57 countries, analisa.io is an AI-powered analytics tool for both Instagram and TikTok. The platform boasts a few free tool options which allow anyone to generate analytics reports on public TikTok profiles, hashtags, followers, and recent posts. For more comprehensive TikTok analytics, check out their Plus and Pro plan options.
Key features
Metric analysis — Dive deep into the performance of your TikTok videos with insights on engagement totals, location tag map, reach and impressions, best times and days to post, follower demographics, and more.
Campaign reporting — Export customized reports to share how your hashtag and content strategies have fared with your followers.
Influencer mapping — See which TikTok influencers garner the most engagement with specific topics and hashtags.
Personal account managers – Dedicated support staff provide on-demand assistance with all platform aspects.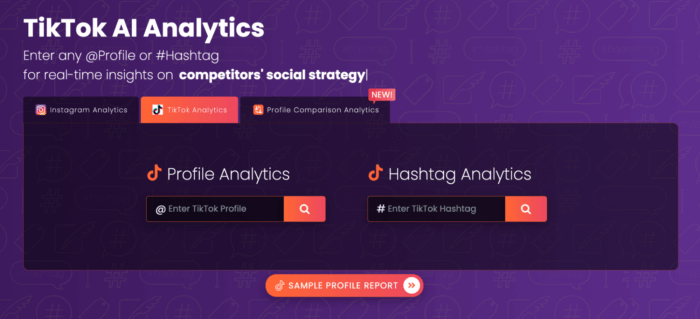 Pricing – Free plan with paid plans starting at $69/month.
iconosquare
iconosquare recently launched its custom dashboard feature for TikTok and LinkedIn, making it easier for users to keep all their socials tracking in one place and focus on the metrics most important to them. The platform offers three plan options to meet your needs, whether you're a small business or a large marketing agency.
Key features
Engagement insights — With data on 100+ metrics, you can see what type of content does best with your audience.
Customizable reports — Customize your dashboard to display desired metrics and timeframe and then download the data as a visual report or raw data.
Competitor reporting — Select the TikTok accounts you would like to monitor and receive reports on, and schedule automated reports to be emailed weekly, monthly, or quarterly.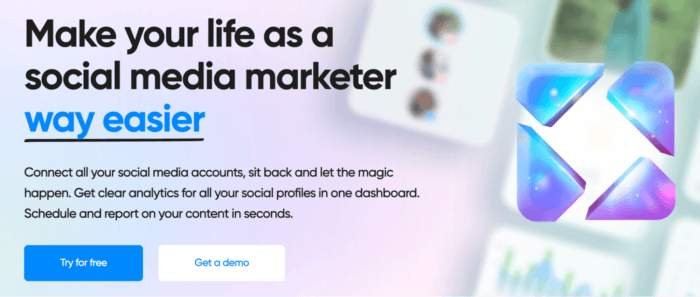 Pricing — Plans start at 49€/month. (All prices in EUR)
Top TikTok analytics tools for marketing agencies
quintly
Utilized by the likes of Monster Energy and Whispr Group, quintly provides analytic insights for TikTok, Facebook, Twitter, Instagram, Youtube, LinkedIn, and Snapchat. quintly checks all the boxes for important TikTok analytics and would be a great option for social media managers and marketing agencies needing to track multiple accounts across platforms.
Key features
Metric reporting — Get to know your audience with insights on post views, likes, comments, and shares. Download automated reports with custom timeframes and metrics to be easily shared.
Visualization tool — See data on the latest trends, post engagement, and other insights in easily digestible graphs and charts.
Measure campaigns — Design your TikTok strategies around past social media campaigns and hashtag performance.
Customizable dashboard — Easy-to-navigate dashboard allows you to set and measure your KPIs and determine the parameters for your data reporting.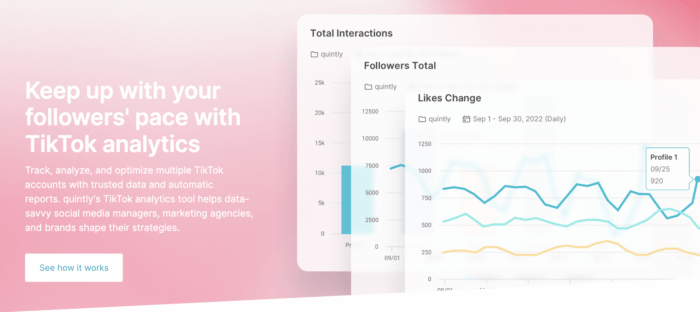 Pricing – Plans start at $315/month.
Keyhole
Another great option for social media managers and agencies, Keyhole lets you track the latest trends, influencers, campaigns, and profile analytics across TikTok, Twitter, Instagram, Facebook, Youtube, and LinkedIn. The self-described comprehensive tool offers plans covering specific areas of analytics and custom pricing for custom plans.
Key features
Engagement analysis — See what worked well with your audience through key TikTok metrics such as total engagement, engagement rate, total views, and more.
Hashtag tracking — Measure hashtag performance and determine which to include and how many in future campaigns.
Personalized recommendations — Keyhole provides ideas for increasing TikTok views, likes, comments, and overall engagement based on the data reporting.
Competitor insights — Get the scoop on your competition with a side-by-side comparison of TikTok accounts and post metrics.
Social listening — Get alerts when people mention your brand on TikTok so you can engage appropriately with followers.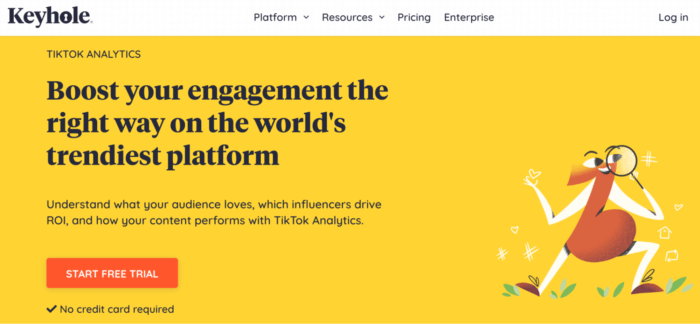 Pricing — Custom pricing with plans starting at $39/month.
TrendTok Analytics & Tracker
As the name suggests, TrendTok is all about identifying, measuring, and predicting TikTok trends. The app, which you can find in the Apple Store, helps brands and influencers get ahead of the curve on TikTok trends specific to their industry and geographical area.
Key features
Track trends — Search for viral trends according to content type, geographical location, content creators, and more. Save trending sounds and songs to use for future posts.
Personalized trend recommendations — Automatic generator provides ideas for sounds and content trends to use in upcoming videos. All suggestions are based on account characteristics.
Custom trend reports — Generate personalized reports so you can stay up to date on the metrics and topics that matter most to you.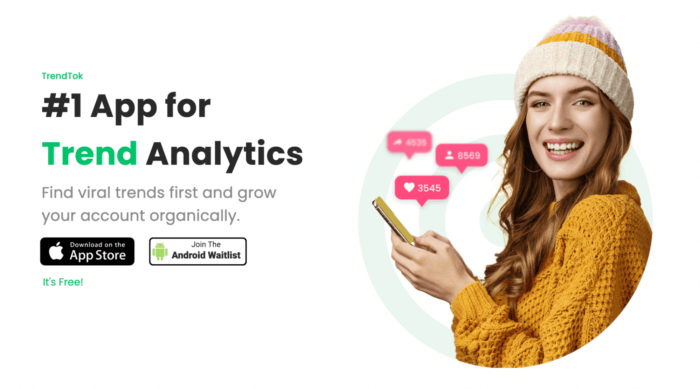 Pricing — Plans start at $2.99/week or $29.99/year.
Exolyt
Exolyt is another excellent TikTok-specific analytics platform utilized by brands, agencies, and influencers. Depending on the type of features and the number of TikTok users and accounts you want to track, you can choose from their three available plans. Exolyt markets itself specifically towards B2C brands, marketing agencies, non-profits, and NGOs.
Key features
Account tracking — Monitor your and your competitors' TikTok accounts to compare follower count, engagement, hashtags, and sounds.
Find trends — See the type of content, accounts, sounds, and hashtags trending in each country.
Hashtag analytics — Track how hashtags have performed historically and what type of reach they've had. You can also follow selected hashtags to see how their growth changes.
Create content folders — Keep track of content pillars, topics, hashtags, or types of videos in one organized location. Reference the folders later to compare video performance.
Airtable and Google Sheets synchronization  — Sync data for your TikTok accounts with Airtable and Google Sheets for automated and up-to-date reports.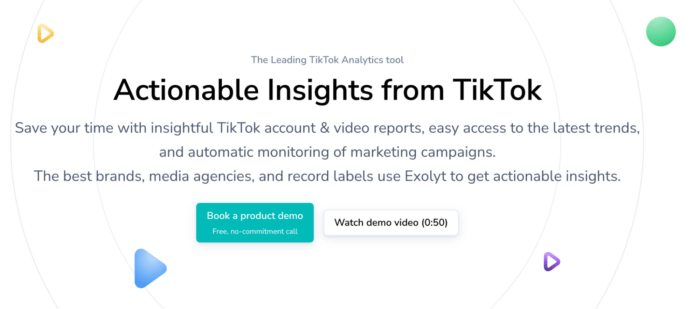 Pricing — Plans start at $49/month.
The bottom line
The good news is that there is no shortage of TikTok analytics tools out there — and the best option for you will be the one that aligns with your needs and budget. With tracking tools and insights on important metrics, you'll be able to put your best foot forward on TikTok this year. Happy posting!