"What?!" Listening to your competition and for your own brand mentions on social has never been more important than in this age of lightspeed communication. We've created a list of our favorite social media listening tools to make shopping for a platform simple.
As part of our Top Social Media Tool Reviews series at Rival IQ, we're bringing you all things listening: mentions, influencers, and sentiment, oh my (and tons more too).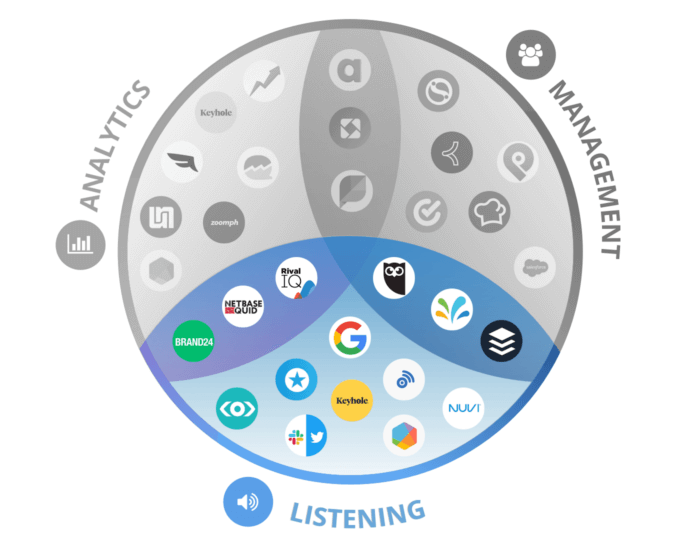 How to pick the right social media listening tool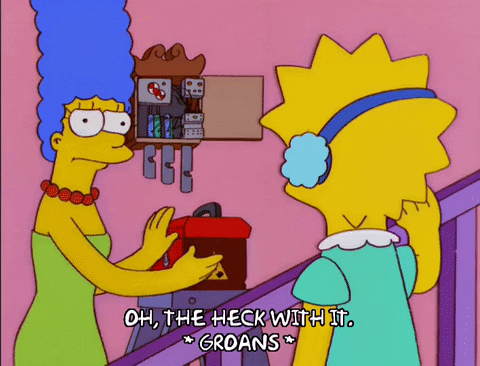 Start with a few basic questions, like:
Is listening an important component of my social strategy?
How big is my brand or agency?
What are my social media goals?
How many competitors do I want to keep an eye on?
What's my social media budget?
How big is my social media team?
The first question is obviously major: social media practitioners who are just starting out or who are wearing a ton of different hats may not prioritize social media listening the way that a Fortune 500 brand might. Even if you're new to listening, we included some free and low-cost social media listening tools that can fit anyone's budget to help you dip a toe into listening. Brands with some budget and a few team members devoted to the cause should check out mid-market tools, and enterprise brands, we have some great options for you too.
Free and low-cost social media listening tools
Our favorite: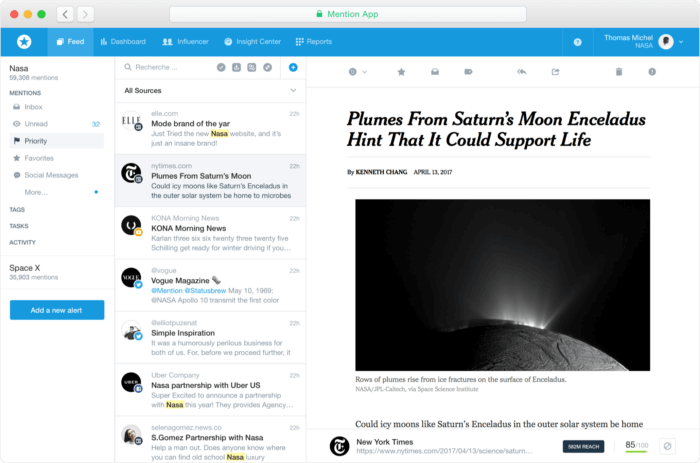 How it works: Mention is a powerful, inexpensive monitoring tool that offers tons of flexibility for agencies interested in keeping track of who's talking about their clients. It offers customizable search, tailored reports and alerts, and competitor monitoring alongside a nice suite of social media analytics.
Pros: Mention's unique inbox-style approach helps account executives at agencies comb through piles of mentions about various clients at the speed of light. Agencies will also like Mention's easy-to-read dashboards, influencer tracking, and competitive analytics, not to mention the ability to grow into the more powerful enterprise tools Mention offers as their businesses grow.
Cons: Agencies will quickly run into handle and user limits if they're tracking more than a handful of clients.
Best for: Small agencies
Worth noting: Mention offers two different social listening packages: one for agencies and one for enterprise. For the sake of simplicity, we focused on the agency side, though you can read about their enterprise offerings here.
Runners-up: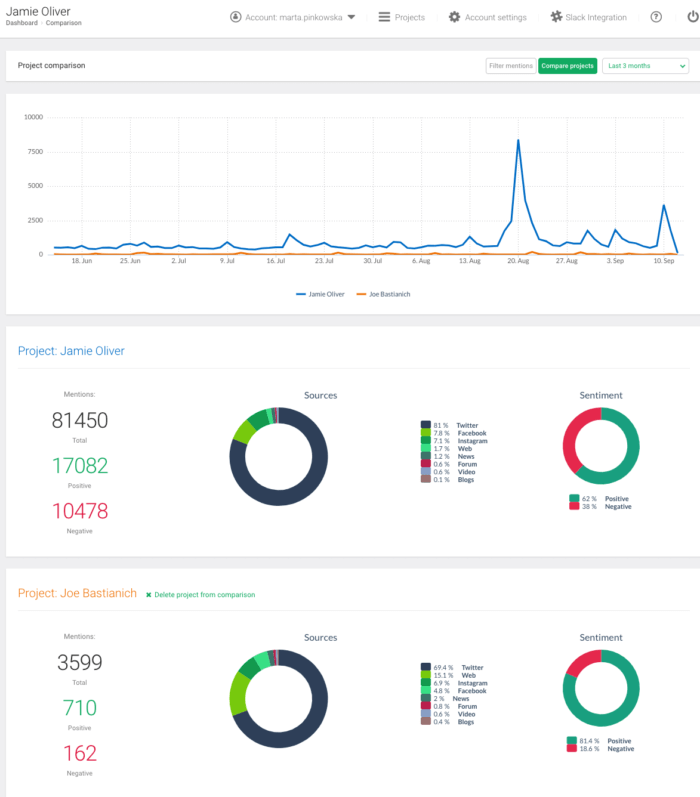 How it works: Brand24 is dedicated to ferreting out mentions of your brand and competitors across the far-flung web. This listening tool does a great job with tagged mentions, hashtag analytics, and competitor tracking. It even works to give you the 411 on who's talking about you so you know if they're an influencer or just a happy (or disgruntled) customer.
Pros: In addition to a set of great social media listening tools, Brand24 users will like its seamless meld into their workflow with a Slack integration, lots of team collaboration tools, and a handy mobile app for social listening on the go.
Cons: Brand24 does one thing and does it well, but if you're looking for an all-in-one platform, you'll have to keep hunting.
Best for: Listening, brands and agencies with a dedicated publishing tool already in place
Worth noting: Brand24's resources game is strong with a smart blog and whitepapers, and also offers special discounts to its customers on popular software like Intercom, ClickMeeting, and more.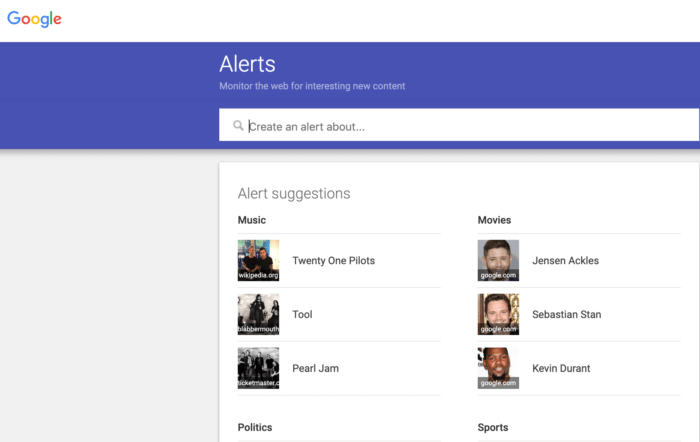 How it works: Google Alerts are a free alert-based social media listening tool that's easy to set up but pretty lightweight. Monitor your brand, your competitors, or keywords as they pop up across the web and get an email alert every time something new comes up.
Pros: You can't beat the price or barrier to entry for Google Alerts. It's really useful for finding little-known mentions of your brand or competition across the web. As you'd expect, it's easy to tailor your alerts to specific languages, regions, sources, and frequencies.
Cons: Using Google Alerts can be noisy, since you're tracking web presence instead of confining your search to social networks.
Best for: Solopreneurs or brands just starting out
Slack+Twitter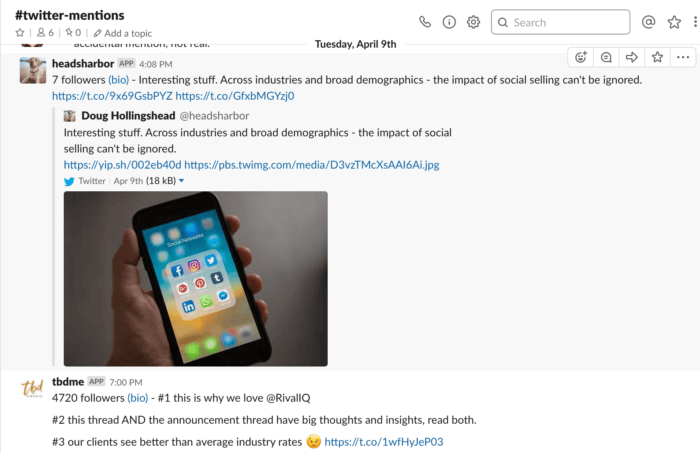 How it works: Hacky tech alert! Through the magic of Zapier, you can wire up a dedicated Slack channel that alerts you every time someone mentions your Twitter handle or brand name. We use it in addition to our own in-app social media listening tools to keep an eye on Twitter without leaving the comforts of Slack.
Pros: Easy as pie and doesn't cost a dime for the bajillions of companies already using Slack. This method also helps put your Twitter activity where you're really likely to see it. Say goodbye to leaving your workspace to log into a dedicated app or interrupting your flow to check your email.
Cons: There's really no way to segment the flow of information, so we can't recommend this hack for things like competitor or keyword monitoring.
Best for: Anyone whose home base at work is Slack and/or loves a good hack.
Worth noting: You could wire up just about anything with this Slack+Twitter pairing, so get creative. Want to know every time someone mentions the new Star Wars movie? This hack will hook you up.
Mid-market social media listening tools
Our favorite: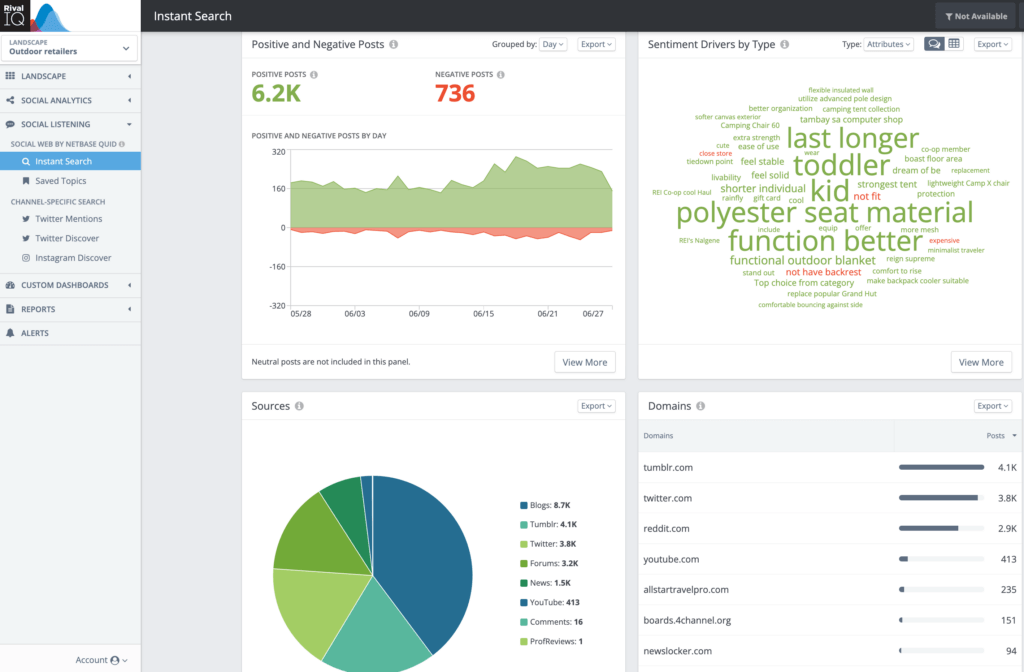 How it works: Okay, we're a little biased, but Rival IQ integrates social listening throughout our app to keep our customers competitive no matter what's trending on social. Instantly search millions of sites online with our AI-powered query builder, and then explore and save relevant topics for always-on monitoring of sentiment, post volume, and conversations from advocates and detractors. Never miss a mention with automated alerts delivered straight to your inbox.
Pros: Social analytics and listening are most powerful when viewed in the context of your competition, so fans of that approach will like keeping an eye on competitors right alongside your own brand's mentions, top authors, hashtags, and more. Easily query sites like Reddit, Quora, Twitter, YouTube, and more with our easy-to-use Instant Search.
Cons: We're constantly expanding our list of supported sites, but you can always check in with our pals over at Quid for an even larger list of social listening sources.
Best for: Brands and agencies of all sizes
Worth noting: Marketers who aren't quite sure where to start with social listening will like the auto-populated suggestions based on popular activity and content in their Twitter and Instagram feeds.
Runners-up: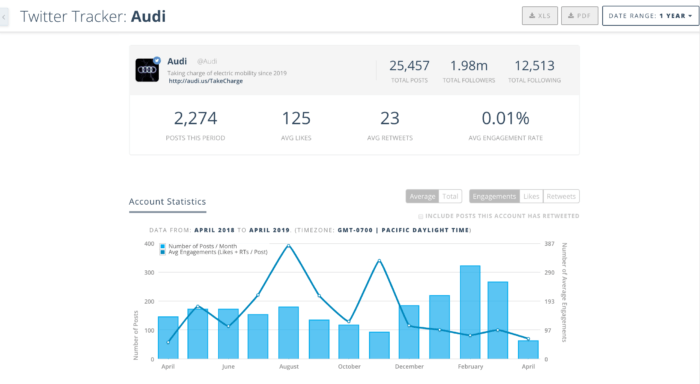 How it works: Keyhole offers social media listening tools for brands of any size with its BrandIQ platform, which targets social listening for small brands and solopreneurs, and its Advanced Suite, which seeks to be an all-in-one platform for large and enterprise brands. Both products can help you keep track of your hashtags, keywords, and mentions.
Pros: With such a full suite of tools, brands of any size can find a listening home in Keyhole. Keyhole offers solid social listening and tracking and competitor research too, which you know we're all about.
Cons: Keyhole, your name makes me giggle.
Best for: BrandIQ is best for smaller brands, while the Advanced Suite targets larger brands and agencies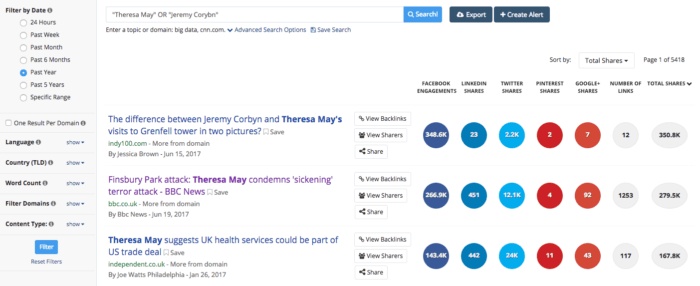 How it works: BuzzSumo pushes the boundaries of social media listening tools by focusing on social sharing in conjunction with more traditional brand monitoring, influencer tracking, and more. These features merge seamlessly with competitor monitoring and research, some light SEO resources, and great email alerts to make one handy tool.
Pros: Anyone who's relied on Google Alerts to let them know when something new has happened online will love BuzzSumo. It's a great tool for keeping an eye on your competition's mentions and social shares, and also for proving the power of your own content. Here at Rival IQ, we use BuzzSumo for all of the above. It also helps us research top pieces from our blog authors.
Cons: Some users criticize the power of BuzzSumo's backlink analysis, and suggest combining BuzzSumo with SEMRush or Ahrefs.
Best for: Brands and agencies looking to centralize their social media listening and SEO in one tool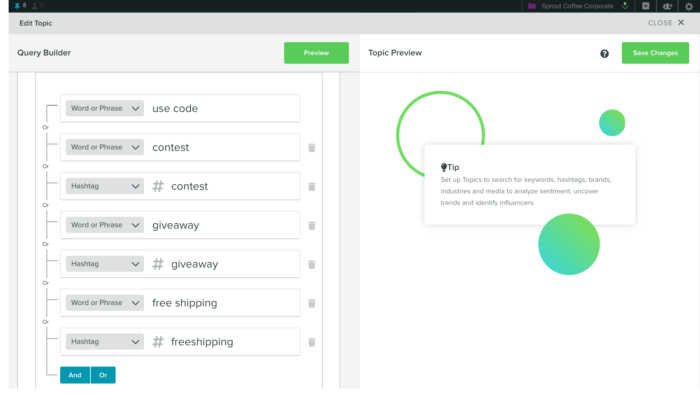 How it works: As we mentioned in our social media management tools round-up, Sprout Social works to be your all-in-one social tool, with listening and monitoring riding alongside management, community engagement, and more. Sprout's listening arm covers hashtag tracking, mentions, sentiment, competitor insights, and more.
Pros: Current Sprout customers will love being able to up their listening game without leaving Sprout's colorful confines. Track by campaign, topic, or hashtag, and easily keep an eye on how the internet is talking about your competition.
Cons: Listening isn't included in the standard Sprout package, so existing Sprout customers will need to pay more to gain access. Sprout's social media listening is in development after their acquisition of Simply Measured last year, so expect this technology to be in flux until that transition is complete.
Best for: Current Sprout customers looking to expand their social muscle
Enterprise social media listening tools
Our favorite: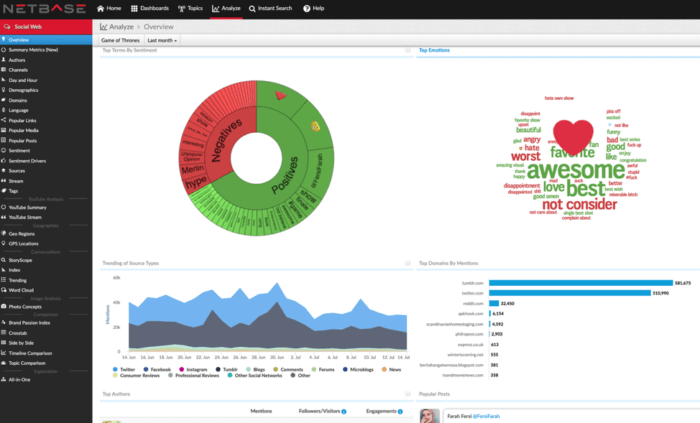 How it works: Quid delivers on enterprise-level social listening as well as consumer and market intelligence, with customers loving how comprehensive and powerful its suite of tools are. Their suite of tools expanded in 2020 with the acquisition of Quid, a leader in AI-driven text analytics, and again with the acquisition of a little social media analytics tool called Rival IQ in 2021.
Pros: Customers love the ability to track exactly how they're being talked about on all corners of the internet, from media to social and beyond. Users also rave about the extremely responsive customer support team is and how intuitive the tool is right out of the box.
Cons: Quid is currently working to further expand its owned analytics capabilities with the acquisition of Rival IQ, so stay tuned for improvements there.
Best for: Enterprise-level brands and high-volume agencies
Runners-up: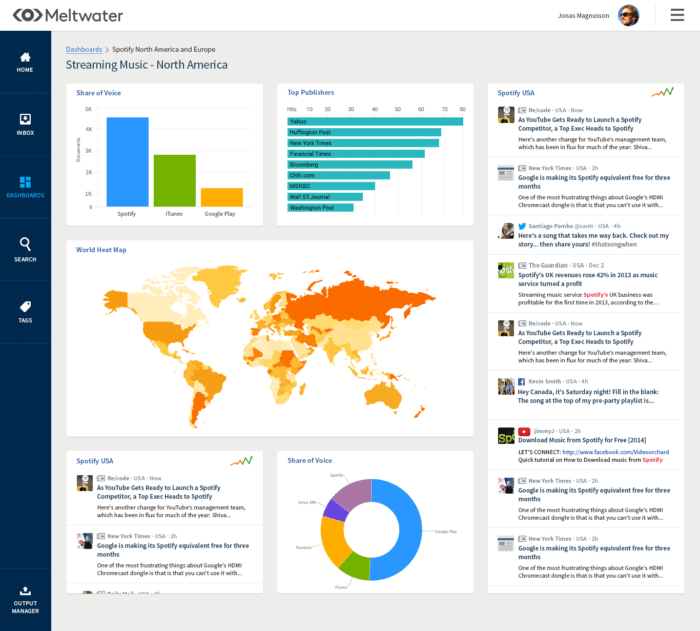 How it works: Meltwater has everything a large brand needs by way of social listening: influencer tracking, brand mentions, and competitor analysis. It runs all these through an AI lens to let the robots help you do more.
Pros: Meltwater's tools are comprehensive, nice to look at, and easy to spin up. And if you're looking at centering all your management, listening, and analytics in one place, they play well with each other.
Cons: Some users wish Meltwater's report and dashboard customization was a little easier to manage.
Best for: Enterprise-level brands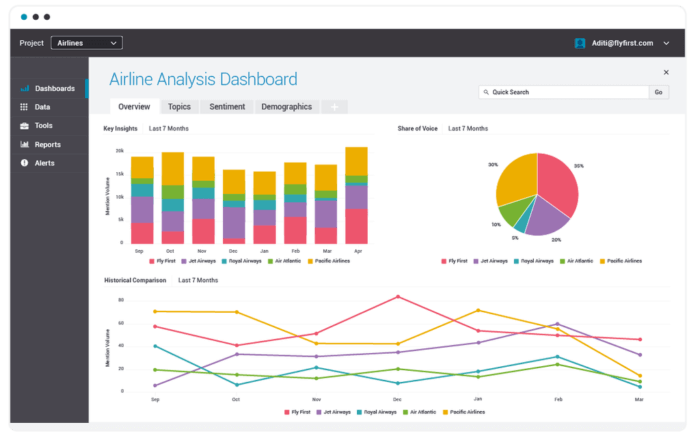 How it works: Brandwatch features a suite of social media analytics and listening tools for enterprise customers. It also offers a product dedicated to making social media listening data easier to visualize. Brandwatch recently merged with Crimson Hexagon to bring more sophisticated social media analytics under its umbrella.
Pros: Data nerds will love how many ways you and slice, dice, segment, and filter all your social listening data. And in case their comprehensive set of listening and analytics wasn't enough, Brandwatch also has dedicated consultants for an additional fee who can help you with setup, education, research, reporting, and more.
Cons: Brandwatch is missing social media management from its offerings, so enterprise brands will have to use two tools for all things social (which might be unpalatable at this high price point).
Best for: Enterprise brands who are ready to focus on listening
Worth noting: Brandwatch has a great blog that makes use of their tool to keep an eye on trending social content.
How it works: Nuvi's powerful enterprise-level social listening offers everything you'd expect from a strong social media listening tool (competitive tracking, brand mentions, segmenting, sentiment, and more) wrapped in a dark but dreamy package–like Dark Mode before it was cool. Nuvi's eye-catching visuals and rich analytics combine for a solid enterprise-level tool.
Pros: Large brands and agencies can do a lot within Nuvi by way of tracking how they (or their clients) are performing on social, especially when integrating Nuvi with its sister software, Groundspark, for social media management.
Cons: Nuvi's signature neon-on-black style isn't for everyone, and this powerful tool doesn't come cheap.
Best for: Large brands and agencies
Methodology
First things first: what the heck is social media listening, and how do you find the right tool? Listening on social media is all about keeping a virtual ear to the ground so you're the first to know when a customer, influencer, or reporter mentions your brand, a keyword that's important to you, or a competitor. By staying on top of these mentions, savvy brands and agencies can put out PR fires before they start, capitalize on positive mentions and customer reviews, keep an eagle eye out for new trends, viral posts, and more.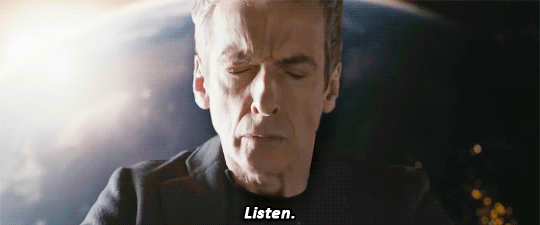 A strong social media listening tool will help brands and agencies keep track of how the internet is talking about them. Are people mentioning them often or infrequently? Is the sentiment of these mentions generally positive, neutral, or negative? Which influencers are talking about this brand, and which influencers should be talking about this brand but aren't yet? The best of these social media listening tools can also answer those questions about key competitors.
We opted to organize our rankings by size, since we know that a brand just starting out with listening won't need (and might not be able to afford) the full package offered by enterprise-level tools, and that enterprise brands might opt to skip the free or low-cost sections.
We grouped social media listening tools by their entry price point: tools that were free or cost a cup of coffee to get started are in our free or low-cost category, while tools that cost a few dozen cups of coffee belong in our mid-market group, and if the tool was too pricey for companies to list the cost online, we considered them enterprise.
Many of these tools transcend categories with a mix of free, mid-market, and enterprise offerings, which is why we grouped by entry point. We'll call out hybrid social media listening tools that could be a good fit for a large range of budgets and brands.
Once a data-driven marketer, always a data-driven marketer: here's the full list of social media listening tools we looked at, though we narrowed it down to 12 based on feature power, customer reviews, pricing, ease of use, and more.
Brand24
BrandWatch
BuzzSumo
Google Alerts
Keyhole
Meltwater
Mention
Quid
Nuvi
Rival IQ
Slack+Twitter
Sprout Social
In case you're wondering, here are the other tools we looked at before choosing our finalists: Awario, BrandMentions, Digimind, Falcon.io, IFTTT, Salesforce Social Studio, Sprinklr, and Zoho Social.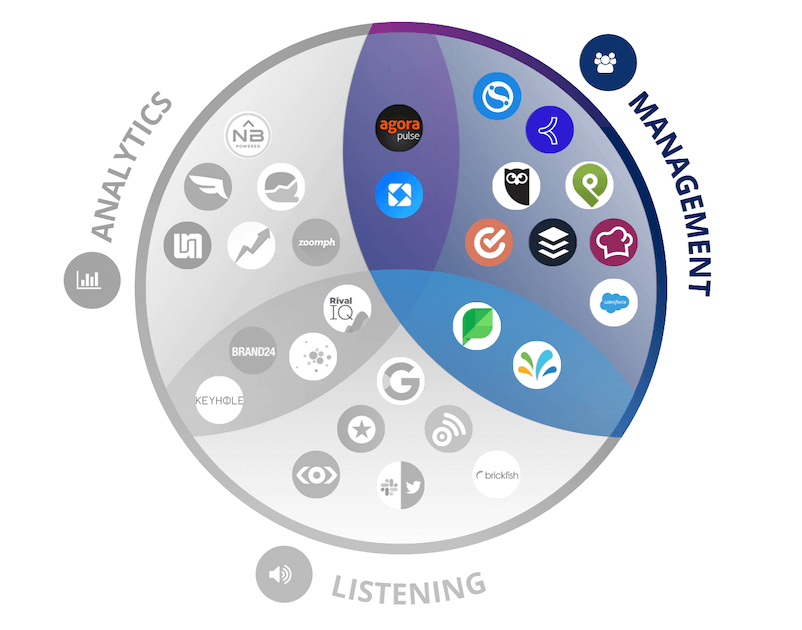 Don't miss our Top Social Media Management tool reviews!
Read now
Wrapping it up
Just like with management tools, there's no one-size-fits-all social media listening tool. We hope this list helps you find the right tool for your size, needs, and budget.
Are you hacking your way to social listening success with a homegrown method like Slack+Twitter? Or, are you more enterprising (see what we did there?) with tools like Meltwater or Sprinklr? And, is your social media listening tool integrated with your social media management or analytics tool, or a completely separate beast? We'd love to know how you're keeping an ear to the ground, so let us know on Twitter.
This post was originally published in 2019 and has since been updated.