In the early 2000s, Facebook was a trailblazer and rose to prominence as the social networking site. Despite the competition from other social media sites, it continues to be the most popular social media platform in the world, with 2 billion daily users. Marketers shouldn't ignore it, as it boasts the highest return on investment (ROI) among the major social media apps, according to Hubspot's 2023 Marketing Strategy and Trends Report.
But not all Facebook marketing is created equal. According to our 2023 Social Media Industry Benchmark Report, some industries are getting far more engagement and activity than others. To spot the latest trends and recognize benchmarks in the social media space, we used Rival IQ to analyze engagement rates, post types, hashtags, and post frequency across Facebook, Instagram, TikTok, and Twitter.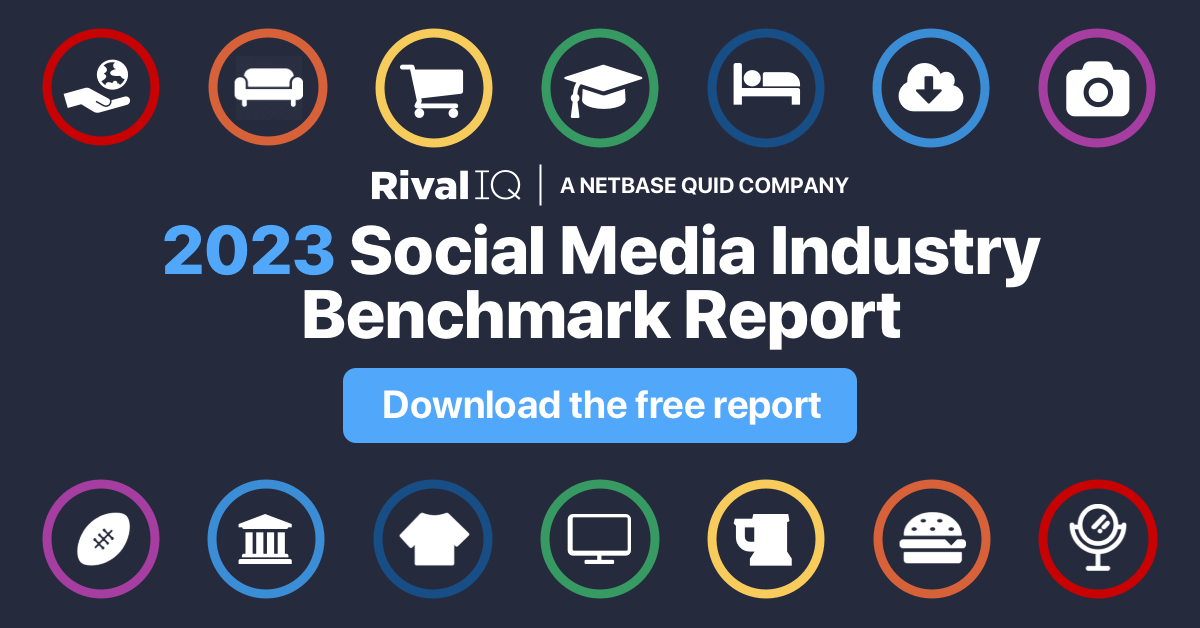 We looked at a representative sample of companies for each industry to determine how those industries' social media presences are faring. And we found some interesting results that can tell us a lot about what Facebook success looks like today. Let's dive into the top industries on Facebook and what we can take away from their success.
Insights From the Top 3 Industries on Facebook
1. Sports Teams
We've seen from previous reports that sports can attract a lot of attention on Facebook. When we looked at the top colleges and universities on Facebook, we found that many often posted about their sports teams and significant wins on their Facebook page. So, it's perhaps not a big surprise that sports teams are doing so well on the social media site. According to the 2023 Social Media Industry Benchmark Report, sports teams had an overall engagement rate of 0.24%, 4x greater than the median engagement rate for all industries.
What did sports teams do differently from other industries? One of the ways that this industry stood out was how often the teams posted. Sports teams posted, on average, 23 times per week. Only one other industry in our benchmark report posted more often.
But what also appears to have helped this industry was when teams posted. Many teams posted several times over the course of a game, effectively capitalizing on current emotions by live posting when something exciting happened. For the New Jersey Devils, they focused on highlighting top moments and game wrap-ups to garner an engagement rate of 0.13%, about 2x greater than the median engagement rate for all industries on Facebook.
The hockey team's most engaging post by rate from all of 2022 was posted just after the Devils won their 13th game in a row on November 21, tying the franchise record. The win also coincided with the team's 40th anniversary. By posting to commemorate the moment while fans' emotions were already high from the big win, the team landed an astounding engagement rate of 2.1%, which is 35x greater than the median engagement rate of all industries on Facebook.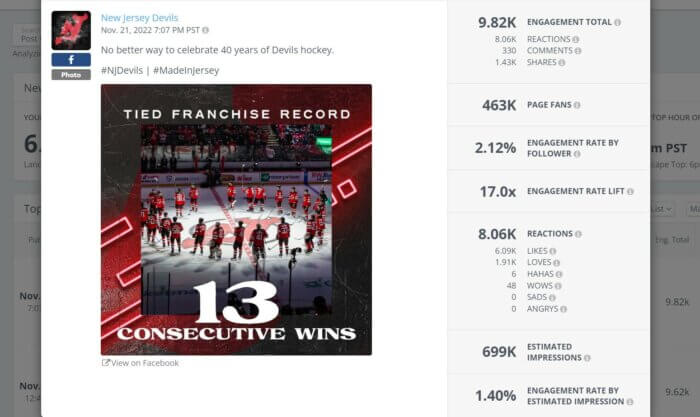 This post, as well as posts with timely game wrap-ups, fared well and lend credence to the idea that posting when emotions are already high helped the team score such significant engagement rates. In fact, studies suggest that emotions are intrinsically tied to engagement rate. According to research conducted by Jonah Berger and Katherine L. Milkman of the Wharton School of Business in their report "Social Transmission, Emotion, and the Virality of Online Content," there's a strong relationship between how people interact with content and if the content elicits emotion. Positive content, particularly awe-inspiring content, is more likely to be shared than content that evokes no emotion or sadness. In this case, the post was shared 1,300 times.
Another top post demonstrates a different tactic that assisted the team with its successful social media strategy. The fourth-most engaging post by rate shows that fans may want to celebrate team wins, but they also want to commemorate individual successes.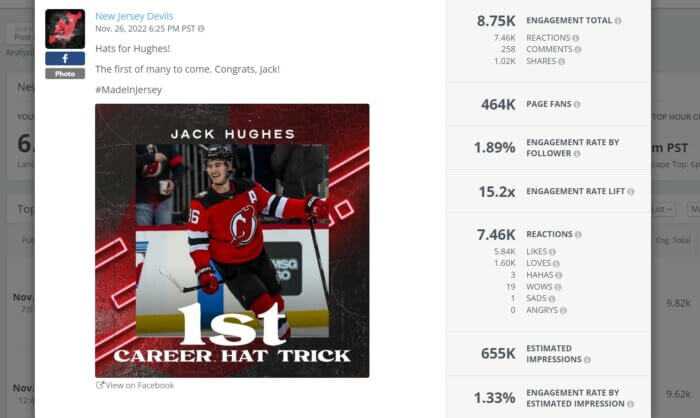 With an engagement rate of 1.9%, this post was shared just moments after the November 26 game against the Washington Capitals. The post did not highlight the team's win. Instead, it focused specifically on player Jack Hughes. The center scored his first career hat trick, a feat that fans eagerly celebrated in the comments of the post. The post did well to capitalize on fans' love for the players, as well as their happiness over another big win, again demonstrating that posts tied to emotions lead to higher engagement.
2. Influencers
It's an influencer's job to understand social media and use their knowledge to earn high engagement rates. It's likely no surprise, then, that influencers fall on our list of the top industries on Facebook. According to Rival IQ's benchmark data, influencers saw an engagement rate of about 0.2%, about 3.3x greater than the median engagement rate for all industries.
Influencers in 2022 demonstrated that photos are still the way to go on Facebook. Although video content may be getting more engagement on Meta's other social media app, Instagram, photo content appears to still be going strong on Facebook. Influencers posted more photos per week than any other type of content. Those photos performed about 2x as well as the next leading type of content, which was a tie between status updates and videos.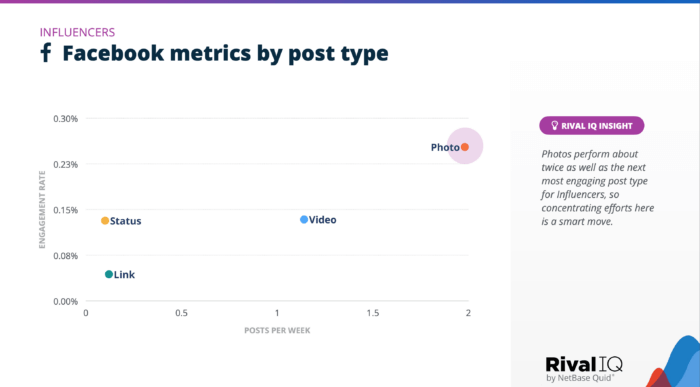 Marie Forleo, known for her advice books and her online business program, posted 169 times throughout 2022, and over half the posts were photos. All of Forleo's five most engaging posts by rate for the year were still images. Her second-most successful post followed the "How It Started vs. How It's Going" meme format, in which she shared one photo of herself in the early days of her career alongside one photo of herself now. She also shared a long caption with the story of how she developed her business. The meme earned her an engagement rate of 0.55%, about 6x greater than her average engagement rate and 9x greater than the median engagement rate of all industries on Facebook in 2022.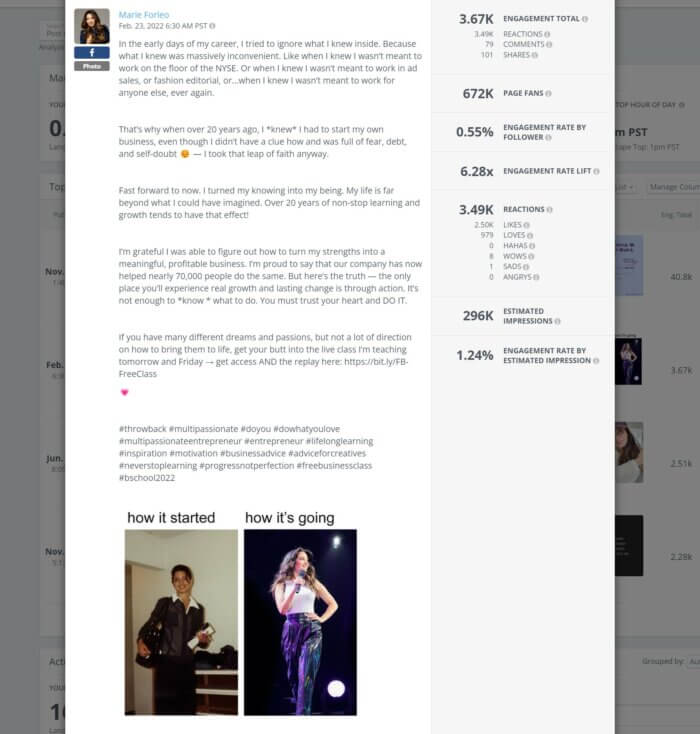 Forleo's top most engaging post by rate of 2022 demonstrates that industries can benefit from using user-generated content (UGC). Influencers generally posted about four times per week, while the average number of posts per week across all industries was about five. Attempting to post this consistently can be difficult as it would require the creation of a great deal of content. By using UGC, you're sparing yourself the time of having to create this content or the cost of having to hire someone to create the content for you.
This post was a simple image suggesting that you should "be gentle with people" because you only know a small portion of their lives. Although Forleo wrote an in-depth caption to go along with the image, the drawing itself was reposted from @decade2doodles. The image gave Forleo an engagement rate of about 6%, 100x greater than the median engagement rate for all industries on Facebook.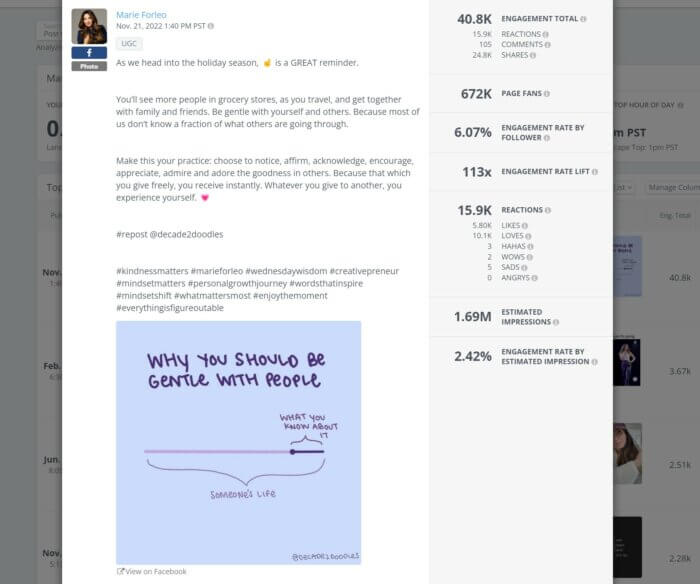 3. Higher Education
According to our trend report on higher education on Facebook, this industry has been using many of our previous takeaways for its success for some time already. These schools often use UGC to post more frequently, like how Forleo got her top post of the year from another Facebook user. Colleges and universities frequently post about sports wins, but they often go deeper to focus on specific players and students, like how the New Jersey Devils focused on Jack Hughes' hat trick.
It's putting people first that seems to resonate so much with colleges' followers. It's perhaps this trend that allowed higher education to garner an engagement rate of 0.15%, 2.5x greater than the median engagement rate for all industries on Facebook.
While many of Louisiana State University's (LSU) top most engaging posts by rate of 2022 focused on sports wins, the school also dove deeper into the stories of students off the football field. One such post celebrated the Grammy nomination for the Golden Band From Tigerland, LSU's marching band. The post received an engagement rate of about 0.6%, 10x greater than the median engagement rate for all industries on Facebook.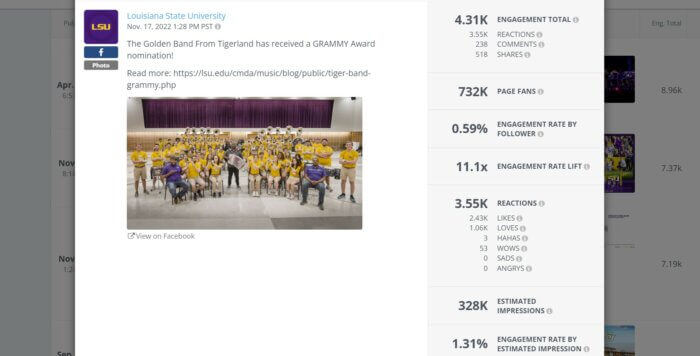 It's clear from the comments section that both alumni and family of alumni were thrilled with the news and wanted to celebrate with the school. The post received 238 comments, with many comments coming from parents, grandparents, and other family members to wish the band luck and congratulate them on the nomination. In comparison, the school's second-most engaging post by rate for the 2022 year, which was focused solely on football, only received 188 comments, despite receiving more likes.
Another post for 2022 that garnered a significant number of engagements celebrated what alumni are doing outside of the school. LSU grad Rachel Balkovec was given a shout-out by LSU for being the first woman to serve as a full-time minor league strength and conditioning coach, the first female minor league hitting coach, and now the first female minor league manager. Today, she works with the New York Yankees organization as the manager of their minor league affiliate team, the Tampa Tarpons.
The post celebrated Balkovec's announcement as the Tarpons' manager. It received an engagement rate of 0.44%, about 7x greater than the median engagement rate for all industries on Facebook.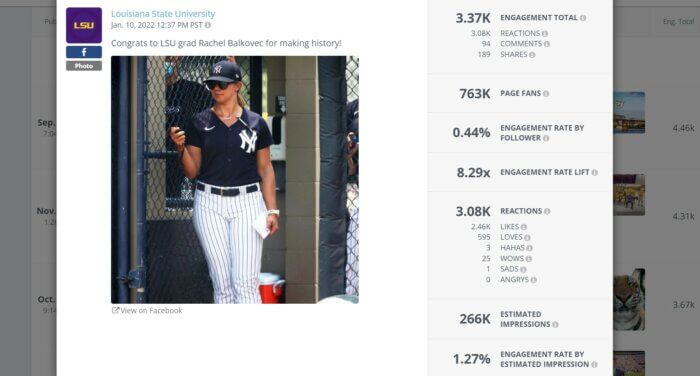 Key Takeaways from the Top Industries on Facebook
Facebook is clearly still a place to be for social media marketing, but some industries' marketing strategies are faring better than others. Still, companies can gather takeaways from these industries' brands to implement on their own social media accounts.
For sports teams, we know that timely posting is essential to capitalize on when emotions are running high. From influencers, we know that photos still have a major presence on the platform, and UGC can help companies share more photos without as much of an investment in time or money. And from higher ed, we know that celebrating individuals or groups within the company or organization can often lead to success.
Looking for more tips on how to succeed on Facebook? Check out our 2023 Social Media Industry Benchmark Report for even more in-depth information.