Hard seltzers are here to stay. If you've noticed more people drinking hard seltzers than ever before, you're not imagining it.
Food Dive reported that consumption of hard seltzer rose 130% in 2020. And as far as competition goes, alcohol companies have taken note of health-conscious consumers gravitating towards the low-calorie drinks in recent years. There are currently an estimated 220 hard seltzer brands on the market. 
With hard seltzers taking the alcohol industry by storm — and being consumed mostly by millennials — it's no surprise that hard seltzer brands are turning to Instagram to get their drinks in the hands of thirsty consumers. 
And if our recent Top Alcohol Brands on Social Media report tells us anything, it's that these brands are doing as well on Instagram as they are on the grocery store shelves. 
To get a better idea of what type of social media content is working for these alcohol brands, let's take a look at five hard seltzer brands performing well on Instagram. 
White Claw
Instagram Stats (all stats as of November 2021):
200K followers

95.9K total engagements

48 posts
One of the first brands to make a splash on the hard seltzer scene, White Claw has built a cult-like following around its beverage. Being first to market plays a major role in White Claw's Instagram following — the brand has the most followers out of every brand in this roundup — but having more time to build a following isn't the only reason this alcohol brand has performed well on social media. 
White Claw's top Instagram post is an example of how well the brand knows its audience. The post took advantage of a pop culture trend in which brands created their own versions of Drake's album cover for "Certified Lover Boy." 
Why It Works 
Not only did White Claw join in on a wildly popular Instagram trend, but its social media team acted fast. Drake's Instagram announcement teasing his album release (which inspired the trend) was posted on August 30th. White Claw posted this image to its account on September 1st. Timing was key to boosting the post's momentum and receiving high engagement. According to our report, the average alcohol brand on Instagram saw a median engagement rate of 1.26%. This post had an engagement rate six times higher than the average. 
White Claw's top Instagram post demonstrates the importance of staying tapped into current events, specifically ones that your target audience is paying attention to. 
Truly Hard Seltzer 
Instagram Stats:
113K followers 

341K total engagements

160 posts
Truly Hard Seltzer landed the number five spot on our list of Top 100 Alcohol Brands, so it's clearly doing something (or, many things) right on social media. When it comes to Instagram in particular, Truly may have slightly fewer followers than White Claw but its engagement total is through the roof. 
Of the top hard seltzer brands, Truly had the highest engagement total on Facebook, Instagram, and Twitter. And based on the brand's top Instagram post, the increase in engagement makes sense. Truly's post with the highest engagement rate was a giveaway. 
Why It Works
A strategic way to increase your engagement and follower count is to host a giveaway or contest. On average, Instagram giveaways and contests get 3.5 times as many likes and 64 times more comments than regular posts, according to research conducted by Tailwind. The key to making the most of an Instagram giveaway is to make the prize something your audience really wants. 
This specific giveaway was in collaboration with the candy brand, Sugarfina as a promotion for the release of its hard seltzer-infused gummy bears. Not only did Truly throw in limited edition swag for the giveaway, but it sweetened the deal by giving away the gummies to go with it. In return, the brand got double the amount of eyes on its posts by tag-teaming with another account. 
When hosting a joint giveaway on Instagram, consider partnering with a brand that has a similar or complementary audience to increase the chances that you'll gain some of their followers, too.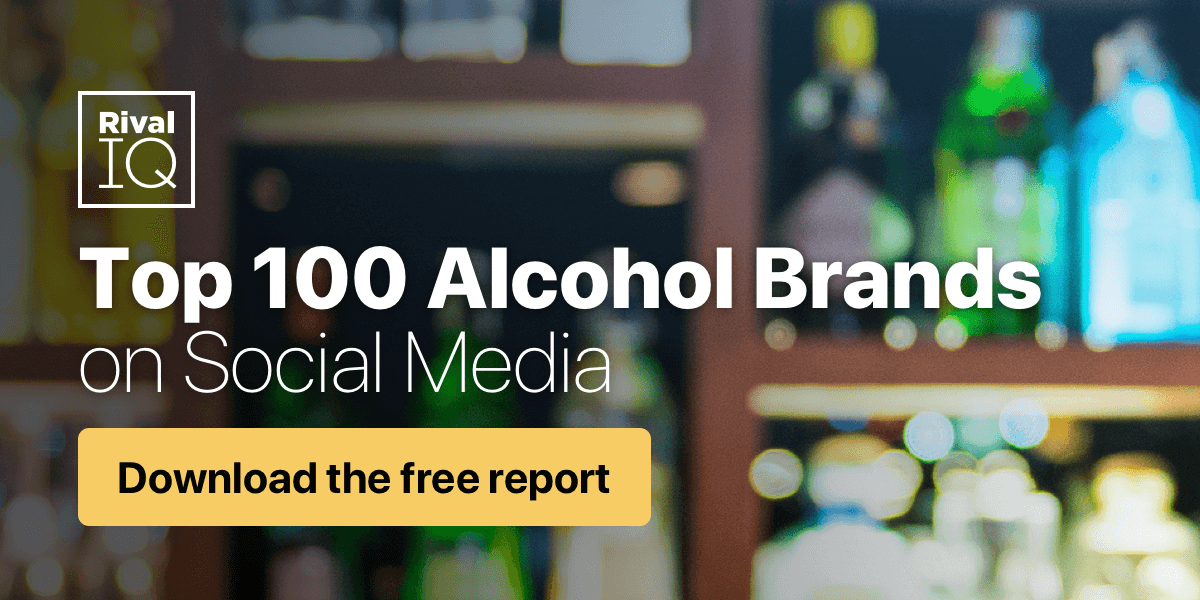 High Noon Sun Sips
Instagram Stats:
47.8K followers 

79.7K total engagements

71 posts 
High Noon Sun Sips is another hard seltzer brand that's built a solid following on Instagram. The brand positions itself as a healthy alternative to sugary cocktails by promoting its low-calorie ingredients of "Real Vodka + Real Juice" first thing in its Instagram bio. 
High Noon's top Instagram post doesn't look like anything out of the ordinary at first glance. But after reading the caption, it's clear that the brand was strategic with this post. High Noon announced that it's going to give one of its special flavors a permanent spot in its lineup and asked its followers to guess which one it is. 
Why It Works
Prompting audience participation is key to this post's high engagement. Similar to running an Instagram giveaway, this post essentially asks people to comment. The difference between this and running a giveaway, though, is that the audience is engaging even though there's no real incentive. With nearly 16 times the average engagement rate, this post is proof that High Noon has built a strong following that actively participates in the brand and wants to be involved even when it doesn't necessarily benefit them. 
Plus, the fact that High Noon listened to its audience and chose to make a popular limited-time flavor a permanent addition speaks to its brand values. 
Vizzy Hard Seltzer 
Instagram Stats:
15.2K followers 

36.9K total engagements

117 posts 
Based in Fort Worth, Vizzy Hard Seltzer is another popular hard seltzer both IRL and on Instagram. When up against major players like White Claw and Truly, it's important for other hard seltzer brands to create a distinct and memorable brand that truly speaks to what its audience wants to engage with. Vizzy's top-performing posts demonstrate the unique position it's carving out for itself on Instagram. Plus, of the brands on this list, Vizzy received the greatest increase in followers over the time period of our report.
Why It Works
One scroll through Vizzy's page and it's immediately clear that its brand voice revolves around humor. Cheeky and a little irreverent, the page features plenty of memes, clever captions, and attention-grabbing graphics. Each of Vizzy's top Instagram posts show that brand voice shouldn't be limited to the words you use — brand voice can also be translated through visuals. 
Followers will stop scrolling when they recognize a viral meme or bold graphic like the example above, but they'll stay for the fun caption and take in your message when the brand voice really speaks to them.
Vizzy's Instagram is a lesson in maintaining a consistent voice, tone, and style that resonates with your target audience and helps increase brand recognition. 
San Juan Seltzer 
Instagram Stats:
5.48K followers 

35.8K total engagements 

284 posts
In terms of follower count, San Juan Seltzer is the smallest of the top hard seltzer brands on Instagram that we've highlighted. But the Seattle-based brand has consistently put efforts into its social media presence. Some of the brand's top posts received up to 10 times the average engagement rate of alcohol brands on Instagram.
While it's easier for brands with smaller follower counts to reach a higher percentage of their followers — the algorithm makes this more of a challenge for bigger brands with large followings — San Juan also stands out as the account with the highest posting frequency. 
At 284 posts for the time period of our report, San Juan posts nearly every single day. This has clearly helped the brand stay top of mind, especially when the median posting frequency for the alcohol industry is once every three days, according to our 2021 Social Media Industry Benchmark Report. 
When it comes to what's working for the hard seltzer company, the brand takes advantage of its position as a local small business and makes their audience feel like they're part of the business.
One of their top posts gives a behind-the-scenes look at the brand's packaging process while teasing the release of a new drink. 
Why It Works
Behind-the-scenes content is a great way to bring your followers into the fold so they feel like they're part of the business. 
This post is also proof that you don't always need to post highly-produced images or graphics to create a strong brand on Instagram. In fact, a quick scroll through San Juan's Instagram page reveals that a majority of its posts are behind-the-scenes or action shots of their seltzers at events, in stores, or even in their taproom. 
The brand also leans on user-generated content to keep up with its frequent posting rate. If you want to maintain a consistent posting schedule without having to come up with content ideas in-house all the time, tap into your follower's content. This tactic is yet another way to help your audience feel like they're part of the brand.
Key Takeaways 
It should be mentioned that because many of these brands didn't exist more than five years ago — White Claw and Truly were founded in 2016 while the other brands on this list came onto the market shortly after — their Instagram followings and engagement rates are that much more impressive. 
In just a few short years, each of these hard seltzer companies was able to build a highly-engaged following around their brands, and not just because consumers are fans of their bubbly concoctions. These brands tapped into social media trends, ran tried-and-true giveaways, and leaned on user-generated content to maintain a consistent Instagram presence and engage with their audience. 
As hard seltzers continue to increase in popularity among consumers, there will be more brands that make their way on the scene — which means more competition. Take note of these performance tips and best practices from the top hard seltzer brands on Instagram if you want to stand out on the app and compete with the best.
Looking for more insight into what the top alcohol brands on social media are doing well? Download our full Top Alcohol Brands on Social Media Report.