If you want to reach more students and widen the audience for your D2 college, TikTok is the place to be.
Nearly half of TikTok users are between the ages of 18-24, which makes it the perfect place to engage with one of your school's target audiences. As more schools continue to make their way over to the platform, there's still a lot to learn about what works well on TikTok, especially when compared to other channels.
If you're on the fence about joining the platform or still figuring out your approach, these D2 schools are proof that TikTok can play a powerful role in your school's social strategy. Let's dive into who the top-performing D2 colleges on TikTok are and what they're doing to drive views and engagement on the video platform.
Top 10 D2 Colleges on TikTok
Similar to D1 schools, D2 schools have seen success across all platforms this year, but TikTok stands out as a platform to watch for its high engagement rates and video views.
Here are the top 10 D2 colleges on TikTok in 2022:
What's a good engagement rate for D2 colleges on TikTok?
According to our latest 2022 Higher Education Social Media Engagement Report: Division 2, D2 schools on TikTok earned a median engagement rate by view of 4.36%. On TikTok, measuring engagement rate by view can provide more insight into performance than engagement rate by follower. Why? Counting the number of times a viewer liked, commented, or shared and dividing it by the overall number of views measures just how compelling your content was.
When it comes to posting frequency, these schools posted about 0.44 videos per week.
Median Engagement Rate by View for D2 Colleges:  4.36%
Median Posting Frequency for D2 Colleges: 0.44 videos per week
A+ Examples from the Top D2 Colleges on TikTok
University of West Alabama: Flipping the script
With an average engagement rate by view of 13.54%, the University of West Alabama is the D2 school to watch on TikTok. The college is active on the platform and consistently posts about once per week. And it's clear that the school's social team is tuned into the latest TikTok trends as many of their videos use a trending sound.
One of the school's top-performing videos generated over one million views and received an engagement rate by view of 15.1%.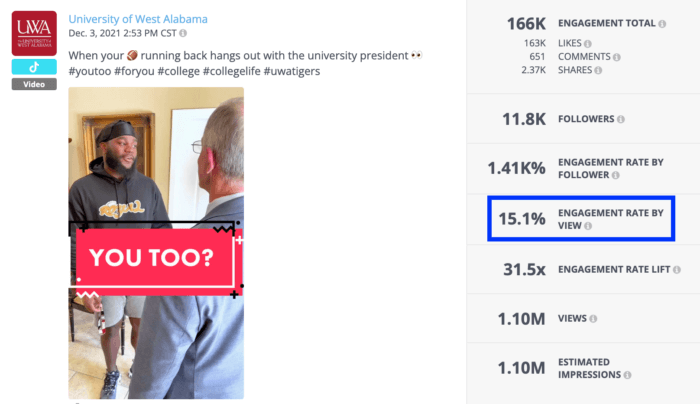 The video uses a trending sound and format that essentially shows two people getting to experience each other's day. In the case of this video, the school's president joins a student-athlete for a workout, followed by the student participating in the president's board meeting.
The school shared several videos using this trending sound, and what's notable is that all of them feature the school's president. When many colleges on TikTok naturally feature students, the president is an unlikely character to see — which could be what grabs viewers' attention. Plus, by featuring the president in informal scenarios, the videos make him more relatable and share a different perspective on various campus activities or places.
It's common to use students as the face of a school's TikTok content, but if you're looking for a different approach, take note of how The University of West Alabama is flipping the script with its main characters and subject matter.
The University of Tampa: Interactive and student-centered
The University of Tampa is another standout D2 college that's active and engaged on TikTok. The university shows up on the platform about 3x more than the average D2 school, posting about 1.69 times per week. And when they do post a video, it generates an average engagement rate by view of 7.56%.
One scroll through The University of Tampa's TikTok and it's clear that the school's videos are interactive and student-centered. Most of the videos feature members of their social media team interviewing students, giving tours, or participating in activities around campus. It's safe to assume the goal of these videos is two-fold: give prospective students a glimpse at a day in the life of a University of Tampa student and remind current students of all that the school has to offer.
The video below received an engagement rate by view of 6.84% and is a great example of how interactive the D2 college is on TikTok.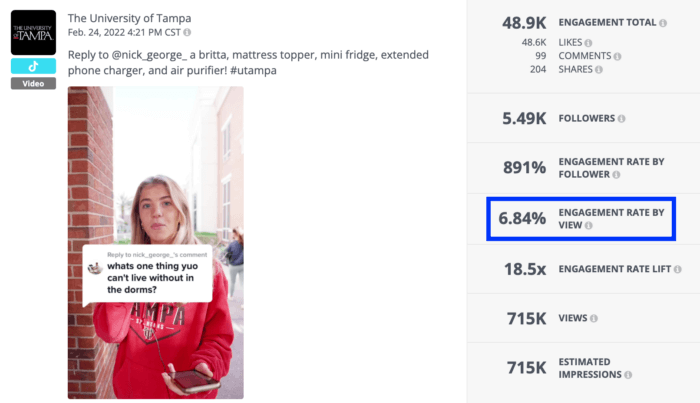 The video was created as a reply to a comment on a previous video where a user asked, "what is one thing you can't live without in the dorms?" As a response, this video features students around campus answering the question.
The University of Tampa makes the case for not only listening to what your followers want to know more about but engaging them directly by using the reply feature on TikTok. The school is also good about involving students in the content creation process which can help increase interest and reach around campus.
Pro tip: If you're running low on TikTok content ideas, check out the comments on your previous videos to see what types of questions come up often so you can answer them in future videos.
Metropolitan State University of Denver: Off-campus content
With an average engagement rate by view of 8.82%, Metropolitan State University of Denver is another top-performing D2 college on TikTok. The Denver school posts about 1.34 videos per week, which is higher than the median posting frequency for D2 schools.
When you're located in the heart of a big city like MSU Denver, there are countless content opportunities just a few steps away from campus. And the D2 college took advantage of that in its top-performing TikTok video that highlighted spooky spots to check out in Denver. The video clearly resonated as it generated an engagement rate by view of 9.14%.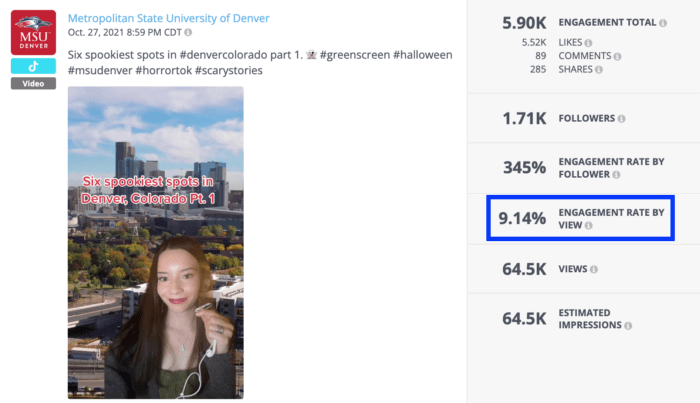 It makes sense to take your content beyond campus and feature the city that your school calls home. Not only can these types of videos provide helpful or interesting content for students, but they can also reach non-students who live in the city or are interested in visiting — especially if you use the right hashtags.
Your school doesn't have to be in a major or well-known city for you to use this strategy. In fact, if your D2 college is located in a small town, there are even more opportunities to share fun facts, traditions, or unique landmarks that both students and non-students alike would find interesting.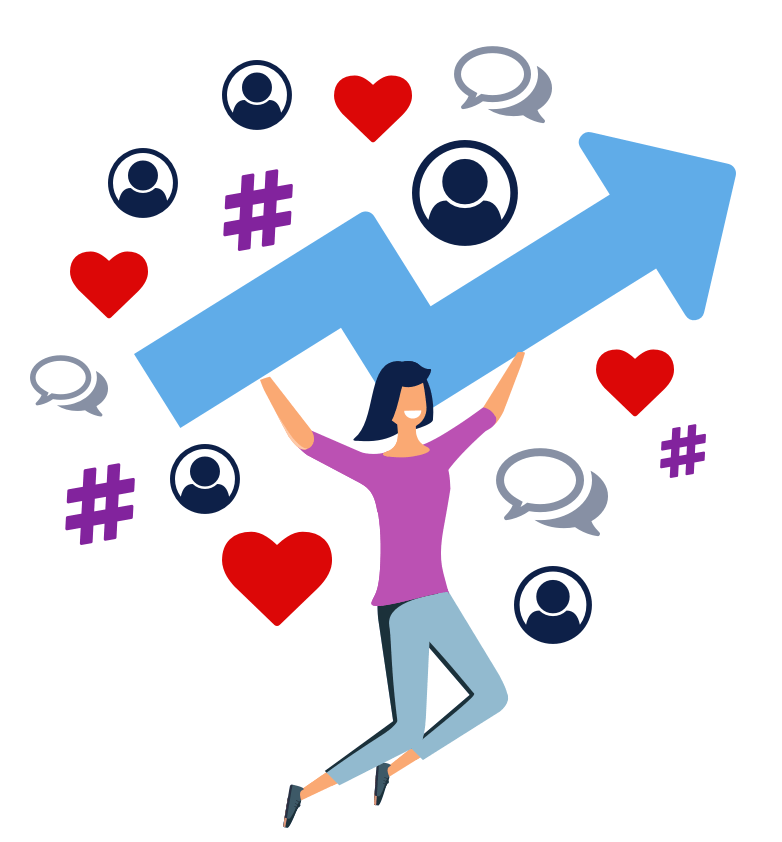 Colorado School of Mines: Snackable sports clips
Another D2 school out of Colorado is making a strong case for having an active TikTok, and that's the Colorado School of Mines. The college earned an average engagement rate by view of 11.9% and posts about 1.3 videos per week.
The school's top-performing video earned them a whopping 21.4% engagement rate by view, the highest of all the D2 schools on TikTok that we analyzed.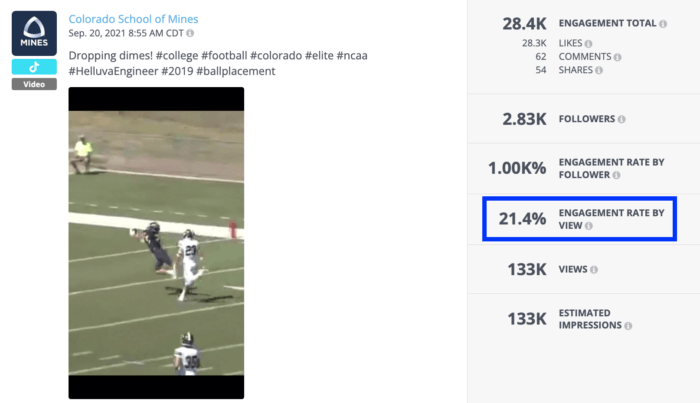 It doesn't come as a surprise that this video of a football game highlight earned so much engagement for the school. Though the D2 college is focused on science and engineering, the Mines' top-performing TikTok videos feature some sort of athletic activity, from football to climbing to skiing. Their top videos combined earned 40x more engagement than the rest of the videos they shared during the reporting period, as outlined in the blue box below.

Located near the Rocky Mountains, Colorado School of Mines is clearly a school that takes pride in its active lifestyle and the variety of outdoor activities available to students — and they aren't afraid to show that off on TikTok. Not to mention, most of their top videos are under 10 seconds which goes to show that you don't always need to put a ton of time and resources into TikTok content creation to capture views and engagement from your audience.
The takeaway? Give the people what they want. Sports tend to be a big draw for many colleges, and if this is the case for your D2 school, then lean into that. Capture game highlights or amazing plays, add a trending sound to it, and you've got yourself a TikTok video with likely traction.
Saginaw Valley State University: Consistency is key
Curious how often you should post on a platform like TikTok? Well, if you want to see what success looks like from a school that posts frequently, take note of Saginaw Valley State University on TikTok. The school's posting frequency is much higher than the average D2 school on TikTok at 2.32 videos per week.
While the school landed at the bottom of our top 10 rankings, some of their most engaging videos are much higher than the average. Take the video below, for example. It generated an engagement rate by view 3.62x higher than the 4.36% median.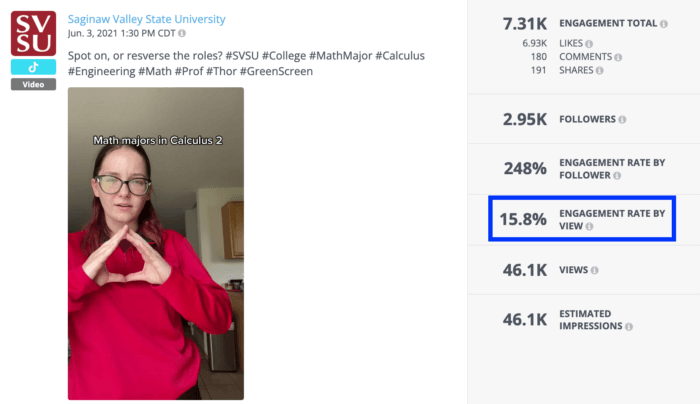 Saginaw Valley also found success by consistently using hashtags. The school used hashtags in 96.7% of their videos, with hashtags like #streetinterview and #greenscreen making an appearance in their most engaging posts. These two hashtags in particular are broadly used outside of the college TikTok realm, which proves that aiming your reach beyond your school's audience is worth experimenting with if you want to boost engagement.
That's not to say that the university wasn't also tapped into popular conversations and topics among D2 colleges on TikTok. According to our hashtag analysis tool, Saginaw Valley used all of the commonly used hashtags that other schools used, including the highly engaging #collegelife which has over 11 billion views on TikTok.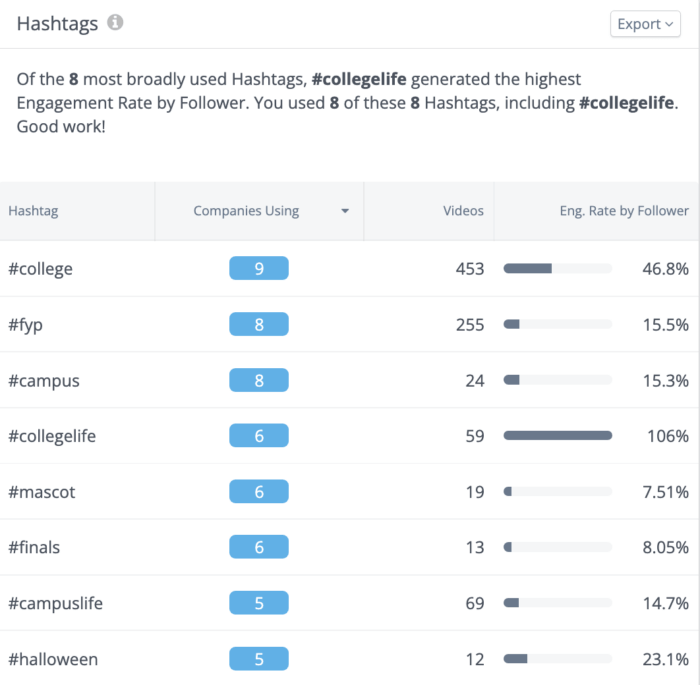 Wrapping it Up
It's clear from these examples that D2 colleges are killing it on TikTok. Experimentation is the name of the game on a platform that's still relatively new, and these schools aren't afraid to test the waters with trending sounds, popular hashtags, and creative content ideas.
Whether you're new to TikTok or still trying to find your footing, take note of what these top-performing schools are doing right and see how you could weave it into your strategy. Is there a trending sound that your followers are engaging with? Find a way to connect it to your school or to students. Do you have a fun mascot or outgoing president who's open to making content? Make them the main character of your page. Just want to make content that resonates with college students everywhere? Don't forget to use the hashtag #collegelife.
No matter which strategies you test out, always be sure to measure the results to gain deeper insight into what's working and what's not so you can boost your D2 college's presence on TikTok.