It's been a big year for beauty brands on social media.
From empathetic responses to COVID-19 and the murder of George Floyd and subsequent Black Lives Matter protests to figuring out how to sell nighttime looks to fans and followers who lived in pajamas 24/7, beauty brands had their work cut out for them on social media.
We assembled a list of the best of the best beauty brands from Allure Magazine's 2020 Best of Beauty Awards alongside favorites from our team to create the ultimate rankings for beauty social media. See who came out on top on Instagram, Facebook, and Twitter (and who scored the coveted overall gold), and read up on case studies and key metrics to help maximize your social media in 2021 and beyond.
Without further ado, let's get into our most engaging beauty brands on social media!
P.S. Ready for spoilers? Don't forget to check out our interview with the #1 beauty brand on social media.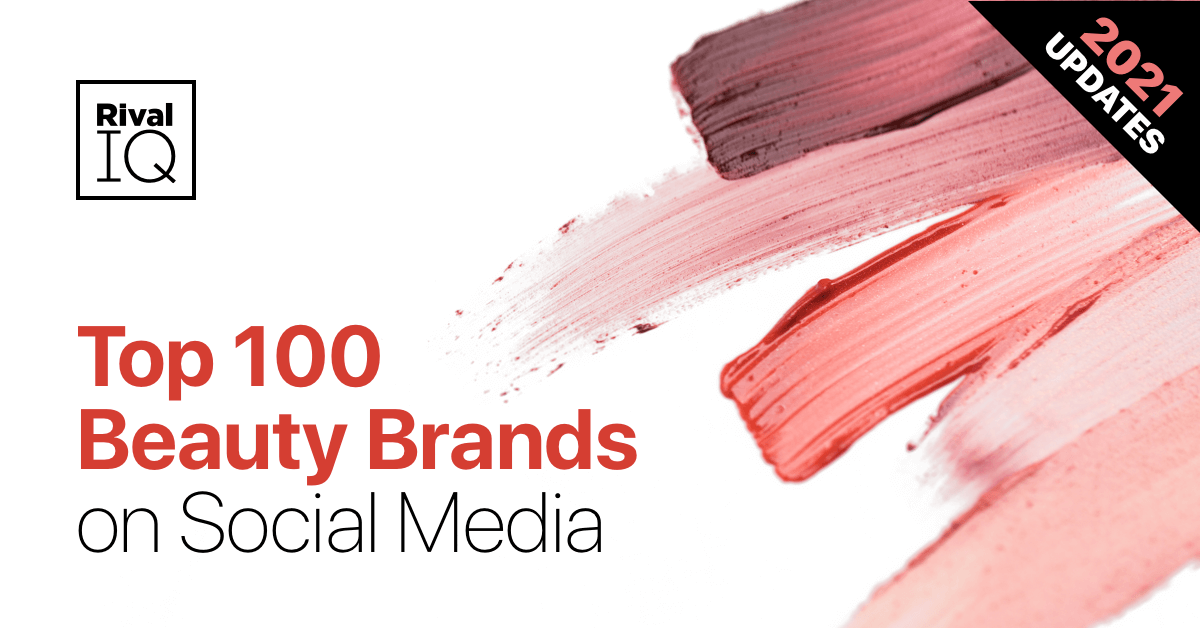 Overall Top 10 Beauty Brands on Social Media
Congratulations to ColourPop for winning the overall gold for beauty brands on social this year with eye-catching content and tons of epic collaborations that appealed to makeup pros and newbies alike. KKW Beauty, Glossier, Fenty Beauty, and Kylie Cosmetics rounded out our top five most engaging and successful beauty brands on social media this year.
| Beauty Brand | Overall Rank | Rank | Rank | Rank |
| --- | --- | --- | --- | --- |
| ColourPop | 1 | 4 | 3 | 3 |
| KKW Beauty | 2 | 6 | 1 | 11 |
| Glossier | 3 | 1 | 17 | 4 |
| Fenty Beauty | 4 | 7 | 8 | 2 |
| Kylie Cosmetics | 5 | 8 | 4 | 12 |
| Pixi Beauty | 6 | 16 | 2 | 14 |
| CeraVe | 7 | 18 | 7 | 1 |
| Huda Beauty | 8 | 1 | 31 | 20 |
| Beautycounter | 9 | 22 | 5 | 17 |
| Winky Lux | 10 | 11 | 29 | 19 |
Other favorites from last year like Huda Beauty and Pixi Beauty dropped a few spots in our rankings, reminding us that the world of beauty social media is a cutthroat one! We also love to see CeraVe and Winky Lux enter the chat, crowding out Milk Makeup and Kaja Beauty from the podium. It's always fun to see brands elbowing their way to the top with dynamic content, fabulous new product releases, giveaways and collabs, and so many other creative social media strategies. Let's jump into what made our overall winner ColourPop stand out from the rest.
Featured brand: ColourPop
Makeup brand ColourPop is a study in consistency: the brand managed to kill it on social this year without ranking #1 on a single channel, proving once and for all that social media success is all about consistently high engagement instead of a few viral posts on a channel or two. The brand grabbed the bronze on Facebook and Twitter and ranked 4th on Instagram. ColourPop grew its follower counts across all channels this year while maintaining strong engagement, which is a recipe for social media success any brand can get behind.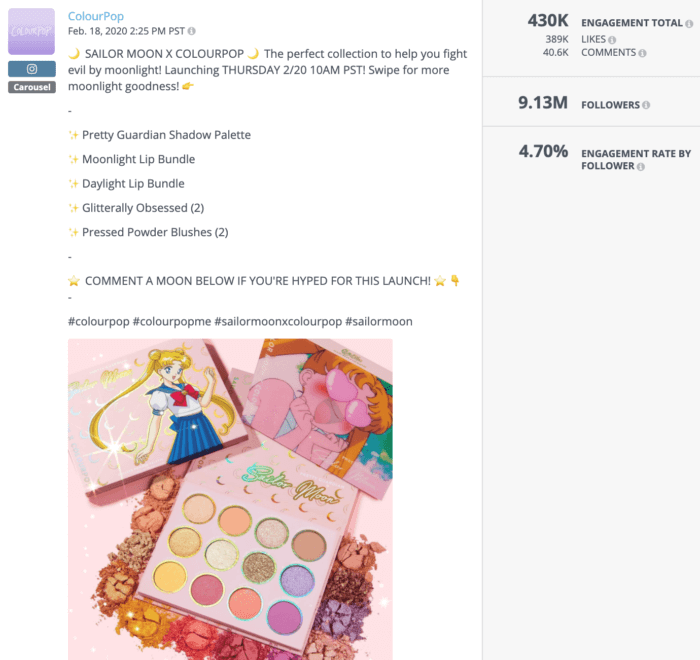 ColourPop wasn't shy about collaborating with other brands for a social media boost, and the #SailorMoonxColourPop release took the cake. This Instagram launch post rocked more than 430,000 engagements and a 4.7% engagement rate by exciting both makeup and anime fans alike. ColourPop smartly gave fans what they wanted in the form of a carousel post with eye-popping images of the colorful makeup palettes that were sure to be re-served if a fan didn't interact with the carousel the first time they saw the post. This post still gets engagement today from fans begging ColourPop to restock. Nothing like a limited release to hype up beauty fans on social media.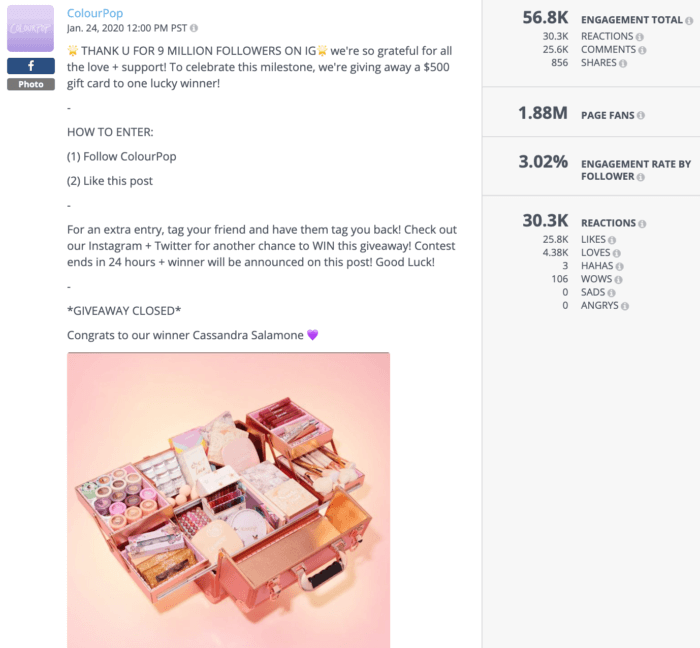 Many brands saw success with giveaways this year, but this one from ColourPop is a textbook example of a dynamite social media giveaway. The brand kept the criteria for entry simple and focused on ColourPop instead of making fans hop around to a bunch of different brands. The giveaway in celebration of a big follower milestone sneakily helped ColourPop grow followers even more by incentivizing casual fans to follow the brand on Instagram. And the pièce de resistance? Making fans return to the post to find out if they won signaled to the Instagram algorithm loud and clear that this post was a top performer and should be served again and again.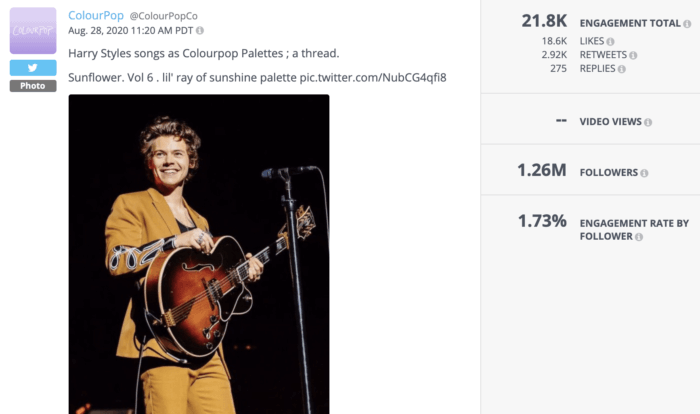 ColourPop's top posts were usually all about the giveaways on Twitter this year, but the team took a break for a genius tweet thread about American singer Harry Styles as ColourPop palettes. Followers loved the brand's playfulness and creativity to the tune of a killer 1.73% engagement rate. Almost all of the brand's other top tweets feature literal piles of makeup to encourage followers to enter giveaways, so this (still colorful!) tweet really stands out from the crowd. Brands aren't always rewarded for taking a risk and going off-script, so we love to see an off-the-cuff watercooler idea like this really take off.
Congrats to ColourPop for killing it on social this year with social media strategies as diverse as your makeup palettes.
Trend 1: Famous founders
Celeb founders: beauty brands either have 'em or they don't, but the ones that are lucky enough to have a famous face at the helm never missed an opportunity to center the celeb on social media. Some of the most engaging beauty brands on social media this year were all about the celebs: KKW Beauty featured Kim Kardashian, Fenty Beauty rocked the Rihanna posts, and Kylie Cosmetics was all about Kylie Jenner. Fans loved seeing a behind-the-scenes glimpse of these famous founders, which did a lot to add oomph to these brands' social media engagement across all channels.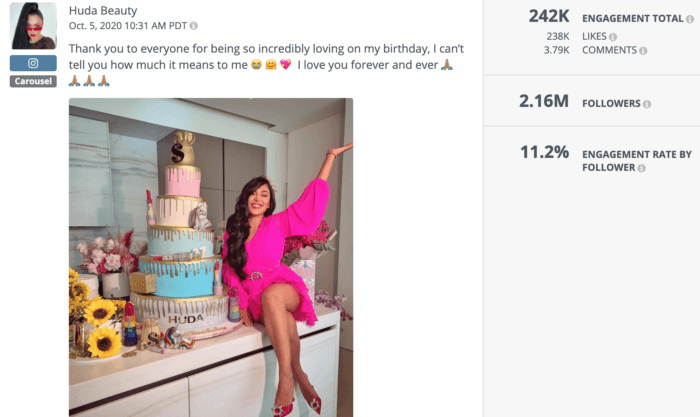 Huda Beauty tied for first on Instagram with competitor Glossier this year thanks to fun and colorful shots often featuring founder Huda Kattan. This birthday-themed Instagram carousel rocked an 11.2% engagement rate and more than 242,000 engagements as fans jumped at the chance to wish Huda a happy birthday. The colorful, creative content and carousel post type also helped catch the attention of followers. Many of Huda Beauty's top posts featured the brand's photogenic founder, suggesting the brand is making the most of that Huda magic.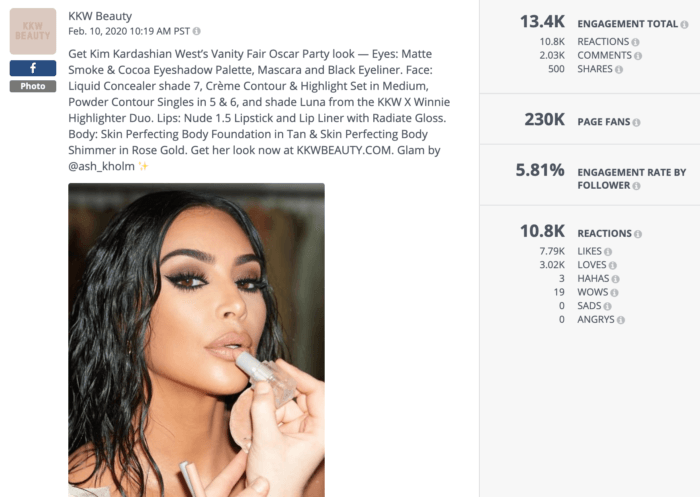 Many of KKW Beauty's top posts featured Kim Kardashian this year: Kim at the Oscars, Kim's 40th birthday, Kim with celeb friends and relatives. This KKW Beauty post grabbed a 5.81% engagement rate, or about 145x the beauty brand Facebook median. Much like Huda Beauty and the other top brands employing this strategy, these posts grabbed high engagement rates by giving fans a glimpse of what celeb founders are up to at home and on the road.
Do you need a famous founder to be successful on social media? Definitely not. But the success these brands found by capitalizing on the established brand of these influential celebs is a good reminder for any beauty brand that fans are hungry for a chance to connect with brands on a human level.
Trend 2: Healthcare hero support
2020 was a tough year for everyone, and brands did the best they could to express gratitude and connect with the healthcare workers keeping us all safe. From social media posts featuring the incredible strength of doctors and nurses waging war on COVID-19 to giveaways to medical professionals, brands were empathetic while still keeping their products at top of mind for their followers on social media.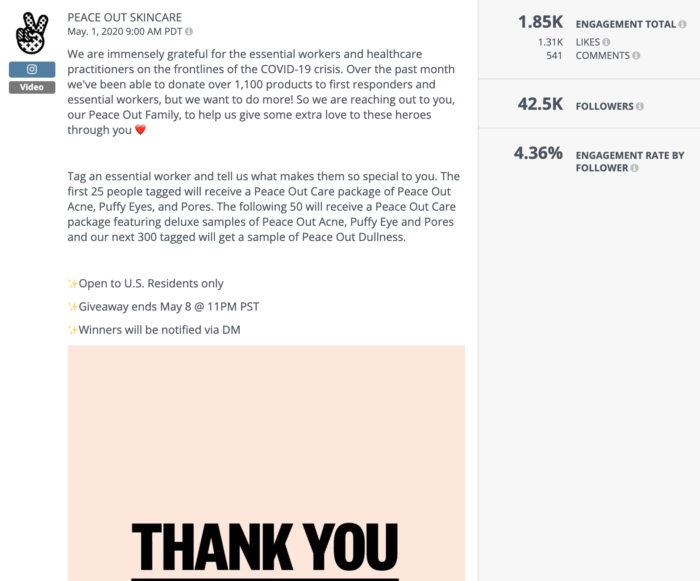 This simple Instagram video post from Peace Out Skincare thanking essential workers and healthcare professionals cleverly paired with a giveaway resonated with followers to the tune of a 4.36% engagement rate. The video is just a few frames, but it went a long way towards expressing the brand's gratitude in spring 2020 when panic was high and the load heavy for healthcare workers. This post is a great example of simple creative aligning with a heartfelt message to engage followers.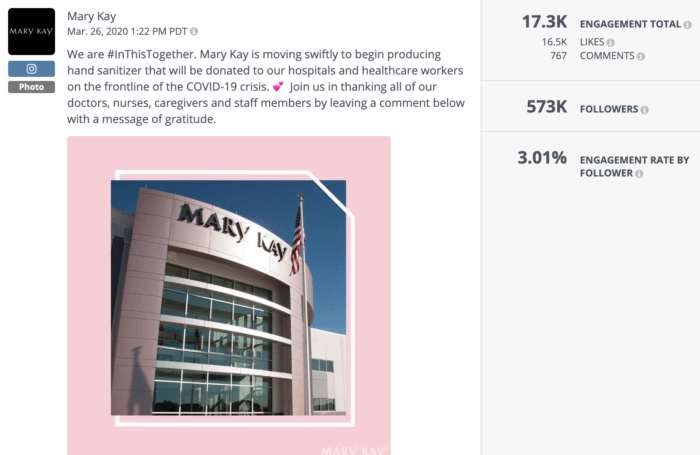 Skincare brand Mary Kay swiftly jumped into the fight against coronavirus by redirecting resources to manufacture hand sanitizer in the early days of the pandemic. Instagram followers jumped in to applaud the brand's actions with more than 17,000 likes and comments. Not all brands went so far as to change up manufacturing, but many beauty brands tried to make a difference by actively sharing what they were doing to combat the pandemic with followers on social media.
Trend 3: Collaborations
Who doesn't love a good collab, especially between two already-popular brands? Top beauty companies like KKW Beauty, Kylie Cosmetics, and ColourPop all released limited-edition collections with fun brands like Disney and Dr. Seuss. The exclusivity of these releases helped social posts featuring the collabs pop even more.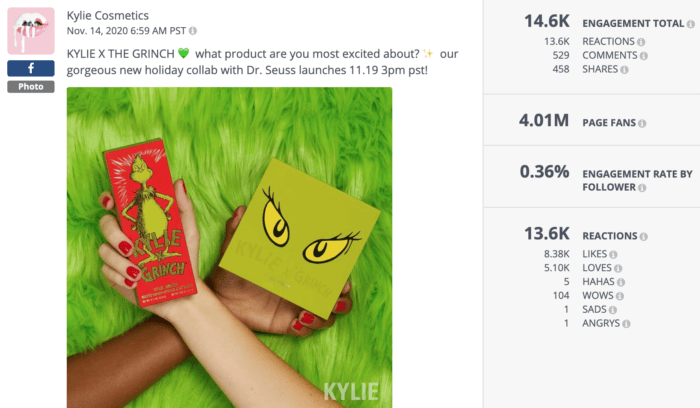 Kylie Cosmetics teamed up with Dr. Seuss for a 2020 holiday collab, and fans went wild over the Seussian looks with more than 14,000 engagements on the post. Many fans took to the comments to discuss potential shades and prices, reminding beauty brands that asking for engagement in the form of a question is sometimes the easiest way to get it.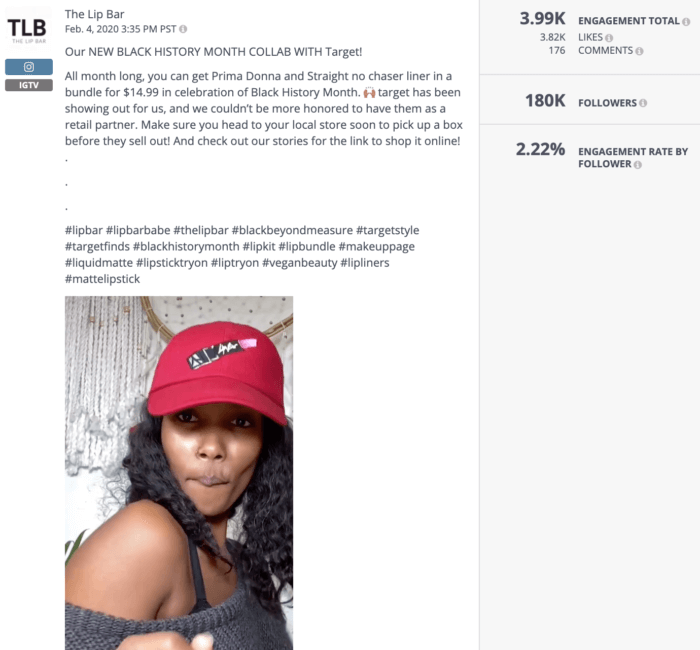 Makeup brand The Lip Bar teamed up with Target for Black History Month to release an exclusive pairing at affordable prices, proving collabs aren't just for makeup releases. This post garnered a 2.22% engagement rate, or about 5x the beauty brand Instagram engagement rate for 2020. (Despite this collab, Target still has a lot of work to do to meaningfully support Black-owned brands like The Lip Bar.)
Top Beauty Brands on Social: Instagram
Brands like Glossier, Huda Beauty, and ColourPop continue to dominate on Instagram year over year, but it's also fun to see fresh brands like Etude House and Farmacy Beauty break into the top 10. The beauty brands we studied averaged a 0.46% engagement rate on Instagram this year and posted almost 8x/week, or more than once per day. Anyone with social media savvy will be unsurprised to see that those engagement rate and posting frequency stats topple beauty brands' results on Facebook and Twitter.
| Rank | Company | Total Engagement | Engagement Rate |
| --- | --- | --- | --- |
| 1 | Glossier | 16,217,469 | 1.58% |
| 1 | Huda Beauty | 8,223,164 | 4.02% |
| 3 | Milk Makeup | 9,335,421 | 0.90% |
| 4 | ColourPop | 138,203,874 | 0.62% |
| 5 | Etude House | 3,805,101 | 0.95% |
| 6 | KKW Beauty | 22,233,460 | 0.63% |
| 7 | Fenty Beauty | 109,920,510 | 0.58% |
| 8 | Kylie Cosmetics | 144,852,976 | 0.56% |
| 9 | Kaja | 1,161,753 | 3.22% |
| 9 | Farmacy Beauty | 1,818,588 | 1.01% |
Top brands employed a mix of strategies to succeed on Instagram this year, from using influencers to UGC to product shots and beyond. One strategy many top brands can agree on is frontrunning famous founders: as we saw above, Huda Beauty, KKW Beauty, Fenty Beauty, and Kylie Cosmetics were totally unafraid to put their celebrity founders front and center.
Featured beauty brand: Glossier
Glossier managed to tie for first with last year's Instagram winner Huda Beauty thanks to dynamic posts tailored to the times. Many of the brand's top Insta posts featured COVID updates, support of frontline workers, and coming out in support of Black Lives Matter, indicating the brand was unafraid to take a stand. Going beyond the makeup was a successful strategy for Glossier across all channels and was especially powerful on Instagram.
Glossier averaged about a post a day on Instagram in 2020, and rocked a 1.58% engagement rate, or about 3x the beauty median on this channel. Let's get into what made Glossier shine on Instagram in 2020.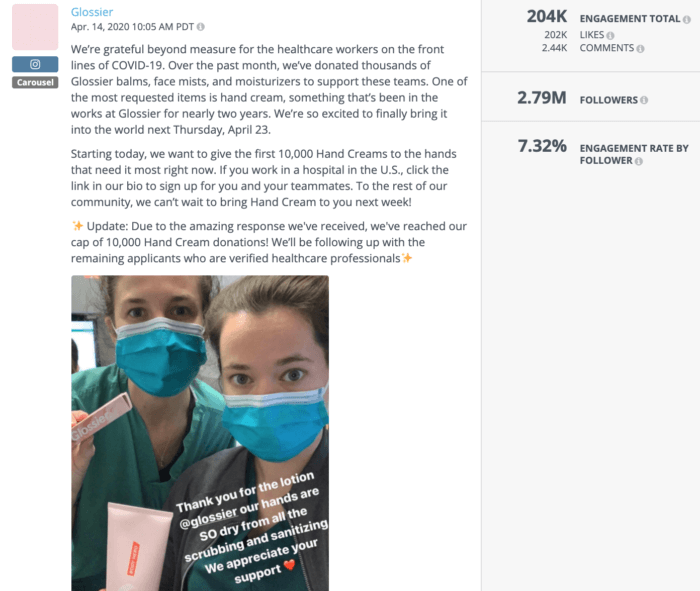 Glossier's top Insta post of the year was a carousel featuring nurses and the brand's just-released hand cream alongside a heartfelt caption and giveaway. The post grabbed a whopping 7.32% engagement rate, or 15x the beauty median on Instagram this year. This simple post reminds marketers that generosity and gratitude go a long way on social media (and that a post that's ostensibly not about a product can still serve a product marketing purpose).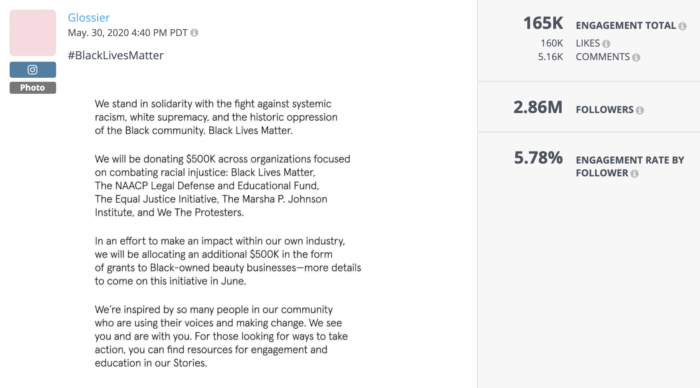 Glossier continued to keep it simple yet impactful with a text-only statement in support of Black Lives Matter. The post featured solidarity and concrete action the brand planned to take in support of Black lives and Black-owned beauty businesses, and it rocked the third-highest engagement rate of any of the brand's Insta posts all year.
Sadly, not all the engagements on this post were positive as some followers clapped back with racist posts encouraging boycotts and "#AllLivesMatter" nonsense. Glossier found success with this post by taking a stand for what's right, which means risking the wrath of those who disagree. Many brands we studied were similarly brave and divisive this year, which is a trend we hope will continue.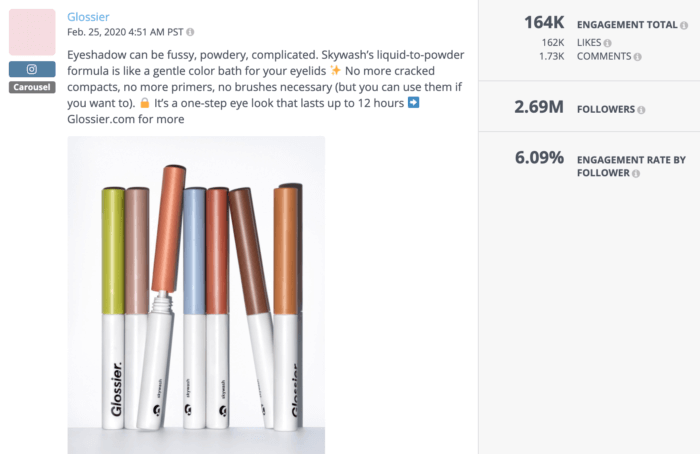 Glossier wasn't the only brand we studied that saw success on social going beyond makeup, but don't fret: product-focused posts also shined in 2020. This carousel about Glossier's liquid-to-powder eyeshadow was colorful and easily helped followers see how the brand could solve problems with eyeshadow that makeup users have experienced for generations. The carousel format helped ensure users were served the content until they engaged, which is a power move any brand can use to amplify engagement on Instagram.
Top Beauty Brands on Social: Facebook
Social media darlings KKW Beauty, Pixi Beauty, ColourPop, Kylie Cosmetics, and Beautycounter rounded out the Facebook Top 5 while also scoring well on other channels, suggesting social media know-how is transferable between Instagram, Twitter, and Facebook. Many of the top beauty brands on Facebook found success on this channel by tailoring their posts specifically for Facebook rather than copying directly from other channels.
| Rank | Company | Total Engagement | Engagement Rate |
| --- | --- | --- | --- |
| 1 | KKW Beauty | 1,167,896 | 0.524% |
| 2 | Pixi Beauty | 836,808 | 0.688% |
| 3 | ColourPop | 4,569,111 | 0.164% |
| 4 | Kylie Cosmetics | 5,655,293 | 0.150% |
| 5 | Beautycounter | 295,932 | 0.228% |
| 6 | Mary Kay | 1,846,804 | 0.136% |
| 7 | CeraVe | 122,799 | 0.213% |
| 8 | Fenty Beauty | 1,009,931 | 0.108% |
| 9 | Olive & June | 44,574 | 0.630% |
| 10 | Yves Saint Laurent | 426,405 | 0.087% |
The beauty brands we studied rocked a 0.04% engagement rate on Facebook and posted just over 4 times per week. Both these stats are a little higher than on Twitter and a little lower than on Instagram, which is consistent across most industries.
Facebook fans loved colorful product shots and heartfelt messages to healthcare workers and in support of Black Lives Matter. Like on Instagram, founder-related posts grabbed top engagement, especially from brands like Kylie Cosmetics and Facebook winner KKW Beauty.
Featured beauty brand: KKW Beauty
KKW Beauty crushed it on Facebook this year across the board: with engagements up 107% over last year, follower increases up 54%, and even dialing in posting frequency at 16x/week (or 4x the channel median), it's no wonder this top beauty brand helmed by Kim Kardashian grabbed the Facebook gold.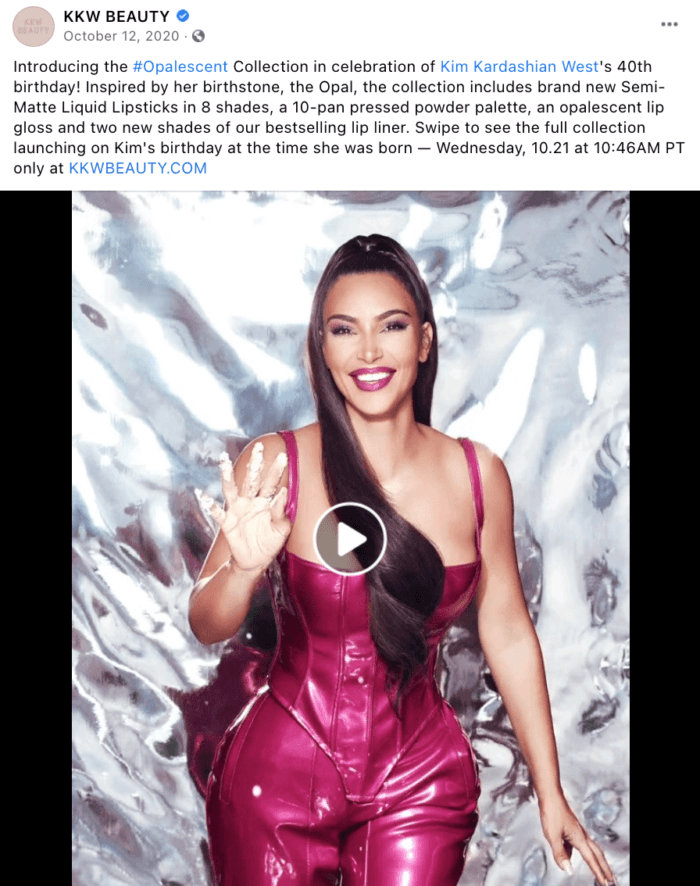 Many of KKW Beauty's top-performing Facebook posts this year featured Kim Kardashian herself, like this fun GIF of Kim throwing birthday cake to celebrate a new product release. Followers fell over themselves to wish Kim a happy birthday in the comments to the tune of a 9.1% engagement rate. The Opalescent collection released in honor of Kim's 40th made up much of the brand's top 10 Facebook posts by engagement this year, suggesting the brand made the most of Kim's big day.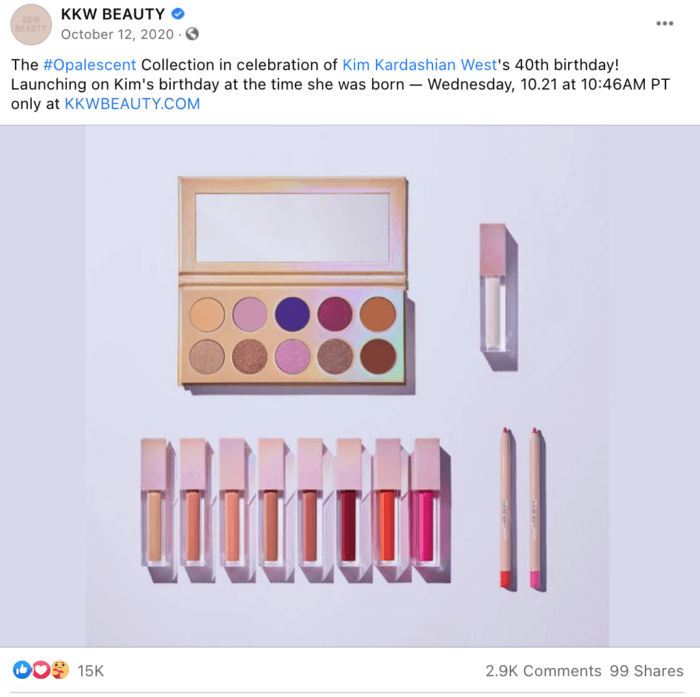 If your beauty brand is feeling a little glum without a famous founder to feature, fear not: product shots garnered high engagement rates for KKW Beauty and many other beauty brands on Facebook this year. We might be tired of reading about the Opalescent release, but followers sure weren't: this post grabbed a 6.68% engagement rate and more than 18,000 engagements. KKW Beauty had success with other product glamour shots this year, but the brand clearly struck the right look and feel with the Opalescent release, which outperformed other releases by a mile.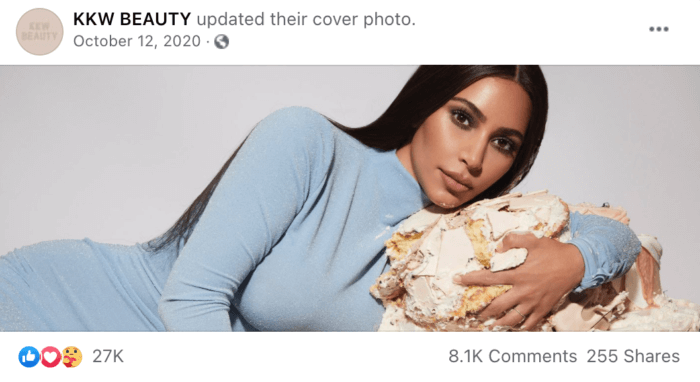 This cover photo update is a helpful example of when high engagement goes wrong: this post looks like a top performer with the highest engagement rate and total of 2020 for KKW Beauty. Sadly, it's because the post was hijacked by posters accusing Kim of contributing to the Armenian genocide. All brands risk raising follower ire when posting on social media, but featuring a high-profile woman of color who's been in the public eye a long time is sadly a recipe for ugliness online from time to time.
Top Beauty Brands on Social: Twitter
Beauty brands were the least active and saw the lowest return on Twitter this year of any channel, preferring to put content creation effort into Facebook and Instagram. Brands in this study averaged a 0.03% engagement rate on Twitter this year and tweeted about 1.75 times per week. Interestingly, our top 10 overall beauty brands tweeted more like 14 times per week, or 7x the median. Twitter might not be right for every beauty brand, but it's clearly worth a shot if you want to emulate the engagement of the top 10.
| Rank | Company | Total Engagement | Engagement Rate |
| --- | --- | --- | --- |
| 1 | CeraVe | 312,130 | 5.667% |
| 2 | Fenty Beauty | 1,687,174 | 0.399% |
| 3 | ColourPop | 5,061,084 | 0.258% |
| 4 | Glossier | 135,255 | 0.480% |
| 5 | The Lip Bar | 66,963 | 11.167% |
| 6 | Milk Makeup | 55,460 | 0.706% |
| 7 | MAC Cosmetics | 567,170 | 0.145% |
| 8 | Olay | 149,504 | 0.198% |
| 9 | Ole Henriksen | 28,738 | 0.497% |
| 10 | Mary Kay | 73,145 | 0.162% |
The Twitter Top 10 was populated by many beauty brands that grabbed high marks across the board like Fenty Beauty, ColourPop, and Glossier. Brands like Olay and Ole Henriksen clearly put a lot of effort into Twitter this year and were able to grab a spot in the top 10 even with sub-par finishes on other channels.
Featured beauty brand: CeraVe
How did skincare brand CeraVe snag the gold on Twitter this year? The brand rocked it on this channel on a number of fronts, but let's start with their engagement total increasing by 16x. Yes, you read that right: CeraVe went from just 19,000 Twitter engagements in 2019 to more than 309,000 likes, comments, and retweets in 2020. Some of this success can be explained simply by ramping up activity on Twitter (and a whole lot of boosted tweets), but it's also due to smart strategy. Let's get into it.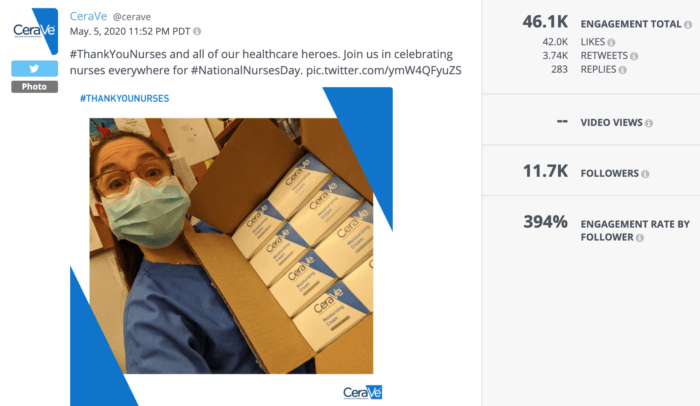 This dynamite tweet from CeraVe in May 2020 was simple but effective with just a few words and a candid photo, but grabbed a whopping 394% engagement rate. As we've seen with many other brands in this report, celebrating healthcare heroes really resonated with social media followers this year, as did brands generously donating in support of the fight against COVID-19. Fans poured out in droves on Twitter to second CeraVe's heartwarming message, and CeraVe kept the conversation going by replying to almost everyone who commented. CeraVe further capitalized on the success of this tweet by retweeting it in the fall, earning a 130% engagement rate to further boost their message and engagement.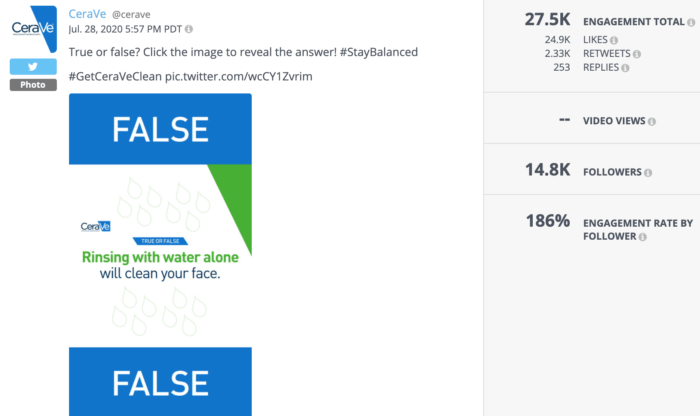 CeraVe's next most engaging tweet creatively capitalized on Twitter's image preview constraints to encourage followers to click on the tweet to learn more. The brand posed a quick quiz to followers about skincare myths like "Rinsing with water alone will clean your face" and then asked users, "True or false?" Twitter won't display the full height of an image unless a user clicks on the tweet, so CeraVe hid the answers in plain sight to encourage followers to click to learn whether the skincare myth was true or false. CeraVe tailored this campaign specifically to Twitter rather than repurposing for all their active channels, and the brand's creativity and deep knowledge of Twitter paid off.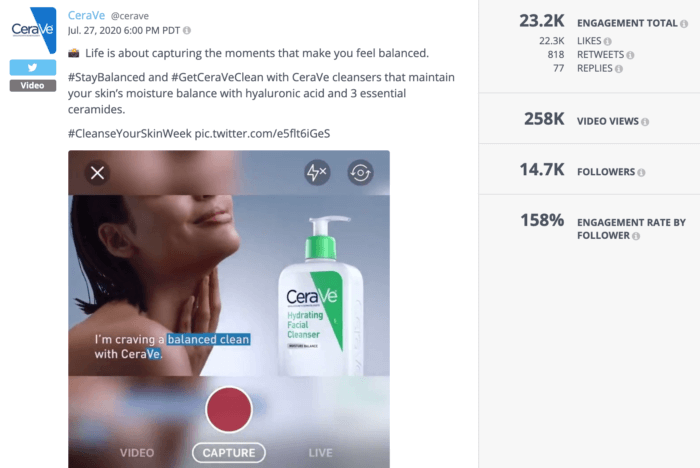 Sometimes, a product tweet is the best kind of tweet for the job, and this short video about CeraVe's Hydrating Facial Cleanser is no exception. This tweet rocked a 158% engagement rate with nothing more than a 30-second commercial and a short caption (and some $$$ to boost the tweet). Many of CeraVe's comments on Twitter come from followers hungry for the brand's products around the world (alongside spam, sadly), and followers were happy to drop a quick like on the video tweet as well. CeraVe's success with video on Twitter is a good reminder that videos aren't just for Instagram or TikTok.
Spotlight on Black-Owned Beauty Brands
Black-owned beauty brands shined on social media this year with a mix of engaging posts and tweets that had everything and nothing to do with being Black in America in 2020. Black-owned beauty brands like Fenty Beauty, UOMA Beauty, Mented Cosmetics, The Lip Bar, Beauty Bakerie, Coloured Raine, Pear Nova, and Briogeo Hair were top performers in our rankings. Let's look at a few examples of the most engaging posts and tweets from these brands.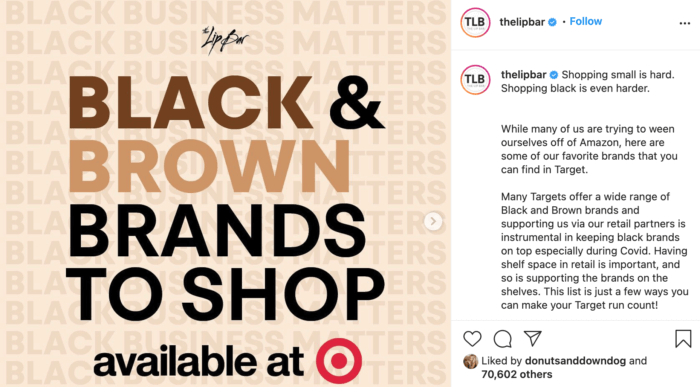 Vegan beauty brand The Lip Bar was a top performer on both Instagram and Twitter this year. In the brand's Instagram post with the highest engagement, followers were treated to a carousel of Black-, Indigenous-, and Asian-owned beauty brands available at Target last June. The post grabbed a 30.6% engagement rate thanks to hyper-relevant content that gave followers a tangible way to support Black- and Brown-owned brands. The fact that The Lip Bar chose a carousel for this post type helped boost engagement too–remember, Instagram re-serves each frame of a carousel to followers until the follower interacts with the post, giving a brand multiple bites of the same engagement apple. All the hype from this post and The Lip Bar's many other successful Instagram posts helped this dynamic brand rank 11th overall and 20th on Instagram, missing the top 10 by just a few engagements.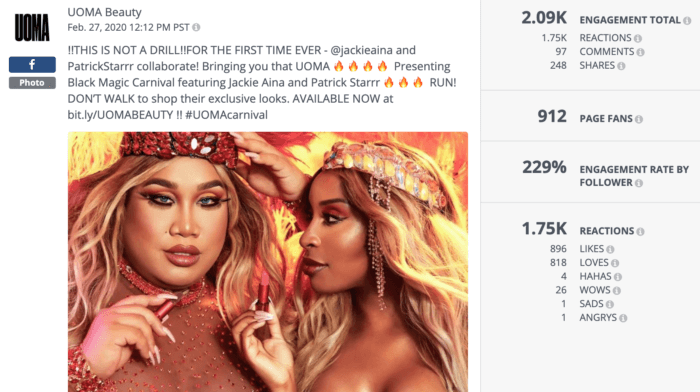 Makeup brand UOMA Beauty scored top marks on Facebook by putting collaborations front and center, like the Black Magic Carnival palette featuring influencers and YouTube stars Jackie Aina and Patrick Starrr. This post was 🔥 for the brand with a 229% engagement rate–their highest of the year.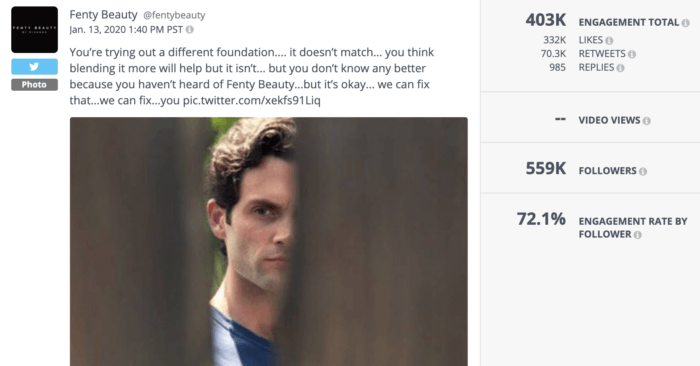 Does a Black-owned beauty brand have to post about Black founders, Black influencers, and makeup shades for darker skin tones to be successful on social media? Hell no. Fenty Beauty was the fourth-highest ranking beauty brand overall and grabbed the silver on Twitter with fun memes like this one featuring Gossip Girl fave Penn Badgley. Rihanna's brand delighted followers and kicked off a Penn Badgley meme storm, which helped drive more than 400,000 engagements on the tweet.
Congratulations to all the amazing Black-owned beauty brands who killed it on social media this year with a mix of thoughtful, meaningful, eccentric, and hilarious posts and tweets.
How is My Beauty Brand Performing on Social?
See what the best beauty brands are up to on social with our Live Social Media Benchmarks featuring top posts, engagement rates, high-performing hashtags, and tons more. Pro tip: you can even add these benchmarks directly into your Rival IQ account for always-on monitoring of these top brands.
O, go head-to-head with a free report on Facebook, Instagram, or Twitter to see how you stack up against your top competition. Discover what makes your competitors tick with key insights and actionable advice you can start using now to come out on top.
If you're hungry for even more stats, grab a free 14-day trial with Rival IQ.
Methodology
We surveyed 100 beauty brands between January 1, 2020 and December 31, 2020 on Facebook, Instagram, and Twitter. We included a selection of brands from Allure Magazine's 2020 Best of Beauty Awards and others from our team. Using this data and a weighted formula, we generated an overall engagement ranking for each beauty brand. The top-ranked beauty brands have high engagement rates with average or better audience size and posting volumes. We reviewed a mix of boosted and organic posts.
We define engagement as measurable interaction on social media posts, including likes, comments, favorites, retweets, shares, and reactions. Engagement rate is defined as the total engagement divided by audience size.
Due to Instagram API limitations, we're able to pull accurate Instagram engagement numbers only for verified and/or Instagram business accounts.
The Case for Benchmarking
Why benchmark instead of just measuring how your brand's individual performance changes over time? Because social success is relative. Benchmarking means figuring out what's working (and what isn't) for brands in your industry and measuring your success against that.
It's really important to go beyond likes and favorites because audience size matters: 200 likes is great engagement for a beauty brand with 1,000 followers but is a drop in the bucket to a brand with 100,000 followers. Engagement rate helps us take audience size into account to see who's really reaching the highest percentage of their fans and followers with their social posts, which are the beauty brands you need to beat.
Wrapping It Up
We hope this report inspires your beauty brand to try new strategies on social (or at least fills your Sephora cart). Congratulations to all the brands featured in this report doing heavy lifting on social in a year where it was more difficult than ever to grab the attention of fans and followers.
Did we miss a beauty brand you love, or get it wrong? Drop us a line on Twitter!