There's a new social media book in town (actually on Amazon)—and it's really good! Social Media Marketing for Business by Andrew Jenkins is a one-stop shop for developing a comprehensive social media strategy for businesses of every size.
Featuring insights from leading industry experts, it covers areas such as setting up effective workflows, team configurations, governance models, and social media policies, alongside creating and measuring content and social media campaigns that have the competitive edge.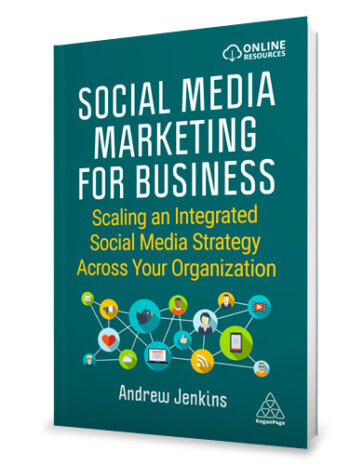 I got a sneak preview of the book and had the pleasure of interviewing author Andrew Jenkins. Andrew founded Volterra, a professional services firm specializing in social media and social selling strategies. Based in Toronto, Canada, he was formerly the Head of Social Media Strategy for Royal Bank of Canada (RBC) and has worked with a diverse list of companies in North America and Europe, including CIBC, Rogers, Bell Canada, InfoSpace, and The Aga Khan Foundation.
A regular international speaker and panelist at numerous industry conferences and events, Andrew also teaches a course on Social Media Strategies for the Enterprise at the University of Toronto's School of Continuing Studies.
I'm thrilled to share some of Andrew's insights with you and hope you find our conversation as insightful as I did.
Andrew, what made you write this book?
In the social media strategies course that I teach at the University of Toronto, the text we have used for years is called The Social Media Strategist by Chris Barger. He wrote the book based on his experiences leading social media for General Motors during their restructuring. I like his book because it's very prescriptive; it's a handbook of what to do when you find yourself in various situations that impact your social media.
The book is ten years old, and as we all know, the social media landscape has changed a LOT over the last decade. I looked around for a logical replacement for the book and couldn't find one. So, here we are!
Again when I say that, the book that I've written is not solely a textbook; it's a jumping-off point from Chris Barger's book. My book gives you quite a few things to consider when you find yourself in a social media management role within an organization, tips on partnering with different departments, and scaling social media for your business.
In the book, you say that the first step in developing a successful social media strategy for any business is to perform a social media audit. It's a seemingly obvious step, but sometimes it's hard to know where to start. How can companies conduct social media audits more efficiently?
When it comes to the audit, my recommendation is to ask a lot of questions, look for the answers, and trust the data. Start by circling back to your corporate objectives for the previous 3, 6, 9, or 12 months, and see where and how your social media has been complementary to the overall business's mission.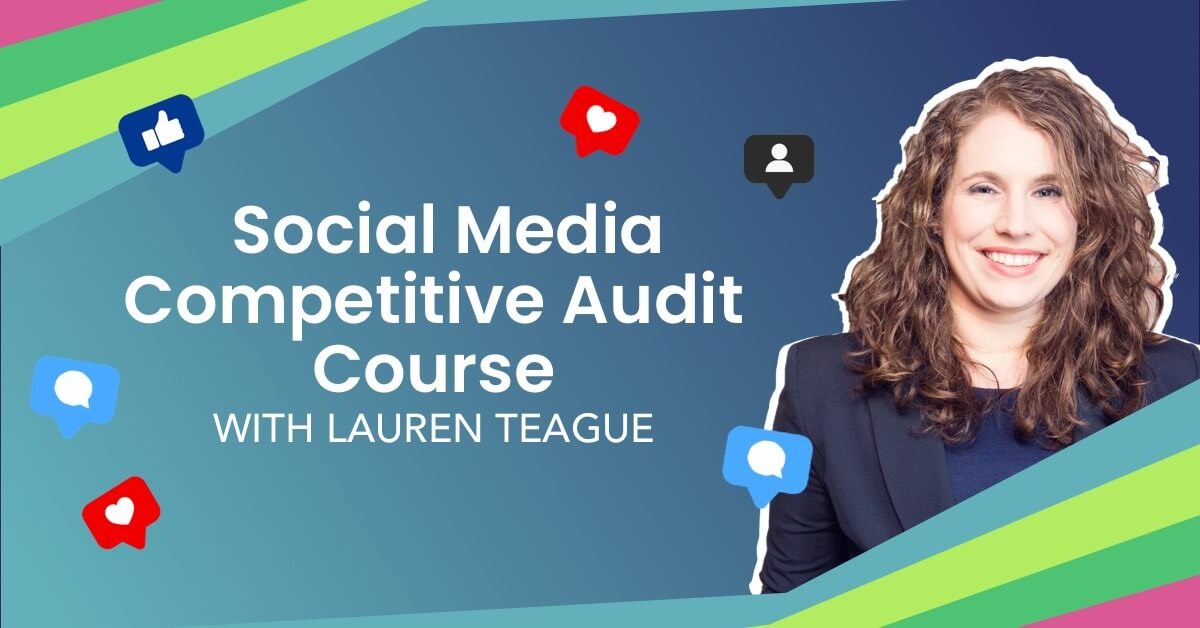 Use the data points to evaluate how your audience is behaving, which social media channels they're hanging out on, what content they're consuming, commenting on, or sharing, and how your overall performance is trending. As part of the audit process, it's also crucial to benchmark yourself against the competition to have a clear picture of where you stand within the industry.
We dig competitive analysis tools around here. Speaking of which, would you mind sharing your go-to list of social media tools?
We use Rival IQ extensively for our social media analytics needs (woohoo!) because of the comprehensive nature of the data that it provides. We use Buzzsumo for content auditing, and for social media listening solutions, we chose Awario and Meltwater. We also like Audiense, which is more Twitter-specific, but it also does some interesting audience segmentation that we can leverage.
Any tips on selecting the right tools? 
There's an explosion of tools in the market, but in my experience, it comes down to what you're trying to accomplish and what you're trying to learn. I run an agency, so my needs are quite different. We're handling many clients, which will be different from someone managing a single brand. Your martech will vary depending on whether you do your social media in-house or outsource.
The size of your business is not the primary concern; your tool stack will keep evolving and depend on such things as the type of organization, the size of the social media team, what you're trying to accomplish, and your social media workflow requirements.
What about picking the right social media platforms? Should brands be on all of the channels or pick and choose?
This is the question businesses should be asking—do you want to be a mile wide and a foot deep, or the other way around? There's nothing wrong with being on a few platforms, trying it out, and then rationalizing it in six to nine months to see which ones are gaining traction and which ones are still challenging.
Rival IQ's recent industry benchmark report indicates that organic engagement is down on Facebook, Instagram, and Twitter. TikTok, however, continues to be the outlier being the only platform with increasing engagement numbers. But, here's the thing – I'm speaking to you from Canada, and if you look at the social media statistics in Canada, you'll see TikTok's penetration (32.2%) is much less than that of Instagram (58.2%) and Facebook (76.9%). If you're a B2C organization, you might find an audience there, and it may be big enough to meet your business requirements, BUT it needs video and only video. So if you can't produce it, you're going to be challenged.
Typically when people ask about an emerging platform, I say, at a minimum, you should establish a social account there so that no one hijacks your brand. The other thing I always suggest is to start social listening and start testing whether your audience is there. This will help you decide if you want to dip your toe in the water.
It's worth mentioning that every channel you open must be resourced with people and content. And if you're already challenged to produce enough content in a sufficient manner for the existing channels, don't overburden your existing team.
More social channels = more content. In the book, you talk at length about repurposing content. How can marketers do a good job of recycling content?
I see this all too often – many organizations write a blog, publish it on the website, share it once across all their social channels, and then write the next blog. Repurposing content starts with asking yourself what other shape or form that blog can take in terms of richer media. Can I take a series of blogs, turn it into an eBook, and turn it into a gated piece of content?
If it's a listicle, can you turn the list into an infographic? Sometimes listicles make for a great animated GIF, just text presented with each key bullet point. Maybe each bullet could be converted into a carousel on Instagram. You can also use the multi-images as a slideshow in your LinkedIn documents. Take the existing blog and turn it into an audio file or a text-driven video. And suddenly, that single blog becomes 5+ pieces of content.
Repurposing means squeezing as much juice out of the lemon as possible. We're always making a case for repurposing content: if it's not time-bound, it should be kept in rotation.
The book mentions how businesses are often guilty of analyzing too much. How do you suggest marketers approach their social media analysis strategy, considering the infinite data points at our disposal? 
You must be careful because you can fall into the trap of analysis paralysis, where you can get buried in data that you can't discern and don't know what to do with. We tend to try to be as holistic in our approach as possible. We look at a month from a performance point of view. But then we look at a quarter, six months, and a year for trends over time.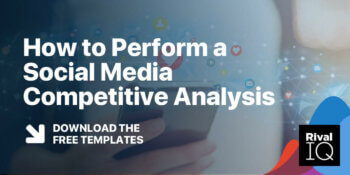 Free Social Media Competitive Analysis Template
Download now
It's also important to be mindful of any anomalies in your social data. If you don't remove the anomaly, you'll end up with an unfair benchmark for that time series.
What is the best way for businesses to define overall social media success?
I try to make it simple. I tend to categorize it in what I refer to as the three C's of social media ROI. The first C is Community. Measure the community you have today. Over time, has the community grown in numbers and engagement?
The next C is Content. You want to measure your content in terms of consistency, frequency, and, most importantly, engagement. Ideally, you want all these parameters to trend upwards and lead to a favorable business outcome like registration for a webinar, downloading your ebook, or signing up for a free trial which brings me to the third C.
The final C in this trilogy stands for Conversions. Conversions are the goals that are meaningful for your business. We shouldn't be tweeting for tweet's sake. For social media to be successful for your organization, it must tie into your business objectives. For some brands, social media might be a tool for brand awareness, whereas, for others, it might be for lead generation.
I'd like to shift gears to the social media governance side of things. From a crisis management perspective, how should businesses prepare to react to social issues on their channels?
As social media marketers, we need to be hyper-aware of what's happening in the world around us and be fluid in posting or tweeting content. In light of a tragedy or conflict, the social team needs to be prepared to make that kind of call to say, even though we put a lot of time and effort into that content, when juxtaposed with what's happening in the news, it's not respectful or timely to put that content out there. So, you've got to pause all feeds. And, please don't forget to communicate your plan with the extended team.
From a brand management perspective, if you are not adding value to the conversation in times of crisis, you might be better off saying nothing.
Great tip! What about employee governance on social media?
Employees are brand representatives, so like it or not, what they say and do in a public forum could have repercussions on both the organization and their employment. If an organization wants to leverage its cumulative networks, it should have its employees be more active by sharing content from the company's social business pages. Still, you do want to give them some guidance. Social media guidelines should be positioned to help employees avoid making any mistakes that might be harmful to themselves and, indirectly, to the firm.
I also highly encourage employee advocacy programs. I share this example from Sprout Social in my book, which shows how a group of 135 employees and their personal relationships can achieve the same or greater reach than a Facebook page with 1 million fans.
Employees of organizations are more trusted than the brand themselves, making such programs of great value to any business.
Wow! That is a powerful example. Thank you so much for chatting with me and sharing your thoughts to help improve social media marketing for businesses.