The digital marketing landscape changes quickly every day, and marketers are incredibly busy, if not overwhelmed. This is one of the reasons our customers love our proactive alerts and reports. But we are always thinking about what else we can do to help marketers, and our customers have been asking for even easier ways to see what is happening for them and their competitors daily in Rival IQ.
We also continue to hear challenges about content marketing, especially around keeping up with the need to create and publish engaging social media content across multiple channels.
Today, we are launching three key new features designed to help in these areas:
Let's walk through each of these.
Rival IQ Marketing Analytics Dashboard
First, we wanted to give users immediate context around what is happening in their Market Landscape (what Rival IQ calls a group of companies you compare against each other). The new Rival IQ Dashboard does just that.
Now, when users come to the Rival IQ online app, the first page they see is the Dashboard, which gives you an at-a-glance update of the most important analytics and content about you and your competitors.
Every report provides one-click detail, enabling you to quickly dig into detailed analytics behind each dashboard chart.
About You At-a-Glance
At the top of the dashboard, you quickly learn how your company (or the focus company in that Market Landscape) is doing in social media and SEO keywords, including:
Social Audience: What's your current cross-channel audience total (for 6 social networks)? How has that changed over a specific time period?
Posts Per Day: How many posts per day have you averaged? And on which channels have you posted the most?
Interactions Per Post: How many total interactions have you received across the six channels? Which social network is most engaging for you?
Ranked SEO Keywords: For how many SEO keywords are you ranking on Page 1 or 2 of organic search and for how many words are you ranked on Page 1 specifically?

About Your Competitors
Next, you get some fast competitive context for all the companies you are tracking in your Market Landscape, including:
Which competitor has increased its social audience the most?
Who has achieved the biggest growth in organic keyword count and rankings?
Who is spending the most on Google Adwords?
You also quickly see all the latest alerts for your Landscape, such as which company had a breakout post or changed their social or SEO positioning.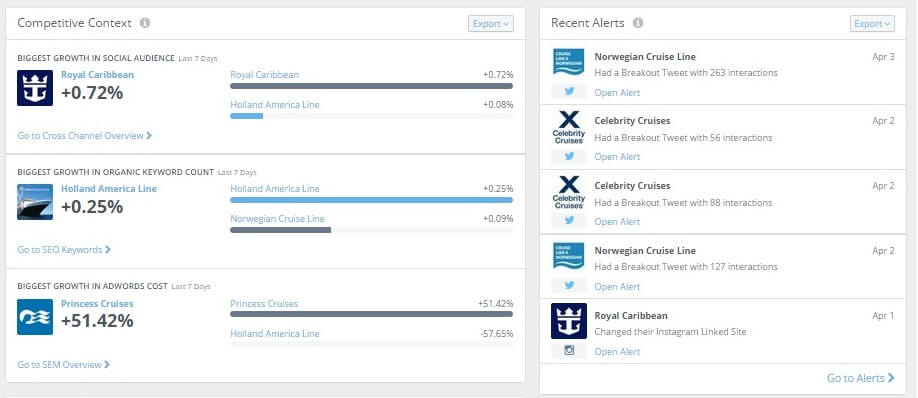 Top Social Content and Twitter Mentioners
Who has time to dig through each social network looking for the most engaging content for both you and your competition? With Rival IQ, you don't have to – and the Dashboard makes it even faster and easier to see both your top social post as well as your competitor's over the last 7 days.
You can sort the posts by either Engagement Total (the total number of interactions) or Engagement Rate, a Rival IQ metric based on the number of total interactions per 1,000 followers – so you know how you are engaging within the context of just your social fan base.
Top Twitter Mentioners
We also make it easy for you to see which influencers are talking about you and the competition on Twitter, highlighting the Top Mentioners of the past 7 days. You can quickly sort by your top mentions or your competitor's top mentions.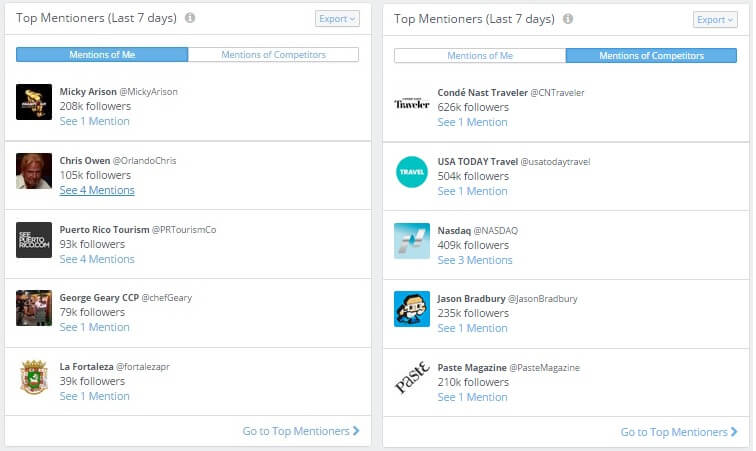 From the dashboard, you can dig into detail in a couple ways. Right on the dashboard, you can click on the "See Mention" hyperlink, which immediately opens a window on the dashboard with highlighted tweets by that mentioner.
From that window, you can also conduct influencer marketing, by clicking on the Twitter "Follow' prompt, which opens up that mentioner's profile on Twitter. If the mentioner looks like an influencer you should be following, then simply click on the "Follow" button, and you're set!
Cross-Channel Top Social Content
Our top social content reports for each channel are some of the most powerful reports in Rival IQ, because you can immediately learn what posts are the most engaging for each company in a Landscape. We took that same great approach but made it cross-channel, meaning you can now see what content is most engaging across Instagram, Twitter, Facebook, LinkedIn, YouTube and Google+.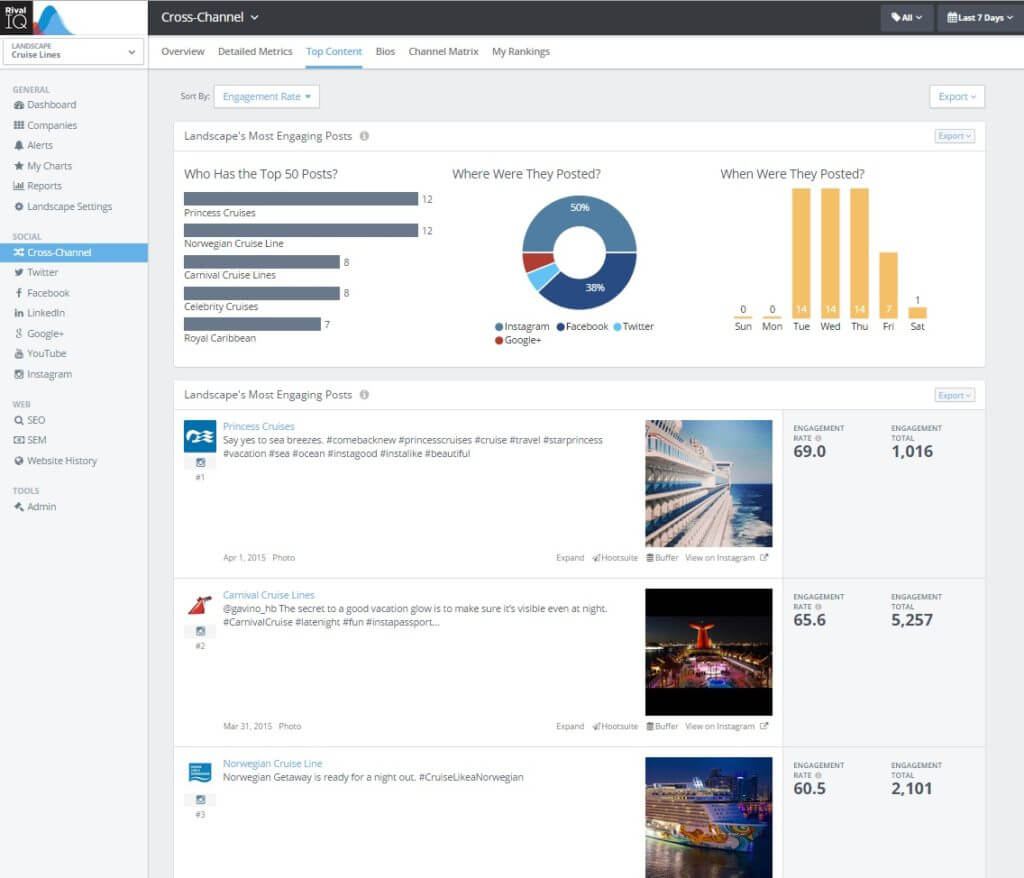 With this new report, you can find out which channel you are rocking compared to other channels and your competition overall. As with all Rival IQ content, you can sort by Engagement Rate or Engagement Total as well as more granular engagement metrics, detailing Applause, Conversion and Amplification.
Buffer and Hootsuite Integration
In our recent market research, a large percentage of Rival IQ users said they use Buffer and/or Hootsuite for social media content publishing. Fortunately, our engineers just love solving new challenges and figuring out how to make our jobs easier as marketers.
If you are a Buffer or Hootsuite user, you can now publish content directly from Rival IQ into those two tools.
To set this up, you just need to go into Account Settings and go to the Social Publishing tab. There, you can click on Hootsuite or Buffer.  Once you do that, you will see a Buffer or Hootsuite content box popup within the Rival IQ app.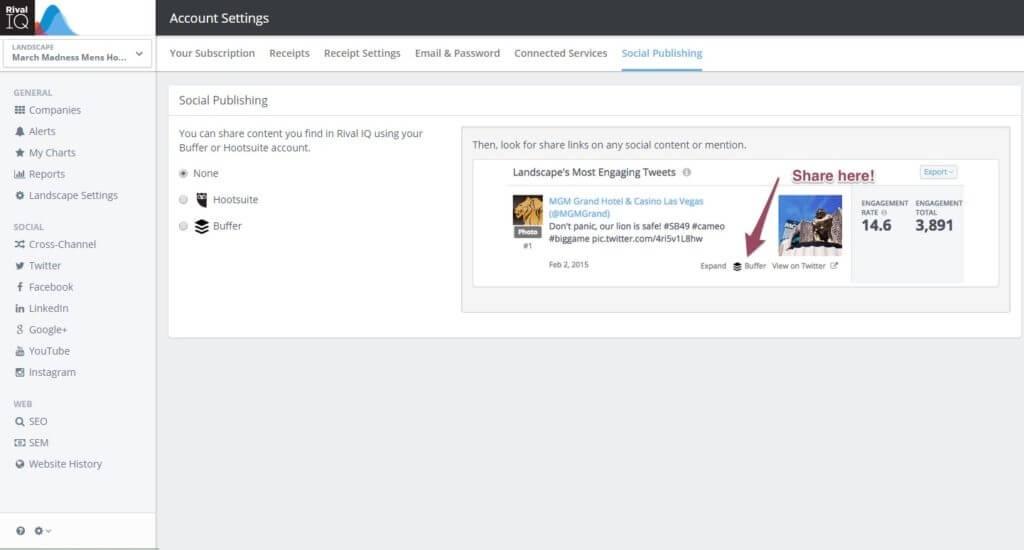 I recommend going into your own top social content (you can do this easily by going to your organization's Company Page), and re-posting high engagement and still relevant content. Schedule it for different times to test optimal times.
Also, let us know if you would like to see us add more publishing tools with this capability!
How to Use the Dashboard in Your Daily Workflow
With these new features, you'll want to visit the dashboard each day to make sure you haven't missed any alerts, top posts or top mentioners. Also, you can easily download the dashboard report to PDF or PowerPoint and have a fast update to send out to the team.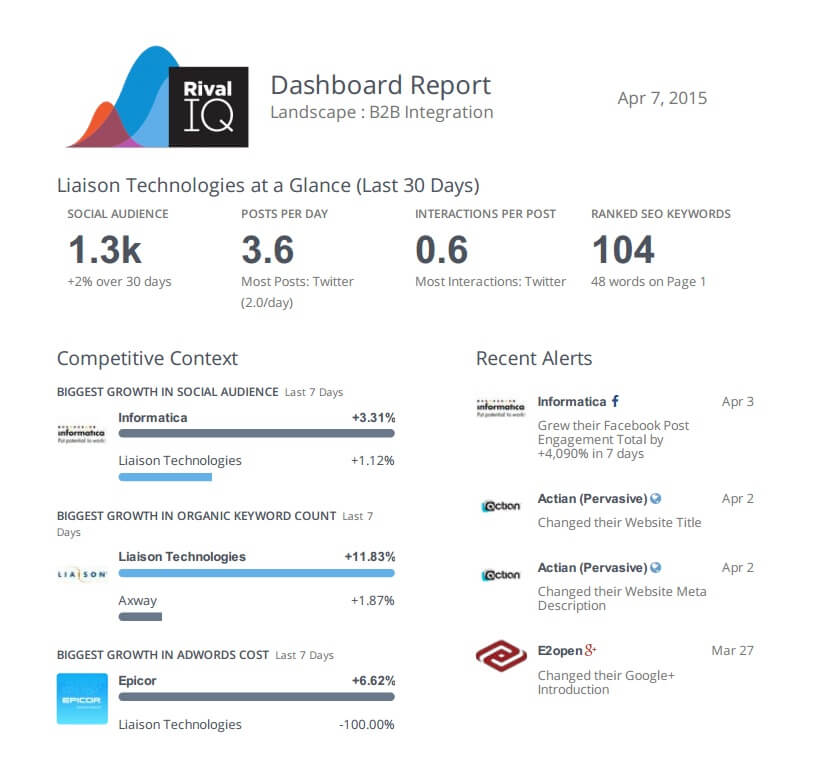 We look forward to hearing your comments and experiences with these new features. Leave comments here or contact us at support@rivaliq.com.