There are many places to gather on the Internet, but some of the most intimate connections can form in closed (private) Facebook groups.
When brands create a trusting environment, letting the business priorities take a back seat and put community fellowship in the driver's seat, they create a breeding ground for a community of engaged, loyal followers. If you cultivate a strong enough community, members will evangelize on behalf of your brand, and even serve on the front lines of defense if your brand ever encounters a PR crisis.
You might've noticed banners at the top of your Facebook feed encouraging you to join or create a Group. With its recent shift towards privacy, Facebook's algorithm is giving more attention to Groups, which makes them a great place for
deepening trust and connection with customers and followers
. If you haven't already started or joined a Group, now is a great time to get going as Facebook throws a ton of energy behind Groups.
While they're quick and easy to set up, all groups run the risk of shutting down if no one is participating over time. Here are three examples of strong online communities, and best practices to take away in order to effectively manage and sustain your brand's Facebook group.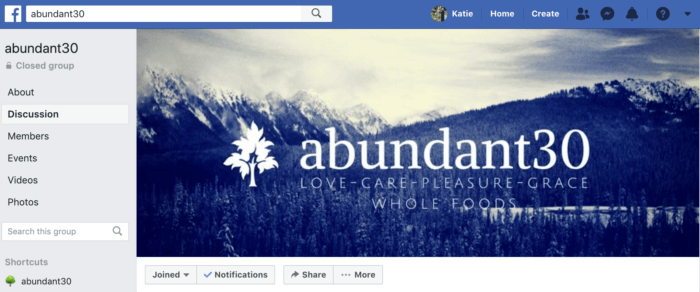 Rally around a common interest
In 2013, I started to hear whispers about the Whole30. The concept seemed impossible: no dairy, sugar, legumes, alcohol, or grains for 30 days? Nooo thank you! However, just five years later, I had just finished Whole30 for the second time. At first, the program was helpful as it educated me about how my body processes and responds to food. However, I soon found myself on a slippery slope, referring to food as "bad" or "good," and was clearly developing an unhealthy mindset. I was confused, because I knew the Whole30 had worked wonders for me in many respects, yet here I was slipping into dangerous territory of an "all or nothing" mentality. While it wasn't a great idea to eat pizza and donuts every day, it wasn't reasonable to restrict all of the time either. I started seeking a better approach.
Instagram plays a large role in Whole30 as people use the platform to share recipes, encouragement and results. Connecting with other program participants was one of the things that kept me going for the full 30 days. During my first round I found Autumn, founder of A Whole Story and fellow participant who had completed ten mind-boggling rounds. Her enthusiasm, results, and friendly online persona quickly hooked me, as it did for her nearly 10,000 followers. Autumn began to feel like my friend. Right around the time I started to have my doubts, Autumn entered her 11th Whole30. About a quarter of the way through, she made a shocking announcement: she was quitting her round, and never wanted to do a Whole30 ever again. I was surprised, but found many of her reasons aligned with my own.
It turned out I wasn't alone. Autumn shared that as she reevaluated the Whole30 program for herself, she sensed rumblings of a similar revelation from her followers. And so, she invited followers to join her new, private Facebook group called abundant30: a space to revel in, embrace, and love abundance and not restriction. Many members were just like me, looking for an alternative to a strict Whole30 while pursuing knowledge about how food, thoughts, and movement impact our bodies and brains.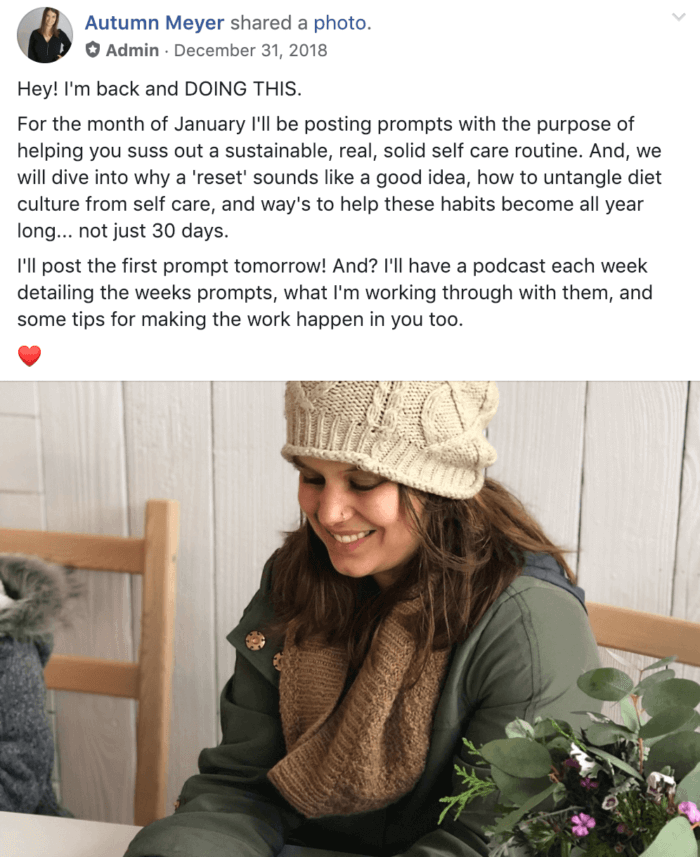 Autumn amassed her following by rallying around a common interest. To date, abundant30 has 600 members from across the country. As the Facebook group leader, Autumn regularly provides prompts to spark discussion and keep the group active. While she never leads with business, she does use the platform to promote things she's passionate about: like yoga (she is an instructor in her local community), her blog, and her brand new podcast. She also shares opportunities  for followers to become patrons to provide financial support for her content creation and talent.
Autumn saw a desire for a niche that didn't exist, so she created it. As you can see, she's successfully cultivated a small, yet highly engaged, group of like-minded followers.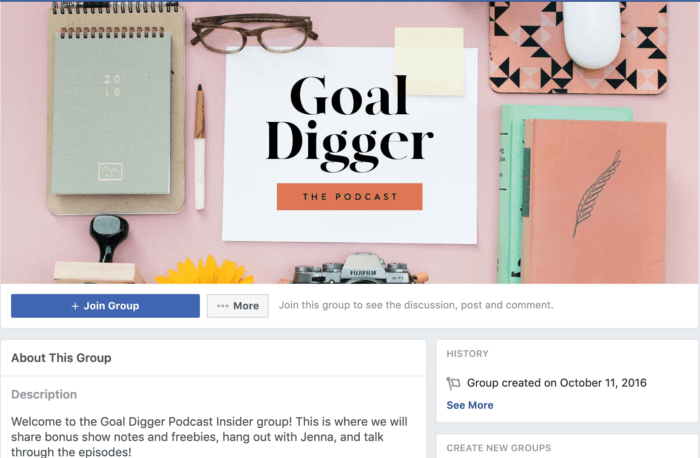 Encourage Facebook group member participation
Jenna Kutcher is a CEO, marketing entrepreneur, brand ambassador, and wildly successful wedding photographer. As the host of the Gold Digger Podcast, she has a massive following of ambitious professionals seeking to better themselves, their careers, and businesses. Jenna herself left a cushy corporate job to pursue her own business, and many people are inspired to follow her path.
To put it lightly, Jenna attracts a lot of fans, and rightfully so. She has over 750,000 followers on Instagram alone who actively seek her opinions and advice. I haven't asked her myself, but I can guess along the way Jenna observed an opportunity to extend the audience experience beyond Instagram likes and podcast subscriptions. To connect with her audience and foster organic relationships between listeners, Jenna created the Goal Diggers Podcast Insiders Facebook group.
When it was created in October 2016, the group's original mission was for Jenna to share bonus show notes and freebies, give members a chance to hang out with her, and talk through the episodes. At the time members felt extra special when joining a group exclusively for podcast listeners. Today, it looks a little bit different. To the delight of the members, Jenna still remains active, chiming in on posts from time to time. But for the most part, aside from promoting content on her other channels from time to time, she's relinquished control as the Facebook group has entirely evolved into an online networking group.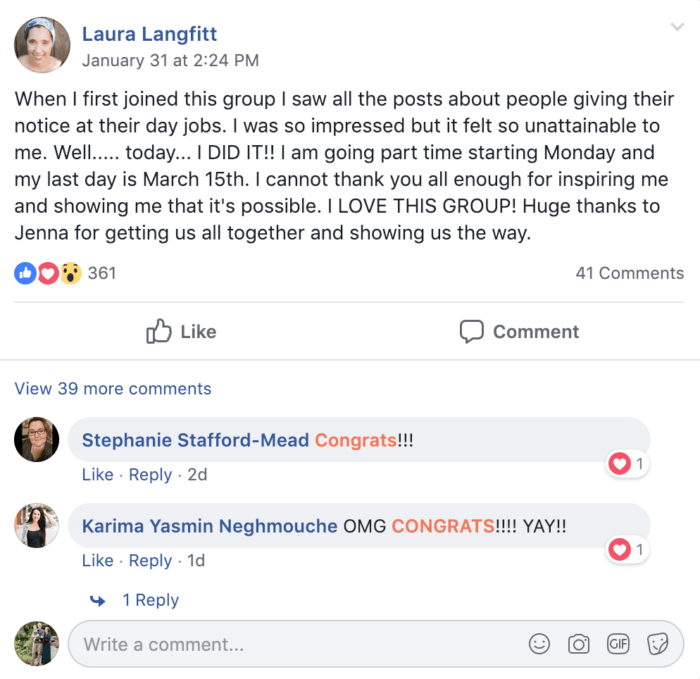 Members hop on multiple times a day to ask for business advice, solicit recommendations, promote their work, invite people to become followers, vent, or simply look for reassurance from others. People certainly respond. In fact, it's common to see over 100 comments on each post.
While everyone in the Facebook group loves Jenna, that's not the only thing they have in common. They are driven artists, entrepreneurs, moms, students, and women supporting one another. This is a great case study about creating a legacy that extends beyond the individual, an important lesson every business should keep in mind.

Show Lively Activity
When I moved to San Antonio last year, I knew I wanted to meet new friends as soon as possible. As a first-time mom to a six month old, I needed all the support (and grown up time) I could get. So, I did what any millennial would do: I started to browse local mom Facebook groups. Lo and behold, I found an amazing group of moms in my neighborhood with the same interests as me. After joining, I immediately started attending in-person events to get to know everyone. After countless playdates, walks, and moms' nights out, these women have become my tribe.
Of course, this is a personal example without business interests, but the group does have one particular practice that's applicable to brands: demonstrating lively activity.
Every member is responsible for hosting an event every month or so, which means creating an activity, planning and providing a snack, making a Facebook event, inviting everyone, promoting it within the group, and of course, hosting on the day of. For follow up, the founder of the Facebook group encourages the host to share pictures from the event, tagging everyone who participated.
By routinely showing "evidence" of fun, current members are encouraged to join the next event, and prospective members view the group as active. When I first visited the Facebook group, if I had discovered posts were few and far between, void of any pictures of moms and babies having a blast, I may never have expressed an interest in joining. It was the high activity and participation alone that intrigued me. Brands can take a page from this mom playbook by encouraging in-person meetups and sharing photos after the fact to breathe life into the group.
Do you manage a Facebook group? What strategies and tactics work well to keep your membership active and growing? Tweet us your tips!