One second I was fine, and the next it felt like I couldn't breathe. As I stared at the computer screen in my little cubicle, I was frozen with fear.
It was 2011, and the swirl of Charlie Sheen's public outbursts dominated the media headlines. Twitter was buzzing about him, so I decided to check out his infamous account to see what all the fuss was about. After scrolling through several #winning posts, I started following him. You know, for research. Unfortunately, I didn't realize I was currently logged in as my client–meaning they started following him instead of me. I instantly panicked because it was 100% inappropriate and irrelevant for the brand to follow a celebrity train wreck.
In hindsight, I recognize that this was not actually the emergency I made it out to be. In fact, I handled it the right way. After the initial shock wore off, I unfollowed Charlie, informed my client (they were cool about it) and prayed none of my client's followers had noticed. Luckily for me, they hadn't. Even though my mistake turned out to be harmless, it's an example of how every choice we make in the public eye has the potential to make tremendous waves (good or bad).
Errors happen to the best of us. However, it's how one chooses to respond to the cringeworthy moment that separates the pros from the amateurs. Here are three common social media faux pas and the lessons we can all learn from them.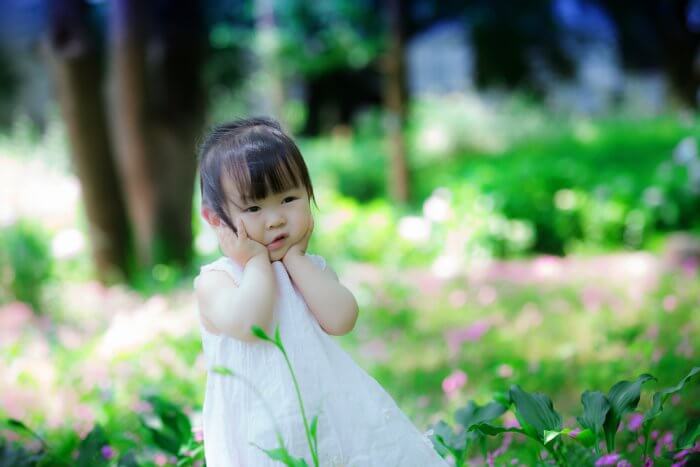 You post a personal message by mistake
The mere thought of sharing a personal post from a brand's account strikes fear into the hearts of social media editors everywhere. This is especially true if the brand they represent has over six million likes. Unfortunately for Christopher Dean Hopkins of National Public Radio, that is exactly what happened to him.
His nightmare began when he accidentally posted this update on NPR's Facebook Page:

The story about Ramona, Hopkins' infant daughter, was definitely not intended for NPR's audience. So, like any veteran communicator would do, Hopkins swiftly removed the post and shared a new one to explain the error to those who had already seen it.

What Hopkins did not anticipate, however, was the internet falling head over heels for Ramona and her zealous affection for cats. Since we're all accustomed to receiving doom and gloom news from media outlets these days, this sweet, endearing post was a welcome change. As the mistake went viral, delighted readers joined the conversation with user-generated hashtags: #ramonaupdates, #bringbackramona and #ramonaforever.
Accidentally posting a personal update on a brand page is unprofessional at best, and can isolate target audiences at worst. Thankfully this faux pas went over well, largely because it did not contain profanity or offend anyone, and it made people smile. It also really helps that Hopkins kept his cool under pressure and professionally explained the situation rather than panicking (which often leads to more errors) or deleting and pretending no one noticed the error.
More than anything, this example just goes to show that sometimes the Internet can show a little humanity. At the end of the day, this innocent mistake turned into a memorable moment that many people will continue to associate (positively!) with the NPR brand for years to come.

You unintentionally upset or offend people
Last fall, Dove launched an advertising campaign and posted a video of a black woman removing her brown shirt and transforming into a white woman. The video went viral as people expressed outrage that the company would send such a blatantly racist message. Dove responded by removing the ad and issuing a statement that they "missed the mark."
Unlike NPR's mistake, this fiasco was not well-received. However, Dove did two things right:
Immediately responded. Instead of shrinking into the background as negative feedback swirled, Dove immediately acknowledged the problem and admitted fault. Their response was short and to the point, and made it clear that the company did not intend to offend.
Made an official statement. After admitting they "missed the mark," the public still wondered: how on earth the video was ever approved in the first place? It didn't seem plausible that the concept ever made it past various experts in the corporate marketing and advertising departments. In particular, the media demanded to know how Unilever, Dove's parent company, let this happen. After Jezebel requested a comment, the company provided this thoughtful statement to address the valid concerns:"As a part of a campaign for Dove body wash, a 3-second video clip was posted to the US Facebook page. This did not represent the diversity of real beauty which is something Dove is passionate about and is core to our beliefs, and it should not have happened. We have removed the post and have not published any other related content. We apologise deeply and sincerely for the offence that it has caused and do not condone any activity or imagery that insults any audience."
While these remarks didn't make the problem go away entirely, it certainly stamped out many of the flames. To ignore the public's demands for answers would have only made the situation worse. It was critically important for Dove and Unilever to listen and respond accordingly, which they ultimately did. Are people still mad? Yes. But in the grand scheme of things, this Dove PR crisis faded into the background.
You put your foot in your mouth
Have you ever said something only to immediately clap your hand over your mouth, wishing you take back the embarassing, rude, or thankless statement? Unfortunately, it's easy for this to happen on a large scale in the public eye.
One of the most cringe-inducing examples is brought to you by Adidas. In April 2017, the brand sent an email to Boston Marathon runners after the race with the subject line: "Congrats, you survived the Boston Marathon!" This message came as a shock to many, as it followed the horrific bombing of the Boston Marathon in 2013 that killed three people and injured 260 bystanders.
Even though this faux pas did not originate on social media, it spread like wildfire as people took to Twitter to rebuke the company for their insensitivity.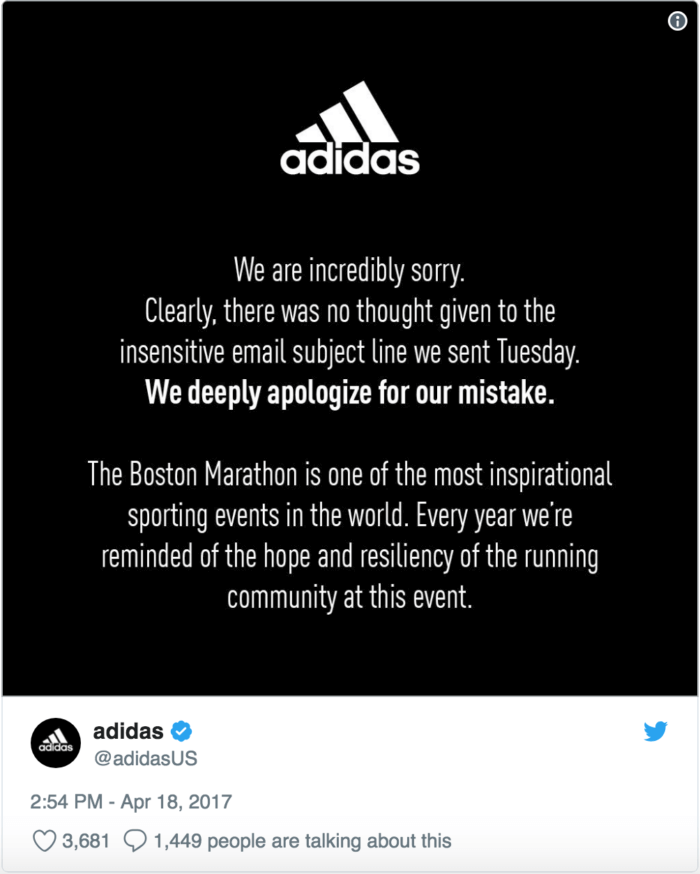 Instead of being defensive, Adidas did the right thing by owning up to the grievous error and issuing a sincere, apologetic tweet. While it would be cool to travel back in time to avoid our wrongdoings, the next best thing is to make them right with an apology like this one.
If and when you make a social media mistake, don't beat yourself up too much. Concentrate on what you can change instead and improve the situation. As always, rely heavily on listening to inform your next move. If you're looking for an efficient way to monitor conversations about your brand, make sure you're using all of the new features on your dashboard.