Where to start with Pinterest marketing? These spirit brands make us want to reach for boozy boards on this search engine/social channel.
I created my Pinterest account 10 years ago. Back then, I simply viewed it as an online destination to dream about a kitchen I will never have, in a house I will never own. It wasn't until much later while listening to an episode of The Goal Digger podcast that it finally clicked: Pinterest isn't a passive, one-sided bookmarking site, it is a powerful search engine with endless marketing possibilities.
The key here is that the platform is aspirational. Users log on to find inspiration for what they want to do or buy, and incorporate those tips and ideas into their daily lives. From major construction projects to ideas for healthy Halloween snacks for my daughter's preschool, Pinterest is my go-to destination when I'm not quite sure how to get started.
With 320 million monthly active users, collectively pinning 200 billion items across 4 billion boards to date, brands are challenged to think like a customer when developing their own strategy. While the platform is relatively low maintenance in terms of audience engagement, brands must make a significant investment up front to develop visual content worth pinning. The goal is to earn the user's attention in the midst of their search, and maximize Pinterest's growing ecommerce technology so customers can "shop the pin."
Pinterest encourages brands whose target audiences are on the platform to join the party. With alcohol on our minds after the release of our Top Alcohol Brands on Social Media Report, let's look at how the following popular spirits are optimizing Pinterest, getting ahead of their competitors, and enjoying peak platform performance.
The Pinterest Marketing Cocktail Menu
The original party spirit. According to the brand's website, all you need to know is that it tastes delicious. And that it mixes with everything. Captain's honor. 
The Pinterest Stats
8.3 million monthly viewers
9.7K followers
35 boards
498 pins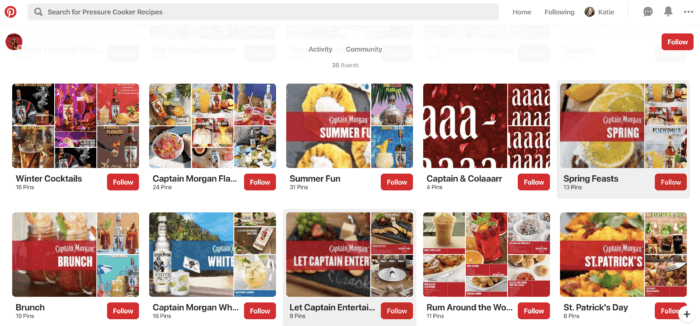 Why It's Pinworthy
Brunch is always a good idea, and Captain Morgan certainly knows that philosophy is widely embraced by their target demographic: 18-34 year old drinkers. Since this age range is mostly comprised of millennials, the Captain must appeal to the generation considered to be frivolous spenders and avocado toast-eaters (Disclaimer: As a millennial myself, I apologize for the harsh stereotype… to be honest, I'm not even sure I agree with it).
Nevertheless, with multiple boards dedicated to various drink concoctions, the "Brunch" board stands out.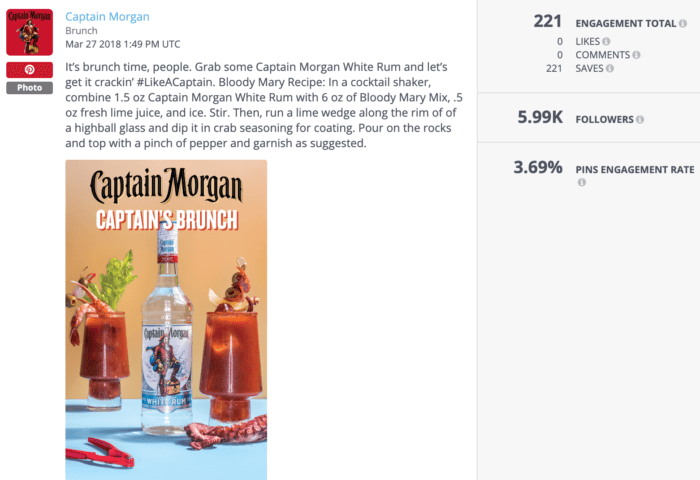 By serving up recipe suggestions to pair with the popular mid-morning meal, the brand hopes customers will turn to rum instead of settling for a standard bloody mary or basic mimosa. Best of all, as more people are taking a DIY approach to the brunch trend (gathering and cooking at home instead of going out to a restaurant) drink recipes are even more in demand.
The Brunch board, in conjunction with other recipes creatively and categorically packaged, illustrates how Captain Morgan uses Pinterest to keep their brand top of mind among the millennial population.
Blended Canadian whisky: Expertly blended, patiently aged. 
The Pinterest Stats
9.9 million monthly viewers
12.4K followers
16 boards
186 pins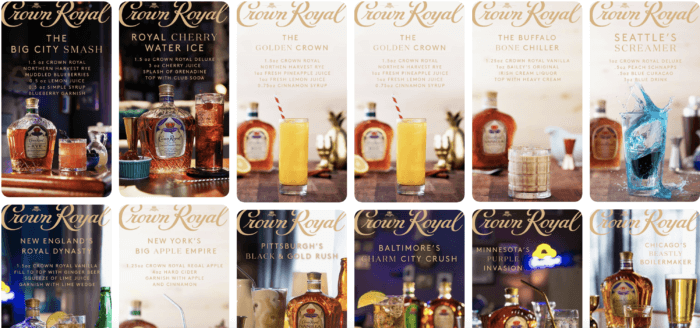 Why It's Pinworthy
Out of all the spirits, Crown Royal holds the reins as a Pinterest marketing powerhouse. Like the name suggests, Crown Royal was first created in 1939 as a gift for the King and Queen of England. Since this spirit is actually fit for a King, the brand embodies characteristics of sophistication and glamour, striking the right tone of voice on social media to match.
To maintain that true-to-brand voice and brand reputation, Crown Royal creates boards featuring suggestions to elevate the ordinary. In particular, one creative board includes tips to upgrade the standard tailgate party. (I'm not sure Will and Kate would attend such a party, but let's just go with it, shall we?)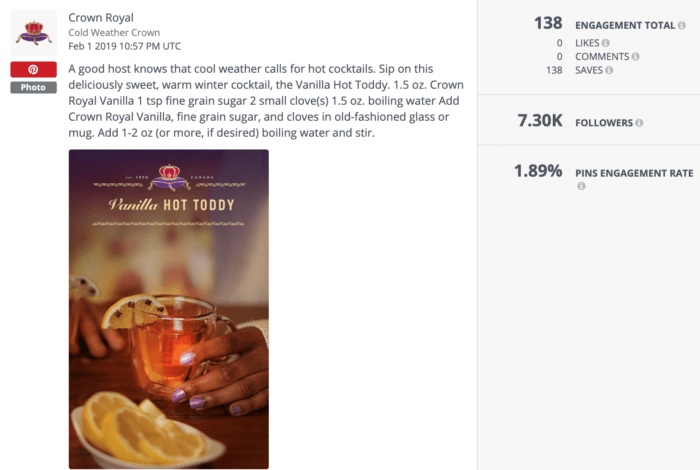 Tailgating with beer cans? Pish posh! Who do you think Crown Royal's customers are, peasants?! Crown Royal reminds sports fans that they can properly enjoy game day with a "hot toddy tailgate" or "regal cider" in hand. For a spirit that isn't necessarily chosen for day drinking, this is a strategic way for Crown Royal to earn its spot in the sun for this classic American pastime.
The Pinterest boards are as smooooth… as Tennessee Whiskey (just ask Chris Stapleton). 
The Pinterest Stats
10+ million monthly viewers
14.1K followers
13 boards
130 pins
Why It's Pinworthy
Many people choose to imbibe on special occasions, whether it's for a birthday, or just because it's a normal Tuesday night (no judgment here). If you need a reason to drink, it's fun to invent occasions to mix up a cocktail or two. Jack Daniel's is here to give Pinterest mixologists endless inspiration and justifiable reasons to sidle up to the bar.

That's why during basketball season, Jack Daniel's created a lineup of specialty cocktail recipes so fans can get their game face on. The strategy is a good one, building on the excitement already swirling about customers' favorite teams by infusing some good old fashioned spirit. Best of all, as people gather together to watch their team dominate on the court, hosts are always on the hunt for good signature cocktails to offer their guests. Jack Daniel's happily supplies creative recipes for any the perfect occasion.
Bringing a little extra sparkle to Pinterest one #StylishShot at a time.
The Pinterest Stats
10+ million monthly viewers
24.9K followers
38 boards
803 pins
Why It's Pinworthy
Bailey's turns to Pinterest to remind users that their product can be used in pretty much any food or drink recipe one can possibly conceive. No matter if poured straight up as a chilled martini, added as a secret ingredient to kick up a specialty dessert a notch, or combined with a cup of coffee for a flavorful boost, Bailey's has nearly 40 boards demonstrating they are THE go-to spirit for any occasion.
While it's no surprise that the majority of their boards are dedicated to recipes, they also promote from a slightly different content angle: Fashion and beauty. Fashion and beauty are among the most popular categories searched for on the platform, likely because 70% of Pinterest users are women.
Keeping these demographics in mind, Bailey's creates packaged content so that their brand appears in the search results for these popular terms. That way, when users are drawn to the board to pin a gorgeous dress or cool manicure inspiration, they'll also see content associated with the spirit associated with the pins. This approach markets the brand as synonymous with fashion, beauty and a lifestyle that many people desire. To keep tabs on the campaign, Bailey's uses the hashtag, #StylishShot.
This ultra-smooth spirit with a classic taste is the most awarded name in vodka. 
The Pinterest Stats
10+ million monthly viewers
42.5K followers
50 boards
1.2K pins
Why It's Pinworthy
Internet memes are always in high demand. When social media content is extra funny and relatable to the masses, it's almost guaranteed to spread like wildfire. In Smirnoff's case, they know the power of a solid meme. That's why they created "Smirnoff Socials" pins, which are hilariously crafted social media shareables designed to give folks a laugh.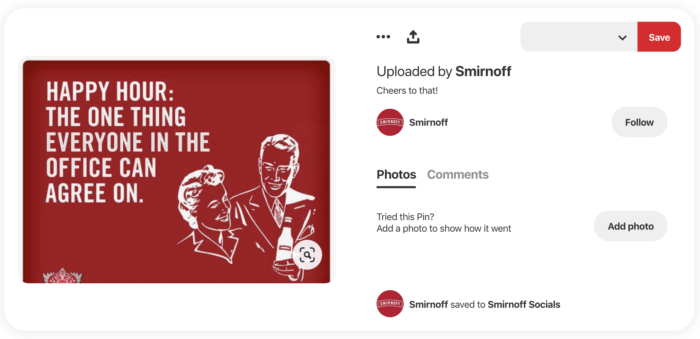 "Happy hour: the one thing everyone in the office can agree on." Smirnoff keeps the joke as the leading "hero" of the meme, choosing to subtly include "Smirnoff" in small print on the illustrated figure's Smirnoff bottle instead of putting a large brand stamp across the piece. When the meme is shared, presumably across multiple social channels, it plants a seed so that viewers will be more likely to think of Smirnoff the next time they log off and head off to enjoy what may be the happiest hour of their long day.
Don't mock this nonalcoholic beverage till you try it. Bai brings great taste and better-for-you ingredients together at last.
The Pinterest Stats
3.7 million monthly viewers
47.2K followers
9 boards
501 pins
Why It's Pinworthy
Millennials have sparked a sober revolution, and businesses are taking notice. If it seems like sobriety is trending, it's because it is. In fact, the number of alcohol drinkers in the world has decreased by nearly 5 percent since 2000, according to the World Health Organization. In order to meet customer demands, sober bars and other businesses are popping up in major cities, appealing to those leading a sober lifestyle, as well as the sober curious.

While Bai is a non-alcoholic beverage, they often create and promote cocktail recipes that combine alcohol with their product. However, they also run a board dedicated to "mocktail" recipes, also known as fun drinks without alcohol.
Given the recent surge of sobriety popularity, online search queries for non-alcoholic beverages is on the rise too. It's very smart for Bai to represent its product as a sober alternative to the other mixed drinks they share with their audiences. As more people pin mocktail recipes, Bai will enjoy more brand exposure within that niche market.
It should be noted that the metric to watch on Pinterest is the number of saves, which is totally different than like- and comment-heavy Facebook, Instagram, and Twitter. Looking at the data in this custom dashboard, although Bai is the new kid on the block with room to grow on the platform, their engagement rate actually outpaces the giant brands in this list. This is indicative of a bright future in Bai's pinning long game.
An Observation
It must be noted that alcohol brands still have considerable opportunities for growth on Pinterest, especially when compared to content by retail giants on the platform, like Target and Kroger. Recipes are great, but there are bigger opportunities to explore. For example, I'd love to see more travel inspiration incorporated, especially given the global footprint of many of these brands.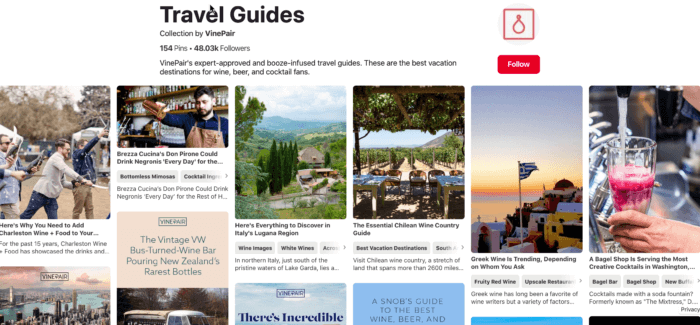 The spirits can take notes from VinePair, a digital media company "delivering accessible, entertaining, and inspiring content about drinks and the experiences you have with a glass in hand." With 50.5K followers and more than 3 million monthly viewers, VinePair shares "delightful drops of drinking knowledge" on boards about travel guides, alcohol infographics and education, booze in the news, music and more. VinePair has a clear advantage over a single alcohol company because they can talk about unlimited brands and products instead of only a small batch of spirits. That being said, there is still room for the alcohol companies to bring some bigger ideas to the table.
Wrapping it up
In conclusion, Captain Morgan, Crown Royal, Jack Daniel's, Bailey's, Smirnoff and Bai all do an incredible job of sharing recipes and inventing creative reasons to indulge in a cocktail, or mocktail. If you're curious about how your brand's social media performance compares to other brands in the alcohol industry, be sure to check out our live alcohol social media benchmarks. Cheers!