It's no secret that video content has become a higher priority for social media marketers in recent years, especially on Instagram. First with Stories, then with Lives, and now with Reels. But if you've yet to dabble in Instagram's long-form video component, IGTV, now is the time. 
In fact, the Head of Instagram, Adam Mosseri, recently shared that Instagram plans to prioritize video as it expands past being solely a photo sharing app to keep up with its competitors, TikTok and YouTube.
What does this mean for savvy social media marketers? Well, for one, if the Head of Instagram is signaling a shift to video, that's a strong reason to believe that the shift is definitely happening sooner rather than later. But it also means that now is an excellent time to get ahead of the competition by creating — and perfecting —  your IGTV marketing strategy before they do. 
While IGTV doesn't have as high of an engagement rate as other posts types on Instagram, that doesn't mean it's not worth exploring. Plus, with video on its way to becoming a priority on the platform, that could change soon. 
Whether you're new to IGTV marketing or are looking for fresh ways to incorporate long-form video into your social strategy, here are five brands rocking IGTV to give you some much-needed inspiration.
Fenty Beauty 
If you're marketing a product or DTC business, how-tos, DIYs, and tutorials are the perfect type of content for IGTV. The visual nature of these types of posts make it easy to turn into an engaging video without a ton of production, either. 
Take Fenty Beauty, for example. The brand ranks number four of the top beauty brands on social media and it's not hard to see why. Fenty Beauty consistently produces on-brand content for their dedicated (and massive) following that flocks to their account for makeup tips and inspirational looks. The brand's IGTV channel focuses primarily on engaging followers with educational content like makeup tutorials using Fenty products.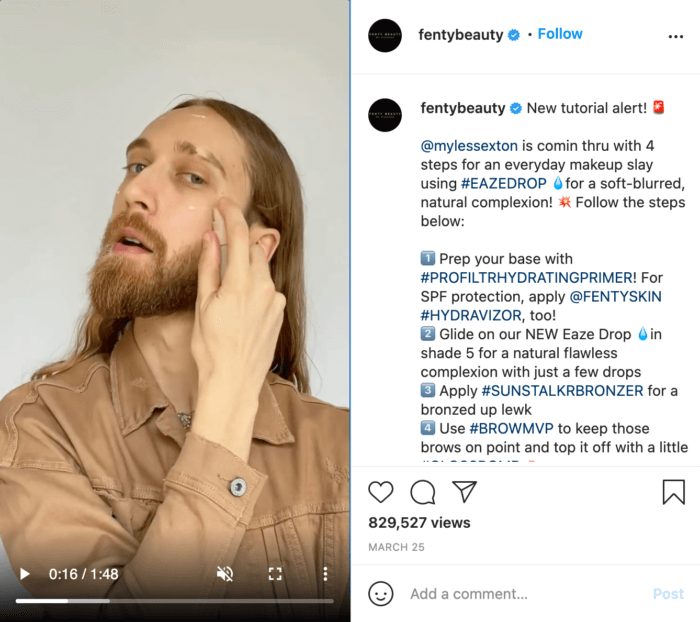 The post above is one of Fenty Beauty's top-performing IGTV videos and one of many makeup tutorials that the brand has built its engaged Instagram following around. In the video, makeup artist Myles Sexton shares easy-to-follow steps for an everyday makeup look using Fenty Beauty Eaze Drop Blurring Skin Tint. The video was strategically posted a day before Fenty launched the new product, so not only was it a helpful tutorial, but it gave followers a teaser of what they can expect and built momentum around the latest product launch. 
While Fenty Beauty isn't the number one beauty brand on social media (that award goes to ColourPop), it's proven that consistency is key to standing out among the competition, especially with IGTV. Showing up is half the battle, after all. If you show up *and* give your audience what they came to see (like a sneak peek, for instance), you're putting your brand in a prime position for engagement. 
Virginia Tech
The average college student demographic perfectly aligns with Instagram's target audience of 18-24, so it only makes sense that colleges and universities are killing it at Instagram. Of those top-performing higher education institutions on Instagram, Virginia Tech stood out among the rest with a single IGTV video. 
The post below is a compilation of videos featuring students reading their acceptance letters to the school. Talk about feel-good content! And according to the numbers, it clearly resonated with their audience. The IGTV video had an engagement rate of 6.32% which is nearly 12x higher than the median engagement rate for IGTV, according to our recent social media industry benchmark report. 
What does this mean for marketers? Virginia Tech, along with the other top universities on social media, has proven that IGTV marketing can go a long way if you know your audience and understand how to tap into their emotions and interests. 
But even more so, Virginia Tech's high-performing IGTV post is a lesson in user-generated content. The video wasn't highly produced and instead relied on the content that their future students — AKA their target audience — created themselves. Which also goes to show that as long as the content aligns with your messaging and audience, you don't need fancy video skills to create memorable IGTV posts. 
theSkimm
theSkimm is a digital media company which began as a daily newsletter that sends its subscribers a rundown of the news they need to know each morning. The content is delivered in a bite-sized format so you can easily skim the news as you start your day. While the media brand has rocked the newsletter game for some time now, they've also shown us that they know their way around Instagram, especially IGTV. 
theSkimm's IGTV channel features a range of series that follow the same ethos of its signature newsletter, which is to deliver bite-sized and easily digestible content.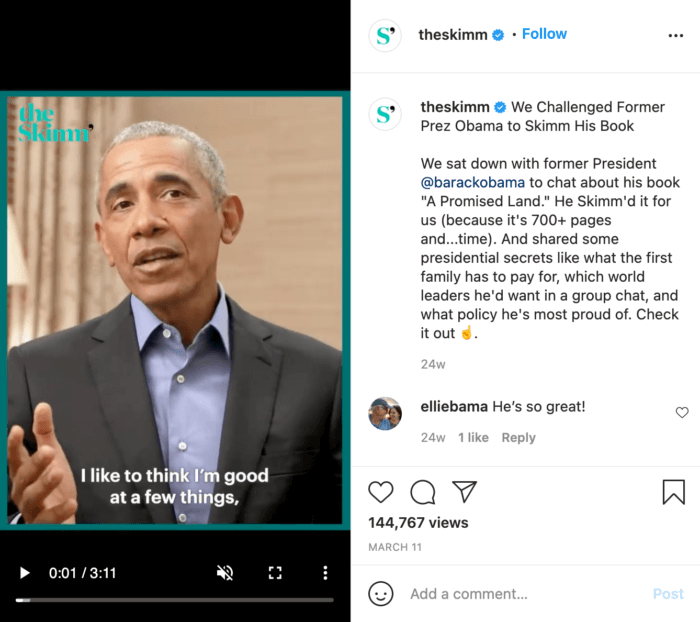 One IGTV series in particular, titled, "Texting With" is a Q&A style series that typically features a celebrity or high profile individual answering rapid-fire questions. While celeb content is attention-grabbing on its own, theSkimm's approach is engaging because it aligns with what their brand is all about — providing information in a quick and effortless way — and what their audience has come to know and love. Not to mention, the videos themselves are visually engaging thanks to well-branded graphics. 
You may not have connections to high-profile celebrities like theSkimm does (or, maybe you do — in which case, use that to your advantage!), but that doesn't mean you don't have access to people your audience wants to hear from. Tap into your influencer network, reach out to the brand's founders, or feature employees who, ultimately, are the real people behind the brand. The key to success with IGTV marketing is to make sure the content aligns with and amplifies your brand mission to increase your chances of it resonating with your audience. 
Food Network
Food Network takes advantage of its trove of content (being a television network with loads of shows has its perks) and often repurposes it for its IGTV channel. With recent videos garnering views in the millions, it's clear that followers are engaged with what the food experts are offering. The video below had an engagement rate that's twice as much as the median engagement rate for IGTV.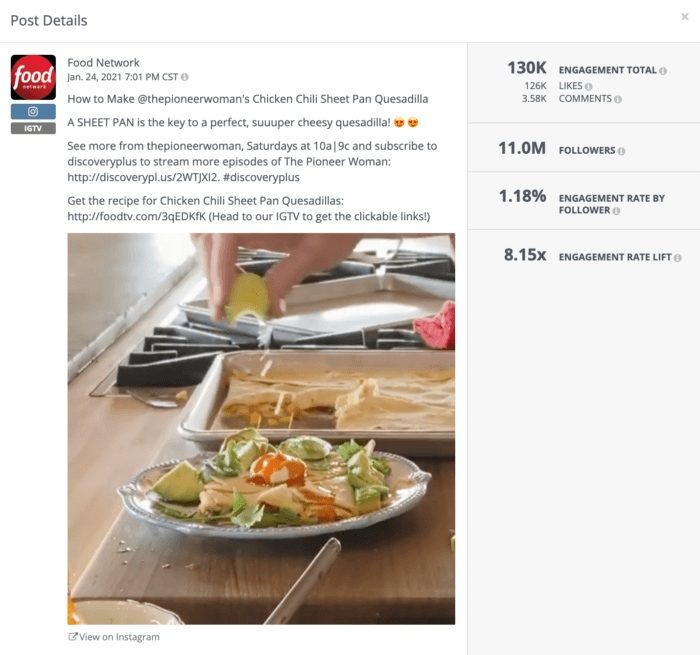 Food and beverage brands can take a cue from Food Network's IGTV marketing strategy by incorporating highly-visual cooking lessons or drink tutorials into their social content. This is a natural way to promote what you do while still offering helpful and educational content your audience can learn from. 
Not a restaurant or food business with delicious dishes to center your content around? Marketers across industries can learn from the Food Network's strong repurposing strategy. 
To follow this approach, consider what pieces of content have done well recently. Maybe you posted a Reel that received a ton of engagement. Could you expand on the subject with a more long-form video? Or perhaps you wrote a how-to blog post that received a lot of traffic. Turn those tips into a how-to or Q&A video for your IGTV. 
Pro tip: Keep in mind that while IGTV allows horizontal content now, it's designed for vertical content. This means that if you're trying to repurpose a YouTube video, for example, be mindful of how it will be displayed on IGTV (scroll down to read more about size requirements).
Lululemon
One easy way to keep your IGTV channel active is to give your Instagram Lives a permanent place on your feed by turning them into an IGTV post. Lives are a great way to capture real-time engagement from followers, but not everyone has time to join when it's taking place. IGTV posts give those who weren't able to tune in live a chance to participate on their own time. One brand that does this well is Lululemon. 
The athletic wear brand prioritizes community as much as it does wellness and movement, so it makes sense that they often host panels or discussions on their page. If you head to Lululemon's IGTV channel, you'll notice that most of their posts from this year are actually Lives that have been repurposed into permanent content. 
Not only is this a great way to extend the life of your content — you only have to coordinate one event or conversation but can post it multiple times in different ways — but you're also giving your audience options when it comes to how they want to consume your content. 
If you've experimented with Lives before but weren't thrilled with the turn out, try turning it into an IGTV video to get more eyes on the content. 
If you're satisfied with the live video as is, Instagram gives you the option to "share to IGTV" directly after your Live has ended. But if you aren't that bold (hey, we don't blame you) you can also just save the live video, edit it, and then publish to IGTV later. 
Quick tips for IGTV marketing 
Feel like you're ready to create an IGTV series after seeing these brands rock their channels? Here are a few tips to keep in mind. 
Discoverability 
IGTV videos can be found on your page's dedicated IGTV tab and will show up as a one-minute preview in your follower's feeds after you publish it. This means you need to use the first minute to grab the viewer's attention and entice them to go to your IGTV to watch the rest. Keep in mind that Instagram's API only allows access to IGTV data for videos that are published to the feed. So if you want to accurately analyze your IGTV analytics, be sure to share it to your public feed.
IGTV videos also show up in the Explore tab, which is another way to get your content discovered. In fact, IGTV videos appear 4 times larger than photos on the explore page. To give your IGTV an opportunity to get maximum visibility, it's important to ensure they're properly optimized. 
Length 
IGTV videos must be at least one minute long. But given that the point of IGTV is to feature long-form content, your videos will likely be longer than that. 
The maximum length they can be is:

15 minutes if uploaded from a mobile device

60 minutes if uploaded from desktop
Size
As far as video size goes, IGTV was designed for vertical video and should have an aspect ratio of 9:16. But the app also allows horizontal videos to be uploaded as long as they have an aspect ratio of 16:9.
Wrapping it up
IGTV may seem like a daunting post type if you haven't experimented with video much. But, as these brands have shown, there are ways to create stellar content without being a video pro or having extensive production resources. 
Like the rest of your channels, the key is to experiment, listen to your audience, and measure the results. By following the lead of these brands who are clearly getting their IGTV marketing right, you may soon find yourself with a brand that's far ahead of the competition.