Back to school means back to the grind. As summer comes to an end, students, teachers, and administrators alike are packing up their school supplies and heading out for a brand new year. And with a new year can come a new social media strategy.
Regardless of what industry you're in, social media likely plays a significant role in how you reach your target audience. For higher education, your audience may come in many forms—potential students, alumni, families of current students, and employees. To best reach your diverse community, you need a solid online presence. But what does that presence look like?
Facebook started at a college, and it's been a favorite way to connect with communities for higher education ever since. But not all Facebook strategies are created equal. Inspired by our 2022 Higher Education Social Media Engagement Report, we've pulled some of the best trends from the top universities on Facebook to inspire your school's Facebook profile.
How Top Universities Use Facebook
1. Go Beyond the Sports Win
Although the University of Iowa posts a great deal about its impressive athletic accomplishments, the posts that often get the best engagement go beyond just talking about what's happening on the field. A post shared in January 2022 ranked among the top five posts for the year for the University of Iowa and showed how one of its players is a hero on and off the field. The college posted a photo of center Tyler Linderbaum with a caption sharing that he had collected $30,000 during the first five months of the NCAA's Name, Likeness, and Image era, a policy that allowed football players to financially benefit from their publicity, a right that had previously not been granted. But instead of padding his own pockets, Linderbaum donated every dollar to the University of Iowa Stead Family Children's Hospital.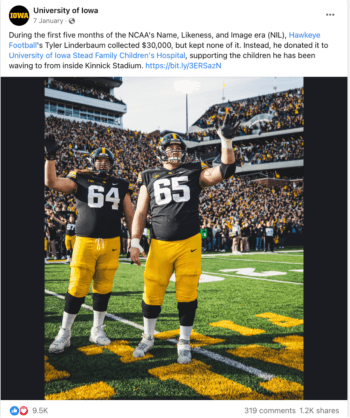 The post received a total of 11,100 engagements for an engagement rate of 5.81%. Considering that the average engagement rate for Facebook posts by higher education institutions was 0.22%, the University of Iowa clearly found success by sharing its player's impressive actions to its followers' news feed.
The accounts with the most impressive success and highest engagement rates and totals throughout social media platforms use their posts to elicit emotions, like this post about Linderbaum's generous gift. Simply posting about the football team having a good season doesn't have quite the same impact as getting a look at the stories of the players. Hearing about Linderbaum's donation drives feelings of positivity toward the player and, therefore, the school overall. Those feelings of positivity result to in more likes, shares, and upbeat comments.
2. Rely on Images Over Captions
They say a picture says a thousand words, and that's a saying that social media managers may want to take to heart when creating content for higher education institutions on Facebook. Michigan State University beat out other top universities on Facebook with captions that are often sparse, if they're there at all. The college relies on photo posts with pictures of its gorgeous campus taking center stage, which tend to receive high engagement rates.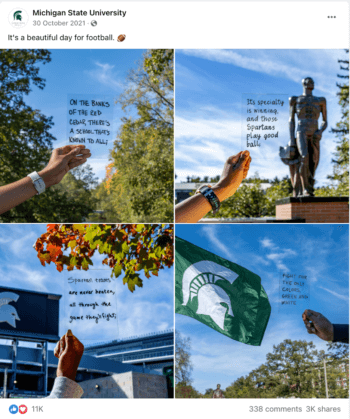 But one post in this format performed exceptionally well, earning a total of 14,400 engagements and an engagement rate of 2.90%. The university shared four photos, each with a student holding up a transparent sheet with the words of its football team's fight song. In the background of each is a bright, clear sky over MSU's campus. A simple, short caption is all that's needed because the images speak for themselves, sharing a story of school pride.
According to our 2022 Social Media Industry Benchmark Report, photo posts received the highest engagement rate for universities on Facebook, with a rate of nearly 0.190%. In comparison, status updates alone only received 0.095%. Although telling a story may be important to connect with an audience on the social network, such as the tale of Linderbaum's donation, sometimes the story can come from the photo on its own.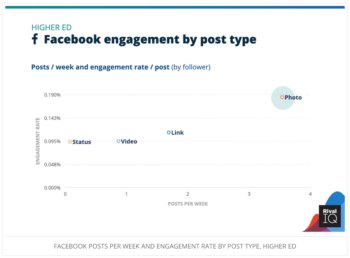 3. Invest in Video
Today's social media landscape is seeing a boom in video posts and production. West Point (U.S. Military Academy) ranks as one of the top universities on Facebook thanks to its adoption of frequent video posts. The college may still post photos more often than videos, but at a rate of 0.25 video posts per day, the university shares more videos than the industry average of 0.17 posts per day. For West Point, photos only account for a 0.66% engagement rate, while video posts earn about 30% higher engagement rates than photos.
The model of focusing on video more than the average university works well for West Point. At the U.S. Military Academy, the life of a student looks much different from a student at another university. West Point focuses much of its social strategy on the education of military protocols and lessons, which is difficult to document in photos or captions. Videos offer a way to share the goings-on of college students in its unique setting.
According to our Social Media Industry Benchmarks Report, photo posts remain the dominant engagement driver for universities. Still, higher education shouldn't discount the growth that video is experiencing across social media platforms. As reported by Meta, watching video accounts for half of all time spent on Facebook and Instagram. Video can be a worthwhile investment for colleges and universities with information that may not be shareable through photos, such as West Point's behind-the-scenes look at combat training.
4. Tell an Emotional Story
As we've already seen, emotion drives engagement, and one of the best ways to gain an emotional reaction is by sharing a story. The Georgia Institute of Technology earns its ranking as one of the best colleges utilizing Facebook through its ability to drive emotion with storytelling. Seven of Georgia Tech's top 10 most engaged Facebook posts tell a personal story, most often about the students who come to their school. They are stories of success, hardship, and perseverance, demonstrating that perhaps stories that make an audience feel inspired are the ones that tend to receive the most engagement.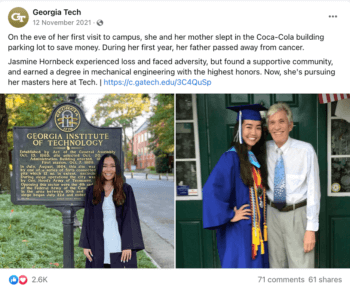 One such post details the life of graduate Jasmine Hornbeck, who graduated with a degree in mechanical engineering before pursuing her master's at Georgia Tech. Going from sleeping in a car to graduating with high honors, her story is one of overcoming adversity. The comments on her post demonstrate how her tale pulled on heartstrings as fellow alumni, potential students, and family all celebrated her journey and wished her well on her next chapter.
When it comes to higher education institutions, there's always a story to tell because every student who sets foot on campus came there by walking a different path. When followers see posts on Facebook, they engage the most when they feel something. Sometimes the answer to driving engagement is to make followers feel school pride, but telling a story can shape the emotions that you want your audience to feel, going beyond pride. Should they feel inspired? Nostalgic? Excited? Connecting those emotions to a student's story increases your likelihood of being flooded with comments and shares.
5. Tie Into History and Current Events
The top universities on Facebook find ways to insert themselves in what's happening in the world beyond higher education, as evidenced by the success that the University of Iowa has found in posting both about history and current events. In August 2021, the University of Iowa took the opportunity to post about the first-ever MLB Field of Dreams game, inspired by the 1989 baseball classic of the same name.
Though the film did indeed take place in Iowa, the game had deep ties more specifically to the University of Iowa. Author W. P. Kinsella wrote the book that inspired the film after attending the school's Iowa Writers' Workshop. The college wrote a detailed account of Kinsella's tale, which they then linked to on Facebook alongside stills of the iconic movie and its location. The post boosts an engagement rate of 4.67%, 4.28 times higher than the school's average engagement rate.
The recognition of historical events may culminate in a high-performing Facebook post. But the top universities on Facebook follow current events closely to find an opportunity to post in a way that ties the event back to the school. Beyond simply reporting the news of what's happening, they look at it from an angle of how the event affects them and their students.
6. Share User-Generated Content
On average, D1 schools posted a total of 7 times per week on Facebook. But Michigan State University proves that you don't have to work harder. You just need to work smarter. The college posted the least frequently of any of the top 10 schools, averaging closer to 4 posts per week, yet it has the highest number of Facebook followers and the third highest number of total engagements. Posting more might not be the key to a successful social media strategy, but posting high-quality photos is, as demonstrated by Michigan State's stunning photography.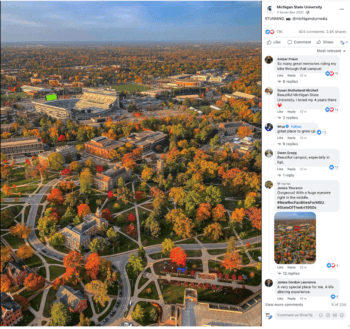 However, in many cases, those photos weren't taken by Michigan State at all. In fact, the college's top post, which brought in a total of 15,900 engagements, was taken by a photographer that goes by @michiganskymedia. By repurposing this photographer's image, the college saved time and energy on capturing its own shot while still reaping the rewards of posting an extraordinary picture.
Michigan State proves that utilizing user-generated content, or UGC, can benefit a higher education institute's social media strategy. By using UGC, a college can stretch a social media budget. Rather than hiring professional photographers, it can utilize other social media users as an extension of its own content creators. And when a company uses both professionally-produced content and user-generated visuals, brand engagement has been shown to increase by an average of 28%.
7. Put Your Audience in the Center of the Action
Like West Point, Jackson State University has landed on the list of top universities on Facebook thanks to its adoption of video. JSU is finding that video is a high engagement driver, but the two universities use videos in very different ways. While West Point is using video as an educational tool, JSU uses its videos to put its followers in the middle of the action. Jackson State's top post for the 2021 to 2022 school year showed an impressive dance troupe that one would only have seen if they attended the JSU Homecoming.
Simply taking a photo of the show wouldn't have done it justice. But by sharing the full video, JSU was able to give its audience a little piece of its culture. The post targets multiple segments of its audience. Prospective students get a glimpse at what they have to look forward to when they attend JSU. Current students' families can look at what their children are taking part in. And those current students get a dose of school pride by seeing their friends' talents being celebrated.
8. Share What Goes on Behind the Scenes
Social media posts can help followers gain a sneak peek or a behind-the-scenes look at a school. For Michigan State University, the identity of their mascot, Sparty, is a well-kept secret. Not even the closest friends of the wearer are allowed to know what their fellow student is up to. So, when Maddie Scanlon's identity was revealed now that she's graduated, the MSU community came out online to celebrate her, especially as she was only the third-ever female Sparty.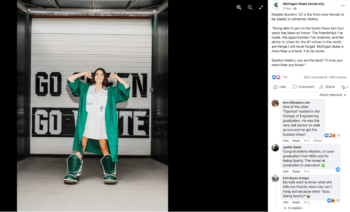 By sharing Scalon's journey as Sparty, Michigan State's Facebook followers were able to take a peek behind the mask, resulting in a celebration over her accomplishments and school pride over another woman taking on the iconic role. Posting behind-the-scenes looks like this can capture your audience's attention as you're sharing details that even students or alumni might not know. Those sneak peeks make your audience feel like they're privy to school secrets. The more critical the secret is, the more you can drive up engagement.
9. Celebrate Alumni Accomplishments
While Scanlon's accomplishments happened on the school's football field, colleges should consider posting about student successes even when they occur off campus. When Katie Wadman was up for the Miss USA pageant, the University of Iowa saw an opportunity to cheer her on. Having already become the first Asian Pacific Islander-Filipino to be crowned Miss Iowa USA, her appearance in the Miss USA pageant was groundbreaking. And the Hawkeye community came out in droves to wish her luck.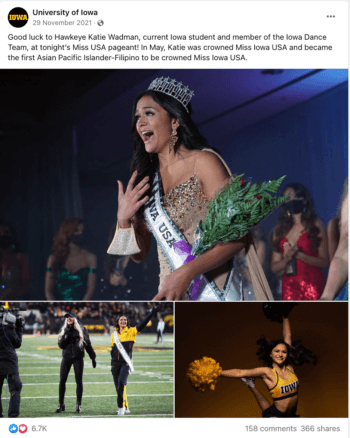 Schools with alumni and current students making waves should keep an eye on what they're up to and update their Facebook audience on their progress. Doing so encourages the school's online community to rally around their peers, boosting engagement. Improving school pride doesn't just mean talking up your college. It means celebrating the people who make up your college.
Higher education continues to be an industry that thrives on Facebook. Although they've found success on other social networks, like Instagram and Twitter, Facebook remains a place that colleges shouldn't ignore.
Wrapping It Up
What other takeaways should universities be considering on Facebook? Take a look at our 2022 Higher Education Social Media Engagement Report to see how your alma mater can connect with its community better online.