Anyone who works in social media understands how essential it is to stay up to date in this fast-paced industry.
The best way to keep up with the latest trends and industry news? Social media blogs.
Not only do marketing and social media blogs curate recent trends or explain the latest platform updates, but the best ones also provide insightful tips and break down real-life examples from brands that are performing well.
In order to make sure your brand's social strategy is current, keep your marketing skills sharp, and gather inspiration from other brands who are killing it on social, it's essential to keep a variety of sources on your reading list.
Here's an overview of the top 12 social media blogs we recommend reading in 2022:
12 Must-Read Social Media Blogs
1. Social Media Today
Social Media Today is to social media marketers as TikTok is to Gen Z: a trusted source for the latest news and trends.
If you want to be the first to know about platform updates, industry developments, and the latest brand campaigns, make reading this leading industry resource a part of your morning routine.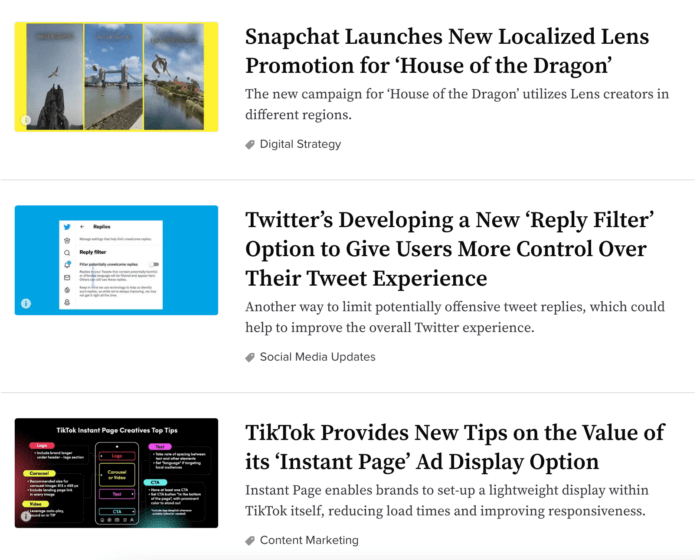 From Instagram algorithm changes to new ecommerce capabilities on TikTok, Social Media Today covers everything marketers need to know to keep their social strategies current. And if you really want to be the first to know about the latest news, you can sign up for the free daily newsletter.
Best for: Social media marketers that want to stay on top of the most up-to-date industry news.
Recommended reading: TikTok Launches New Shopping Ads as it Continues to Push Ahead with its eCommerce Integrations
2. Digiday
Digiday is a trade publication that covers all things digital media, which includes social media marketing. The outlet takes a more news-based approach, so marketers can expect to find fewer listicles and more reported articles that feature insights from industry experts.
The marketing section covers trends and features social strategies from well-known brands.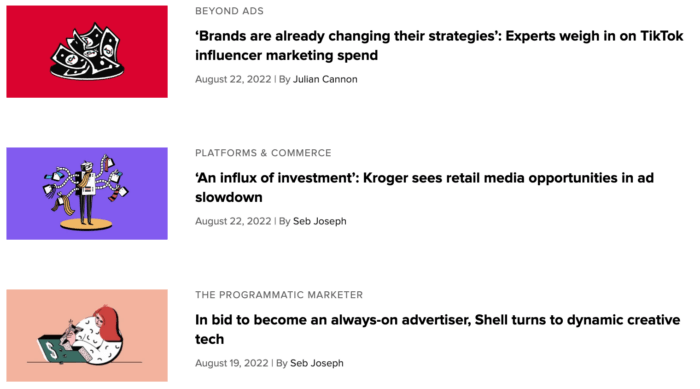 Readers have access to three free articles per month, but to read more than that you have to pay for a Digiday+ membership which starts at $159 per quarter. Pro tip: If you work at a nonprofit or are currently a student, you may qualify for a discount!
Best for: Social media marketers that want to stay up to date on current events, trends, and conversations in the overall marketing industry.
Recommended reading: How Duolingo is Using its 'Unhinged Content' with Duo the Owl to Make People Laugh on TikTok
3. Adweek
Similar to Digiday, Adweek's Social Pro Daily is a trade publication that leans more towards news and current events rather than how-to articles. The industry media platform covers the latest social media industry news, agency trends, and strategies.
Adweek is geared towards marketers and agencies in the advertising space, so you can expect to read articles about paid social campaigns, influencer marketing, and brand partnerships featuring brands like Urban Decay, Carl's Jr., and even NASA.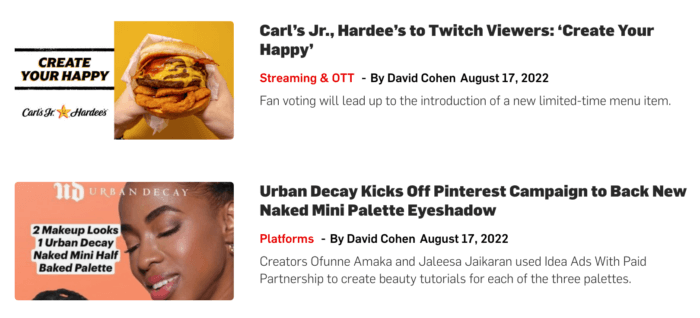 Readers have access to three free articles per month — after that, you have to subscribe to continue reading. Subscriptions start at $14.99 per month.
Best for: Agency marketers that want to stay informed about the advertising world and keep up with major brand partnerships.
Recommended reading: Twitter Salutes the #BeyHive With a Custom Hashtag-Triggered Emoji 
4. Social Media Examiner
Social Media Examiner has been around since 2009 so there's no question that this blog has been a leading voice in the industry over the years.
While social media has greatly evolved since this blog began, Social Media Examiner continues to be a trusted source for the latest industry trends and strategies, sharing actionable tips along the way.
On the blog, you can expect to find how-to articles that cover a range of topics from how to set up a new platform or ways to use a new tool. Plus, the site is easy to navigate as the topics are organized by platform.

Best for: Marketers at every level of their career who are looking for a practical, straightforward approach to social media.
Recommended reading: How to Start a LinkedIn Newsletter With Your Company Page
5. Rival IQ
We may be biased, but how could we talk about social media blogs without mentioning our own?
Our social media analytics tool makes it easy to not only track your metrics but also analyze your competitors' social strategies to see how you compare. To support social media marketers along the way, our blog posts offer tips and strategies to improve engagement by providing a breakdown of top-performing social media posts from brands across all platforms.

We also regularly release benchmark reports so you can stay on top of the latest engagement numbers for your industry.
If you want to learn ways to improve your brand's engagement rate across Facebook, Twitter, Instagram, or TikTok, we've got you covered.
Best for: Social media marketers that are looking for fresh insights to boost engagement and stand out above the competition.
Recommended reading: What is a Good Engagement Rate on Instagram?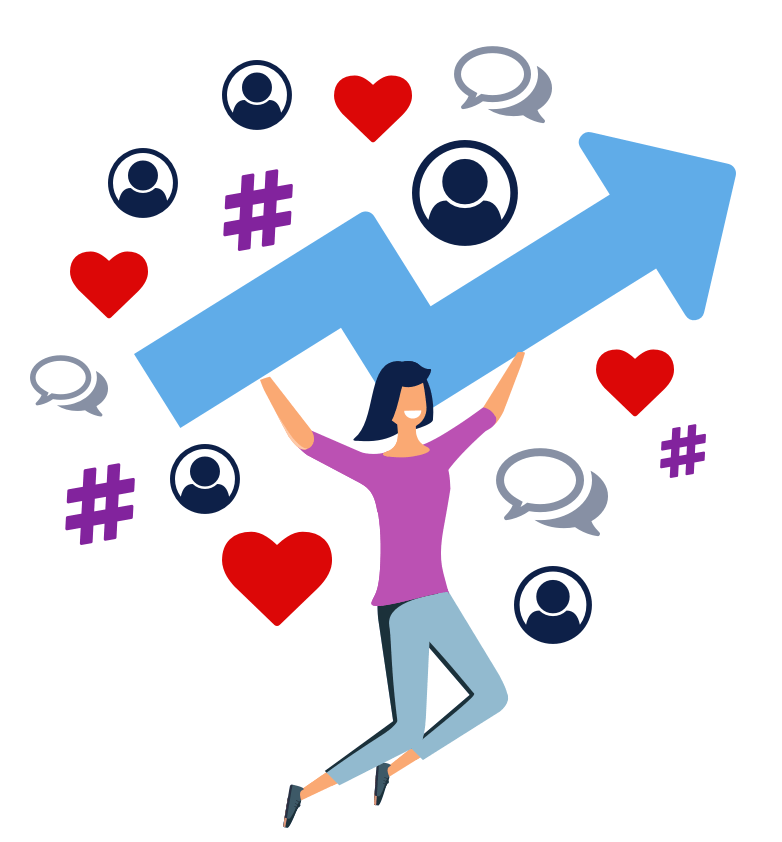 6. Sprout Social
As an all-in-one social media platform, Sprout Social also offers a comprehensive social media blog to support its management, community engagement, and social listening tools.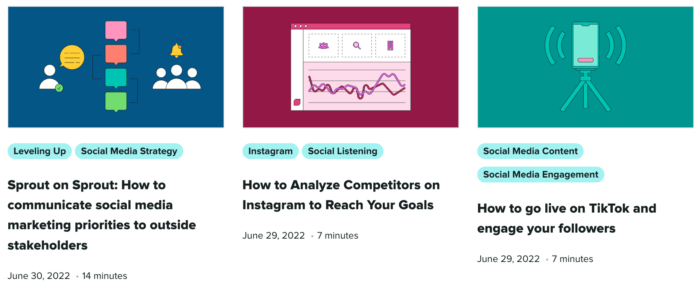 On Sprout's blog, you'll find long-form articles, guides, and data reports on everything a social media marketer needs to know from strategy and analytics to trends and advertising best practices. It even has a section dedicated to navigating a career in social media — which can be especially helpful to those who are new to the industry or looking to make a pivot.
Best for: Sprout Social's blog often takes a high-level approach, honing in on social media's role in an organization. Social strategists or anyone whose job is more strategy than execution-based will benefit from this blog.
Recommended reading: How Can PR and Influencer Marketing Work Together in a Crisis?
7. Hootsuite
Hootsuite is a social media scheduling tool that makes it easy for marketers to make sure their content is published consistently and on time. But Hootsuite goes beyond simply being a useful tool by creating helpful content that marketers want to read.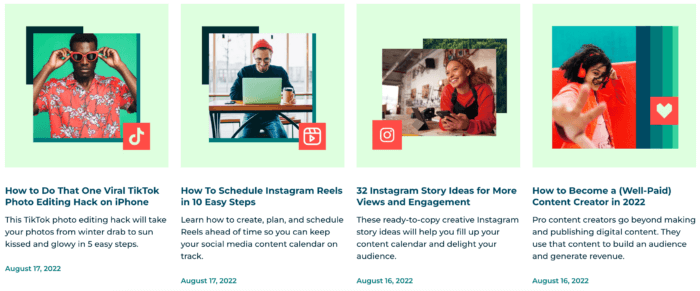 Hootsuite's blog is chock-full of tips and tricks to make the most out of your social content while keeping it current. Perhaps Hootsuite's biggest strength, however, is the actionable tips it shares for creating and executing content.
Best for: Social media marketers and creators alike can benefit from the how-to articles on Hootsuite's blog.
Recommended reading: How to Make a GIF (iPhone, Android, Photoshop and More)
8. HubSpot
If you've been in marketing long enough, you're more than familiar with HubSpot. The CRM tool has built a robust content library that has become one of the top sales and marketing resources over the years. HubSpot's main blog is divided into smaller blogs based on industry: sales, marketing, service, and website tips. The marketing blog is where you'll find tips for social media and adjacent topics like branding, content marketing, and copywriting.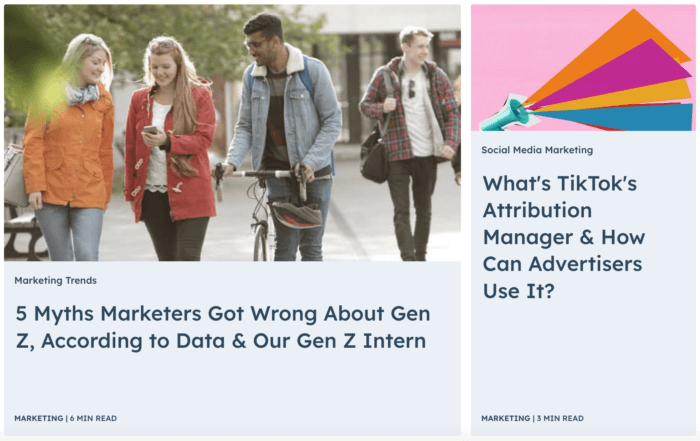 HubSpot's social media blog posts also come in a variety of formats from checklists to templates to data-driven reports and statistics round-ups, so there's a little something for every type of reader.
Best for: Social media practitioners who want to expand their overall marketing knowledge.
Recommended reading: How to Humanize a Brand: 15 Best Tips for Humanizing Your Voice
9. Buffer
Buffer is another social media scheduling tool with a supporting blog. The blog is divided into niche publications, as you can see outlined in the blue box below. For anyone who wants to read social media-related content, the Flow marketing blog is the best place to find relevant articles on Buffer's blog.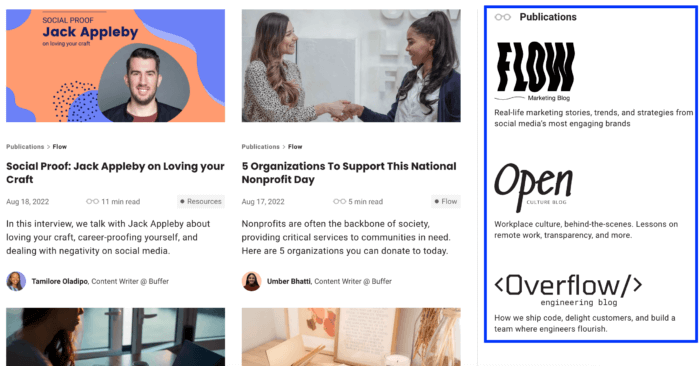 Buffer's blog approach is slightly different from its counterparts. While you can still find actionable insights and how-to articles, many of the blog posts on Buffer's social media blog are written from the perspective of a brand. Buffer prioritizes values-driven content, and those are reflected through its articles that feature real-life marketing strategies, first-person narratives around mental health, and small business success stories.
Best for: Marketers and small business owners alike who want a fresh perspective on how real businesses and people use social media and how it fits into their lives.
Recommended reading: How This Entrepreneur is Growing Her Baby Brand Organically on Instagram
10. Later
Later is a social media planning and scheduling tool that is particularly focused on the visual aspect of the feed. With Later, brands can visually plan how their content is going to look on their page and in users' feeds before scheduling it.
With that in mind, it makes sense that Later's blog is full of helpful articles about content creation, specifically Instagram Reels and TikTok as of late. Plus, each blog post is, of course, accompanied by visual elements like bright colors, fun graphics, and real-life examples.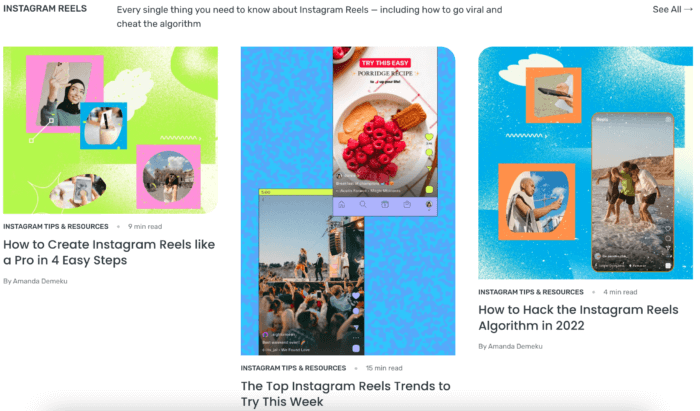 Best for: Later creates blog content for every social media platform, but it's especially in tune with the latest trends on Instagram and TikTok.
Recommended reading: 28 Creative Brands on TikTok to Inspire Your Feed
11. Digital Marketing Institute
As the name implies, Digital Marketing Institute is an online learning platform that offers professional certifications for various digital marketing roles, from social media marketing to search marketing specialists.
If you're not ready to take a paid course or complete a certification, Digital Marketing Institute also offers a thorough blog on a range of digital marketing topics like digital strategy, web design, email marketing, and social media marketing.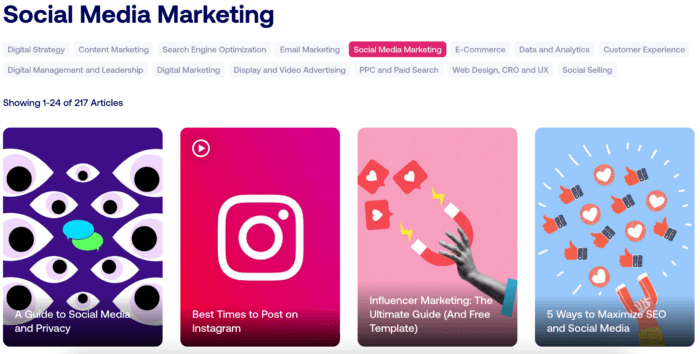 Best for: Marketers that want to sharpen their skills or level up their careers.
Recommended reading: 5 Ways to Maximize SEO and Social Media
12. Content Marketing Institute
As a leading industry resource, the Content Marketing Institute blog should be on every marketer's reading list. While the focus of this blog is on the entire content marketing space, social media certainly falls under that umbrella. There are plenty of tips and strategies social media marketers can take away from CMI's practical articles, particularly for B2B platforms like LinkedIn.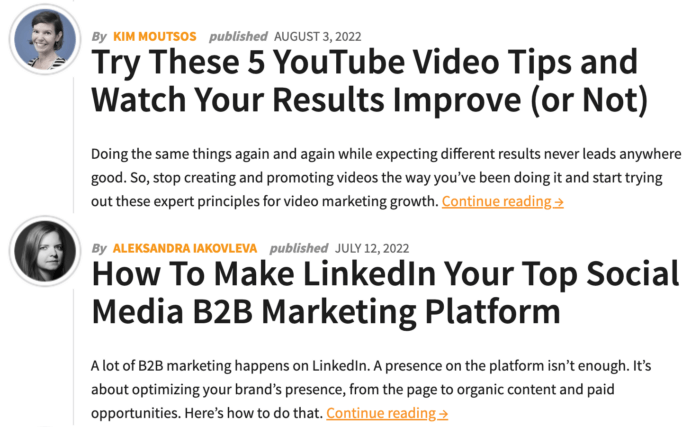 Best for: The content on CMI's blog can be especially useful for social marketers at B2B companies.
Recommended reading: How To Create a LinkedIn Employee Advocacy Program To Drive Results
The Wrap Up
There's no shortage of helpful social media blogs out there.
From industry news coverage to brand interviews to how-to articles, there's always something for social media marketers to learn from and blogs are a great place to find that content.
Even the busiest marketers can find the time in their week to consume a blog post or two if it means keeping their social strategies fresh, competitive, and engaging.