Nonprofit organizations were quite active on Twitter this past year, but what helped the leading brands climb to the top? Here are five lessons we learned from the top nonprofits on Twitter to help you scale your engagement.
It's no secret that at Rival IQ, we love pulling up our sleeves to dig deep into the data and bring you all the insights. Most recently, we published our Top 100 Nonprofits on Social Media report, which is packed full of analysis and practical tips from the nonprofits leading the way for social change on social media.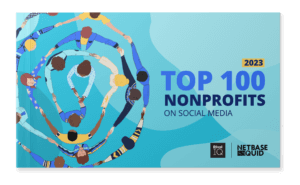 Let's turn our attention to Twitter (maybe you've already moved on to calling it X?). Nonprofit organizations posted more frequently to their Twitter accounts than other social media channels, but it's ultimately where they earned the fewest engagements. Yikes. Nevertheless, it's worth looking at what the top organizations did to inch ahead of the rest. We're confident it will spark some inspiration for your own Twitter strategy, and, who knows, maybe we'll even see your organization on this list next year.
The Top Nonprofits on Twitter
To find the brands in the nonprofit sector that stood out on Twitter for our Top 100 Nonprofits on Social Media report, we surveyed hundreds of organizations between April 1, 2022, and March 31, 2023. We plugged their engagements—retweets, replies, likes, bookmarks— and a few other important stats into a weighted formula to get our rankings.
Here were the results: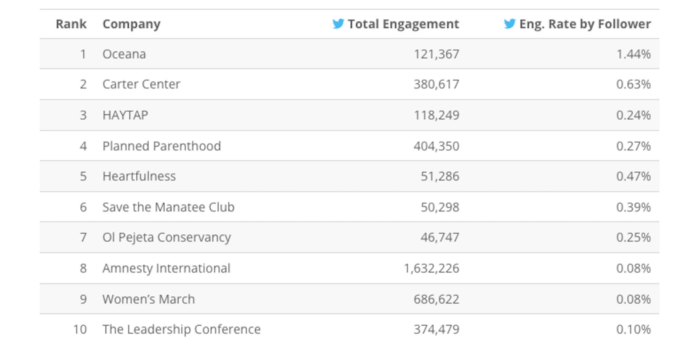 Among the nonprofits we surveyed, we found a median engagement rate of 0.04%, the lowest of any other social network, and that brands tweeted on average around 8x per week, the most of any other social network. So, right off the bat, we can see that posting more doesn't necessarily translate to more engagement from followers.
Rounding out the top five spots, we have Oceana Peru, The Carter Center, HAYTAP, Planned Parenthood, and Heartfulness. Let's take a look at what these organizations have to teach us about engaging with Twitter users.
5 Lessons From the Top Nonprofits on Twitter
1. Oceana
What's working: Concise messaging
Average tweets per week: 8.3
Average engagement rate: 1.44%
Leading the group with an impressive 1.44% median engagement rate, Oceana Peru isn't afraid to tackle environmental news head-on. The organization tweeted around the industry average, often including photos, links, and hashtags. However, what really stands out is how they can draw followers in and direct them to the next step. Calls to action are a big deal in social media marketing, and Oceana shows us how to use them to engage followers in their cause.
In their most successful tweet, which earned a 69.85% engagement rate by follower, the caption reads: "One year after the Repsol oil spill in the Peruvian sea, the situation remains serious. Opening a thread." In the thread, they provided information about the recent environmental studies on the spill, the state of affected areas, and, in their final message, they linked a YouTube video and encouraged followers to watch and see the damage themselves.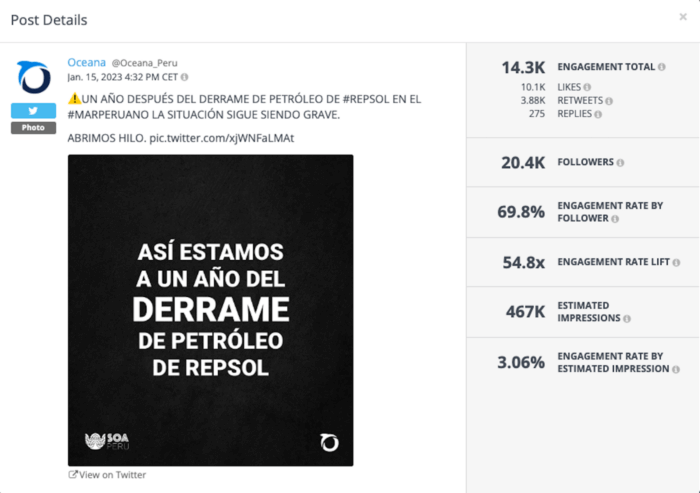 Issues as significant as the anniversary of a local oil spill may naturally attract more attention than usual, but Oceana's strategic approach helped them earn those extra impressive engagement numbers.
Overall, Oceana's presence on Twitter is straightforward, draws intrigue, and always includes a next step, whether it be to sign a petition, attend an event, or learn more about an important subject, like the tweet below talking about the growing number of stranded sea lions. When it comes to getting your followers engaged, Oceana shows us that clarity and value pay off.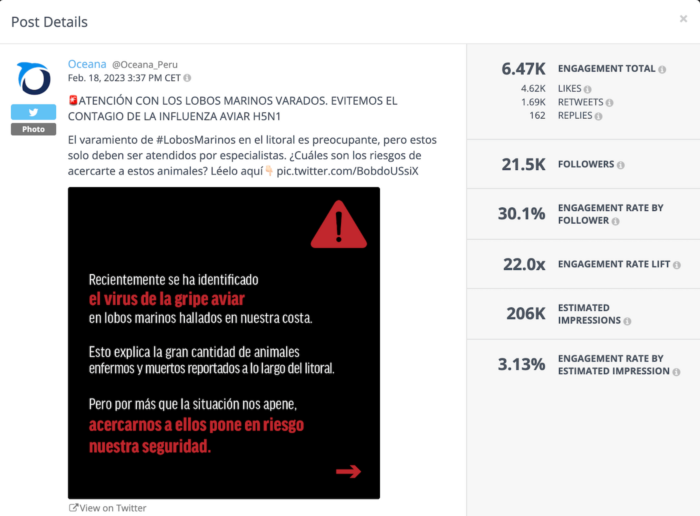 2. Carter Center
What's working: Including photos
Average tweets per week: 11.8
Average engagement rate: 0.63%
Coming in the number two spot is The Carter Center. The former president's organization was one of the more frequent tweeters on this list, and they earned an engagement rate over 15x the median of all nonprofits on Twitter. To help them rack up those engagements, they utilized the power of photos. Of the tweets that featured some type of image, the organization saw their average engagement rate by follower increase to 0.98%, telling us that photos are a great way to visually break up followers' feeds and grab their attention.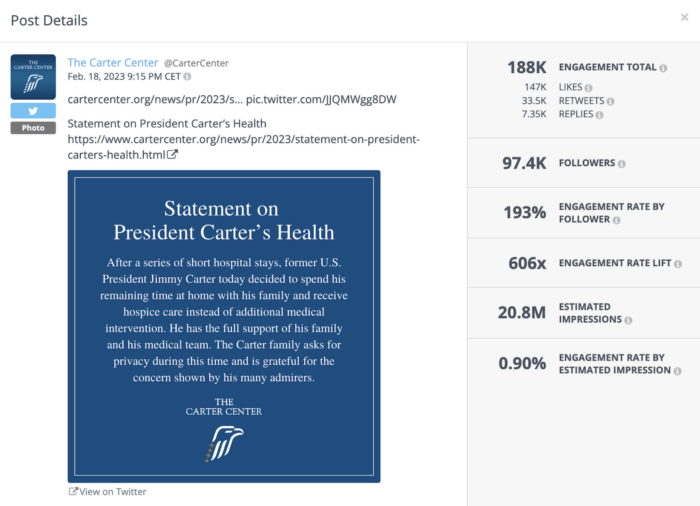 In one tweet that rocked 606x the average engagement as their average Twitter posts, the organization used an image to spread positive news concerning the President's health. In other tweets, they've posted photos from during this presidency, pictures showing what he's up to these days, graphics to commemorate his 98th birthday, and more. The success of these tweets is an example of how meaningful multimedia is for communication, even on an app not known for being especially visual.
3. HAYTAP
What's working: Rallying followers
Average tweets per week: 28.8
Average engagement rate: 0.24%
Shifting gears to animal rights, let's turn our attention to Turkey's HAYTAP. The group was very busy on Twitter this year, posting around 28 times a week. They shined a light on cases of animal mistreatment and, very importantly, their efforts to make a difference.
In a tweet that received 45x the engagement as their average tweet, the group posted live updates as they worked on a particularly news-pegged rescue mission. The message also called for readers to join the cause by taking in some of the animals.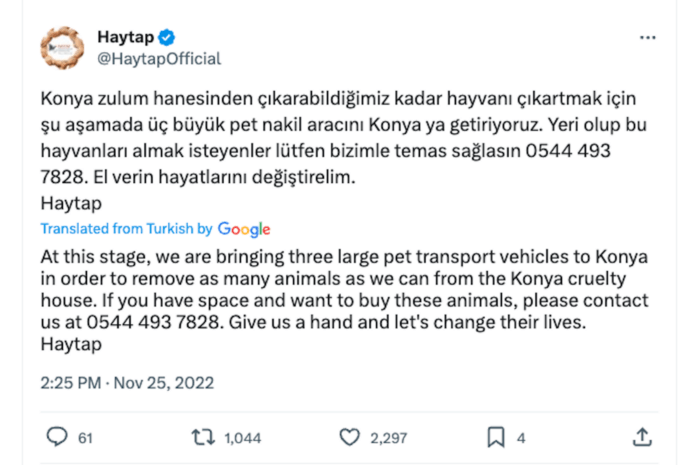 This tweet made waves for several reasons. First, it showed followers that the organization already had a hand in the action and that they are, for lack of better words, the real deal. Secondly, it mobilized followers who were concerned about the incident but didn't know how they could help. HAYTAP's invitation was likely a welcomed direction.
HAYTAP doesn't shy away from confronting unpleasant realities, and it's another way they were able to galvanize their online community for a purpose. Following the devastating earthquake that struck Turkey in February 2023, Preto, a service dog from Mexico, was flown in to search for survivors. Tragically, he lost his life doing so. HAYTAP posted a graphic to honor his service, and followers responded by liking and retweeting the tribute over 3K times and replying with messages of gratitude.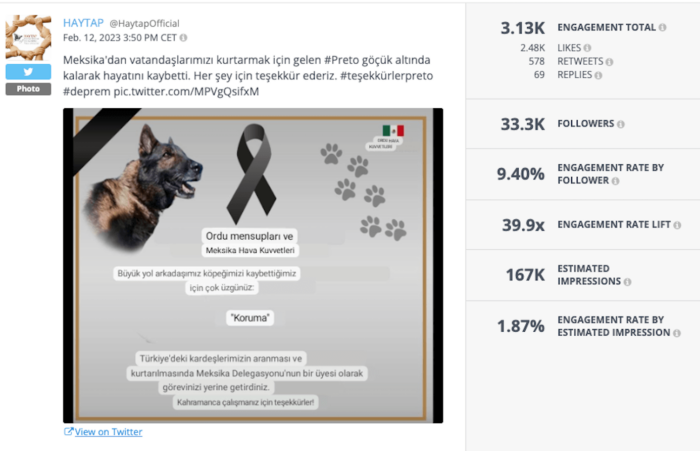 4. Planned Parenthood
What's working: Keeping followers informed
Average tweets per week: 8.5
Average engagement rate: 0.27%
Planned Parenthood took silver on our overall social media ranking, and they snagged the fourth spot for Twitter. This past year, most of the organization's conversation centered around the historic Supreme Court decision to end the constitutional right to an abortion, which predictably led them to be a bit more vigorous on Twitter than usual.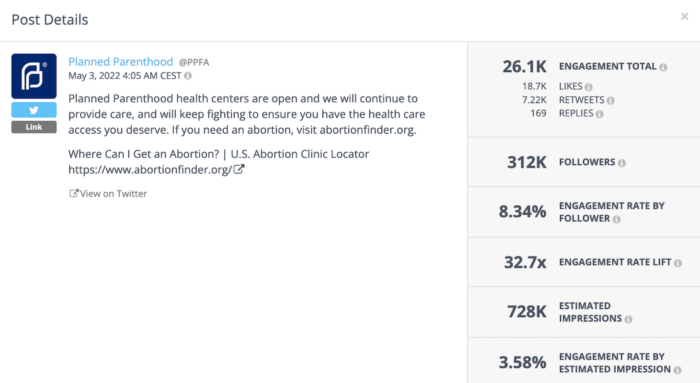 Planned Parenthood's action on socials during this time is a lesson in what to do if big news hits your nonprofit sector. When the draft opinion of a potential Roe V. Wade overturn was leaked in May, the organization took to Twitter to settle confusion around the document and tell followers how to get involved. They also posted a link to an abortion clinic locator. The latter tweet was among their most successful, receiving over 7K retweets.
Given the sheer volume of noise surrounding the leak and the contentious issue, Planned Parenthood's practical support likely helped many who were confused about what was happening.
The following month, SCOTUS officially overturned Roe V. Wade, and Planned Parenthood was once again quick to spread the word on Twitter. The tweet breaking the news received a 75% engagement rate with over 52K retweets and nearly 2K replies. That is a lot of conversation and shows the necessity of their online efforts to engage followers.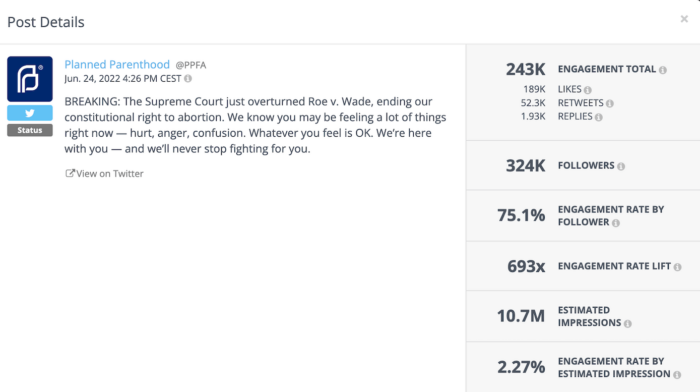 As new abortion legislation came and went over the following months, Planned Parenthood continued to use Twitter to deliver the latest news. Given that Twitter is the most popular social media platform for news, this was a smart move and a lesson for nonprofits in every niche. By serving as a trustworthy news source and commenting on current events, your organization can position itself as a credible voice.
5. Heartfulness
What's working: Community
Average tweets per week: 9.8
Average engagement rate: 0.47%
Heartfulness wears their heart on their sleeve on socials, and it's part of what's helped them amass 22K Twitter followers and snag the fifth spot on this list. Looking through their Twitter feed, you'll find lots of content on spirituality, mindfulness, and mental health. More than anything, their focus in real life and the Twitter world seems to be using community to create a better world.
What does it look like to bring together 40,000 people for a group meditation? Heartfulness gives us an idea in one of their most popular Twitter posts. The tweet featured a video montage of the gathering, and it brought in 2.71x more engagement than their average post, including several replies from attendees who shared personal pictures and expressed how impactful the experience was. Once again, we see how using images and videos on Twitter can give your content that extra engagement boost.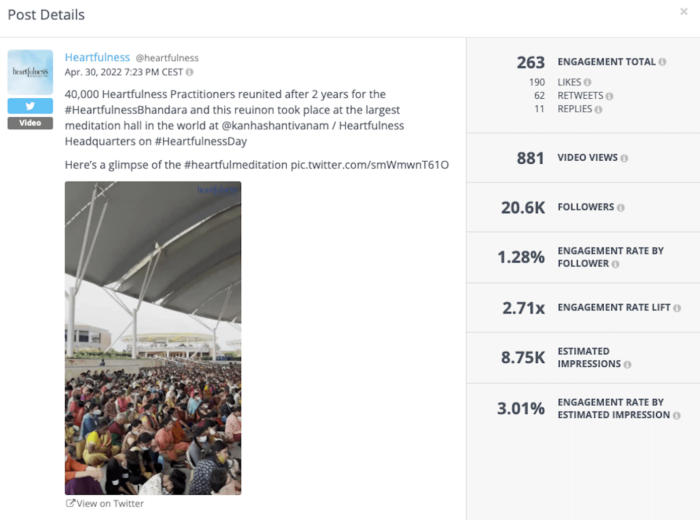 Investing in your community is paramount for cause-driven nonprofits. You might not be able to round up tens of thousands of followers in person, but connecting with your audience and bonding over shared interests will deepen your relationships and help sustain support in the long run. One way to do this is by following their conversations to see what matters most to them.
In the world of social media analytics, we call this social listening, and it's a tool that can help you find what topics your followers are talking about and gauge their opinions on various issues. Equipped with this information, you'll understand your audience that much better and be able to create a meaningful community both in person and online.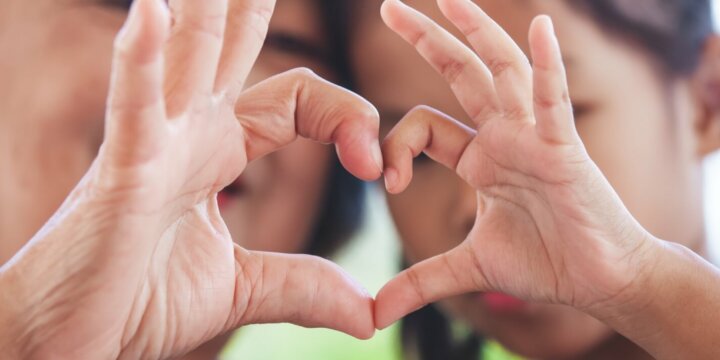 Wrapping it up
What did you think about these leading nonprofits? We hope the lessons we looked at today inspire you to hone in on your Twitter strategy this year.
Across the board, we saw that nonprofits were big on using photos and videos to catch readers' attention. They also used Twitter to provide followers with valuable resources, inspire action to support their causes, and keep supporters informed on the issues that matter.
If you want to dive into some of the analytics we went through in this article, you can sign up for a free 14-day trial with Rival IQ and start uncovering insights within your organization's data. Or, you can run a free analytics report on your biggest competitor to see how your performance compares.
As always, you can find us in our corner of Twitter talking about all things social media analytics. Come say hi!