Health food brands have arrived on the TikTok scene and are here to stay.
Whether or not you participated in the TikTok sourdough bread craze of 2020, we think you'll be impressed by the top health food brands on TikTok. From yummy recipe videos and celebrity partnerships to Gen-Z humor, these brands stood out from the crowd this past year and are sure to spark inspiration for your own TikTok marketing strategies.
It goes without saying, but we'll say it anyway: We're big fans of these brands in the kitchen and on social media. Let's dive into how they dominated the TikTok engagement game this past year.
Top 10 Health Food Brands on TikTok
In our research for the 2022 Top 100 Health Food Brands on Social Media report, we dove deep into the data to discover the leading brands and the ways they've been engaging with followers on TikTok, Instagram, Twitter, and Facebook. Our findings show that although the brands posted fewer times on TikTok than on other platforms, roughly 1.8 times per week, their average engagement rate by view was significantly higher at 3.12%.
Here are companies that made our list of healthy food brands on TikTok. The clear winner by a long shot is Kodiak Cakes,  with Grenade and Spindrift vying for the second and third slots and a tie for tenth by Forager Project and Three Wishes Cereal.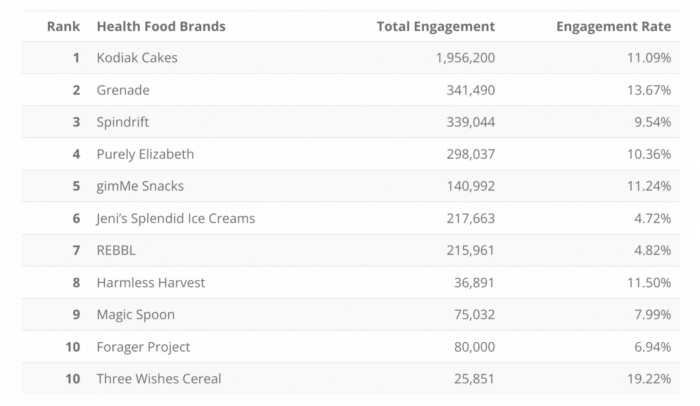 Engagement Inspiration from the Top Health Food Brands on TikTok
Kodiak Cakes: Posts made by and for Gen-Z
Engagement rate: 11.09%
Kodiak Cakes did an outstanding job on TikTok this past year, pulling off an average engagement rate nearly four times greater than the average for health food brands in 2022.
How did they do it? With a healthy dose of playfulness, solid editing skills, and some help from Gen-Z. Let's look at some examples.
The brand, known for protein-packed breakfast meals, celebrated the launch of its new Thin and Crispy Cookies with a TikTok video full of eye-catching transitions and dynamic angles. The company's move into the world of sweet treats was well received, judging by the number of positive comments and the 1.43K shares. It ended up being one of the brand's most successful posts in terms of engagement rate by follower— second only to the announcement of Kodiak's partnership with Zac Efron.
The overall sentiment of Kodiak's TikTok feed is light, fun, and personable. One excellent example of their TikTok style is the post featuring their CEO's son. In a single-shot video that had a 17.6x engagement rate lift compared to their other posts, the son enjoys Kodiak's signature waffles as the well-known #iamjosemourinho audio sound plays. As simple as this video was, the comment section speaks to its massive success. Followers left positive messages about both the waffles and the brand's sense of humor and even requested to see more of the kid on TikTok.
The lesson here? Don't be afraid to hand the TikTok reins over to the Gen-Z members of your team, and let them do what they do best.
Grenade: Niche trends
Engagement rate: 13.67%
Have you ever had an inside joke with your favorite company? Grenade's customers have.
Last summer, the brand found serious success with the "protein bor" trend that took over the #Gymtok corner of TikTok. The fad started with popular fitness TikToker James Doyle, whose thick Irish accent and pronunciation of "protein bar" caught the attention of gymgoers on TikTok worldwide. Grenade, being the super savvy brand it is, featured the TikTok creator in several of its videos to promote its assortment of protein bars and even teased followers with a potential flavor inspired by Doyle's signature red hair. If you take a peek at the comment section, you'll see that followers celebrated by commenting "protein bor" over and over.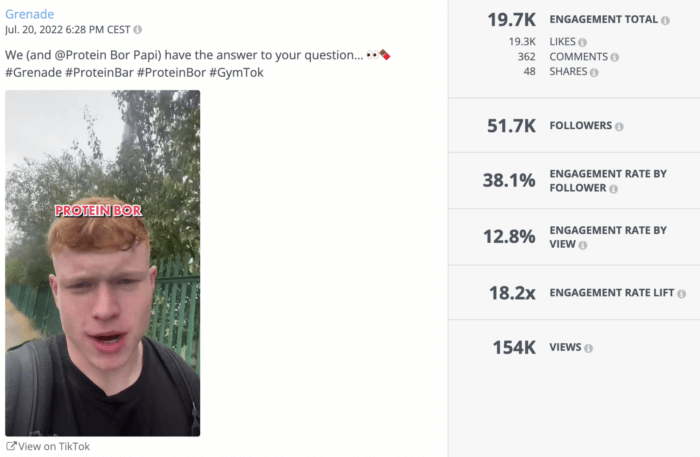 However silly the trend seems to those not "in" on the joke, this partnership was engagement gold for Grenade and ended up being the subject of three of their top-performing posts.
Spindrift: Relatable content
Engagement rate: 9.54%
Not everyone consumes sparkling water, but many can relate to the disappointment of posting something you think will be a big hit only for it to flop. That's what the Spindrift team tapped into with the TikTok post that, ironically, earned them a sky-high engagement rate by view of 38.4%.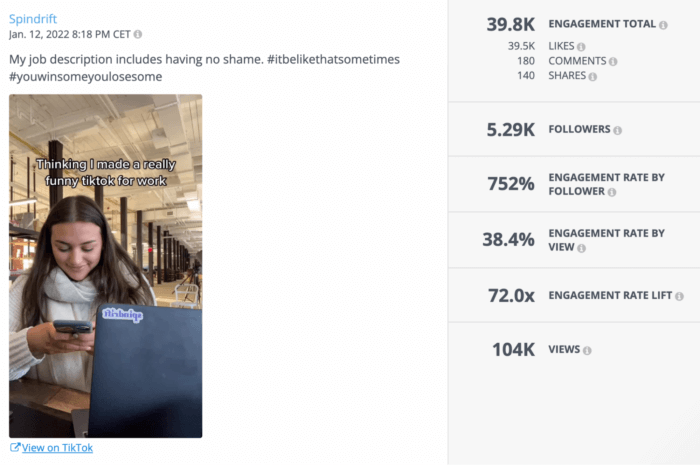 The young member of the brand's TikTok team admitted this social media struggle, and followers were quick to leave comments of support and even offered advice on how they could increase their views. Spindrift's success with this TikTok shows us that posting widely relatable content is a great way to show the human side of your brand and may also help reach new pockets of clients and expand exposure.
Another element we should highlight about Spindrift's TikTok strategy is their responsiveness in the comments section. Consumers love feeling like they have a personal relationship with their favorite brands, and taking the time to reply to their messages helps to foster that community feeling we all value.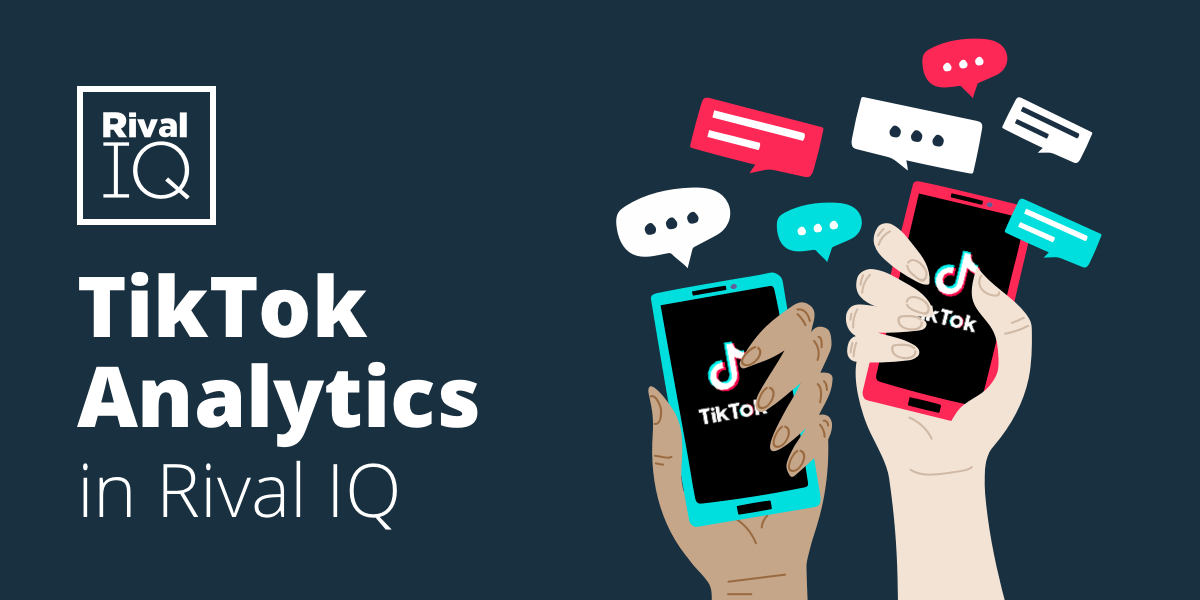 purely elizabeth: Providing value
Engagement rate: 10.36%
According to their website, purely elizabeth is centered around the idea of using foods to feel better and thrive. What better way to help your followers choose healthy foods than with short and tasty recipe posts?
The superfood granola and oatmeal brand's TikTok feed offers no shortage of meal and snack recipes, so consumers can easily incorporate the brand's products or regular healthy kitchen staples into their daily lives. The recipe ideas and easy-to-follow instructions are the subjects of nearly all of the brand's most successful posts.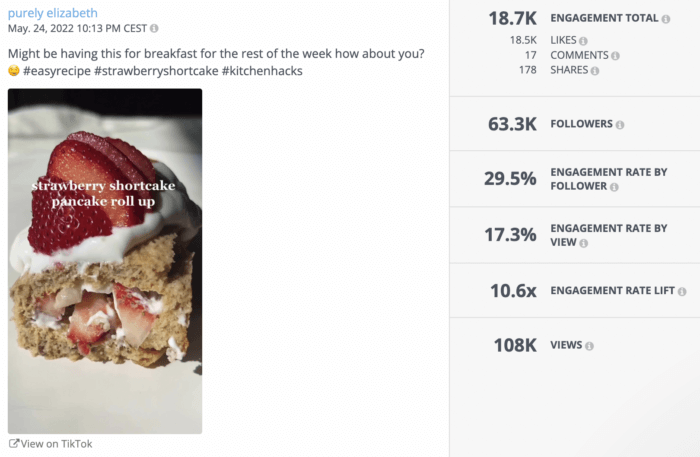 By providing value to TikTok users, purely elizabeth's videos appeal to wider audiences. There's undoubtedly more incentive to hit that "follow" button when you know you're going to get yummy recipes and healthy food inspo out of it.
Another company this TikTok strategy has worked for is Forager Project, who was able to snag a spot on this list by consistently showing customers different ways they can consume and cook with their products. A look through their top-performing posts, and you'll learn to make yummy vegan cauliflower tacos, nachos, cookie dough, and more.
gimMe Snacks: Cute content
Engagement rate: 11.24%
There's a reason adorable puppy and baby videos are such a hit online — people love content that makes them smile. GimMe Snacks, the brand providing healthy snack options with their Korean-inspired, seaweed-based products, must be on to this because everything about their TikTok feed radiates wholesomeness.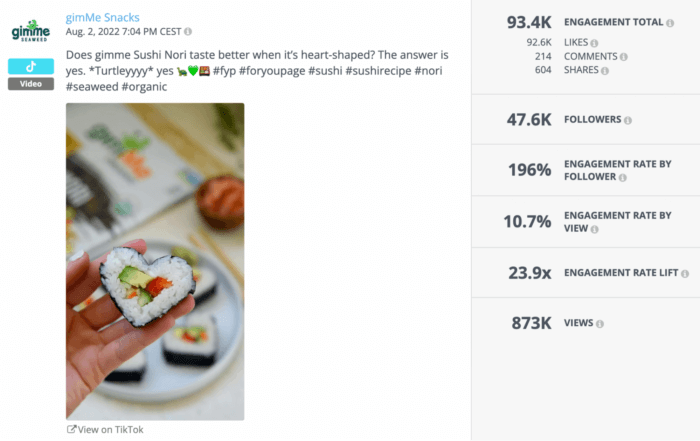 The brand's stand-out post gave viewers a look at how they could use gimMe Snacks seaweed to make heart-shaped sushi. In reference to their question in the post caption, the answer is yes, sushi does taste better when in the shape of a heart. The post raked in nearly 94K likes, comments, and shares and boasts a 10.7% engagement rate by view — over triple the average for the brands on this list.
Other popular posts featured more wholesome subjects, such as a baby sea turtle explaining the environmental benefits of seaweed and an adorable set of kids enjoying a pack of gimMe Snacks. For a family-owned company, we think they hit the mark, and their engagement stats speak for themselves.
Jeni's: Creating an experience
Engagement rate: 4.72%
Jeni's Splendid Ice Creams keeps things playful and relatively straightforward on TikTok, putting the brand's products front and center in nearly all of their posts. The sweet treat brand known for its delicious ice cream flavors taps into the internet's love of #Satisfying food content in several of its TikTok videos. In one post, followers get a behind-the-scenes look at the pouring, rolling, and wrapping that goes into making their signature ice cream waffle cones. This post knocked it out of the ballpark with a 196x engagement rate lift compared to the brand's other posts.
Another thing you'll notice about Jeni's feed is that they emphasize this idea of a #PerfectScoop. Not only are perfectly round ice cream scoops very visually appealing and an obvious hit on TikTok, but it also creates an experience for customers and turns something as simple as a scoop of ice cream into this gratifying "treat yourself" kind of event. When it comes to food, the experience can sometimes be as important as the product itself.
Harmless Harvest: Not taking themselves too seriously
Engagement rate: 11.50%
After examining their TikTok strategy in 2022, we think Harmless Harvest should consider adding an 'honest' somewhere in their name. The brand was very transparent about wanting to grow on the app to the point of directly asking for more followers in some pretty funny and self-aware videos. Their top post brought in 22.2K likes, shares, and comments and was a response to a message that poked fun at their lack of followers. We won't spoil it for you, but the crying filter was involved. In another video, they joke about going to jail if begging for followers became illegal.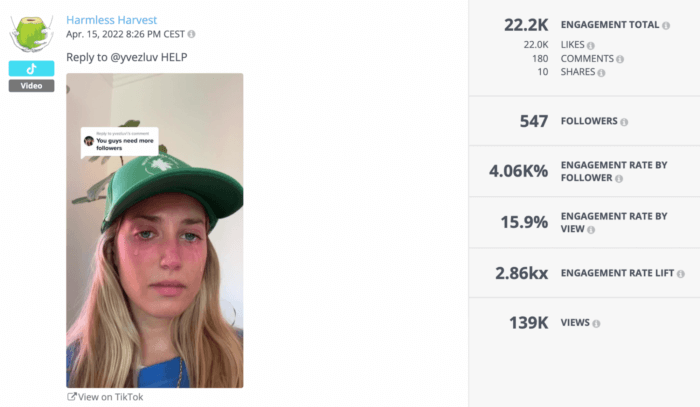 Harmless Harvest's approach might seem unconventional, but candidness goes a long way with Gen-Z. To win over young social media users, brands should not shy away from embracing their less polished sides.
Wrapping it up
Did you make it to the end without craving a snack? We hope our excavation of the top health food brands on TikTok has helped to inspire some content ideas of your own. Don't forget to check out the 2022 Top 100 Health Food Brands on Social Media for more insight into what your favorite brands have been up to on other social media platforms.