As one of the biggest social media platforms for promotion, Instagram is an essential part of hundreds of health food brands' marketing efforts.
At the same time, though, the most successful brands on the platform know that it takes more than just pretty photos and sporadic posts to effectively engage with and convert audiences.
To help you take your social media marketing to the next level, we're covering the most effective strategies and trends used by the top health food brands on Instagram. But first, let's take a look at which brands shined the most on the popular platform.
Top 10 Health Food Brands on Instagram
According to our 2022 Top 100 Health Food Brands on Social Media report, healthy food brands earned a median engagement rate of 0.32% on Instagram this year, with the brands posting roughly once every other day, or 3.4 times per week.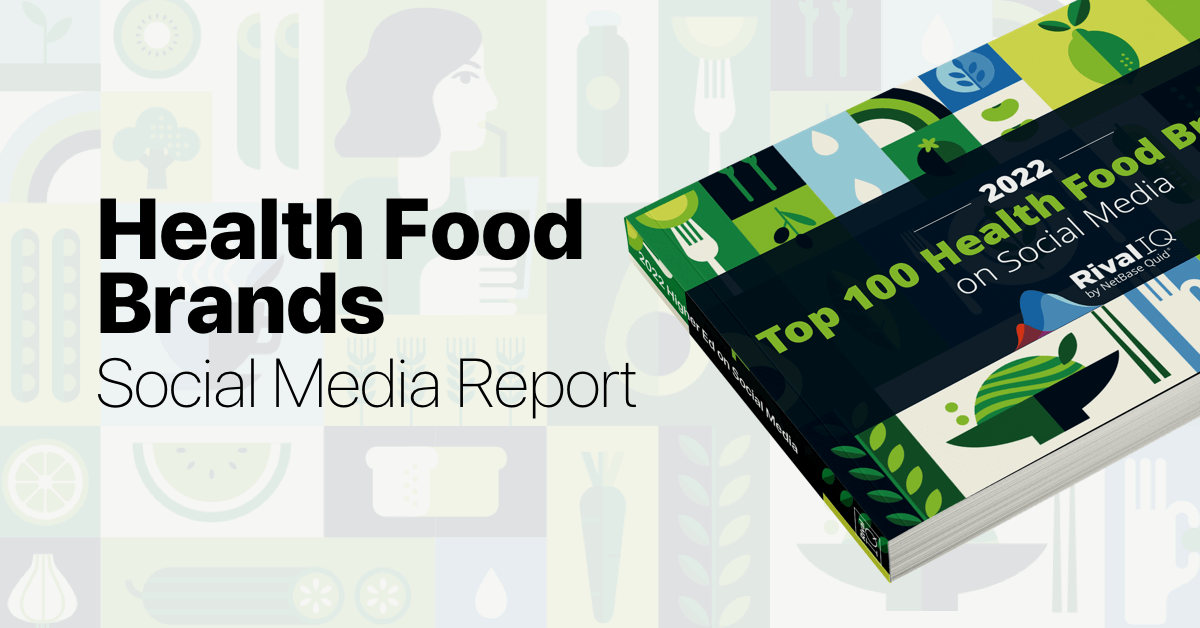 As always, there were several brands that rose above the rest, enjoying levels of engagement that were well above the median. Topping our ranking of top health food brands on Instagram this year were:
If you're a brand looking for content inspiration, who better to look at than the ones who outdid the rest? Let's dive into how some of the top health food brands proved themselves irresistible on Instagram.
Content Ideas from the Top 3 Health Food Brands on Instagram
Jeni's: Highlighting Unique Products and Social Causes
Known for its one-of-a-kind flavors and dedication to environmental and social causes, Jeni's is a company with a mission: "make better ice creams and bring people together." On its Instagram account, that message rings loud and clear.
With more than 400K followers and an engagement rate nearly 4x the health food median, Jeni's topped our list of health food brands on the social media platform by posting content that aligned with its core mission. Mouthwatering product shots highlighting its large collection of unique flavors like Boozy Eggnog or Pumpkin Cake Roll undoubtedly dominate its Instagram feed.
Notably, a seemingly routine announcement about the flavor Wedding Cake became one of Jeni's top-performing posts during the reporting period. The post earned an engagement rate by follower of 5.97%, a rate nearly 19x higher than the median. Clearly, appealing to your customers' love for your unique offerings is a winning strategy.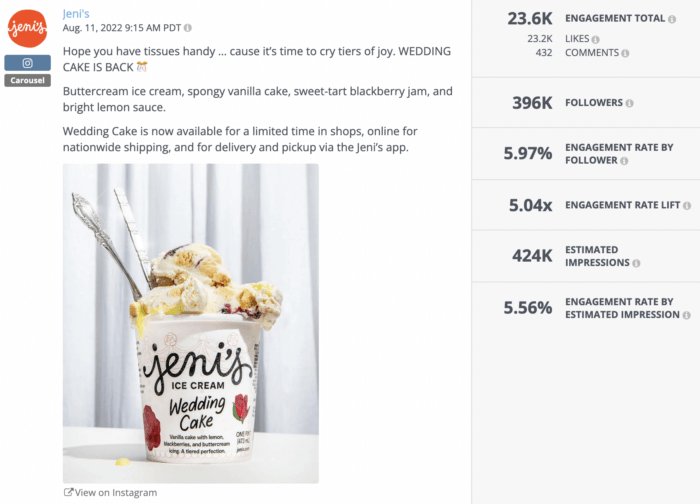 The ice cream brand's proud support for various social causes has also played a big role in its impressive engagement levels. Its top post, with a whopping engagement rate of 12.9%, was a giveaway in collaboration with apparel brand Lonely Ghost and On Our Sleeves, a nonprofit dedicated to breaking stigmas around children's mental health.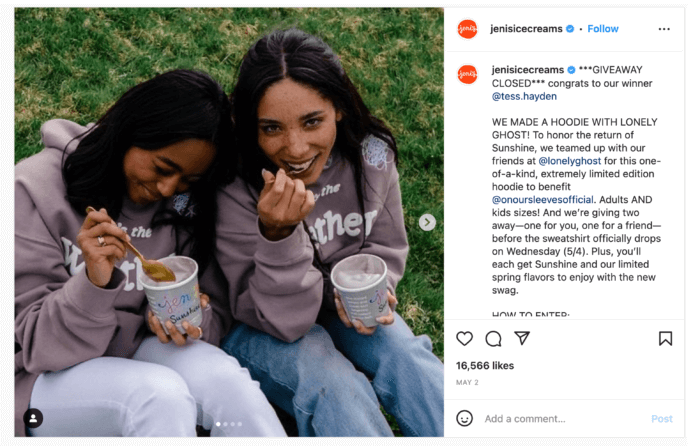 While giveaways and brand collaborations have long been popular tactics on Instagram, Jeni's efforts proved particularly effective because of how they also aligned with its core brand message. Your customers like you for a reason. When you lean into that reason and have it lead your strategy, you're able to deliver greater content that resonates with your audience
Beyond Meat: Showcasing New Innovations and Recipes
The plant-based meat brand has always been about expanding boundaries and ushering in a new way of doing things. With its roster of vegan meat alternatives, Beyond Meat is passionate about finding and delivering a "better way to feed our future" — a mission its customers are clearly also excited about if its top Instagram posts are any indicator.
With over a million followers, the plant-based food company's Instagram account gained standout levels of engagement with a solid strategy rooted in its mission. Out of Beyond Meat's top 10 posts by engagement rate, six posts were about a new product they cooked up or the roll-out of its offerings in different places.
Racking up the most engagements was an announcement about its new Beyond Fried Chicken, which earned over 70K engagements and an engagement rate by follower 22x higher than the median. A post about Beyond Carne Asada coming to Taco Bell also nabbed a notable engagement rate (2.97%), making it Beyond Meat's fourth-most engaging post this year.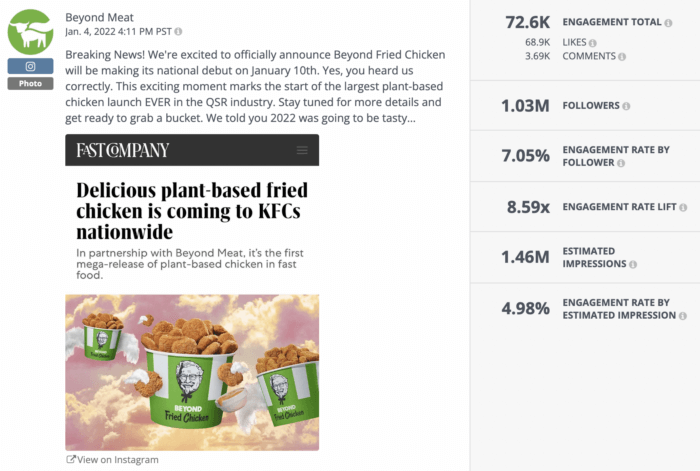 In addition to spotlighting its latest innovations, Beyond Meat succeeds on Instagram by posting simple recipes and food hacks. Again, this all goes back to its core goal of presenting "a better way" to its customers. By posting helpful content, the brand goes beyond just showing off its products by also detailing the different ways people can use its foods. The takeaway? Create content that adds value to your customers' lives the same way your product does!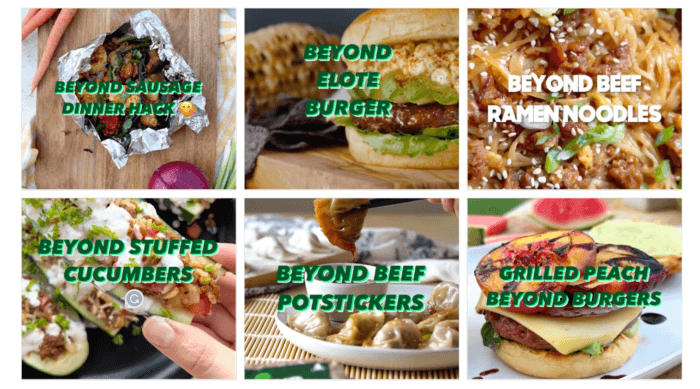 Erewhon: Making Connections and Building Community
Despite not having a large national presence like Jeni's or Beyond Meat, Erewhon Market was able to keep up with the best of them, earning enough engagement from its thousands of followers to rank third in our list of top health food brands on Instagram.
The Los Angeles-based organic food retailer puts an emphasis on community, believing that the nutritional products it offers are "key to a vibrant lifestyle and happier, healthier communities." It makes perfect sense, then, that Erewhon connected with popular lifestyle influencers for its Instagram content.
Partnering with social media influencers is a great way to breathe life into a brand and introduce it to another close-knit community of followers. By teaming up with those who align with the Erewhon brand, especially those also based in LA like Marianna Hewitt or Rebecca Leigh, the luxury grocery store was able to expand the size of its own audience and draw in more customers.
Influencer marketing is also an effective strategy for boosting engagement. The post below, featuring a collaboration with Hailey Bieber, gave Erewhon its top-performing post, which earned an engagement rate by follower that was 18.6x greater than the median.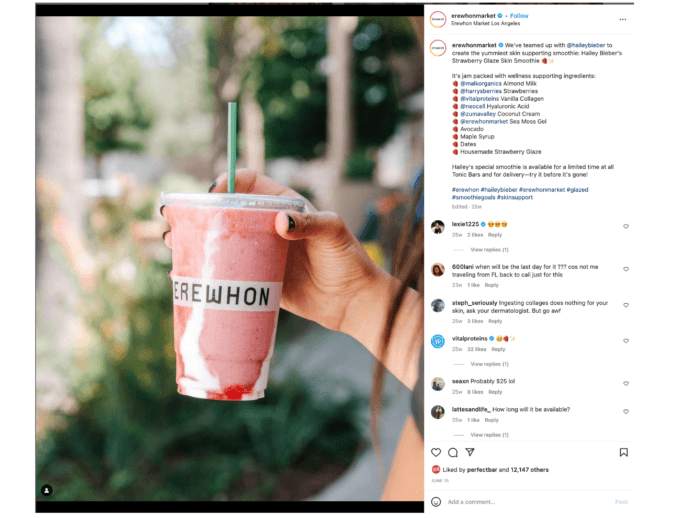 Out of Erewhon's top 10 most engaging posts, five centered around similar collaborations. Another notable detail? The retailer often detailed the exact ingredients and nutritional benefits of the product spotlighted — a conscious move that reflects its promise to contribute to its customers' vibrant and healthy lifestyles.
In sticking to its purpose and delivering content that its audience cares about, Erewhon's spot in our list of top health food brands on Instagram is well-earned.
Wrapping It Up
From posting meaningful giveaways to launching high-profile collaborations, these top health food brands stood out on Instagram by identifying and mastering the content strategies that not only resonated best with their audiences but fit their brand identity.
As you work to boost your own company's social performance, look to these top brands for inspiration. Whether you'll be serving up mouthwatering product shots like Jeni's, innovative offerings like Beyond Meat, or something else unique to your brand, stronger engagements could be just a few posts away. Just remember to keep a close eye on your analytics.