Platforms like Tiktok and Instagram may be all the rage with younger social media users, but Facebook remains a cornerstone of online marketing for higher education institutions.
Earlier this year, we looked at the top Division 1 universities on social media. Now, it's time to shine the spotlight on the distinguished frontrunners of our 2022 Division 2 Higher Education Social Media Engagement Report.
Check out the report for some inspirational and data-backed analysis of the schools and strategies that did exceptionally well on social media this year. For now, we'll take a close look at what these D2 schools did on Facebook to connect with their audiences.
The Stats: D2 Universities on Facebook
Before we jump straight to the all-stars, let's look at some key figures for D2 colleges on Facebook. The data used in the 2022 Division 2 Higher Education Social Media Engagement Report was pulled between 6/1/2021 and 5/31/2022.
Median engagement rate: 0.36%
Median posting frequency: 6.2 posts per week
Understanding engagement as a marketing metric can help organizations evaluate their performance against their competitors and, most importantly, identify the content that connects best with followers.
At Rival IQ, we use the term engagement to mean quantifiable engagement actions. On Facebook, this looks like tallying the total number of likes, comments, favorites, shares, and reactions on a post.
To calculate the average engagement rate, we use the following formula:
Likes + comments + shares + reactions / total number of followers = average Facebook engagement
Learn more about calculating Facebook engagement.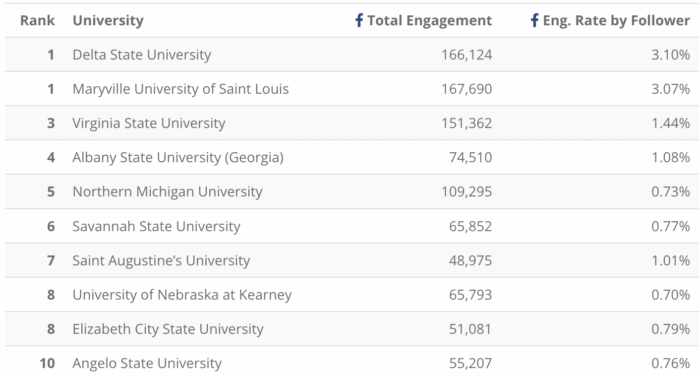 Top D2 Universities on Facebook
Here's an overview of the D2 schools that rounded out the top 10 on Facebook in 2022. Did your alma mater make the cut? Can you spot any ties on the list?
Delta State University: Shining a light on student stories.
Average engagement rate as of 05/31/2022: 3.10%
Tied for gold on our list is Delta State University. The school posted roughly half as much as the other contenders in the top ten but still came out with the highest engagement rate.
How did they do it? With sincerity and an emphasis on student stories.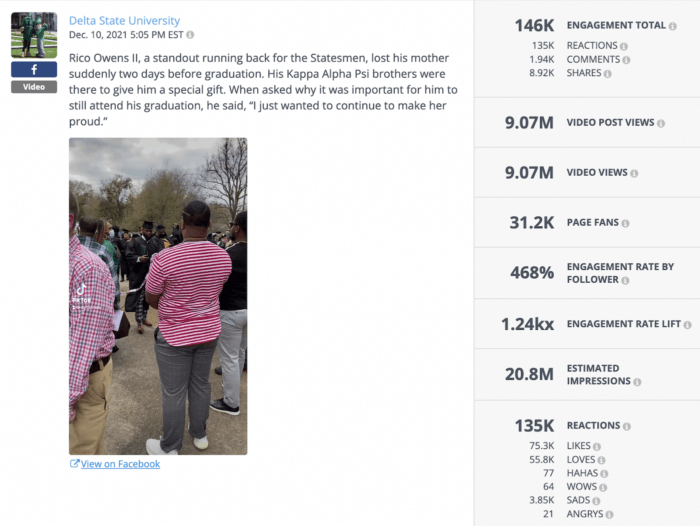 In their most popular post, DSU paid tribute to one of their graduating football players who lost his mother days before the ceremony. People shared kind words beneath the video, and others praised the young man's teammates whose support and love are palpable through the screen.
The short clip, which was a repost from DSU's official TikTok account, offers a glimpse of the positive power of social media. It boasted a 1.24Kx engagement rate lift and was shared an impressive 8.92K times.
Maryville University of Saint Louis: Celebrating powerful life lessons.
Average engagement rate: 3.07%
The Maryville University of Saint Louis increased its engagement rates across channels this year, solidifying its position as a frontrunner on this list.
A crowd-favorite that brought in a significant amount of reactions, comments, and shares celebrated Stancel Skelton, a student of eighty-three who flew across the country to walk the graduation stage. Fans and followers flooded the comment section to congratulate him on his impressive academic feat.
While feel-good posts like this generally fare well online, it's not unusual for them to perform significantly better on one platform— user demographics play a significant role here. The posts that transcend channel lines are often those whose messages are universal and resonate with people of different backgrounds.
Mr. Skelton's accomplishment did just that, finding success on both Instagram and Facebook and showing us that it's never too late to go after your dreams.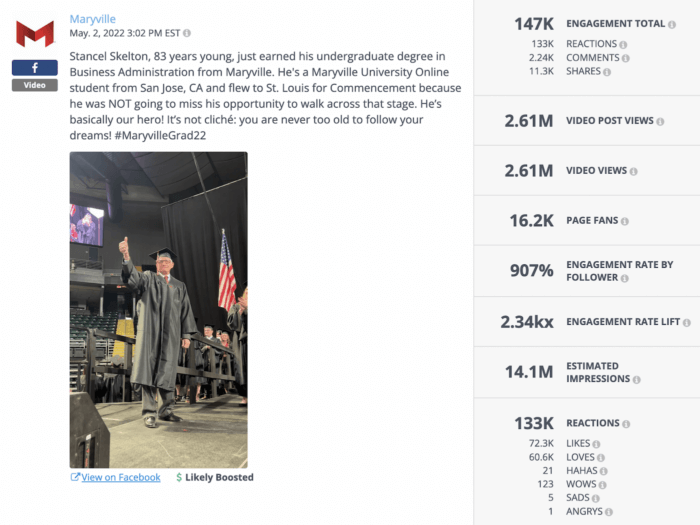 Virginia State University: Focusing on community.
Average engagement rate: 1.44%
Between June 2021 and May 2022, Virginia State University saw its follower engagement rate soar by 101%. A look at the school's top posts gives us a little insight into its recipe for success.
Coming in as the school's most popular post is a meaningful throwback to 1989. Complete with quintessential 80s production, the video shows VSU graduates recreating the intro from "A Different World," –  The Cosby Show spin-off following Denise Huxtable to an HBCU in Virginia, much like VSU students.
The throwback had a 197% follower engagement and was a massive hit. However, the post was much more than a well-choreographed nod to an iconic sitcom. As the creator says herself, "A Different World" is what inspired most of us to choose an HBCU."
Take a look at the student video.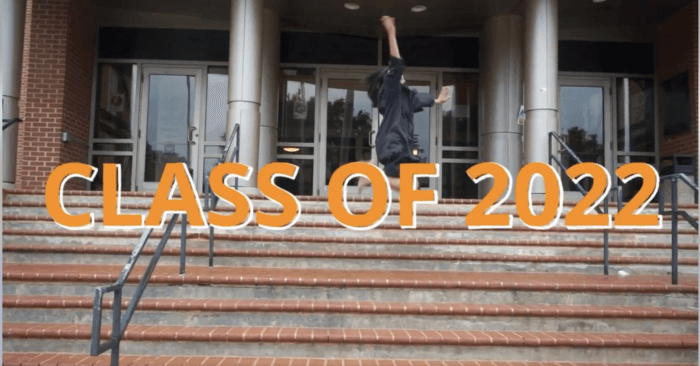 The school year can get busy, and putting out fresh and new content may not always be realistic. In this case, consider bringing in material from other corners of the internet.
Take a peek at a Tiktok turned Facebook video to see how VSU students fare in a free-throw challenge against their professor. The clip, which came from a student's personal Tiktok account, was a hit on Facebook and garnered 7.82K reactions, comments, and shares.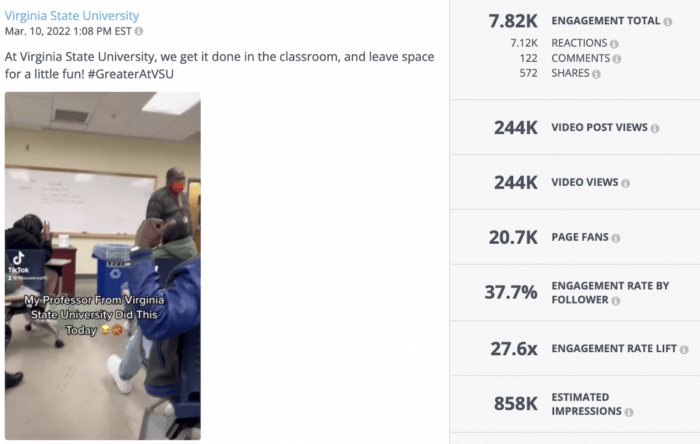 The Tiktok repost ended up being one of Delta State's most successful on Facebook for the year, reminding us that repurposing content across platforms can be a time-efficient and effective posting tactic.
Albany State University (Georgia): Celebrating alums.
Average engagement rate: 1.08%
Coming in fourth place is Albany State University. Their Facebook performance improved steadily through the 2021 school year, finishing with an engagement rate 3x the average for all D2 universities.
Thanks to a few posts featuring remarkable alums, the school saw a spike in both total engagement and engagement rate by follower.
Did you know ASU is the alma mater of music creator and executive Rick Ross? The school posted a picture of Mr. Ross proudly rocking an ASU jersey, and as expected, the crowd went wild with 1.45K reactions, comments, and shares.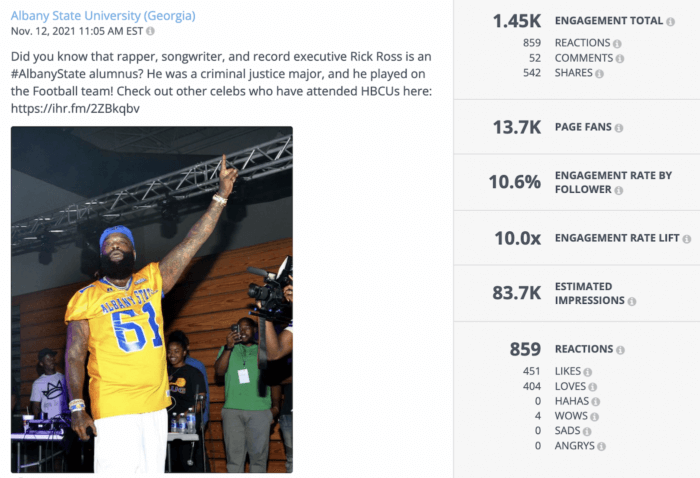 While the star's post was a home run hit on Facebook, one former ASU student garnered even more attention: Alice Coachman. In 1948, the Albany State alumna became the first African-American woman to win an Olympic gold medal.
The post celebrating Ms. Coachman had a 22.8x engagement rate lift and featured her wearing ASU merch under her official USA Olympic jacket — a proud moment for Albany State.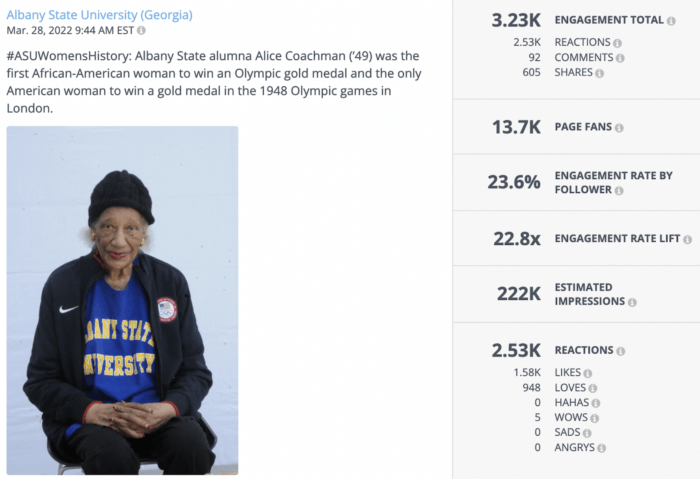 The success of these posts tells us that if you have especially noteworthy alums, you shouldn't shy away from celebrating them online.
Northern Michigan University: Flaunting campus views.
Average engagement rate: 0.73%
Beautiful campus shots were an uber-popular trend for both Division 1 and Division 2 schools in 2022.  Luckily for Northern Michigan University, they've got beautiful landscapes to spare.
NMU shows off some impressive sunrises in its top two performing posts. In one, we get a sweeping view of fall foliage beneath a warm morning sun. The other, which brought in an 18.2x engagement rate lift, shows the sun at eye-level peaking through Marquette's Ore Dock.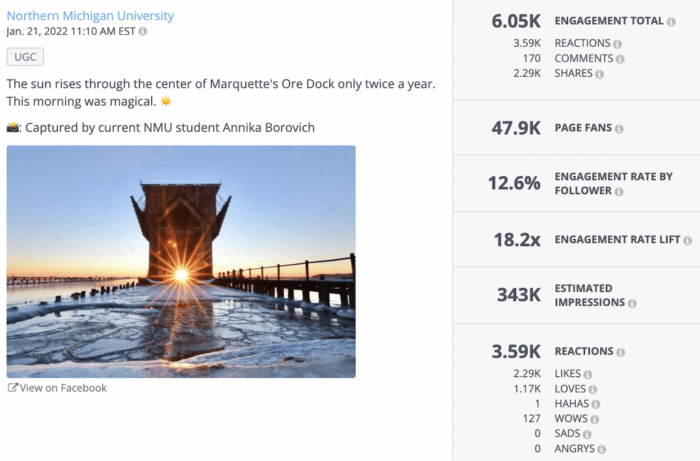 If there's one thing we've learned about what's working online for higher ed, it's that you should never miss a chance to flaunt your campus gems— followers can't get enough of them.
Savannah State University: Utilizing campaigns and repurposed content.
Average engagement rate: 0.77%
Savannah State University upped its Facebook performance across all metrics: followers (+ 4.74%), total engagement (+146%), and engagement rate (+82.3%.)
This progress is largely thanks to their #TellThemSheisRising campaign launched during Women's History Month. The campaign would highlight one woman in the SSU community daily, from former students to faculty and campus staff.
During this month, the school saw its month-over-month engagement rise by an impressive 573% percent. So as far as engagement goes, this campaign did exceptionally well. It found a way to make Women's History Month personal to SSU and included an often overlooked demographic of a college's community: campus staff.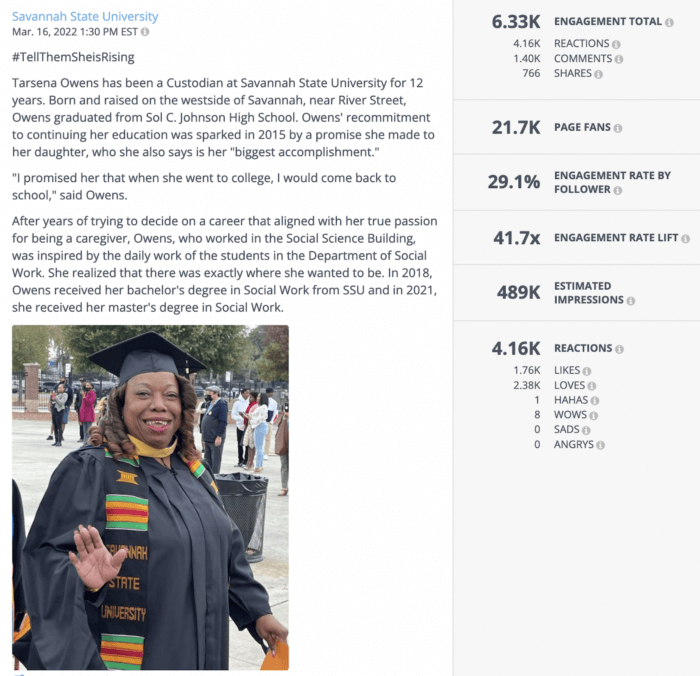 We know schools love celebrating their sports team — even more, when they win. Throw a famous alum into the mix, and you have a recipe for success.
Back in March, SSU posted a tweet from alum and NFL star Shannon Sharpe congratulating the men's and women's basketball teams on their impressive seasons. The kind message was well received, bringing in a 9.16x engagement rate lift.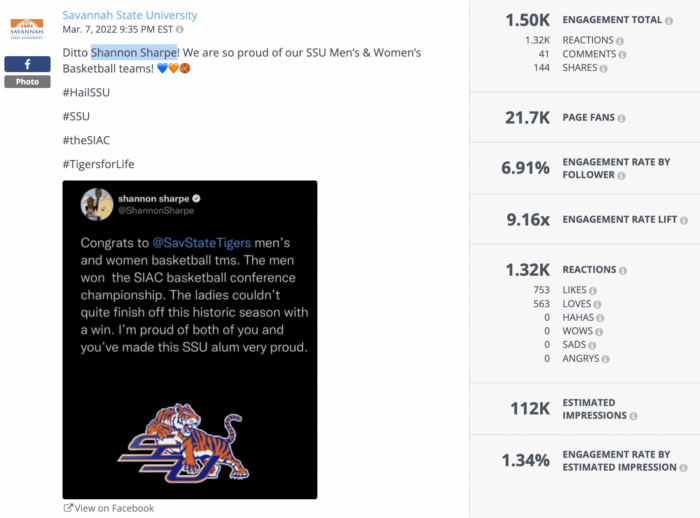 If you're coming up short on Facebook material, don't forget that you can always repost content from other social media platforms. We've seen this strategy executed successfully by several schools on this list, especially when the subject matter can be universally appreciated.
Saint Augustine's University: Tapping into nostalgia.
Average engagement rate: 1.01%
We know that consistency is at the core of social media strategy — allowing organizations and brands to solidify their voice online and regularly connect with audiences.
Saint Augustine's University did a great job staying consistent this year, posting around once a day. Their commitment to posting regularly is part of what helped them secure a spot on this list.
On top of hitting that post button frequently, the school posted a thoughtful blast from the past that brought in a 12x engagement rate lift. In a sweet, candid photo, we see President Dr. Prezell R. Robinson blowing out candles for his 101st birthday. Several of the comments on this post were from SAU alum, who wished the centenarian a happy birthday and shared fond memories from his term.
Whether or not you have a former president in the over 100 club, it's the sentiment of the post that matters. Many people look back on their college years as some of the best of their lives, and any post that takes them back and reminds them how far they've come is a great way to foster a sense of community across graduating classes and generations.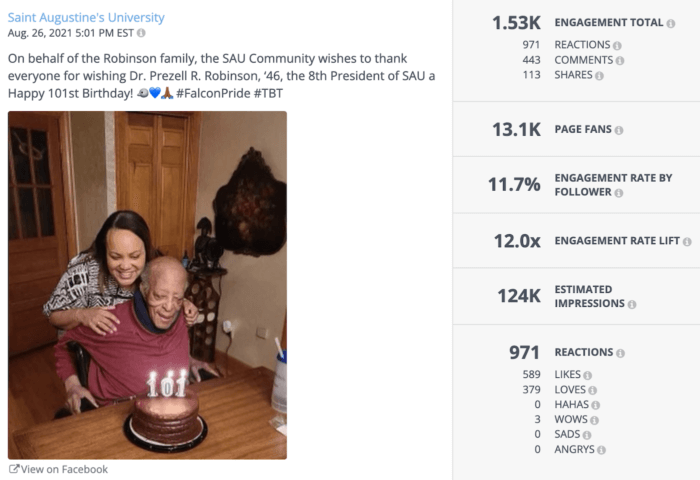 University of Nebraska at Kearney: Celebrating student achievements.
Average engagement rate: 0.70%
When it comes to engaging online with the parents and grandparents of college students, Facebook is a good place to start. And what do we know these family members love to do on social media? Show off the accomplishments of their kids and grandkids.
When the University of Nebraska at Kearney shared the names of students who made the dean's list for the 2021 fall semester, the post was shared a whopping 745 times — over double the number of times as their NCAA National Championship post.
Likes and comments are great, of course, but shares are where you really get to see how much a post resonates with followers. Here, we have an example of something that caught their attention mid-scroll and prompted them to take that extra step and share.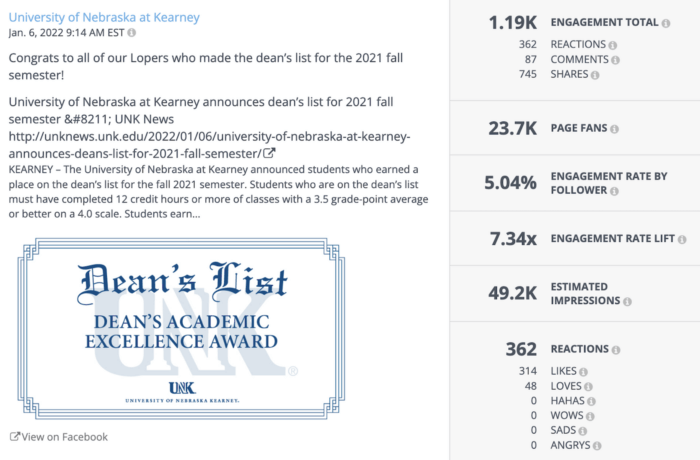 Elizabeth City State University: Sharing personal moments.
Average engagement rate: 0.79%
The Vikings were one of the most active D2 schools on Facebook this year, posting nearly ten times a week.
In addition to staying consistent online, the school emphasized the importance of community oneness and celebration. Elizabeth City State University's top post, which ended up with an 11.7x engagement rate lift, featured the college's First Daughter smiling widely on her birthday.
The post wasn't exceptionally creative or unique at face value, but it teaches us an important lesson. Just as televisions bring beloved characters into our living rooms, making us feel as if we know them ourselves, universities can bridge the gap between organization and follower by letting them in on ordinary and intimate moments.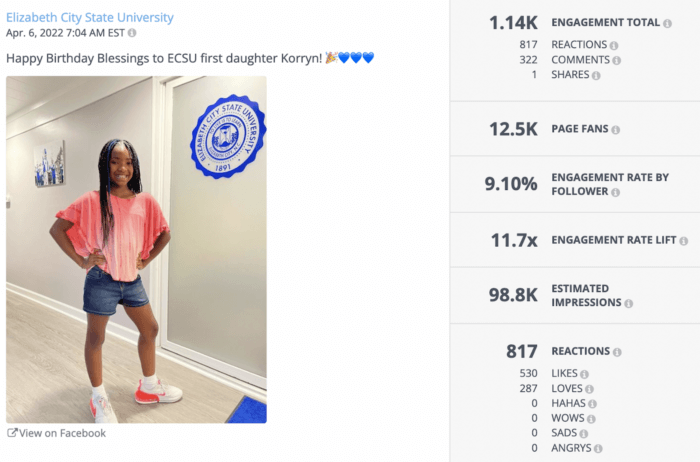 Angelo State University: Bragging on academic and athletic victories.
Average engagement rate: 0.76%
Last but not least on our list is Angelo State University. The school did a great job stepping up its game across social media channels this school year and even saw a double-digit increase in its Facebook engagement and a nearly 6% follower increase.
Most notably was its top-performing post, which had a follower engagement rate nearly 26x the median of all D2 schools. The post featured freshman math star Alexis Washington's massive win at the Math4 Manufacturing contest.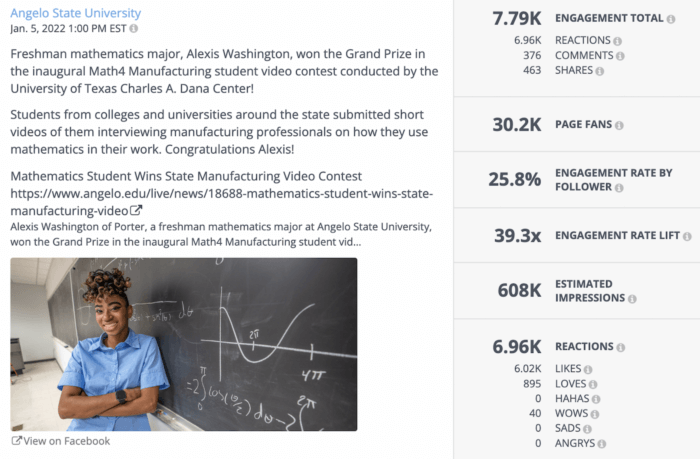 As for the rest of the Ram's Facebook strategy, sports wins seem to be a safe bet. The school's second, third, and fourth most successful posts all feature one of their athletic victories. From the College World Series to the Tokyo Olympics, the ASU Rams love celebrating their athletes' wins.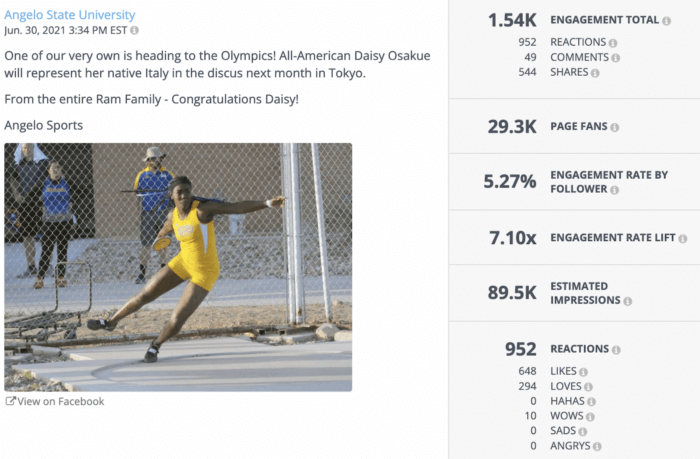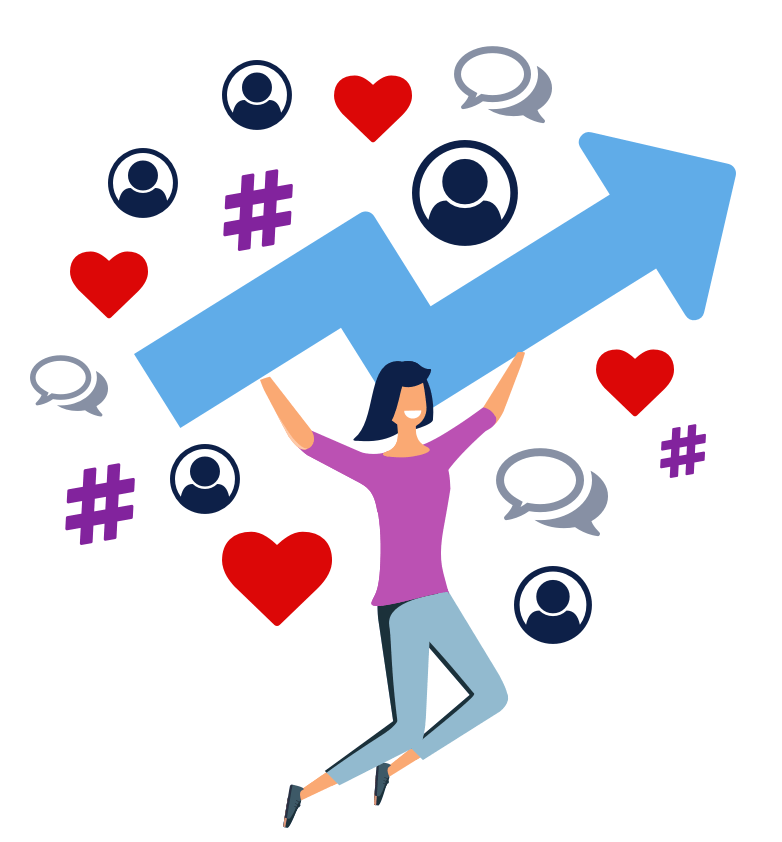 Wrapping it up
Did these schools spark any inspiration for you?
Whether you're starting a new school year or wrapping up a semester, it's never a bad time to consider new ways to take your social media game to the next level.
The best part is that there is no one-size-fits-all strategy for Facebook. You can take what you need from these leading universities and make it your own to connect with your students, families, and loyal alums.