I love this time of year.  March Madness. When my husband and I spend more time watching college basketball than any other time of year. Since neither of us went to a Division I hoops school, we can choose our favorites and enjoy all the games without too much emotional investment.
These days, when I watch any sport, I always want to translate a team's competitiveness on the court or field to the digital landscape. I want to know what social media lessons we can borrow (or completely ignore) from winning athletic teams. So, I put together a landscape of the top 10 ranked NCAA men's basketball teams.  Most of these teams are frequent March Madness participants, so I assumed they were probably not strangers to social media either.
Since these teams are uber competitive, I thought I would also score the teams on each lesson, giving a simple Win or Lose ranking.
Here are six social lessons we can learn from the NCAA top 10 men's basketball teams: 
Lesson #1:  Have a strong presence
Score:  WIN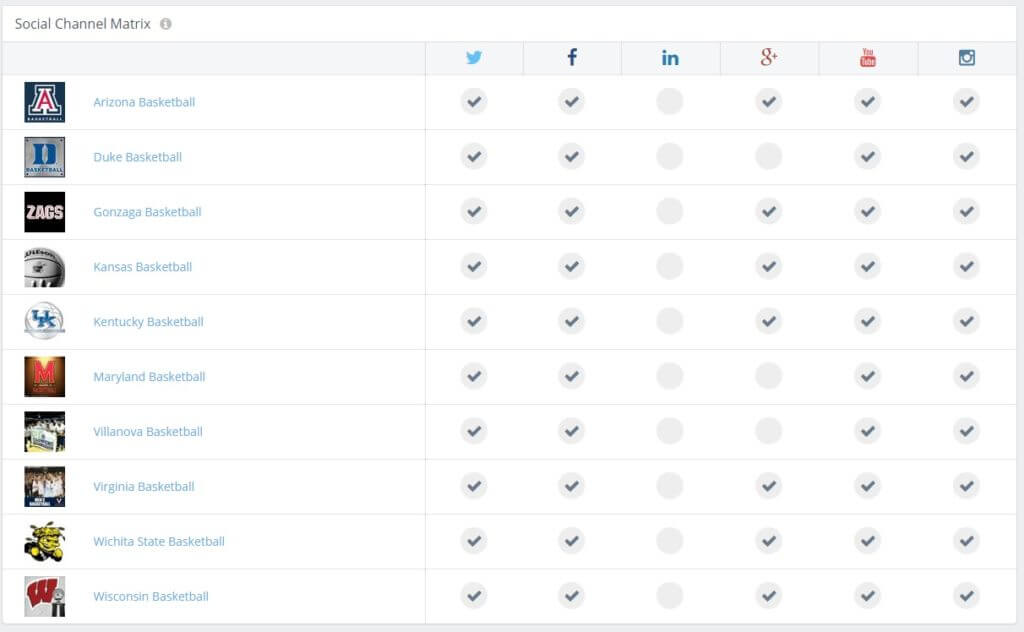 This is a social landscape, with all the teams active on several social platforms. Not surprisingly since the schools and teams are targeting young consumers, alumni and basketball fans, the social presence is focused on more consumer-oriented networks: Facebook, Instagram, YouTube and Twitter.
From a social engagement standpoint, however, it's primarily Facebook and Instagram – a trend we see with most B2C organizations.

Lesson #2:  Use consistent social naming and branding
Score:  LOSE
Clearly, these teams' fans are willing to work to find them on social. Naming, logos and descriptions are inconsistent at best and all over the place at worst.
For many teams, there is a mix of the term MBB – Men's Basketball – and the Athletic department.  So on some networks, the team has its own handle, but other times it's part of a broader athletic department profile.
Also, several of the teams have more than one "official" website, with a men's basketball sub-domain off the main university or athletic department website and typically more of a fan-oriented site, such as goshockers.com for the Wichita State team.
Let's take Duke as an example:
The website where basketball fans can find detail about their team is the men's basketball section of goduke.com.  However the "Go Duke" nomenclature is used primarily for the overall athletic department.  The team also has its own website dukeblueplanet.com.
For social profiles, the Duke men's basketball team uses three different profile names, each with different descriptions and logos – all of which say they are "official" and managed by the team. And all with tens of thousands of followers.
Duke MBB
Duke Basketball
Duke Blue Planet
It also has more than one "official" handle on some networks, such as Facebook.

Duke it not alone with this inconsistency.
As marketers, what we can take away from this and learn is the following:
Have one main naming structure for all your social networks and be consistent.
Use the same logo and creative across all, so everyone knows it goes with the others.
Use the same description and profile bio language, as well as consistent hashtags.
Make it easy to find the social handles with share links from any website page associated with the team, as well as links to other networks from each social channel.
Lesson #3:  Build your social fan base
Score:  WIN
As I said, in spite of not following best practices for social profiles and branding, the fans are finding the teams and following them.

University of Kansas men's hoops takes the lead with the most followers across the top six social networks, with 638,000 combined followers. Duke and Kentucky also come in very strong.
Lesson #4:  Be Active!
Score:  WIN
Every hoops player knows you never have a chance of winning if you don't shoot the ball. So take your social posting to the paint enough to make some points!
This is an active group of teams.  At the top of social activity is Villanova, with 285 aggregate social posts across the six networks over a 7 day period, including 217 tweets, 32 Facebook posts, 4 YouTube posts, and 32 Instagram posts. Nice work!

Also, nearly all the teams are posting on multiple networks. Wichita would be the only exception in this category, focusing only on Facebook, and posting a healthy 47 times in one week.
Lesson #5:  Post content that engages
Score:  WIN
As we always say, the biggest fan base does not translate into the most engaged fan base. The same is true with these teams.  When we look at which team is doing the best job engaging with its own followers on Facebook, the leaders are not the biggest teams or most social teams. But they know what kind of content and information their fans love.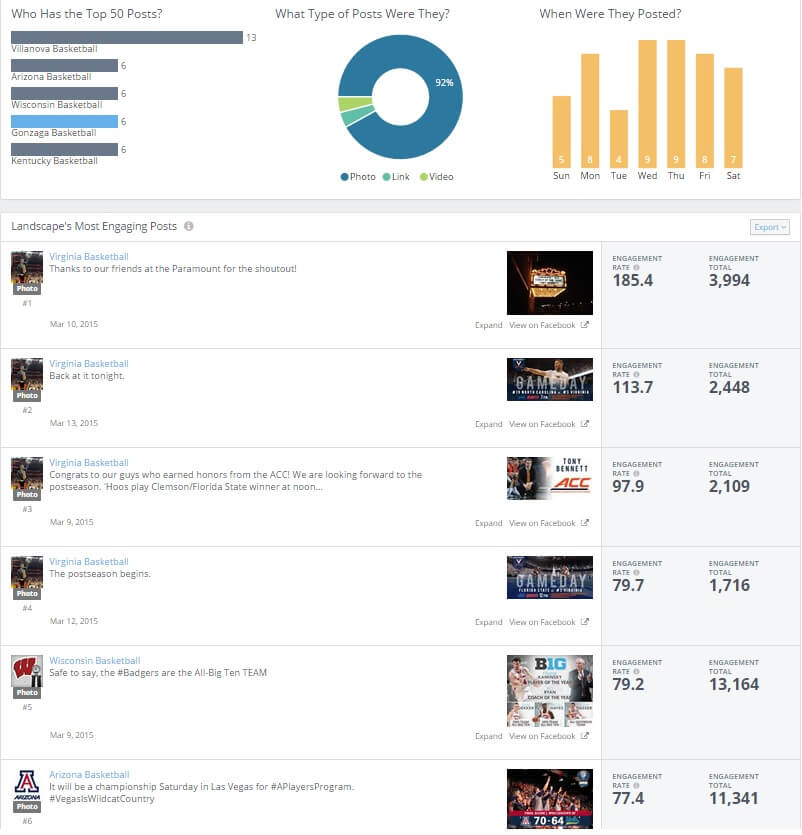 When we look at the top 50 posts on Facebook for this landscape, Virginia comes in with the top 3 posts by Engagement Rate. Other teams scoring big on engagement are Wisconsin, Gonzaga, Kentucky, Arizona and Villanova.
Lesson #6:  Get Visual!
Score:  WIN
If you're following social media trends, then you know everything is visual these days, even on Twitter. These teams know how to play up to their followers with great photos, images and videos that get engagement and social applause.
The top 5 most-engaging Tweets over a one-week period were nearly all photos and videos.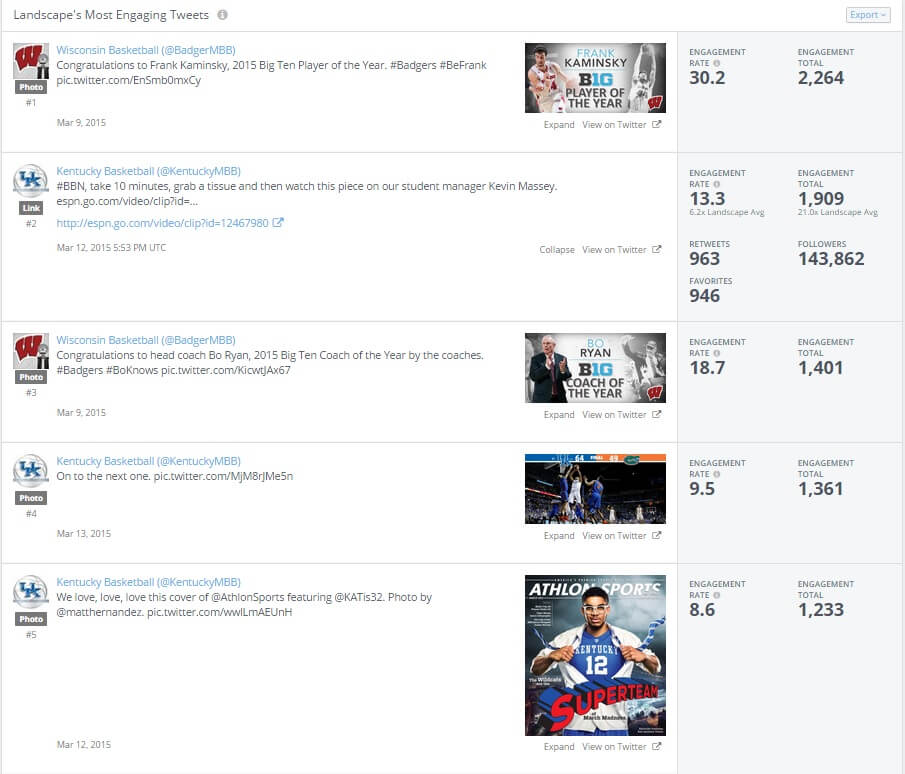 Follow the March Madness Frenzy
To follow your favorite team or the overall activity, be sure to track the hashtag #MarchMadness, and see who is winning both on the court and in the social field.
If you want to dig into more data from these teams, you can quickly create your own Top 10 NCAA Men's Basketball landscape in Rival IQ – along with a free 14-day trial! It's that easy.