Social Media is about ENGAGEMENT!
Social media is all the rage, but it's not just about posting your favorite inspirational message, sharing your beloved photos, or simply placing a link to your website. What really matters for brands is the way they are able to interact and engage with their audience in order to make an emotional connection with them.
Take it straight from Facebook's mission statement: "give people the power to share and make the world more open and connected. People use Facebook to stay connected with friends and family, to discover what's going on in the world, and to share and express what matters to them.
These are some mighty powerful words, but the numbers are there to back it up. Facebook's active users continue to climb to well over 1 billion, and other popular platforms like Twitter, LinkedIn, and Pinterest aren't far behind.
6 Rules to Improve Your Social Connection
But how can we make an emotional connection with such a huge audience? Here are some "rules" that will help you not only interact more effectively on social media but also gain more followers.
RULE #1: Interact in a Meaningful Way
Go beyond the click on the little thumbs-up or follow. Ask a question, leave a humorous comment, note the first thing that pops into your head, or share a similar experience. Try to continue the conversation as best you can by tracking the post to see if anyone has responded. The more your posts are able to relate to your target audience, the better.
Once you gain some social media engagement, open up a dialogue and interact with them. Others will be sure to see this kind of activity and will likely be more inclined to make the initial connection with you.
RULE #2: Share and Promote
Your social media channels shouldn't just be reserved to promote your own brand. Take the time to discover and share interesting content that resonates with your brand or your audience — this includes cross-promoting your followers' content as well.
Resharing content created by other writers will help get your foot in the door and make that initial connection with your audience. Although that shouldn't be the reason behind your sharing, expecting something in return, it will still put you out there in a better, more positive light. Showing genuine concern, feelings, and emotions will show others that you care.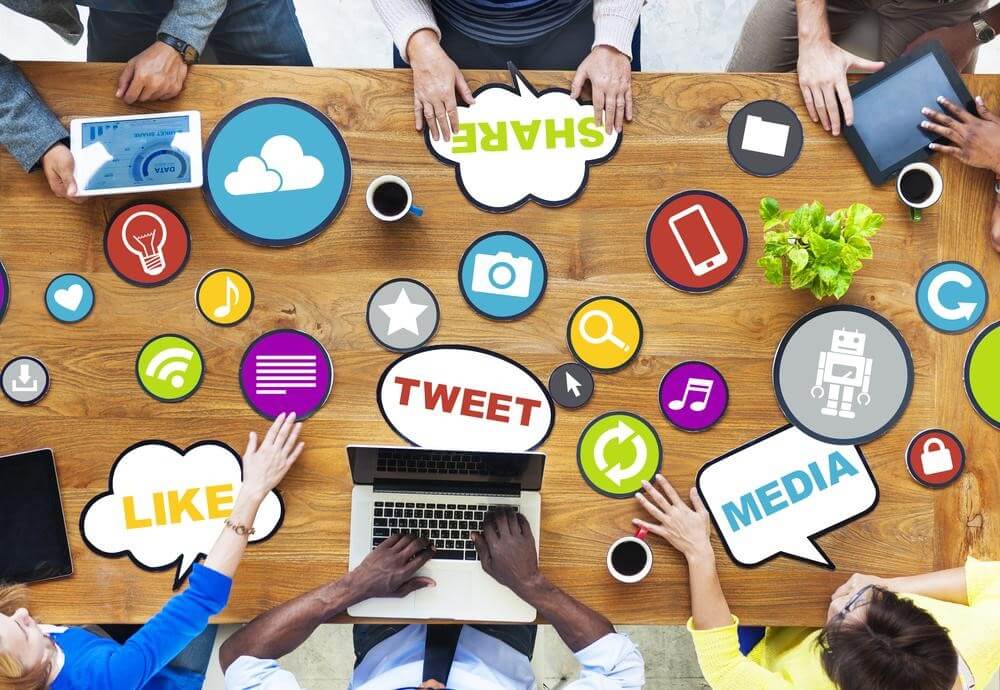 RULE #3: Don't Just Re-Tweet – React and Partake
While re-tweeting (as well as re-sharing content on other social platforms) can serve as a way to let your followers know you like their content, it's important you're able to showcase your personality and knowledge in these discussions as well. Choose a topic you know your audience will be interested in and approach the conversation in a way that will best engage your audience.
Chats on Twitter can sometimes move very quickly, so don't feel you need to dominate the conversation as that can also make you seem overbearing. Keep it light and relevant, be humorous and friendly, and show your personality while you are engaging with others.
RULE #4: Tell a Story
Said author Philip Pullman, "After nourishment, shelter and companionship, stories are the thing we need most in this world." This especially rings true with social media, because we certainly don't want to see a post that says, "I ate a banana today." We want to hear a story about an experience that was meaningful in some way.
Here's a great example of someone eating a banana that is actually an amazing story:
Recently, soccer player Dani Alves was preparing to make a corner kick when a racist fan hurled a banana at him landing on the field at his feet. Instead of tossing it aside, Alves, who had been racially taunted in the past, picked it up, peeled it, and ate it.  He not only defused the situation, but some people believe he put racism in its place with that simple action.
RULE #5: Be YOU
People want to engage with interesting stories and brands, and they want to find topics and companies that they can relate or aspire to.  It's important that your social media content and conversations are true to your personality, your brand, your customers and your business.  If you are a management consultant firm, you probably won't be sharing cartoons.  But if you're a gaming app, humor and cartoons might be perfect.
Also, being you means creating and delivering unique content, not just copying what others say or do.  If you want to connect to a topic trending on social media, then take a unique position or show how you or your company is relevant to that trend.  With so much content out there, readers don't reward posts that feel like bandwagon jumping.
RULE #6: Test, Measure and Repeat
There is a lot of debate and chatter right now about "when" is the best time to post on social media.  The reality is there is no right answer.  Times vary based on the social network, your target audience, the topic being communicated, your product or service and what else is going on that day or that week.
The best thing to do is experiment, measure and then learn from those metrics.  Track what time of day or night you get the best engagement.  If your post gets buried beneath twenty other more engaging subjects, odds are yours will not be noticed.
Invest the time to learn when, where and what content works best for you and your audience.

It's Your Turn to Connect!
Social media is not a one-way street.  Just as with face-to-face interactions, most people are using social networks, because they want to engage.   And it's not just about engaging with other people, but engaging with companies, products, brands, trends, games and more.  Use these rules as a starting point to increase your social media engagement.