Calling all the amazing agencies out there running socials for our favorite brands. We've compiled a list of the best social media analytics tools so you can consider your options no matter the size of your agency or budget.
Behind every impressive social media marketing strategy is a consideration for what the data tells us works. This is how agencies give their brands the upper hand—by crafting a unique social media presence that lives in the sweet spot between tailoring content to followers and utilizing the top posting strategies.
So, here's to finding the best social media analytics tool to help your brands grow alongside your agency. Let's get into it.
The Importance of Social Media Analytics for Agencies
At its core, social analytics is the roadmap that teaches brands how to best connect with their target audience on social media platforms. With the right tool, you can determine:
What content followers engage with the most
Popular industry topics and themes
The best day(s) and time(s) to post and interact in your comment sections
How many sales are generated by paid posts
The social media strategies most effective at reaching new pockets of clients
This list is far from complete but shows how valuable an analytics tool can be for agencies to help clients create an effective social media strategy and grow on social networks.
How to choose a social media analytics tool
Here are a few things to think about when choosing a social media analytics tool for your agency:
Your current situation: Evaluating what's working and what's not will take you one step closer to finding the analytics tool you need. What areas do you struggle with? What does your client feedback tell you?
Features: Every analytics tool will look a little bit different. Consider the features that are most important to you. Is it the number of metrics available? Being able to compare your social media performance against your competitors? Do you care about scheduling or management tools? Get clear on the things that matter most.
Cost: The good news is that social media analytic tools come in all shapes, sizes, and prices. While some divide their plans by the types of features included, others offer all features at all levels and price you by the number of brands or account users. Consider how this fits into your budget.
Now that you have a better understanding of what you're after, let's get into the top social media analytics for agencies so you can get analyzing.
Top Social Media Analytics Tools for Agencies
Free social media analytic tools
Analisa.io
analisa.io's sweet spot is Instagram and TikTok analytics, so if that's where you want to help your clients shine, this is a great free option. You'll get access to some key metrics that can help you assess a brand's overall performance and identify areas for improvement, while their hashtag tracker can help you find where your clients' target audiences are hanging out online.
Key features:
Profile analysis: Get insights on engagement rates, commonly used hashtags and topics, top posts, and posting activity.
Hashtag reporting: Search hashtags to understand their reach and engagement and identify related trending topics.
Analytics reports: Easily export an overview of profile metrics and post activity to share with clients.
Price: Free with paid plans starting at $69/monthly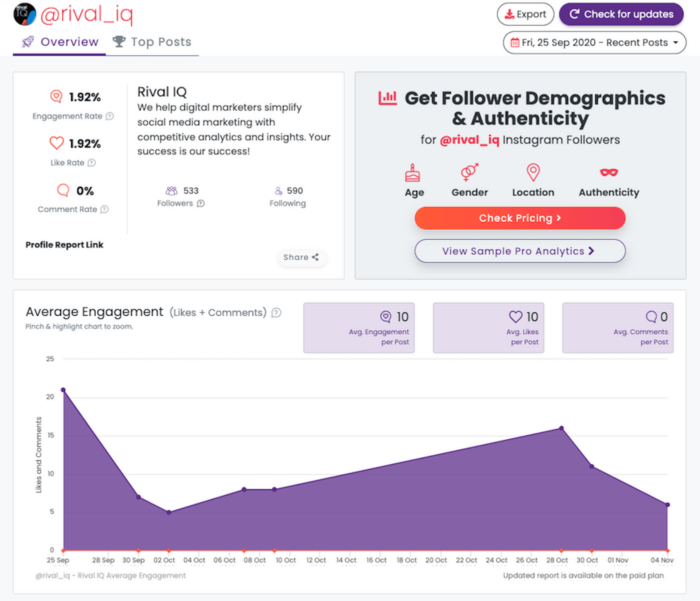 Buffer
Buffer is packed full of intuitive tools for agencies of all sizes. You can streamline your team's creative process from the brainstorming phase to publishing, making it an ideal all-in-one type of analytics tool to manage any number of brands.
The paid plans are where you'll get access to the engagement, analytics, and collaboration features, but their free plan comes with a few useful tools for up to three social channels.
Key features: 
Planning tool: Set up a content calendar so you can easily see what posts you have coming up for which clients and set up automated posting across different social platforms to save time.
Landing page tool: Build a landing page within Buffer for your clients to use across their social media accounts to promote their services and share important links in one place.
AI Assistant: Their AI tool can help you brainstorm content ideas, translate, or re-work past posts.
Price: Free with paid plans starting at $6/monthly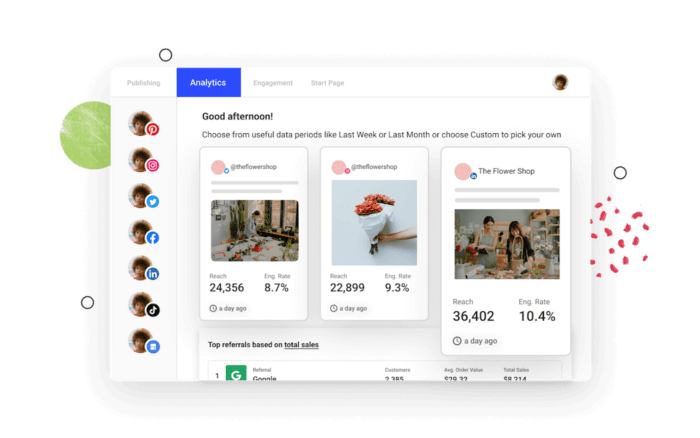 Google Analytics
Did you know that Google Analytics can be used for social media marketing? While it's not the most comprehensive tool for social media analytics, it could be worth adding to your marketing repertoire for even more insights into how you can help your clients' brands grow, especially if your agency is already taking advantage of Google products.
Key features:
Traffic insights: See total traffic to your client's websites and social media accounts, identify where those leads came from, and which social platforms bring in the most traffic.
Analyze campaign ROIs: Help your clients find the most effective content by tracking how many sales their social media campaigns bring in.
Price: Free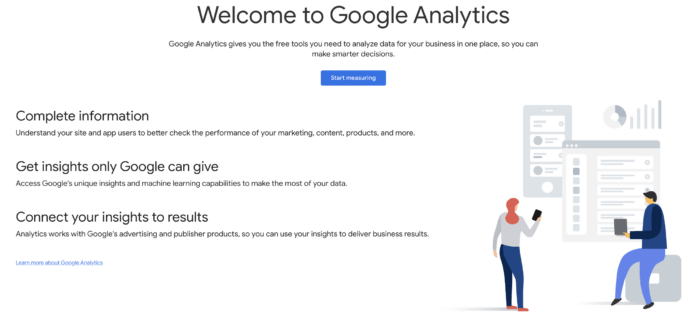 For Mid-Market Agencies
Hootsuite
Hootsuite began offering a modest entry-level paid plan after doing away with their free option earlier this year. It does a good job covering the meat and potatoes of analytics, providing insights on essential social media metrics and super helpful management tools for agencies. The next tier up, you can add more users and social accounts as your agency grows.
Key features:
Ad manager: Integrate marketing tools like Mailchimp or Salesforce to analyze Facebook, Instagram, and LinkedIn ad performance.
Analytics reporting: Generate reports on social media ROI, find the best times to post for your audience, and compare your performance against your competition's.
Collective message inbox: Answer direct messages and mentions across all social media channels from your dashboard inbox.
Price: Starting at $99/month with a 30-day free trial

Iconosquare
iconosquare could be an especially suitable option for small to mid-size agencies, given its price point and range of features. The customizable dashboard comes with all the analytics, reporting, and listening tools you could need to shape a unique social presence for your clients, and you only pay based on the number of brands you'll be tracking.
Recently, iconosquare has added LinkedIn and TikTok dashboards, integrated social listening for Facebook and Instagram, and included analytics for Instagram Reels so you can provide your clients with even more juicy insights.
Key features:
Track 100+ metrics: Gage your clients' social performance by tracking their post engagements, follower demographics, reach, best posting times, and more to improve their social media marketing strategy.
Content planner: Schedule your clients' upcoming posts on your content calendar and save time by automating crossposting across social media platforms.
Collaboration tool: Easily share content for input and approval from team members and clients.
Price: Starting at $59/month with 14-day free trial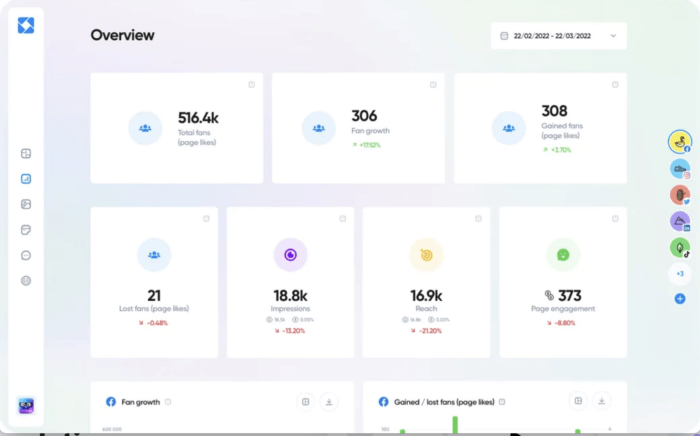 Keyhole
Keyhole advertises itself as "so easy to use, you don't need to be a data geek," which is good news for those who like to keep things simple. Their starting plan covers Twitter, Facebook, Instagram, and even more social channels as you move up payment tiers.
In addition to all of Keyhole's amazing analytic features that can inform how you help your brands create campaigns and shape brand awareness, agencies will appreciate having one place to manage publishing, team and client collaboration, shareable reports, and more.
Key features:
Profile analysis: Get insights on engagement and profile performance to improve your clients' social strategies.
Searchable trends tool: Use Keyhole's Machine Learning tool to identify emerging trends about any topic or industry.
Hashtag and keyword monitoring: Use these essential metrics to guide your social strategy and download reports to share with clients.
Price: Starting at $79/month with free trial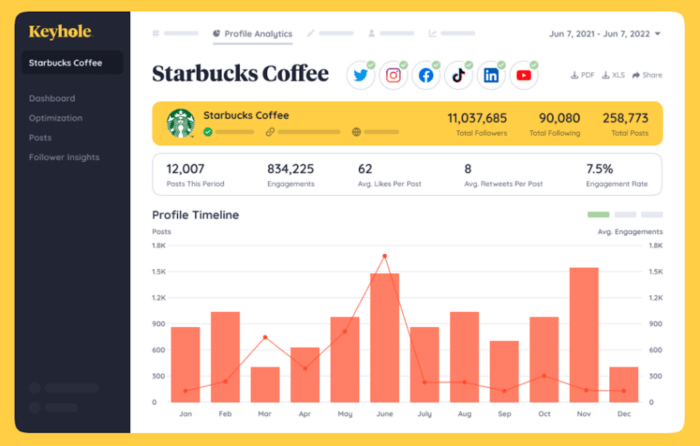 For Enterprise Agencies
Rival IQ
If you're looking for a comprehensive tool that can satisfy all your agency's social analysis needs in one place, Rival IQ could be a good fit— call us biased.
Our app provides detailed real-time insights on the metrics that help you better understand your followers, scale engagement rates, and give your clients a leg up on their competitors. When it comes time to show off those results, you can download customizable reports to share with your team and clients.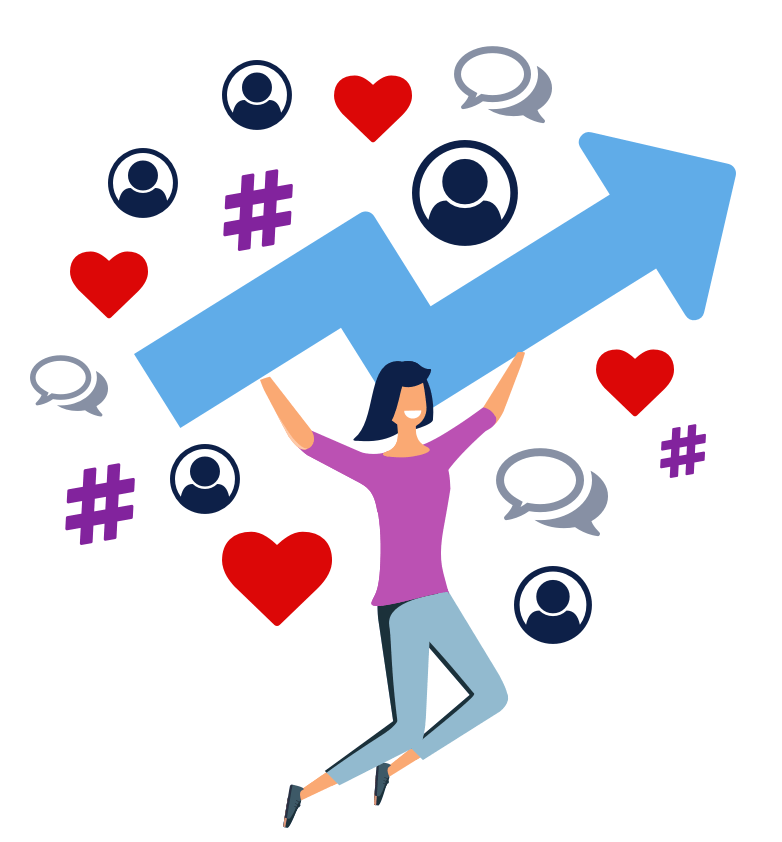 For a glimpse into the actionable insights you'd get with Rival IQ, run a free head-to-head competitor report to see how you measure up or check out our industry benchmark reports.
Key features:
Comprehensive analytics reporting: On your custom dashboard, see what types of content brought in the most engagement, the best times and days to post, track trending topics and hashtags, see historical data, and more.
Competitive benchmarking: Measure your performance against your competition to see where you stand.
Social listening: Follow conversations about your brand– the good and the bad— to stay in touch with your brand's general sentiment online.
Social media audits: With custom analysis, you can identify the areas to improve and garner more engagement.
Price: Starting at $239/month with 14-day free trial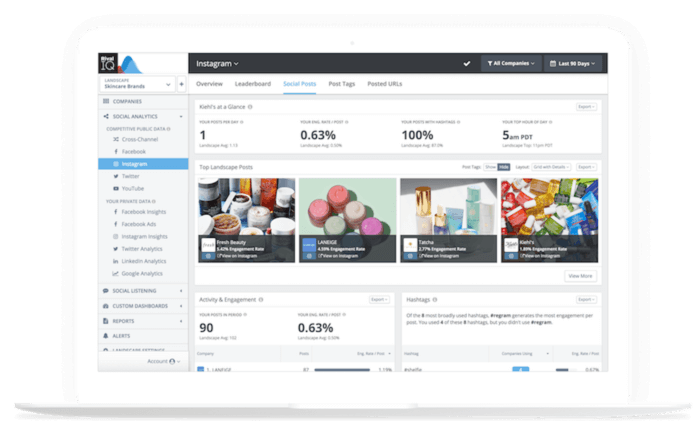 Zoho Social
Zoho Social is the social media arm of Zoho Corporation, a computer software and web tools company. They offer a slew of analytic-based services as well as management, AI, and integration tools that would be useful for agencies looking to centralize their organization.
Key features:
Monitoring software: Track desired keywords, hashtags, reviews, and how people engage with your brand online.
Profile analytics dashboard: Measure audience demographics and reach, identify top-performing posts, track social traffic, and more.
Content planner: Create a pipeline from the scheduling tool to automated publishing.
Price: Starting at $230/month for agencies with a 15-day free trial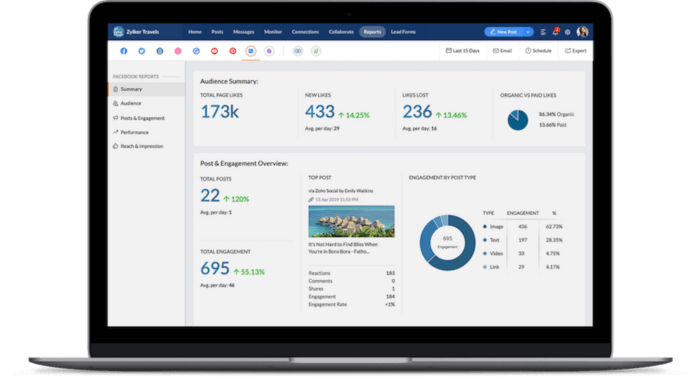 Sprout Social
On the lookout for a two-in-one management and social media analytics tool?  Sprout Social could be for you. It's got all the analytic tools to see what type of content has historically performed best for your brands and user-friendly reports so you can show off results to clients.
If you care about integrating other tools like Canva, Slack, or Google Drive, you can do that with Sprout as well.
Key features:
Customizable metric analysis: Choose the data and parameters to analyze so you only look at the information you want.
Scheduling and publishing tool: Plan your content in advance and set up automated posting.
Engagement tools: Reply to comments and messages within the Sprout dashboard.
Price: Starting at $249/month with 30-day free trial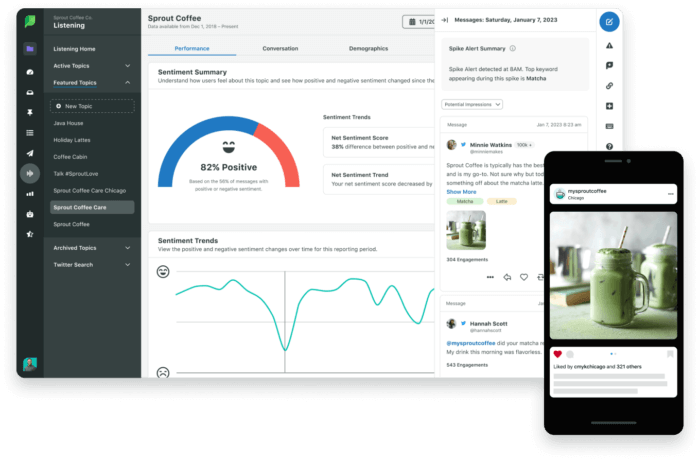 quintly
Unlike most companies on this list, quintly calculates their pricing based on the number of profiles you want to analyze and the number of users on your account. So, no matter your choices there, you'll have access to all of quintly's analytics and reporting tools, making it a valid option for established agencies looking to scale their analytics plan alongside their growing business.
Key features:
Reporting on 700+ metrics: Select the data points you want to appear on your customizable dashboard to support your content strategy goals.
Benchmarking: Comparative analysis to see how your brands measure against your competitors.
API and integrations: Connect outside software for even more in-depth analytics within quintly.
Price: Starting at $315/month with a free demo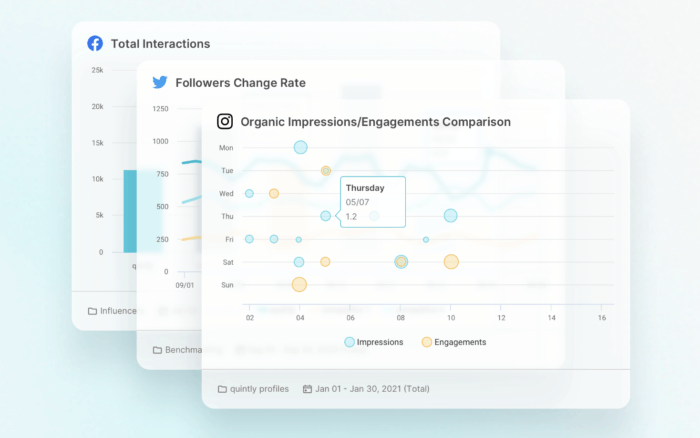 Wrapping it up
Social media analytics is about so much more than just numbers. It's about how that data can help brands shape their stories and foster a one-of-a-kind relationship with followers. For agencies who want to help brands show up online in a way that is both effective and true to their voice, social media analytics is a vehicle that can get you there.
We hope you come away from this list ready to get analyzing. Don't forget to dig into some competitive analysis to see how your brand fares against your biggest rivals, or check out industry averages on our benchmark reports.