In a reality where a simple tweet and post can make or break a brand, "listening" has taken on a whole new level of importance.
Imagine being able to tune into conversations happening all over social media about your brand, products, and industry. That's social listening in a nutshell. It's the art of tracking and analyzing online chatter to gain valuable information, identify trends, and build stronger connections with your audience.
At Rival IQ, we're all about empowering brands with data-driven insights. With our latest social listening features, we've made it easier than ever to dive deep into the conversations happening around your brand and industry.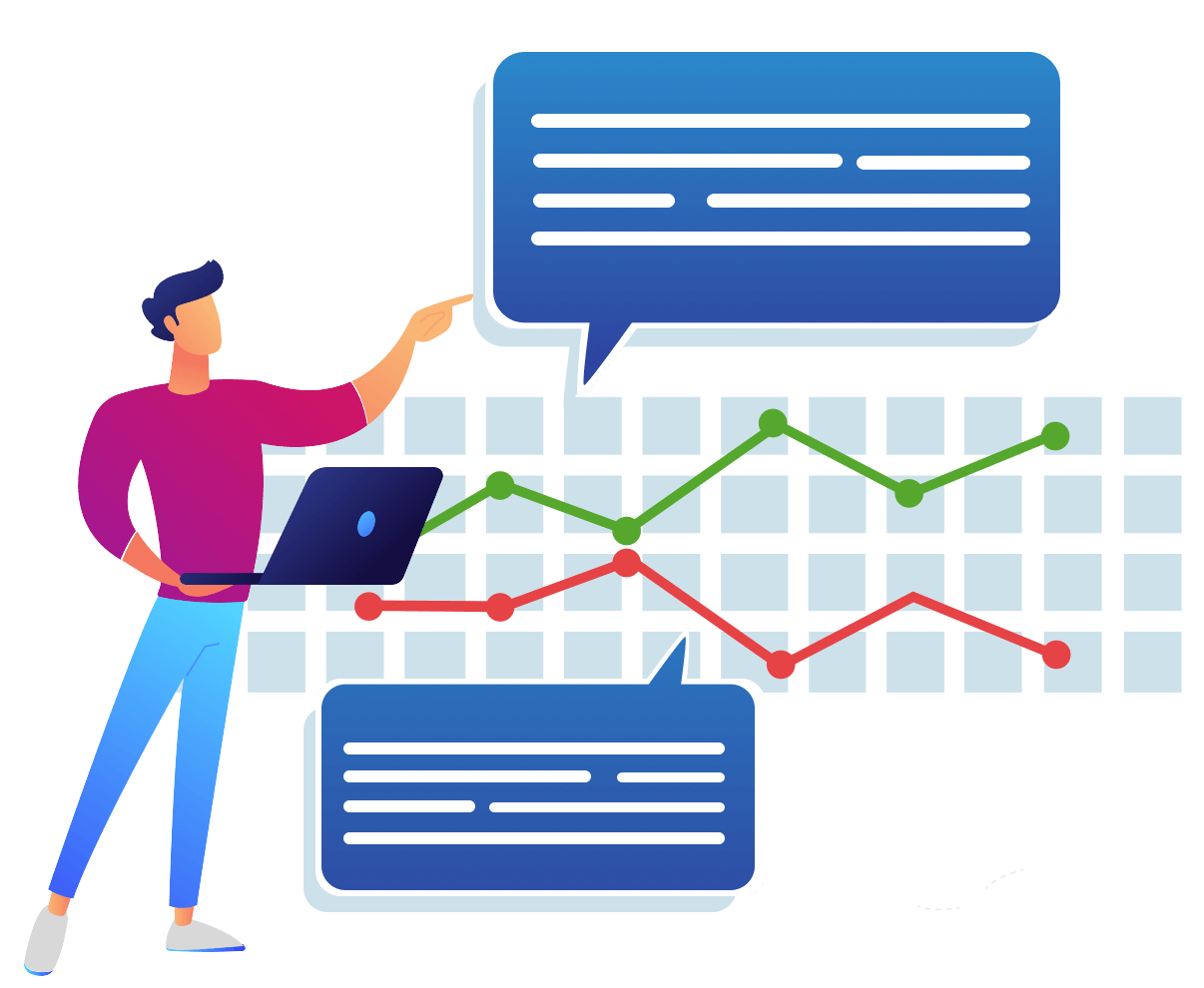 To showcase how impactful social listening is, we're taking a look at 4 brands doing it right. First up is the fast food giant itself — McDonald's.
McDonald's: Tracking Campaign Growth & Evolution
McDonald's excels at using social media listening to keep a pulse on its marketing campaigns, and one prime example of this is its recent "Grimace's Birthday" campaign.
Launched in June, Grimace's Birthday was a celebration of the iconic purple mascot's birthday. To commemorate the occasion, McDonald's introduced the limited-time Grimace meal and shake, along with a range of unique experiences for its customers. The campaign aimed to boost engagement, create excitement, and ultimately increase sales.
Little did McDonald's know that the campaign would take on a life of its own on social media channels. A trend soon emerged on TikTok — the "Grimace shake trend." People created videos of themselves drinking the purple shake and then cut to horror-inspired reactions, resulting in shareable content that was "obsessed" over by the masses.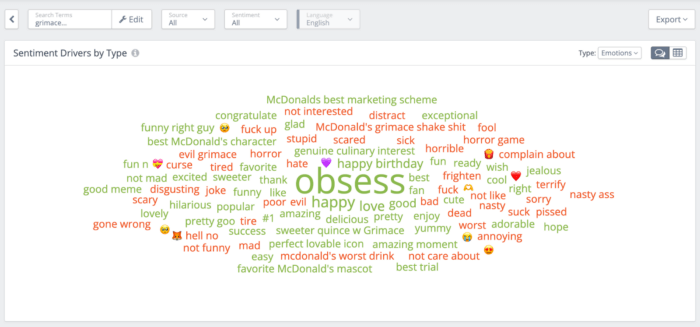 Thanks to its keen focus on social listening, McDonald's quickly caught wind of the Grimace shake trend. Proactively monitoring social media platforms, the brand detected the trend's meteoric rise and realized the unique opportunity it presented. Instead of being passive observers, McDonald's embraced the conversation wholeheartedly.
The brand's witty response came in the form of a meme featuring Grimace with the text "meee pretending i don't see the grimace shake trendd." This clever engagement not only delighted the online community but also highlighted McDonald's ability to stay in tune with the latest trends and social media conversations.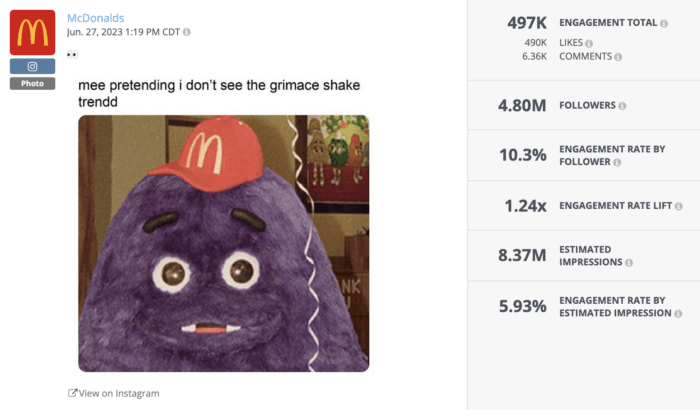 By acknowledging the trend, McDonald's garnered even more attention for its campaign. User-generated content flooded social platforms, essentially becoming free marketing for the brand. The campaign transcended the boundaries of a traditional marketing effort and became an authentic cultural moment, generating immense organic reach and engagement.
Of course, the success of the Grimace's Birthday campaign wasn't just confined to internet buzz. It had a tangible impact on McDonald's bottom line with the fast food giant proudly linking its strong Q2 earnings to the phenomenon. By having an effective social listening strategy, the brand was able to go beyond its owned channels and observe the success of its campaign according to real consumer conversations.
In conclusion, this campaign shows how social listening can be used to amplify and accurately track a brand's marketing efforts. By paying attention to the online chatter, McDonald's not only strengthened its relationship with its audience but also celebrated a successful campaign that left a lasting impression on the internet and, ultimately, its financial success.
Barbie: Fueling Fan Conversations & Engaging Mega-Influencers
Another brand that expertly harnessed the potential of social listening is Barbie The Movie, using it to add excitement to fan conversations and amplify the promotion of its highly anticipated movie.
One such instance was when the keen-eyed social media team at Barbie noticed some online chatter gaining momentum. Fans were drawing comparisons between Ken's wardrobe in the movie and an outfit sported by BTS member Jimin in a 2021 music video. As talks of the connection spread, the Barbie team seized the opportunity to turn it into a memorable moment.
With the help of Ryan Gosling, who played Ken, a lighthearted video message was filmed in which Ryan acknowledged the fan observations, extended his warm regards to Jimin, and gifted him Ken's guitar from the movie.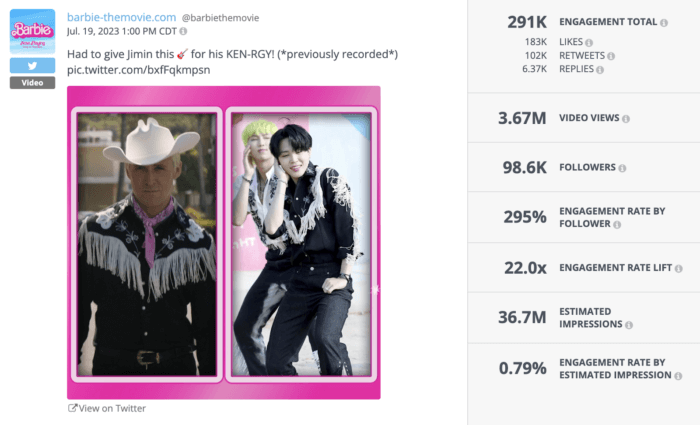 The result? The message became Barbie The Movie's most engaged tweet ever, garnering an engagement rate of 295% for a lift of 744x compared to the average of all of its tweets since the account was established.
Even more, the video message became its most viewed TikTok and secured a place among the movie's top five most engaging Facebook posts.
But it didn't end there. Jimin then responded to Ryan's gesture with a video message on Instagram. The Reel garnered an estimated 149 million impressions, extending Barbie The Movie's reach even further. This powerful ripple effect showcased the power of social listening combined with influencer collaborations.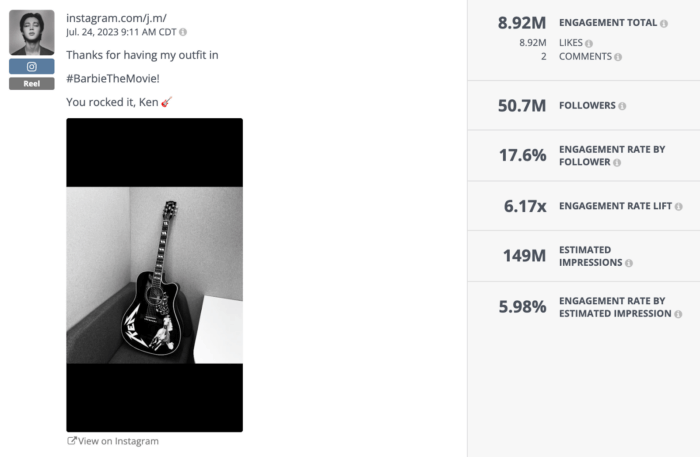 Beyond the engagement and views that the above posts received, the film's efforts also led to spikes in the total volume of conversations about Barbie the Movie — spikes that can be observed through, you guessed it, social listening.
Check out how the number of posts about the film increased on July 19th, when Ryan Gosling's message was published, and on July 24th, the day Jimin posted his reply. The spikes fittingly sandwiched the jump in online conversations on the date of the movie's premiere, July 21st.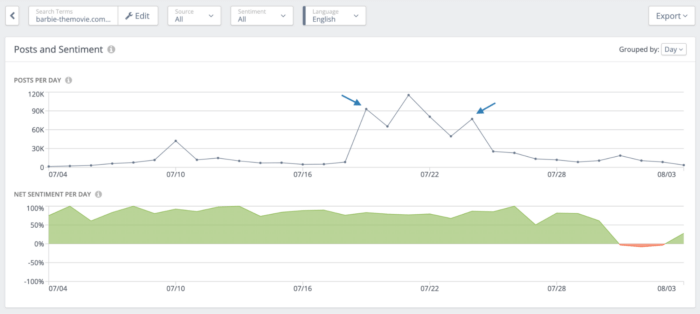 Barbie The Movie's case is a prime example of how social listening can amplify a brand's promotional efforts. By closely monitoring fan conversations, it identified an opportunity to engage with a mega-influencer and create an authentic moment that resonated with its audience. It serves as an inspiration for brands, big and small, to actively listen, adapt, and make the most out of the opportunities presented by paying attention to online conversations.
Duolingo: Staying Relevant By Chiming In
While many companies focus solely on monitoring brand mentions, the best of the best take it to the next level by leveraging social listening to engage with broader conversations related to their niche, even when their own name isn't directly mentioned.
For instance, when there was buzz on Twitter about Cillian Murphy learning Dutch for his role in Oppenheimer, the language education app Duolingo didn't miss a beat. The app seized the opportunity to engage with the culturally-relevant moment, praising the actor and then playfully bringing attention to its own role in language learning by tweeting "when a sexy actor does it, he gets an Oscar. when i do it i'm annoying. double standards smh."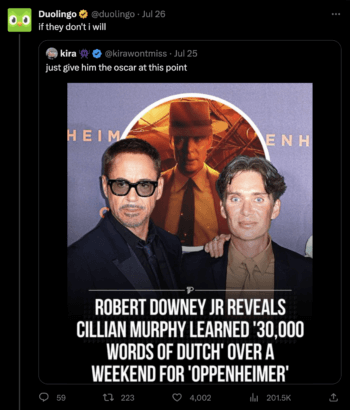 In another instance, Duolingo showcased its social listening skills by cleverly reacting to Twitter's brand change to "X" with a humorous twist. As Twitter unveiled its new identity, Duolingo, known for its iconic owl mascot, cheekily proclaimed that its owl had now become the "alpha bird."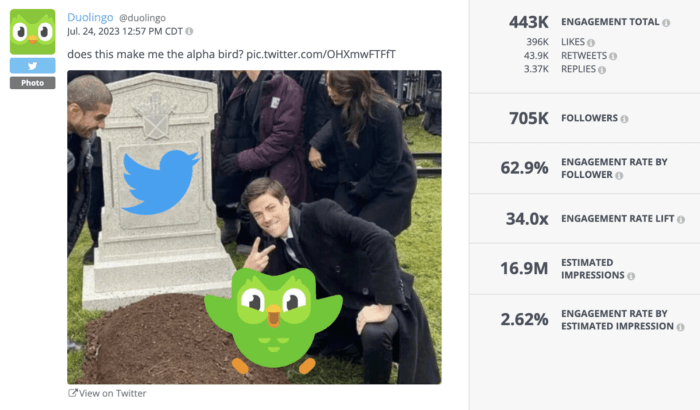 In both examples, Duolingo demonstrates its mastery in social listening by being proactive, clever, and relevant in conversations that may not directly involve its brand. Instead of solely focusing on promoting its language-learning app, the brand takes a more human approach, engaging with users on a broader level and being part of conversations that resonate with its target audience.
Spotify: Turning Customer Demands Into Reality
When Spotify users in the UK and Ireland took to social media channels expressing their desire for an AI DJ feature, the folks at Spotify didn't just ignore it as another random comment. Instead, they sprang into action, leveraging social listening to identify the recurring demand for the feature.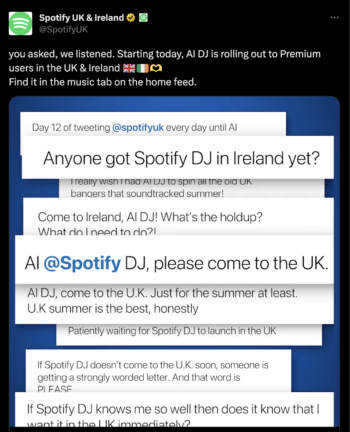 Fast forward to the grand reveal — the launch of Spotify's AI DJ feature for their UK and Ireland listeners. But hold on, they didn't just silently push out the update and call it a day. The streaming giant actually spotlighted the original posts that sparked the launch, showcasing the power of listening to their users and the impact their voices can have.
This example shows how businesses can leverage their social listening data to understand their audience better and improve their products accordingly. In conclusion, brands that genuinely pay attention to their customers' feedback and respond proactively can not only identify and meet demands but also build a strong emotional connection with their audience.
The Wrap Up
Social listening has emerged as a game-changer for brands striving to stay ahead. The examples we've explored demonstrate how actively listening to your audience can lead to incredible outcomes, from boosting your brand's relevance in cultural conversations to sparking product updates suggested by your customers themselves.
So, let's level up your social listening game and make your brand a force to be reckoned with. With Rival IQ's social listening tools, you can supercharge your brand's success. Stay ahead of the game by monitoring competitors, analyzing sentiment, and engaging with your audience like never before.