Are you listening? More specifically, are you social listening? Social listening is the process of tracking the online discourse and sentiment around your brand and beyond and using it to influence your marketing decisions. But how exactly does it make your marketing better?
Tools like Rival IQ's new social listening features allow you to analyze data sources from tons of online locations, from Reddit to Twitter to Quora. And with additional features like Instagram Discover, Twitter Discover, and Twitter Mentions, you can go even deeper to learn about the people talking about you.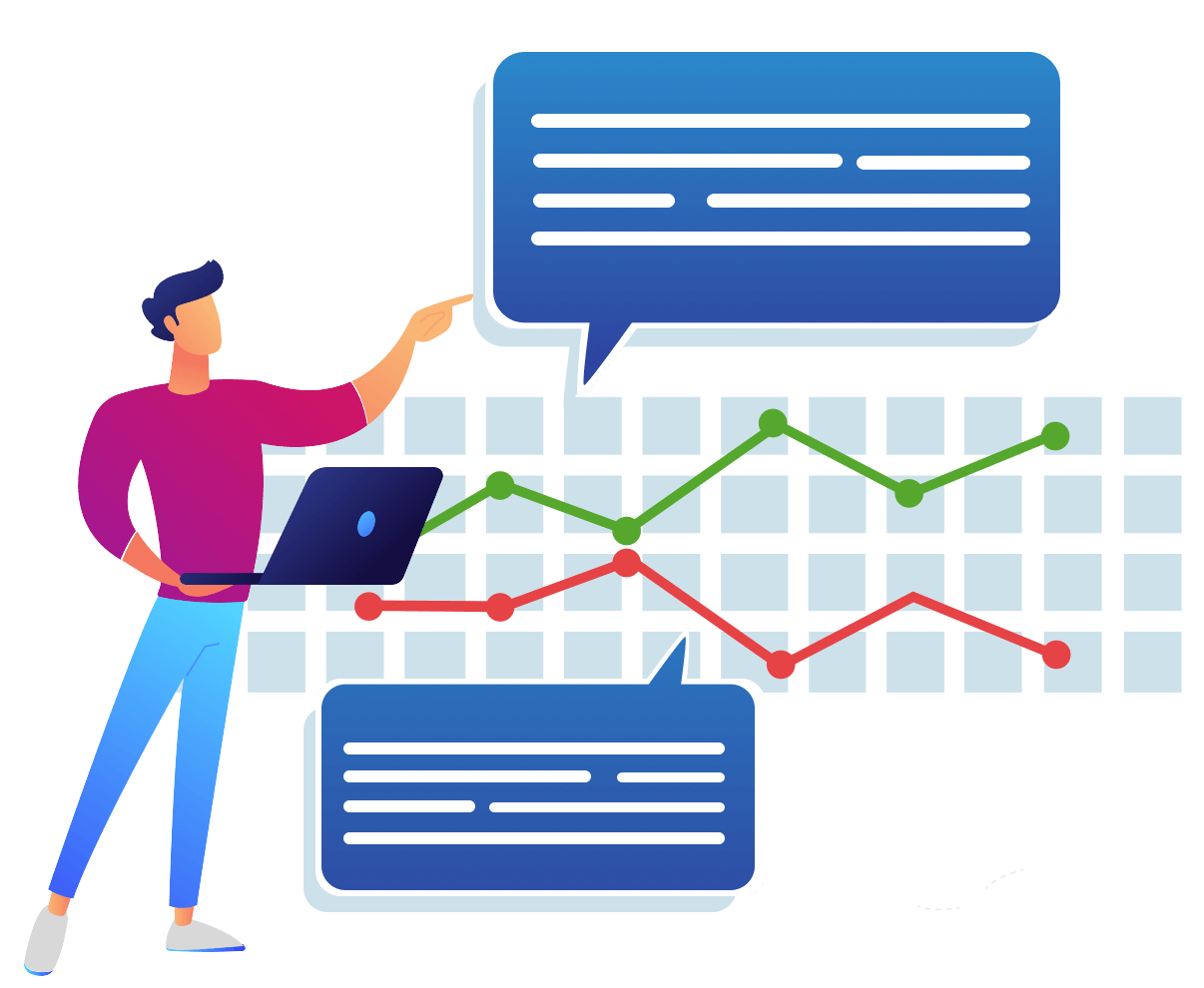 Understanding your audience can help make you a better marketer and make your brand even more popular. Perhaps even more importantly, it can help make your brand more popular in a positive way as you track online sentiment. Let's dive into how you can use social listening to boost your brand.
6 Ways to Use Social Listening for Better Marketing
1. Pay attention to your competitors
With social listening, you don't want to just listen for your name: you also want to pay attention to certain keywords. And you should listen for your competitors' names and their specific taglines or key phrases as well. When you pay attention to your competitors through social listening, you can see how much of the online conversation is dominated by you or them. You can also get insights into their current marketing strategies.
Using social listening to track your competitors also allows you to see specific opportunities to engage in the greater conversion online and even use your competitors' marketing to your advantage. When McDonald's announced that their burgers would be changed, Wendy's opted to make fun of their announcement by retweeting an article about the alterations alongside their famous catchphrase, "Where's the beef?"
According to our social media analytics features, which can help you track your competitors' marketing strategy even further, this tweet earned a .11% engagement rate, outperforming 65% of Wendy's tweets in the past year.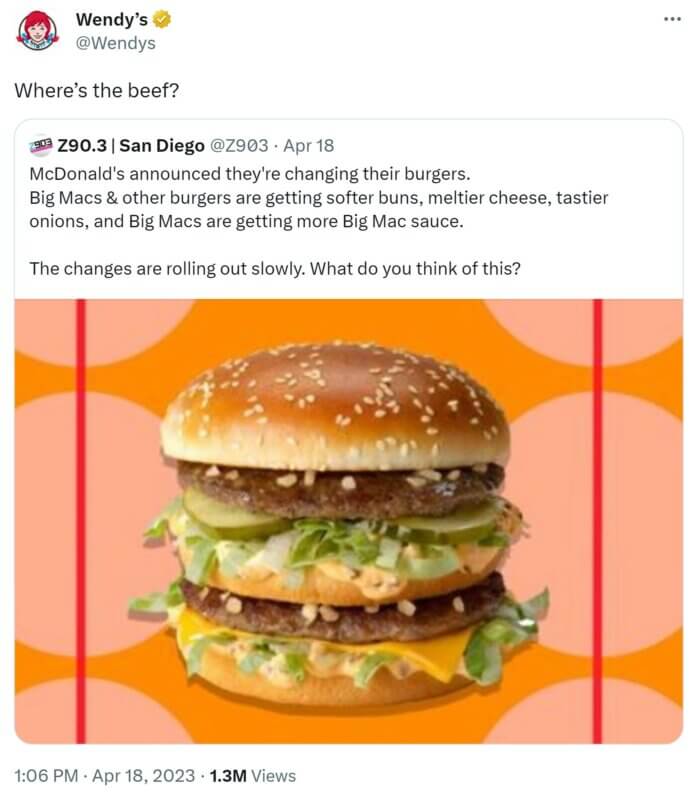 2. Build better buyer personas
When you use social listening, you can learn who is talking about your brand. From online conversations, you can gather what they think about your company and what they love about it. Paying attention to what your real customers like can help you retarget them, as you'll be able to use their comments to guide your marketing strategy.
Let's use Rival IQ's new Instant Search feature to look for what people are saying about Starbucks. We can even use the advanced edit features to specifically look up what people are talking about around certain menu items or collaborations. If we were to look up how people are talking about Starbucks's new collaboration with K-pop group BLACKPINK, we'd find that the reception has been overwhelmingly positive. The Sentiment Drivers by Type word cloud tells us which words are commonly showing up online about the collaboration, as well as if the phrases are related to more positive or negative comments.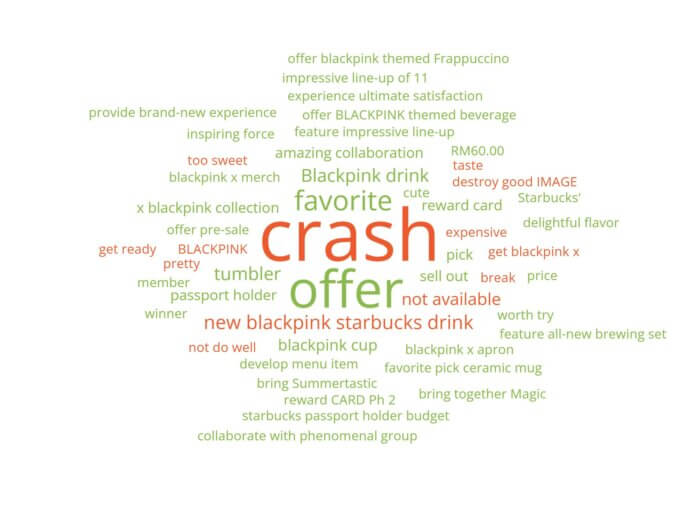 Through features like this word cloud, we can enhance our buyer personas to target new customers or retarget existing ones. According to the word cloud, buyers are happy with the new BLACKPINK merchandise and the new BLACKPINK-inspired frappuccino. But words like "crash" and "not available" may indicate customers' frustration with the fact that the merchandise sold out quickly and the drink is not available everywhere. Starbucks may want to consider expanding the collaboration to satisfy their audience, as there are more buyers interested in it than they may have anticipated.
3. Find influencers who already love you
In addition to using social listening to find out who your buyers are, you can also use it to find out who your best influencers would be. A study by Matter Communications shows that consumers want authenticity from their influencers. Rather than someone who is joining many companies as an influencer, they want someone who genuinely uses and loves the products they're talking about. If you find someone who authentically loves your brand, you should make them an ambassador of your company.
Rival IQ's social listening features can help you build a better influencer network. Using the new Instant Search feature, you can look up your brand name or specific keywords and see who is talking about you on blogs, Reddit, Twitter, YouTube, and more online sources. You can also use the Instagram or Twitter Discover feature to find people talking about or tagging your brand on those two social networks.
Say you're the social media manager at Dunkin' and want to find a new Twitter influencer to work with. If we were to use the Twitter Discover feature, we could look up top posts tagging @dunkindonuts or with the hashtag #dunkindonuts.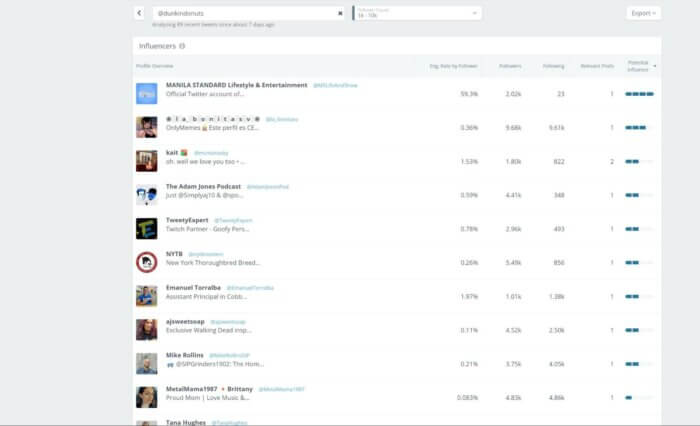 The Twitter Discover feature allows you to tailor your search to find the exact influencer you need. You can look for Twitter influencers with specific followings so you can find the perfect nano-, micro-, macro-, or mega-influencer for your campaign. The tool can also help you see how often they post about you, what they're saying, and how much of an influence they're expected to have on Twitter.
4. Get ahead of your social media sentiment
How are people feeling about your brand? How about any particular new product launches? What about your greater marketing strategy? All of these feelings fall under the category of social media sentiment. Using social media listening to track online conversations, you can do a sentiment analysis to determine what people's opinions, emotions, and attitudes are around your brand.
Staying on top of social media sentiment helps you acknowledge growing concerns before they become a bigger problem. Maybe a new product isn't landing with your audience the way you thought it would. You may have to pivot to make changes to the product or begin marketing it differently. Or perhaps there's something that's beyond your control, but you're being asked to weigh into the conversation by your audience. By optimizing your social listening strategy, you give yourself more time to respond to such issues, allowing you to craft the perfect response instead of one that's rushed and flawed.
Perhaps you're a social media manager working with Pinkberry and wanted to know how the new "Barbie" promotion is going, as a collaboration between the two brands has resulted in a Barbie Land Berry Pink frozen yogurt. Using the Instant Search feature on Rival IQ, you can look up keywords like "Pinkberry" and "Barbie." A search of these terms yields a graph showing how much people are talking about it and if the results are positive or negative. While the number of posts remains relatively low, nearly all comments are positive.
If you scroll through some of the comments, you'll find that most people are excited about the collaboration or have already tried it and loved the flavor. Pinkberry may want to consider talking up the frozen yogurt more as this product seems to have very high positive social media sentiment.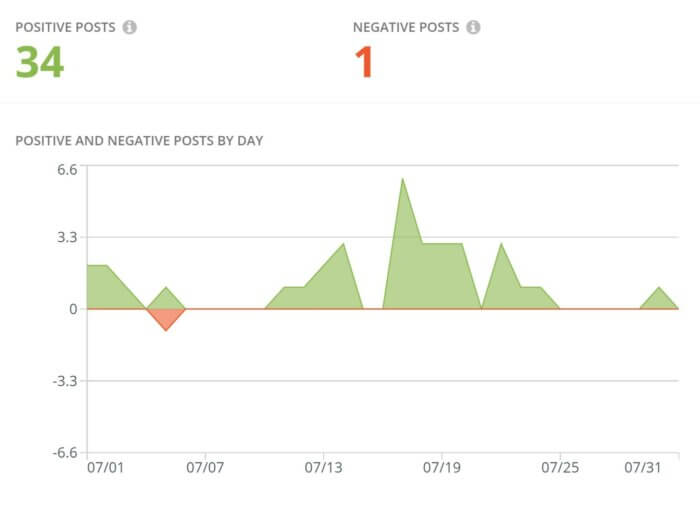 5. Engage with your audience
There's a major difference between social media monitoring and social listening, and that difference is your engagement. When you monitor your social media channels, you're paying attention to what's happening online and seeing what people are saying about your brand both on your own posts and in the greater online conversation.
But social listening is as much about listening as it is about responding. When you focus on social listening, you're using what you've monitored to influence your decisions, including how you engage with your audience. According to Sprout Social's research, 64% of consumers want brands to engage with them online. But engagement goes beyond replying when social media users comment on your posts, although that still remains a good way to show that you're listening to your fans. But other ideas may include commenting on competitors' posts in a bit of friendly rivalry or commenting or resharing your fans' posts.
Few brands engage with their audience as well as Wendy's, especially if you're looking on Twitter. One of the brand's top Tweets of this past year was Wendy's resharing @DlyStickFigures' drawing of their mascot. Wendy's added the caption, "say hi before you keep scrolling pls," keeping with the brand's voice. A scroll through the comments shows that Wendy's wrote back to over 150 fans, many of whom did as Wendy's asked and simply said hi. That commenting resulted in an engagement rate of 0.36%, 2.6x Wendy's average engagement rate on Twitter for the past year.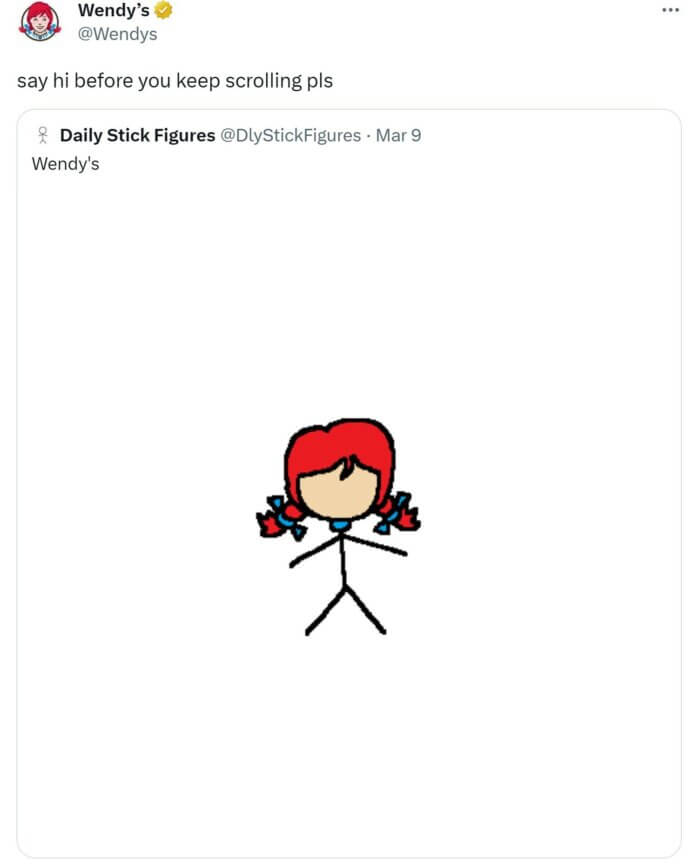 6. Set alerts
What's the hardest part about social listening? The biggest challenge is that the online world is a vast place. It's difficult to track your brand mentions, your competitors' mentions, and every conversation online that you might be able to leverage in your marketing. One of the best ways to ensure you don't miss anything important is by setting alerts. And you have several ways to do it.
One of the easiest ways to set social listening alerts is through Google Alerts. Simply go to google.com/alerts. From there, a white bar will appear, and you type in there what you'd like Google to track for you. Whenever something you're tracking shows up on Google, whether in a news article, blog post, or something else that would pop up in Google's search results, you'll get an email.
Unfortunately, most social media platforms are lacking in similar alert functions. If you were to want alerts for specific keywords, it's not currently possible on TikTok, Instagram, or Twitter. There were reports that Twitter was rolling out a feature that would include keyword alerts, but no such tool has been released yet.
That's where social listening tools like Rival IQ's new features come into play. Rival IQ has a slew of alert options, including a new feature that alerts you to any drastic changes in post volume, as well as a larger Alert Feed that'll show you what's happening with your competitors.
To view your Alert Feed and unlock the new social listening alert to see how your post volume is changing, go to the Alerts section in the left-hand navigation. From there, you'll see the Alert Feed for all the companies you're currently tracking. Then, click Configure Alerts, which you'll see in the upper right-hand corner of the page.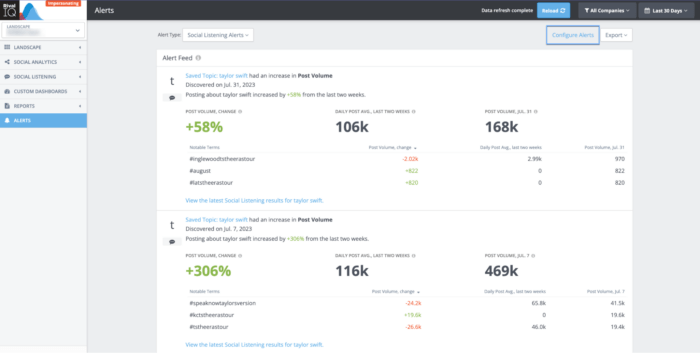 From there, you'll be taken to your email settings. You'll be able to change which alerts you're tracking, including the post volume alert, which you'll find under the Listening Alerts section. Click that box off, and you'll start receiving notifications about post volume changes.

Wrapping Up
Social listening is incredibly valuable and worth investing in. Brands like Wendy's teach us the value of finding ways to insert yourself into the conversation. Social listening lets you discover and influence how people think about your brand. You can engage with your audience in new ways, and engagement is exactly what your audience is after. You can even find ways to take your competitors' marketing efforts and turn them into a win for your brand instead.
Looking for more ways to up your social listening game? Check out our list of the best social listening tools on the market today.