We want every nonprofit, entrepreneur, and corporate social responsibility initiative to be a success!
One benefit of our always-on, always-connected society is the power to bring people together online. When newsworthy events occur, especially disasters and tragedies, word spreads fast, and countless people are more than willing to donate what they can.
Here are a few of our favorite fundraising platforms you can consider for your next fundraising initiative.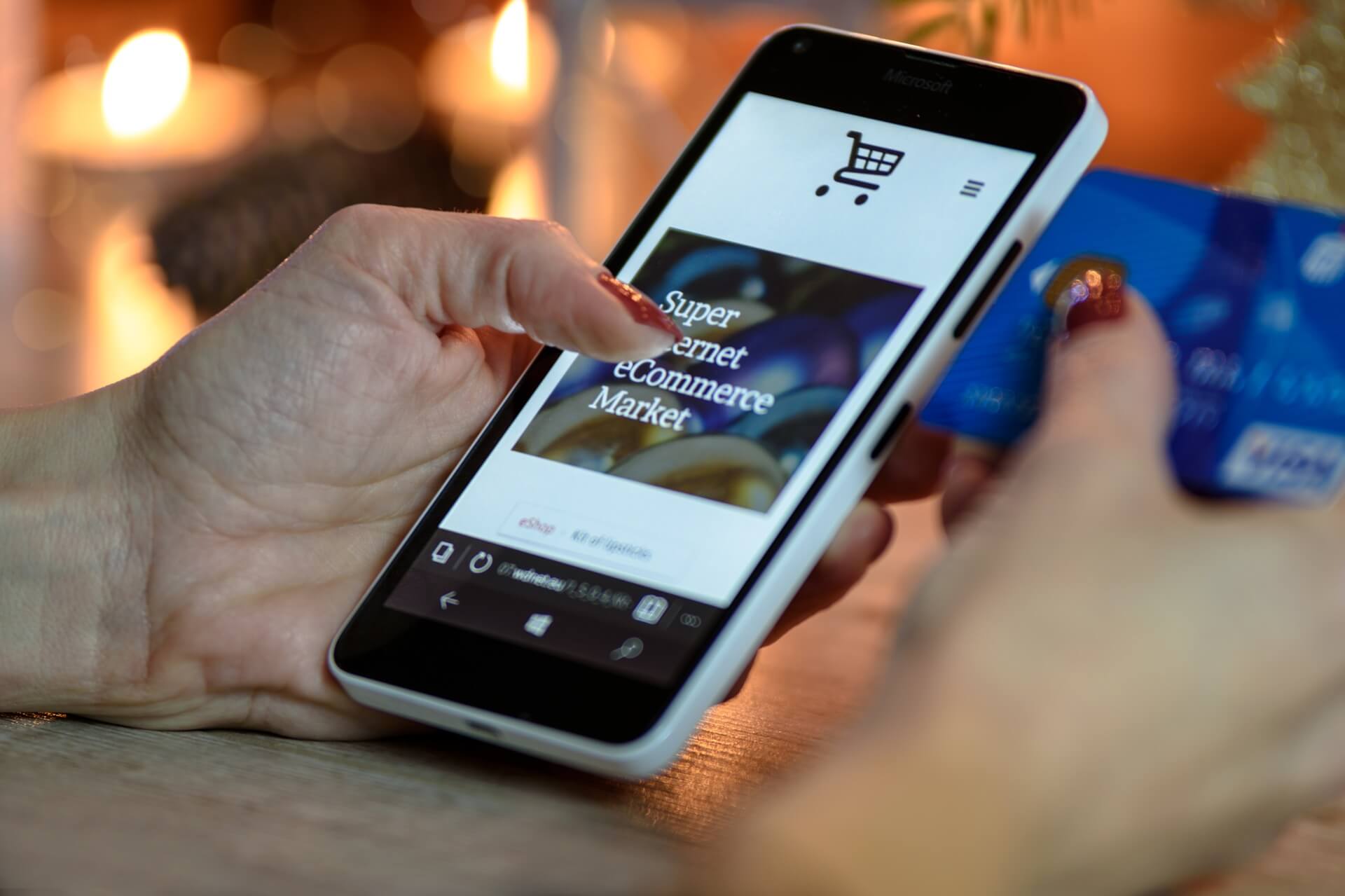 Why Social Fundraising Works
Social fundraising is tremendously effective for a few key reasons. As media attention swirls and friends inundate newsfeeds with topical updates, social media users often feel motivated (or pressured, even) to donate to causes they care about.
In fact, according to the State of Peer-to-Peer Fundraising 2017 study, 21% of peer-to-peer fundraising dollars raised are the result of a direct click-through on social media.

Since we can manage almost every aspect of our lives from the smartphone in hand, it makes perfect sense that organizations collect donations via online and social platforms. Platforms are organized, fast, convenient, secure and include sharing features to help any campaign go viral.
Crowdfunding Best Practices
30-day online campaigns work best
Like any project, you want to establish smart goals to keep yourself on track. This includes setting realistic fundraising goals and a realistic timeline. Although the average duration of a crowdfunding campaign is about 9 weeks, according to a study by Indiegogo, of all the campaigns they analyzed that met their goals, nearly a third of them (30.5%) ran a campaign between 30 and 39 days. You want to consider how long you and your team can realistically commit to engaging with your campaign and community. Communicating and engaging through social media channels make this more manageable, but on-point engagement is likely more work than it seems at first glance. Be prepared.
Schedule ample planning time
The best performing fundraising campaigns are those that have a team who put in the time to build a strategy. According to Fundly, it takes about 11 days to prepare a successful fundraising campaign. Shoot for setting aside two weeks prep time.
Social media is vital
Sharing is caring (and cash!)
As you know, social media is a fruitful place to get your fundraising campaign kicked off without a hitch. Your followers are your organic reach amplifier; communicate with them! Get this, 12% of Facebook shares convert into donations. Let that sink in. Whether you choose to use paid ads or use 100% organic social posts, give your audience a reason to share your post and your organic reach will soar!
Test out different media types
Get the word out early so you have momentum when the campaign kicks off. Make sure you have a customized landing page set up: you can use one of the crowdfunding platforms below, or a resource like OneCause which can help you easily set up campaign microsites with built-in payment processing. Be sure to leverage different types of media including video, images, and .gifs to optimize engagement on your campaign page and across your social channels. Campaigns with personal videos raise 105% more than those that don't. 
Leverage the power of social targeting
If you're looking to grow engagement, following or reach a new audience, try out social ads. Only 15.17% of crowdfunding donations are made on mobile… keep this in mind when you're setting up placement on those Facebook Ads (people are more likely to donate from their desktop).
Tracking the reach, engagement, audience, and performance of your social media posts (ie. best time and days to post, media type, channels, etc.) can be really time-consuming and difficult to analyze. Luckily, there are tools out there, like Rival IQ, you can use to easily track and test these metrics to build a better, more efficient social media strategy for fundraising. Use tools like hashtag analysis and Facebook ads in Rival IQ to focus in on your social fundraising strategy.
Don't be afraid to reach out to your base
As it turns out, people who donate to causes don't donate because you caught them at a moment when they're feeling especially altruistic. They actually care about the cause, which is the reason why they continue to follow and support you. Twenty-eight percent of nonprofit donors donate a second time. Initially, that may sound small, but think about your entire donor base… over a quarter of them will donate a second time. These are your evangelists and your influencers. Reach out to them to see if they would like to have an active part in helping you achieve your fundraising goals.
It's worth noting that some experts caution against solely relying on online mechanisms for fundraising. Studies show donations made online have shrunk from 48 percent of the overall average gift in 2014 to 32 percent of the overall average gift in 2016. That means that even though more people are giving online, the amount per donation is smaller than those given offline. In our opinion, the best approach is a comprehensive one.
Create a well-rounded campaign that includes modern and traditional tactics to recruit donors. Make sure to monitor data that measure your campaign performance, including retention rate and average gift sum, to make sure you're on the right track.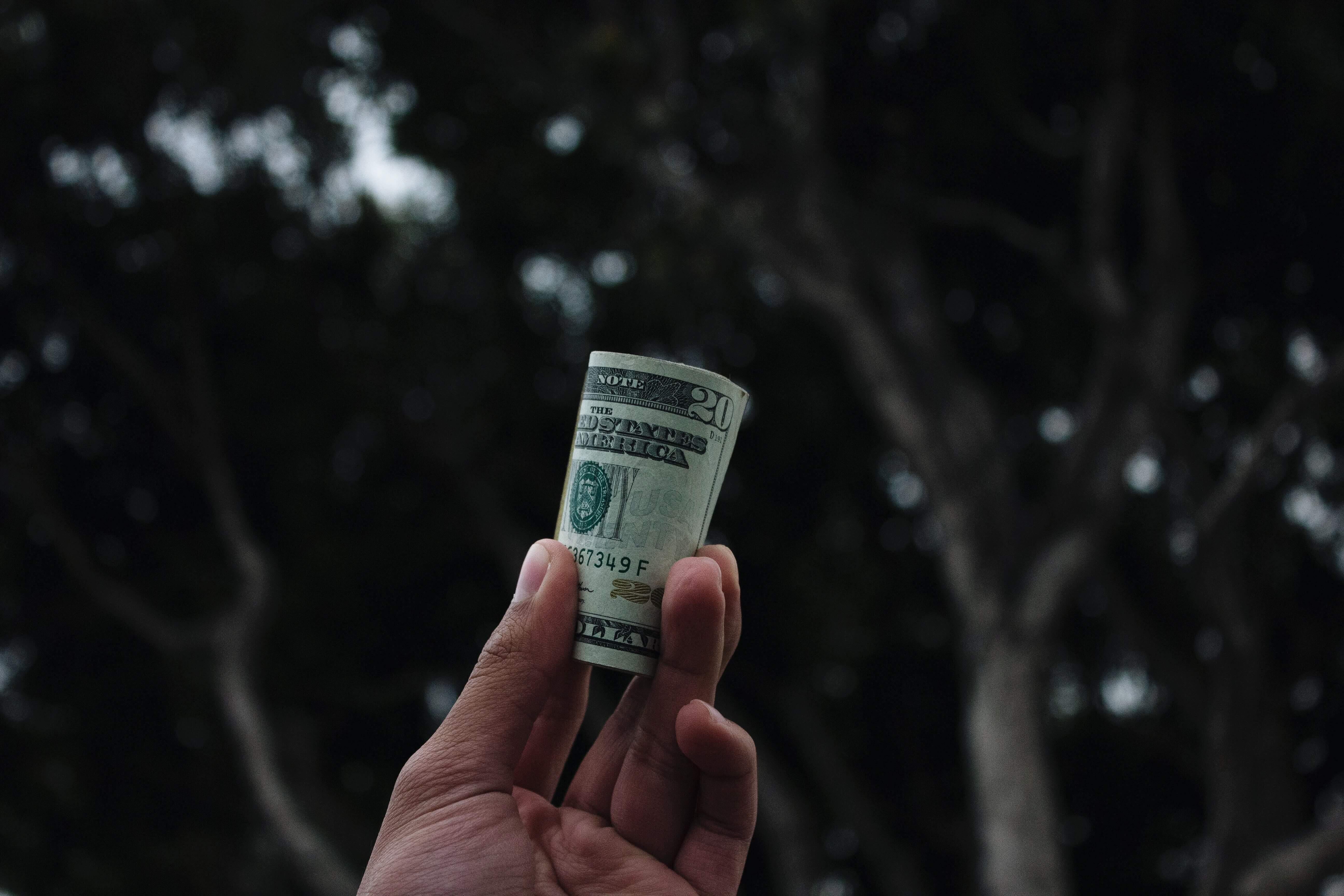 With over 191 U.S.-based crowdfunding platforms out there, we narrowed it down to three popular online fundraising channels: GoFundMe, CrowdRise, and YouCaring.
When making our selections, we paid close attention to the following criteria:
Cost of use
Platform support/customer service
Media/promotion
Page customization
Reports/analytics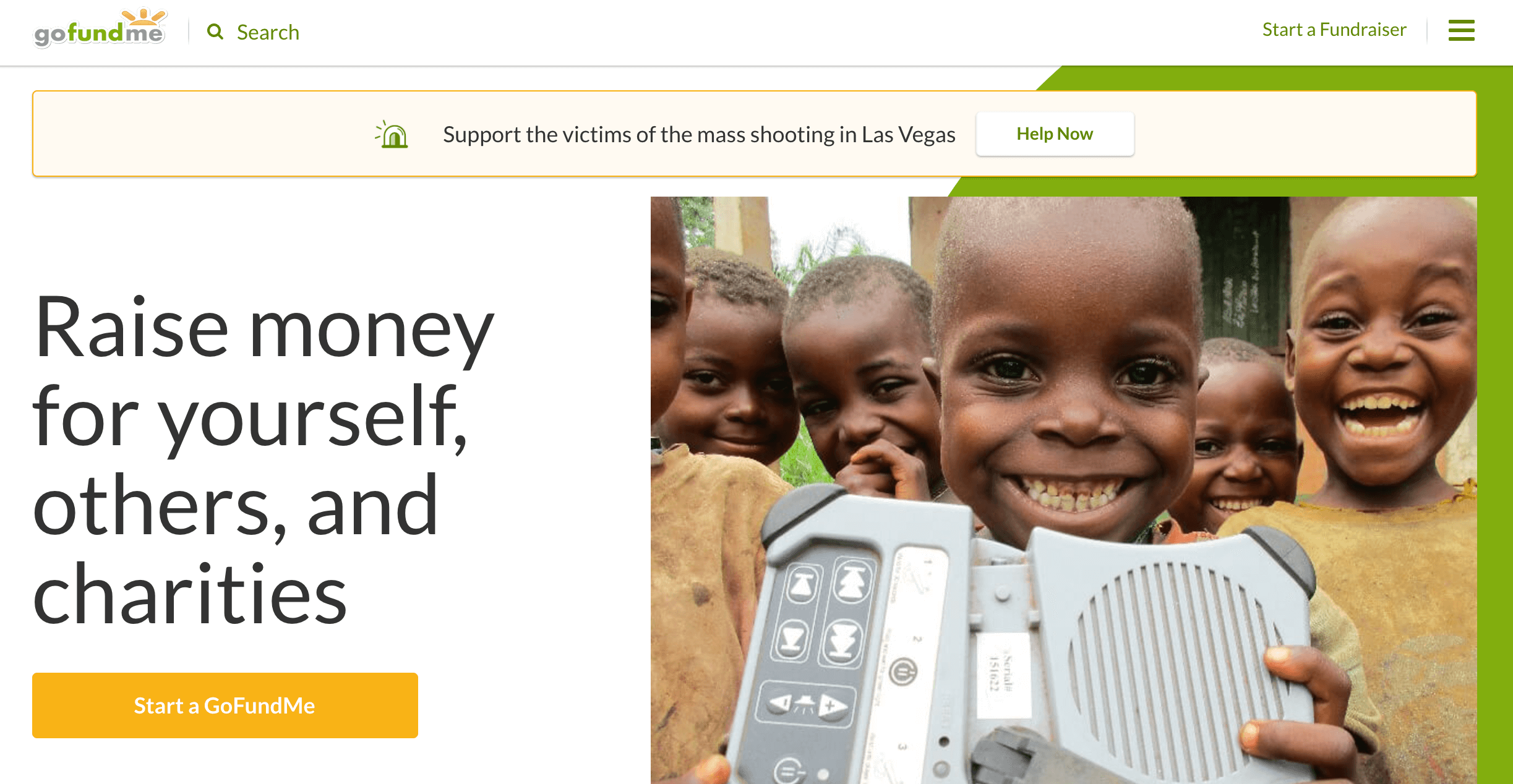 Optimized for mobile, GoFundMe is a popular, flexible platform for campaign fundraising. The creator can withdraw money at any time without affecting the progress of the overall goal. A particularly noteworthy feature is the five-minute support guarantee, which promises that your questions will be answered within five minutes of your email being sent to customer support.
Depending on the cause, after you reach out to your local media and your fundraiser gains popularity; GoFundMe might contact you and offer assistance for further media exposure.
An example is Steve Sisolak, Clark County Commission Chair from Las Vegas, who launched a campaign to raise $10.0M via GoFundMe after the horrific mass shooting attack in Las Vegas. In just a few days, the campaign nearly met its goal, with contributions still rolling in. In this instance, GoFundMe is promoting a homepage alert that advertises and automatically directs users to Sisolak's page.
While free to launch a campaign, GoFundMe does withdraw a 5% fee plus a credit card processing fee from each donation received.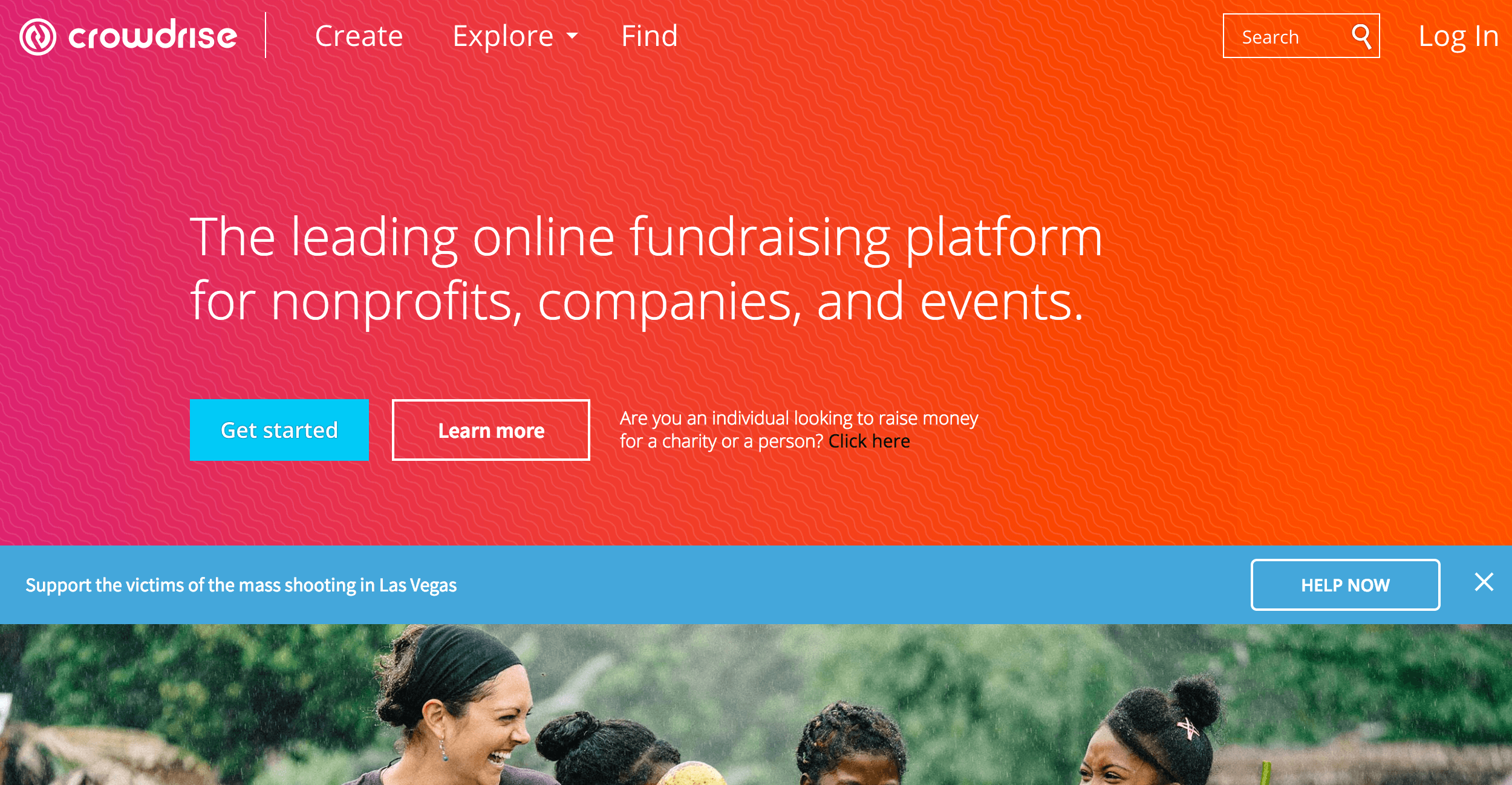 CrowdRise is another reputable platform that just so happens to be part of GoFundMe. This fast and easy-to-use platform specializes in social fundraising tools for individuals, corporations, nonprofits, events, disasters and more.
CrowdRise provides brands many incentives to use their service by offering:
Customizable homepage options
Impact Points (the platform's program where you earn points as you fundraise to use toward rewards and prizes)
Zero goal requirements or deadlines
Notably, for nonprofits, CrowdRise offers a "Best Pricing Guarantee," which promises that CrowdRise will take only 3% of each donation, including credit card fees.
Funds are withdrawn in real time, and the company provides fundraising ideas throughout your campaign to increase success.
Like many competitors, CrowdRise is free to start, but fees are required per transaction. When a sponsor donates, they are given the option to pay the fee themselves or to have the fee deducted from their donation.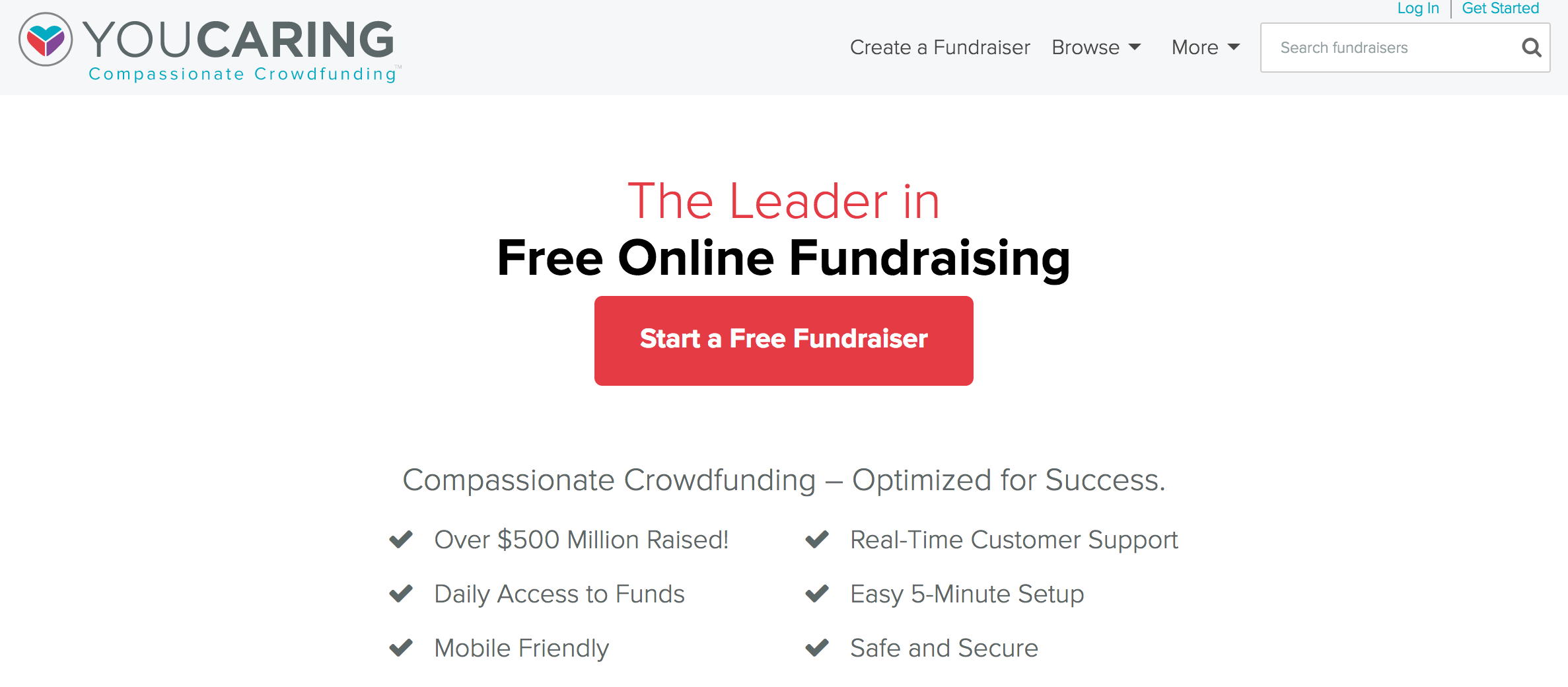 If free is what you're looking for, YouCaring is your best bet. Thanks to generous donors, this service does not charge fundraisers a platform fee, only a donation-processing fee (2.9% and $0.30 per transaction).
Offering email support, customized pages, built-in social media promotion and fundraising for nearly any cause, this platform also accepts international currencies for global campaigns. If desired, you can make your page private. Don't expect any extra frills, such as automatic thank you notes, but you will have access to all of your sponsors' email addresses to contact them as you wish.
Just like GoFundMe and CrowdRise, there are no goal requirements and your funds are all accessible before the deadline date.
This quick, easy-to-use interface was selected by JJ Watt, American football defensive end for the Houston Texans of the NFL, to raise an astonishing $37,097,298 for Hurricane Harvey relief, more than 185 times his initial goal. More than 200,000 people donated, meaning Watt got as many donors as he expected dollars.
When selecting the right platform for your campaign, consider the factors that matter most to you. Whether it's cost, metrics, direct communication with donors, or all of the above, make sure the service you use aligns with your goals. We'd love to hear about your experiences with online fundraising. Leave a comment below and feel free to include any relevant links to your campaigns so our community can see your efforts. Thanks!
This article was originally published in October 2017 and has since been updated.