'Tis the season for pies, cookies, (boozy?) eggnog, and epic meals with friends and loved ones. But if you're somehow not familiar with this blockbuster holiday season for food, what do social media posts from top US food publications tell you to cook for Thanksgiving, Christmas, Hanukkah, and beyond?
We took a look at how Bon Appetit, Food52, Food & Wine, Food Network Magazine, and Saveur handle the holidays across their social channels. Why these five? They're industry leaders in food media–and also our team's go-to resources for cooking and baking all year long.
Who thinks you should be baking pies instead of cookies? Turkey instead of ham? Cooking instead of roasting? We undertook this, er, groundbreaking research in the hopes of answering one major question: if you didn't have a single heirloom recipe of your own, what would food media tell you to make this holiday season, and how would they tell you to make it? And, what would keywords would they use to catch your attention?
How'd we do it?
We started by creating a landscape with these food publications in Rival IQ and limited our scope to the last 30 days (we're not interested in Halloween posts this time around). We reviewed 8,000 social media posts on Facebook, Twitter, Instagram, and Youtube.
We gathered data using Rival IQ's cross-channel ranking capability to comb through mentions and uses of different keywords, as well as channel-specific rankings for Facebook, Twitter, Instagram, and YouTube.
Engagement is defined as measurable interaction on social media posts, including likes, comments, favorites, retweets, shares, and reactions. Engagement rate is calculated based on all these interactions divided by total follower count.
With high posting frequency and engagement for each, we knew we'd come to the right place to dive deeper into the content of the 1,000+ posts each organization published each month.
After combing through posts from the last 30 days to check the frequency and engagement on a number of topics, we used the keyword search function to look more closely at how many mentions each of the below search terms (common food fare) appeared in posts from our five foodie friends. Then, a quick export of that data to a .CSV file allowed us to sort by engagement rates, and then average engagement rates by search term.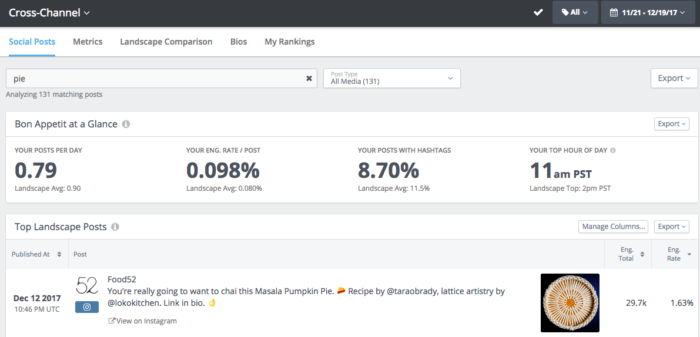 Here's what we searched:
By food:

Turkey

Pie

Eggnog

Ham

Chocolate

Cranberry

Apple

By keyword:

Holiday

Christmas

Hanukkah

And by cooking method:
What'd we find?
Everyone's favorite foods: chocolate and pie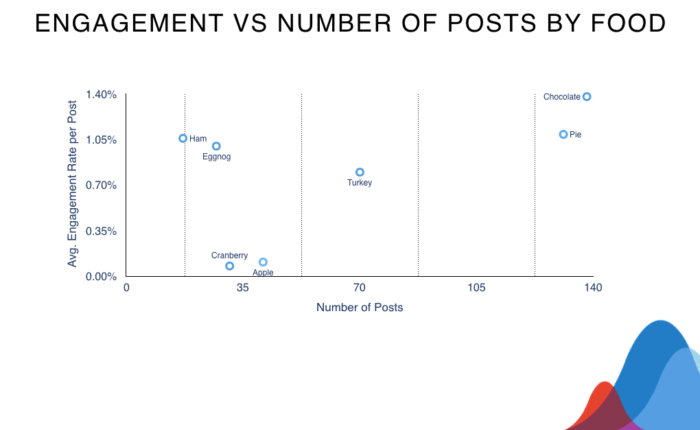 At this time of year, chocolate is king, with 138 posts in 30 days, followed closely by pie, which garnered 131 posts in the same amount of time.
These food experts thought you wanted to hear about turkey (70 posts) way more than ham (just 17 posts), so haul out that roasting pan and get basting.
Chocolate and pie were also what you wanted to like, share, and retweet on social media (just as these publications suspected), and so garnered the most engagement. You were also outrageously excited to talk about ham online–not so fast, turkey! And eggnog's engagement blew that of non-dairy indulgences like apple and cranberry out of the water.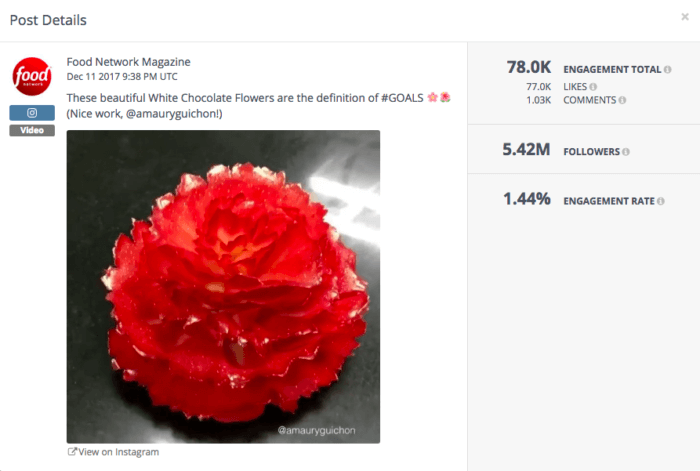 With an engagement rate of an impressive 1.44%, this top-performing chocolate post made it clear that the food community loves a beautiful, edible thing (even if it looks nearly impossible to make at home).
Different holiday keywords, same engagement
Food publications tried to grab you with a few keywords: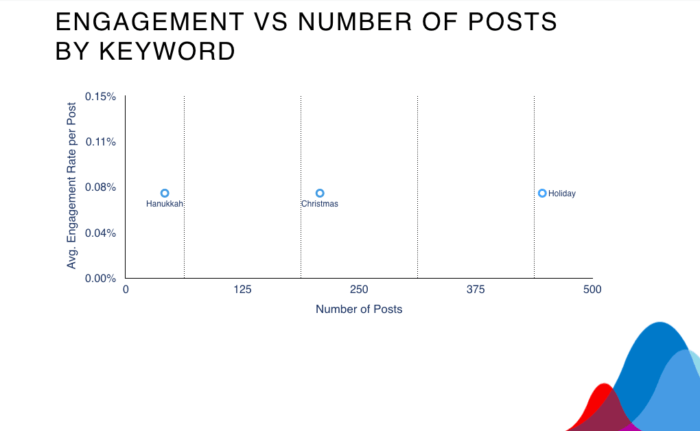 "Holiday" was the runaway keyword favorite, with more than 440 uses. Food publications were also likely to use "Christmas" to alert you to a new potential favorite holiday recipe–though these publications were more than twice as likely to stick with the agnostic use of "holiday" instead. Fellow latke lovers, we're sorry to report that "Hanukkah" (and its affiliated spellings) was much less likely to be mentioned. But did that correlate to lower engagement?
Spoilers: no!
Each of these keywords sparked exactly the same engagement–some redemption for those of us celebrating Hanukkah this season.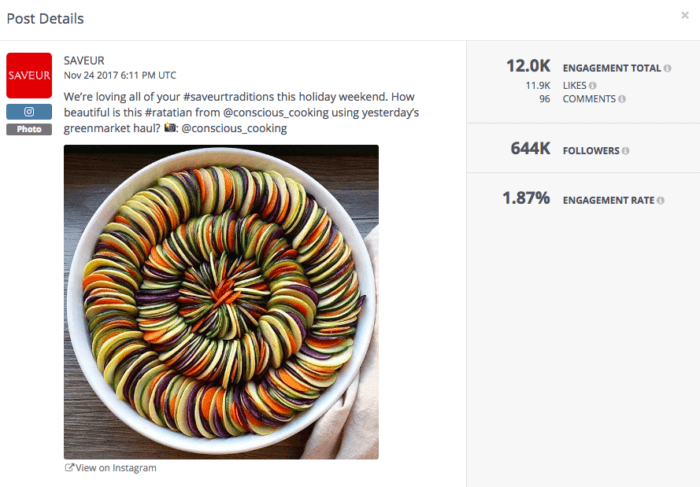 There's clearly a trend shaping up for top-performing holiday food posts–the unattainable. Saveur's followers loved this gorgeous take on ratatouille, a French vegetable dish.
(Cooking) method to your madness?
How do these publications think you should be creating your holiday meal masterpiece–do you need special equipment, or are you good to go with a stove and an oven?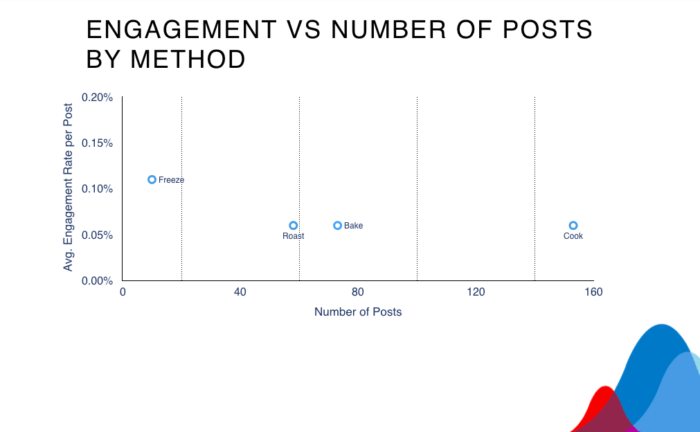 Based on the number of posts containing the keywords above, food publications think you're most likely to cook around this time of year. "Cook" plays double-duty as both stovetop preparation and the catch-all for heating up food of all kinds, so it's not too surprising that it's mentioned most often. Based on posting frequency, food publications don't seem to think you're in the mood for frozen treats…
…but maybe they should reconsider! Freezing earned the most likes, shares, and retweets in the last 30 days, showing that just because it's cold outside doesn't mean eaters aren't in the mood for fresh ice cream (or simply freezing their leftovers).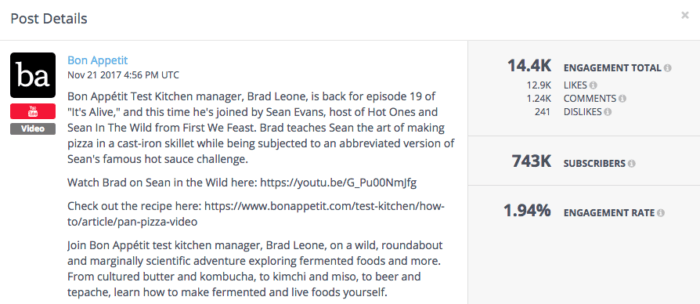 Food fans (including this post's author) love the Bon Appetit web series "It's Alive with Brad," so it's no surprise this video post garnered the highest engagement rate for the "cook" keyword search.
So: what should you eat?
Based on the data alone, food publications think you're most likely to be chocolate-dipping your ham while freezing your eggnog pie. In case that doesn't sound delicious, here are a few holiday favorites from around the Rival office:
Jacob loves to make this gooey, cheesy veggie casserole for breakfast on Christmas morning.
Seth P. is as generous with his latkes as he is with his recipes:
For each batch:

Grate 5 potatoes and 1 onion. Transfer to colander within a large bowl. Wring out juices vigorously ("like wet socks"). Transfer potato/onion mixture to prep bowl. Add 3 tablespoons matzoh meal, 2 teaspoons salt, ½ teaspoon pepper, 1 egg. After squeezed out juices from earlier have been allowed to settle for a while, pour off the liquid on top, and then spoon the white starch left at the bottom into the mixture. Mix well.

Fry in heavy cast iron pans over medium-high heat, with lots of high-heat oil. Make sure pans/oil are hot before adding mixture.
John C.'s family held his grandmother's secret recipe for Oatmeal Scotchies close–until they realized it was the recipe on the back of the Nestle package!
Vijay loves to experiment with dairy-free baking so his wife can join in on the dessert fun too, like with this dairy-free pumpkin pie.
Danica's cranberry brie bites were a huge hit at her Thanksgiving celebration this year (pro tip: make them in regular muffin tins instead of mini tins for a super-sized appetizer).
Seth B's family rum balls are so irresistible that they include a note about keeping them away from his wife.

Blair's foolproof "Winning Hearts and Minds Cake" makes a hostess gift that'll get you invited back for the holidays next year every time, guaranteed.
All of us at Rival are wishing you sweet (and savory) holidays and a very happy 2018, full of social media and data and delicious food.