I can't help but feel nostalgic as another school year comes to an end. While reflecting on the last year, some of my favorite social media campaigns stand out.
When planning for your next big social campaign, keep these stellar examples in mind for inspiration. If we had a yearbook (and we totally should…), these would be the 2018-2019 social media campaigns to remember.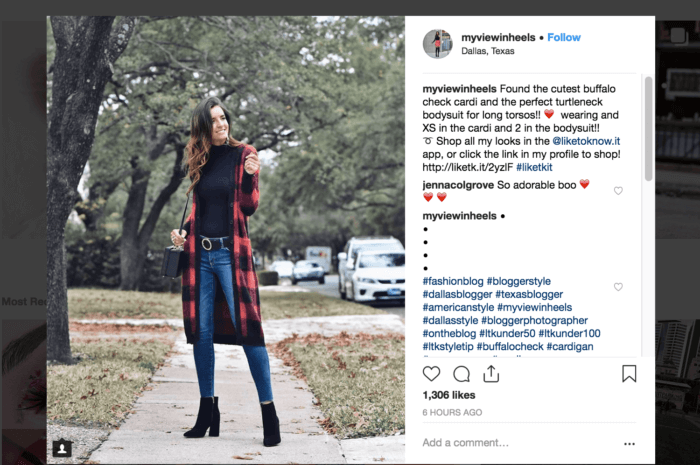 Social Media Campaign Most Likely to Earn User Generated Content (UGC): ASOS
We all know there's nothing quite like word of mouth marketing. After all, 74% of consumers identify word of mouth as a key influencer in their purchasing decisions.
That's why I'm particularly impressed by ASOS' outstanding social media campaign, #AsSeenOnMe, which was all about UGC. To organically spread the word, the brand encourages shoppers to use the hashtag when showing off store purchases. Every time someone tags his or her new outfit, he or she is entered for a chance to be featured on the ASOS Instagram feed.
It's one thing to ask for engagement, but it's quite another for your customers to wholeheartedly respond. In this case, the response is overwhelming, with nearly one million #AsSeenOnMe shares on Instagram alone. This approach works because ASOS offers a reward that directly incentivizes their young core customer base.  According to Instagram, those under the age of 25 spend more than 32 minutes a day on Instagram, on average. You can safely assume a young ASOS shopper will be motivated by the prospect of personal brand exposure, more likes, and more followers.
This arrangement is a total win-win for the customers and the brand. While enjoying organic word of mouth promotion, ASOS also has a deep reservoir of UGC to sprinkle in among their planned content. Best of all, when a shopper's photo is featured, it's another opportunity for ASOS to promote and increase sales for the products shown. They maximize the opportunity to improve sales by providing the UPC (Universal Product Code) and name for each item.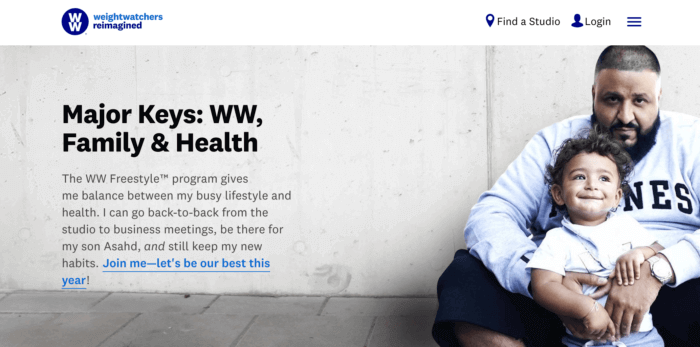 Best Influencer Partnership: Weight Watchers
Jessica Simpson, Jennifer Hudson, Oprah… these are just some of the celebrities crediting slimmer figures as Weight Watchers (WW) spokespeople over the years. However, WW hit the social media campaign jackpot with a new personality this year: DJ Khaled.
The power of influencer marketing knows no limits, especially when the ambassador is social media savvy. To put it in high school terms, influencers are the popular kids, commanding the attention and praise by most of the student population. DJ Khaled is definitely popular.
DJ Khaled isn't just a "before" and an "after" photo. He's real. His journey is believable because he invites fans to join him along the way thanks to his huge social media following: 3.6 million on Facebook, 4.5 million on Twitter, 15.3 million on Instagram and a reported 3 million to 4 million views for his Snapchats.
In an industry that typically appeals to women, DJ Khaled attracts an entirely new younger, male audience. Consequently, the company's shares immediately rose by 6% after endorsing the star.
Best Fake Rebrand: IHOP
When the International House of Pancakes (IHOP), released a new line of burgers hot off the grill, they flipped the P to a b, announcing a temporary name change to "International House of Burgers."
The announcement generated a ton of exposure, mostly with people expressing their disdain for the rebrand. Regardless, IHOb accomplished what it set out to do: get people talking, earning over 500,000 social mentions before revealing the name change wasn't permanent.
About a month after the stunt, IHOP flipped back to Pancake. The brand took to Twitter to confess to the fake news, offering a sweet 60 cent short stack promotion to bring in more customers on IHOP's 60th birthday. Bravo, IHOb/IHOP, whatever your name is.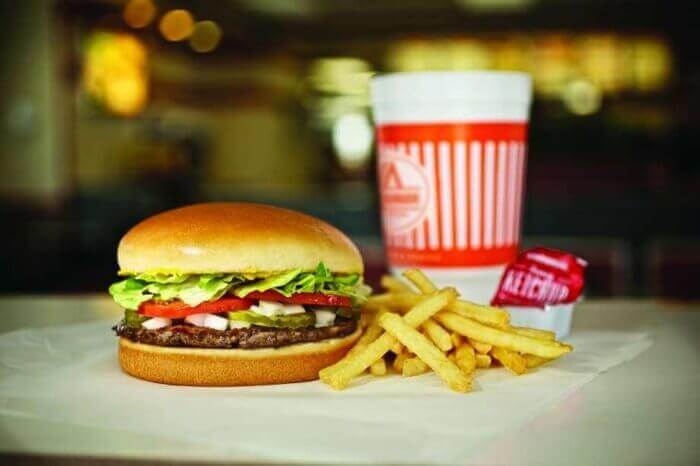 Brand Clown (in a good way): Whataburger
When I left Texas in 2013, I sorely missed two things: breakfast tacos and Whataburger. The latter, a beloved fast food chain with Texas roots, has a cult-like following. Don't believe me? Just try the honey butter chicken biscuits, burgers, and taquitos, and thank me later.
Company marketers are well aware of customer's deep affinity for the brand. This past Halloween, an Austin-based couple even turned their home into Whataburger for crying out loud. People eat, wear, and display Whataburger as a symbol of deep pride.
Whataburger wins our Brand Clown award for their always-on-par social media campaigns with their hilarious, quick-witted online persona.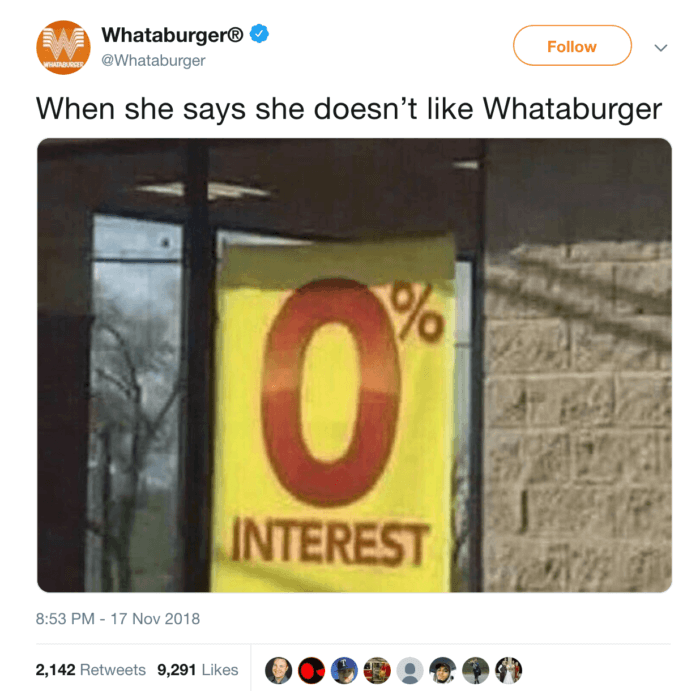 It's not always easy to be funny online. In fact, only 36% of consumers are compelled to make a purchase due to brands being funny in social media campaigns. In Whataburger's case, it works. This is largely because the tone is true-to-brand, genuinely appeals to fans, and reads as if written by a customer, for customers.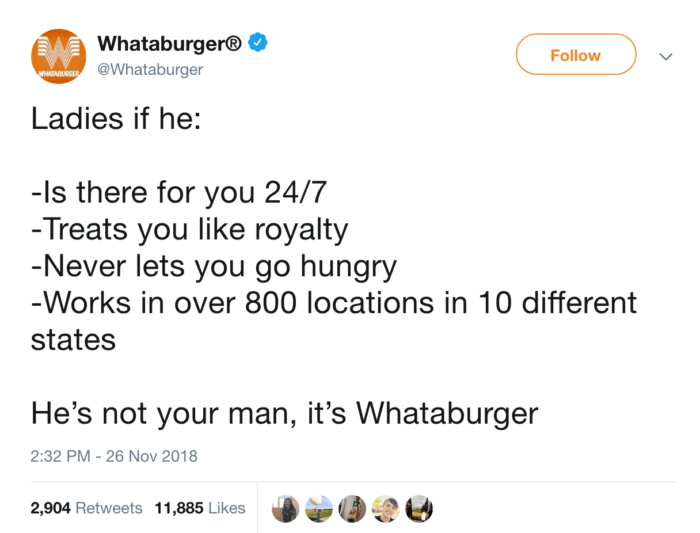 The likes and retweets speak for themselves. Whataburger's social media campaigns are effective because their humor directly appeals to their target audiences, and accurately predicts what others will find funny and want to share.
There were so many great social media campaigns this year, it was hard to narrow down the list. Who else impressed you this year? Send us a tweet to let us know.