Native advertising is one of the most significant marketing trends of 2017.
The traditional advertising method is becoming obsolete. Why? Apart from the classic and well-known ad blocking tools, consumers tend to have a feeling of rejection towards this type of ad. Think about the last time some annoying pop-up showed up on your screen or the last time a shiny banner with "120% OFF!" distracted you for a moment. What was it like? It wasn't a very pleasant experience, was it?
What Does Native Advertising Really Mean?
First, let's make sure we are on the same page regarding native advertising.
According to Cynthia Clark, Advertising Specialist for Aussie writings, "Native advertising is the stimulating and inconspicuous method of advertising. It blends in beautifully with web content. Lots of companies tend to focus on this type of advertising, rather than focusing on classic advertising methods."
What are the key characteristics of Native Advertising?
It blends in with the authentic content of the site/blog/publication
It's meant to advertise a product or a company in a nonpromotional way
It's friendlier than classic advertising
Most consumers don't even realize it's an ad
Consumers tend to interpret it as advice or a suggestion, rather than an ad
Tries to offer value to the customer, rather than just sell a product
Are Brands Using Native Advertising?
As one of the most effective advertising methods on social media, native advertising allows your brand to get in front of an audience who is averse to explicit advertising. Leading brands across industries understand this and have begun testing new ways to make their ads feel more like a native post.
Here are a few examples of industry-leading brands adopting native advertising on social.
Booking.com & Microsoft Store
Here is a look at MSN's news feed. You can see all the news articles published by some popular publications: The Telegraph, Reader's Digest, The Independent, ETOnline, etc.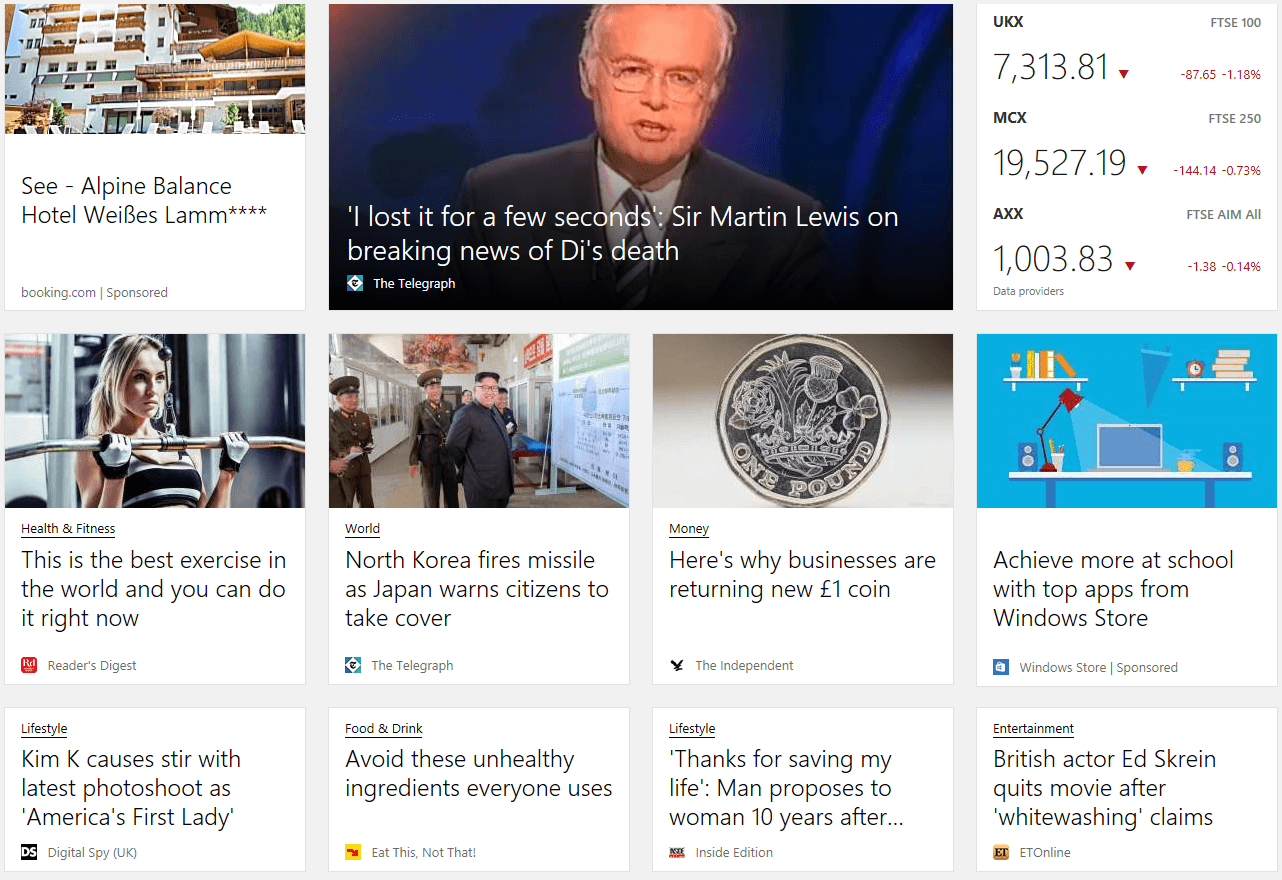 You might not identify them at first, but there are two ads in this feed. Can you find them? It's kind of hard, isn't it? That's what native advertising is all about, blending in "with the locals."
In the top left corner of the screen, you can see the Booking ad presenting the Alpine Balance Hotel, that's one of them. On the right-hand side, right below the UKX, MCX, and AXX quotations, is the Windows Store ad. The only way you can tell they are ads is the Sponsored tag right next to the title.
Taco Bell
Taco Bell's Cinco de Mayo Snapchat Ad is one of the most successful native ad campaigns so far. I think we are all accustomed to Snapchat and it's funny lenses, right? We've all used one of those, at least once or twice. Taco Bell marketers recognized the popularity of Snapchat's funny lenses and advertised themselves in the process.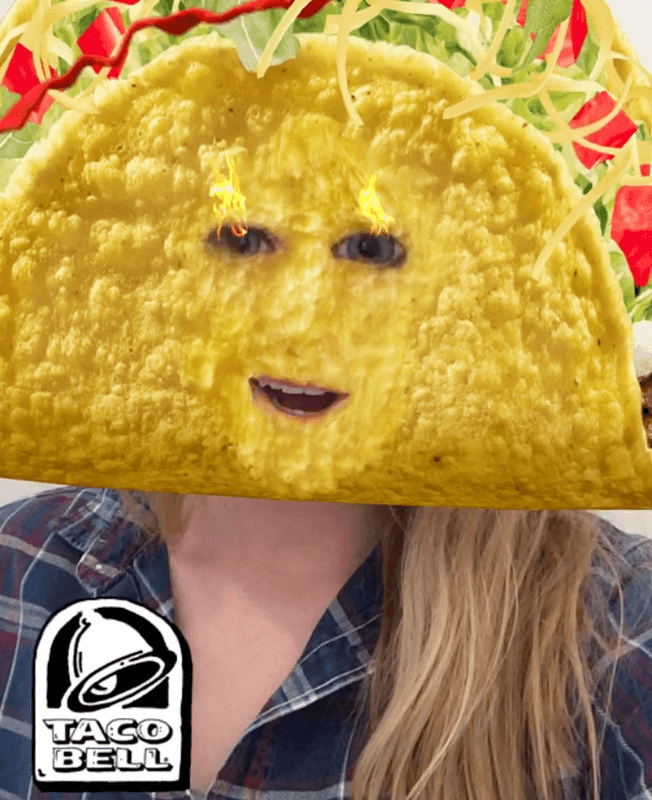 In 2016, at the beginning of May, they've launched the funny lens you can see just above. They launched it during the Cinco de Mayo Holiday. It was a hit! According to Adweek, it generated 224 million views in one day.
Netflix's Narcos
Launched in 2015, the Narcos TV series is a chronicle look at drug lord Pablo Escobar's life and the legacy he's left behind. To promote their show, Netflix decided to create an interactive app for Wall Street Journal's readers.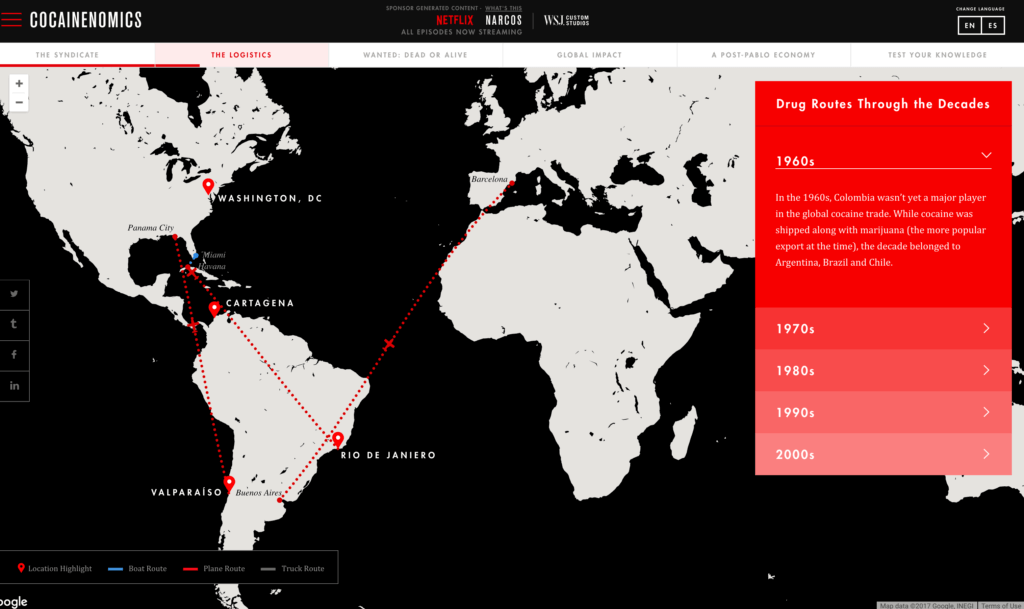 On their website, they had articles on the history of the international drug trade and its personalities, a map of the main routes, and even a quiz. All these were meant to advertise the Narcos TV series natively.
Why These Campaigns Were Successful
The Perception of Authenticity
The Booking and Microsoft ads were meant to blend in with the rest of the news article. They wanted to make readers believe that their ads are news. By making their ad look and feel like a news article and placing it amongst similar content, it naturally fits in with surrounding news stories. It felt more authentic and trustworthy. Intelligent placement in front of the right audience can help your content reach wider, more relevant audiences.
Jump on the Trend Wagon
Unlike the first two ads, Taco Bell's Snapchat Lens was innovative in that it jumped on the curtails of Snapchat's trending features. Apart from the fact that it advertised their company, it generated a lot of buzz because it was fun, interactive and easy to share. The Snapchat users loved the new content. A proof of this fact would be the 224 million views it generated during the first day. This is native advertising with a dash of humor and fun.
Deliver Value in an Engaging Way
Last, but not least, Netflix's Narcos ad was meant to be interesting and informative. It tried to attract Wall Street Journal's readers by offering them information regarding the main subject of their TV series. All this was done in a very encyclopedic and interactive way. Two thumbs up for appealing to your target audience!
Native advertising started gaining lots of traction in the past few years. Small and big companies, alike, have begun leveraging this type of advertising. It's meant to entertain and inform their customers, all this while advertising themselves.
This trend is here to stay because, as the majority of companies, is consumer-centric. It focuses on the customer's needs and well-being first, rather than focusing solely on the product or company it advertised.