How can you use Rival IQ's API to make the most of your social media analytics?
Part of our goal of empowering marketers to take full advantage of your social media analytics means inviting you to go beyond our software. We created the Rival IQ API to play nicely with a wide variety of apps, like Google Analytics, Tableau, Google Data Studio, and tons of others. Read on to learn more about how to put your Rival IQ API to work.
First of all: what is an API?
API stands for application programming interface. Clear as mud, right? APIs help applications (like Facebook and iCal, or Google and Rival IQ) talk to each other on the back end without the user having to leave the application they're currently working in. Each application stores its information on servers, and APIs are the messengers that run between those servers. These messengers allow a wide variety of different software applications and platforms to seamlessly communicate.
For example, if you're on the hunt for a cheap flight on Kayak, you'd select your destination and dates and hit search. Kayak connects to APIs from its airline partners to search each airline's available flights using your parameters, and brings that information back to you without you ever having to leave its site. Without API integration, you'd have to search each airline's website separately for information (and a healthy dose of frustration).
A few of our favorite uses of the Rival IQ API
1. Google Data Studio
Our new integration with Google Data Studio means you can pull data out of Rival IQ and into Google Data Studio with an easy one-time set-up. With this integration, you can create custom reports that feature your Rival IQ social data alongside, say, information about your open rates in MailChimp or keywords in Google AdWords. For step-by-step instructions on using the Rival IQ API in Google Data Studio, check out this article in our Help Center.
We used the Rival IQ/Google Data Studio integration to map company performance and cross-channel engagement of top car companies in this interactive report:
2. Live-updating Google Sheets
Do you need to access the same stats in a spreadsheet day after day or week after week? Look no further than the ImportData function in Google Sheets, which can pull live social media analytics information out of Rival IQ and into your preferred spreadsheet. Importing this data into Google also gives you options when it comes to data visualization–you can use the built-in charting in Google Sheets, or take full advantage of Google Data Studio.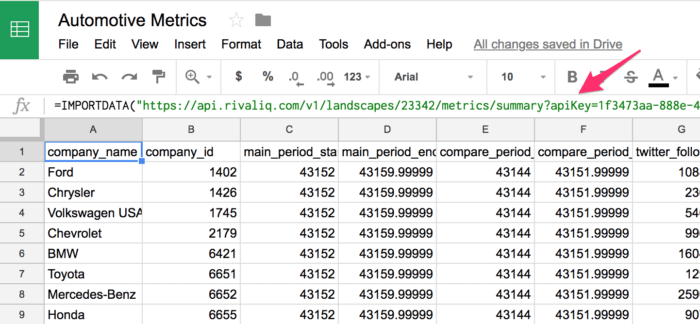 3. Custom dashboards
Many of our customers build custom dashboards in applications like Geckoboard or Klipfolio to keep a close eye on the metrics that matter most to them. For example, one healthcare customer uses our API to integrate social metrics into their existing Klipfolio dashboards to help them access and present their data consistently. Using the Rival IQ API, this customer can figure out what's working well on their social channels and where they can improve, without having to manually connect the applications each time they want to access that information.
How do you use Rival IQ's API?
Check out the Rival IQ API Overview and API Reference documents. For step-by-step instructions on locating the Rival IQ API and your landscape ID, check out this article in our Help Center.
Who has access to our API?
Engage Pro customers have full access to our API, and can start using it right away.
If you're a Drive or Engage customer interested in API access, contact our support team via The Help Center or email.
Are you using Rival IQ's API in an amazing way? We want to hear about it!